Our clients wanted a home with an open flow of light that would make the three-bedroom apartment feel as spacious as possible. We maintained long sightlines from one end of the apartment to the other, drawing natural light across the home. We sheathed the central core in custom oak panels that have a three-pronged batten relief inspired by the couple's three children and the branches of the trees in the building's courtyard. We collaborated with a local lighting fixture company to develop a custom surface-mounted light for concrete slab ceiling conditions that can provide down lighting, directional wall washing, and art lighting in a discreet compact housing of milled oak wood that matches all the built-ins and flooring throughout the home. The light casts shadows across the battens and gives depth to the surface.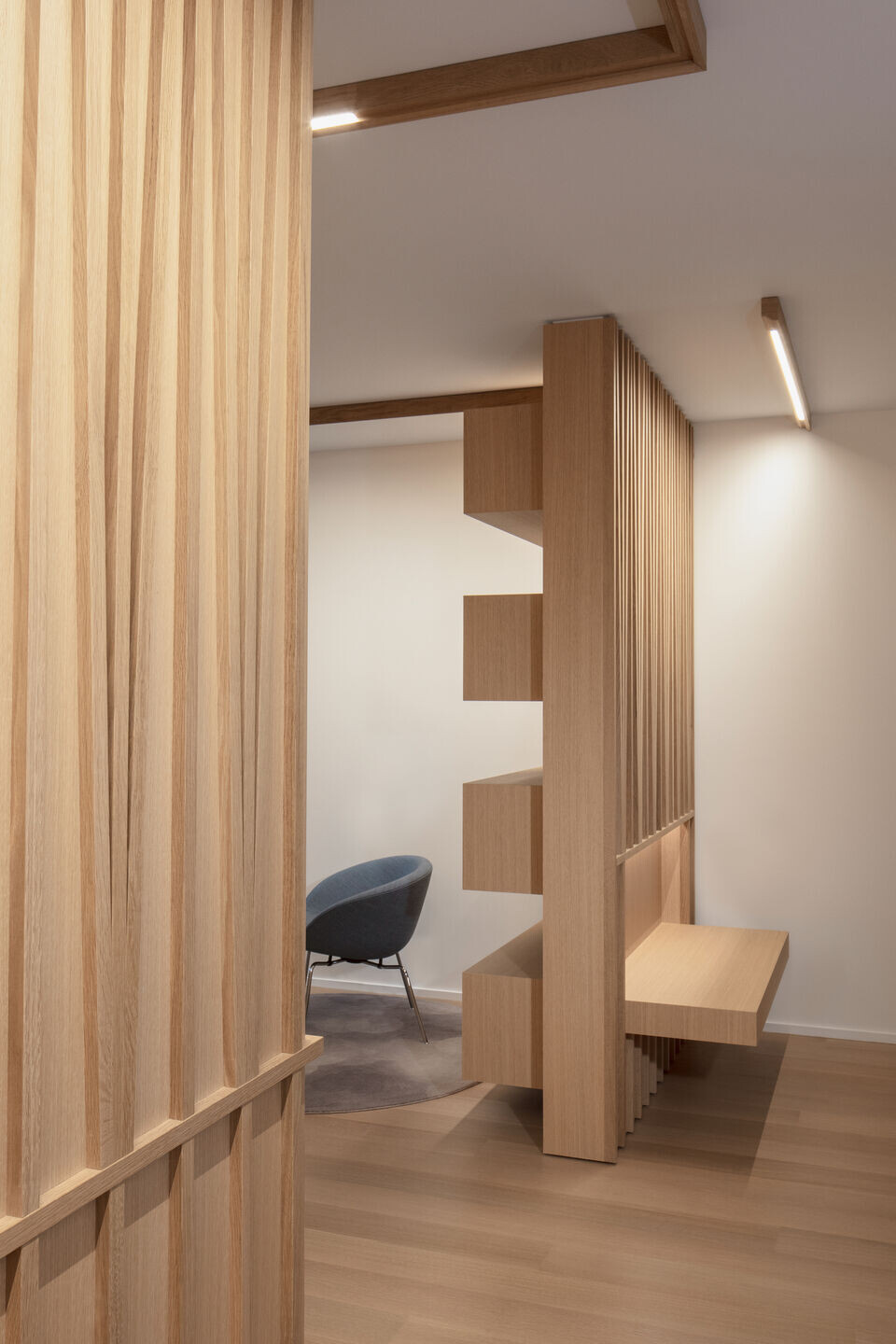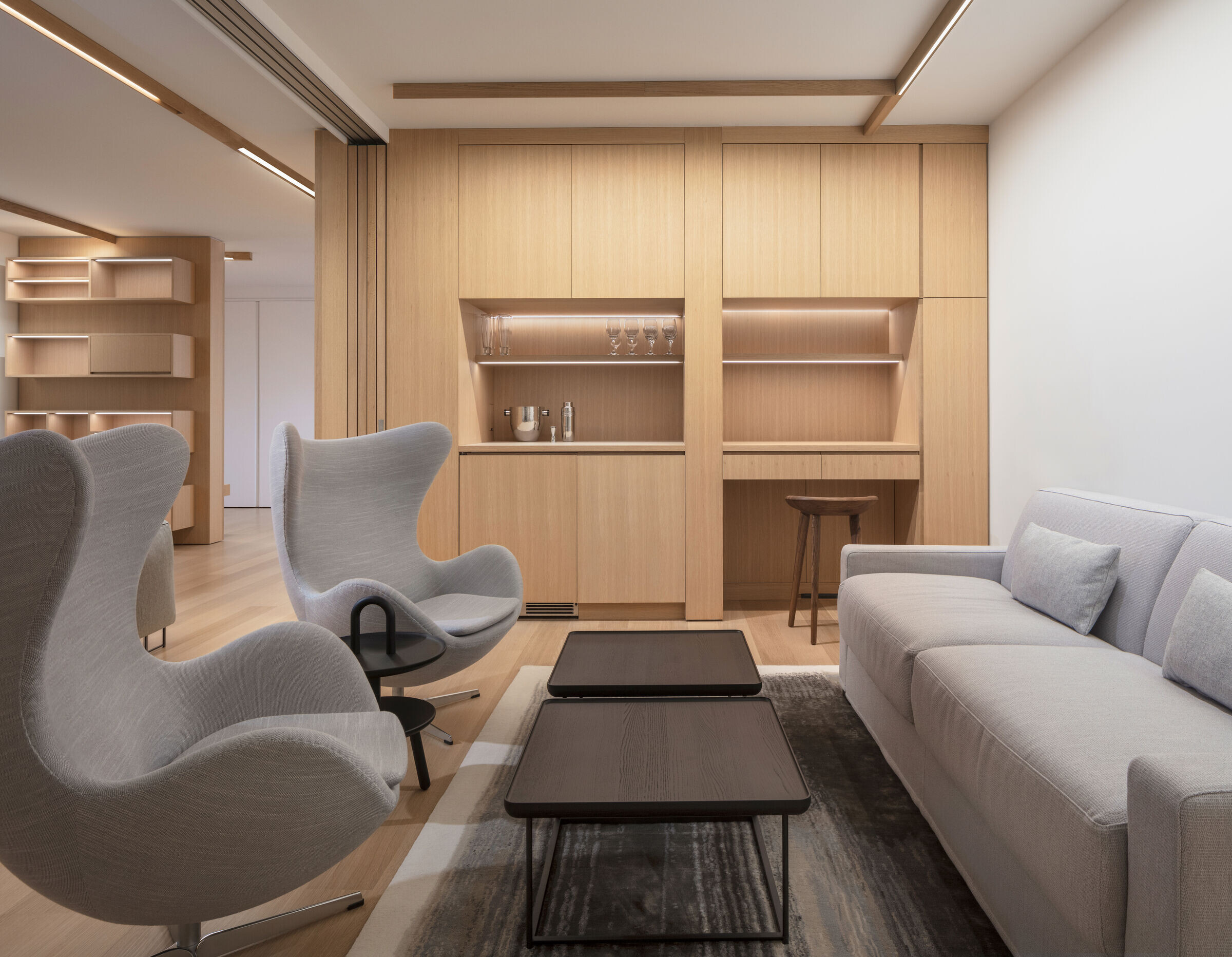 A cantilevered seating bench at the entry way and display shelving on the other side of the wall create volumes of light within recessed cubbies. The kitchen is a luminous volume defined by a soldier-course marble mosaic backsplash and island. It is sculptural and highly functional with ample storage. The "column" of wood that hides the cooking ventilation and gas riser is an elegant anchor for the kitchen and conceals the cooking area from the dining area's direct view. Above the dining room, a commissioned light fixture by artist John Procario floats like the outline of a billowing cloud; its hand-laminated, sinuous wood shape expands and contracts from different viewing angles while providing generous lighting to the table below.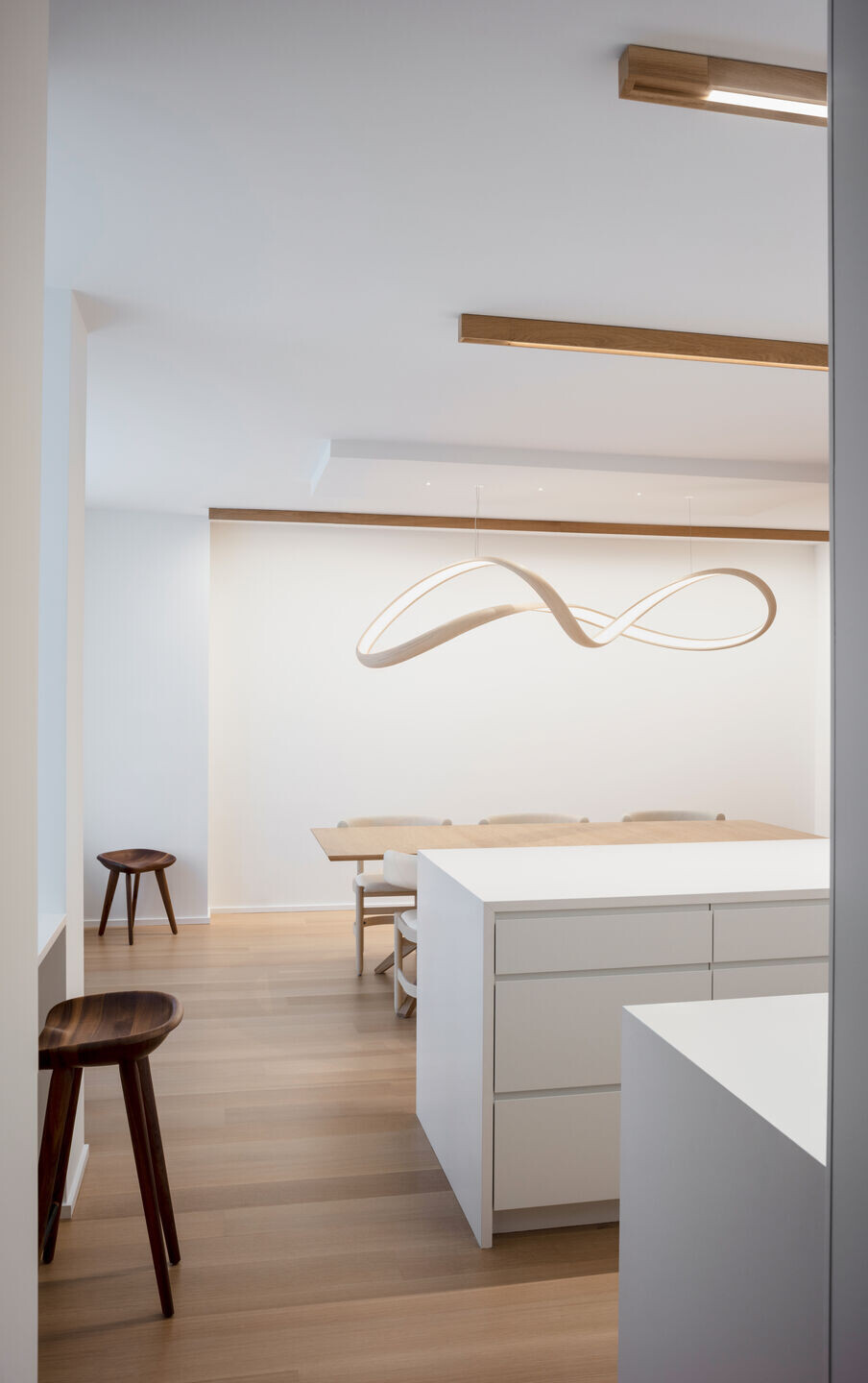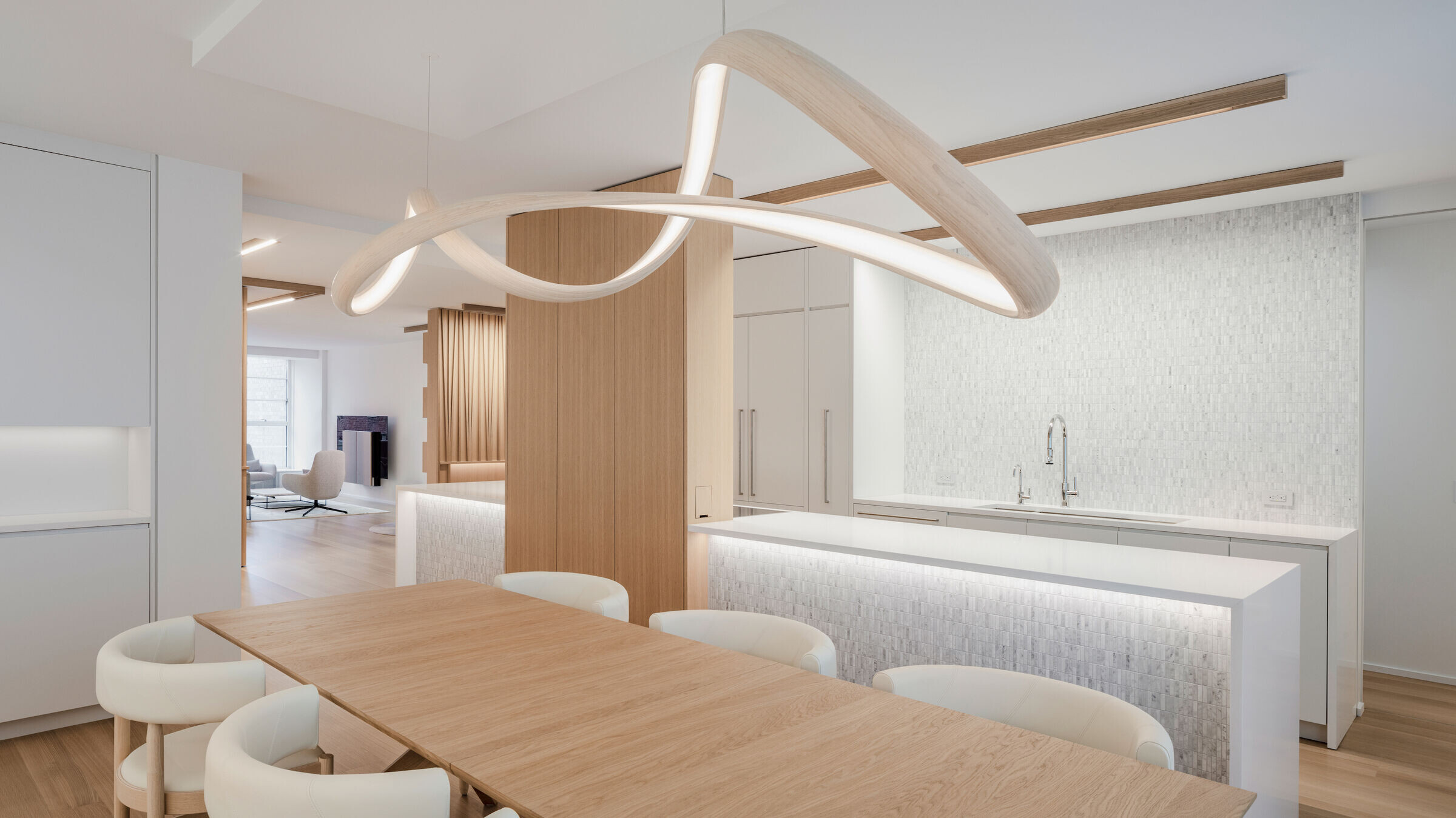 The living room and study are conjoined to allow the family to entertain larger groups; a series of sliding wood panels creates privacy between the two spaces when guests come to stay (the sofa folds out into a queen size bed.) The study has a built-in dry bar and desk area neatly recessed into the wood core.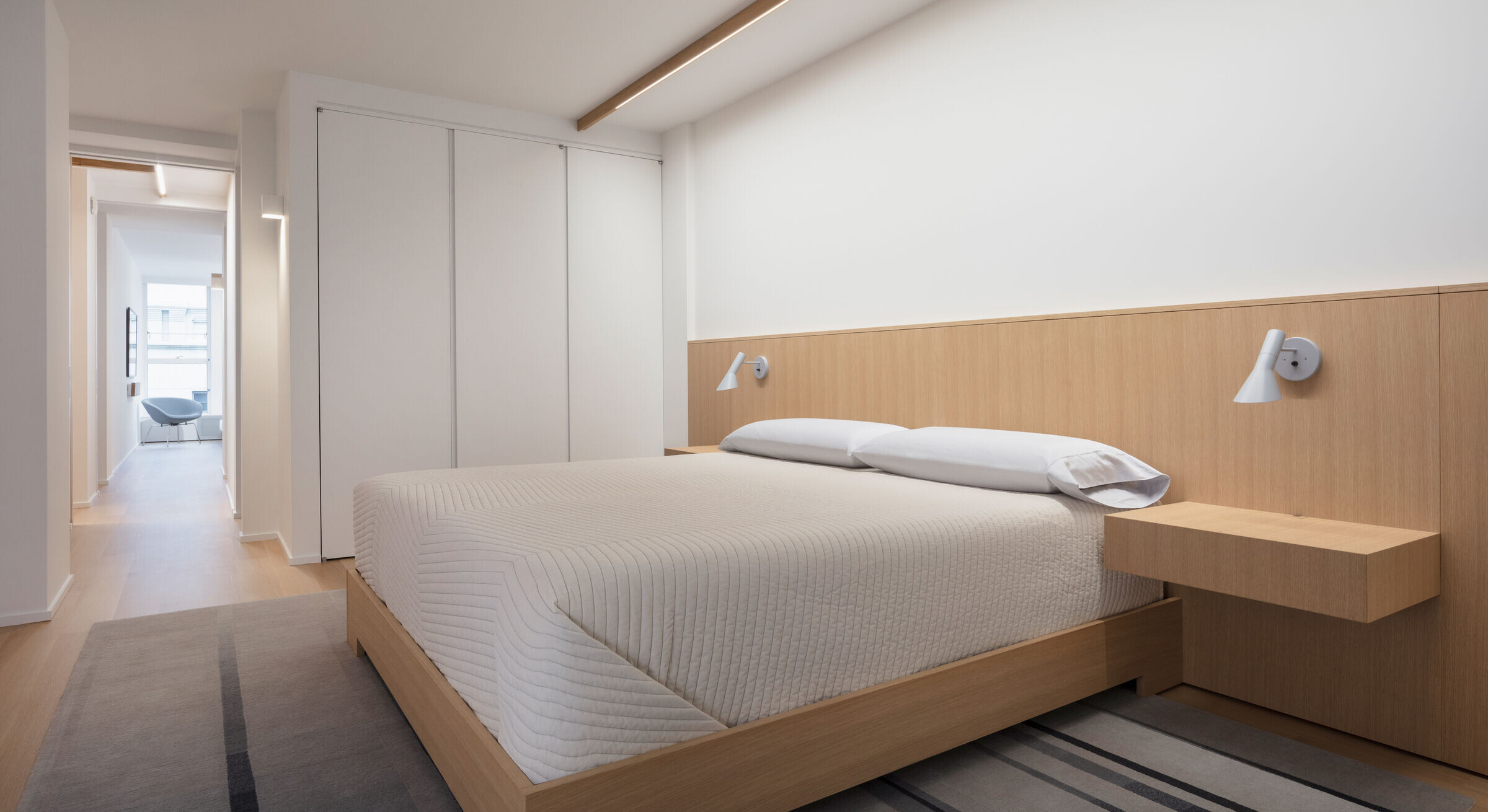 Team:
Architects: Desai Chia Architecture
Lighting: Christine Sciulli Light + Design
Custom Lighting: Stickbulb
Millwork: Schematic
Contractor: Headwater Contracting, Ltd
Code Consultant: William Vitacco Associates
Phoographer: Paul Warchol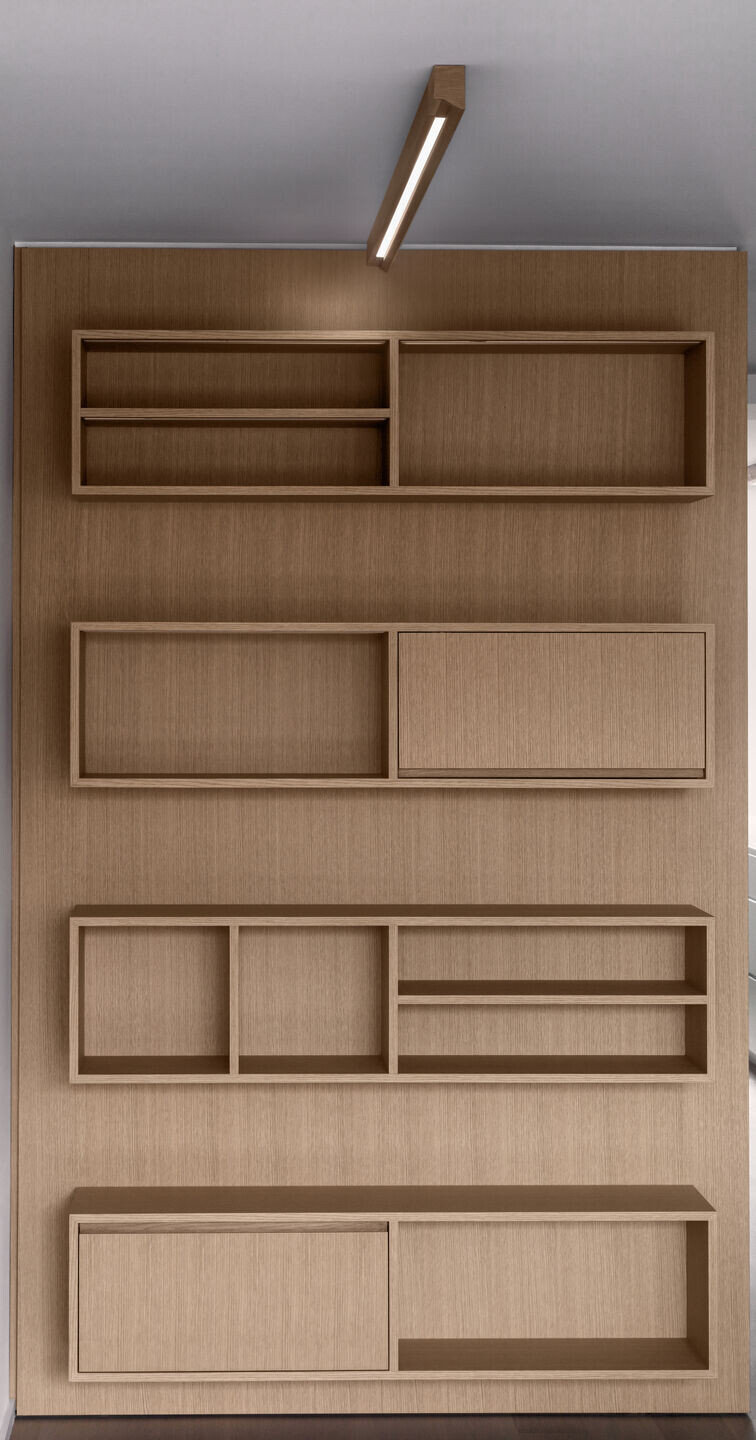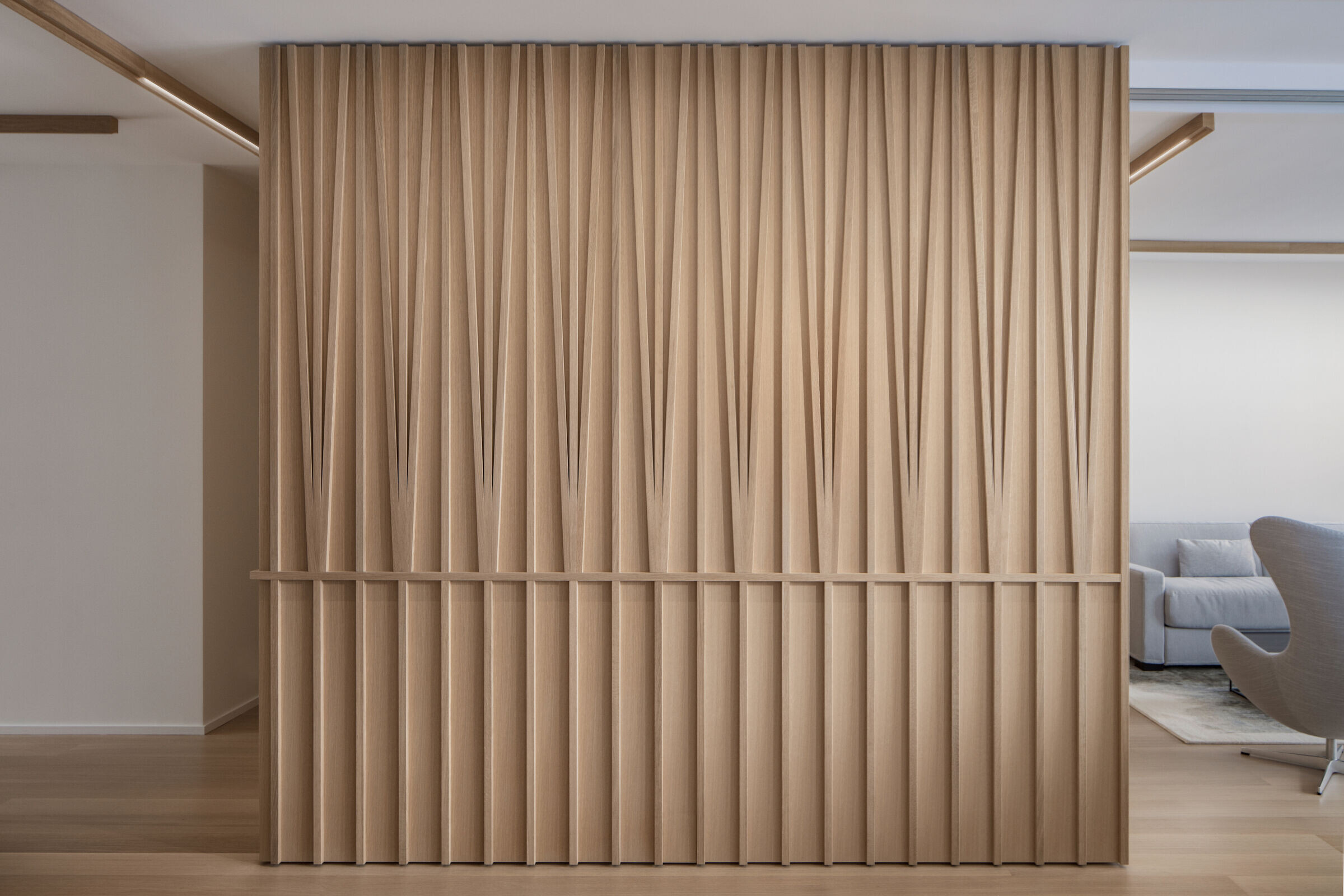 Materials Used:
Flooring: Wood flooring, 'Heritage', LV Wood
Tile flooring, 'Life Oak Strutturato V2', Nemo Tile
Tile flooring, 'Cliff', Nemo Tile
Interior wall tile: 'Mos Metalica,' The Tile Shop
'Fusion Penny', Nemo Tile
'Ruscell Stone,' Nemo Tile
Interior lighting: Linear LED striplight, Qtran
LED washlight in custom milled oak housing, Stickbulb
Regressed linear LED wallgrzer, Nulux
Wall mounted area light, Arteide Aede Wall White
Dining table pendant, John Procario
Interior furniture: Sofa, Scighera, Cassina
Side table, Reaction Poetique, Cassina
Lounge chair, Kent Low Back Swivel, M2L
Coffee table, 381 Torei, Cassina
Rug, Boro 3, Jan Kath
Rug, Bokeh II, Tai Ping
Stool, CB-22 Tractor Counter Stool, Suite NY
Side chair, PP19 Papa Bear Chair, Suite NY
Bed, Ella Bed, Room & Board
Plumbing: Toilets: Toto
Faucets & shower controls: Dornbracht, Meta 02
Bathroom sinks: Kartell Laufen
Kitchen faucet: Dornbracht
Kitchen sink: Julien
Appliances: Gaggenau
Door Hardware: Sliding door hardware, Hawa
Door handles, Accurate
Door Hinges, Accurate
Door pulls, Sugatsune
Floor stops, Baldwin
ives, magnetic door catch
Paint: Benjamin Moore