At the very end of a villa neighborhood, in an area where stand-alone villas turn into low apartment buildings, on an uneven terrain, we have designed a round-shaped house with several garden levels. It is located on the edge of a steep slope that leads to the border of a slopy forest, which significantly affected the whole concept. Part of the house is buried in the hill, which creates a nice garden on the first floor separated from the street by a palisade made of larch beams.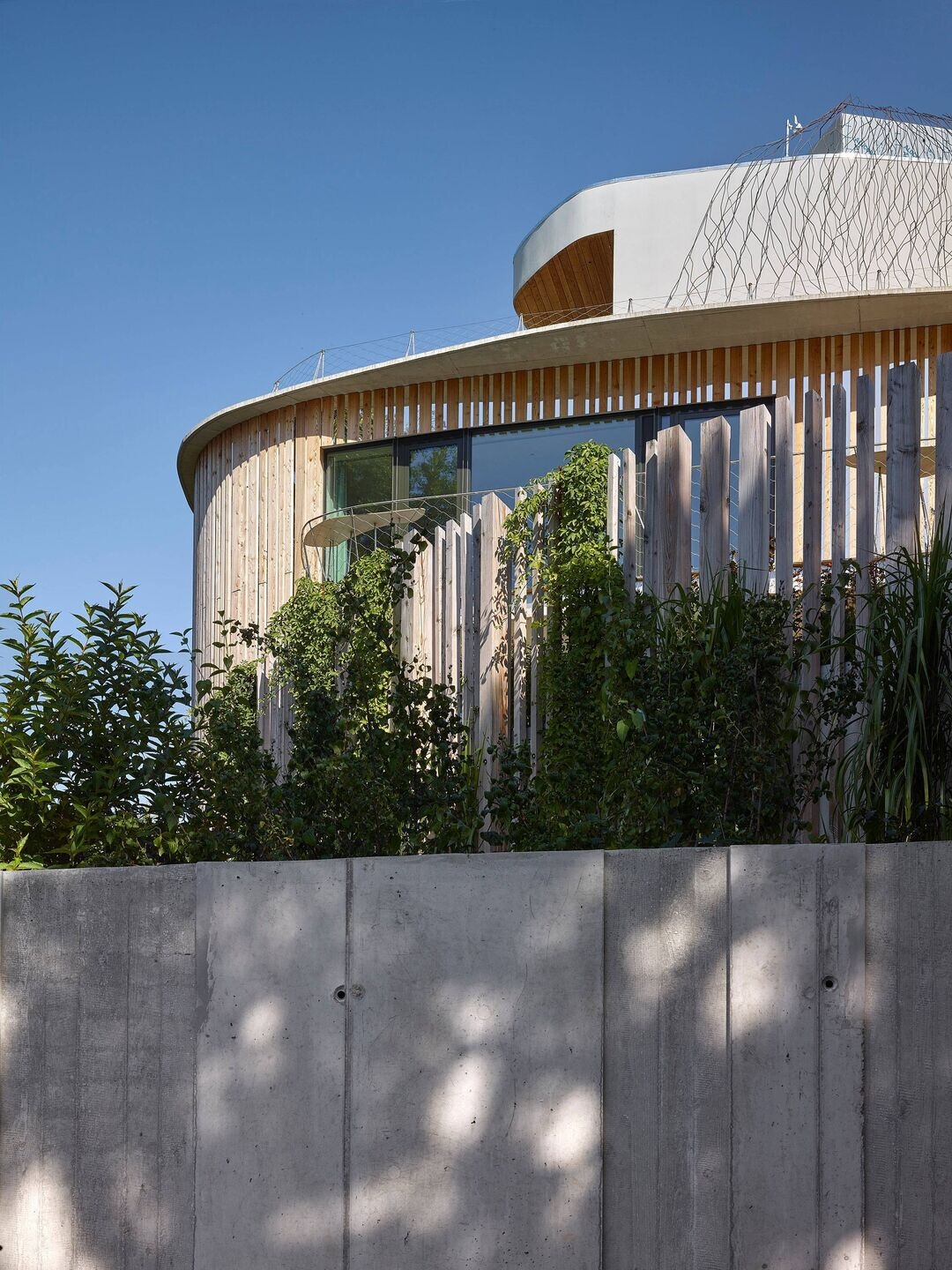 This created a pattern of alternating between woods and openings into the garden, inspired the house's façade, that is made of larch planks and mirroring bands. These mirror the surrounding greenery and draw in the garden and the adjacent forest. The view of the tall tree crowns then enhances the atmosphere inside the house.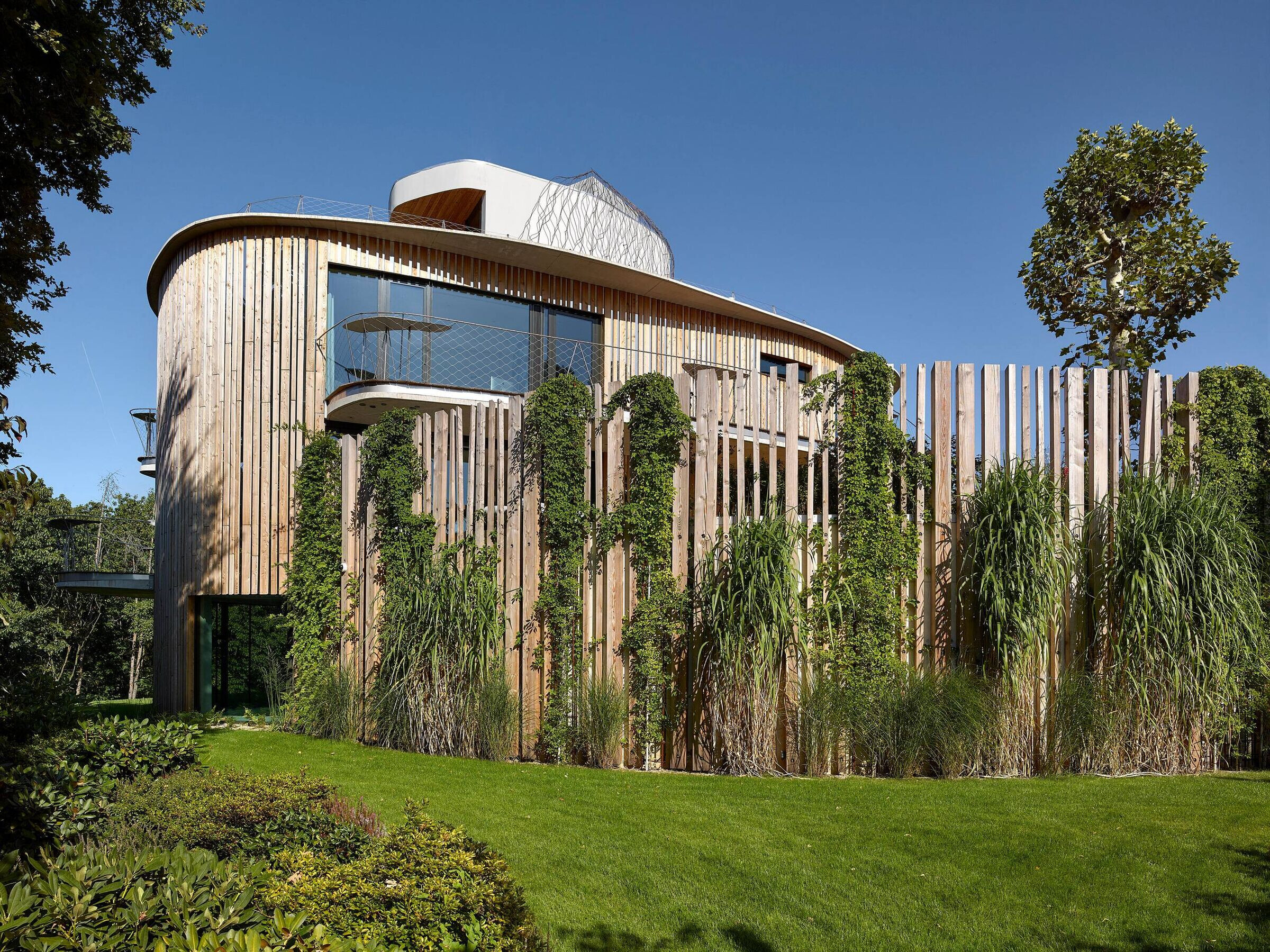 The house is surrounded by balconies and terraces that follow up on the topology of round shapes and also connect the outer world with the top floors. The roof terrace, which is above the tops of the trees, then provides panoramic views of the wider surroundings.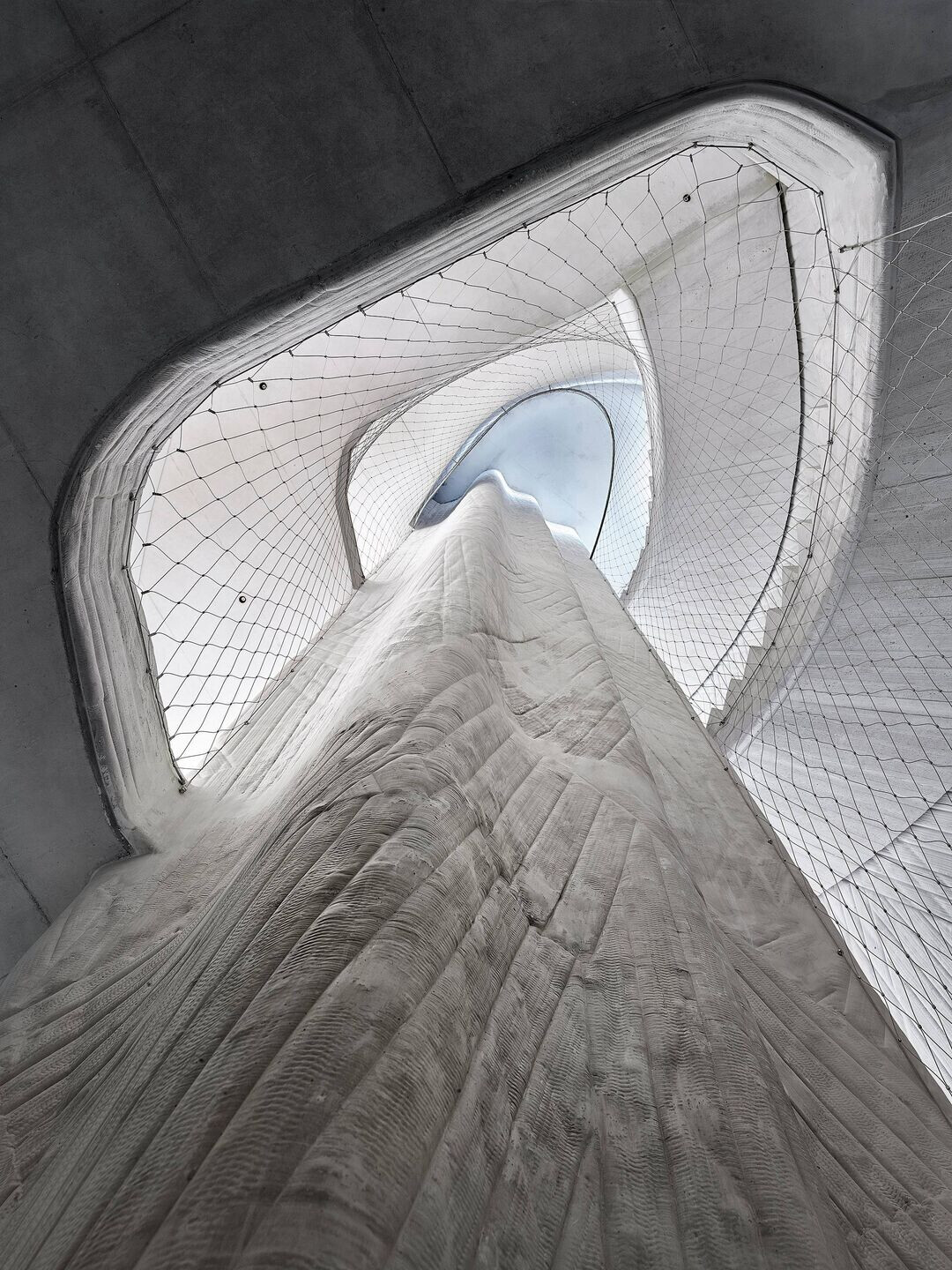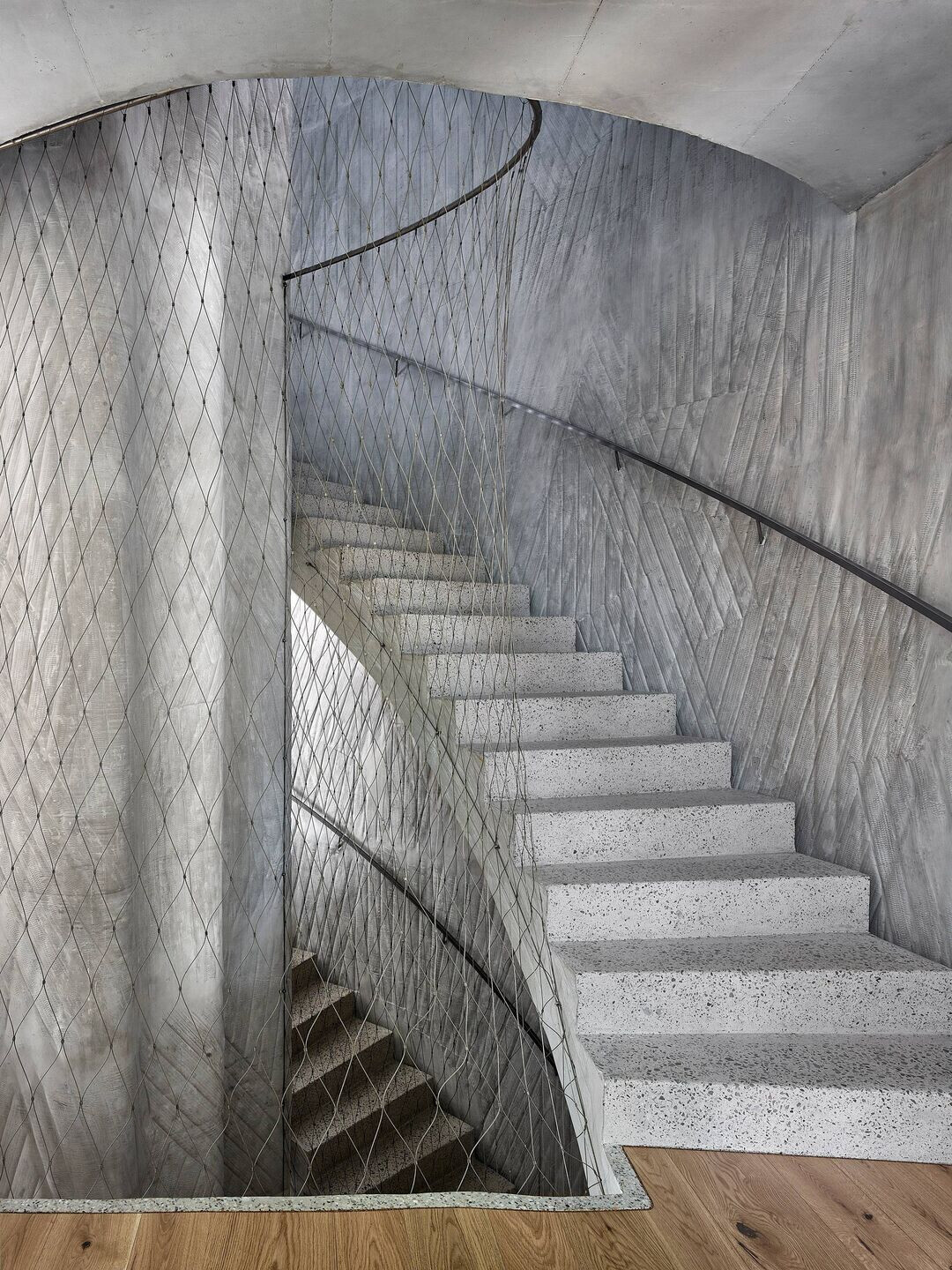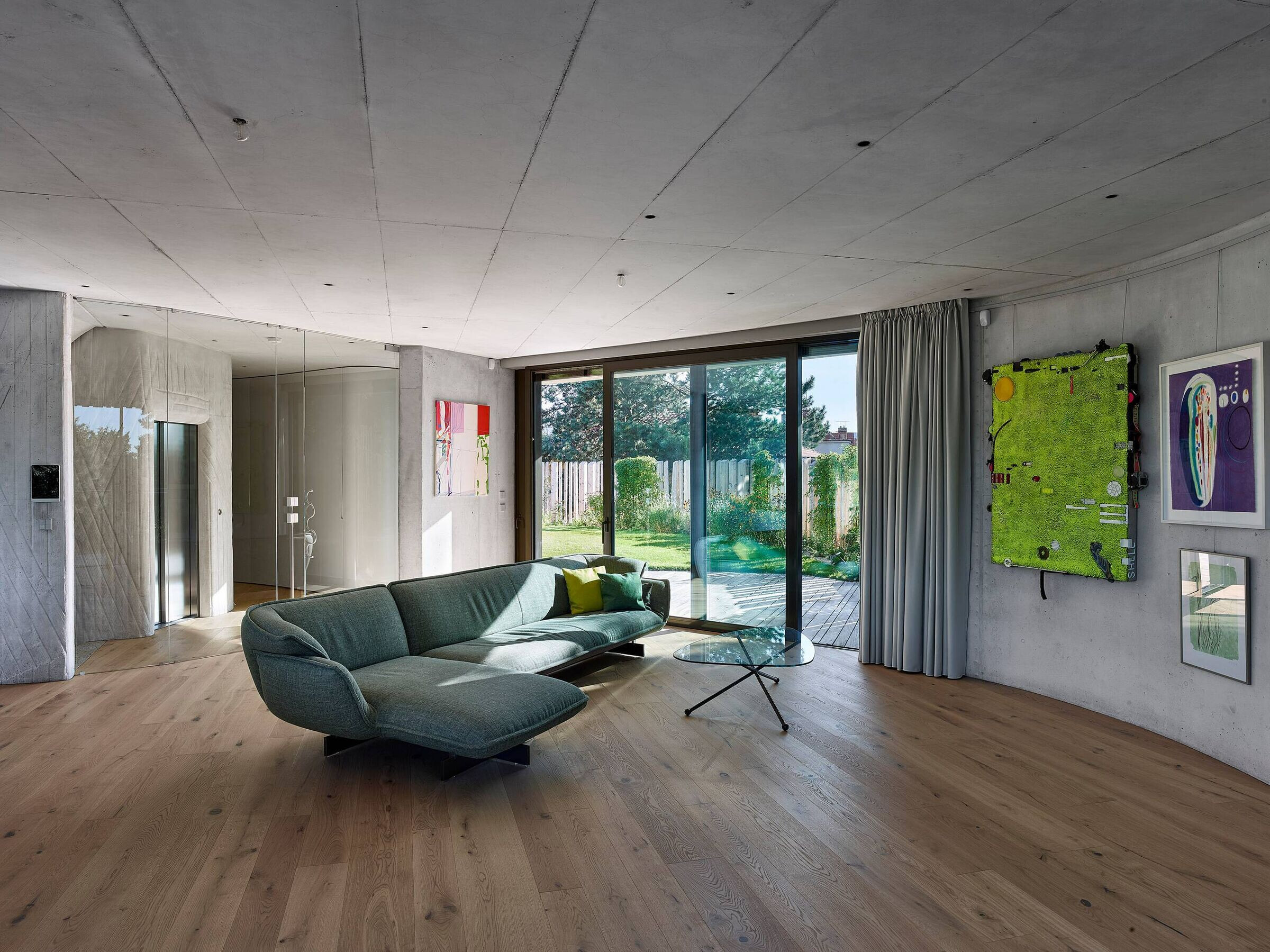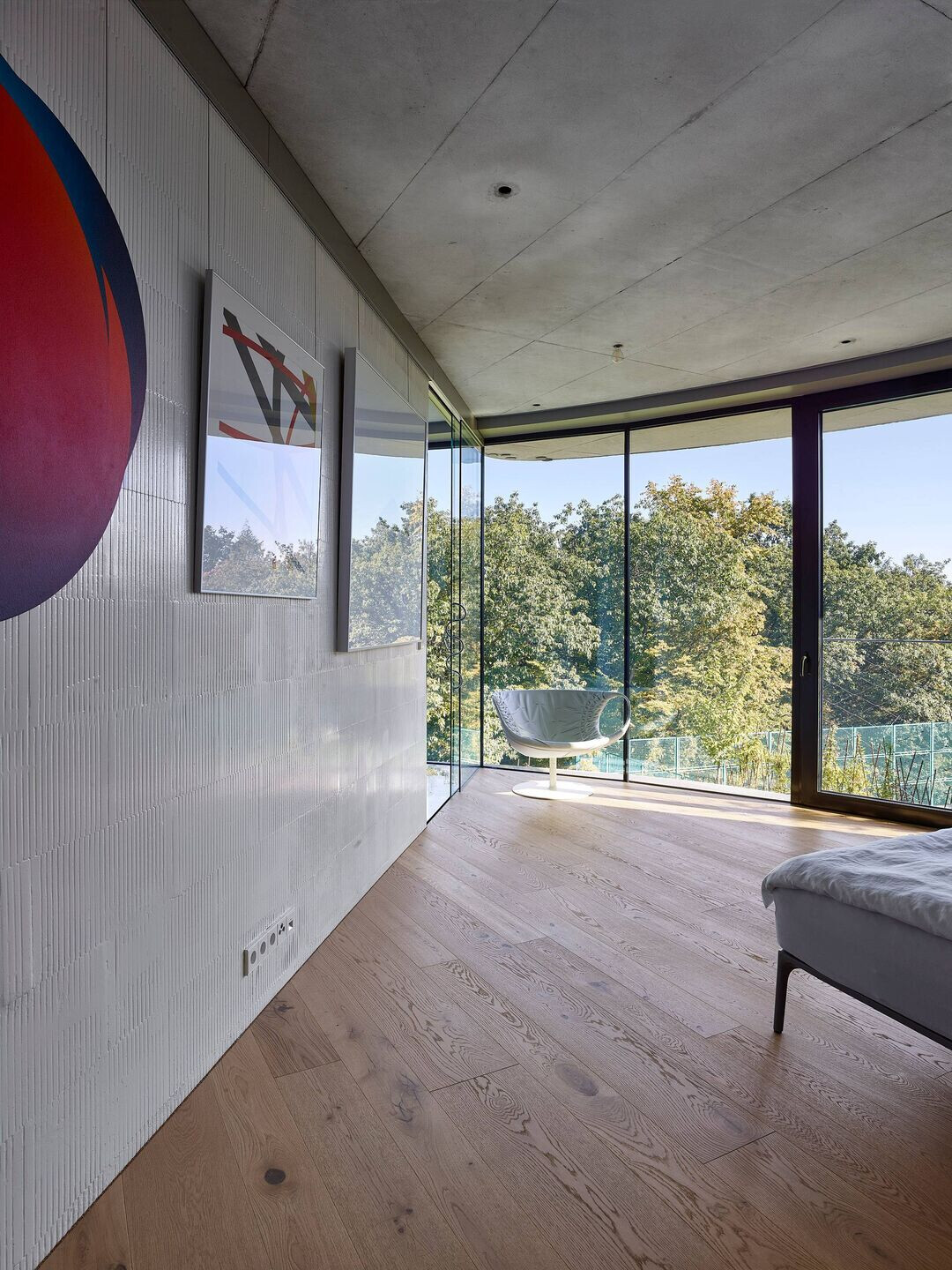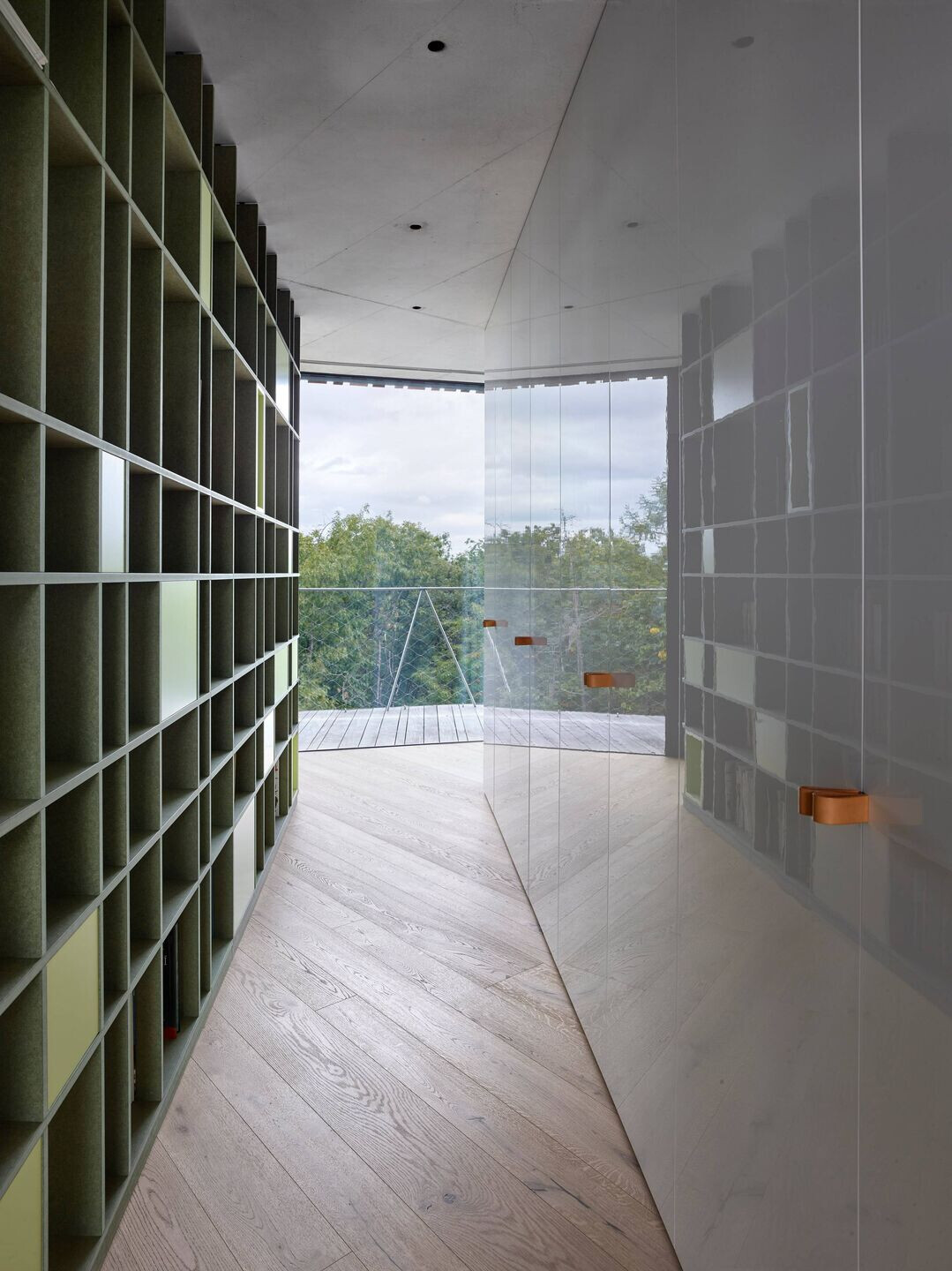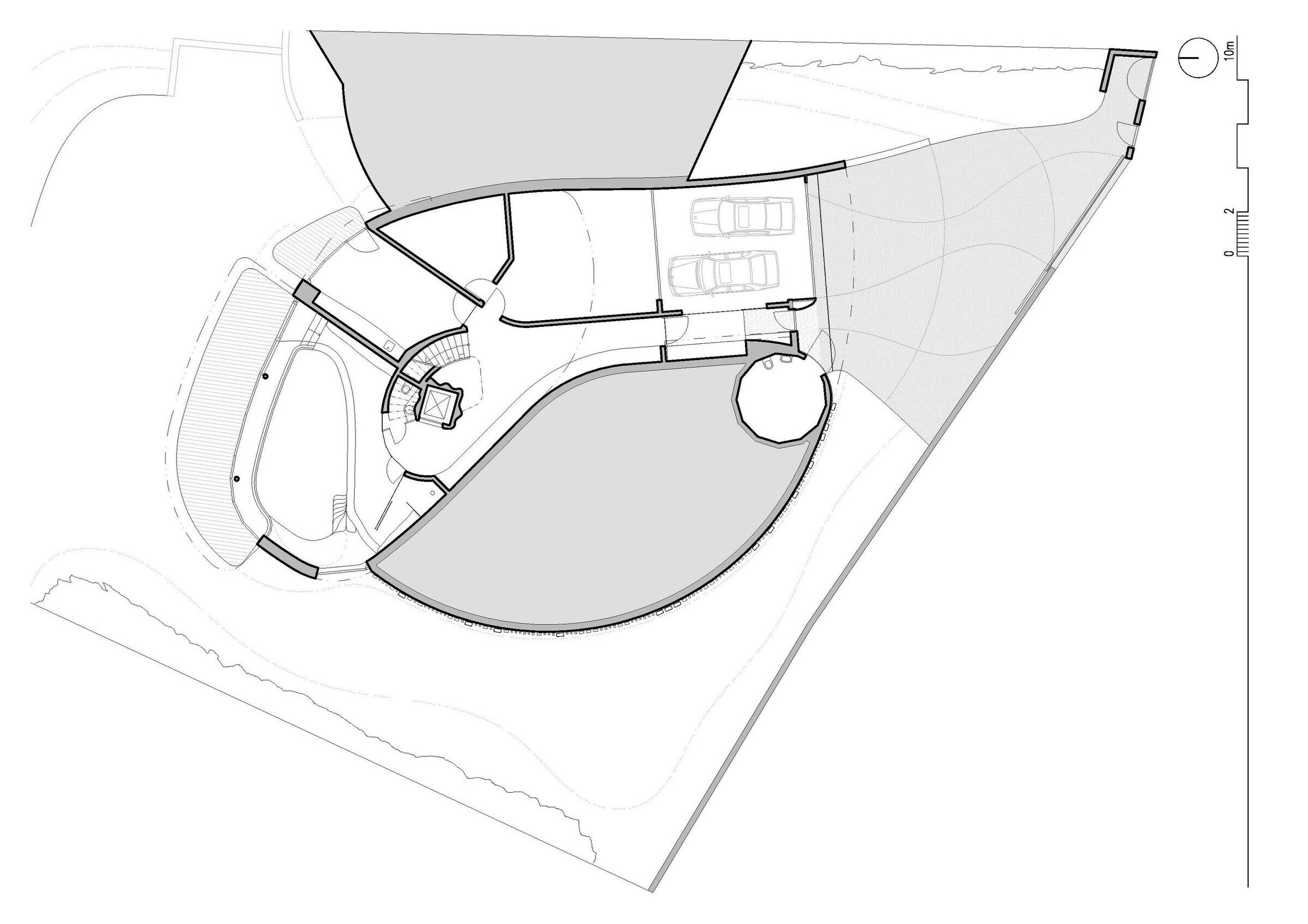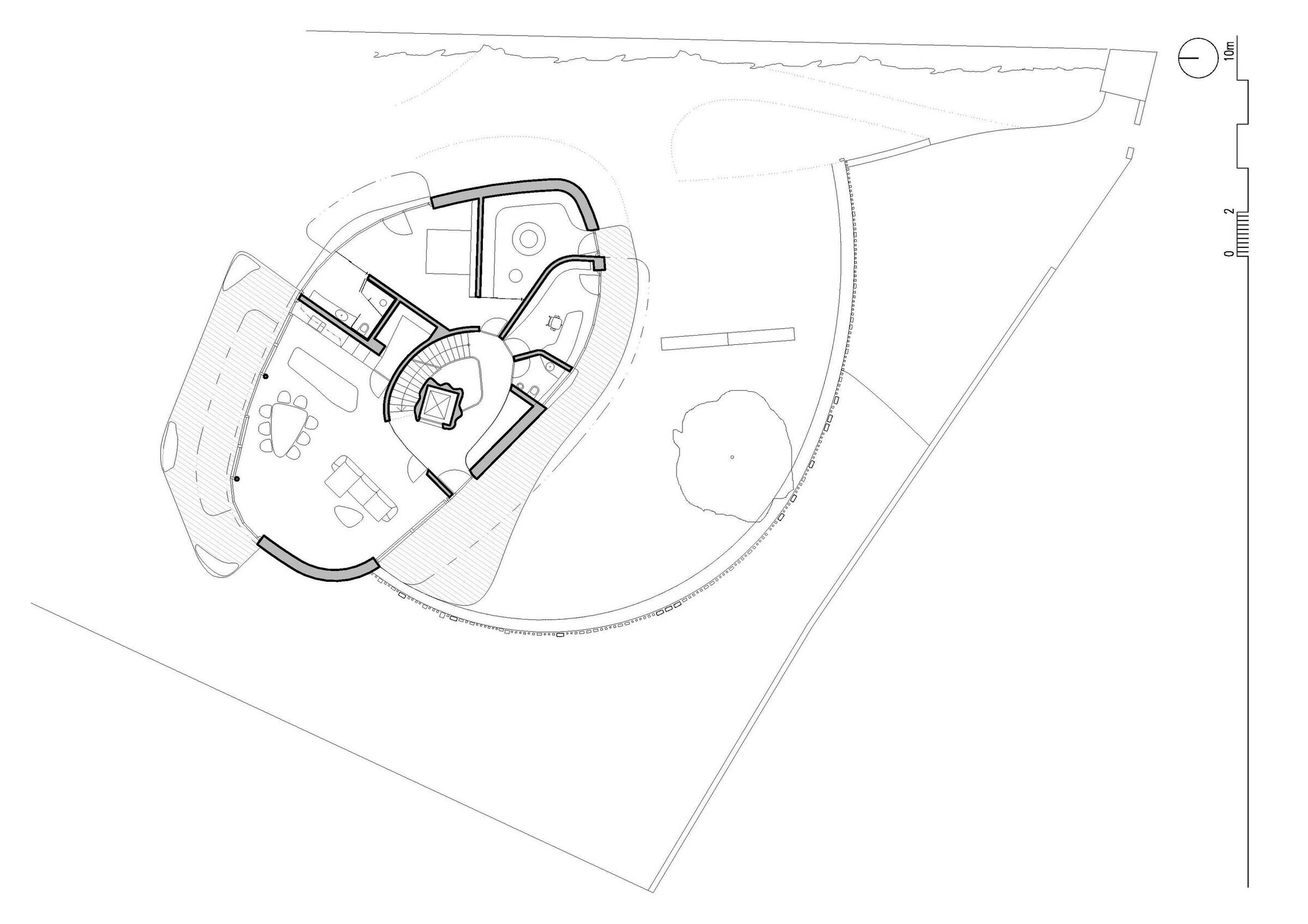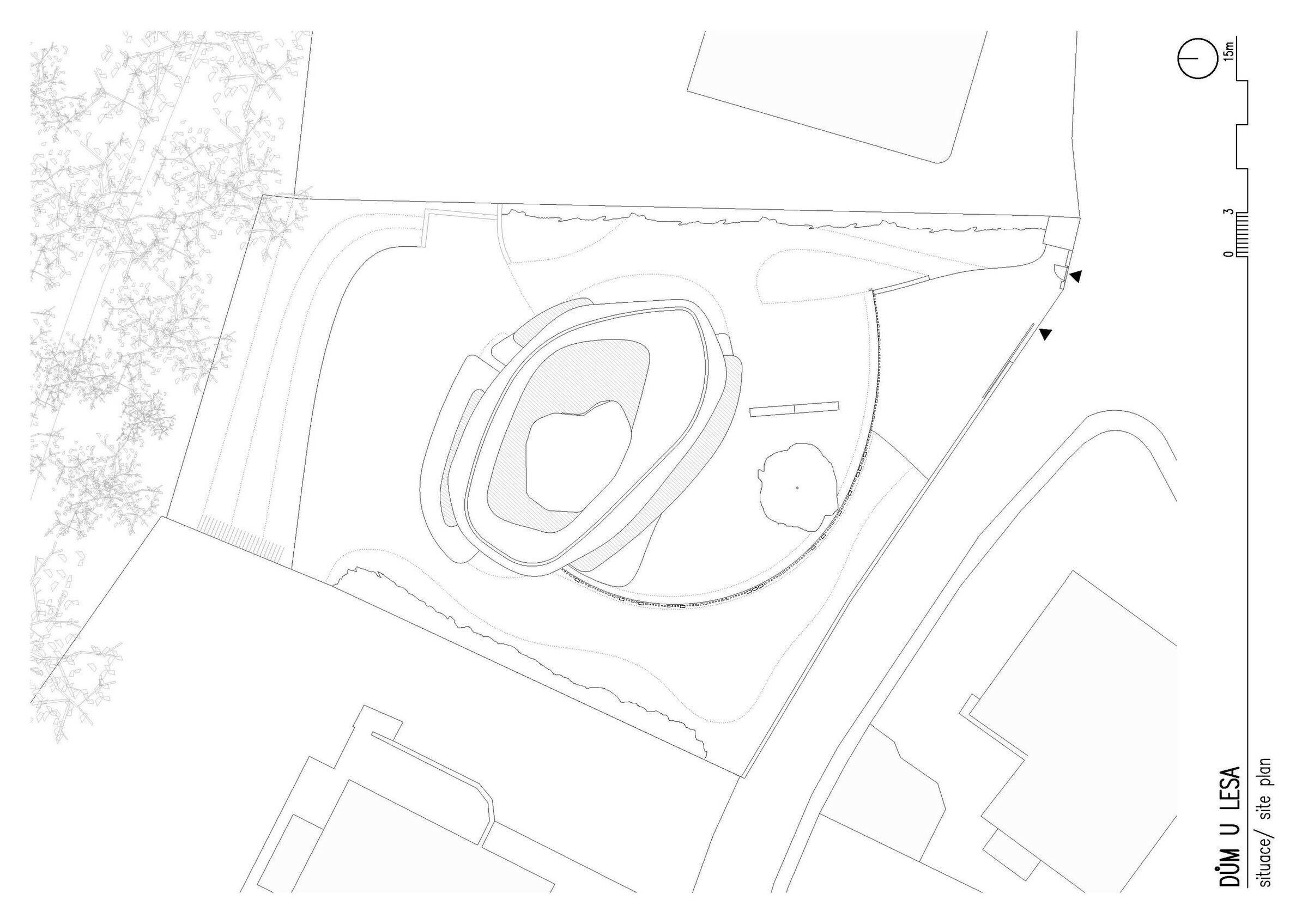 Material Used :
1. Facade cladding: Aluminum sandwich board (Bond with reflective top layer) interspersed with larch boards on the substructure (Bohuslav Straka)
2. Concrete structures: Faced concrete with atypical formwork and pattern (Hinton a.s., Daniel Domanja)
3. Concrete ceiling: Tunnel s.r.o.
4. Ironmongery: Railings on terraces - stainless steel BLANCO (TPB STEEL, spol.s r. o.), stainless steel nets (Cabletech, s.r.o.)
5. Flooring: Oak planks (Admonter) with bleached oil, Floor 4 Life s.r.o., terrazzo (Olextons.r.o.)
6. Doors: Atypical doors - solidrebateless from lacquered MDF, frameless glass opening and sliding (Tunnel s.r.o.)
7. Windows: Aluminum glazed facade Schüco (Hinton)
8. Roof: Flat roof with PVC foil - partly walking terrace made of Garapa planks, partly green roof, service roofs covered with river stones
9. Interiorlighting: Atypical lighting with LED engines (Tunnel s.r.o.)
10. Interiorfurniture: Atypical built-in elements and solitary furniture - lacquered and painted MDF, corian (Tunnel s.r.o.), standard furniture (Konseptispol.sr.o.), curtains and upholstered elements (JM-Interior)
11. Stone tiles and counters: Marble tiles and floors in bathrooms, granite kitchen counter (JEŽ - kamenicképráce, spol.s r.o.)
12. Gardening and landscaping: Rosteto, s.r.o.
13. Jacuzzi on the roof terrace: USSPA, s.r.o.