This old 18th century farmhouse is located in a privileged area surrounded by nature a few meters from a large park crossed by a river and a few minutes from the center of Montpellier.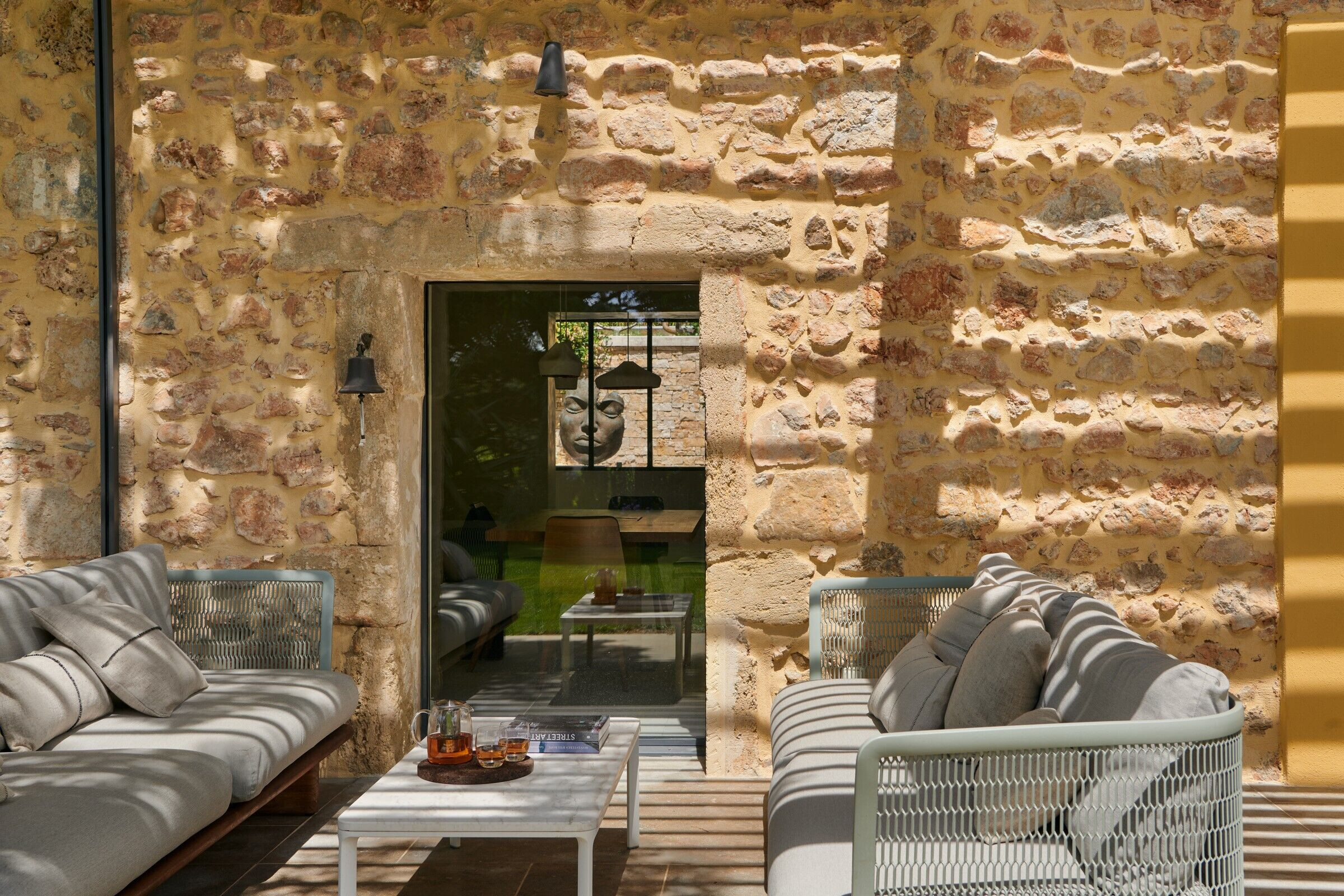 The project consisted of a comprehensive reform of the existing building and an annexed extension that should function as an independent dwelling for guests or for adult children when they came to visit. The two buildings communicate through a corridor with large windows that was excavated into the rear area behind the old façade.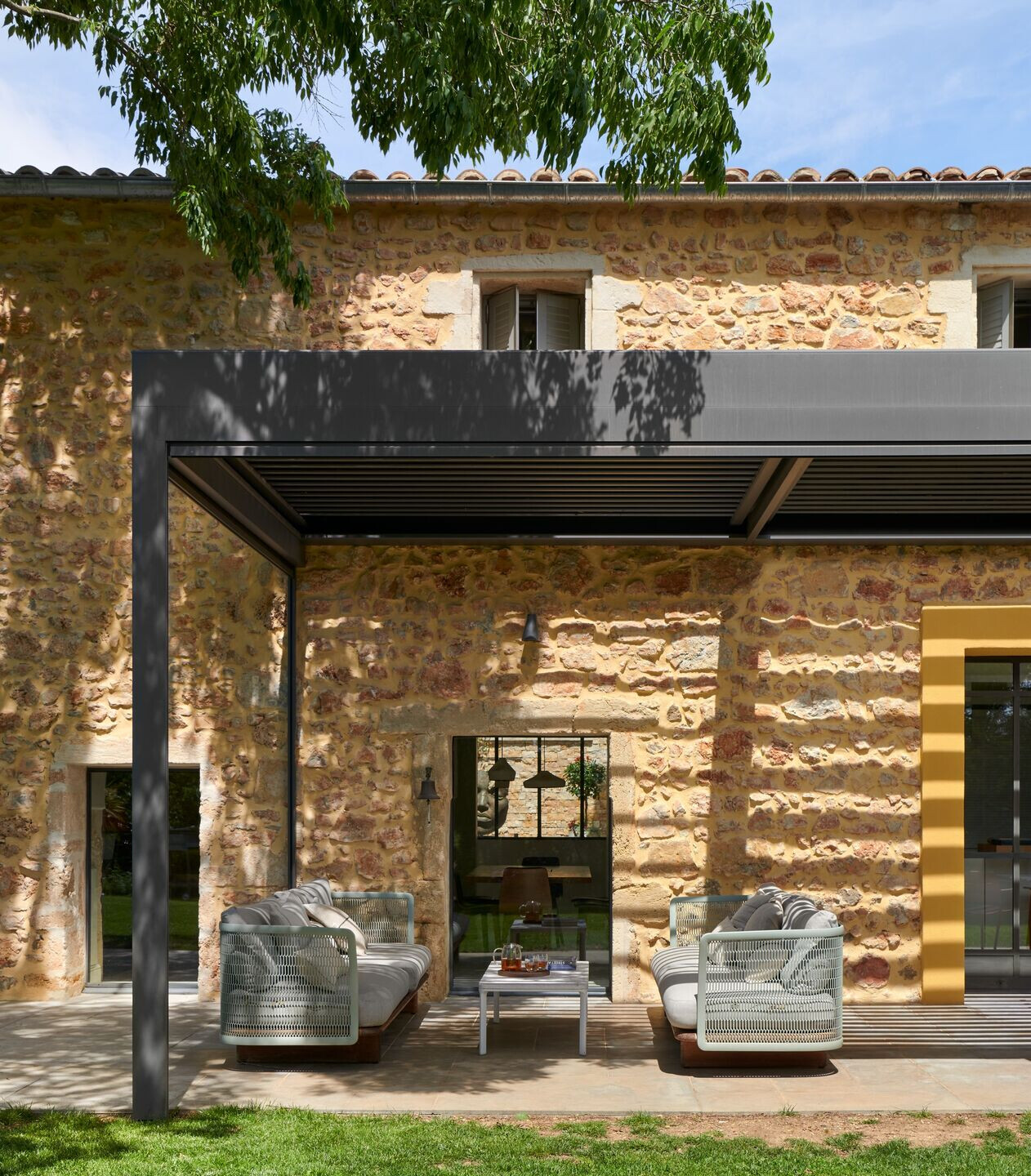 At the express wish of the owners, the new construction should have a contemporary character that, in turn, should be in harmony with the existing architecture and fully integrate with the environment.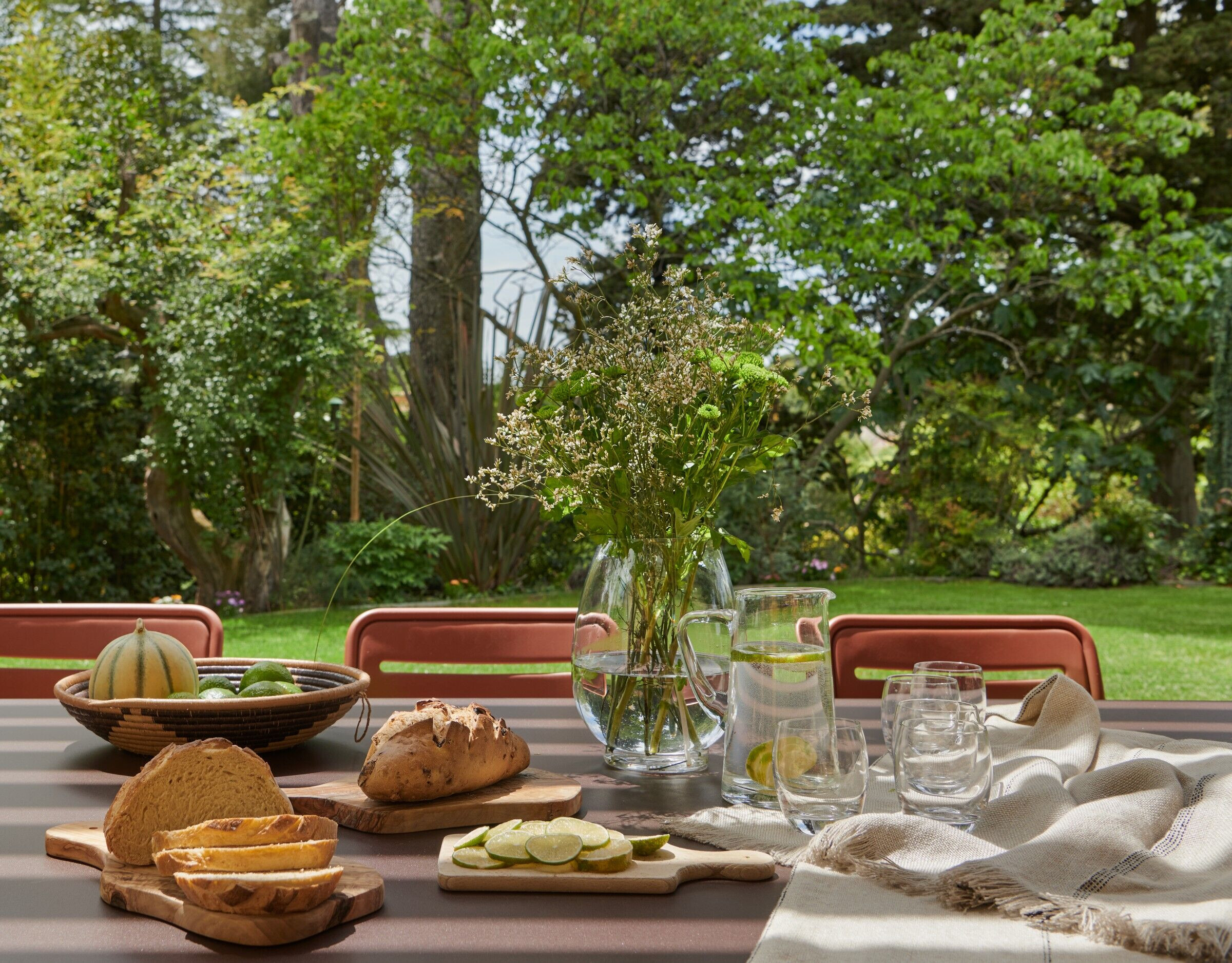 The new one-story building was conceived around a mobile ground pool and a 2 meter high waterfall.
An extension was also made to the main façade with a service room and a 100% glass greenhouse with a very modern appearance.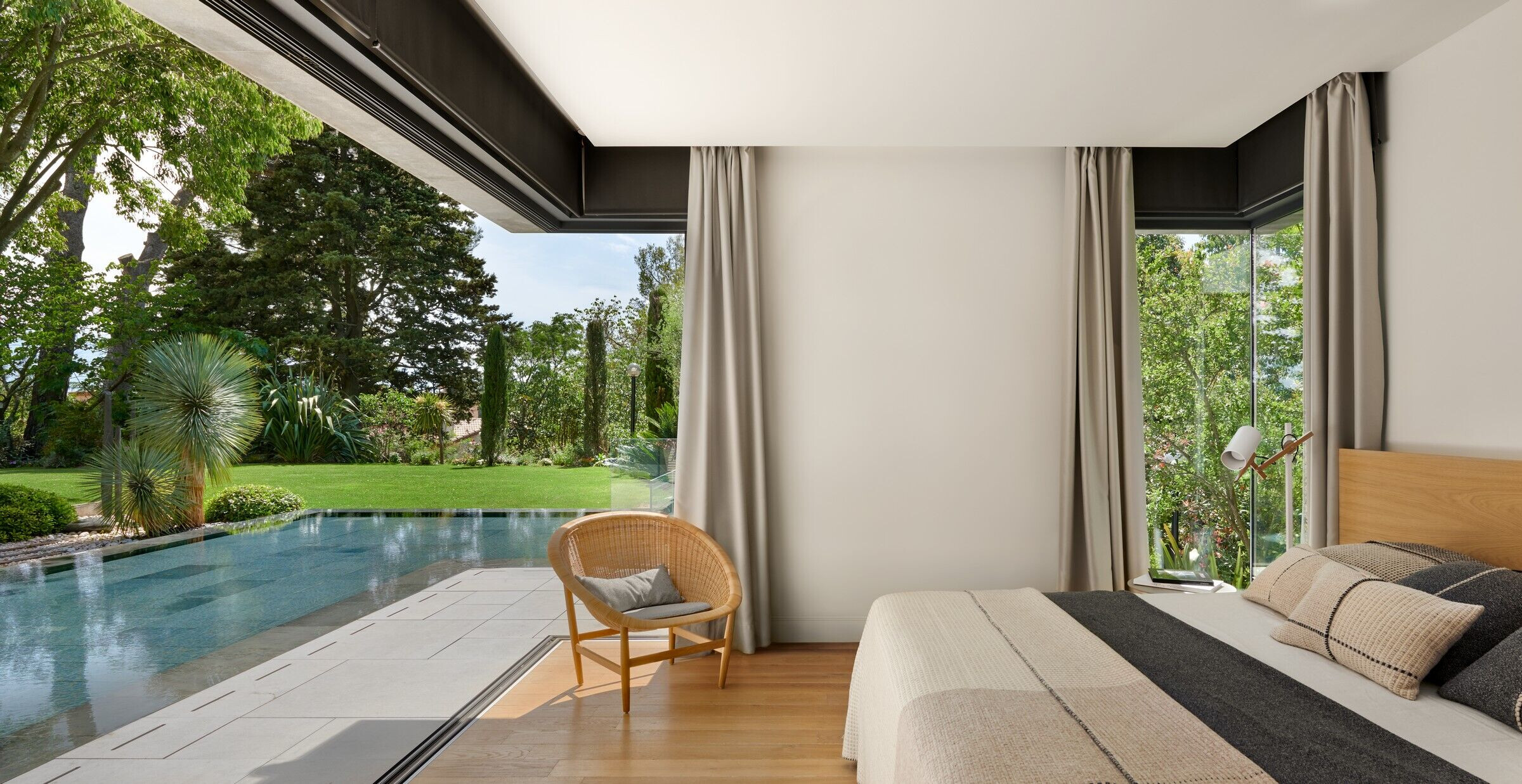 The old farmhouse with a gabled roof contrasts with the flat roofs of the façade extension and the new nave, which were finished with a green roof, since due to the unevenness of the land they could be seen from different points of the main entrance and garage.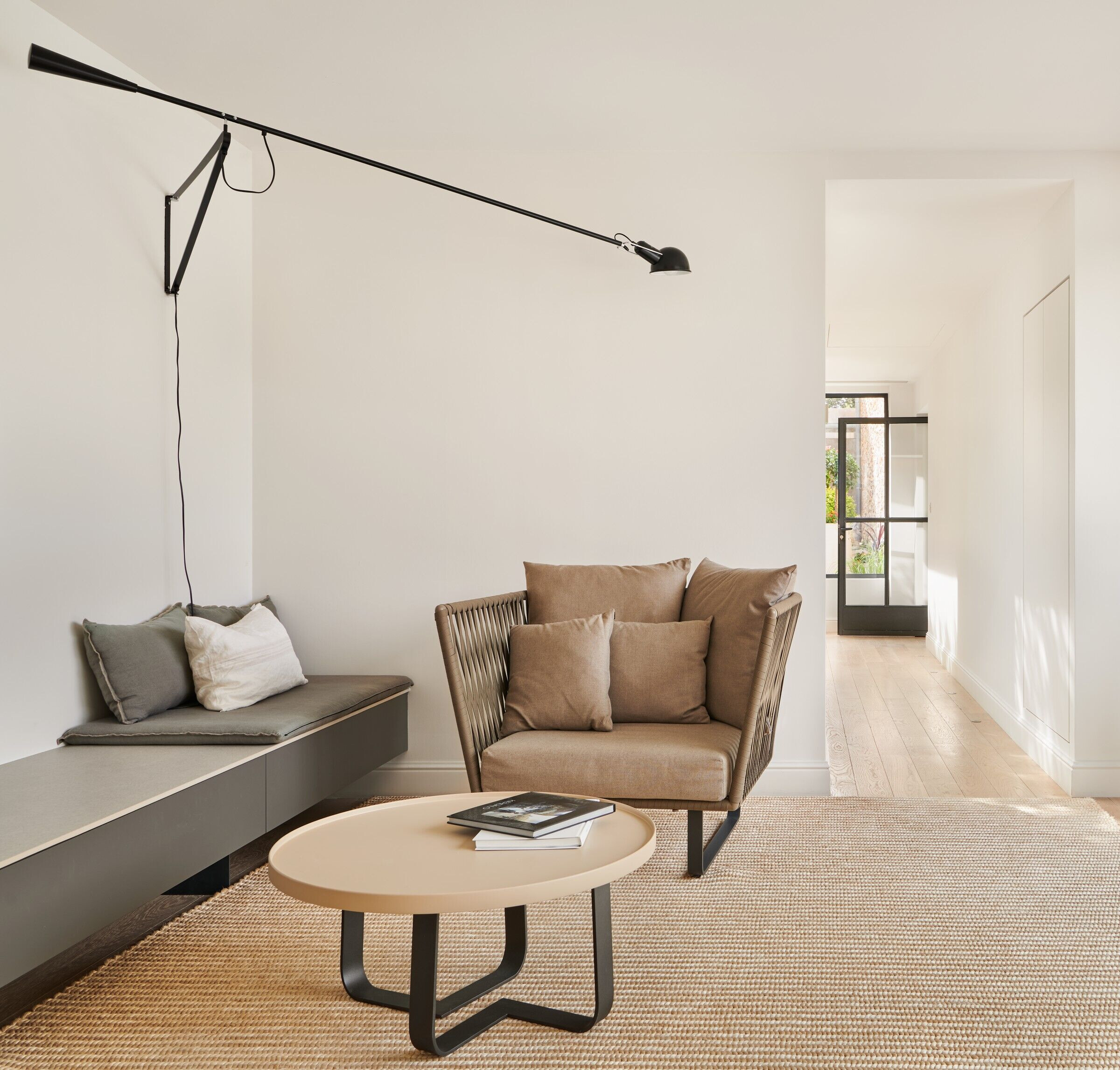 The main house has two levels that are organized around a central patio that brings natural light to the interior of the ground floor, connecting the two main spaces, the living room and the library study. On the ground floor there is the access from the garage and the main entrance, a courtesy toilet, the study library, a spacious living room with original vaulted ceilings, and the dining room-kitchen-office with direct access to the garden and the terrace provided with an automated pergola that allows protection from the sun and rain at any time.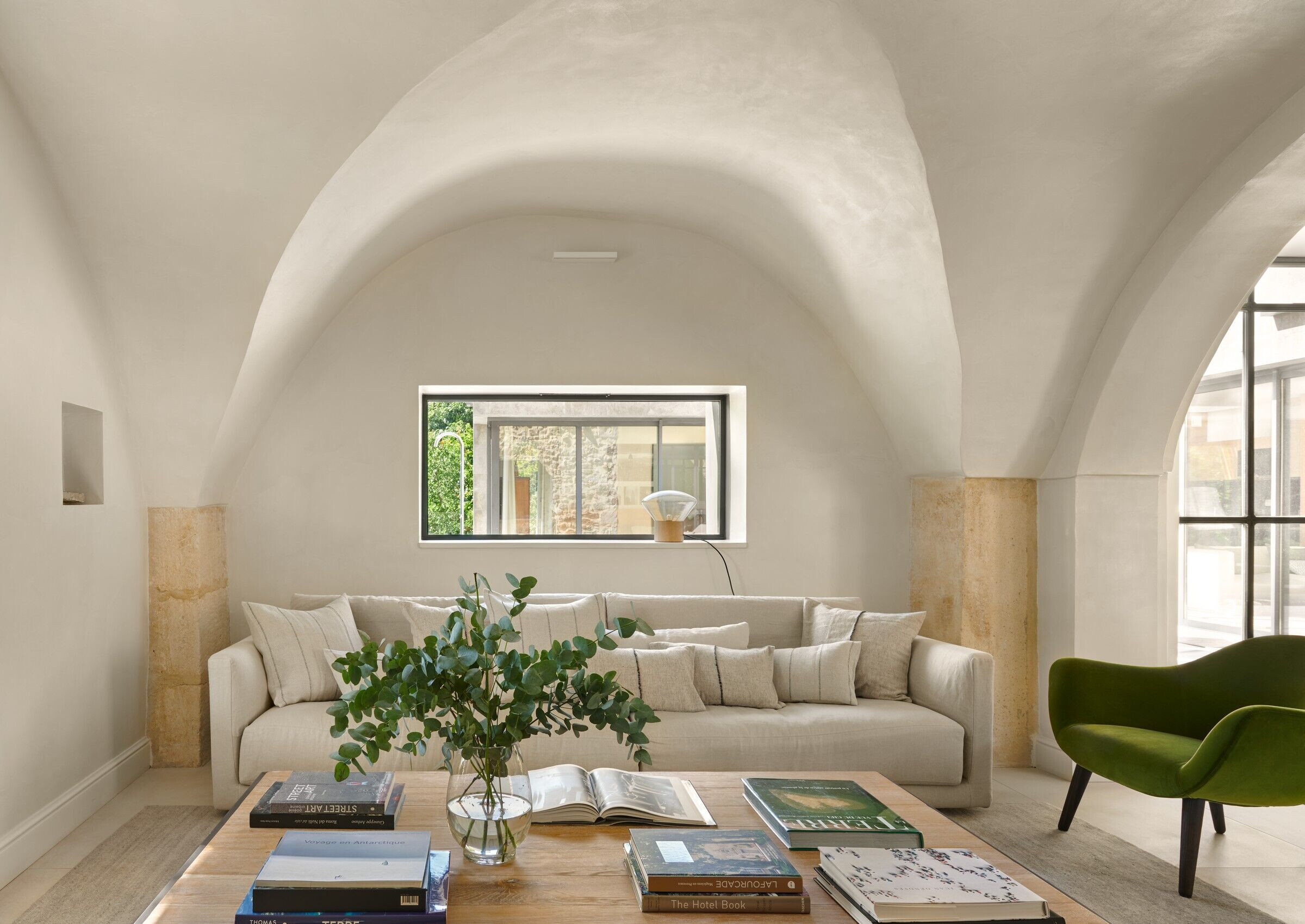 The rooms are located on the upper floor, 2 large suites with their own bathroom and dressing room, all with views of the garden or pool.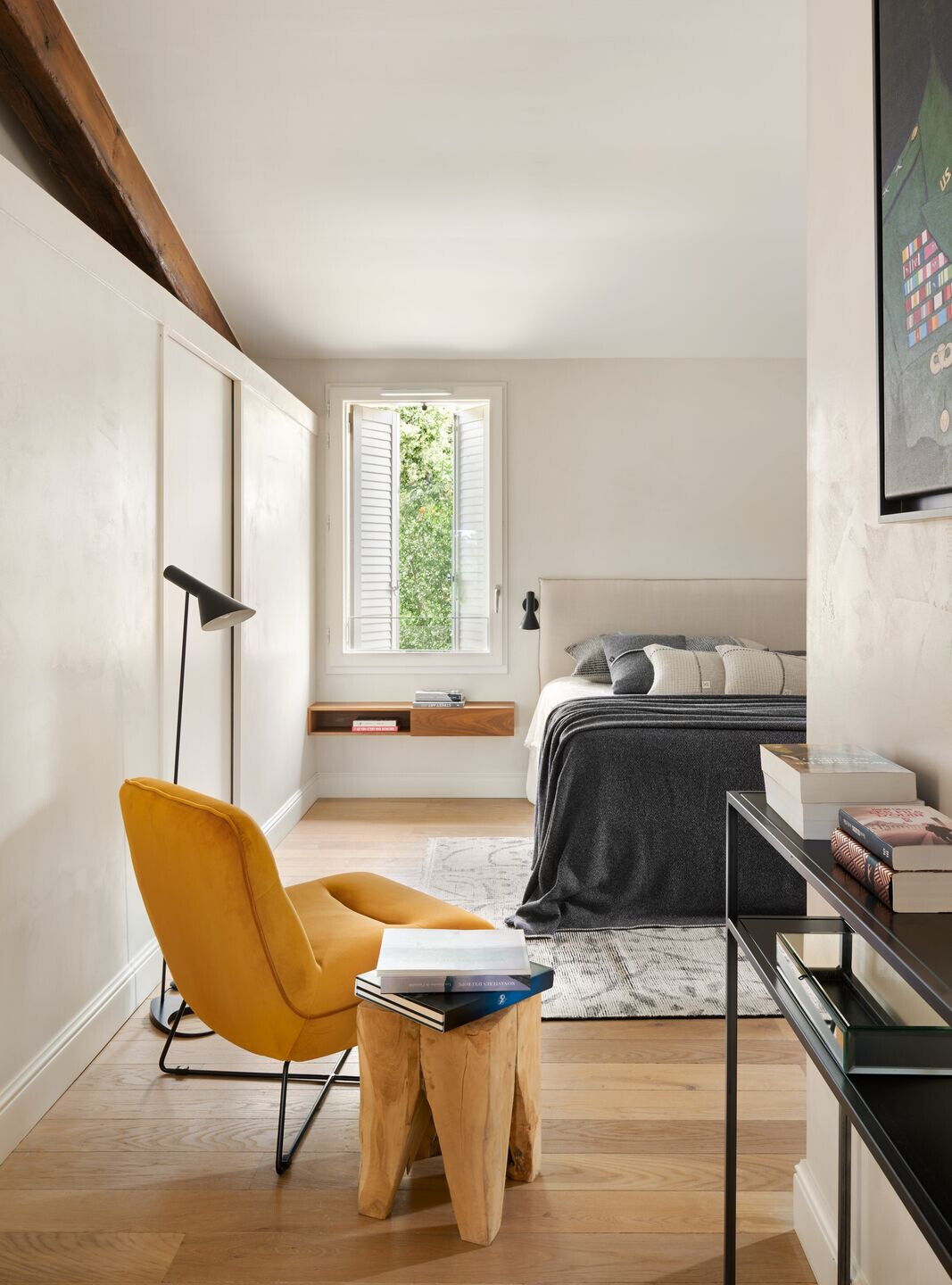 Continuous and neutral materials were used throughout the house, on the ground floor we opted for a large-format porcelain floor with a polished concrete finish, which was also used for the bathrooms in the annex building, both for flooring and cladding. For the rooms and living room of the annexed building, an aged oak wooden floor was chosen.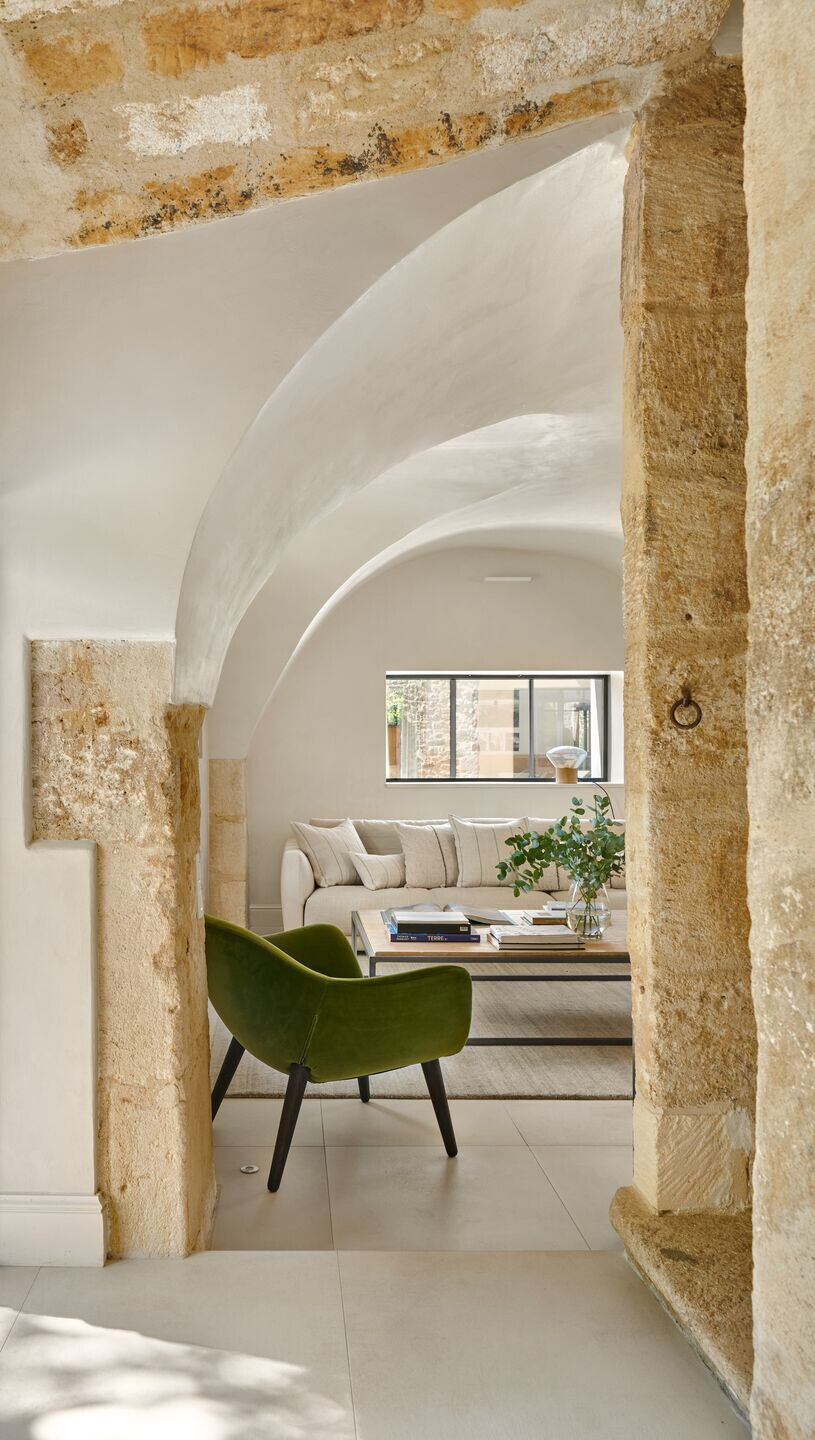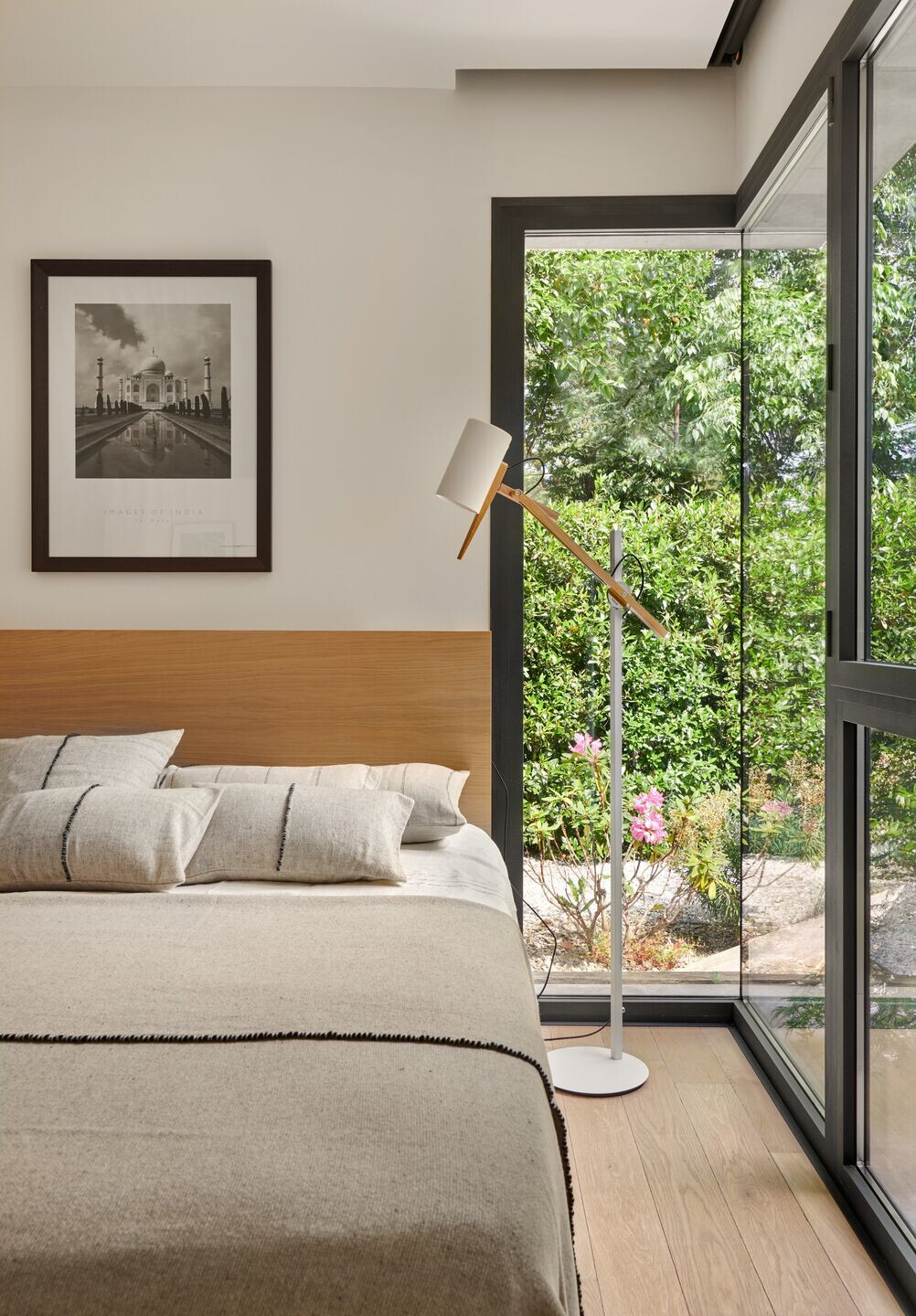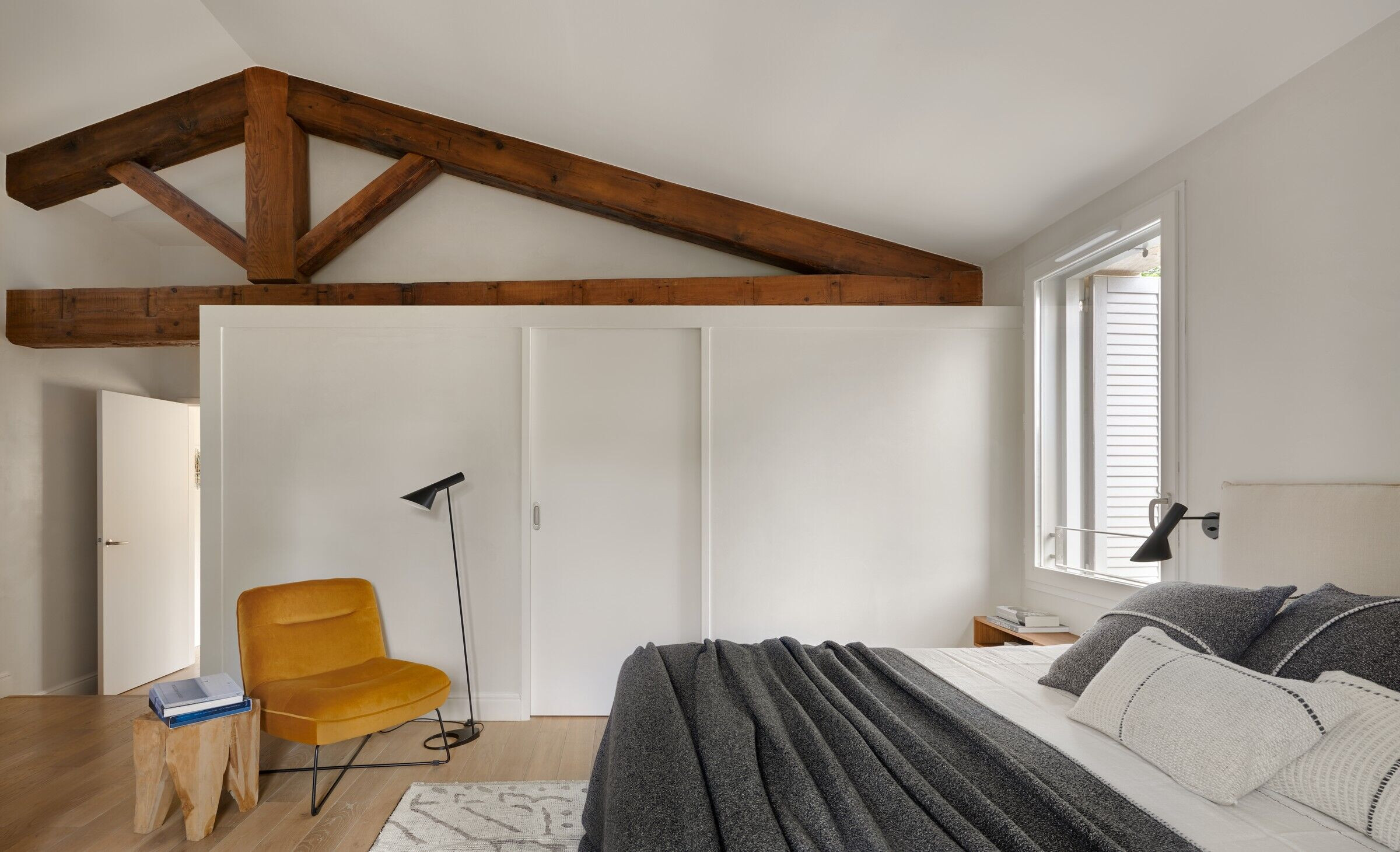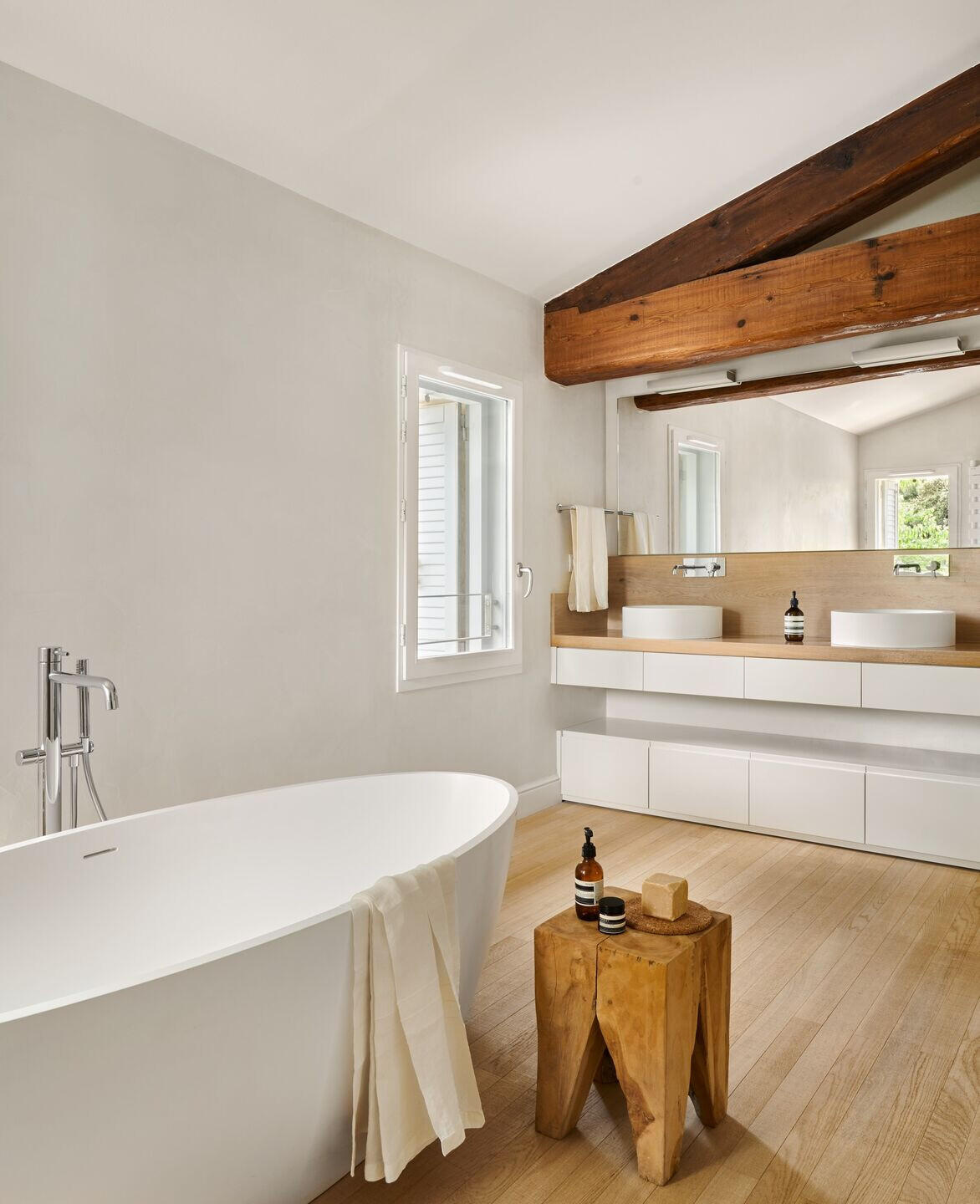 Material Used :
1. Facade cladding: Pierre calcaire du Causse etchaud sol. ADEQUATE
2. Flooring: Porcelain stoneware ref. Industrial Ivory mat. Floor Gres
3. Doors: Dmf painting
4. Metal Windows: Profil Systeme from Allutech
5. Wood Windows: Cardonnet
6. Wall: Mineral plaster, Marmorino from Novacolor
7. Kitchen: mod. B3 de Bulthaup
8. Interior lighting:
Mod.265 - Flos
Mod. Type 75 - Anglepoise
Mod. Scatling - Marset
Mod. Pleat Box - Marset
Mod. AJ - Arne Jacobsen
Mod. Muffins - Brookis
9. Interior furniture:
Sofa Bristol - Poliform
Sofa Shangai - poliform
Armchair mod.Mad chair - Poliform
Stools mod.Morph - Zeitraum
Cushions & plaids Teixidors
10. Outdoor furniture:
Sofa mod. Mesh - Kettal
Armchair mod. Bitta - Kettal
Armchair mod. Basket - Kettal
Chairs mod. Village - Kettal