Drawing on mid-century materials and thoughtful design, Mid-Century House is a celebration of functionality where every aspect of our clients' habits and rituals have been given laser attention to detail.
Having already enlisted architect Scortis Rajaratnam Architecture & Interiors to design their magnificent dream home, the home's shell was well underway when we arrived on site, but our early involvement allowed the seamless integration of decorative elements into the interior architecture.
What began as a brief to work the flooring, joinery and more decorative architectural elements soon bloomed into an exploration of the overall materiality and furnishing of the home.
Our clients' had exacting criteria that included a comfortable and thoroughly modern home with a mid-century feel. The architect drew inspiration from the 1968 film 'The Party,' set inside an impressive LA villa with a sunken lounge and sandstone walls. Our challenge, then, was honouring these classic design elements without falling into imitation; everything was to have a 'nod' and a 'twist,' which became something of the project's mantra.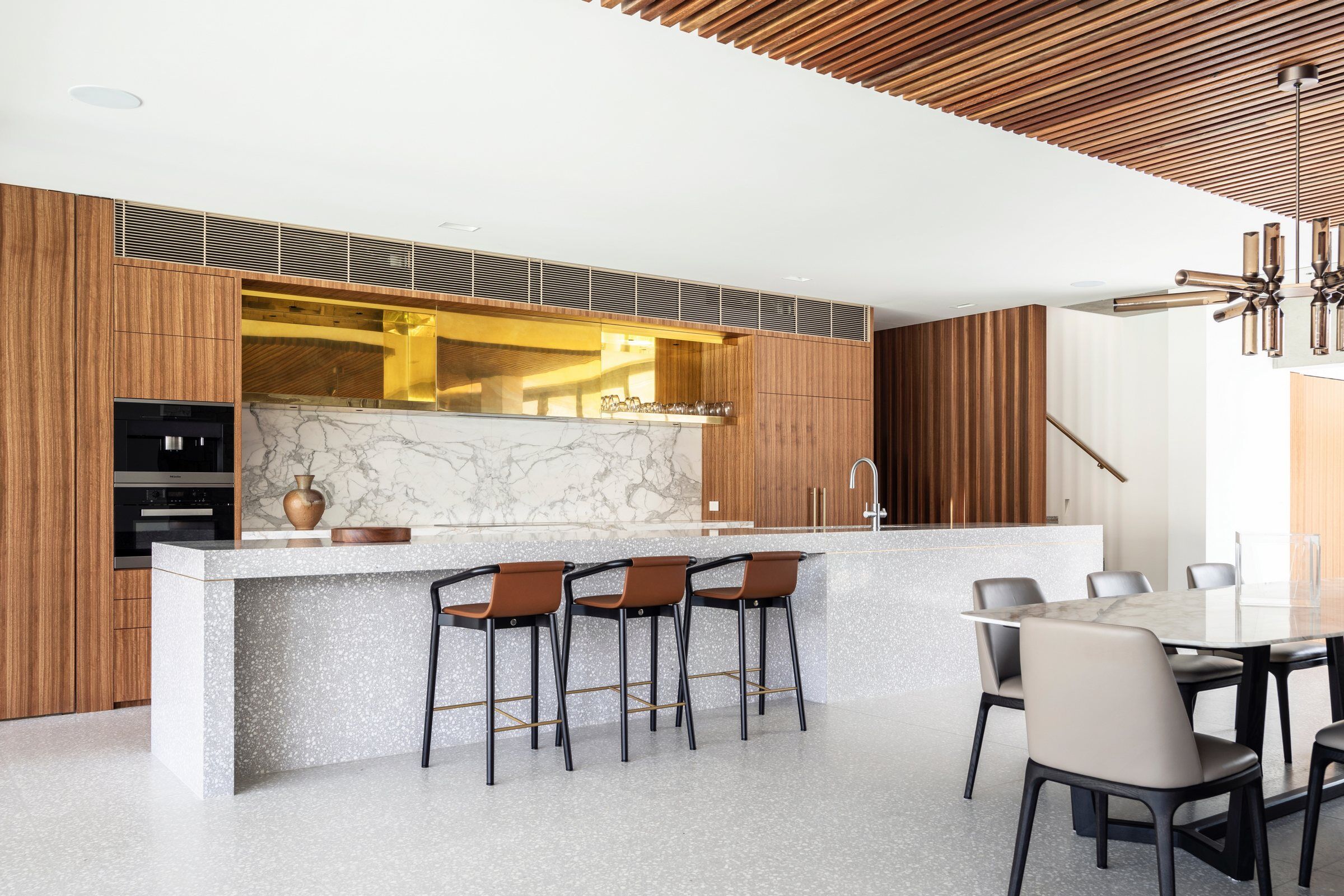 But first, the flooring, which was leaving our clients feeling more bewildered than inspired. The decision was no small task; it needed to tie together several elements and our clients were oscillating between natural stone, concrete and terrazzo. After inspecting countless samples, we landed on a custom-made local terrazzo, which immediately sets the tone for a mid-century-inspired home, but also added that important personal twist by speaking to our clients' Italian heritage.
In the kitchen, the central terrazzo island seemingly emerges from the floor. It is a place for more than just cooking; mammoth in size, it responds directly to the client's brief for a highly contemporary home. Given the expansive space, we envisioned a sculptural feature that would act as both the stage for juggling busy family life and a place to gather for drinks.
In such a large-scale home, it was important to foster material cohesion. Fusing each area is a layering of terrazzo, glass, spotted-gum veneer and brass, which informs the palette and pays tribute to the mid-century sensibility of the home.
Copious terrazzo is used both as a durable dressing for the floors and for the finishes; we lined the bathroom with the tile format and had custom slabs made for the staircase. While the terrazzo allows for an easy flow from one space to the next, it also required a little working so as to ensure the home didn't feel too cold or cavernous.
We selected brass as a device to frame and add warmth to the terrazzo; it makes a subtle appearance inlaid in the kitchen island and stair treads, and provides more of an impact as a solid sheet wrapped around the kitchen rangehood.
In a home that hones stripped-back style, it is the material palette that makes an impact. Striking Calacatta Oro (again Italian) adds an art-like quality in the kitchen. Detailing is refined and highly tactile; bespoke brass handles for the joinery and open shelving, again in brass, creates openness and provides opportunity for display in the kitchen.
We introduced the fireplace unit as a gravitational element to both segment and tie together the kitchen and sunken lounge – another nod to the mid-century theme. Here, the interplay between expansiveness and intimacy sets the tone for family life, where connectedness and privacy are of equal importance. The thoughtful application of brass, wrapping two sides of the fireplace, echoes the kitchen's materiality to provide a sense of balance.
All new furnishings were chosen for their quality, above all else. Careful not to merely replicate the mid-century style, we opted for Italian brands that would stand the test of time.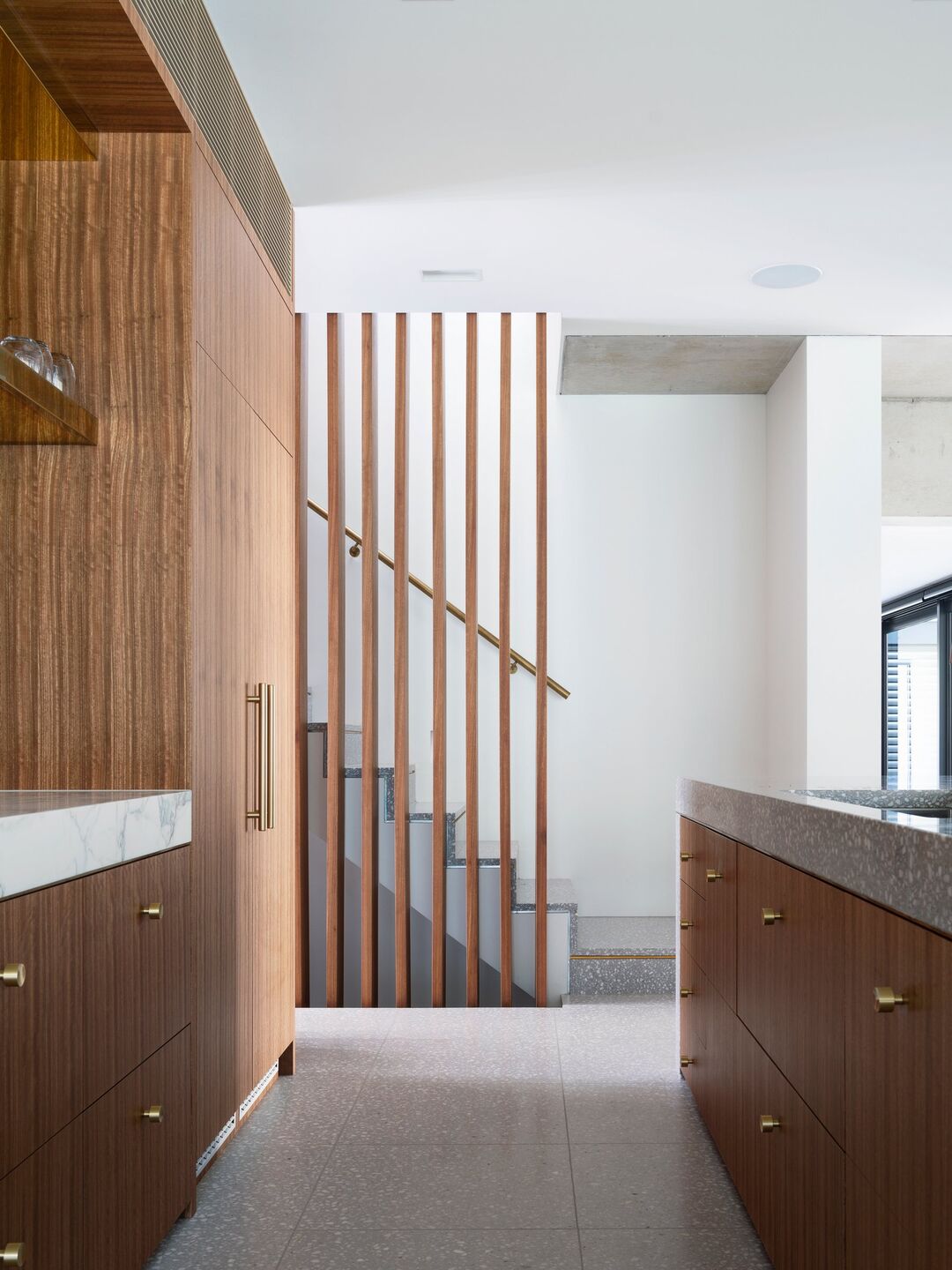 Velvet and leather warm the terrazzo interior, while colour is used sparingly but thoughtfully. Our selections were restrained so as to honour a minimal interior where functionality is first and foremost.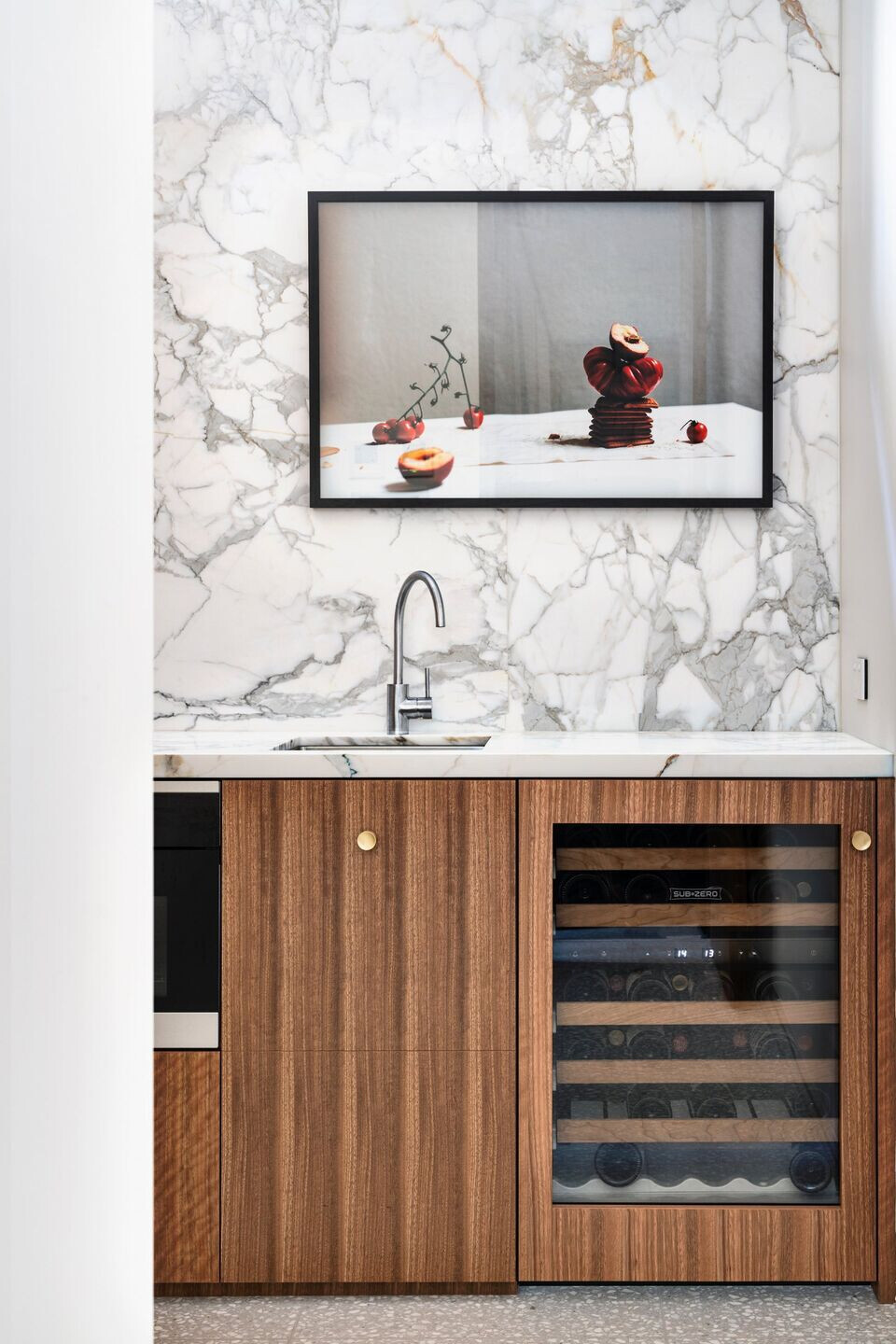 Clean, functional and kid-friendly, Mid-Century House thinks beyond the confines of a traditional family home, adopting a welcoming nature and tranquillity through its pared-back palette and subtle detailing.
Material Used:
1. Poliform: Concorde Table
2. SPACE Furniture: Giorgetti, Round Low Table
3. Fanuli: Flexform Wing Sofa With Small Arms
4. Cult Design: Maggiolina Lounge Chair