The Room Studio participates in this 56th edition of Casa Decor with GIRA presenting the space 'Modern Times', designed and created by Meritxell Ribé and Josep Puigdomènech. This new proposal is conceived as a workspace within a home. The Room Studio wanted to create a relaxed area away from all external noises, a harmonious place that transmits peace and serenity and that, at the same time, is a very functional space.
Thanks to the close collaboration with GIRA, we have had the opportunity to incorporate new technologies: creating a fully domotic environment and allowing the transformation of the space according to the use it is being given and the mood of the person who enjoys it. The use of natural materials gives the security and comfort we are used to dealing with, especially wood. The aim was to create organic forms that to convey the idea of being enveloped and enclosed within the space. The aim was for the space to transmit maximum serenity in order to be able to have maximum concentration.
The play of the hollow spaces filled with these shapes has made it possible to include cupboards behind this wooden "skin", cupboards that are concealed and functionally operative. Behind the customdesigned table, a panel has been created that conceals shelves and brings the surprise factor to the stage. As the user walks through the space, he comes across the convenient and practical shelves that can hide office material. The panels have been designed as pieces of art, as this is a key point in the development of the Studio's projects. Moreover, these panels created with geometric shapes have been executed using moulds and have been treated with natural lime that imitates stone.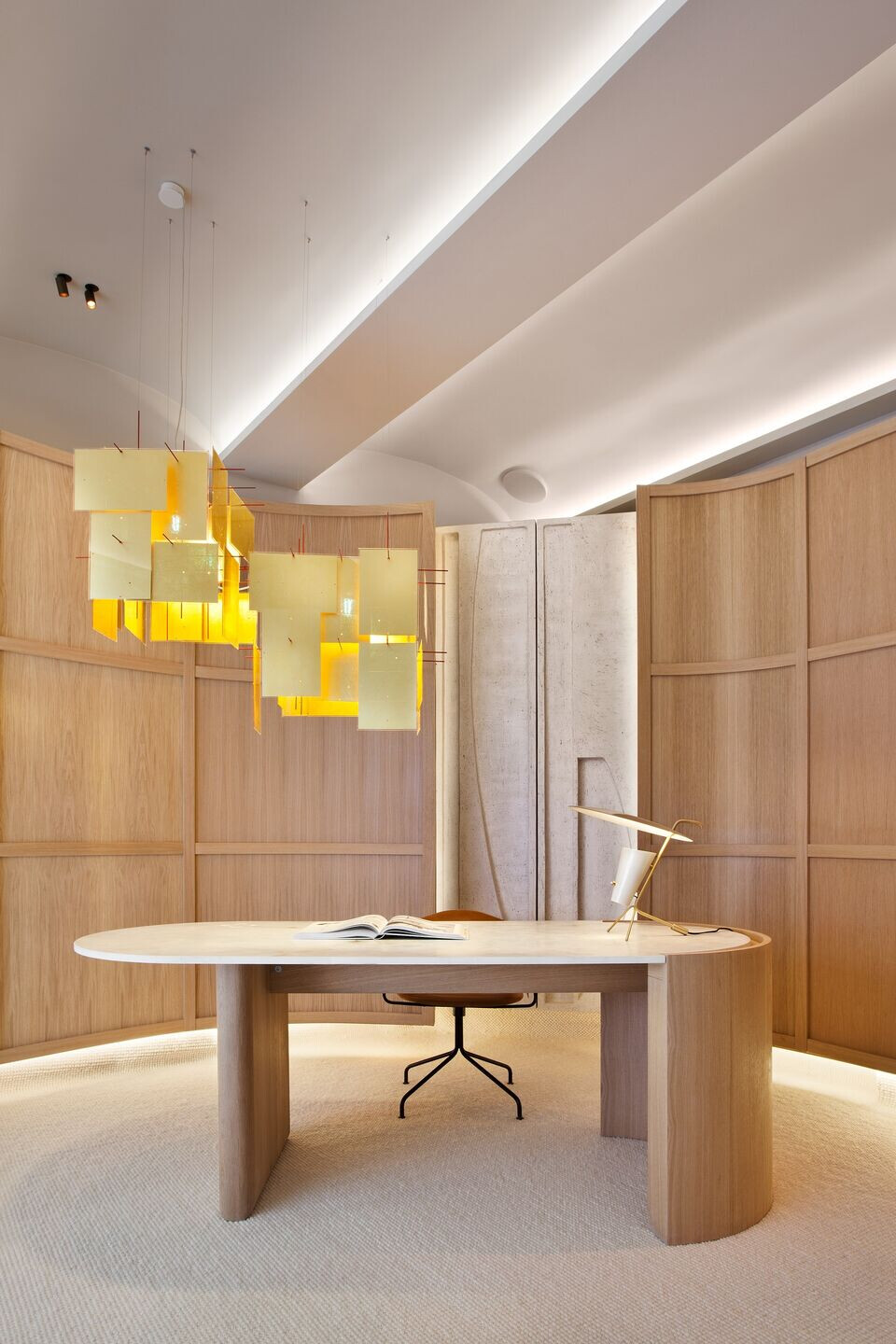 The desk is fully domotized, providing technological comfort, underneath it hides a very subtle membrane that allows the user to have total control of light and sound. Its design has been specially tailored to the space.
The decorative panels with rounded shapes mimic the shapes of the ceiling at a reduced scale and are strategically illuminated. This visual effect created by the studio adds a decorative, artistic and functional element to the space, as well as the acoustic functionality necessary to make it very quiet. For the floor, a New Zealand wool carpet has been chosen, laid on a foam that makes it very pleasant and comfortable to walk on. This surface goes all the way up to the plinth and overlays it, which keeps the eye calm with few distractions and provides a good acoustic level. The linen curtain has a significant thickness to create the different scenes and, in turn, helps to attenuate the sound. An elegant rail system defined as the world's quietest and noiseless rail system has been included.