The city of Vilnius simultaneously speaks of evidence of the past, life of the present and aspirations of the future through its built fabric and culture. The design proposal perceives Vilnius as the potential beating heart of the city. It realises the opportunity that a transport hub located in an area steeped in
history presents.
It is an inspired attempt that draws value from the macro and micro site-scape at every turn to shine a light on the potential of the railway precinct to pioneer urban solutions, celebrate the numerous forms of heritage, build context responsive and heritage sensitive structures, utilise landscape as an element of reactive urbanism, and bring the community together at different points and different formats.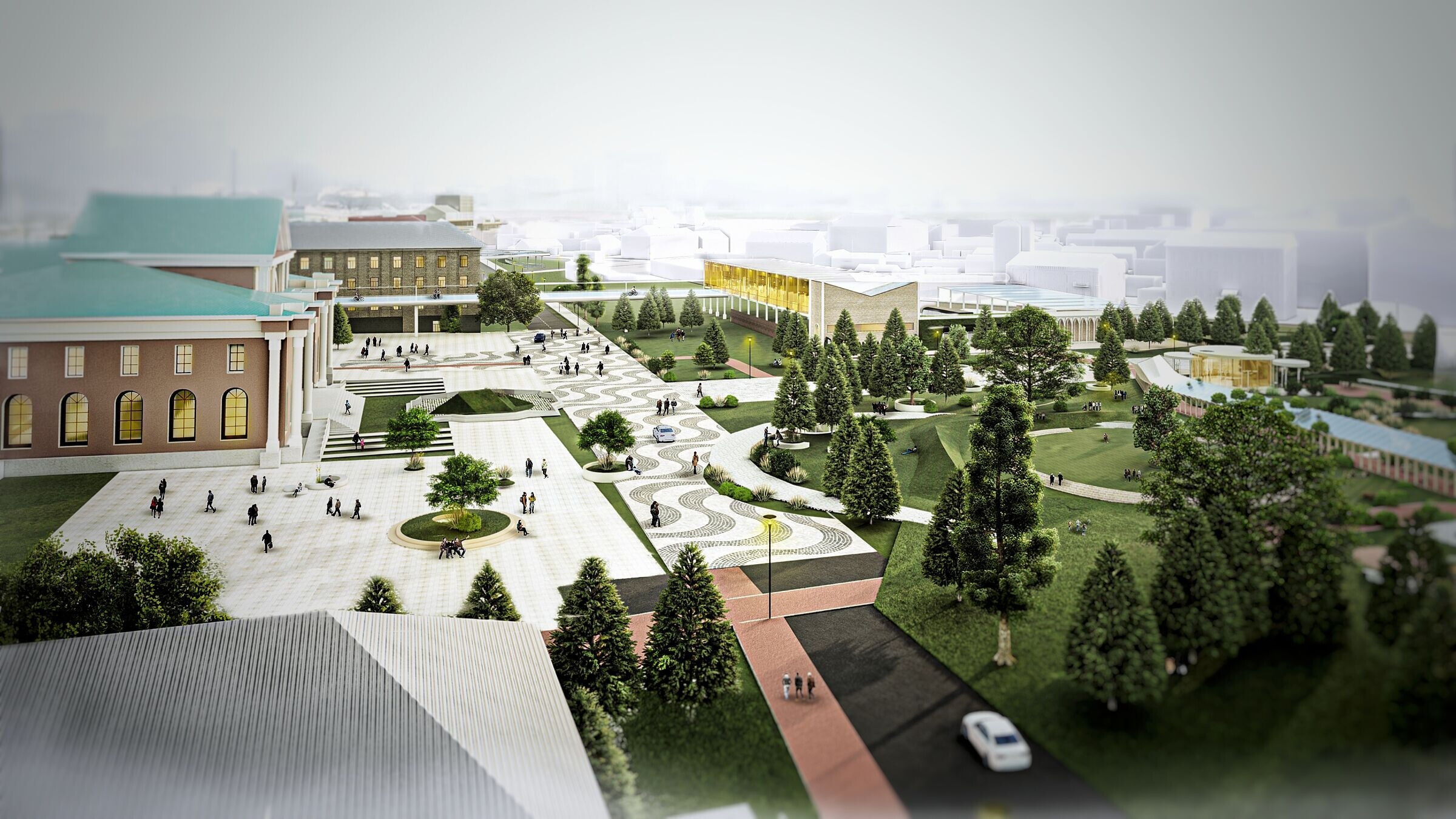 The urban interventions prioritize:
Transit, Junction, Road Interventions at multiple points
An E Mobility Hub is planned, placing importance on cycling and pedestrian movement facilities.
Heritage streets are celebrated through the routing of the cycling tracks.
These networks are implemented to tie up the residential neighbourhood, the new town and the heritage area.

Landscape measures are taken through the treatment of the plaza in front of the station, additions within Stoties Square as well as the conceptualisation of the Heritage Park. Architectural interventions such as green roofs are
also implemented to increase the green surface ratio.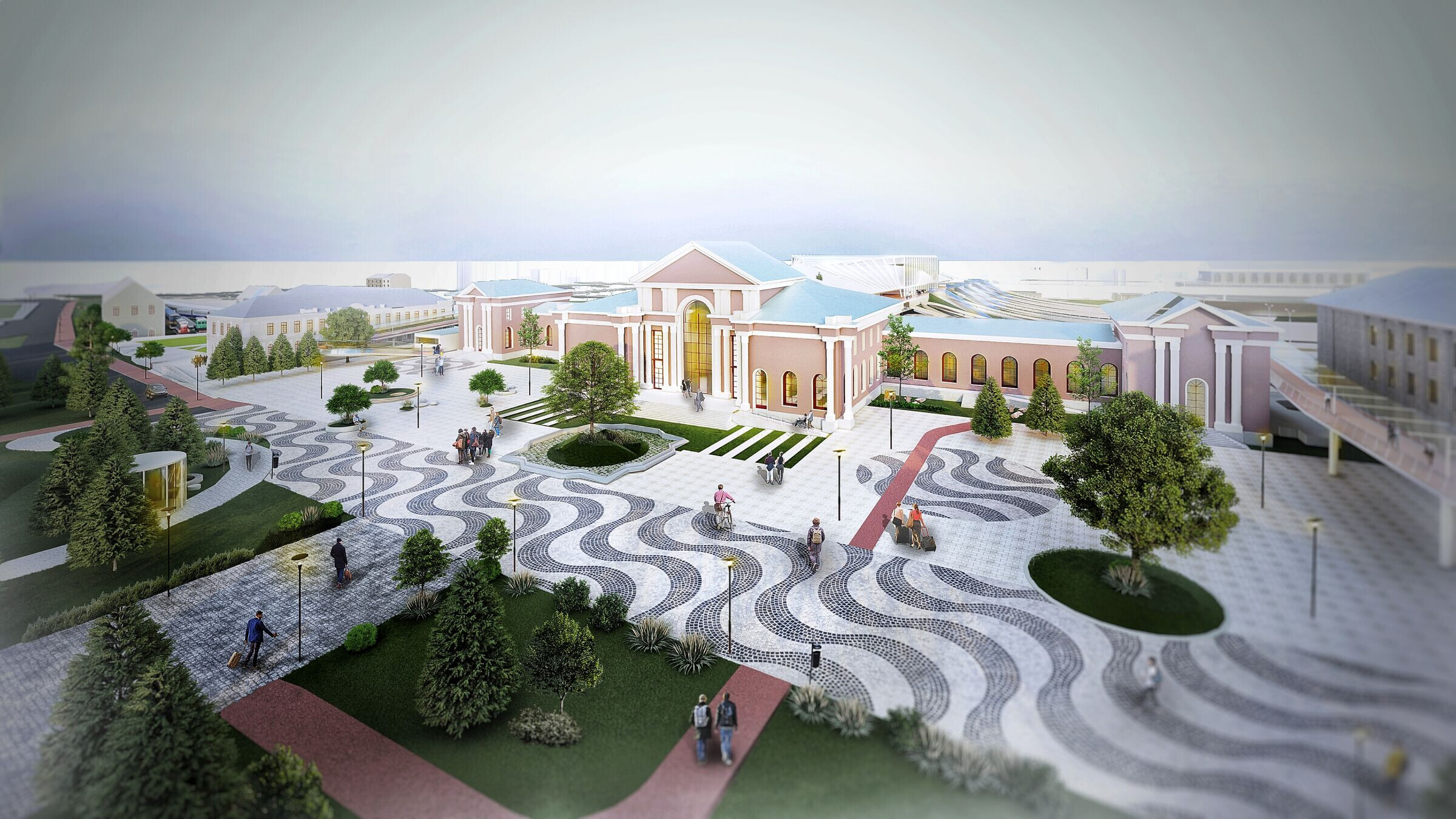 Ecological sensitivity based landscape treatment
The design creates several retention areas using soft landscape that can help recharge groundwater. On a larger conceptual level, it identifies a blue green resilient framework that can help keep pedestrian areas active during times of heavy rains or floods.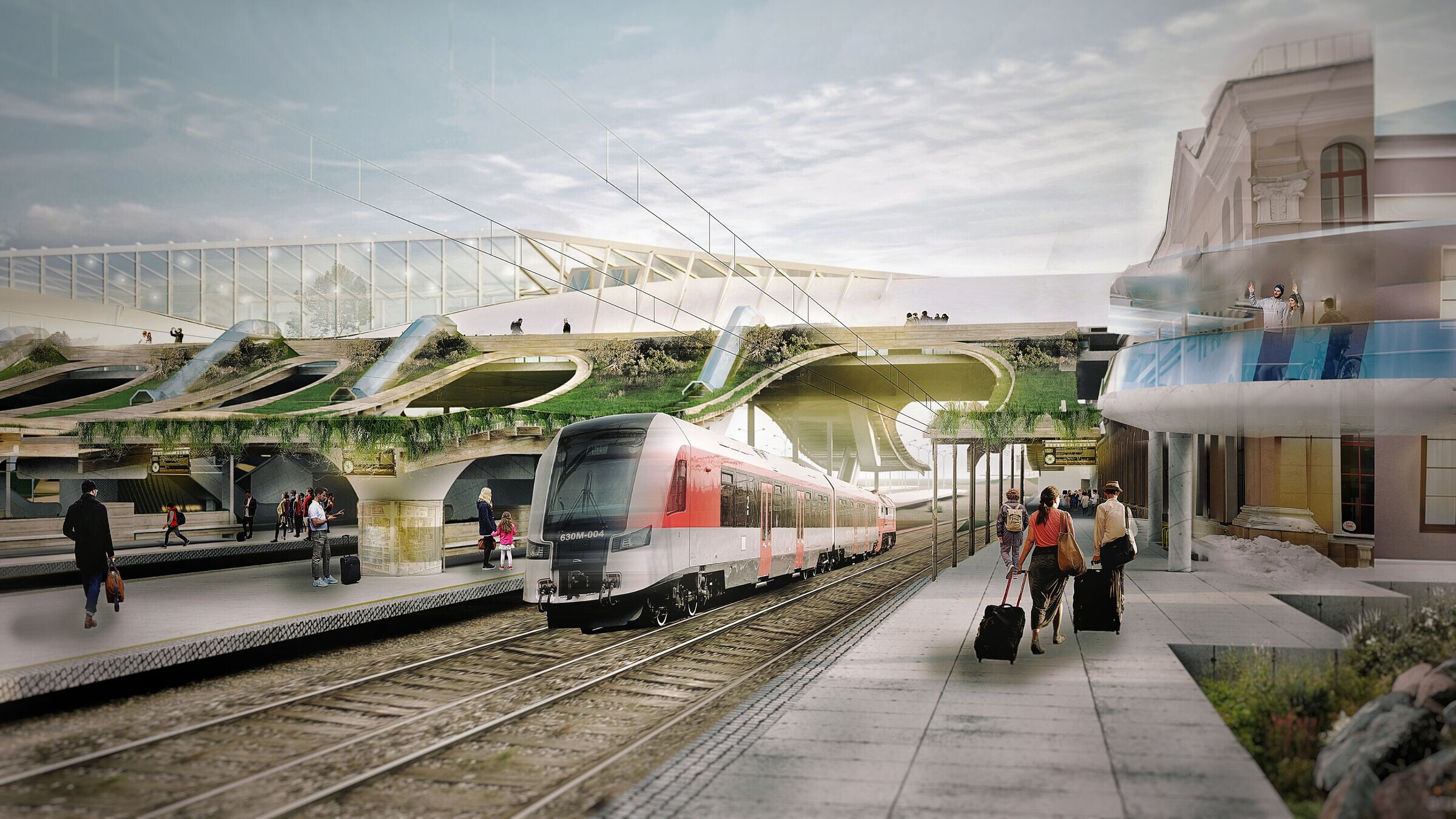 Community of local business collaborative areas
Throughout the site, numerous forms of community spaces are designed to promote a sense of belonging, identity and collaboration through work and leisure. These community spaces also function as important resilience centres,
adopting different roles during times of need.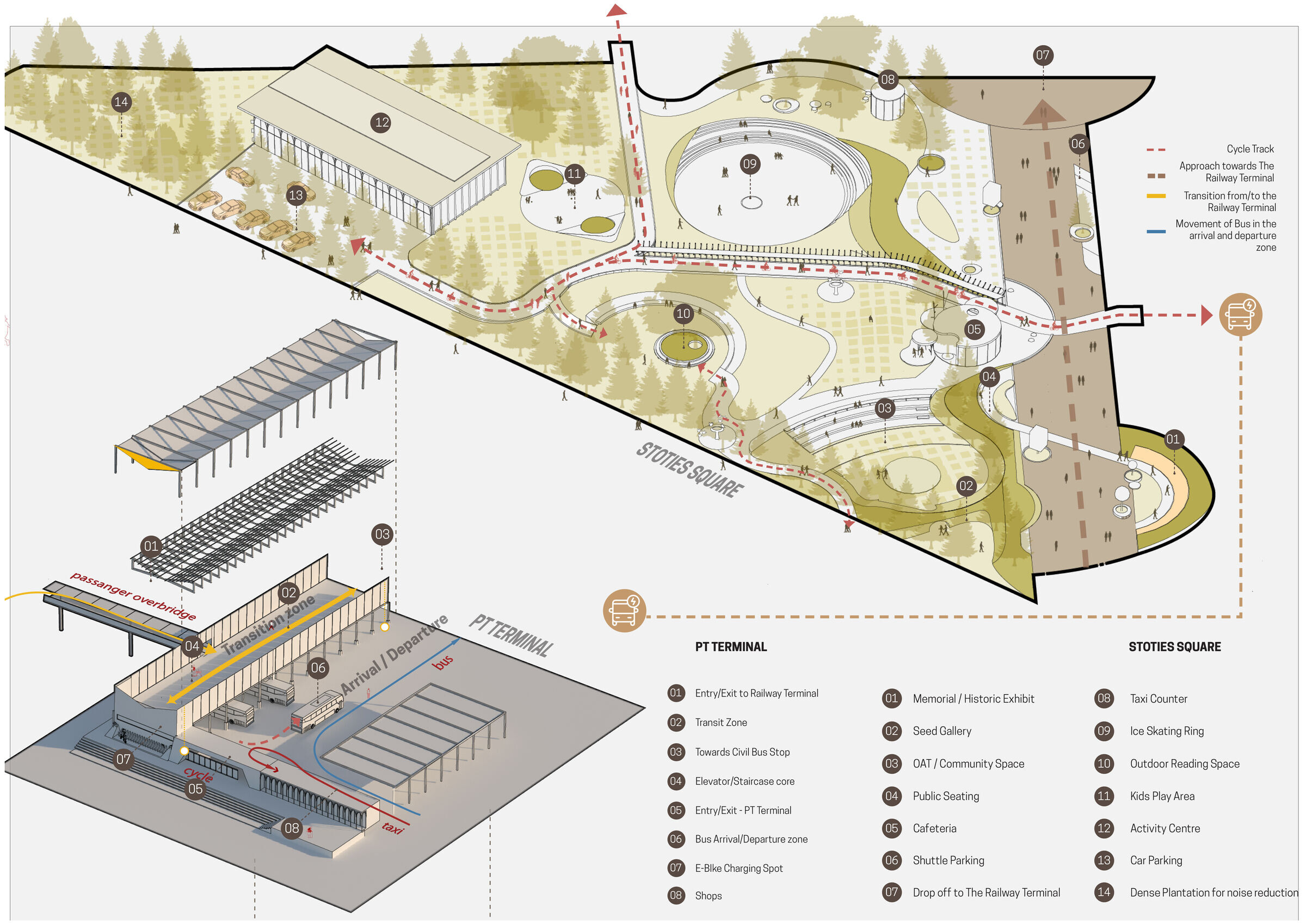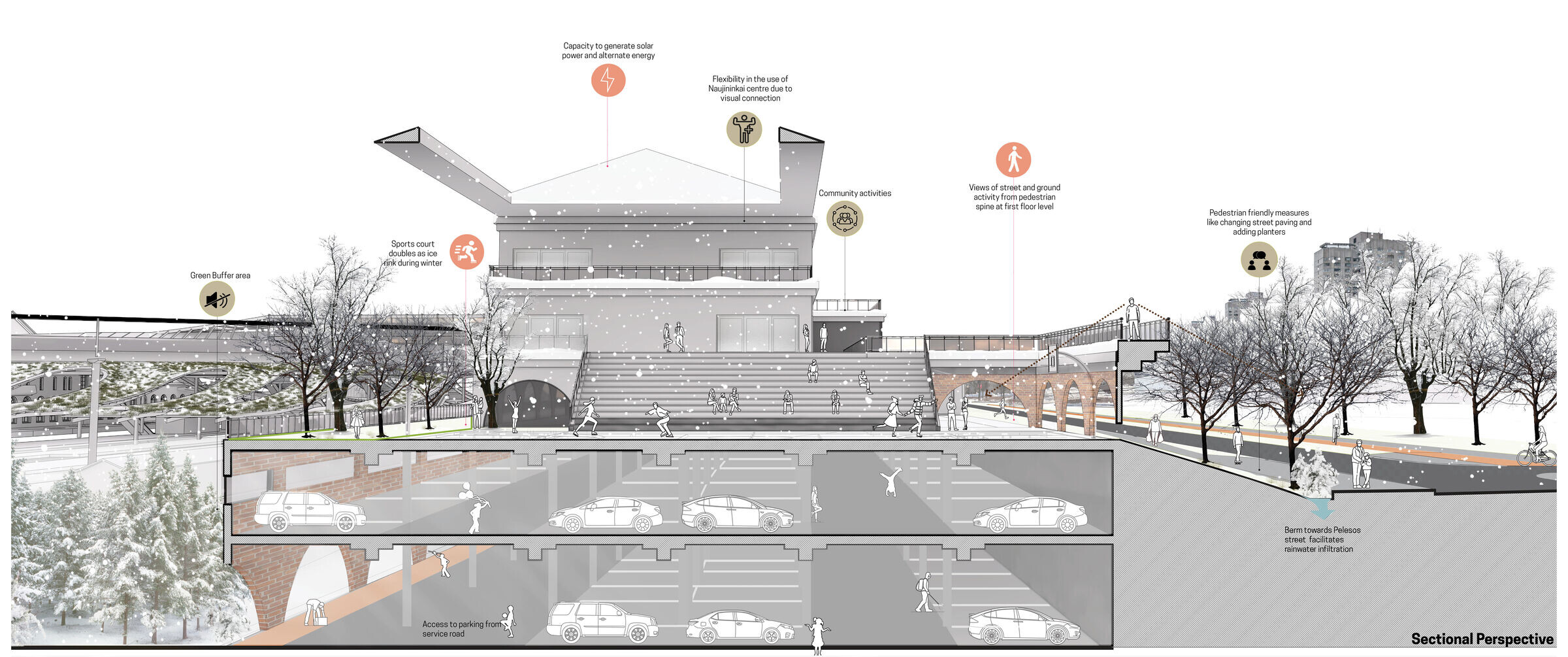 The architectural interventions prioritise:
● Preserving the railway station heritage and planning around it
● Planning and retrofitting the railway station
● Creation of a contemporary passenger terminus whose roof is articulated to respond to the
pitch roof of the heritage building
● The creation of a connecting passenger overbridge that leads directly to the redeveloped intercity bus terminal, facilitating movement and connection between different modes of transport
● Facilitating multiple connections to the community center and residential area as well as airport using the passenger overbridge
● Revitalizing the area in front of the station, taking inspiration from historic planning
● Emphasising the history, landscape and resilience of Stoties square through predominant use of landscape solutions and a minimal use of built solutions
● Orienting the design, transport and movement around the Public Transport Terminal with sensitivity towards Stoties Square as well as the Old Town.