For decades, an irregular, funnel-shaped plot of land served as the driveway to a storage space at the back of the site. It was a narrow, open slot in the streetscape, fronted by a shabby gate.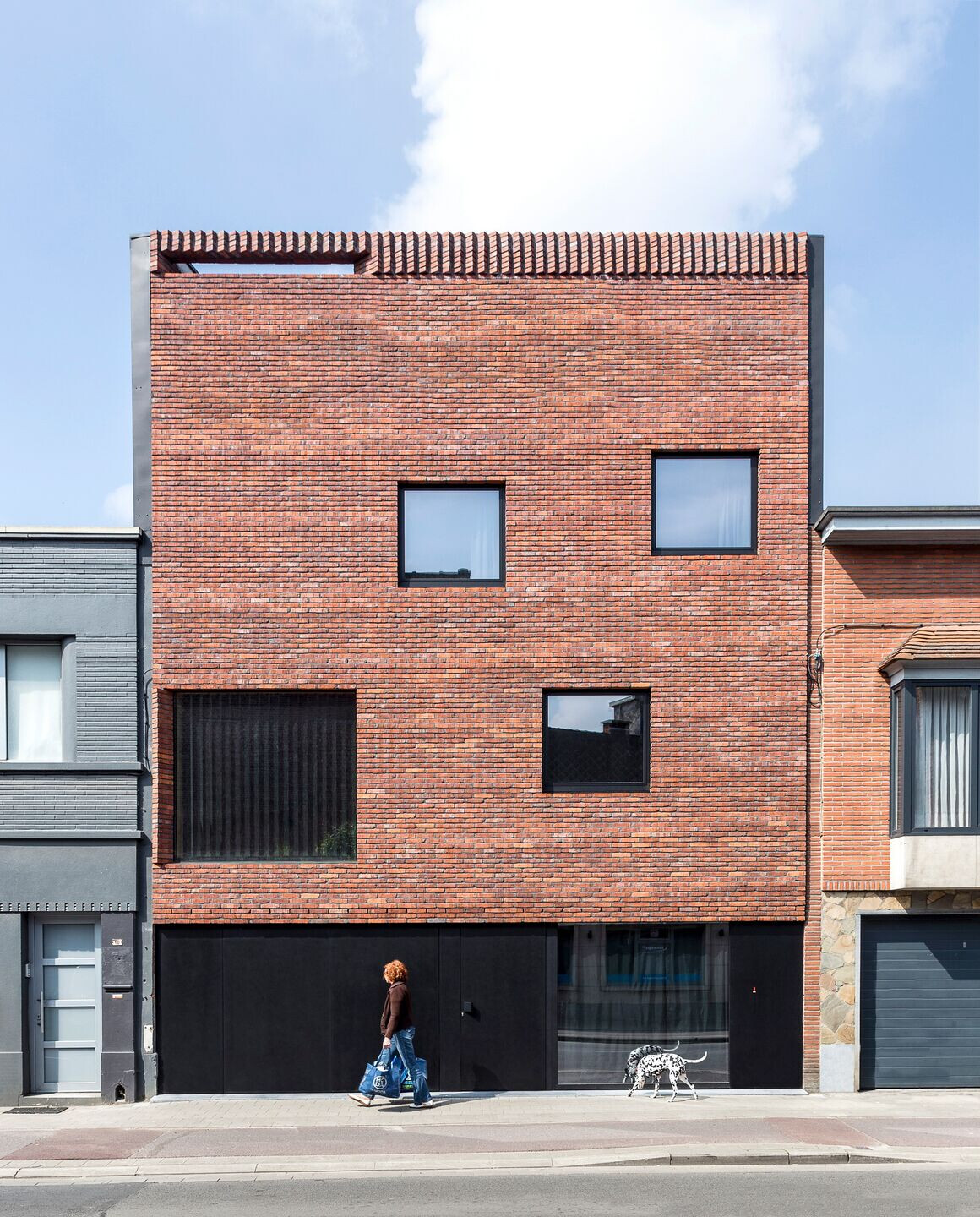 Nevertheless, the east-west orientation and 8 metre wide building line offered quality and space to erect a new terrace house. What's more, by demolishing the storage space, a square walled-garden with a great deal of privacy was created. The floor plan was developed as a trapezium so as to deal with the increasingly narrower form of the site and the kink halfway. This way the interior spaces all have the same internal angles and pointed corners are avoided.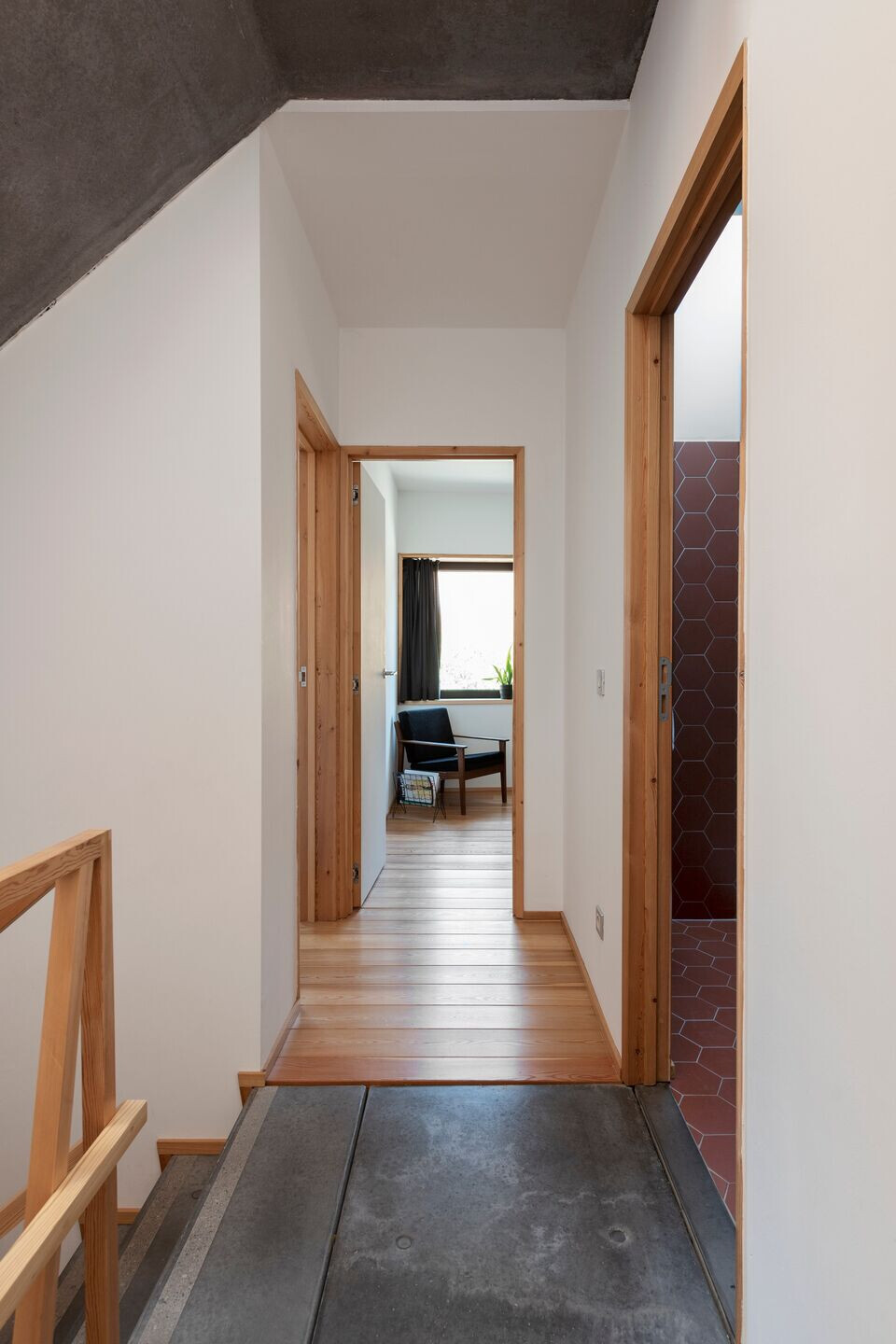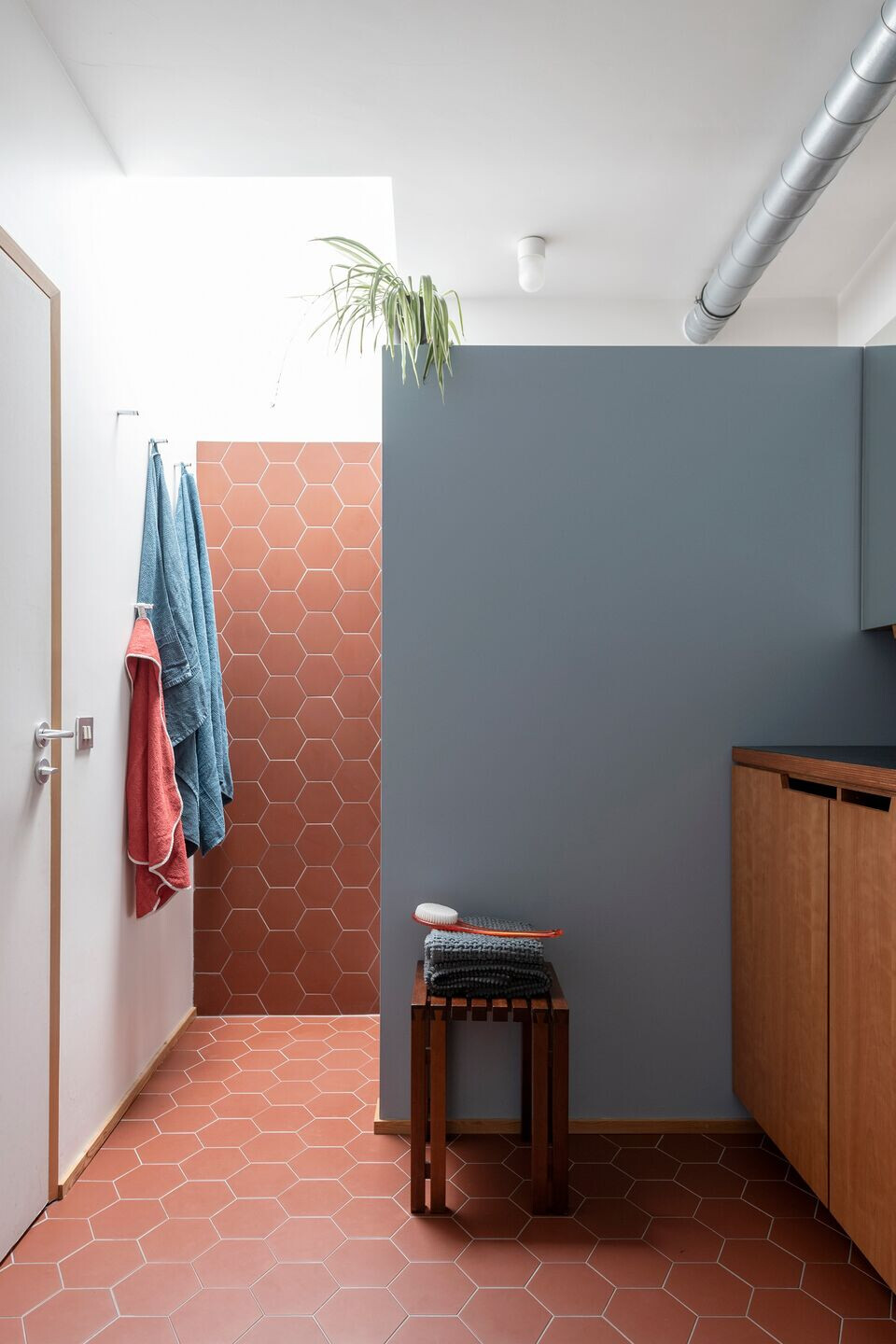 Just like many houses in the street, the home has the typology of a bel-etage and is organised as a split-level. Garage, bicycle storage and entrance are found on the ground floor. This zone was kept low, so that there could be contact with the street from the first floor, something that contributes to the vitality of that space. The two large windows in the facade contribute to the interaction with the public space. Space-saving detail: the nose of the car fits neatly under the wide stairs in the garage.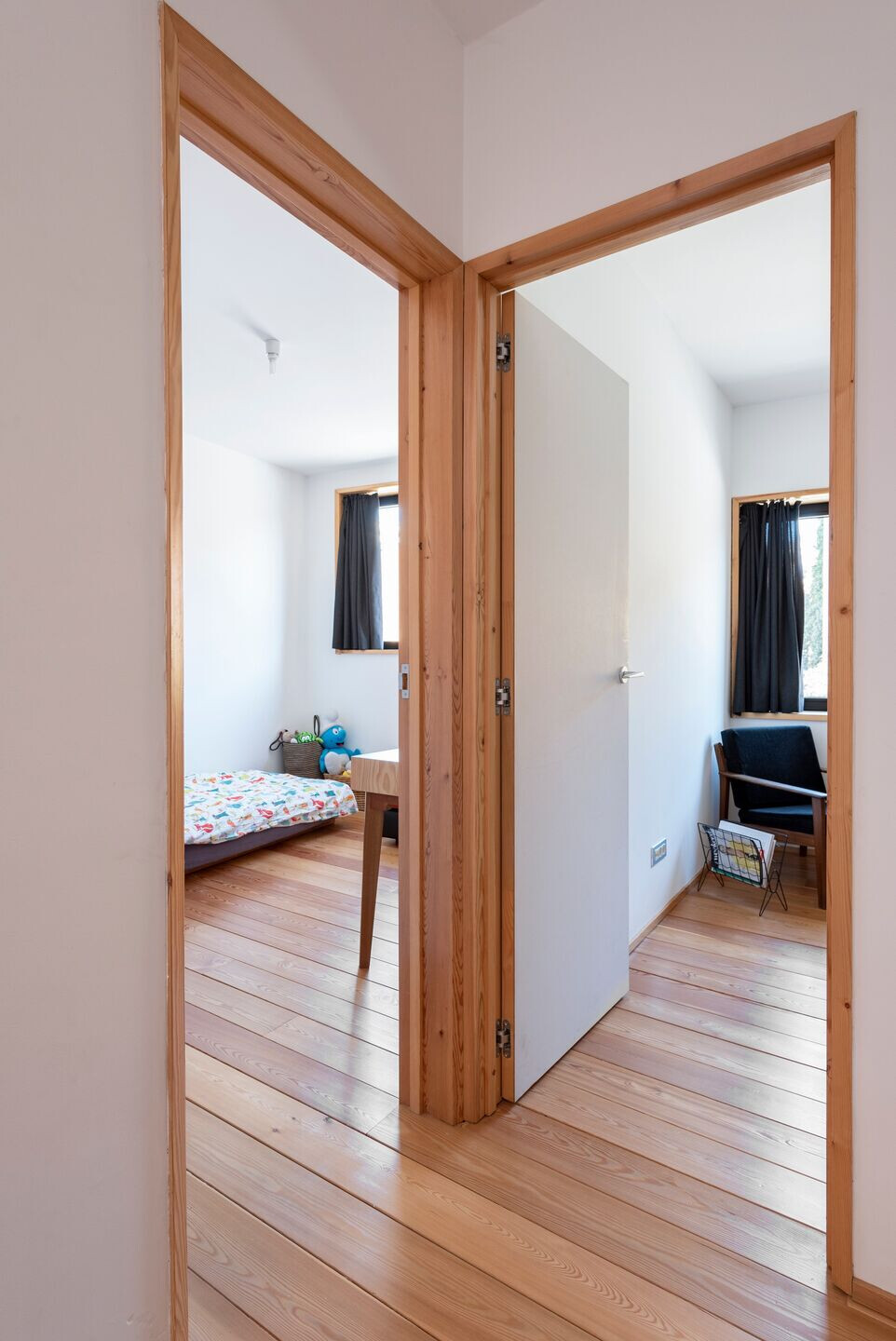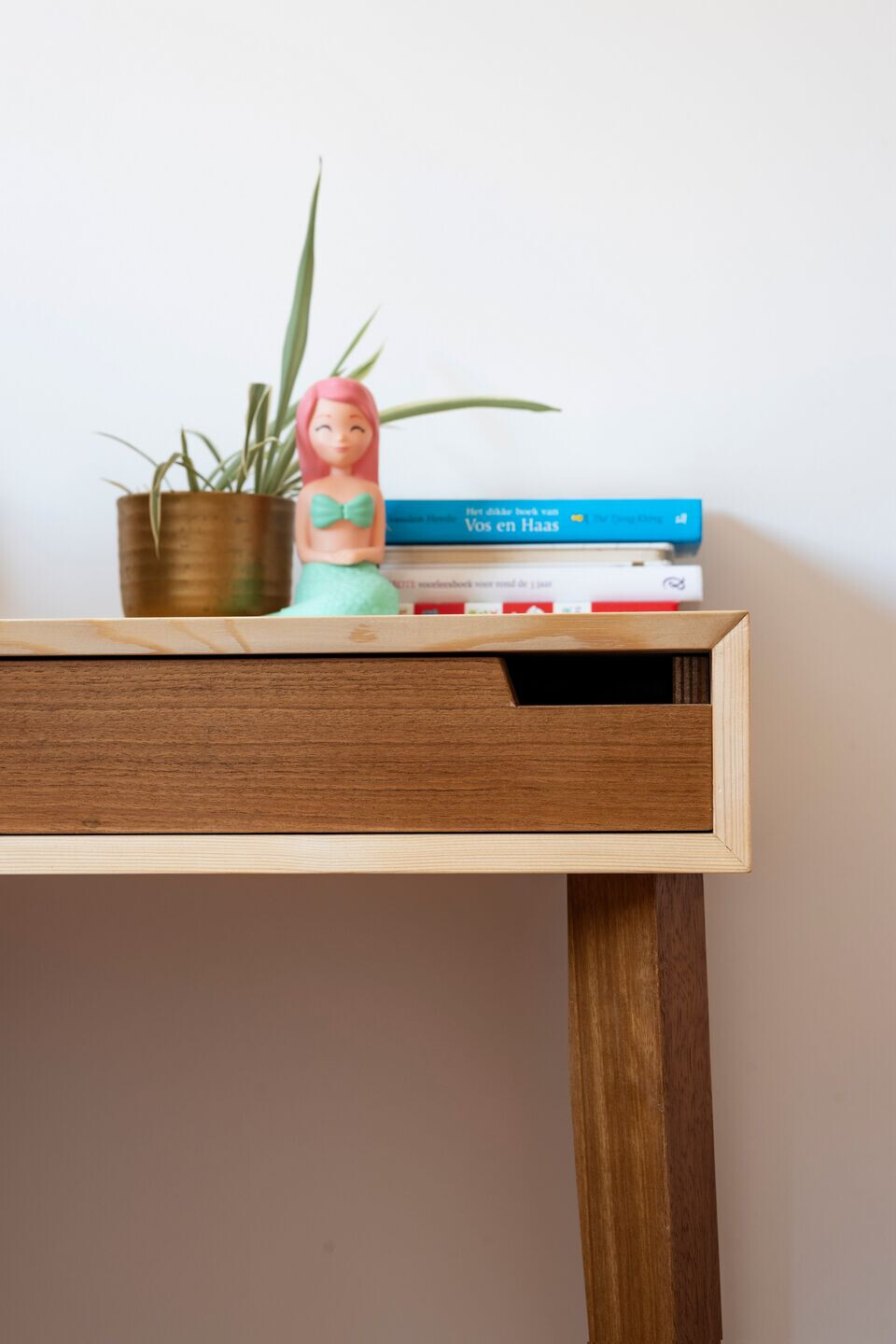 Over the entire width of the facade, the bel-etage offers room for the dining space and custom-built kitchen. Via a wide internal stair, that space flows further into the ground level sitting area with high ceiling that looks out on the garden. In this way, a large open U-form living space is created over the entire depth of the building, in touch with both the street and the garden.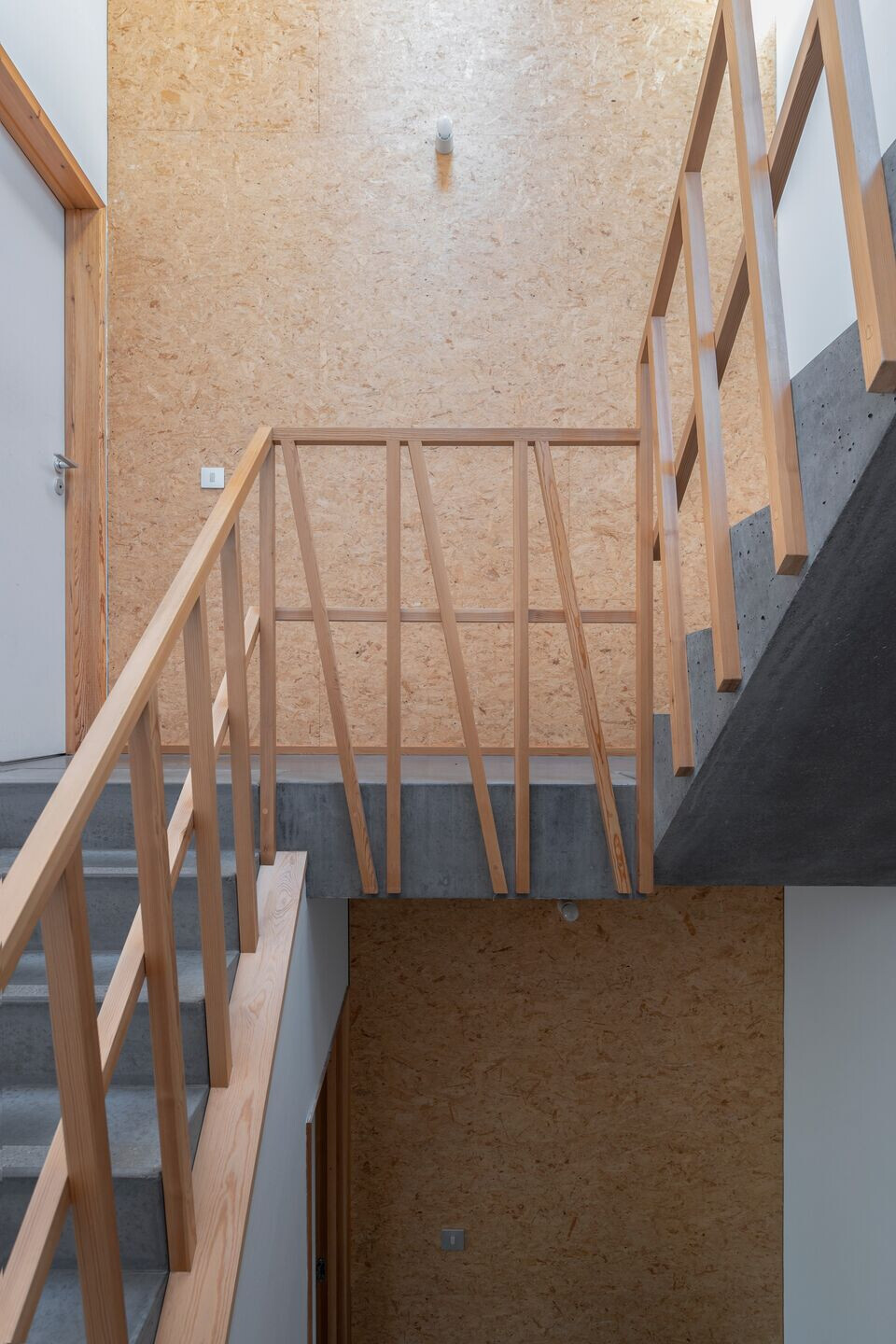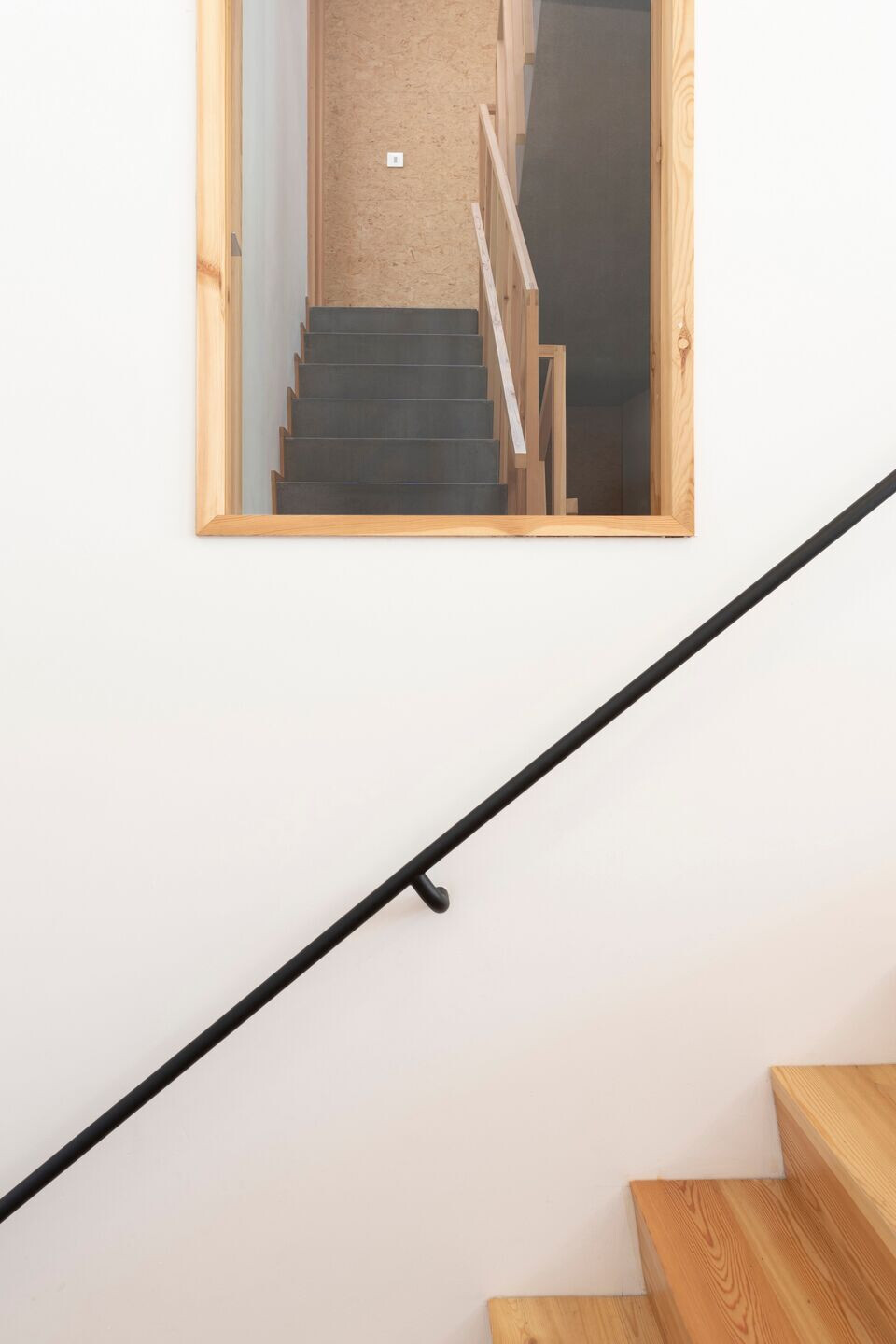 This organisation forms the basis of the split-levels of the upper floors. There lie the music room, bedrooms, bathroom and boiler room – each situated around an enclosed stairway that separates these spaces acoustically from the living area. By deliberately making the stairway wide and organising the stairs differently on each floor, light can fall all the way to the bottom of this solid core – even to the middle of the living space. With an open roof terrace facing west and an entirely enclosed roof terrace to the east, the sun is always within arm's length on the upper floors too.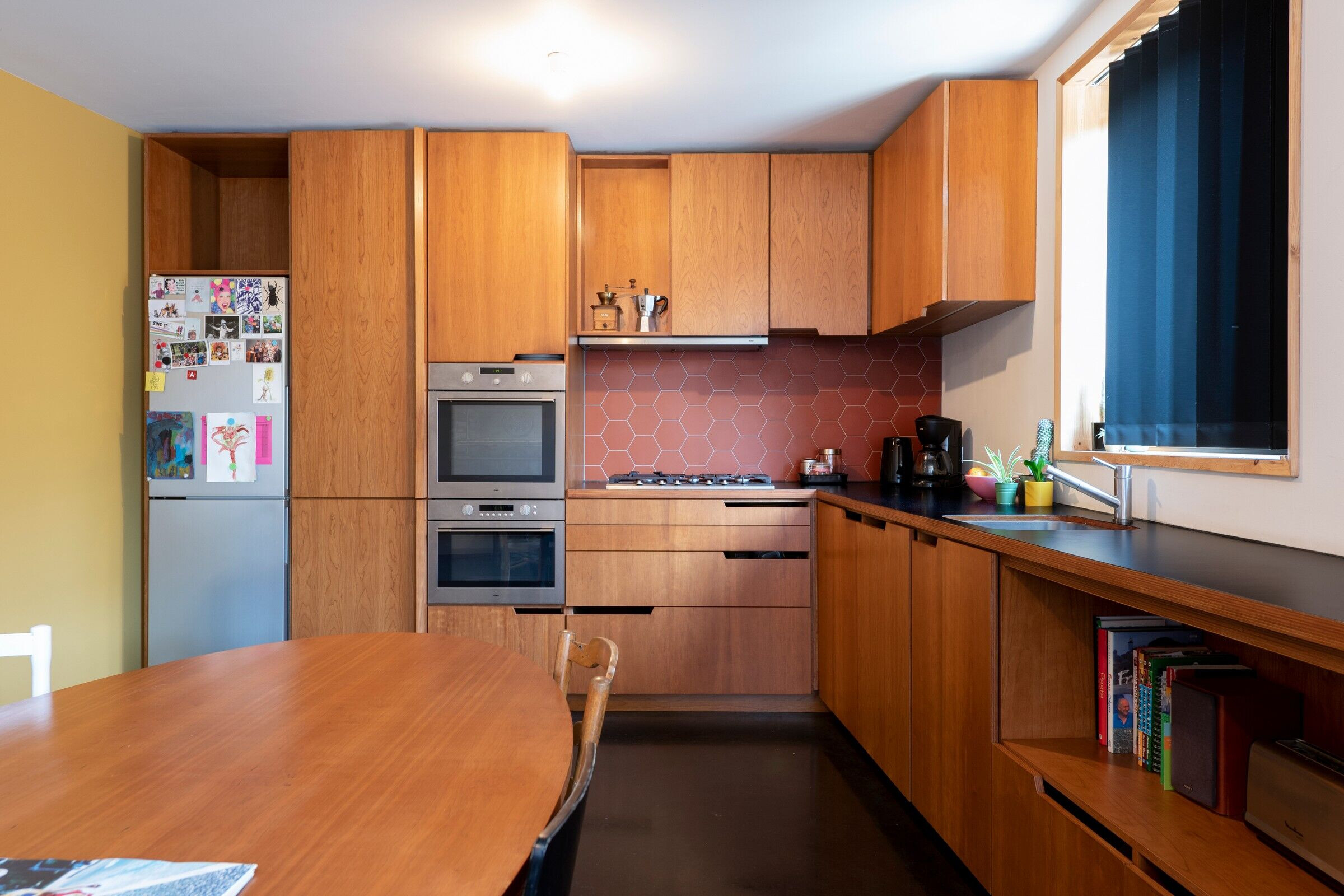 The position of the windows suits the unique spaces: so a deep room receives a high window and a shallow room a lower window. The facade is crowned by a traditional masonry bond, a large 'sawtooth', whereby only the subtle viewing slit has one suspecting the roof terrace behind it. That same tooth appears from out of the masonry in the facade next to the frameless kitchen window, like an extension of the kinked common wall.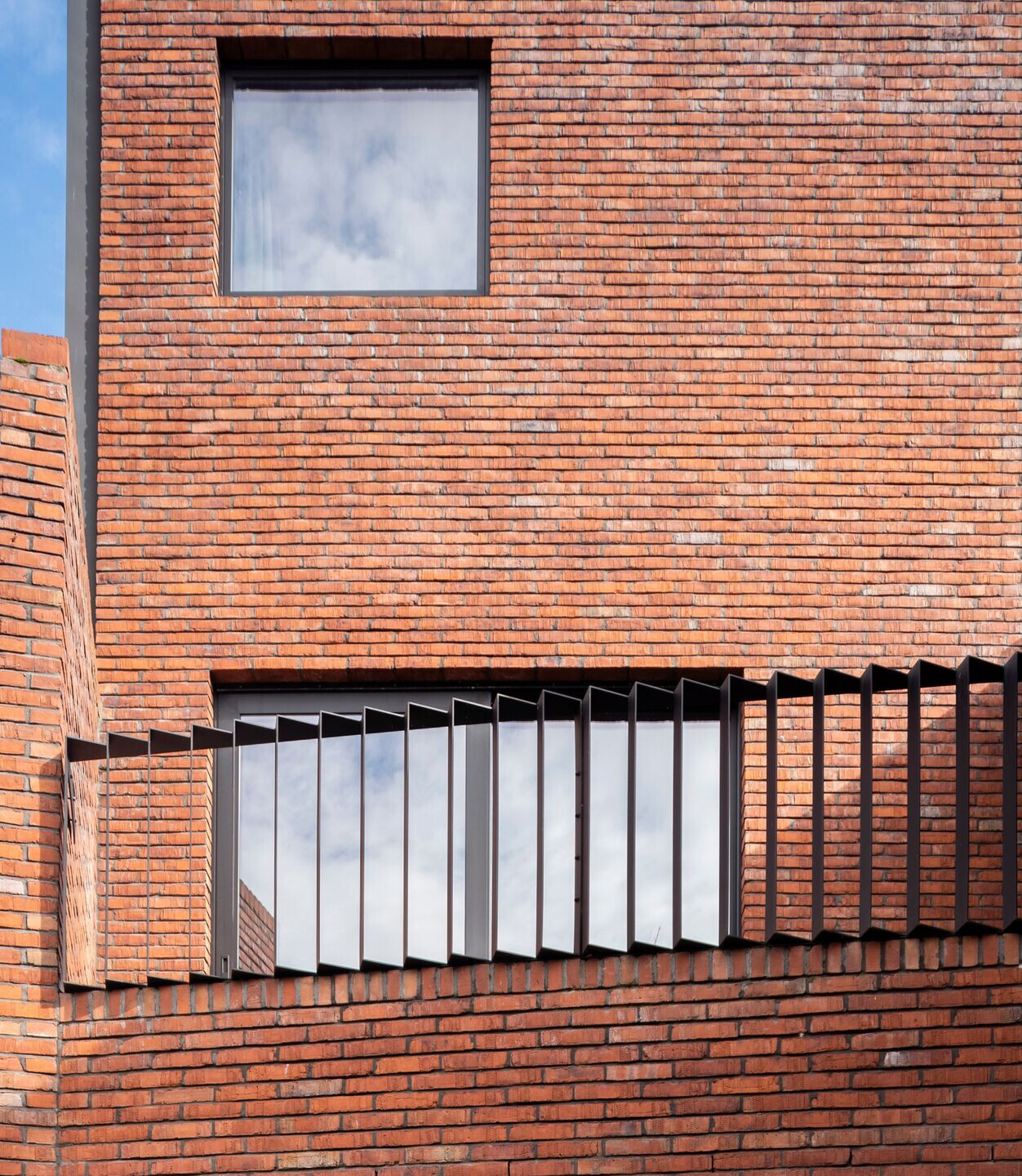 Team:
Architect: POLYGOON Architectuur
Photography: Jessy van der Werff, Paul Van Dyck
Structural Engineering: Planet (Sweco)
Cabinetwork: Leo Boits
Text: Victoria Verlinden
Translation: Diane Kristensen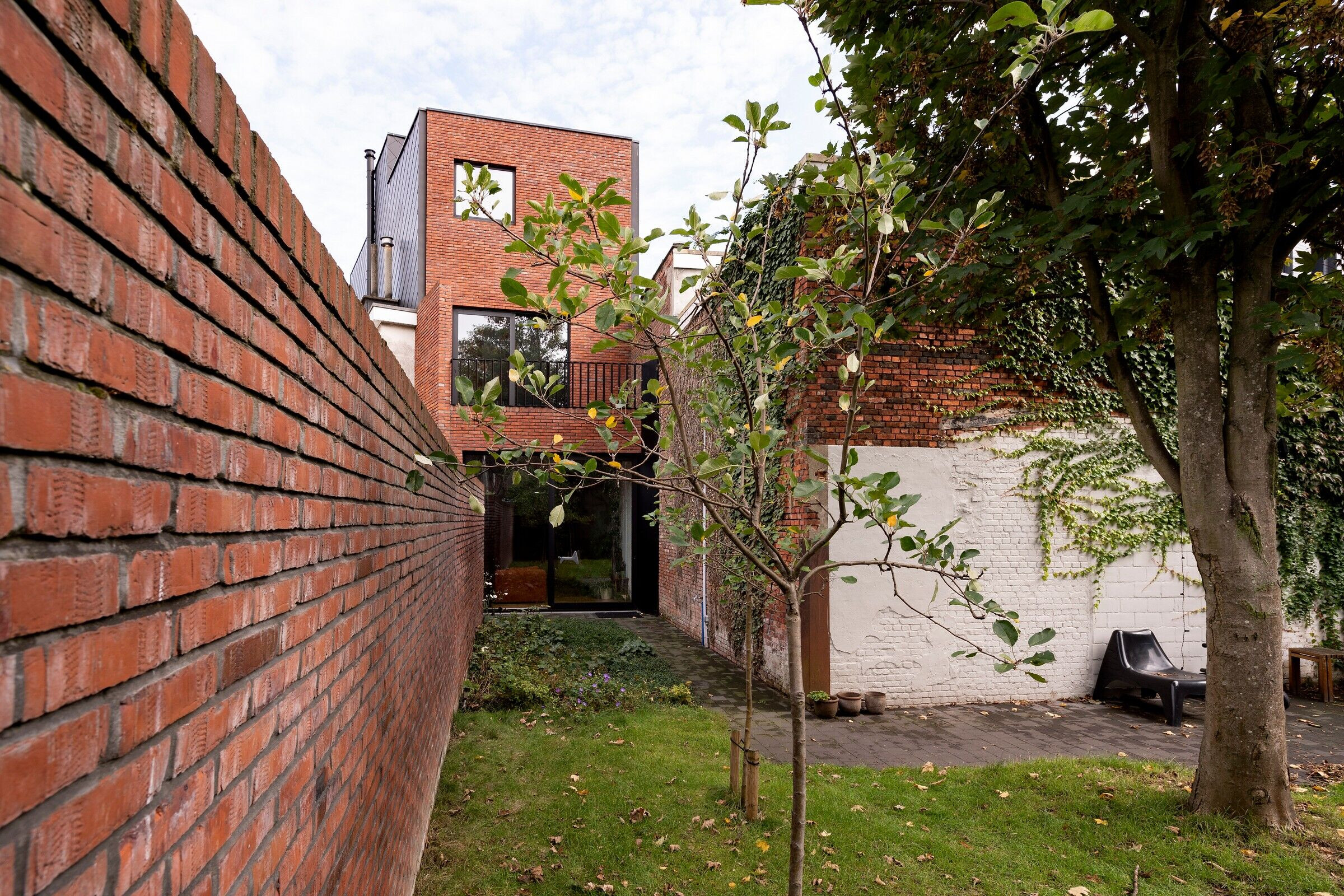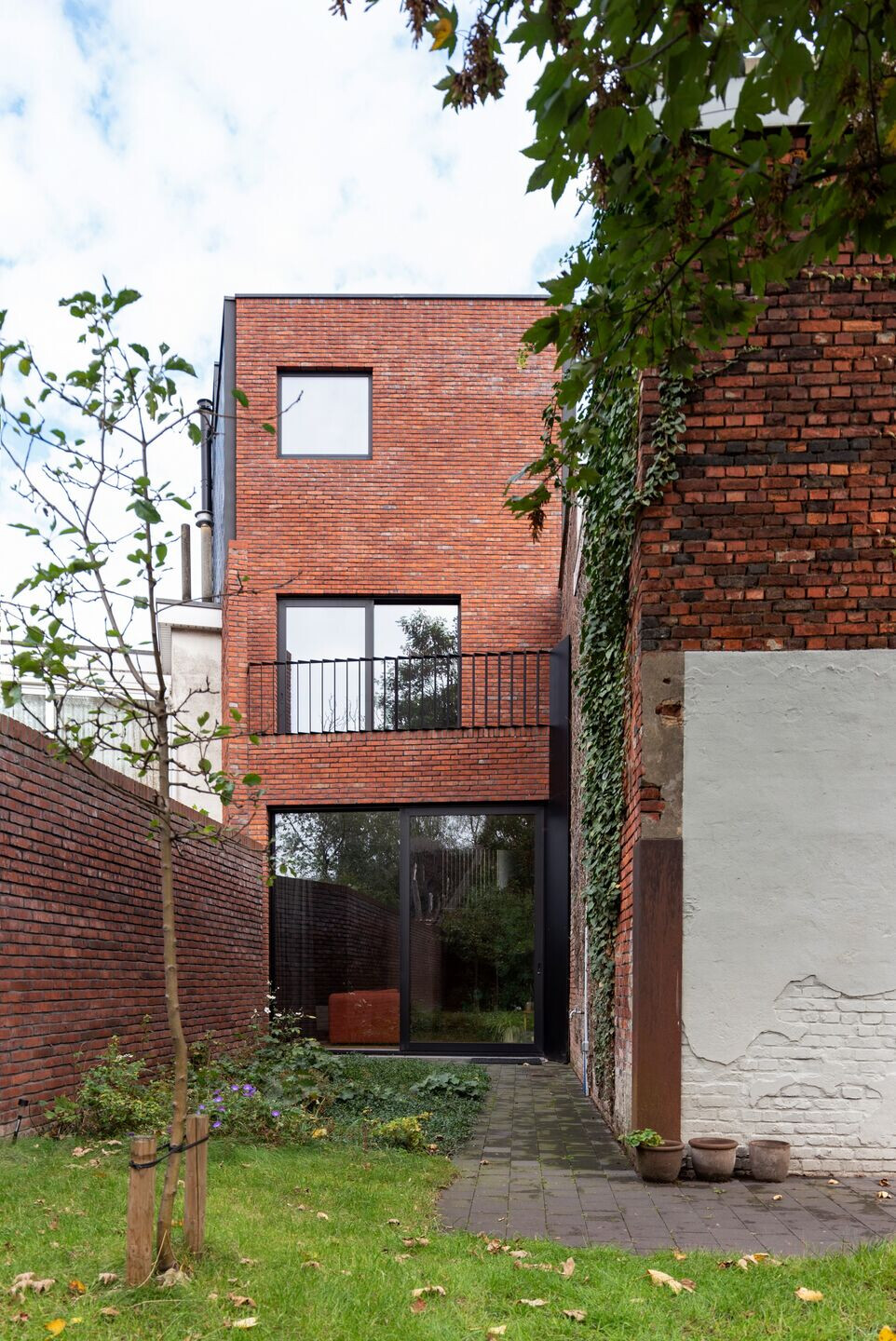 Material Used:
1. Vlakke Lichtkoepel: Rooflight / Vlakkelichtkoepel daklicht
2. SVK: Slate / Ardonit Smooth blue-black
3. Reynaers: Aluminium windows & sliding systems / CP155-LS/HI
4. Saint Gobain Glass: Glazing / SGG Stadip Silence Protect / Climaplus Cool-lite KS 147
5. Isola: Recycled PUR / Thermogran
6. Winckelmans: Tiles / Hexagon red
7. FSB: Door handle / 1005
8. Vasco: Ventilation unit / D400II
9. Bticino: Wiring devices / Bticino
10. Duravit: Sanitary appliances / D-code
11. Hansgrohe: Water taps / Talis
12. ATAG: Oven - Microwave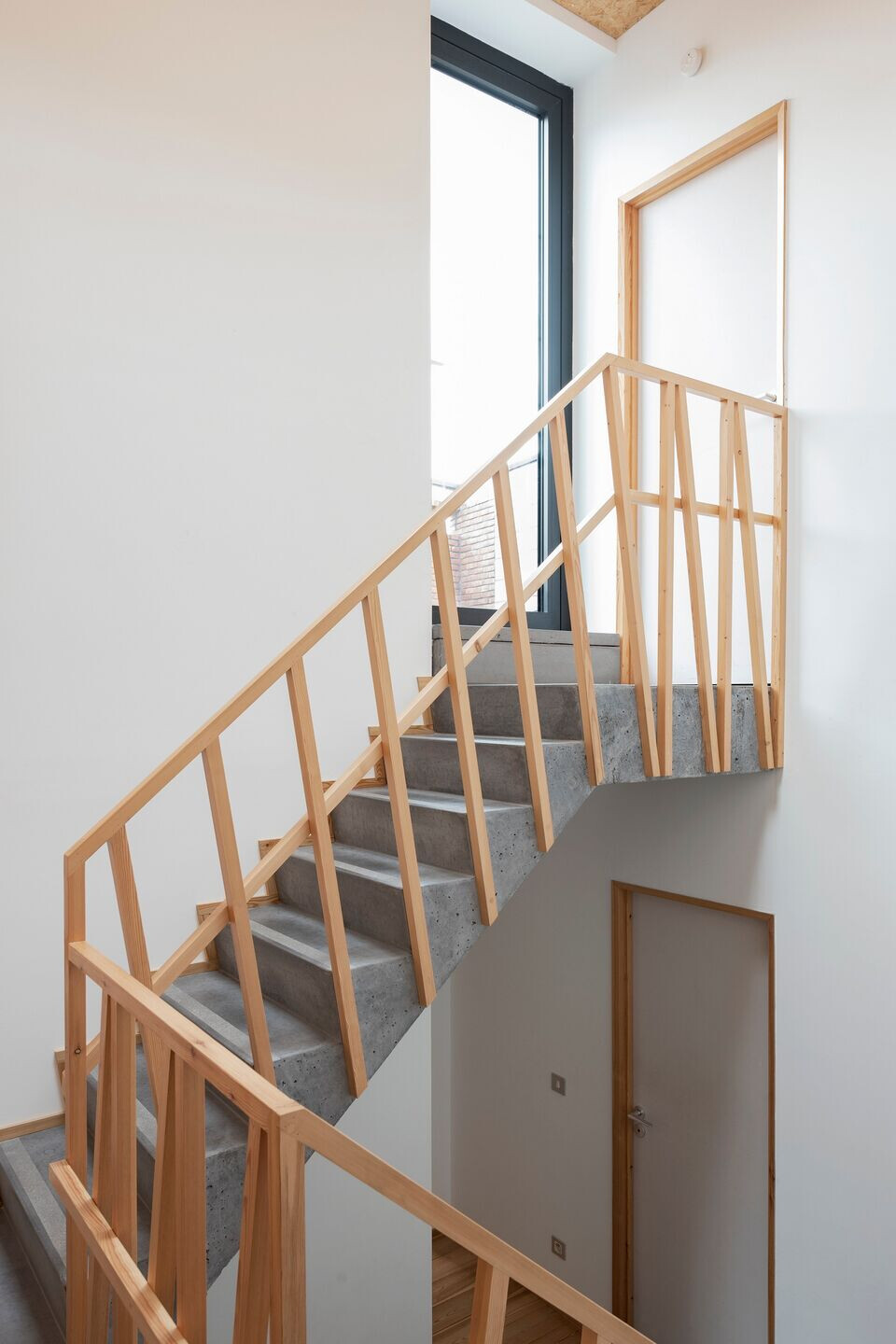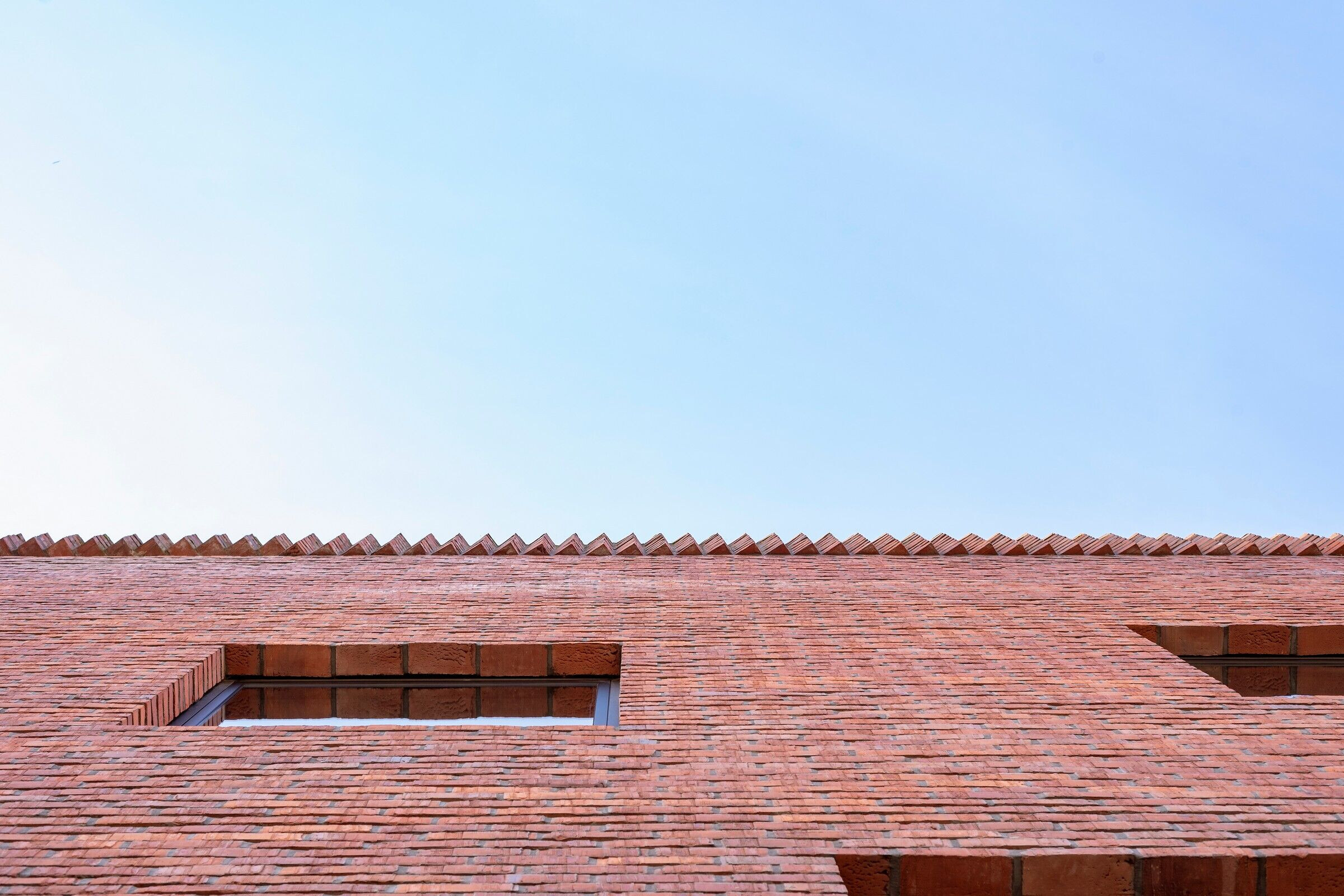 Software Used:
1. Vectorworks
2. Adobe