Last week one of the benchmarks for adaptive reuse, the Tate Modern transformation by Herzog and de Meuron, turned 20. An ideal occasion to look at exemplary transformation projects that set the tone for a discipline that is sure to increase in importance and volume over the coming decades.
1 The Factory, Ricardo Bofill, 1975
In 1973 Ricardo Bofill found a disused cement factory, an industrial complex from the turn of the century consisting of over 30 silos, subterranean galleries and huge machine rooms, and he decided to transform it into the head office of Taller de Arquitectura. Remodelling work lasted two years. Today, the complex stands in the midst of gardens with eucalyptus, palms, olive trees and cypresses as evidence that an imaginative architect can adapt any space to a new function, no matter how different it may be from the original one.
2 Reichstag, Foster + Partners, 1999
The transformation of the Reichstag takes cues from the building's original fabric; the layers of history were peeled away to reveal striking imprints of the past – stonemason's marks and Russian graffiti − scars that have been preserved as a 'living museum'. But in other respects it is a radical departure; within its heavy shell, it is light and transparent, its activities on view. The iconic glass cupola not only drives the building's natural lighting and ventilation strategies but has also become an established Berlin landmark and symbol of the city's rebirth.
3 Tate Modern, Herzog de Meuron, 2000
Formerly a power station, Herzog & de Meuron's strategy was to not only accept a massive and mountain-like existing brick building but to actually enhance it. Running the entire length and height of the building, the Turbine Hall at the heart of the design establishes a grand, urban scale link between inside and outside. The new façade of the museum rises to the left, revealing its interior structure at a single glance: entrance, shop, cafeteria, educational facilities, auditorium, concourses and exhibition spaces.
4 Kolumba Museum, Peter Zumthor, 2007
Situated in Cologne, Germany, a city that was almost completely destroyed in World War II, Zumthor's design delicately rises from the ruins of a late-Gothic church, respecting the site's history and preserving its essence. Consistently mindful of the use of the materials, and specifically their construction details, Zumthor has used grey brick to unite the destroyed fragments of the site.
5 The High Line, Diller Scofidio + Renfro with James Corner Field Operations and Piet Oudolf, 2009
Initially launched to reclaim part of a disused elevated railway line, New York's High Line public park – designed in collaboration with landscape architects James Corner Field Operations and Piet Oudolf – has gone on to become one of the city's most popular public spaces for walking, cycling and passive recreation. It has had the further effect of making the neighbourhoods that surround it more desirable for residents and property owners, thus driving the further development of the area.
6 Neues Museum, David Chipperfield, 2009
Built between 1841 and 1859, The Neues Museum of Berlin's Museum Island was subject to extensive bombing during WWII, leaving the building in ruins until 1997 when David Chipperfield Architects won an international competition for its renovation. The restoration and repair of the existing building was driven by the idea that the original structure should be emphasized in its spatial context and original materiality. The new exhibition rooms are built of large format prefabricated concrete elements consisting of white cement mixed with Saxonian marble chips. Formed from the same concrete elements, the new main staircase repeats the original without replicating it, and sits within a majestic hall that is preserved only as a brick volume, devoid of its original ornamentation.
7 Fondazione Prada, OMA, 2015
Located in a former gin distillery dating from 1910 in the Largo Isarco industrial complex on the southern edge of Milan, Fondazione Prada is a coexistence of new and regenerated buildings including warehouses, laboratories and brewing silos, as well as new buildings surrounding a large courtyard. The complex aims to expand the repertoire of spatial typologies in which art can be exhibited. The project consists of three new structures and seven existing buildings including the 'Haunted House,'an existing building with its exterior covered entirely in gold leaf.
8 PC Caritas, Architecten de vylder vinck taillieu, 2016
De vylder vinck taillieu turned an abandoned building inside out to create a public square. Or turned a public square outside in, to become a thought provoking transformation project. This project on a health care campus in Belgium plays with the idea of what a public square is and can be.
9 Zeitz MOCAA, Heatherwick Studio, 2017
The historic Grain Silo Complex, disused since 1990, stands as a monument to the industrial past of Cape town and was at one time the tallest building in South Africa. In this dramatic transformation, 9,500 square meters of custom designed space, spread over nine floors, was carved out of the monumental space. Programmatic uses include exhibition space, a rooftop sculpture garden, state of the art storage and conservation areas, a bookshop, a restaurant, bar, and reading rooms.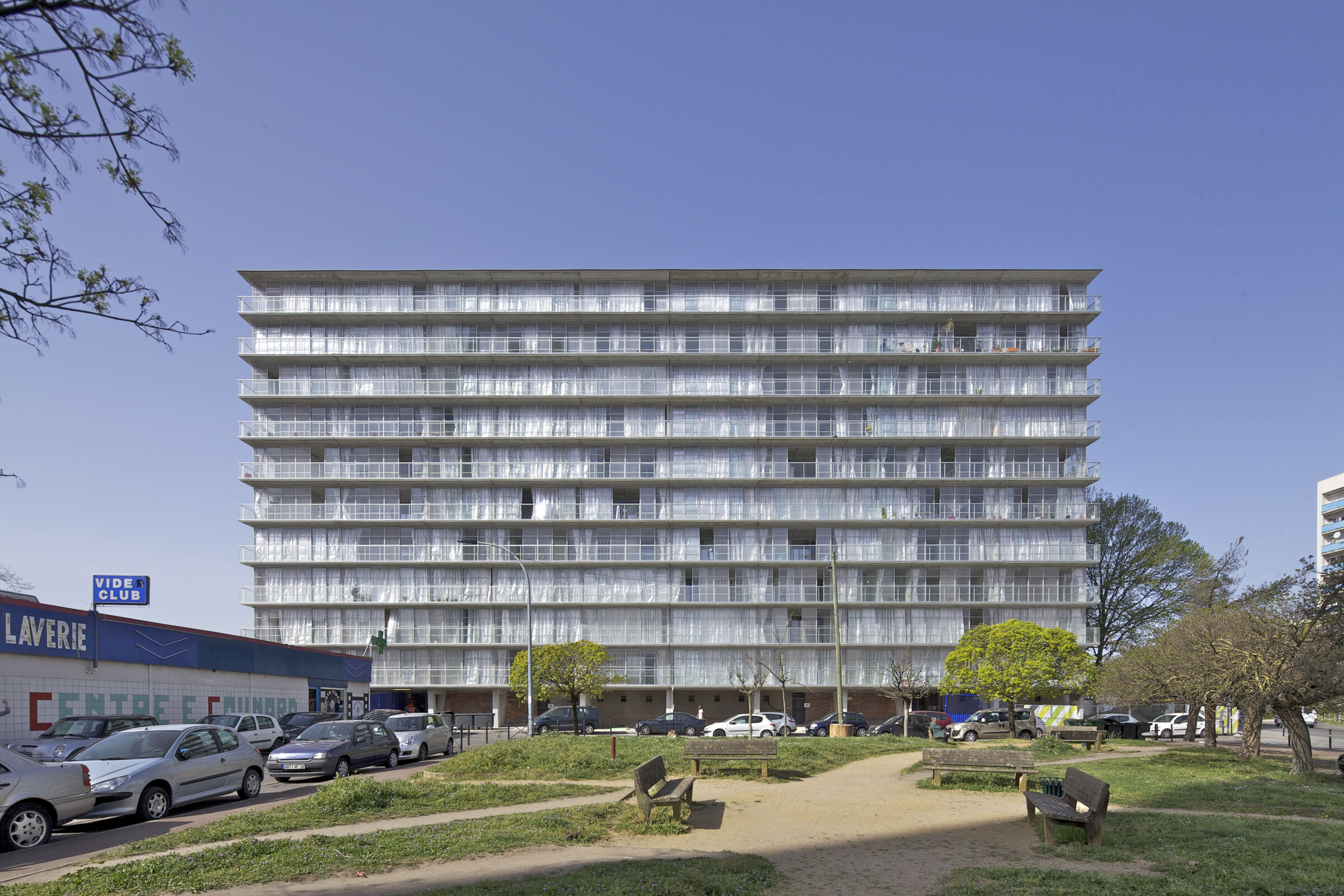 10 Transformation of 530 dwellings, Lacaton & Vassal Architectes, 2017
This project comprises the complete transformation of 3 social housing buildings containing 530 buildings. Built in the early 1960s, renovation became necessary after demolition was ruled out. The transformation of the dwellings starts with the interior by providing more space, more light, better views and a general upgrade of the facilities. In particular, the addition of large winter gardens and balconies enhance the livability of these units.
11 Lochal, Civic Architects, 2018
Located within an iconic former locomotive shed of Dutch National Railways, LocHal is a new, world-class urban living room for Tilburg. It is located next to the station, in the heart of Tilburg's new City Campus, and houses the Midden-Brabant Library, the cultural institutions Kunstloc and Brabant C and the co-working spaces of Seats2meet. The LocHal is a space for both young and old to read, learn, study, meet and gather.