Salt House by Brigita Bula Architects is located 250 km from Latvia's capital city of Riga, on the seashore of Pavilosta, a small fishing town popular with water sports fans and nature lovers. The historical centre of the town is characterized by low gable-roof houses on an orthogonal street plan. Each of the perpendicularly intersecting streets leads to the beach and provides direct views of the sea.
A total of 240 square meters, the one-storey Salt House is situated on a seaside meadow. The simple and elongated horizontal volume likens itself to a thin sea wave-like line in the landscape.
In response to the area's temperate climate and strong winds, the building is constructed with thick, monolithic lime-plastered blocks. No additional insulation is necessary. The natural material façade, natural lime plaster, is similar in colour and structure to coarse salt.
The simple one-storey cross section is inspired by traditional fishermen's houses from the local area with an interior space that opens up to the building's full height and width. Open and closed spaced within overlap, providing a sense of both openness and intimacy.
Response to the unique climate further distinguishes the house. For instance, the wind in Pavilosta blows rain almost horizontally, which is why local houses do not have overhangs. The key challenge is adequate wind insulation. It is difficult nowadays to find local craftsmen who can execute high quality windproof wooden joints. The 500 mm thick aerated concrete blocks used here were chosen as they do not need to be insulated and provide, are easy to assemble, and provide the necessary wind protection.
Though natural ventilation is provided through reclining doors from each room in the house, there is a mechanical ventilation system with a heating system integrated into the cast concrete floors. Because of the reclining doors and ventilation systems, windows were not required to be operable and have no dividing bars, thus providing uninterrupted views.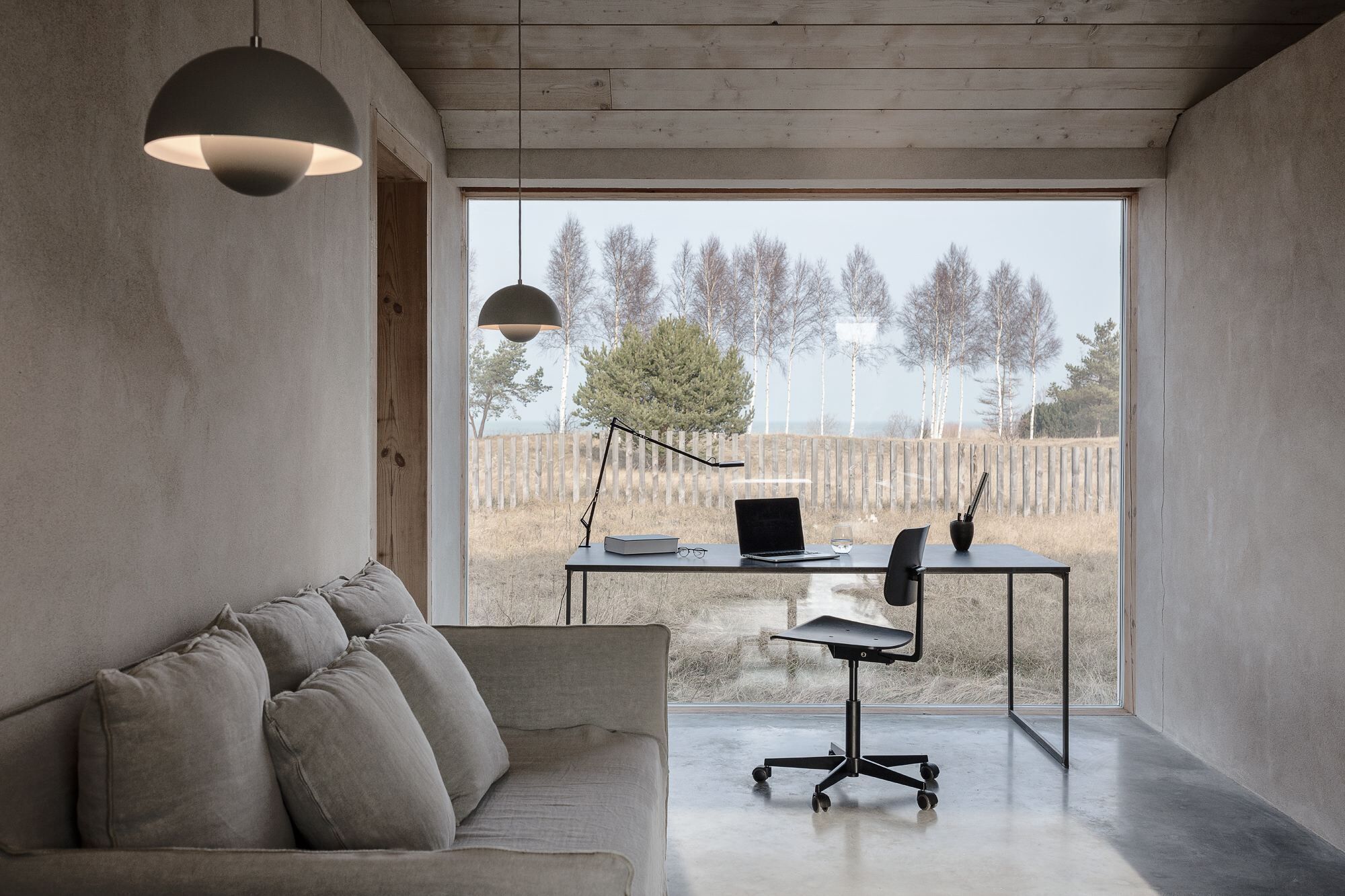 Interior surfaces are left largely plain, allowing the essence of the natural construction materials to come to the fore. Almost all furniture and fixture are made locally. This includes cast concrete furniture and log tables. Colourful and lively flowerbeds at the front of the house contain a selection of local plants, herbs and flowers from surrounding meadows.
The project is nominated for the Mies van der Rohe Award 2022.