Early Medical Centre, designed by Studio Antimatter, rethinks healthcare architecture in Singapore by exploring the psychology and emotional experiences surrounding health screening.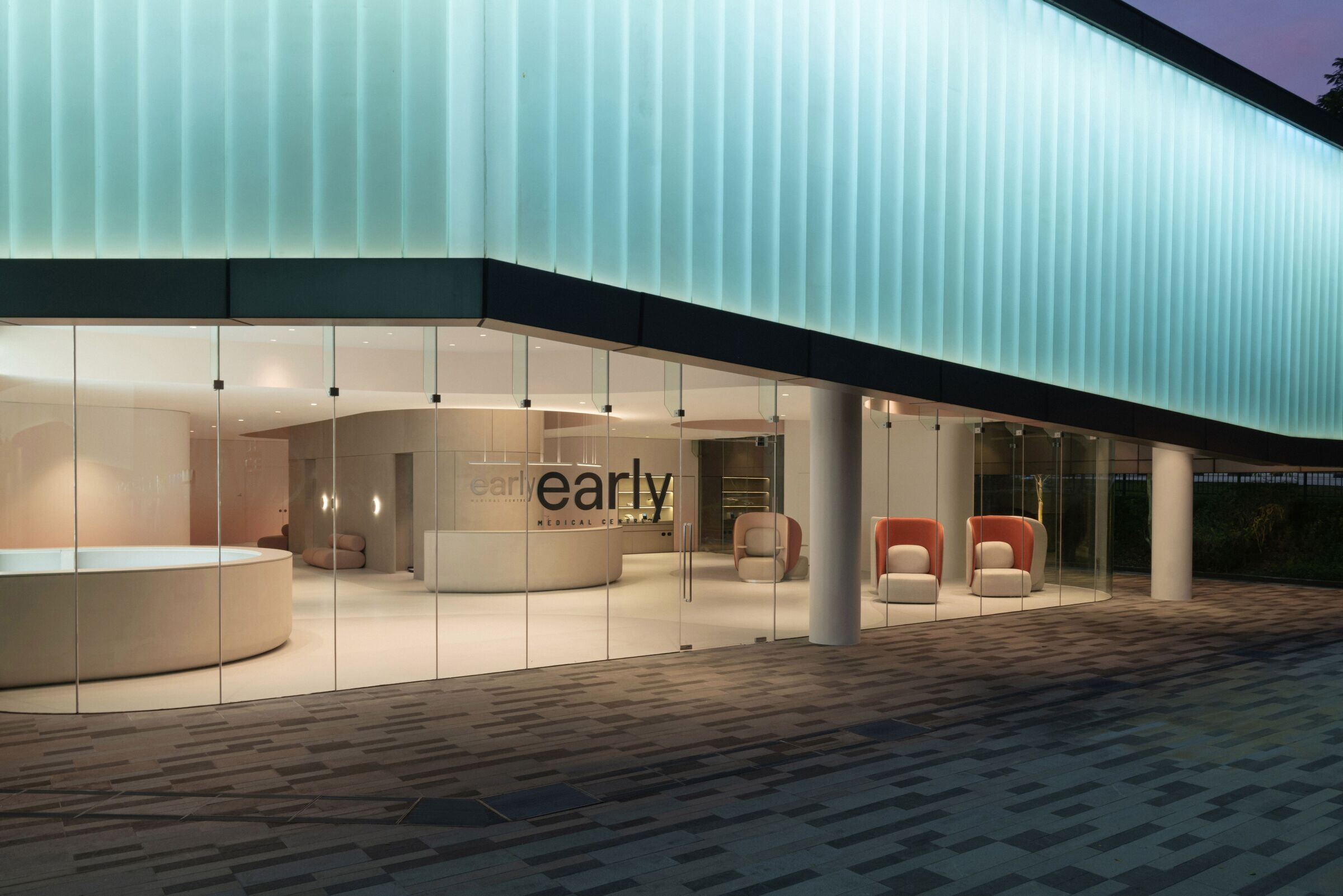 The former area constituted a large, empty, rectangular unit divided by a sizable number of structural columns in the middle. The centre was set up so that users could move around the columns in a radial progression by reaping the benefits of spatial limitation.
Deviating from traditional healthcare facilities with defined linear interiors and cramped spatial divisions, the design focuses on circulation and user movement. Thereby, lavish walkways and ancillary functions were built around the central columns while medical services lined the perimeter. This circulation is enhanced using seamless surfaces and rounded corners. The walls are painted in a soft peach gradient that highlights the space's clean lines while conjuring sunrise images.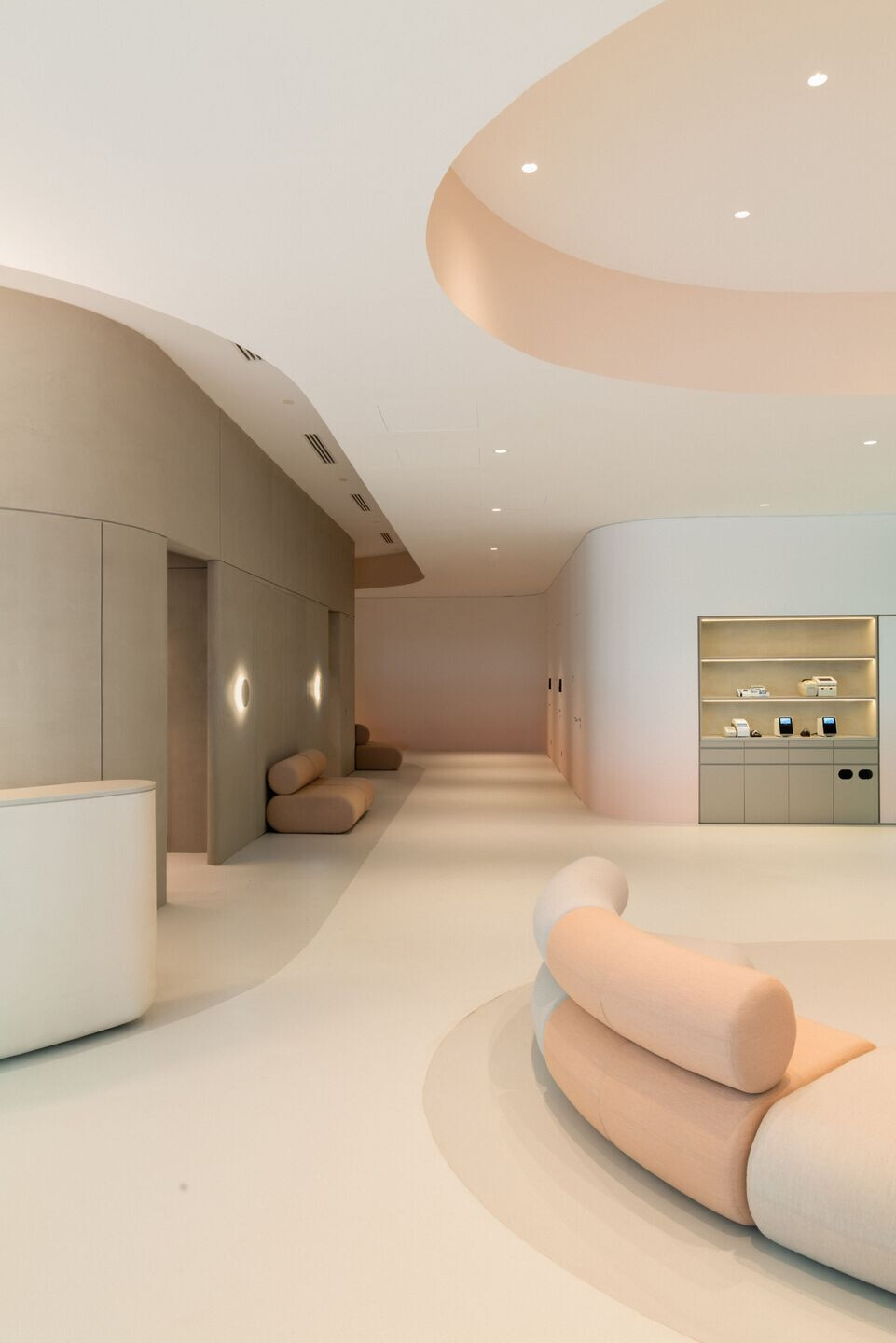 Full-height cove ceilings, undulating lines in the flooring, and interactive lighting delicately zone each space rather than employing partition walls or dividers to divide its programmatic aspects. The area features custom-made items like privacy chairs, modular lounge seating, and phlebotomy pods with identical nursing trollies.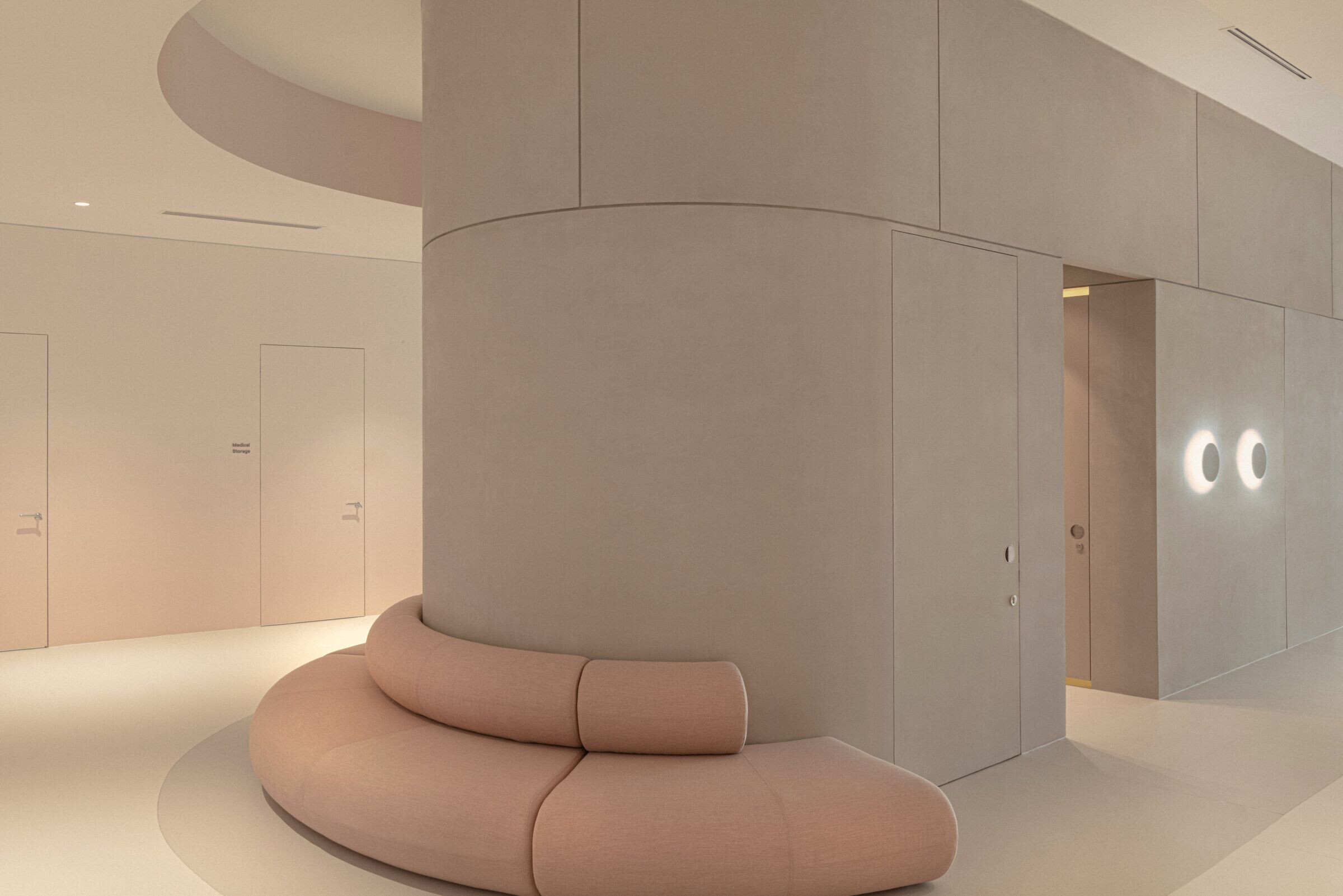 Salmon-coloured soffits and wallpaper break up the monochromatic style of the space to highlight its curves, and stone accents add a calming texture where clients and staff interact. A calm atmosphere is evoked inside the consultation rooms via muted colour schemes and countertops made of natural stone.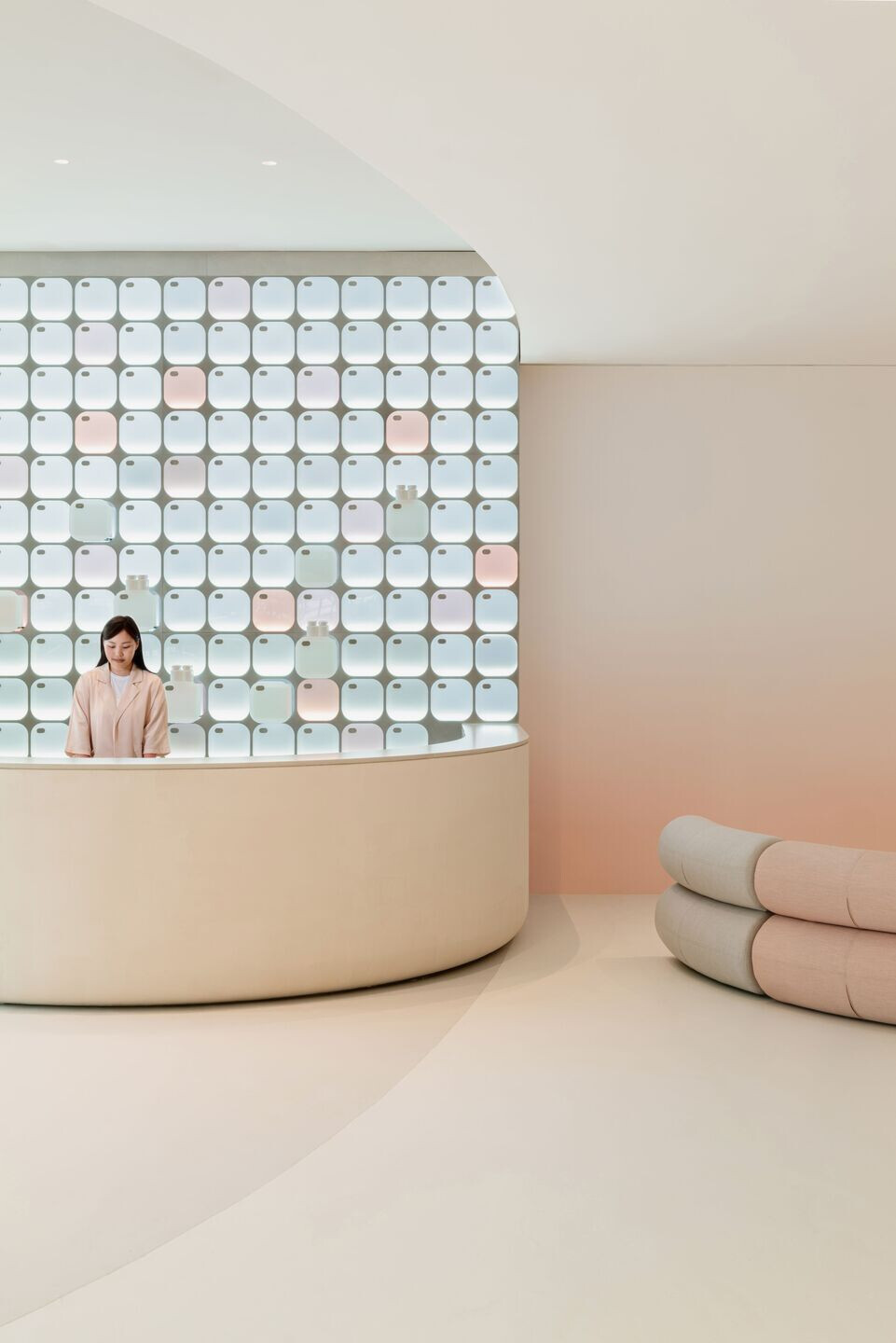 Taking inspiration from Chinese medicine hall cabinets, the pharmacy comprises a grid of glowing drawers ascending to the ceiling. It has a cohesive and fascinating quality that attracts attention and encourages continued engagement thanks to its subdued colouring and gently curved drawer fronts.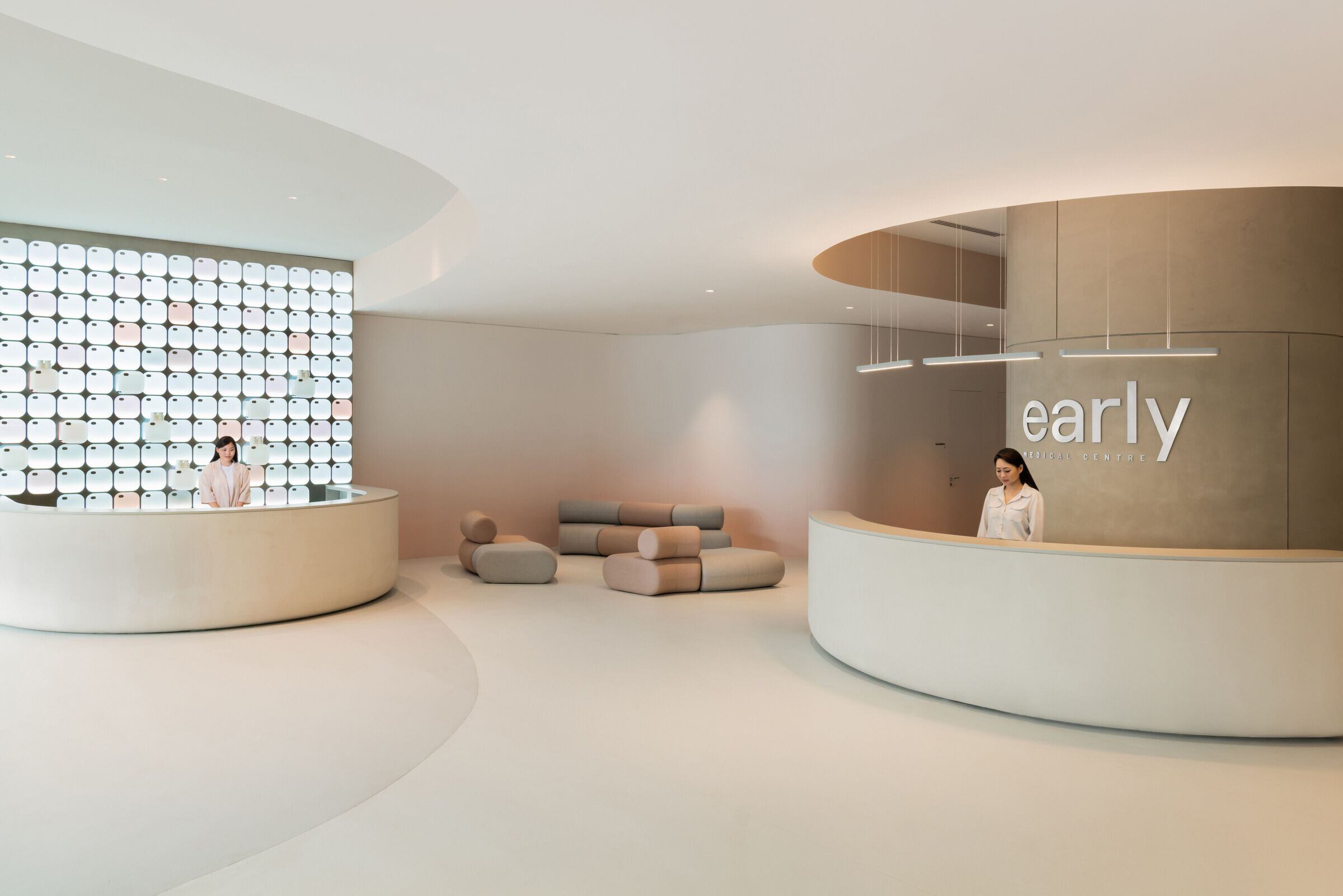 Therefore, the design shows conscious efforts to reduce the anxiety that people experience in healthcare environments, resulting in interiors brimming with calming features like soft gradients, ambient lighting, curving lines, and custom furniture in soothing, relaxed forms.