CONTEXT
The original brief suggested the creation of a sculptural monument celebrating the 100th anniversary of ADICO, a local family business of great importance to the surrounding economy and employment, and the locations that were initially suggested for its location foreshadowed the creation of a contemplative object.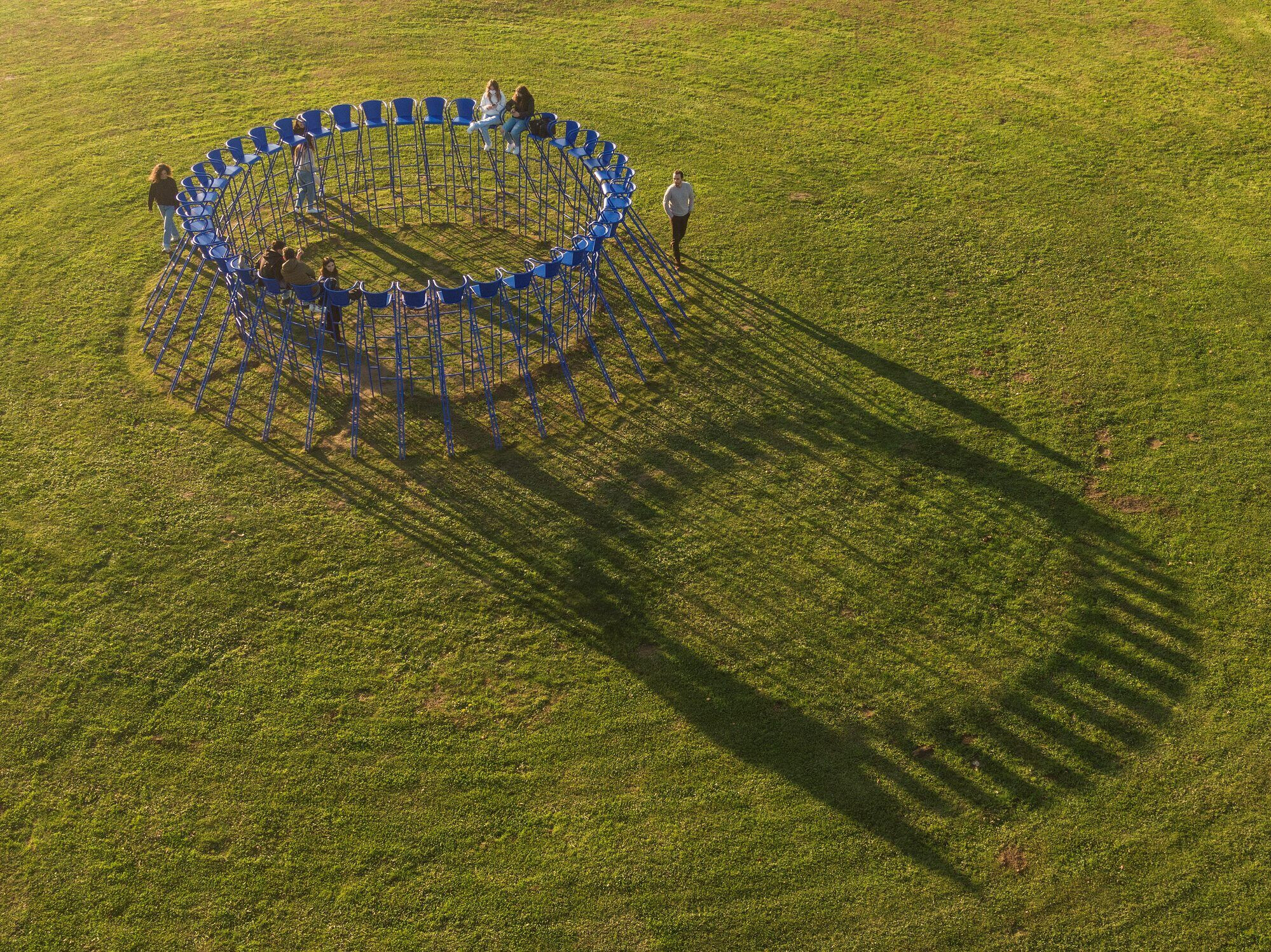 STRATEGY
The conceptual strategy is simultaneously based on the (re)location and (re)framing of the "monument" as an opportunity for spatial fruition, and on the possibility of elevating an everyday object to a work of art, as referenced in Marcel Duchamp's Dadaism.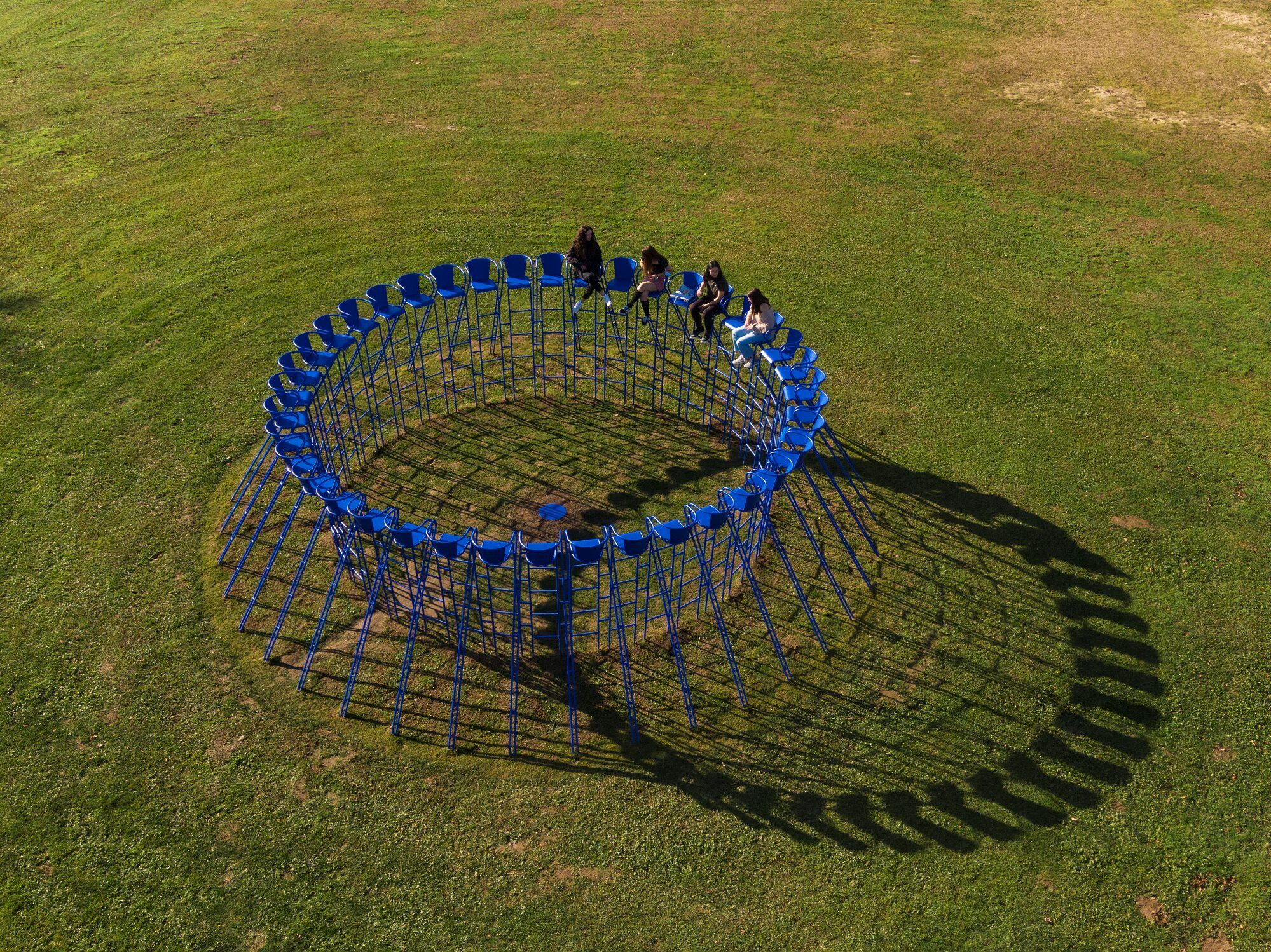 (Re)Located in the leafy Municipal Park of Antuã, the Círculo Azul is a monument- pavilion that is designed to be interacted with by the public and was created by re- interpreting the traditional Portuguese chair, designed and produced by ADICO since the 1920s.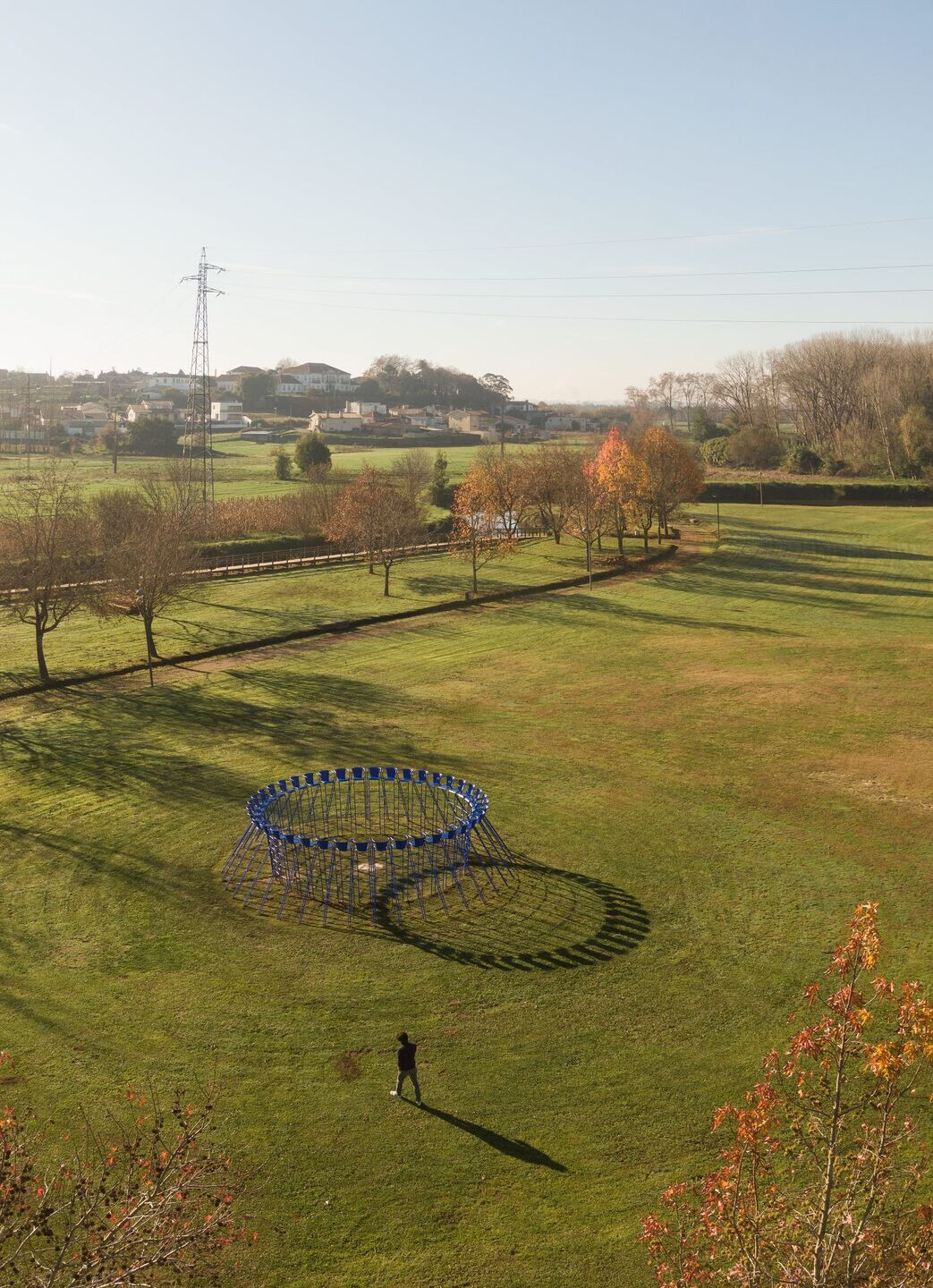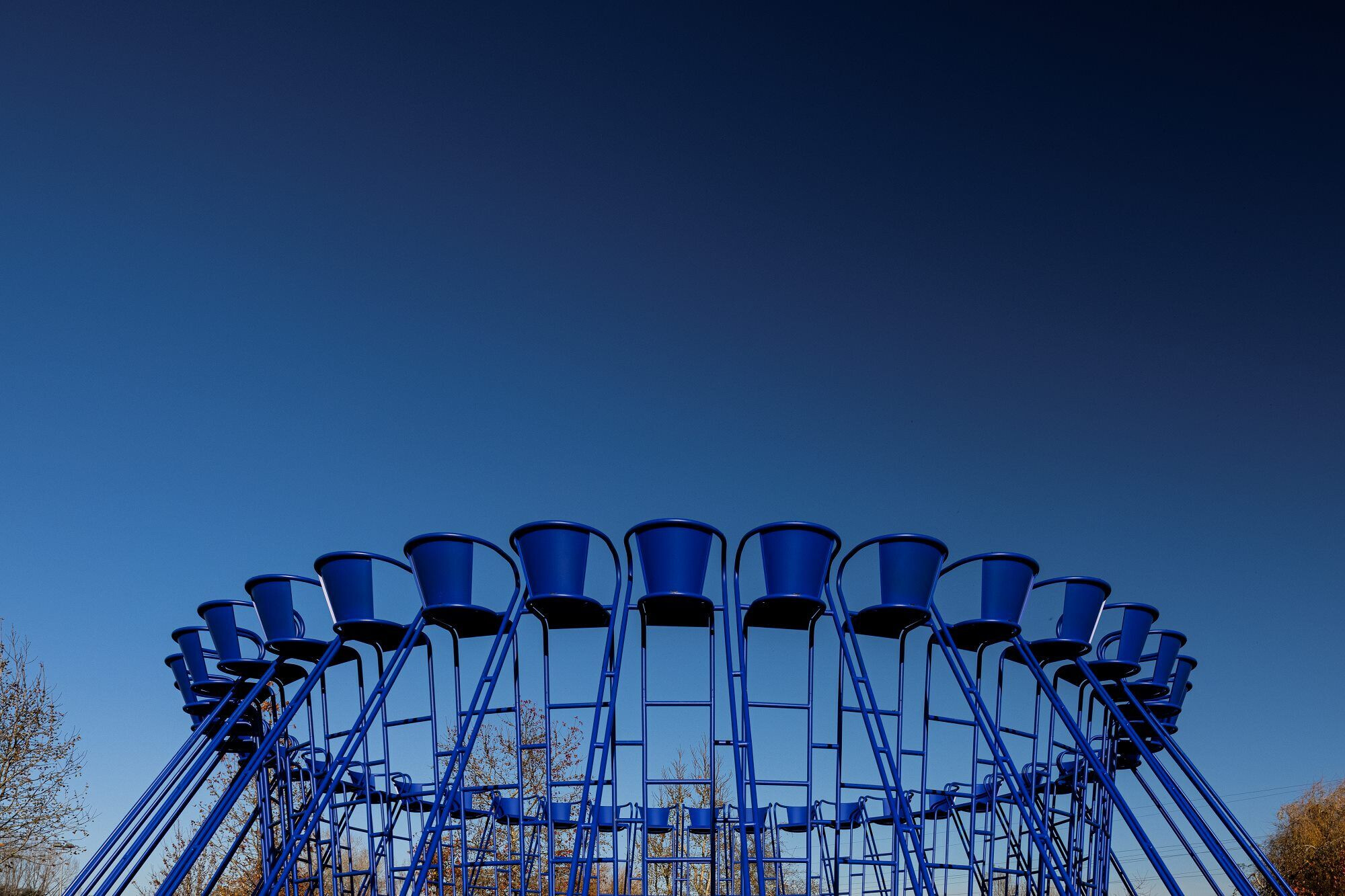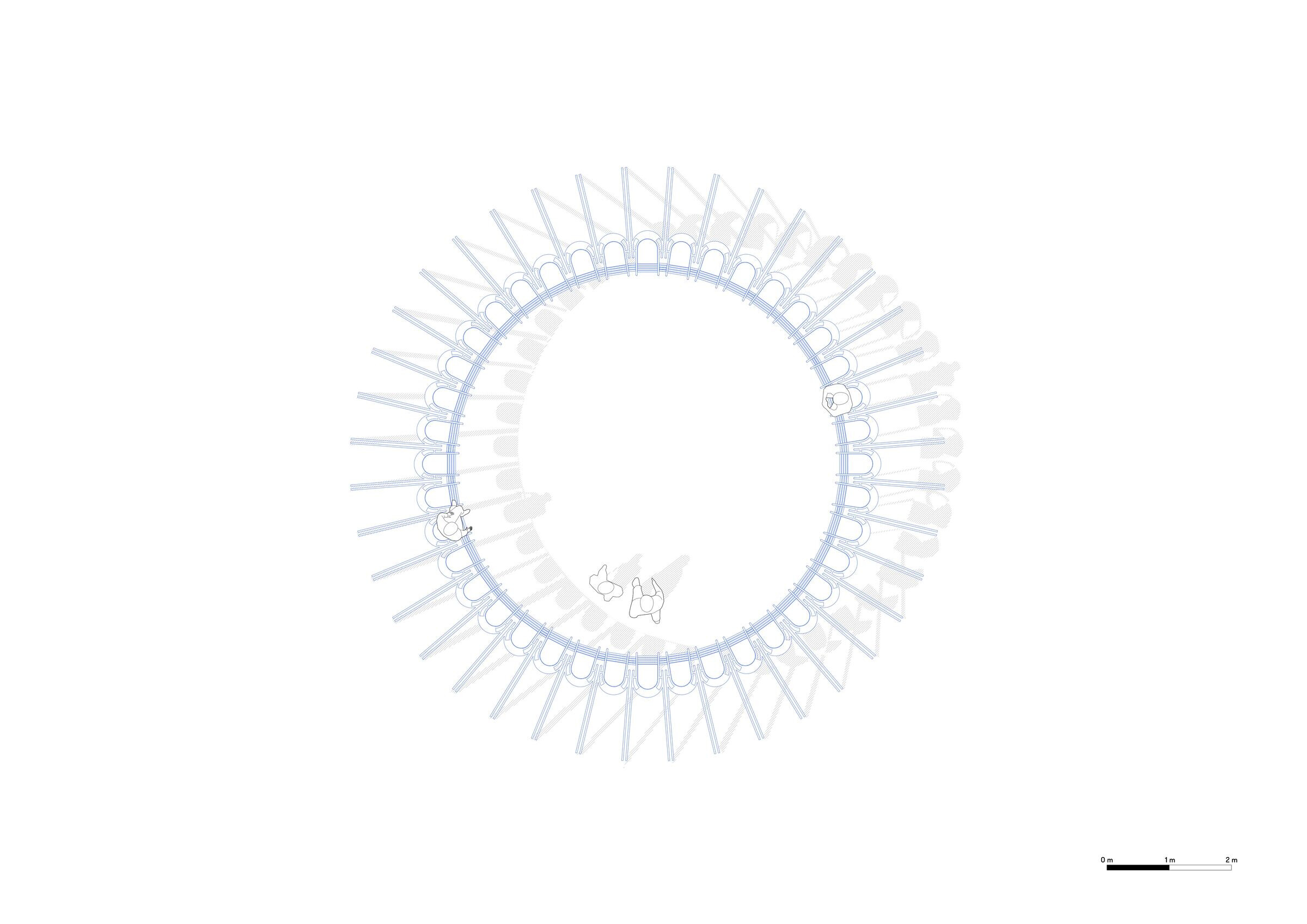 The artistic and spatial intervention explores the dematerialisation of the well-known chair by its repetition, through 40 geometrically positioned units, forming a design in the shape of a circular void, and simultaneously constituting the material formalisation of a space occupied by structures that encouragethe park's visitors to explore it.
Painted in Klein blue, the chairs occupy a place of prominence, not only by virtue of their higher status as works of art, but also by reason of their elevation within the grounds, affording those who climb its access stairs a privileged view of the surrounding landscape.
Foreseeing the seasonal flooding of the area, in harsher winter times, and paying homage to Mies van der Rohe's Farnsworth House, the bottom 2 metres of this permanent park installation were designed in stainless steel, whereafter the iron chairs are slotted in and secured by rivets. When partially submerged, the structure is reflected in the water, generating an abstract, symmetrical geometry. Impossible to access, the work temporarily becomes a sculptural (or kaleidoscopic) object.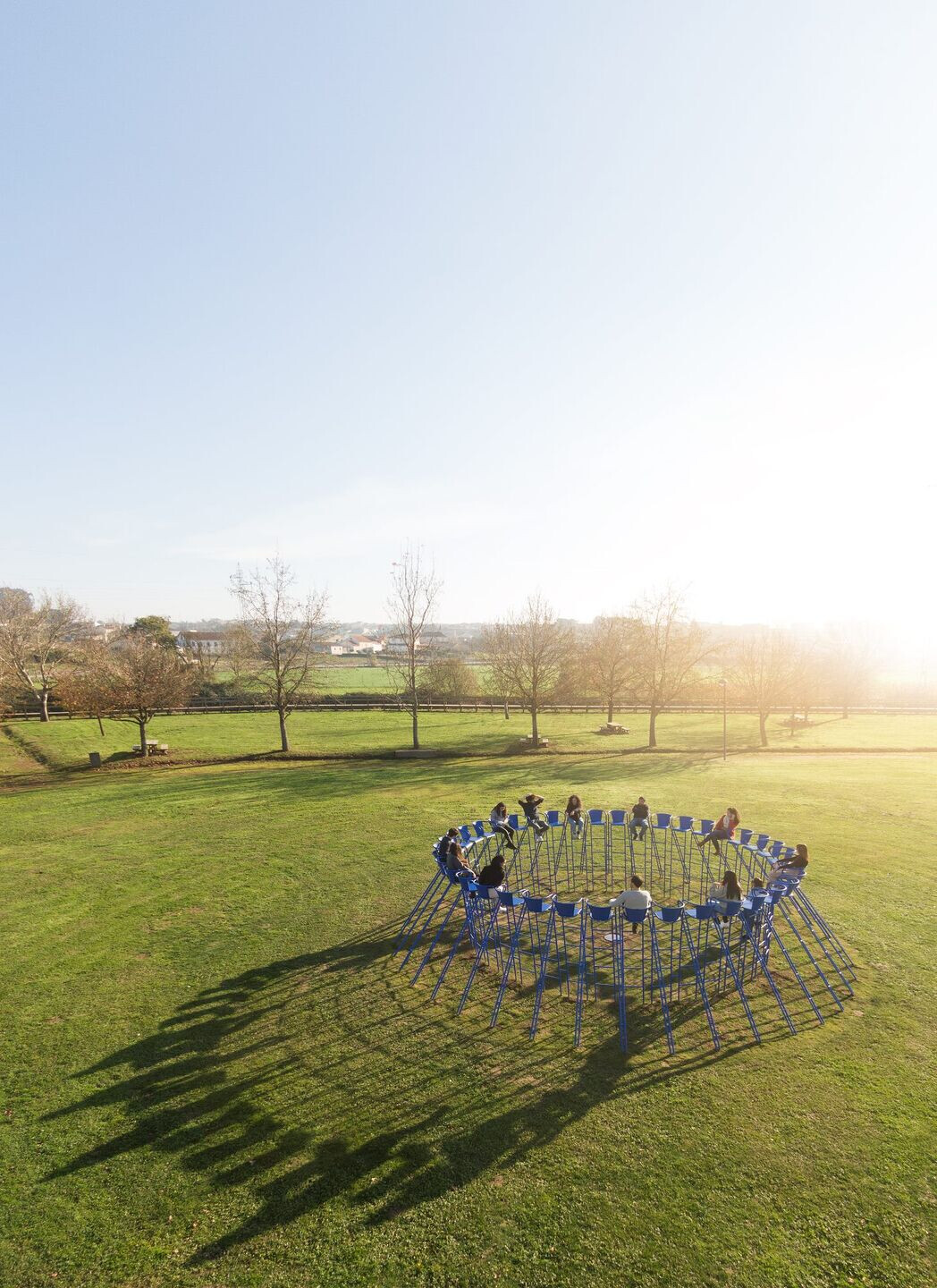 EXPERIENCE
More than just a contemplative object, the piece is a place of contemplation of the surrounding landscape, in solitude or collectively, but also of socialising, shaping an assembly-like space where the exchange of stories, a concert or a performance can take place in an intimate, protected circle.
More than a simple circumference, which describes a curved and closed line, the design is in fact seeking to create a circle, given that it is only complete when it is filled, by people, inside.
In this way, the celebration of the 100 years of existence of the local company ADICO is symbolised by the creation of a work of public art, which also becomes a new public space in the city of Estarreja.