With an expanding family and a consequent need for more living space, the owners of this terraced house in Brixton realised that moving house whilst staying in the area was not financially attractive.
The scheme developed by Sophie Nguyen Architects created a fourth bedroom, a new bathroom, and a new shower room on the upper floors, through the conversion of existing rooms.
The particular focus of the project was the extension of the lower ground floor into the side alley to create a generous kitchen and dining space, to bring more light in and create a connection to the garden. The kitchen is introduced as a single standalone element that is placed in the newly annexed side alley. This element maintains its distance from the living space through the glazed gap to the wall of the house – the project is vertical rather than horizontal, and there is a clarity to the space as a result. This conversion and the adjoining garden, have been conceived to maximise the light that streams into the house. A sun trap has been created in the middle of Brixton – the Casa del Sol.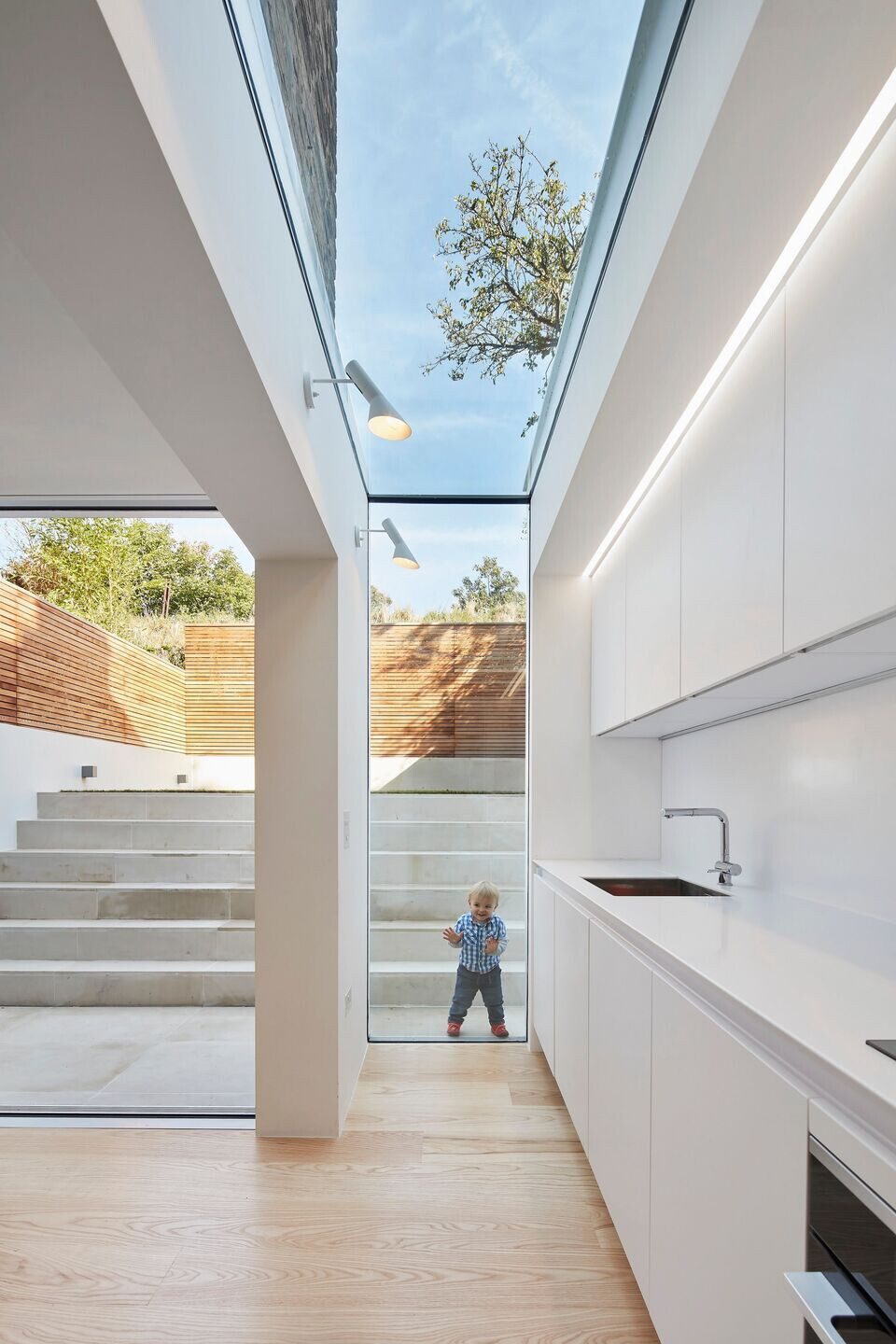 The client comments on completion: 'This renovation has changed our life. I genuinely didn't think the kitchen would be so lit up. We can now see the sun at every hour of the day, it's now fun for the children to be down here. My husband really enjoys the new bathroom, it is so well lit and practical for the entire family!'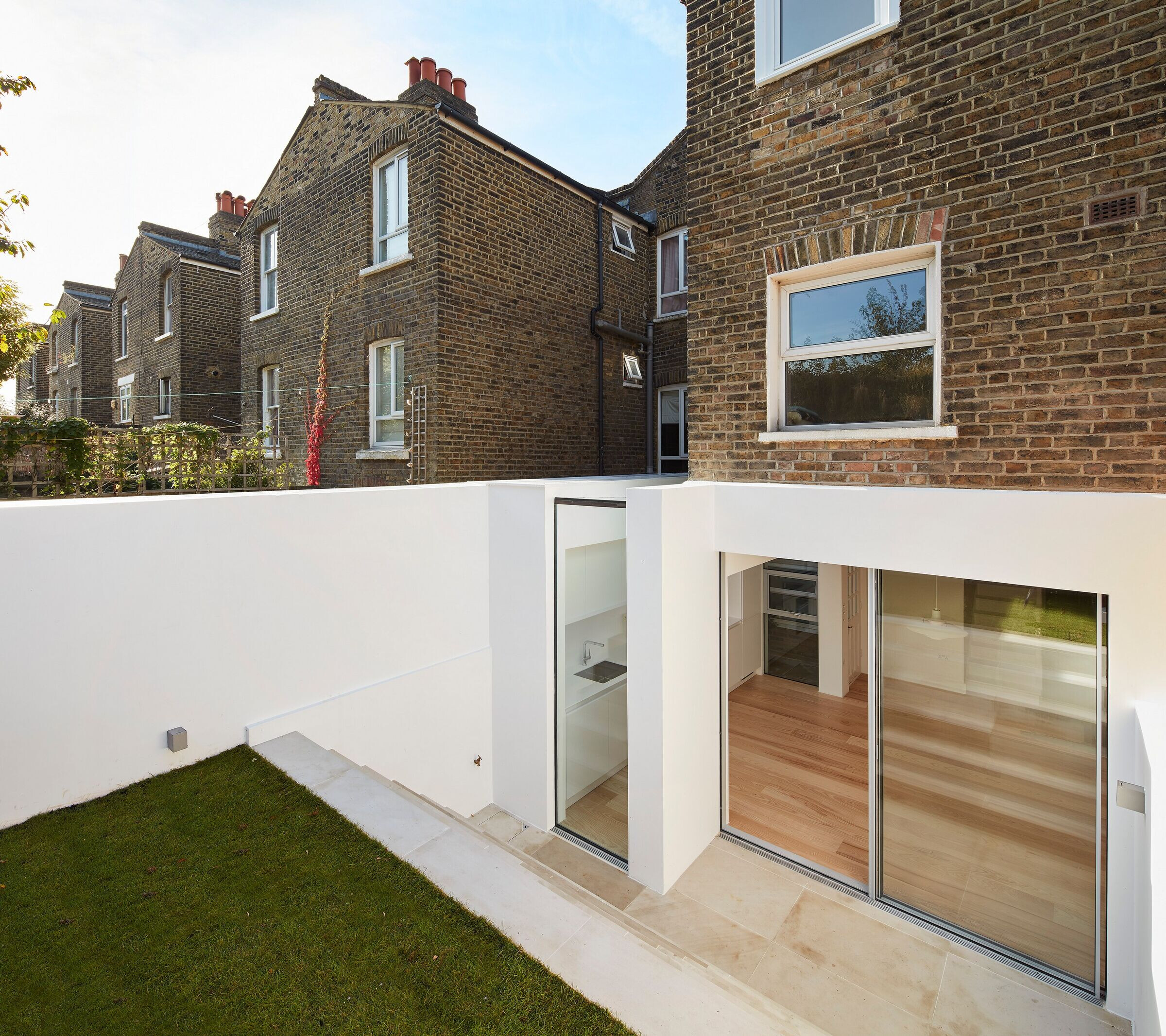 Glass strip in roof between kitchen and living space
The intention of the project was to create a clear space between the new kitchen unit and the living space on the lower ground floor – a vertical gap that brought light deep into the house and defined a separation between the two areas. It was essential that the glazing to this space was as minimal as possible, to maximise the light input and to reduce any obstruction to the view of the sky.
The solution to this was to span the gap with a single panel of double glazed glass – 4.50m long by 0.85m wide. The long edges are supported onto metal channels set into the walls on each side, and the joints of the short edges are staggered into the vertical glazing at each end such as to minimise the black band created at the joint.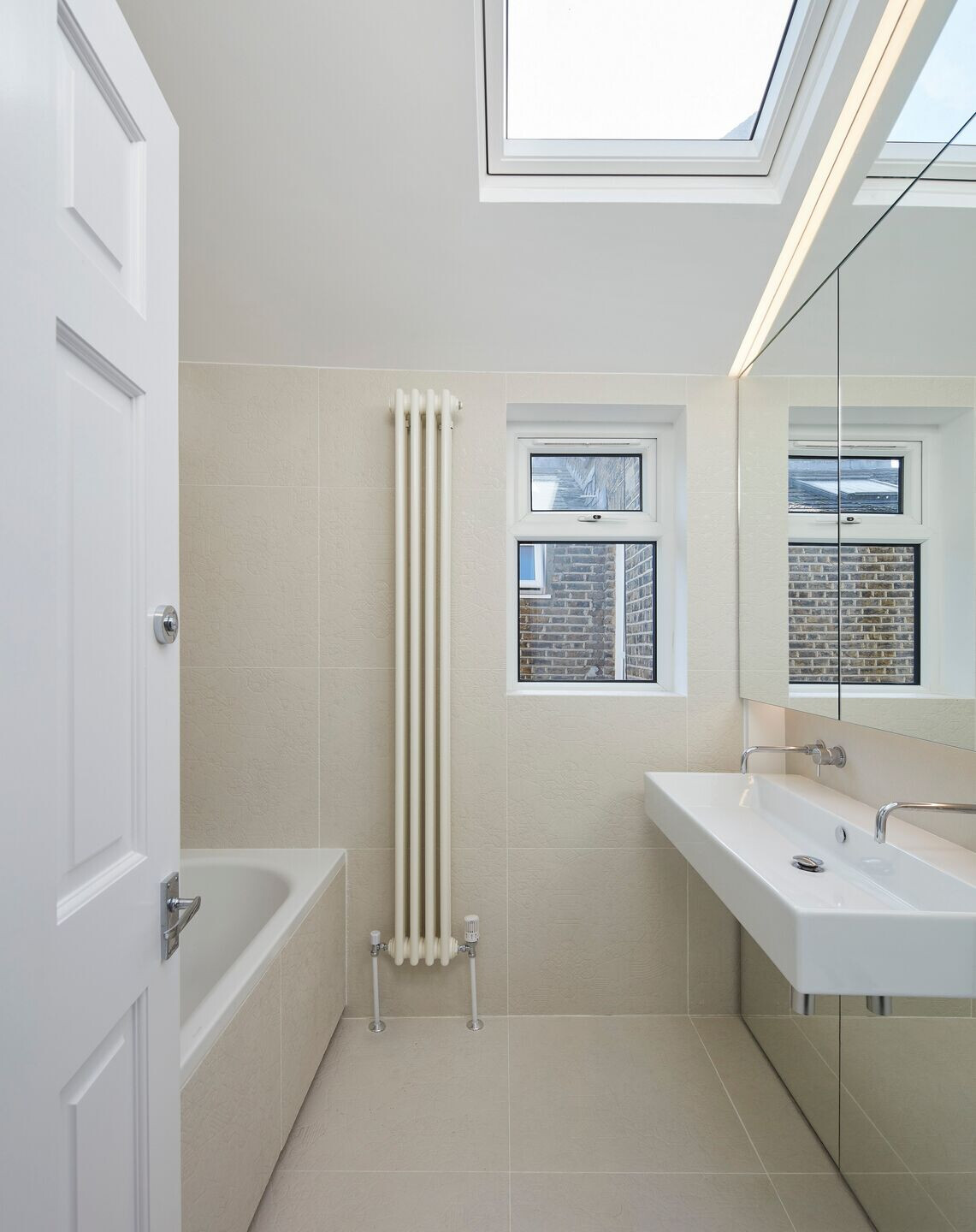 The removal of visible frames along the long sides, and the minimisation of the connections with the vertical glazed panels required close working with the glazing manufacturer, as well as detailed development of the roof and coping above the kitchen unit. The roof glazing is laid to a fall towards the back of the house. Maintenance is simple, the surface can be cleaned easily from the garden, or the adjacent roof, or from the first floor window.