This apartment tells the story of an older couple, aged between 50 and 60 years old. They had already been married to other people and formed a family with some children when they met. She lived in Curitiba, an important city in the south of the country. He is from the northeastern of Brazil but lived in São Paulo for a long time. After years together, they decided to get married and share the same home.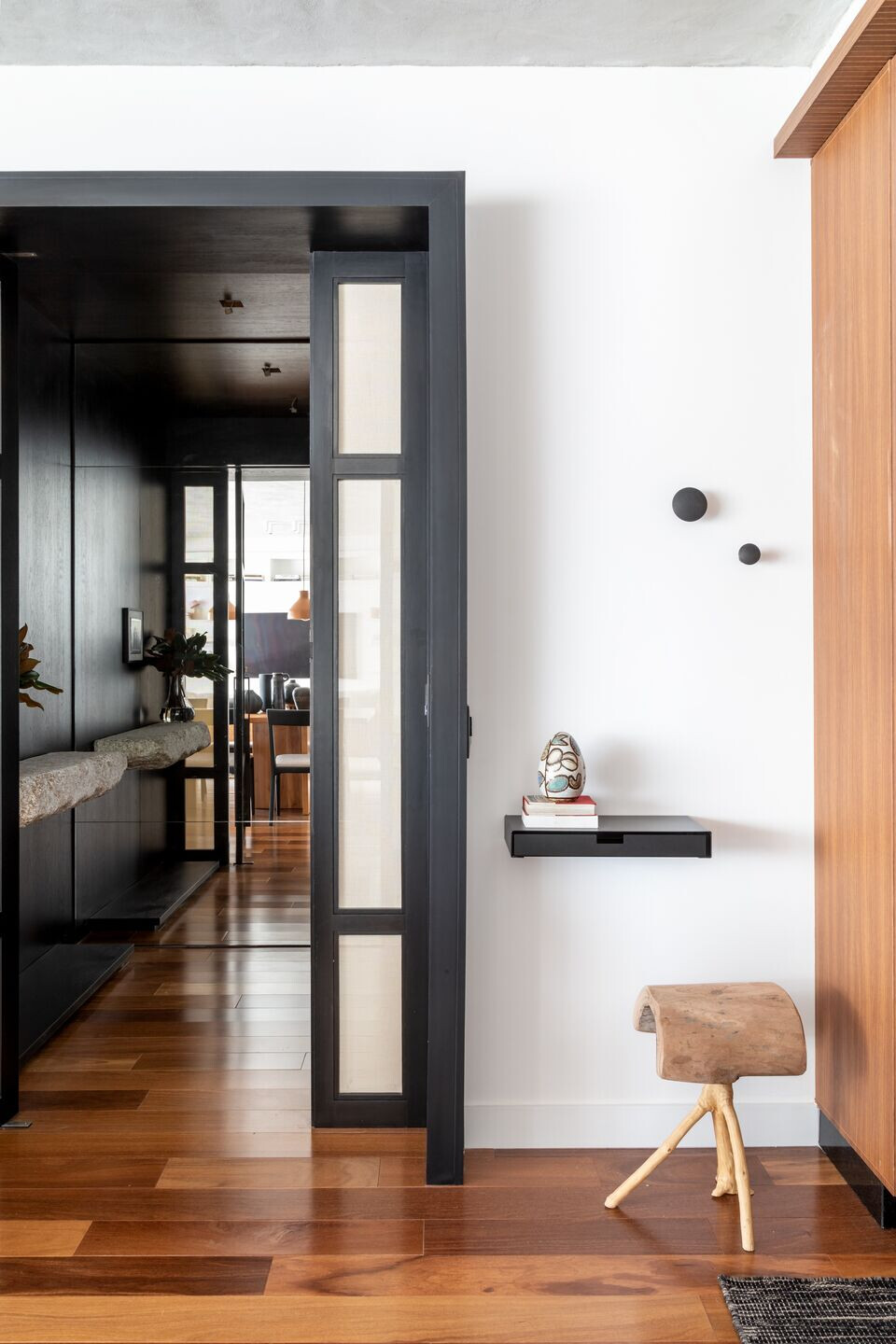 The apartment they bought together is located in the Moema district, an upscale area of ​​São Paulo and has 150m².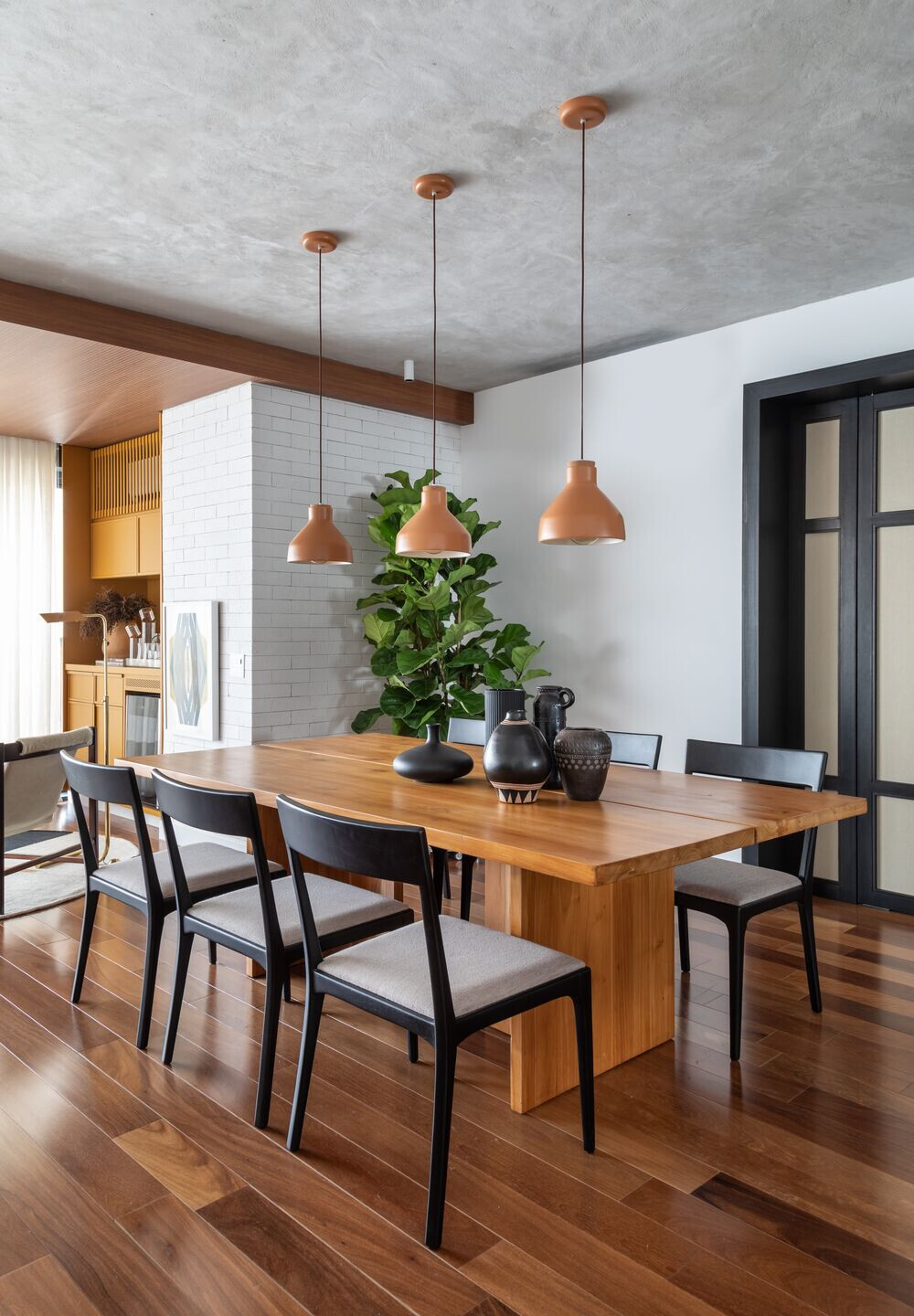 Since they have a large family, with children, sons-in-law and daughters-in-law who live outside the city, I needed to maintain at least one guest room and also a suite with hybrid use of a home office and a second guest bedroom. The living room needed to be spacious, so we decided to integrate not only the balcony, but also transform the kitchen into an extension of the dining room.
Both are passionate about Brazilian popular art. She likes more colorful and cheerful spaces, while he likes more neutral and dark tones.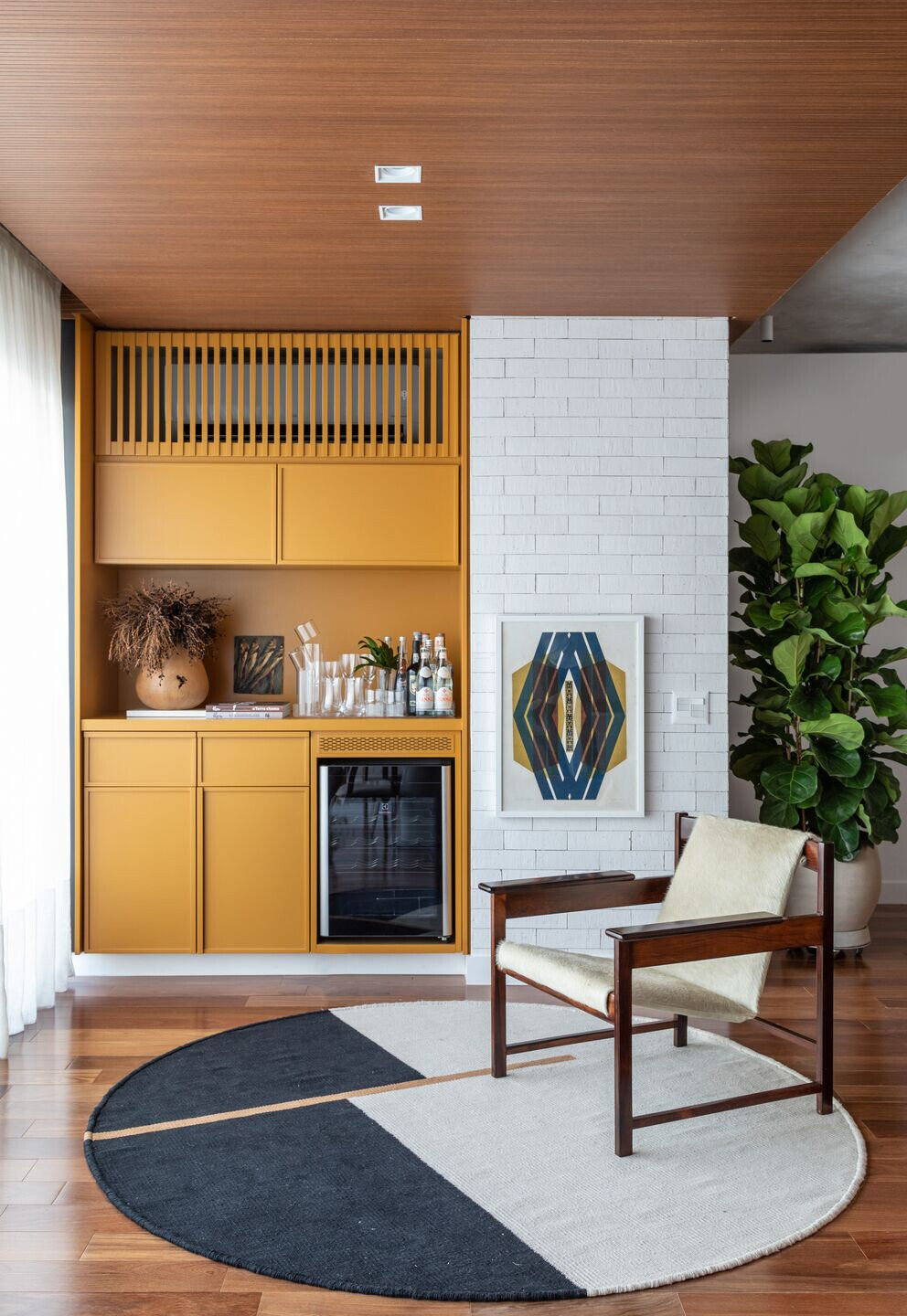 To unite the two styles, we decided to use color only in very specific places such as the balcony bar, the intimate hallway, and the social bathroom. The ceiling received raw cement treatment while the floor was covered with solid wood even inside the kitchen.
The entrance hall has been cladded throughout in black wood, creating the feeling of a box. To bring a natural Brazilian aesthetic, we developed a door with a solid wood structure and solar screen, making it lighter and allowing light to pass through. We also created a suspended raw stone sideboard, bringing drama to those who arrive at the apartment and a large mirror on the side wall to bring amplitude to the space.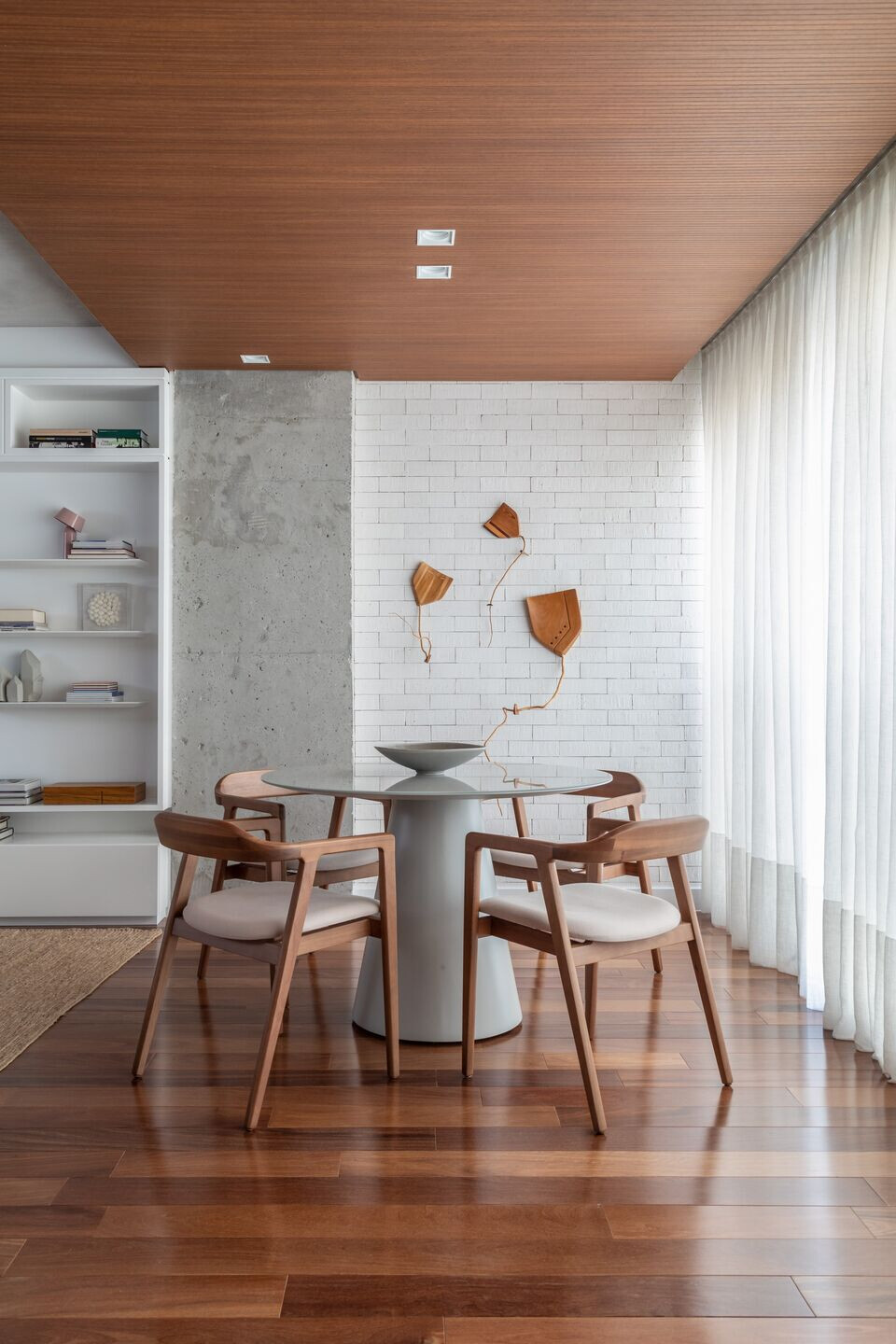 In order to further enhance brazilian craftsmanship, we chose to use pendant lamps made of clay with natural pigments and indigenous techniques on the dining table.
Creating a beautiful background in the living room, we have a large shelf made of carpentry with a white lacquer finish, where the couple can display their decoration items and souvenirs brought from the countless trips they usually take.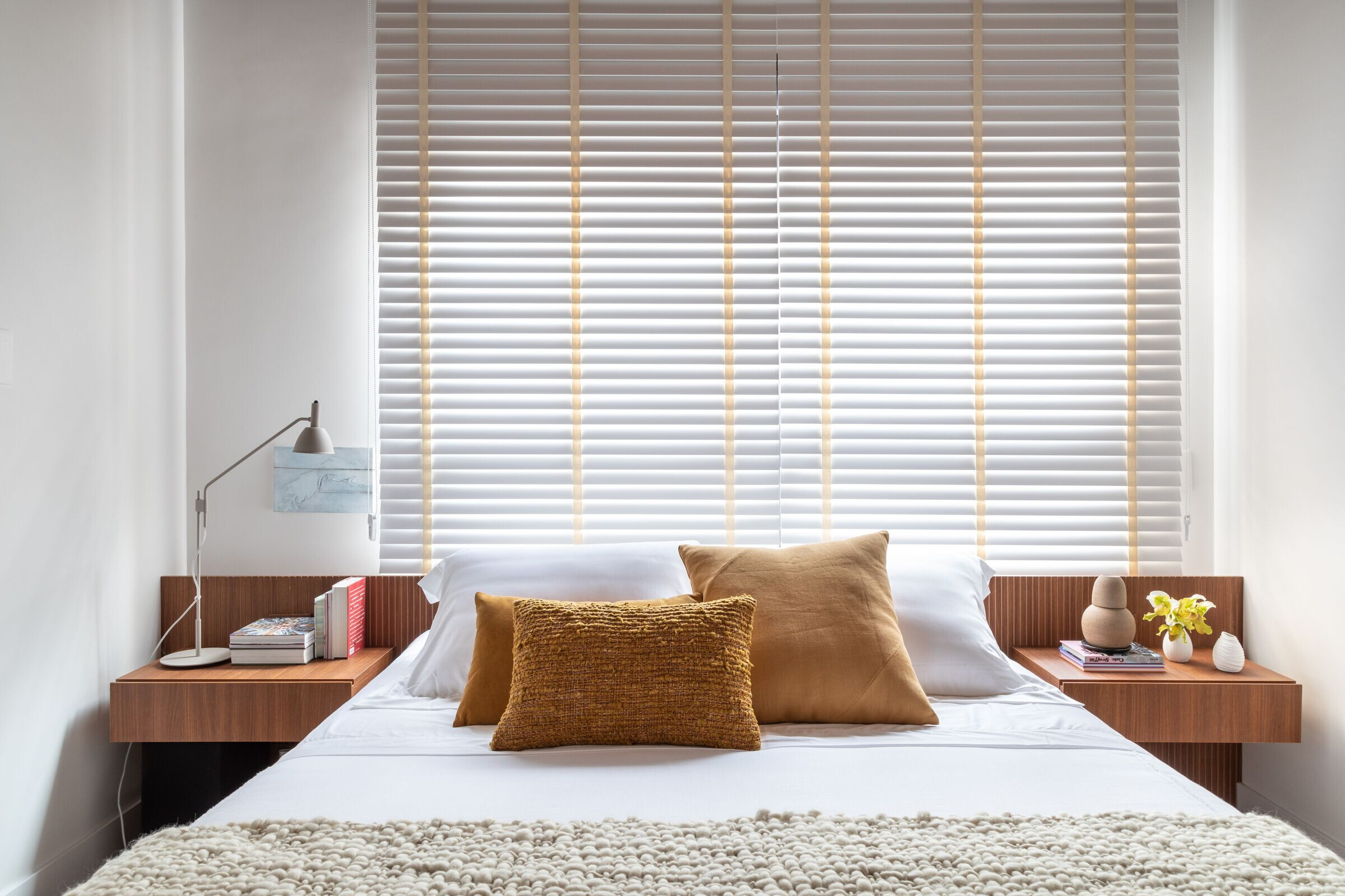 The Brazilian furniture was fundamental in reinforcing the concept of the entire project and guaranteeing the couple's identity in their own apartment.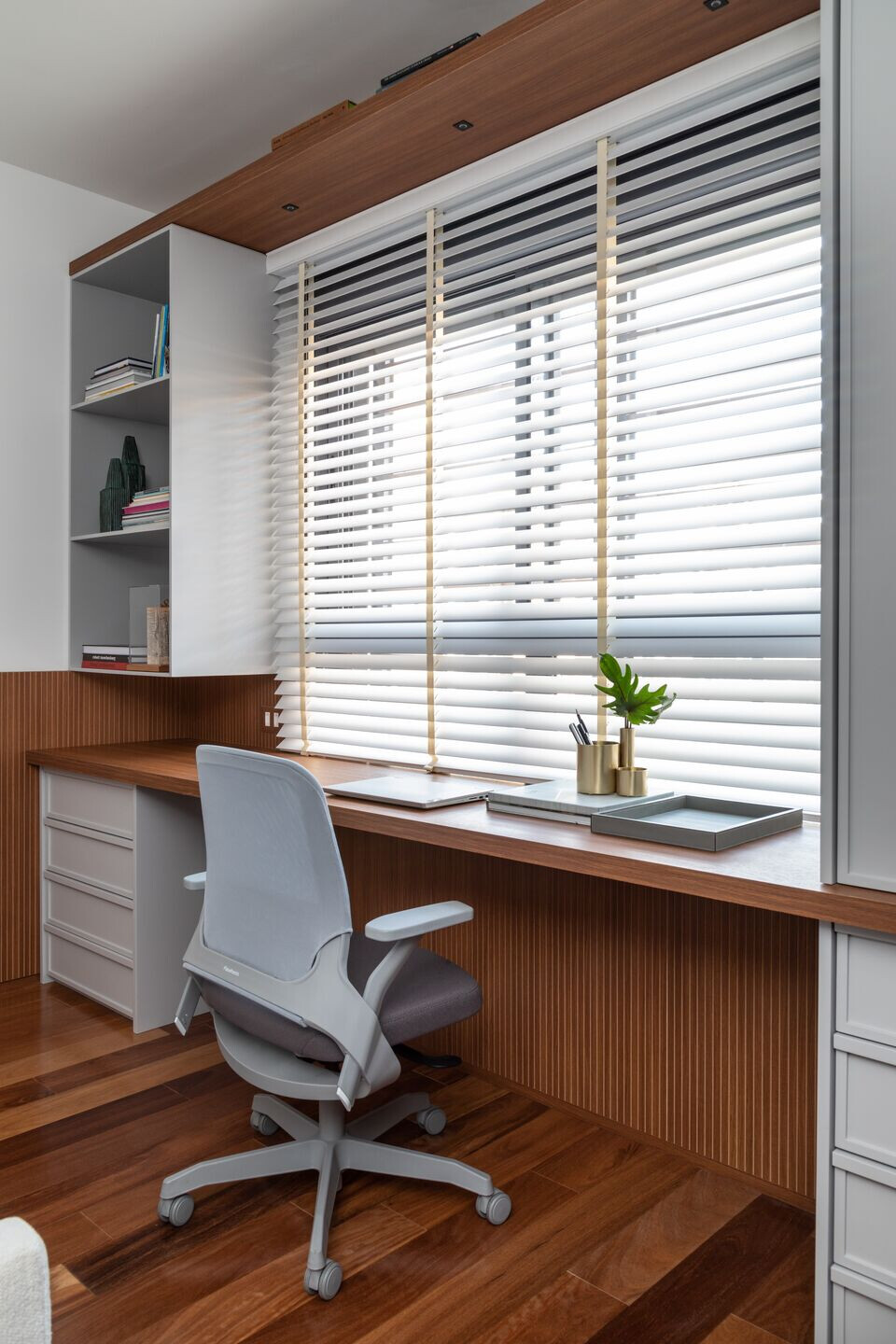 Team:
Architects: Renato Mendonça Arquitetura, Jaqueline Carvalho
Set Designer: Aldi Flosi
Photographer: Evelyn Muller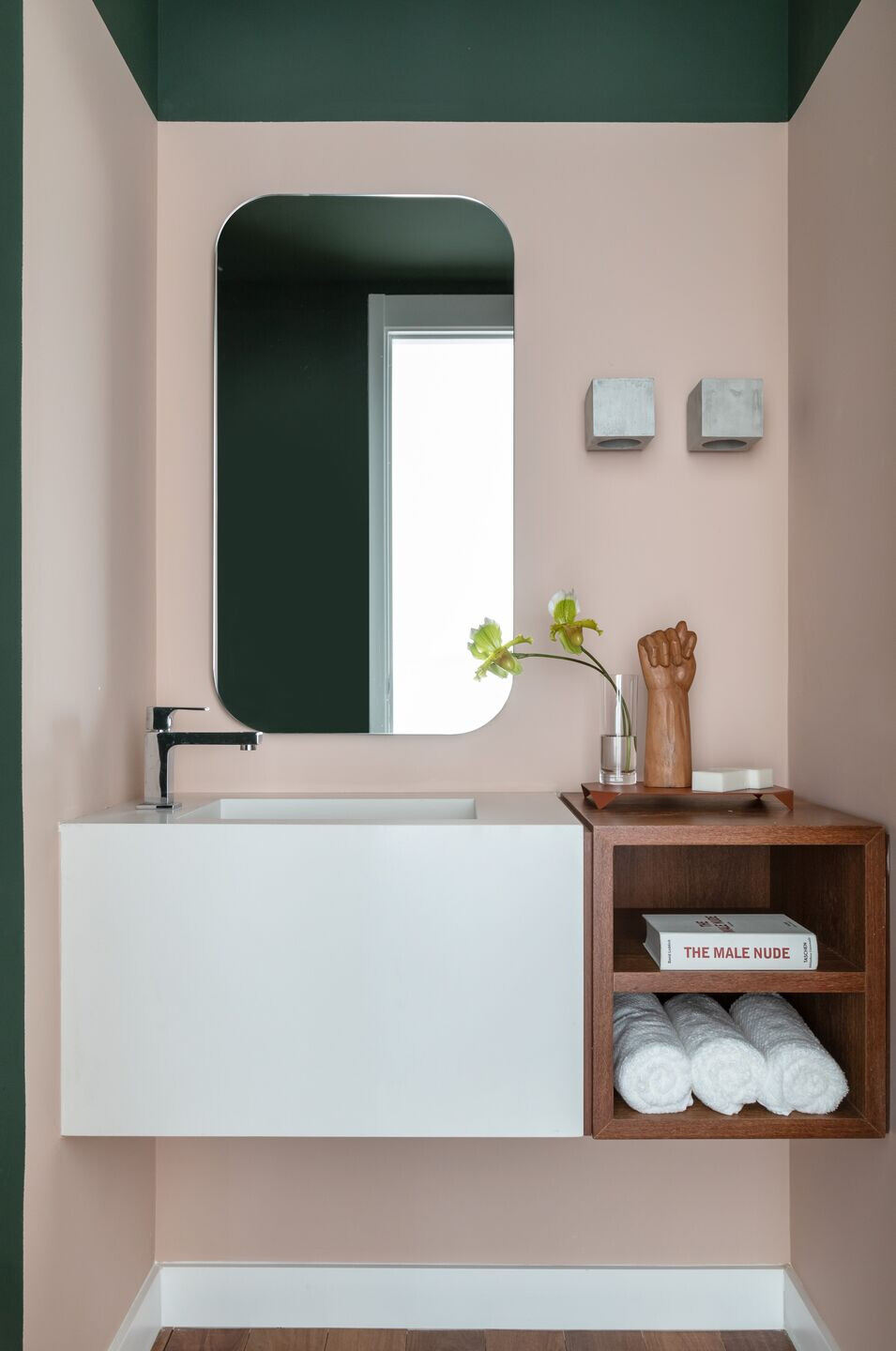 Materials used:
Coated Wall: Brick slabs, Lepri
Flooring: Solid wood, Cumaru wood, Aka Floor
Living Ceiling: Raw cement
Kitchen and balcony roof: Beaded Mdf
Couch: Cremme Store
Dining Table: Fernando Jaeger Store
Chairs: Lider Store
Rugs: Botteh Rugs Store
Carpentry cabinets: Basile Marcenaria
Bedding: Códex Home