New York, NY—Alda Ly Architecture (ALA) has designed a new space for Healthybaby, the developmental health-focused baby care company. Located on Warren Street in the Tribeca neighborhood of New York City, the showroom and experiential playspace provides both support and a haven for new parents, complete with a baby play space, mother's room, diaper display and changing area and parents' lounge, while also showcasing product and hosting events.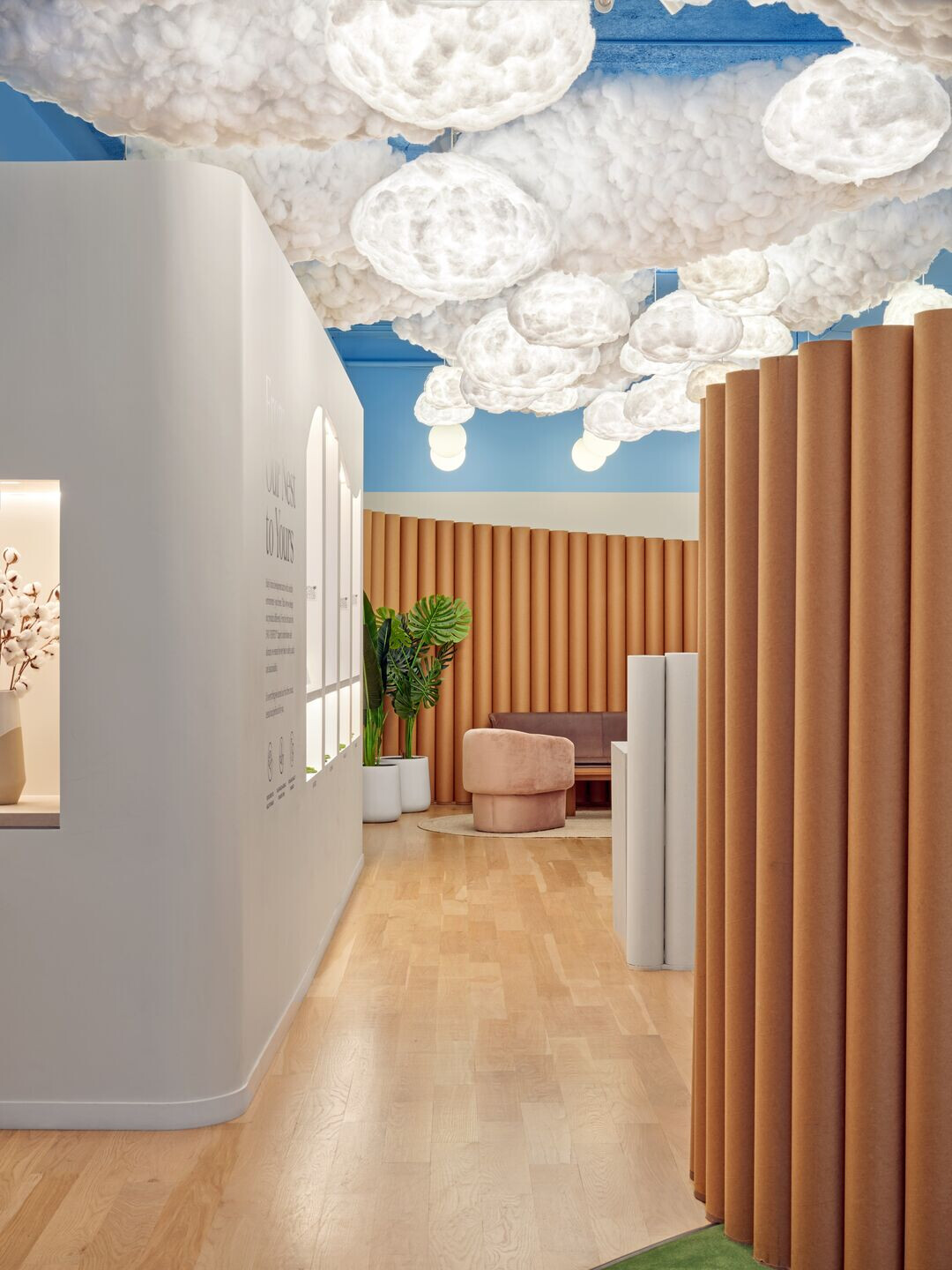 ALA's design is rooted in Healthybaby's mission to protect, enrich and support the full potential of every child. The design is implemented through a series of nested environments, inspired by the idea of the home as a nest, containing intimate spaces that nurture and support growth. The architecture is designed as a series of whimsical and comfortable spaces that cocoon and surround guests, allowing them to form deeper and lasting connections between baby and community, and experience the products in a supportive setting.
Four distinct programmatic areas—a baby play area, mother's room, diaper changing station, and lounge space—are defined by curving screens made of cardboard tubes set on a custom-cut curved frame to create nested environments. Designed with sustainability and flexibility in mind, these screens can easily be taken apart and reconfigured over time. With a vibrant bright green rug resembling grass, and a sky-blue painted ceiling with a cloud-like installation, the space recalls nature and sustainability— main tenets of Healthybaby's brand.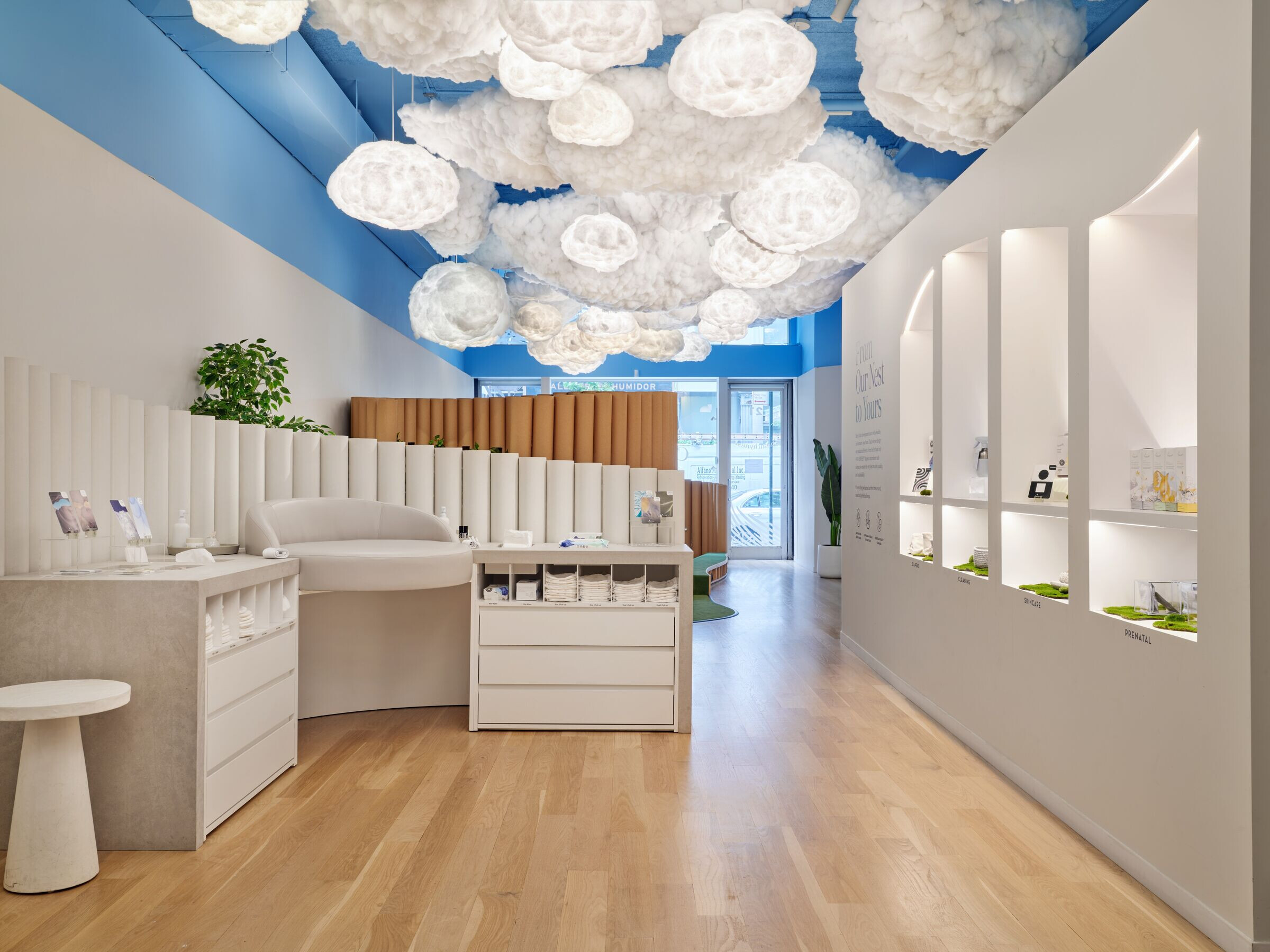 Graphics narrating the story of Healthybaby and its products lead the visitor throughout the space. When parents and children enter, a graphic wall depicting key brand moments leads you to the hospitality niche, providing refreshments and snacks. On the right is the baby play area, the first space that they encounter which focuses on play activities to boost brain development.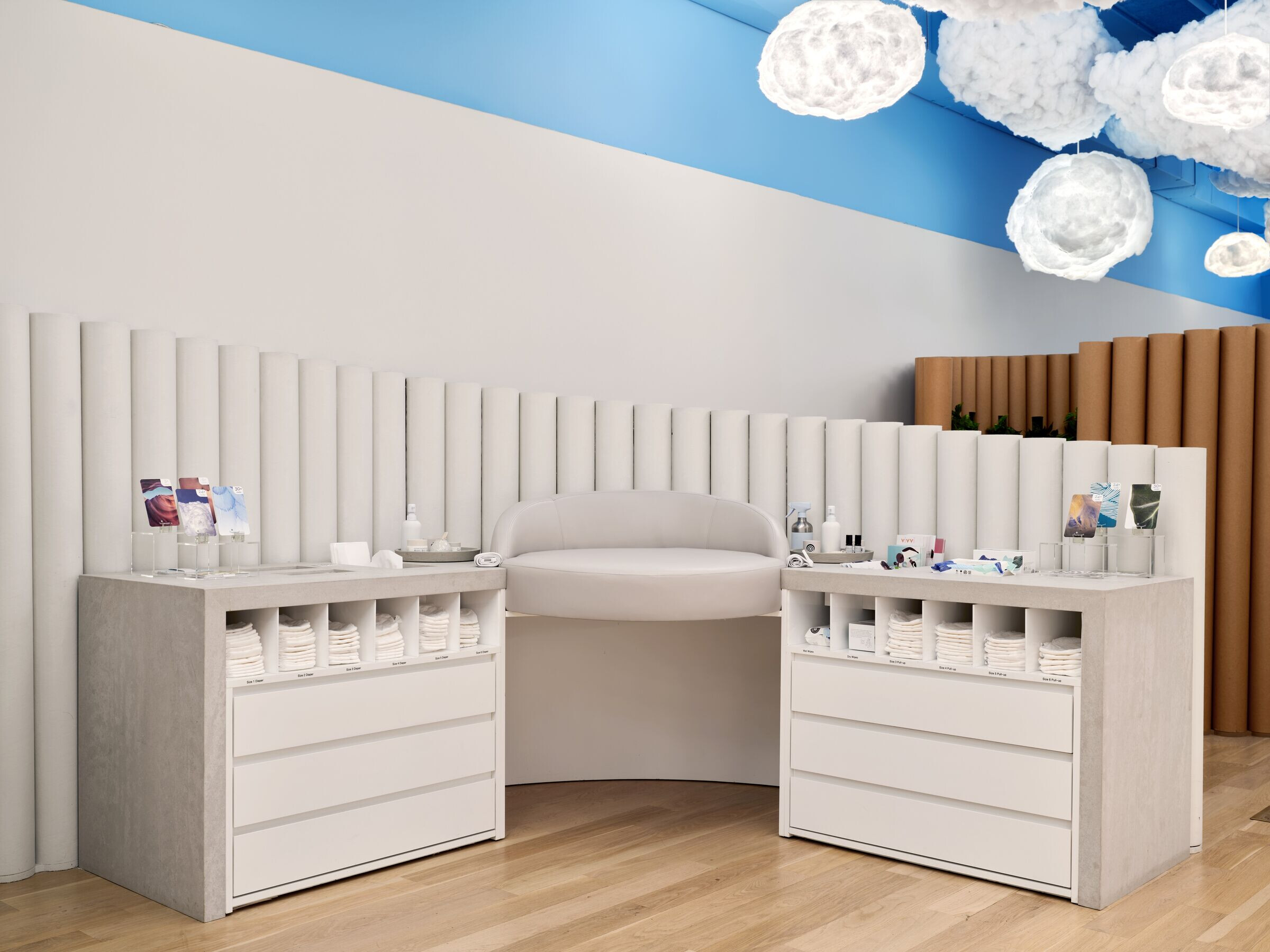 Along the perimeter, there is a custom shoe cubby shaped as a sloped berm, which serves triple duty as a child safety barrier, additional seating for parents, and a tummy time area for babies.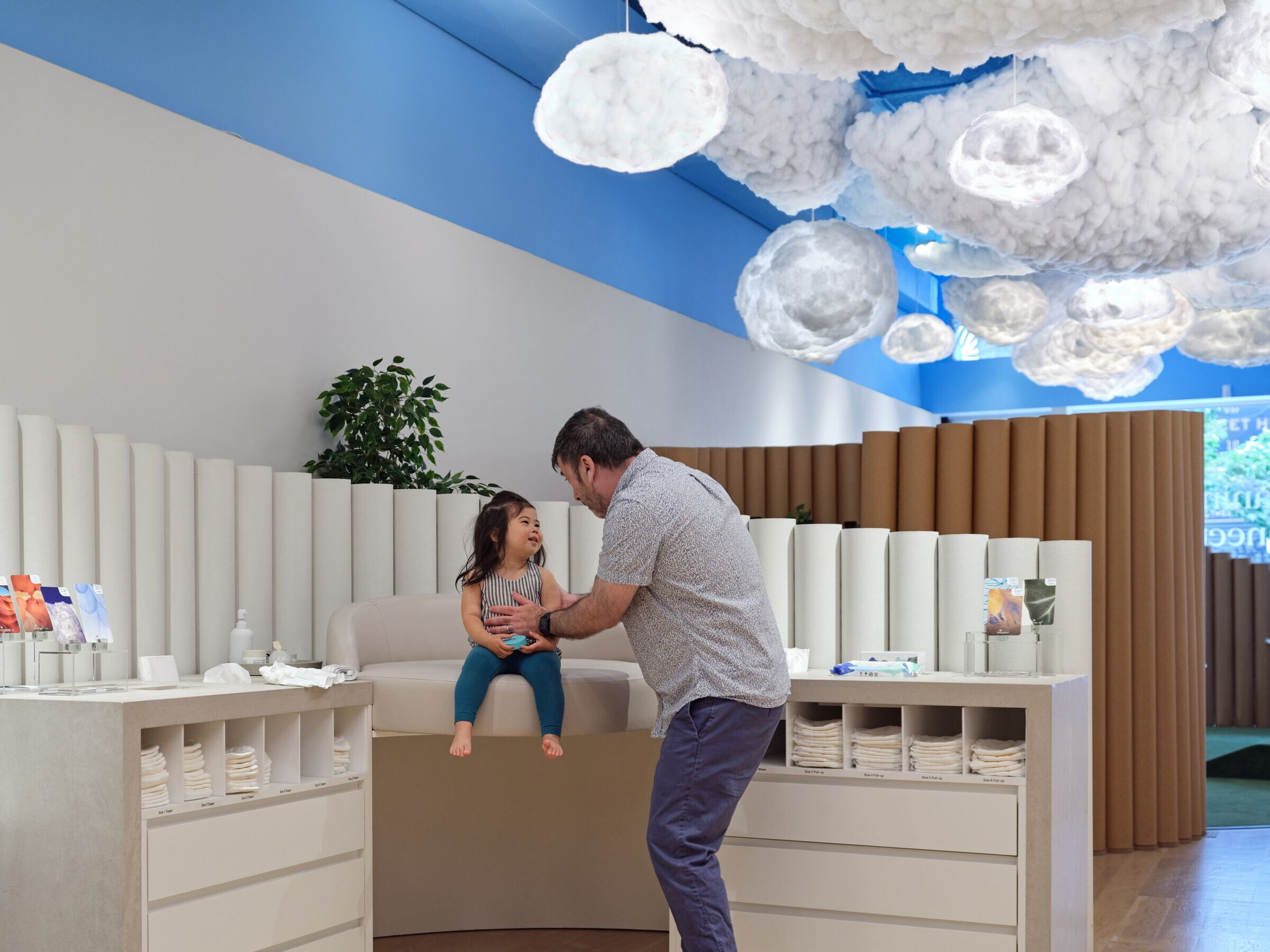 The area is encircled by a series of undulating vertical tubes that incorporate viewing portals for children to look outside to the street level, as well as kaleidoscopic lenses. The baby play area also features a large three-dimensional expression of the company's signature wave pattern on the wall. Each section of the wave is crafted with different tactile materials, such as faux leather, velcro, rubber, sandpaper, boucle and mirror that encourage interaction. The lower sections are designed with a deeper frame that provide toddlers the ability to cruise along the wall.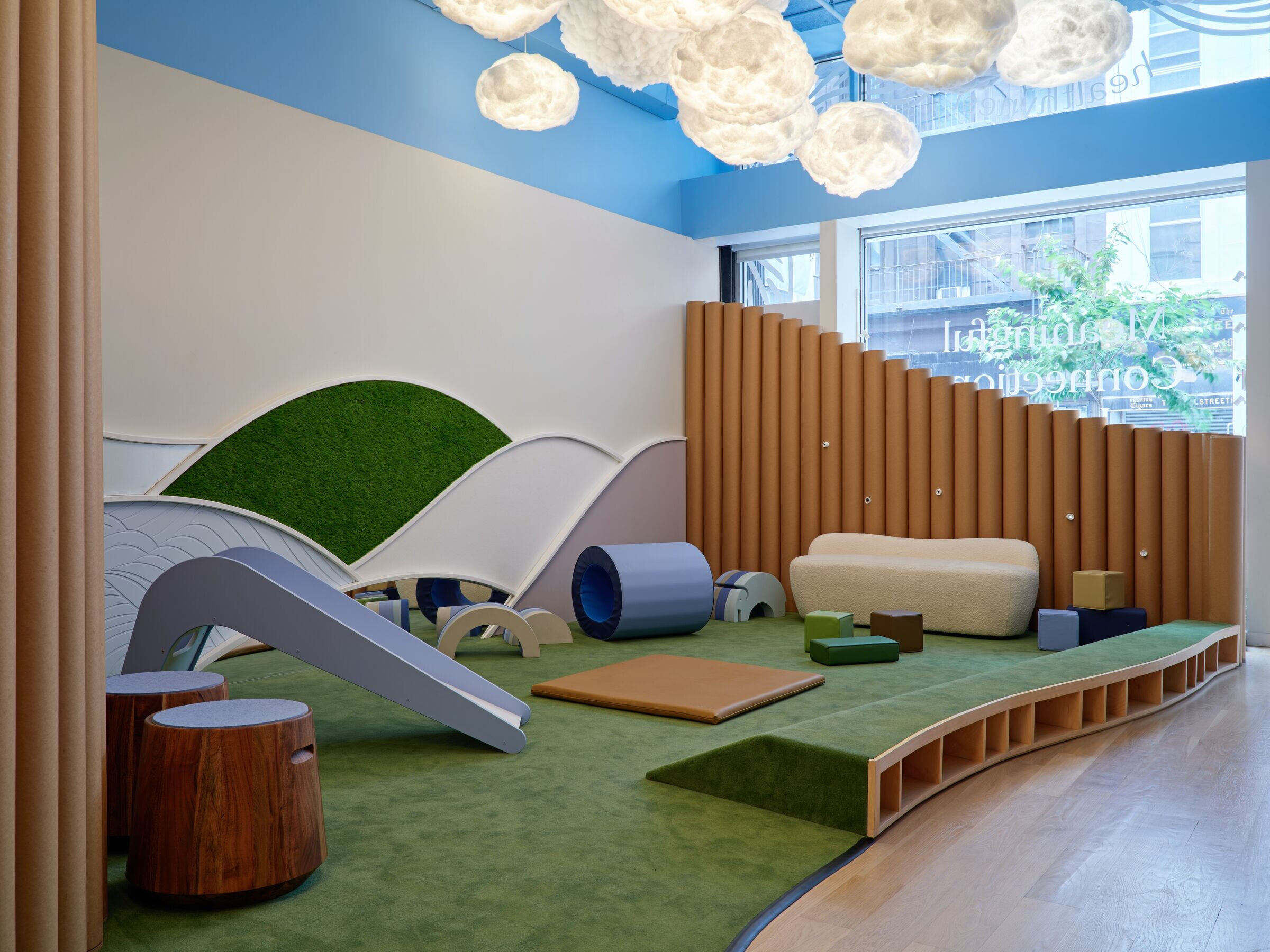 Further into the space is a mother's room: an intimate space with two chairs where mothers can sit with a friend when nursing or pumping. Beyond the mother's room, a custom-designed diaper-changing station showcases diapers, and an adjacent wall with curved cubbies shaped like a wave displays the full suite of skincare, prenatal, and cleaning products. This wall also conceals the stroller parking and neatly tucks it out of the way. Lastly, a public lounge space is situated at the back of the space, and set up for parents to gather, host small events and connect with the larger community.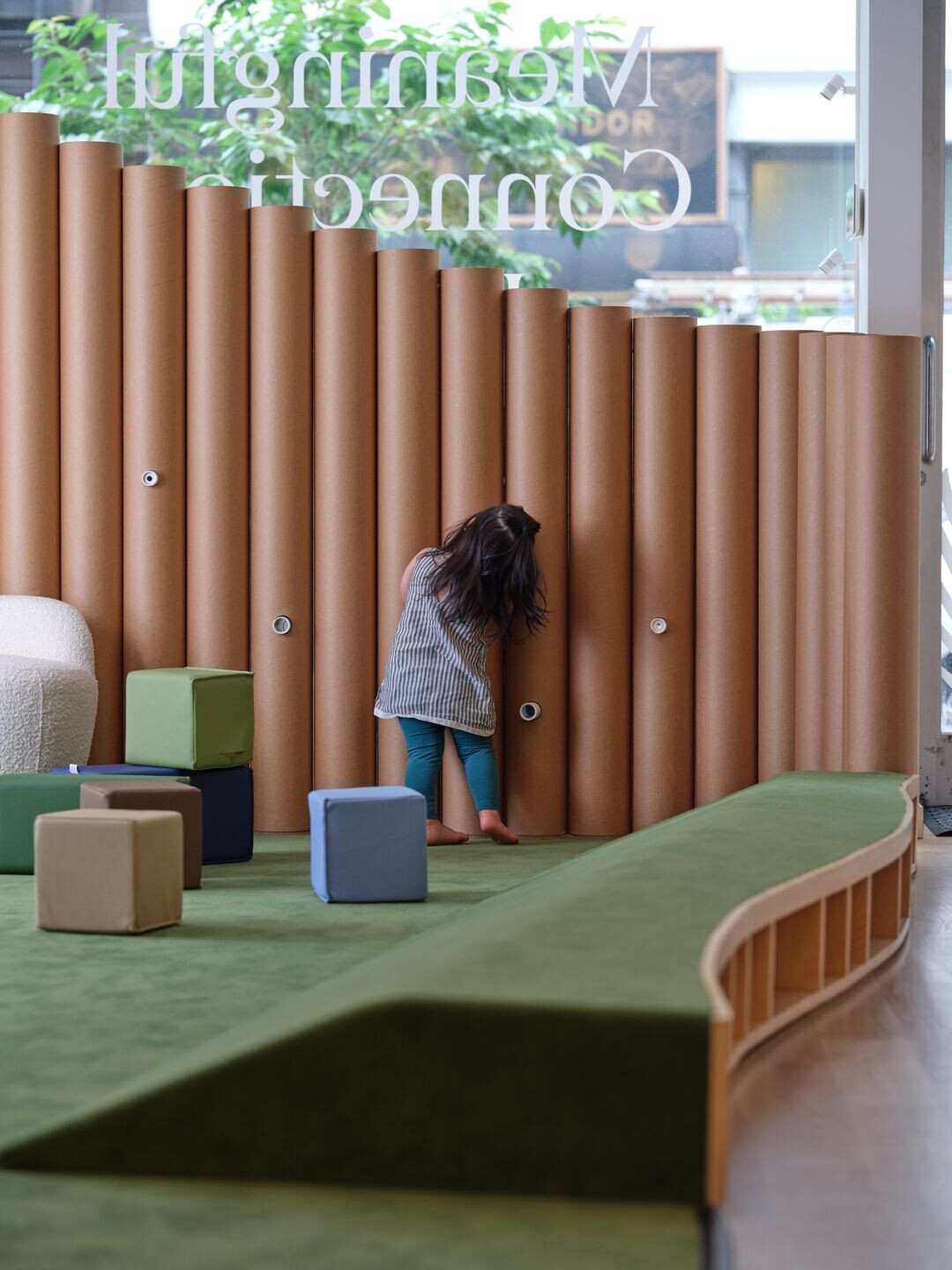 Team:
Design Architect and Interior Design: Alda Ly Architecture
Design Team: Alda Ly, Tania Chau, Kelly Siekierka
Contractor: Aerial Design & Build
Photographer: Reid Rolls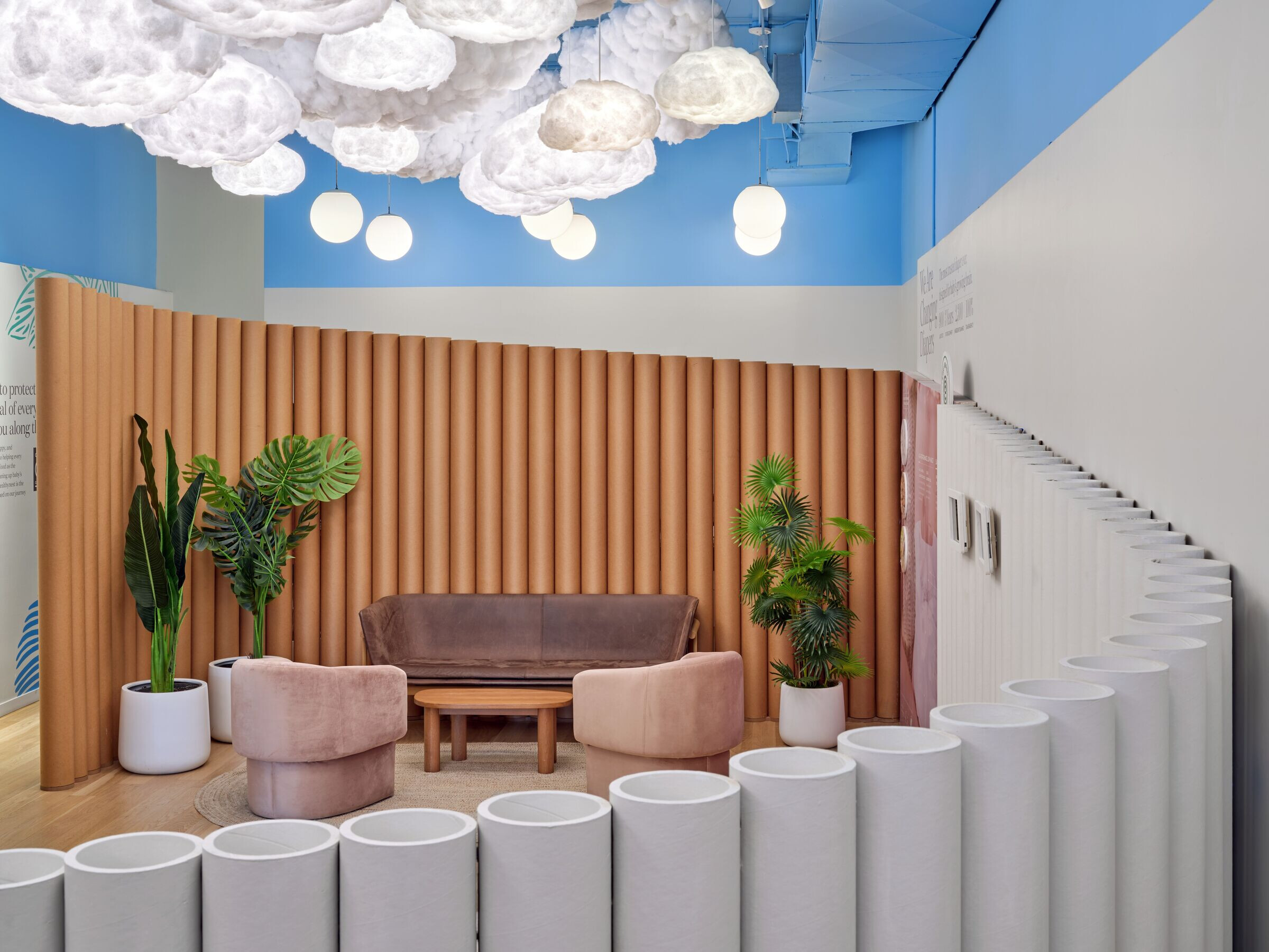 Materials used:
Lighting Design: Sighte Studio
Custom Fabrication + Printing: Wizard Studio