The historic Mesa Store, located on Main Street at the entrance to Aspen, is the home of Rowland+Broughton's Aspen studio and our national headquarters. Designated and registered with the City of Aspen Historic Preservation Commission, the 1888 Mesa Store has long enjoyed a distinct vantage point at the top of Aspen's Main Street, the mesa. The street dips down into the commercial core, leaving the building prominent on the site.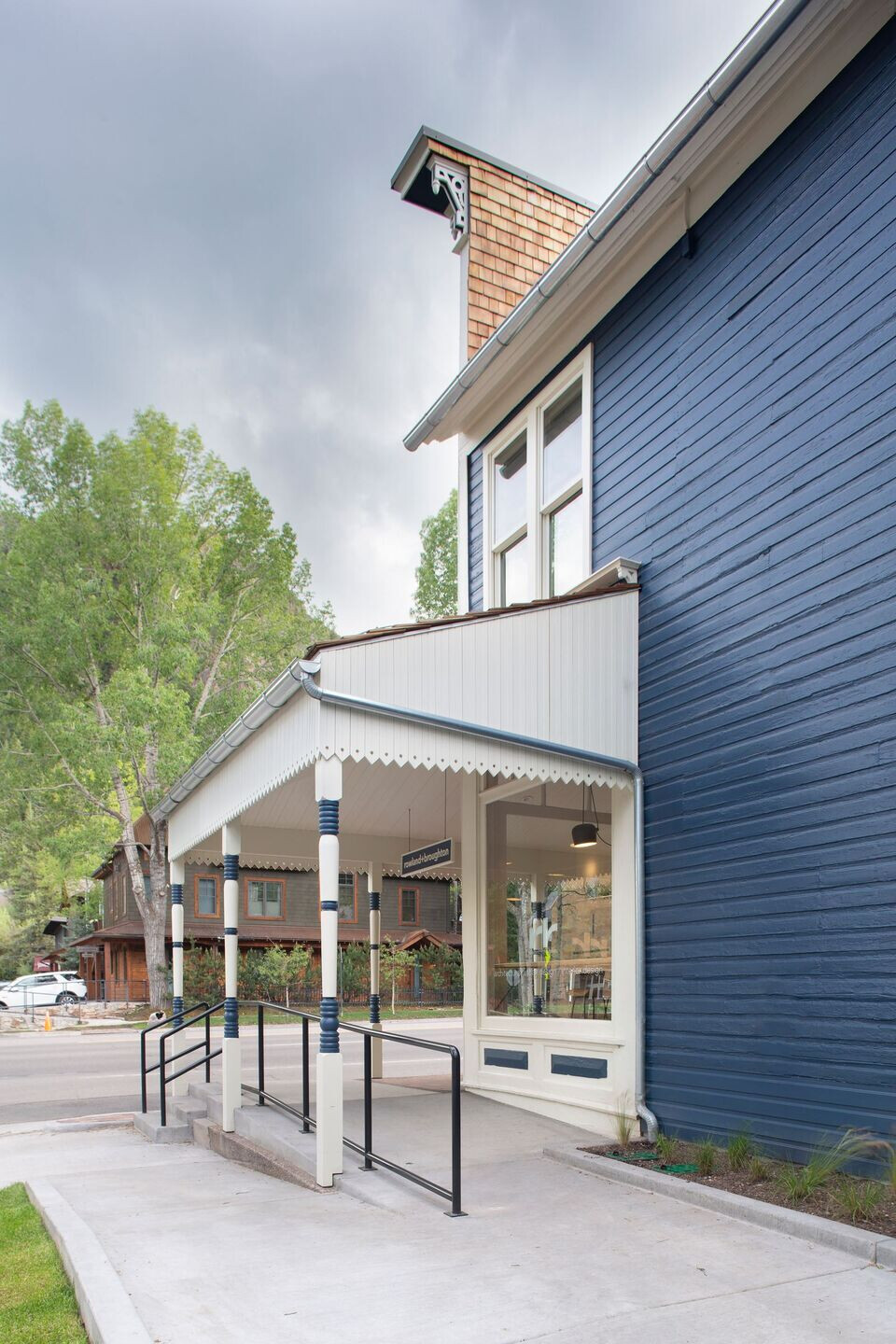 Honoring a strong sense of stewardship and preservation, and following extensive research into the history of the building, preservation efforts included removing all non-historic proportioned windows and replacing them with replicas as researched in historic photos.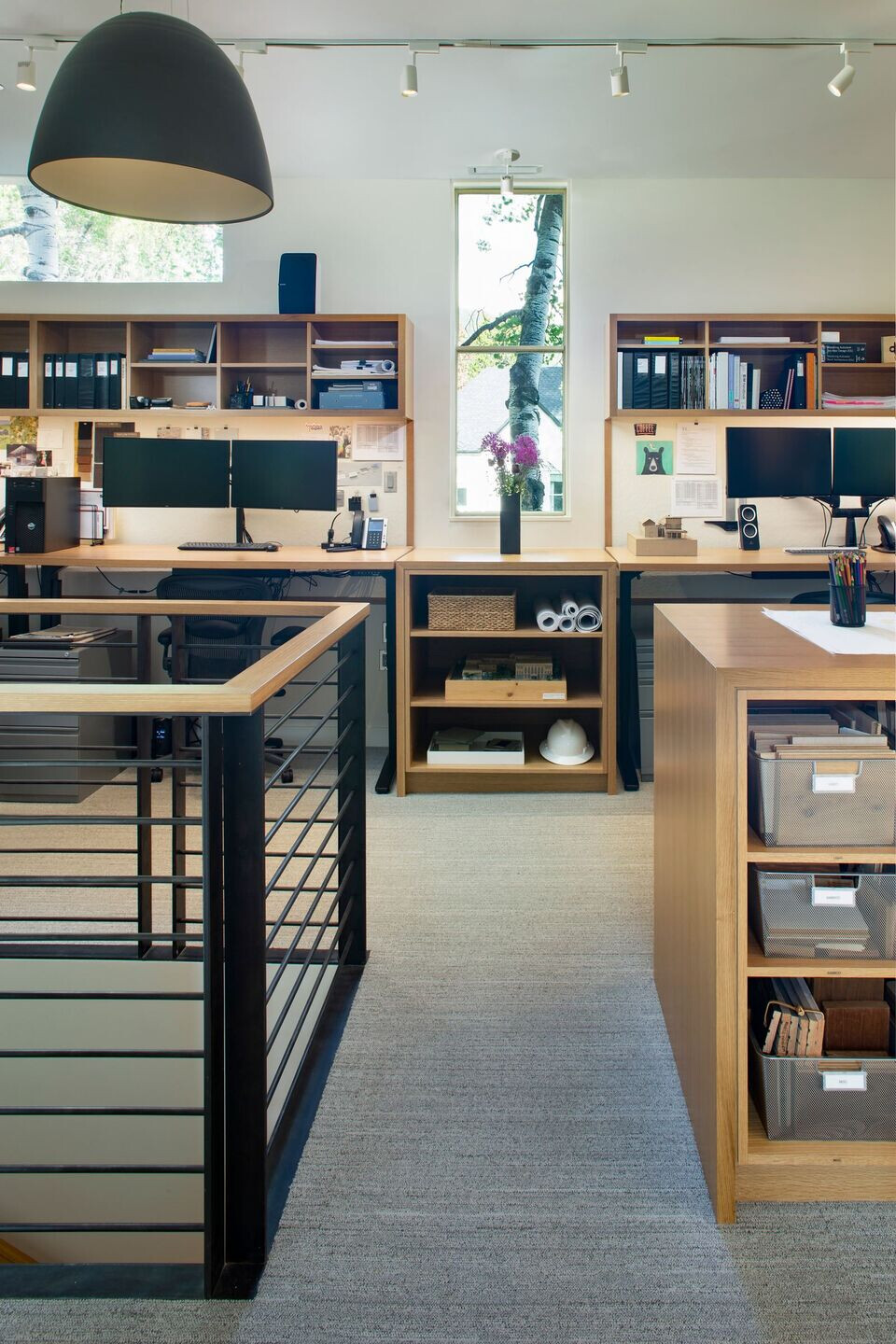 The non-historic, covered entry roof fascia was removed and the historic detailing that had been covered up was restored. The more recent exterior covered stair and deck was restored per the historic photos. Accessibility was enhanced by adding an elevator that connects all three levels, as well as accessible parking and entry.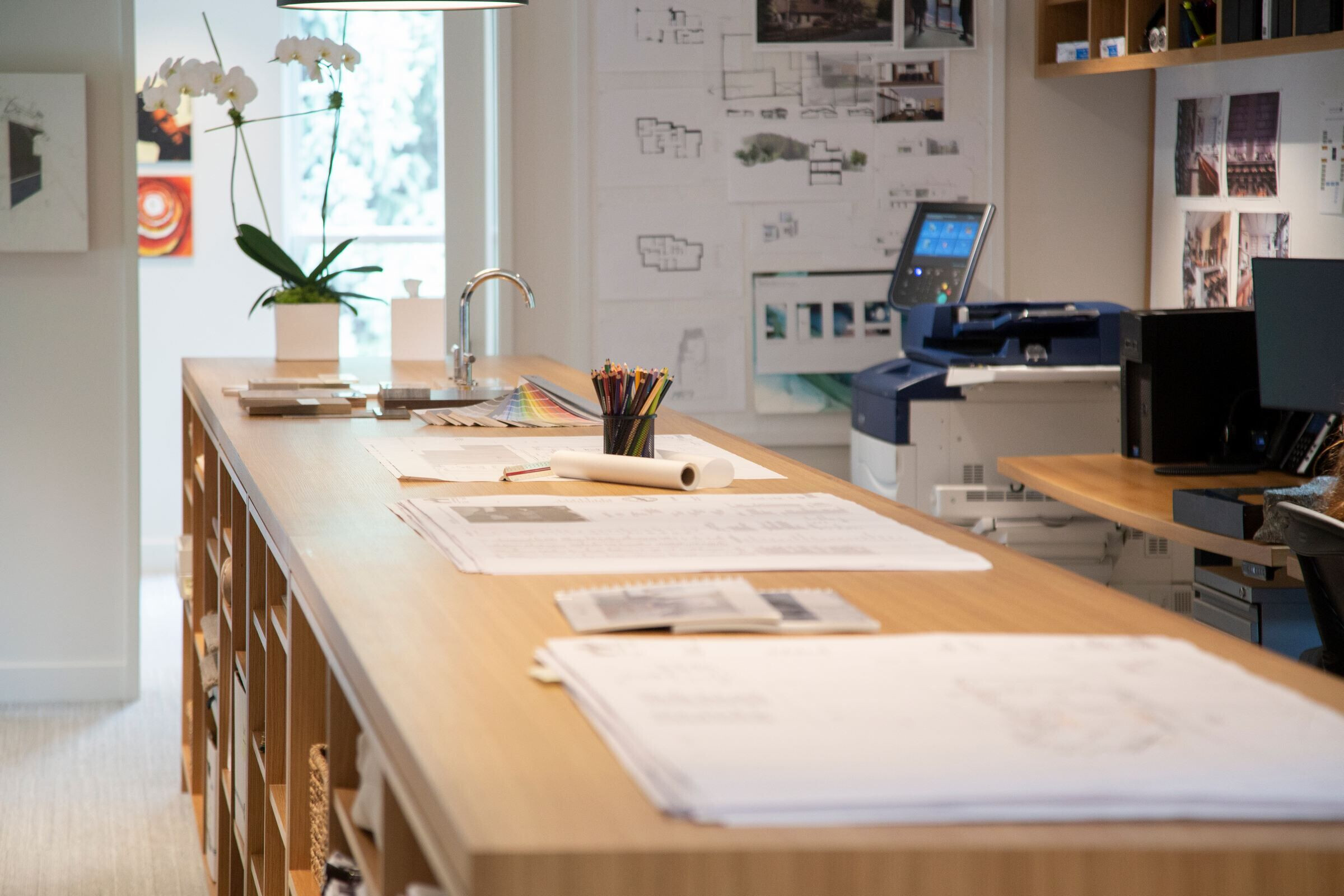 Modern and bright, the sustainably designed tri-level interior features white painted walls, white oak millwork, and character grade oak flooring accented with black hardware and guardrails. Ceilings are white acoustic fabric by WhisperSpan. All new plumbing, electrical, data, security, and fire protection prepared the property for the next century.
The driving concept of the interior was to create a highly collaborative, healthy work environment featuring circulation spaces surrounded by individual work zones at the perimeter. Ergonomically sound uplift desktops and built-ins were custom designed to maximize comfort and efficiency. At the upper level, adjoining Principal offices were designed to function as small meeting spaces as well. A windowed, corner conference room/library captures the energy of Main Street below and views of mountain peaks in the distance.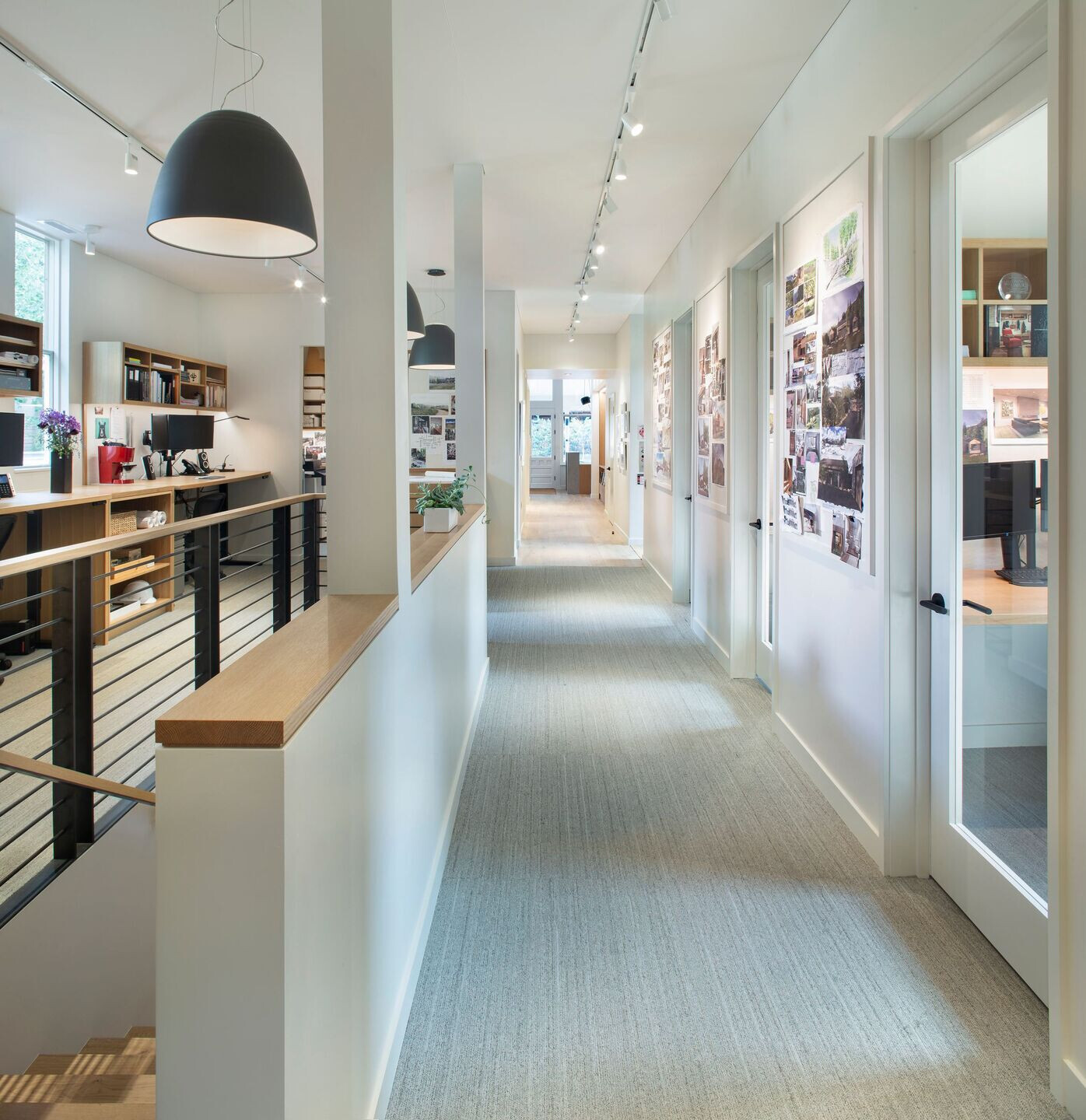 Biophilic elements include natural light filtered in through enormous historic glass storefront windows at the entry, which had previously functioned as a bakery, general store and retail outlet. This inspired the design team to place a welcome desk and café-style kitchen in the space, respectfully encouraging the spirit and hospitality of the past.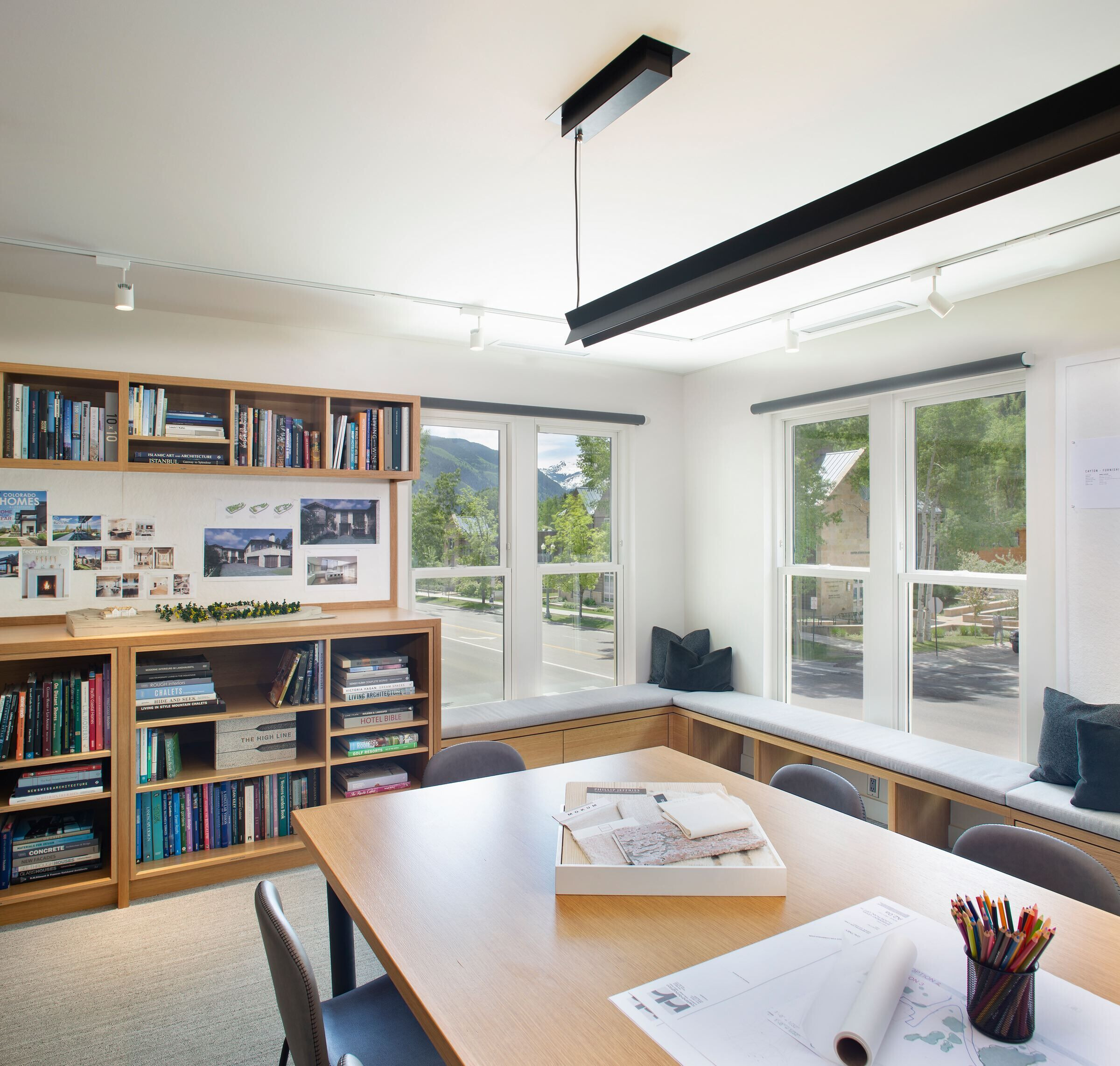 As part of the initial entitlements process, R+B principals and the design team utilized the City of Aspen's preservation tools to gain approval for an historic lot split, which allowed for the creation of two-side-by-side lots.
Next to the historic structure, the second lot is now a garden offering an outdoor gathering and entertainment area for the team and allowing for community-oriented functions. Landscaping complements the historic patterns of Main Street, while accommodating storm water infrastructure and providing a modern aesthetic.
Material Used:
1. Flooring: Rift Sawn White Oak, Water Poly Finish floors by Arrigoni Woods
2. Doors: Signature Windows
3. Windows: Signature Windows
4. Interior lighting: Aim in Black by Flos