Stone is more than just a material, and stonework is more than just a craft. Architecture as a practice is deeply related to materiality and the spirit of its spaces is thoroughly defined by the materials in use. But what if we substitute a material by another, in an attempt of keeping its spirit, or temperament?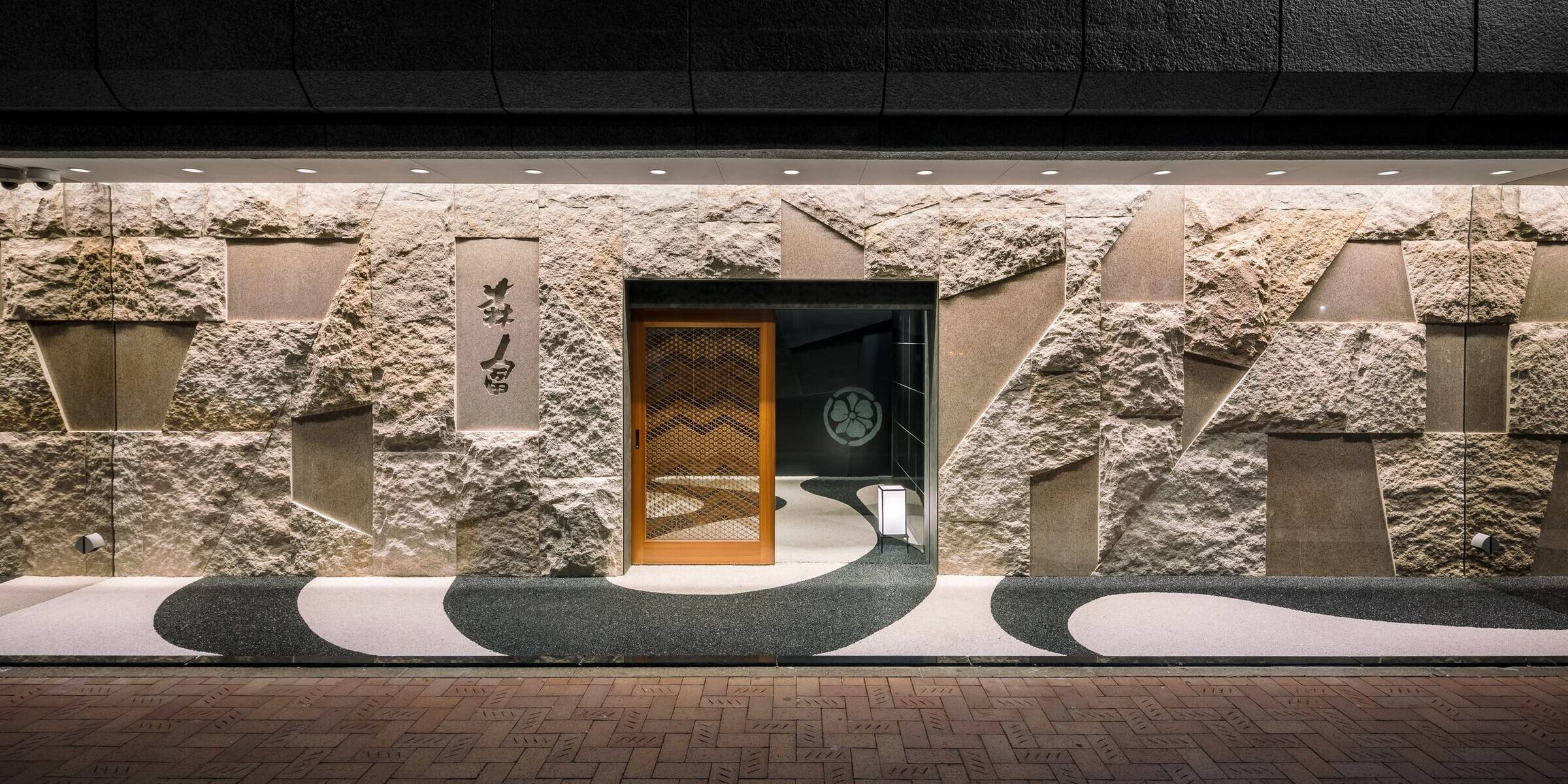 Offering Japanese cuisine Since 1945, Moritomi is relocating to the main street leading, and much closer, to the world heritage Himeji Castle. The new site naturally suggested a stone cladding for the entrance wall. Two types of stones, rough and polished, were mounted on the existing concrete wall with vertical and diagonal cut lines mimicking the Castle base fortifications. Small white and black resin coated and solidified gravels in the spirit of the traditional Japanese stone gardensrepresents the moat surrounding the castle.
The curves create a flowing movement from out the street to inside the restaurant's reception hall inviting people to cross the finely detailed traditional lattice-work wooden entrance door. Inside, a sculptural wall trying to reincarnate the same stone wall spirit by using another material; black oxide coated steel plates.The plates were placed on a three-dimensional surface recreating a similar design to the outside stonework. In the banquet room and VIP room on the second floor, Japanese tatami mats were unconventionally used on the wall and cut following a similar design pattern to the stone wall.
The material covering the smaller cell rooms' walls include tiny glass beads that reflects the light and offers a shiny glittering spectacle changing according to the angle of view. Furthermore, The counter seating and the sofa table spaces were both treated in dark mirrors on the sides and up lit patina plates adding a contemporary Japanese touch to the atmosphere.