A connection to the landscape provided the impetus for the spatial planning of the penthouse, defined on a strong diagram of circulation axes. Upon entry the arrival space surrounds you with a spiral staircase with soaring heights leaving guests with a surprise of the sense of spaciousness. Built in cabinetry is detailed with recessed pulls, low kickplates and unobtrusive mechanisms to read as simply when open as closed. The steel doors to the south, are aided by the outlook of the garden and can be slid open full extent to provide direct access to the courtyard, garden and private pool.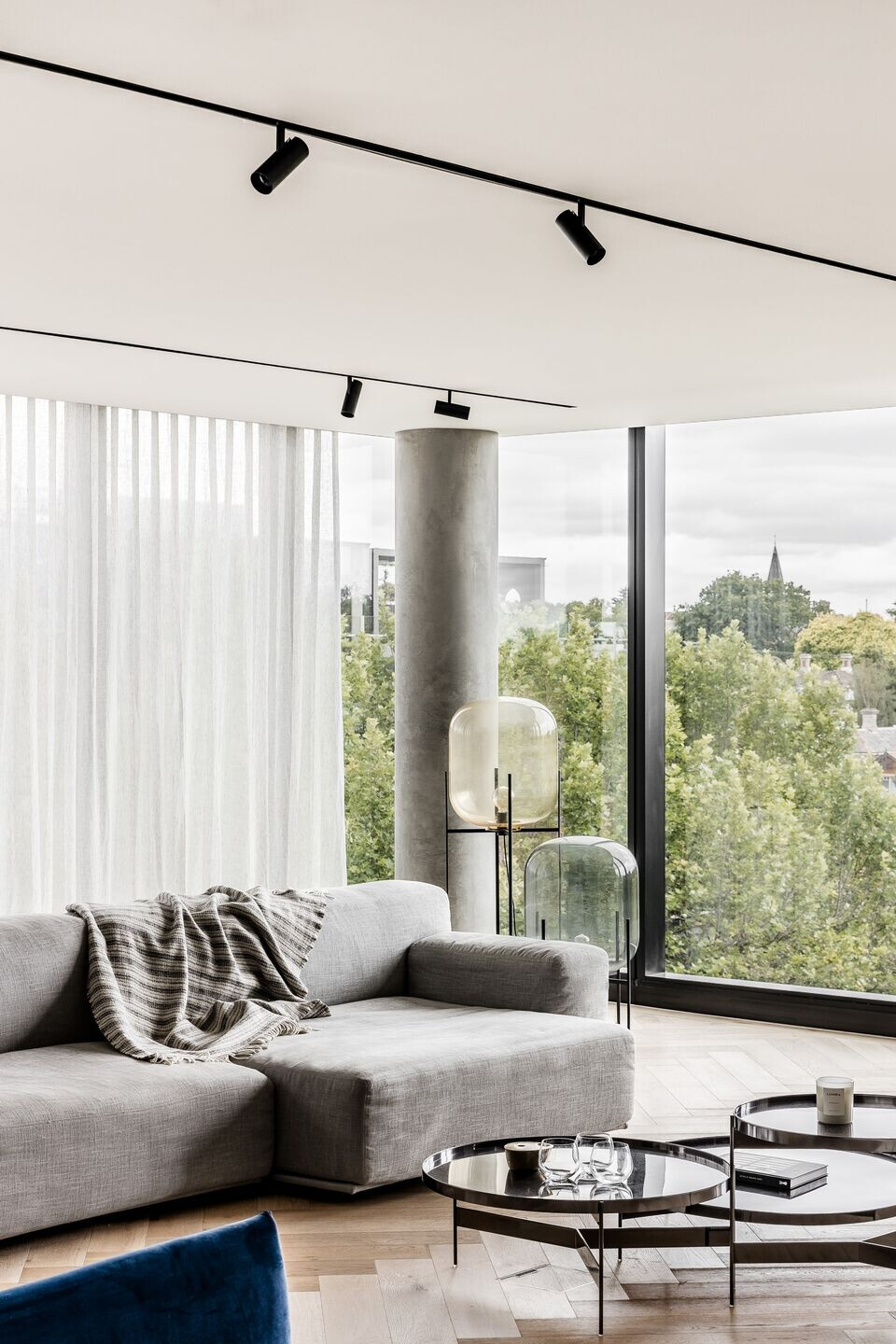 Of note is the fineness of natural stone detailing which is cutting through the veneered cabinetry. The aim was to create a mature, refined and thoughtful synthesis of interior and architecture reflective of each period of construction and a stronger connection to setting and place. Spaces are notable for their strong interrelationship and clear visual connection to the outside. A reduced colour palette of natural timber, white rendered walls and white natural stone with striking accents of navy blue are peppered throughout. Ditastudio have crafted a sophisticated yet contemporary family home with a strong flow from inside out.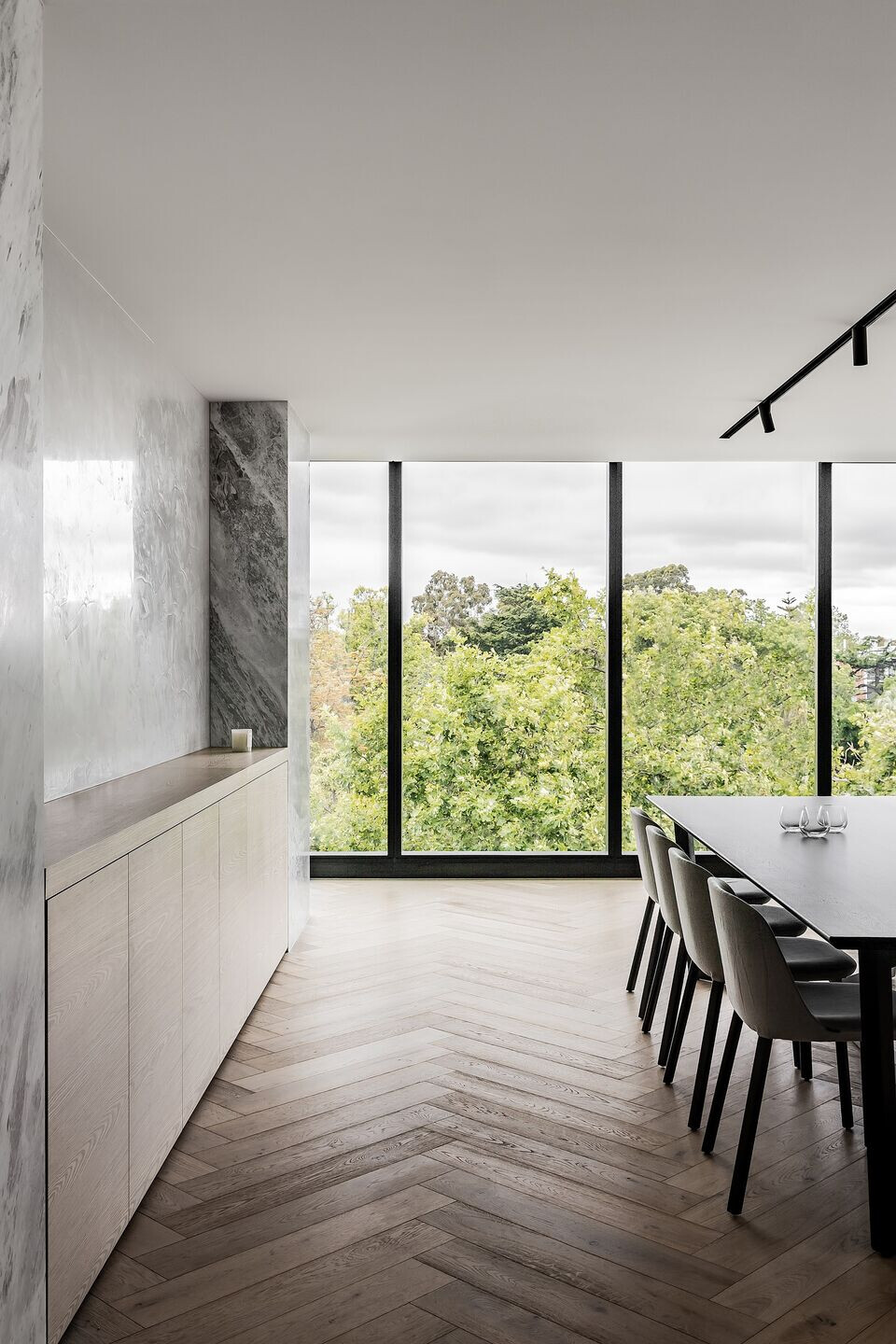 The ground level of the home is reserved for dining in with family and friends while the second storey contains the bedrooms and a rumpus retreat. The kitchen, dining and living room open up to the pool through full-height black glazing that punctuates the exterior facade. These windows act as a borders around the perimeter of the penthouse, providing tailored views of the manicured gardens beyond and pool and connecting the interiors to the outdoors at every opportunity.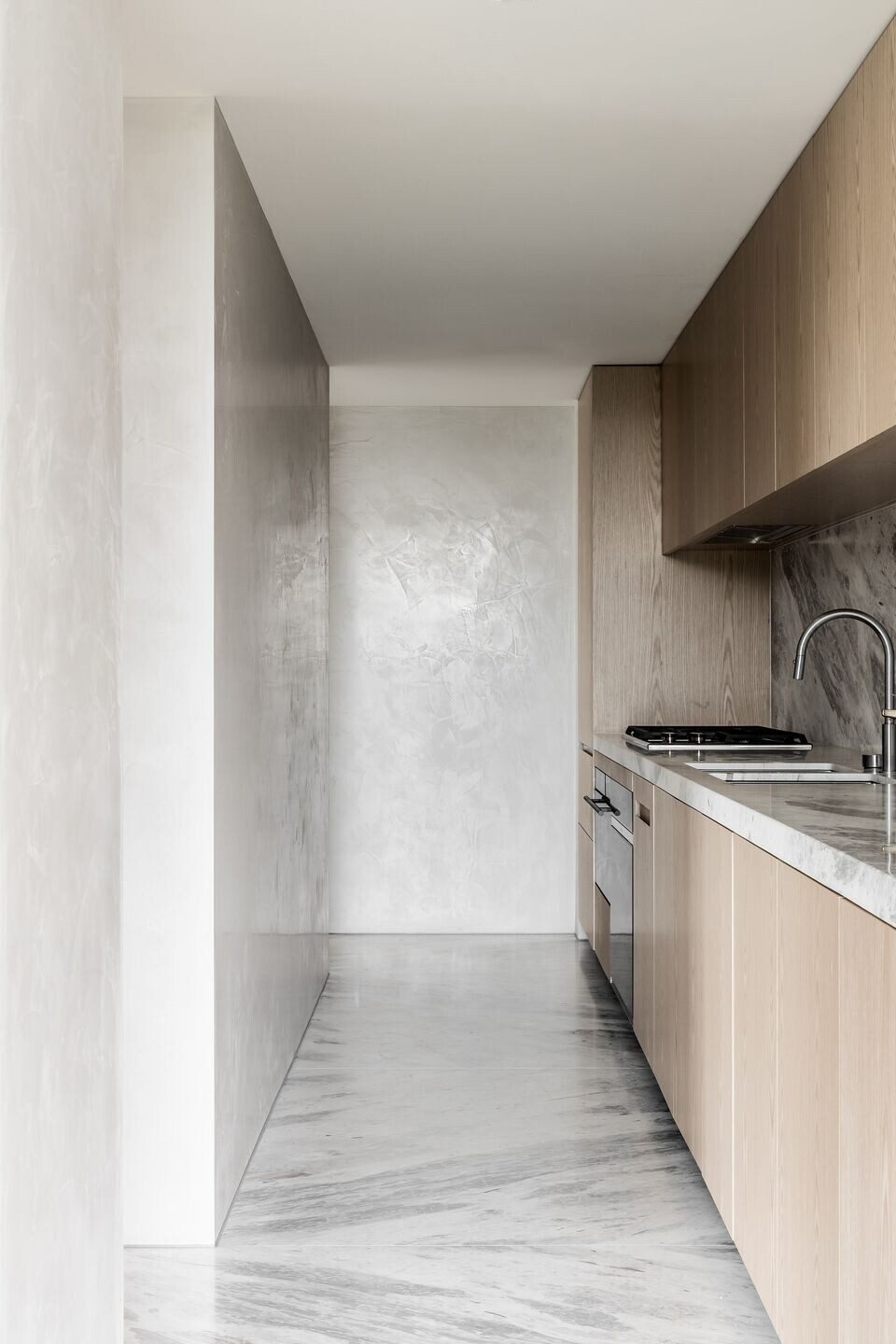 Inside you'll find a similar interplay of light and dark tones created by shadows. White walls and washed timber floorboards serve as a blank canvas, handing attention to the highly detailed stone monoleith stone island joinery. Even door fronts are clad in stone to reduce the palette. Subtle touches of navy blue velvet in the Togo, Ligne Roset Chair reflect the studio's approach to timeless colours and materials. Away from the primary open plan living area, the separate living room exudes the same honest modern Australian charm as the rest of the home.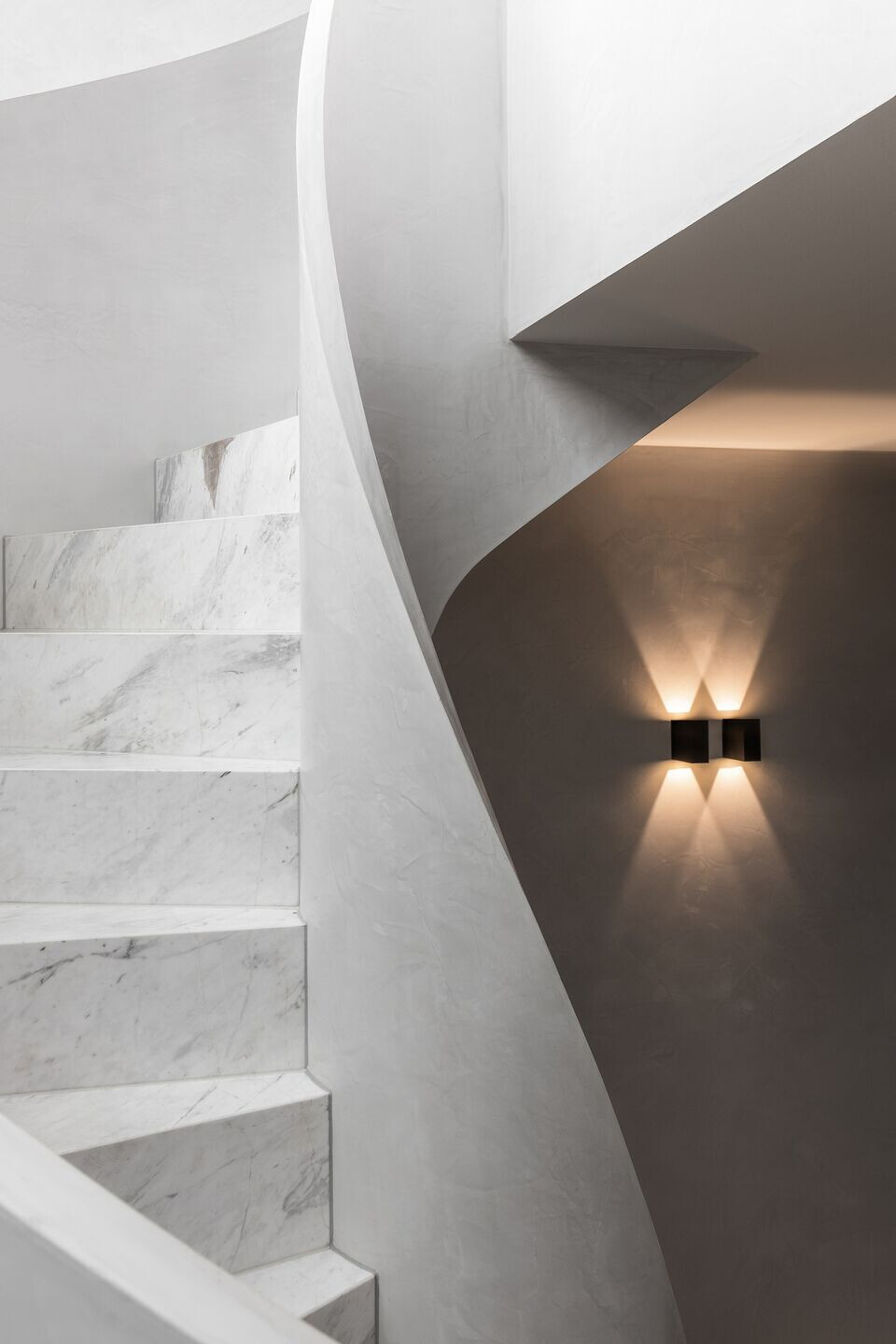 While natural light pours through the ground floor, skylights in the upstairs addition create interesting light and shadow effects throughout the day.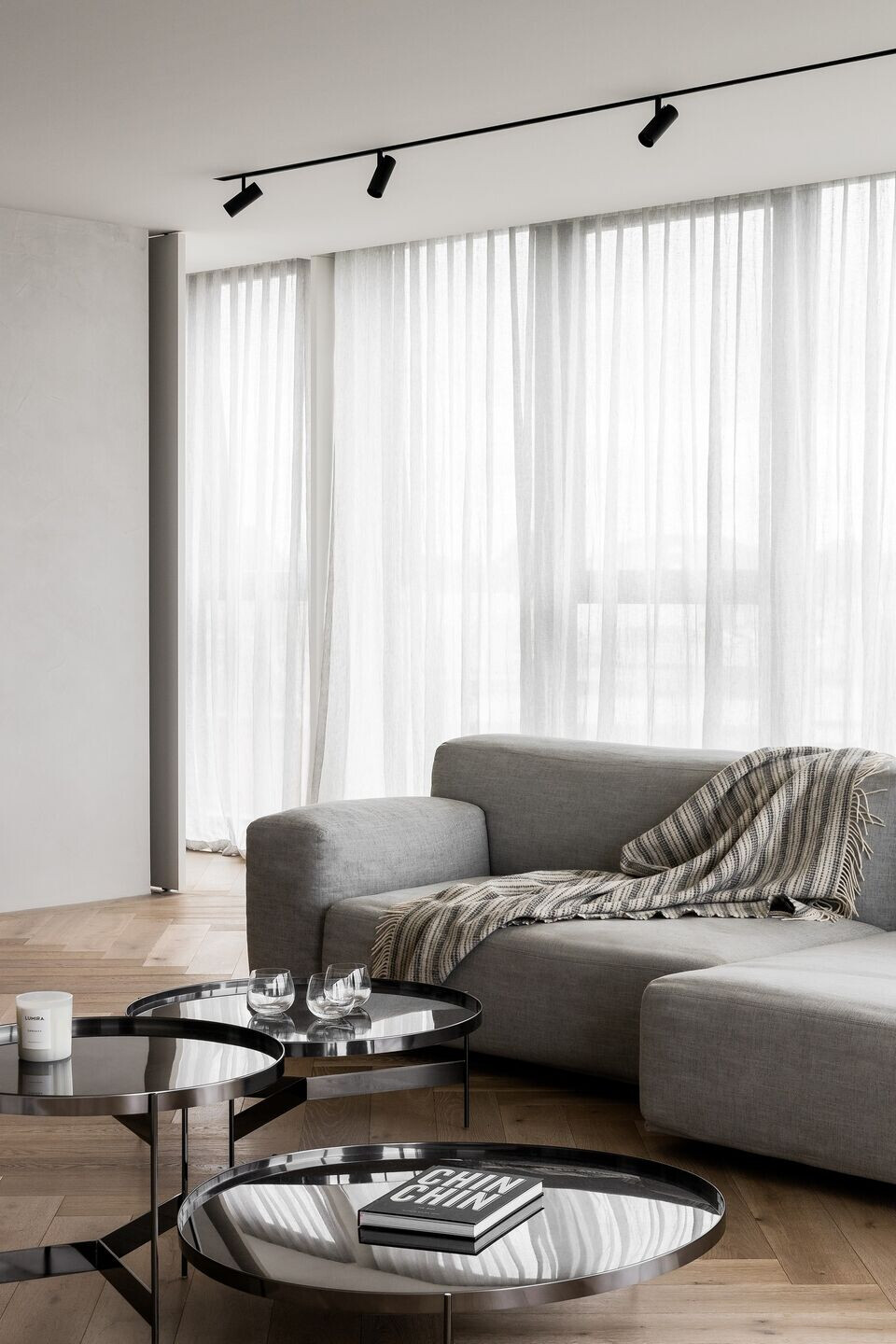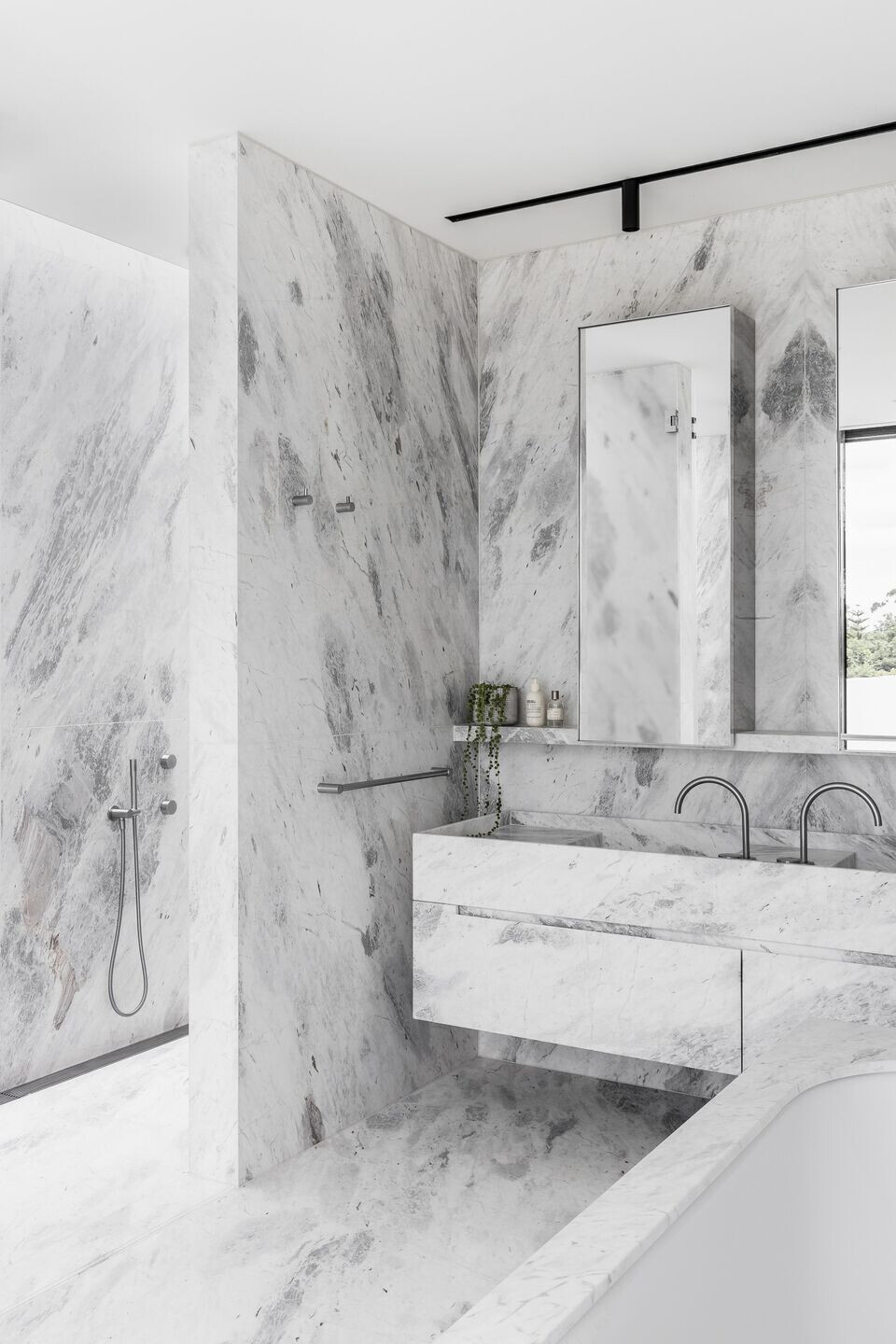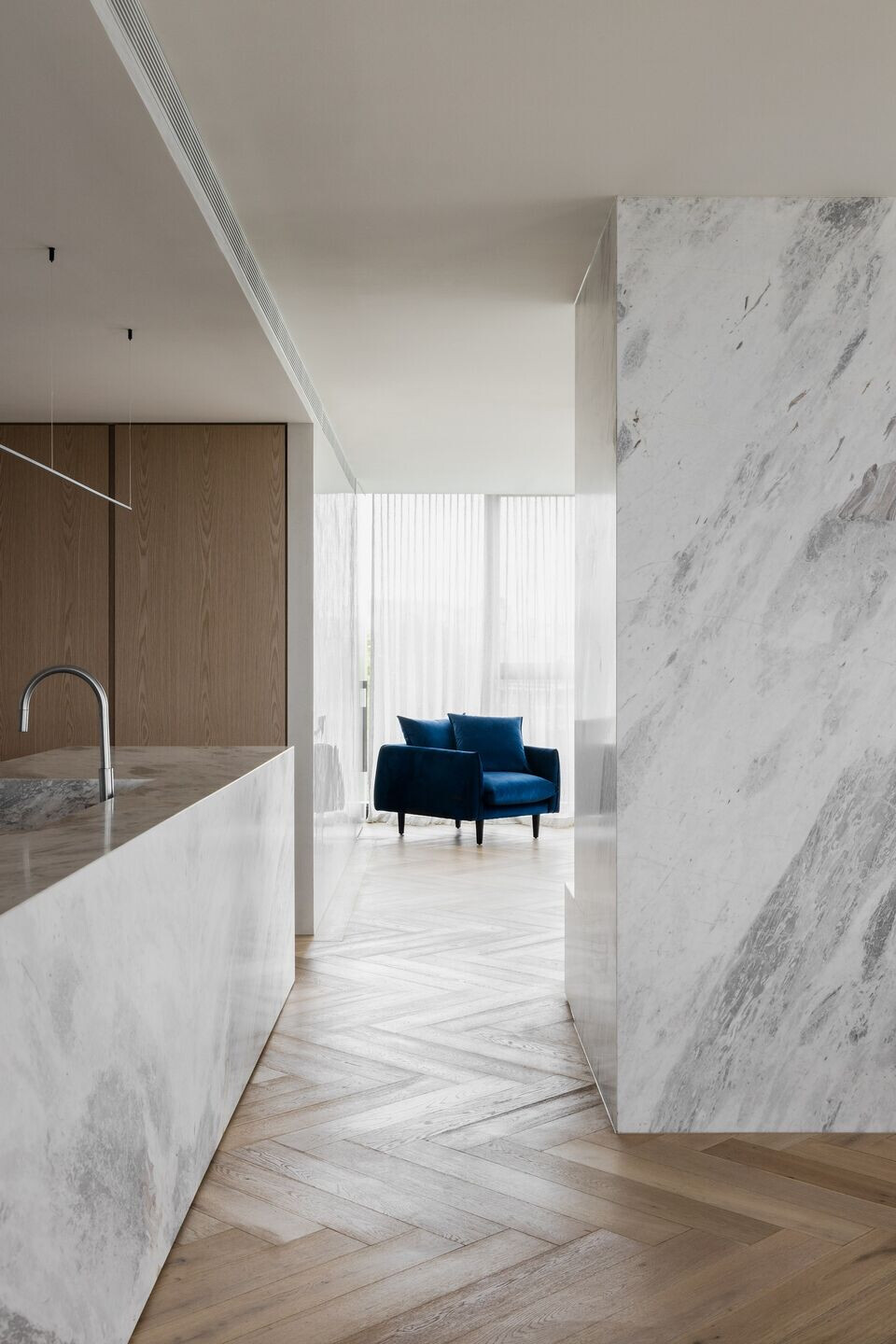 Material Used :
Fixtures
1. Kitchen tapware: Brodware, Range: Halo
2. Kitchen appliances: Wolf Oven, Wolf Cooktop, Asko Dishwasher, Wolf Range Hood, Wolf Fridge & Freezer
3. Bathroom tapware: Brodware, Range: Halo
4. Stair light fitting: VBO | Viabizzuno
5. Window furnishings: Esenar
6. Fireplace: Escea Fireplaces
Finishes
1. Natural Stone : Elba I Supplier: G-LUX
2. Bathroom tiles : Natural stone in 900x900 format
3. Floorboards : "Oslo" wire brushed finish | Supplier: Tongue & Groove
4. Paint colour: Natural white | Haymes Paints
5. Veneer: Alpi Wood | Suppiler : Elton Group
Furniture & Styling
1. Armchair & Sofas : Togo I Supplier: Ligne Roset
2. Smoke Grey floor lamps : "Oda" by Sebastian Herkner I Supplier: HUB Furniture
3. Bathroom stool: Studio Moore
4. Dining table: Pianca Supplier : Collective
5. Dining Chair: Esse Chair , by Pianca | Supplier : Collective
6. Living Room Sofa : "Delano" by Pianca | Supplier: Collective
7. Coffee Tables : "Abaco" by Pianca | Supplier: Collective