Background_
The emergence of Covid-19 has required a rethinking of the hospitality industry. The pandemic situation demands new solutions to guarantee the health of all customers and employees as a priority objective. To guarantee maximum occupancy and safety distances between the tables, it is proposed to enable the outdoor terrace, conditioning it as a temporary pop-up.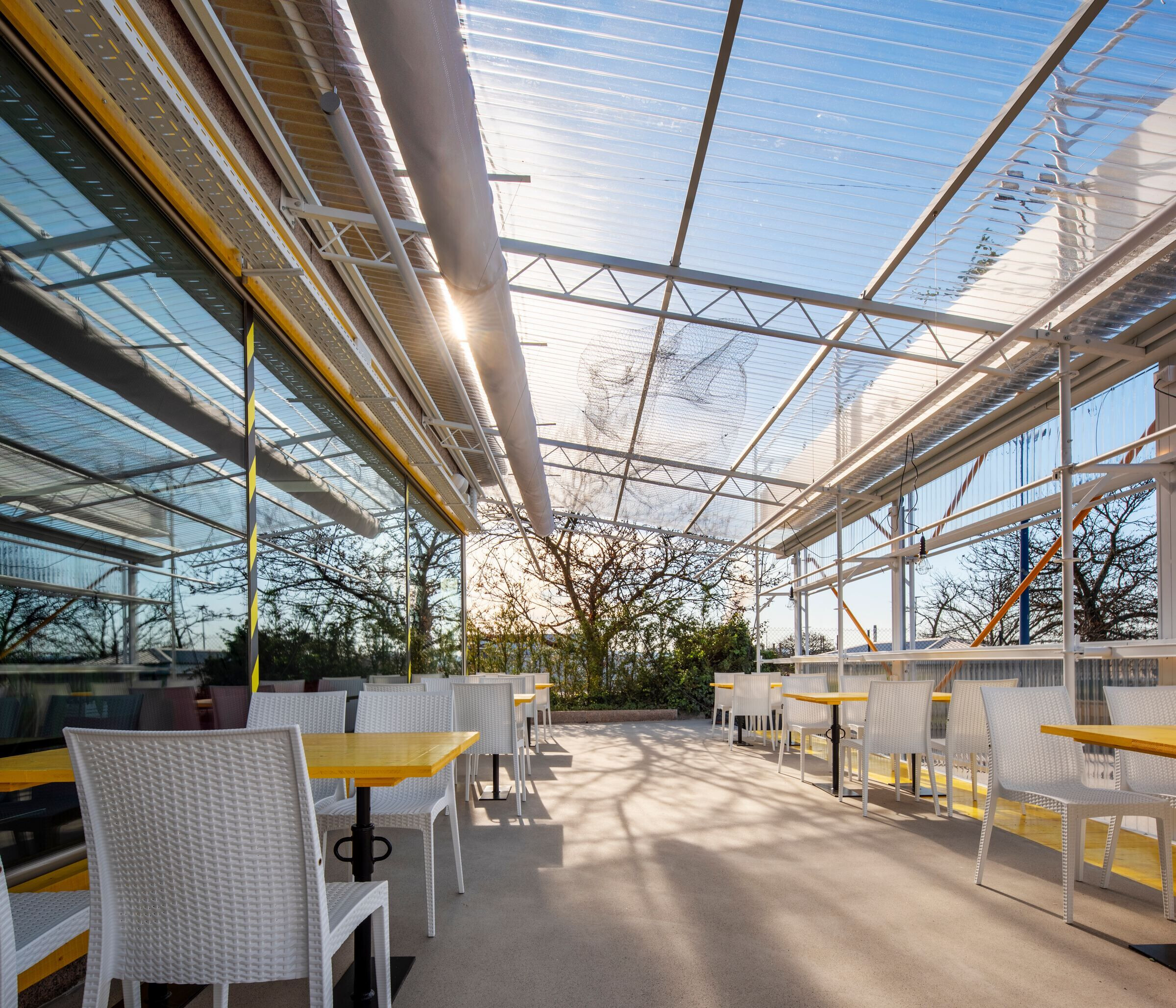 Proposal_
They propose an action in a contemporary key, and fundamentally adapted to the current health situation, allowing a safe environment for covered clients, but ventilated. In terms of materiality, the predominance of a palette of easily sanitizable finishes. A continuous terrazzo flooring executed in situ is chosen, which does not have joints, guaranteeing greater ease of disinfection.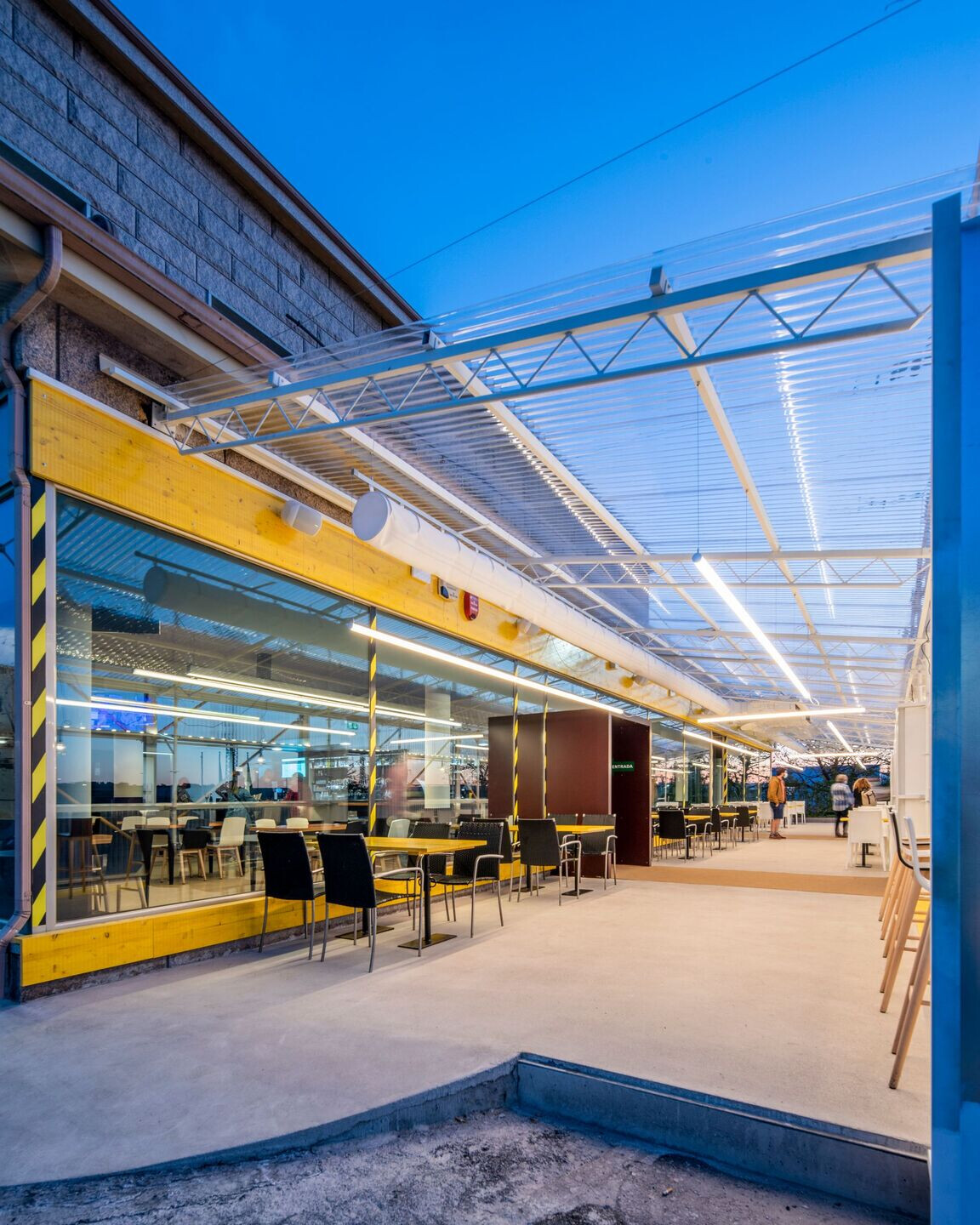 In order to integrate the action, in addition to the light structure formed by a scaffolding system lacquered in white, a corrugated transparent polycarbonate is chosen. Ultimately, it is about creating a transitional space that functions as the main activity node for all users of the restaurant and cafe.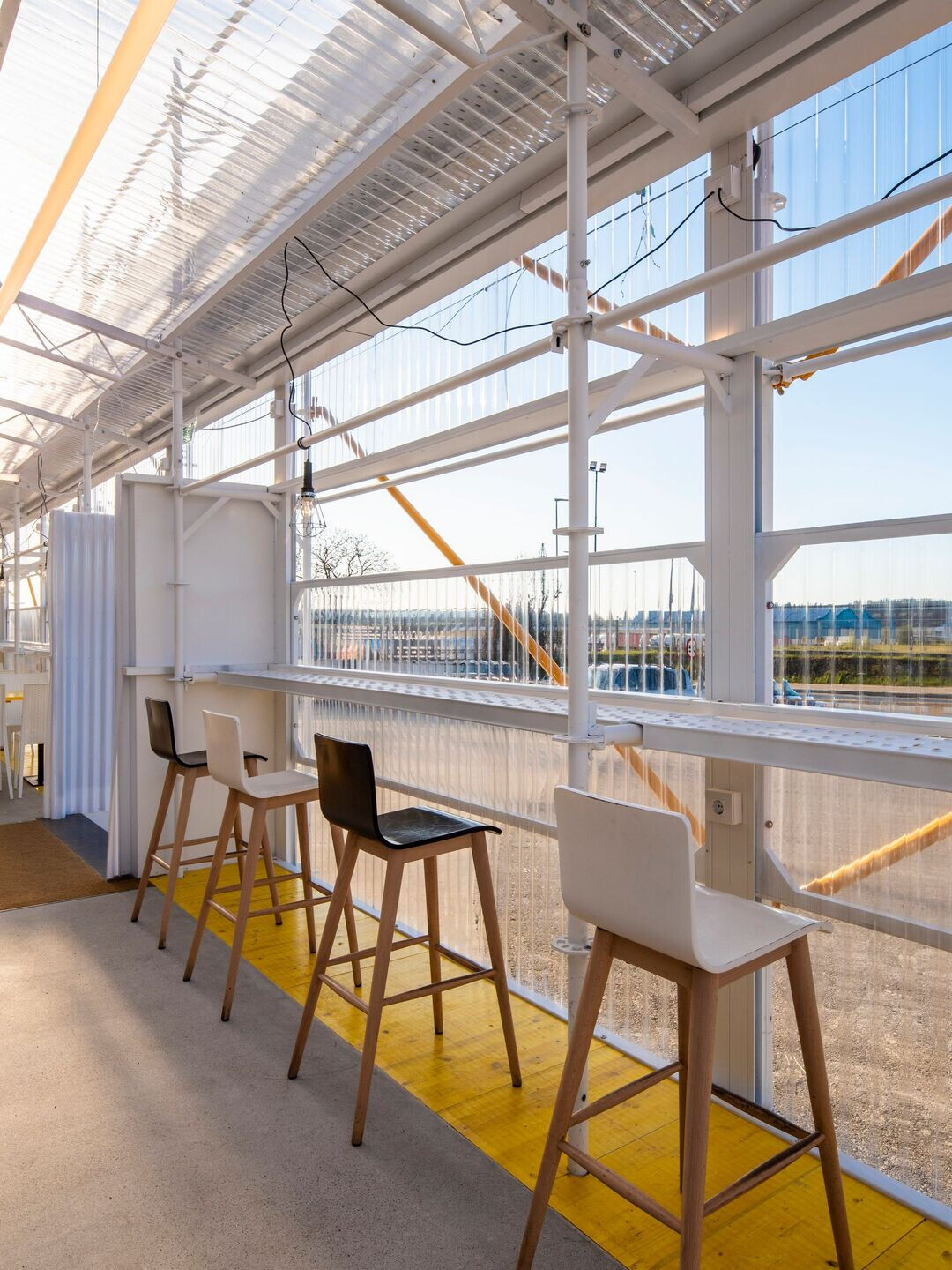 Energy efficiency:
In addition to the installation of a bioclimatic trellis, textile air conditioning ducts are connected to aerothermic fan coils that allow the temperature control of the pop-up area. By regulating the motorized lifting windows, the exterior ventilation is managed. Through the electrical installation, dimmable and programmable LED technology luminaires are introduced to promote energy savings,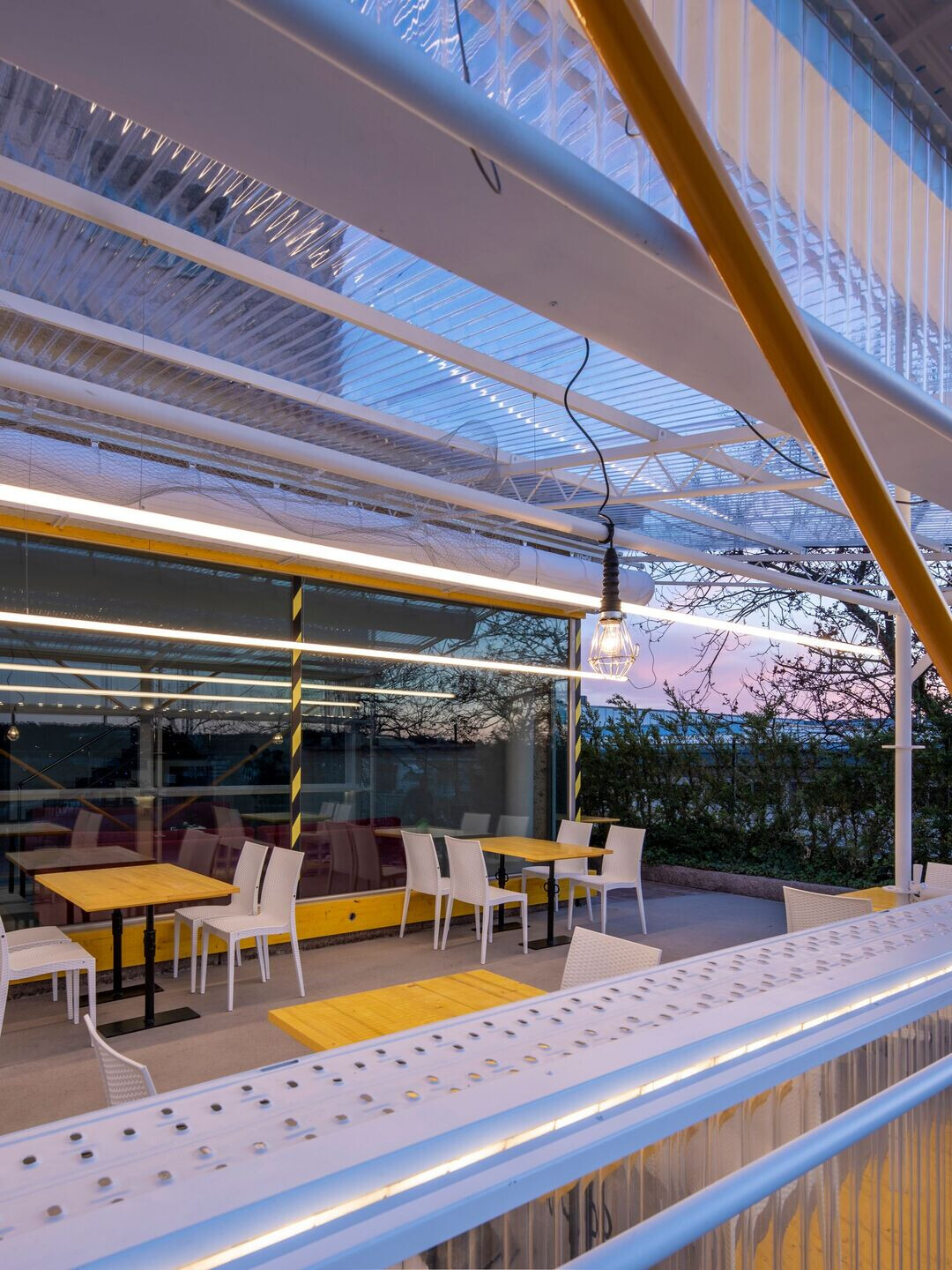 A water mist system was installed to cool the roof in summer, in addition to drip irrigation of the roof planters that house the facade vegetation and bioclimatic trellises (Trachelospermum jasminoides, wisteria, rosemary, lavender, bouganvillea, etc.) A drainage well is made to collect rainwater from the gargoyle at the end.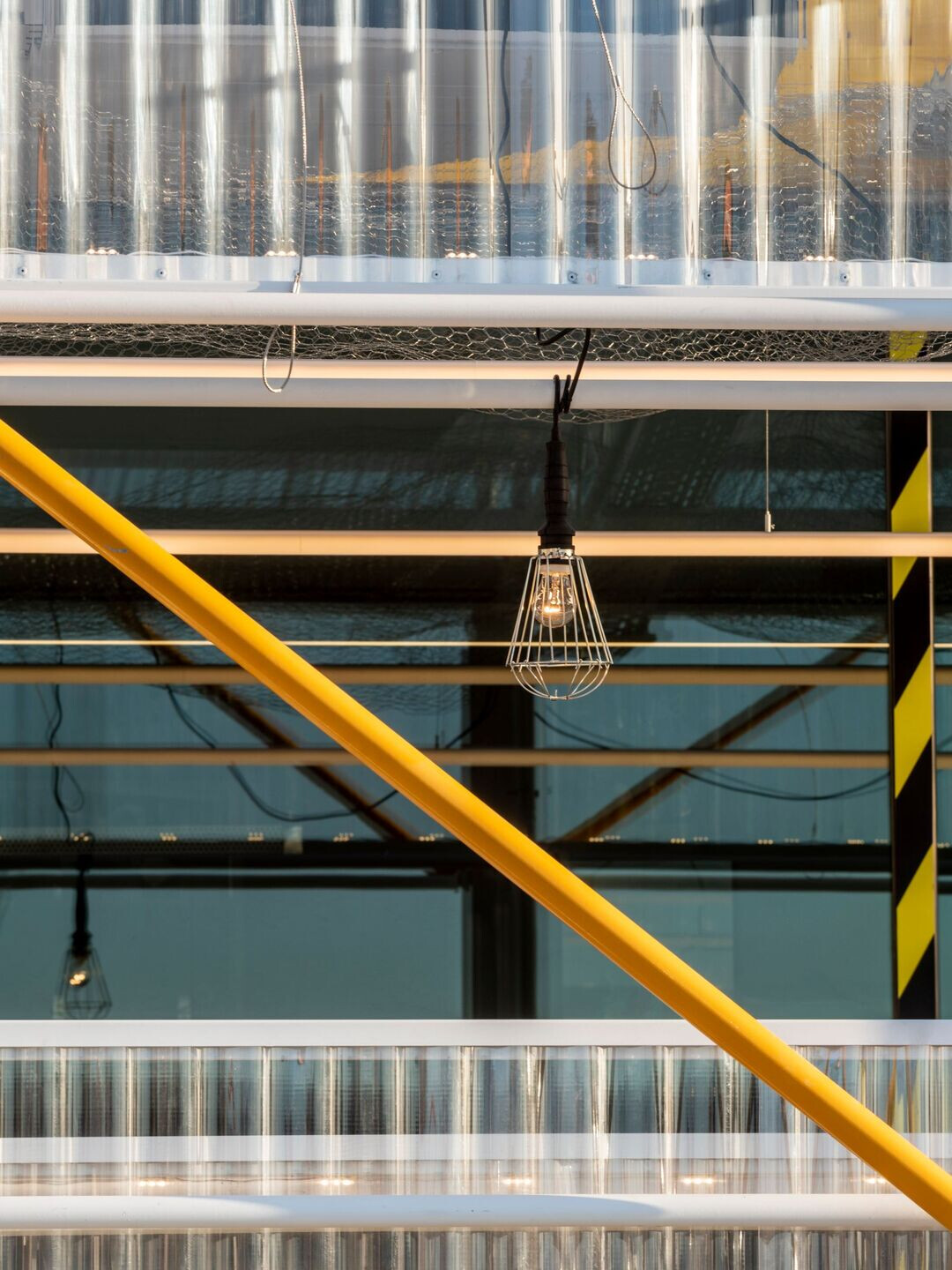 _low cost
In order to achieve a low-cost performance, a very small palette of materials is chosen. In the pop-up body, it is executed with a structure formed with a white lacquered scaffolding system. By means of a crowning line of scaffolding platforms, the technical step is generated to house the planters, and the tensioners of the bioclimatic trellis.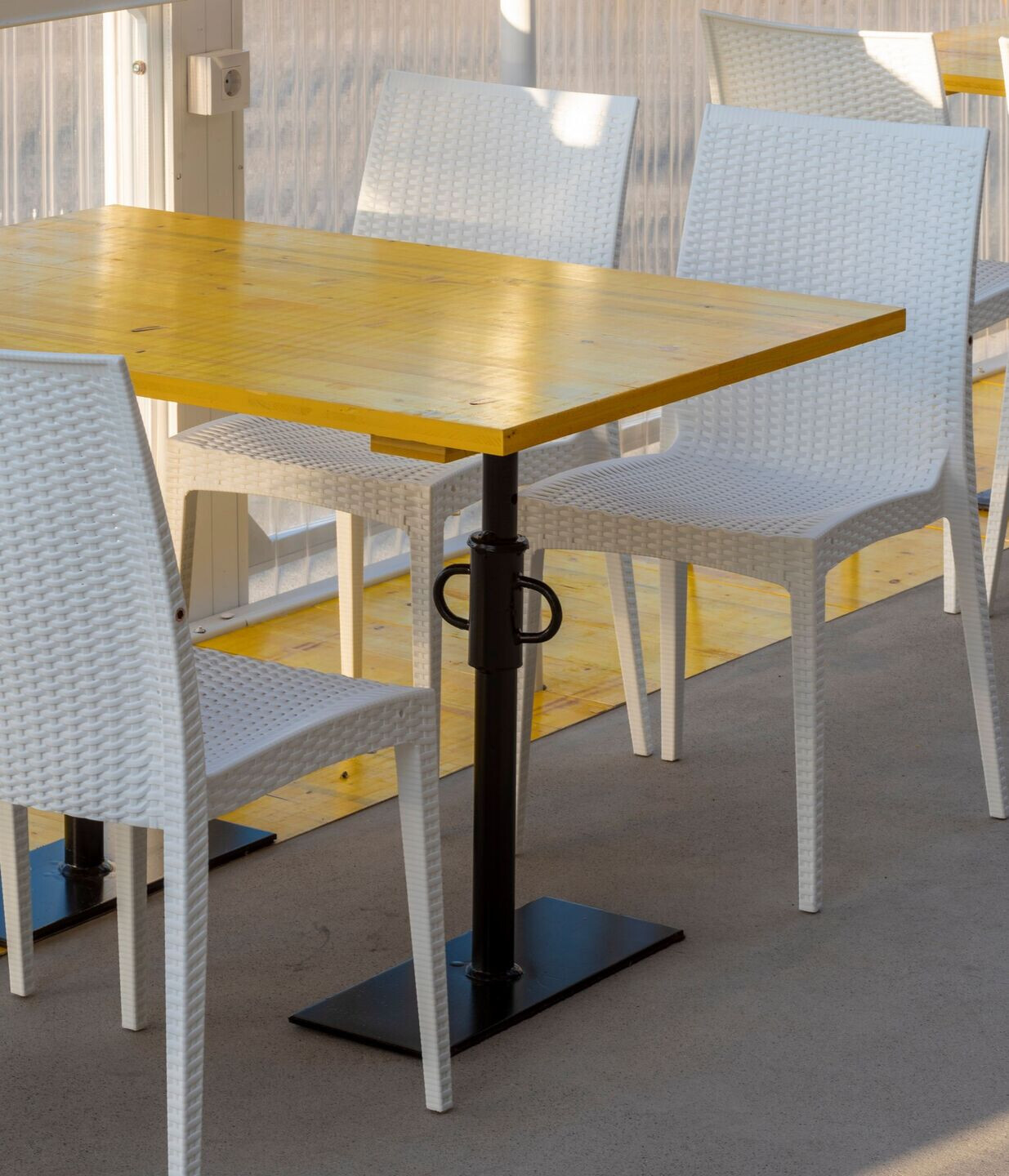 For the coverings of the roof, the main façade, as well as the motorized windows, a corrugated sheet of polycarbonate was chosen.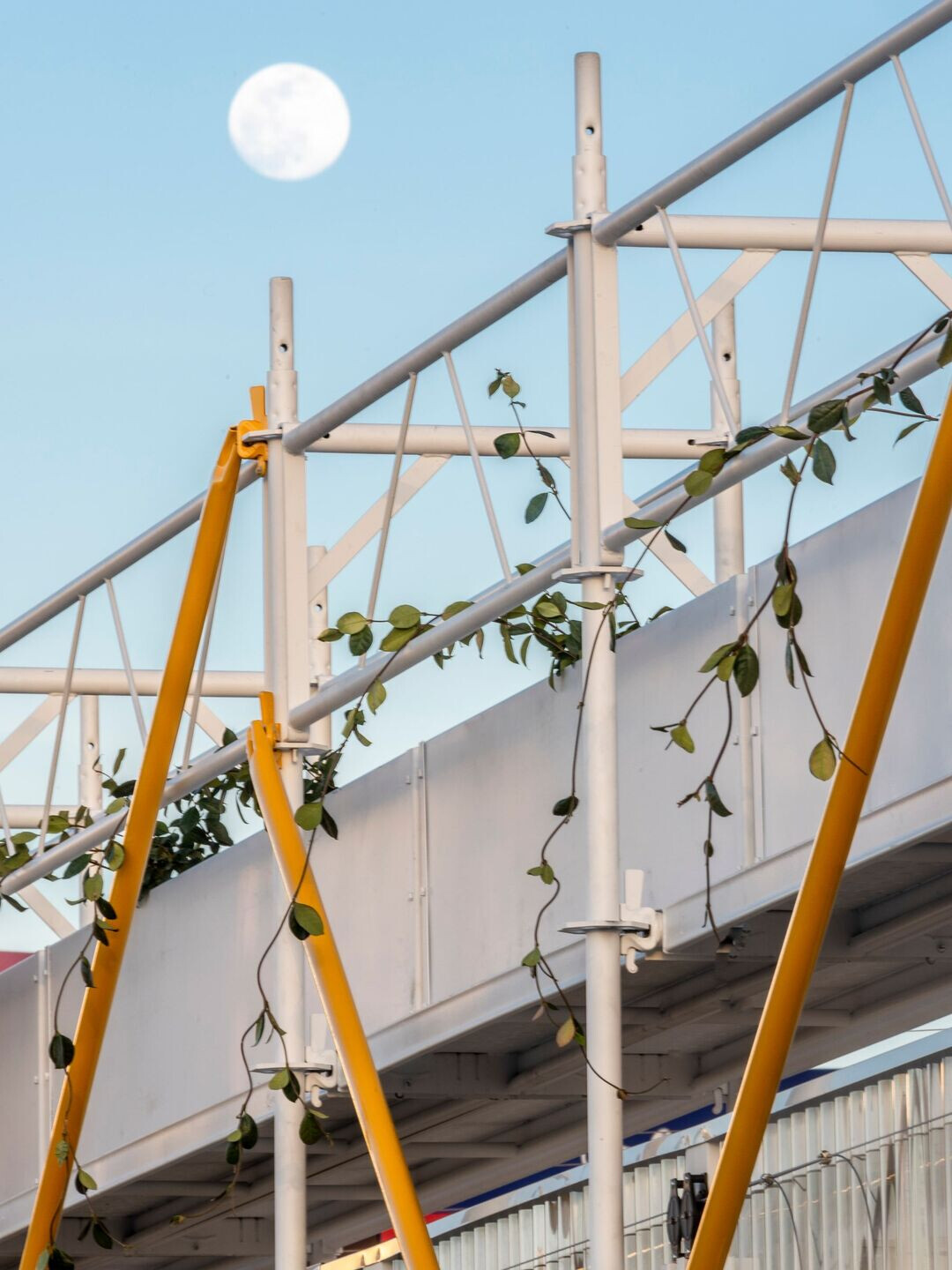 Furniture and reuse_
For the tables, it was decided to reuse struts and formwork boards to make the tables. The plinth and technical cornice were executed with the same type of board.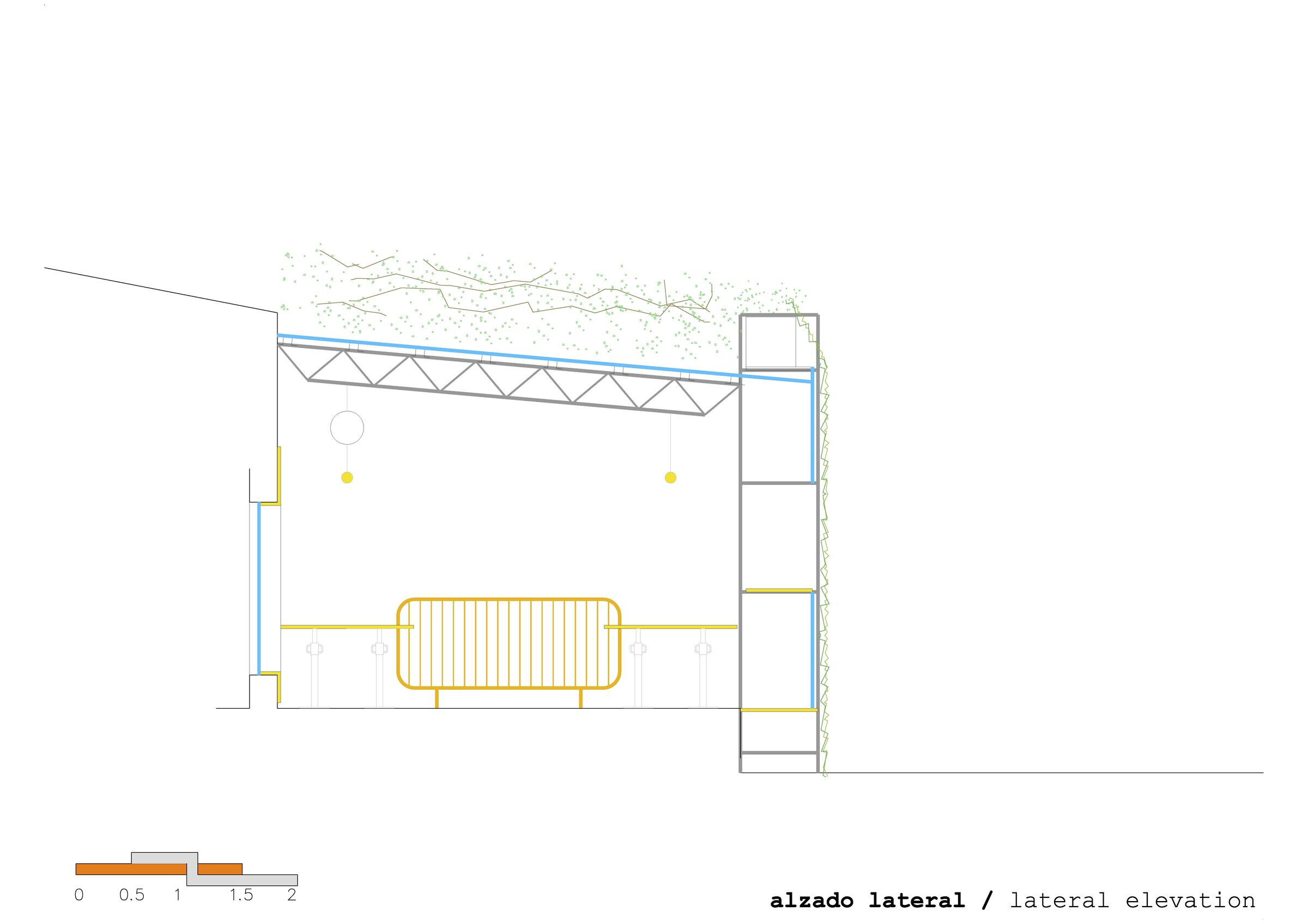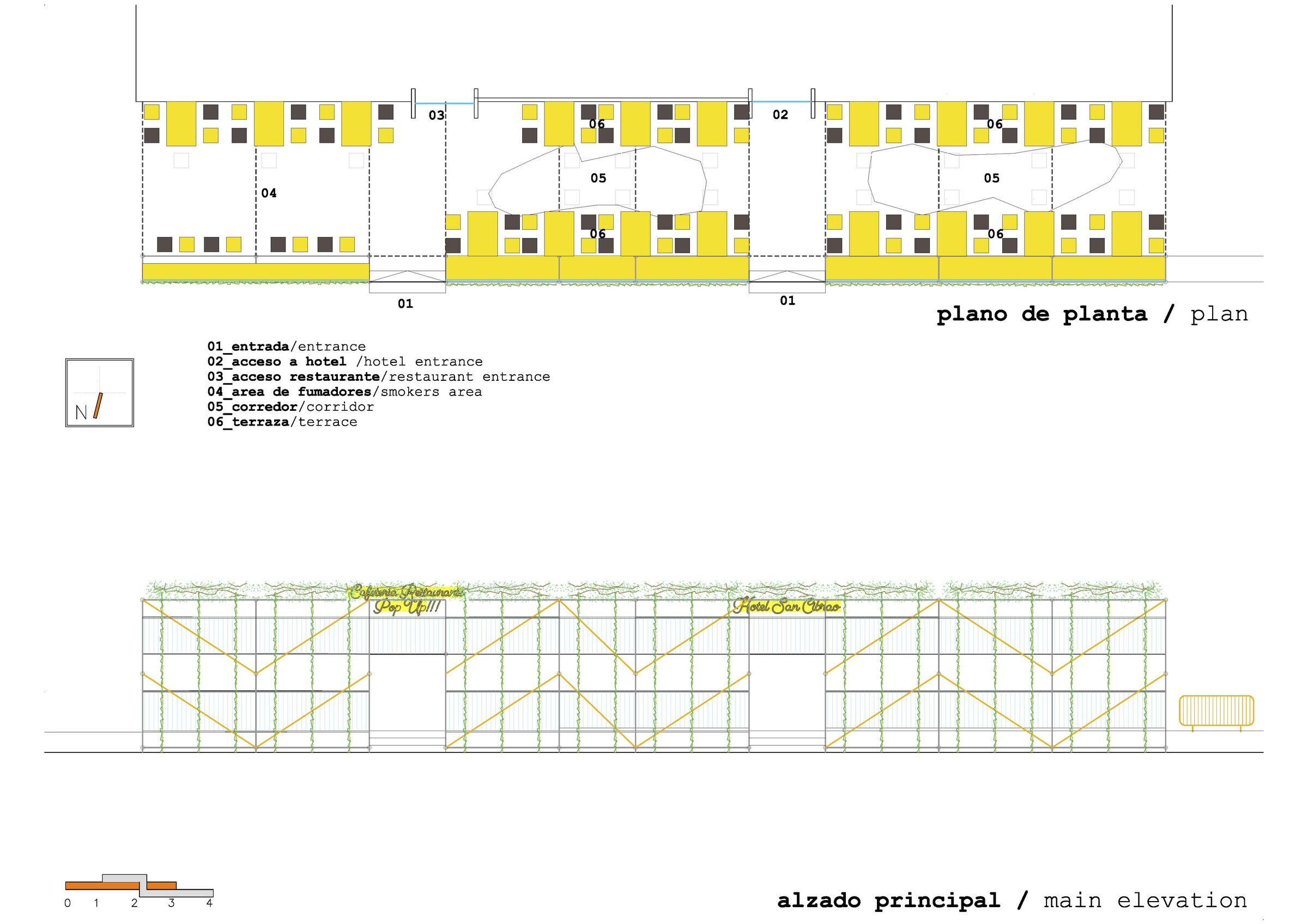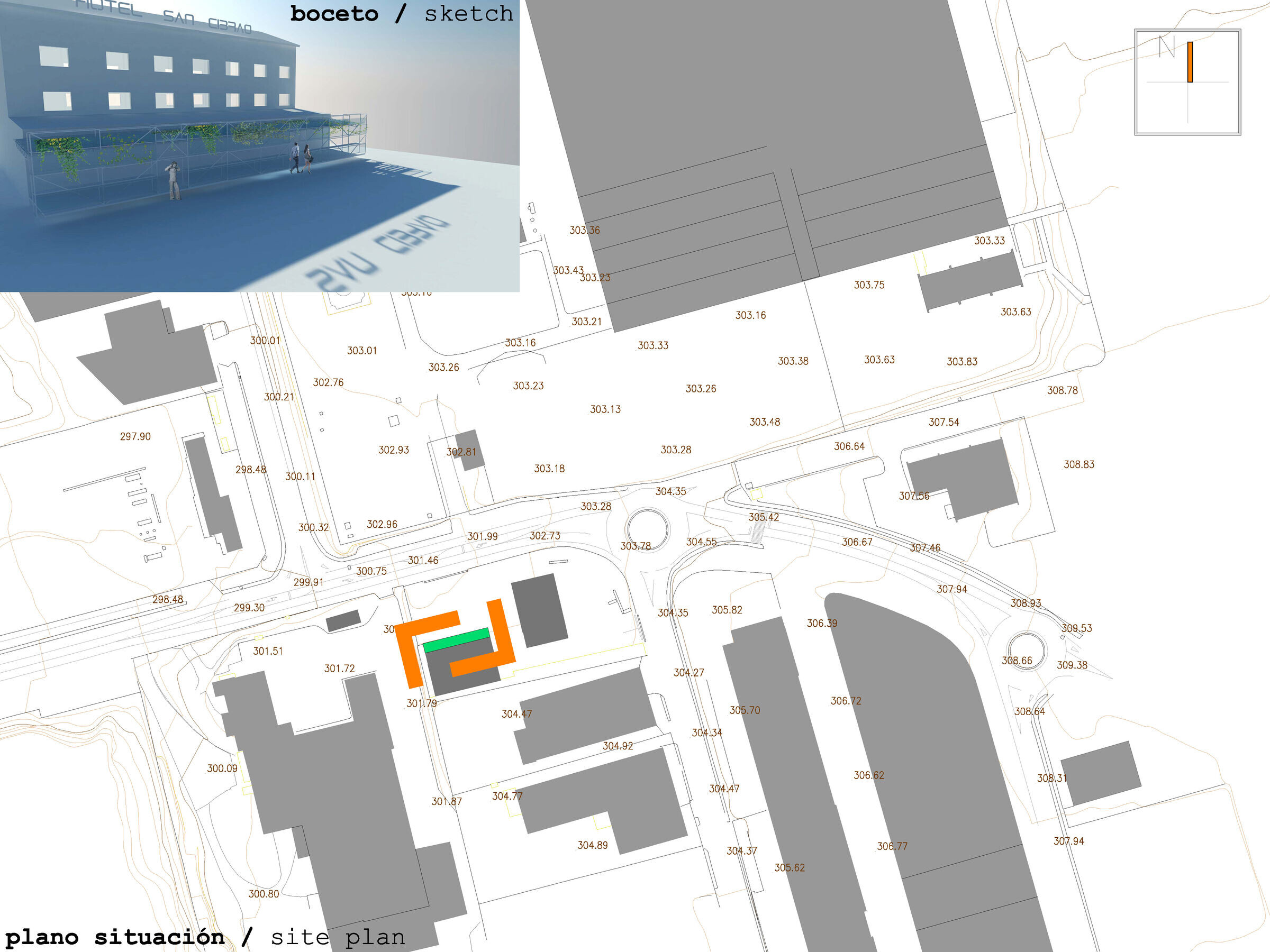 Material Used:
1. Facade cladding: scaffolding system+corrugated transparent polycarbonate
2. Flooring: Terrazzo
3. Doors: Klein sliding doors
4. Windows: Sumicor
5. Roofing: corrugated transparent polycarbonate
6. Interior lighting: corrugated transparent polycarbonate