Designed around a heritage oak tree, this home seamlessly blends into the existing landscape. The exterior materials, charred-cedar and stucco at the main house and CorTen at the guesthouse, were chosen for their earthy tones and necessary fire resistance.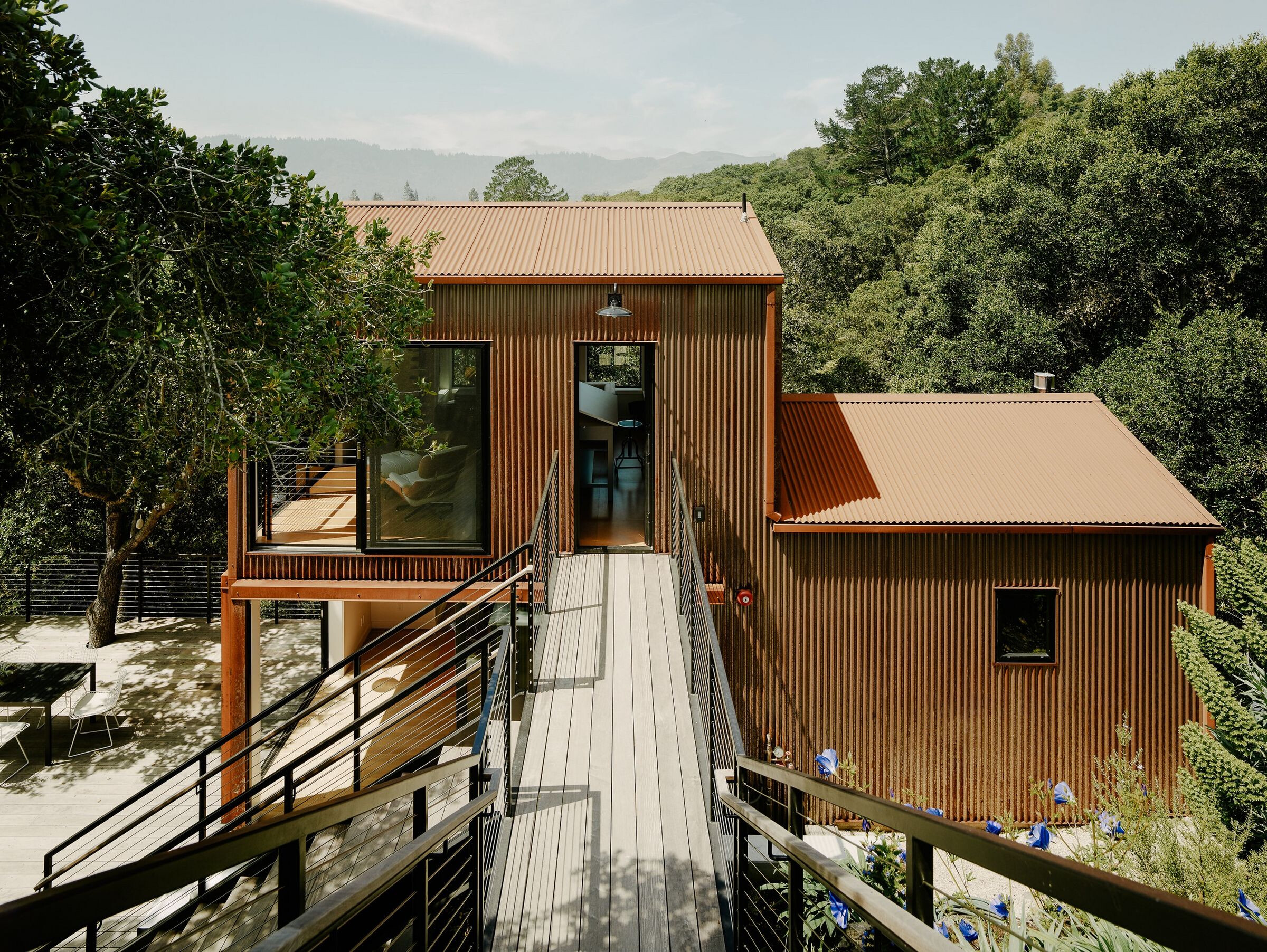 The expanded guesthouse includes a poolside entertaining space below and an artist's studio above. The studio, reached by a bridge, provides an inspiring retreat with a view over the treetops and the valley below.
Steel trusses replaced structural posts in the main living space, allowing the house to open up both internally and to the expansive outlooks beyond. Wrapped with a new balcony, the dining room is fitted with custom sliding glass panels, wood and steel shutters, and retractable screens on three sides. This one space now allows for multiple dining experiences—the homeowner's can dine inside a glass box, a shuttered pavilion or a screened-in porch.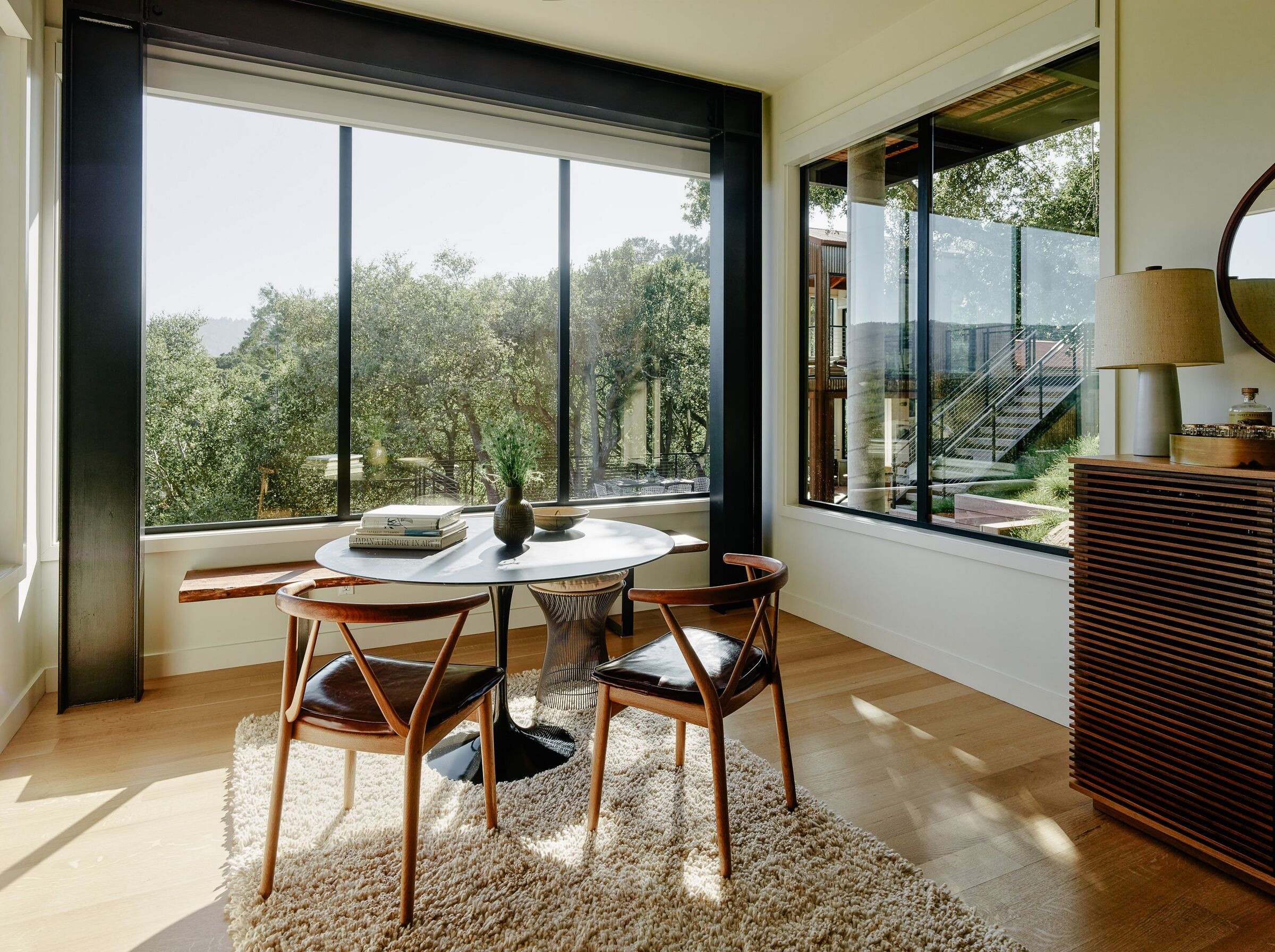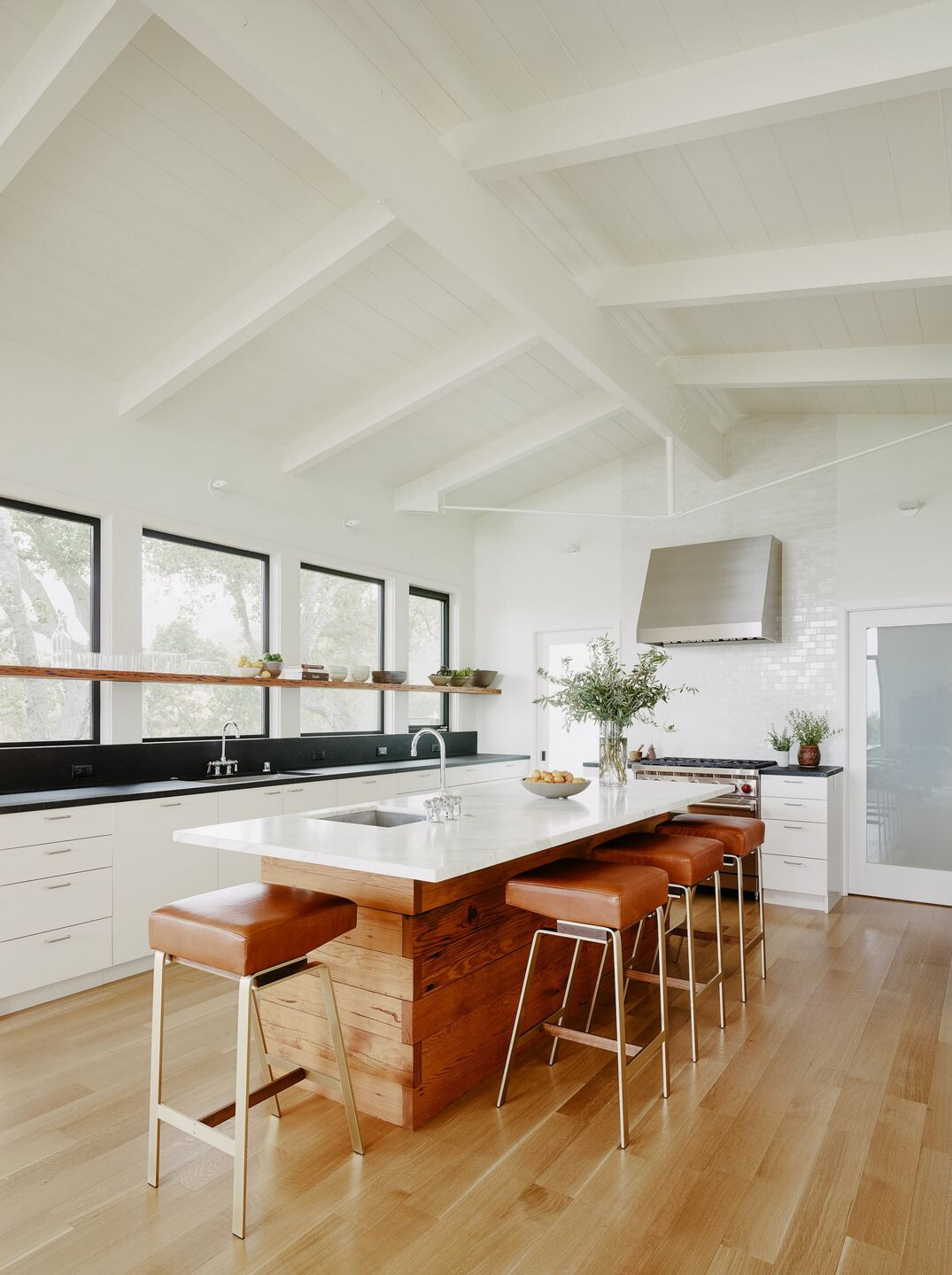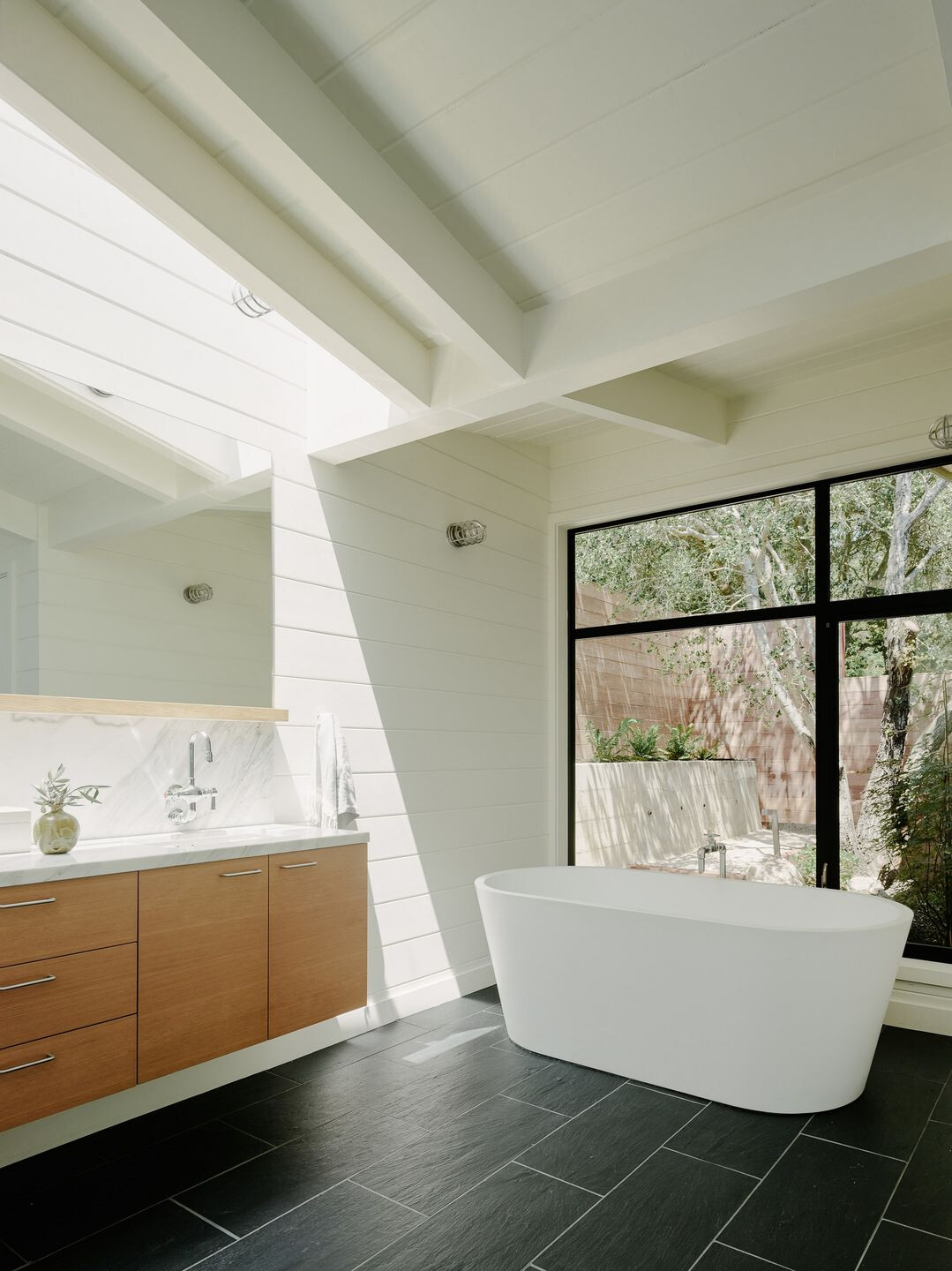 Material Used :
Countertops - Kitchen
Material: Flamed Black Granite
Countertops - Master Bathroom
Material: Carrera Marble
Tilework - Kitchen
Brief Detail: Dual Glaze Tile
Company Name: Heath Ceramics
Tilework - Master Bathroom Floor
Brief Detail: Echeguren Vermont Slate
Tilework - Master Bathroom Shower
Brief Detail: Glazed Brick Tile
Company Name: Fireclay
Flooring
Brief Detail: 5" White Oak Rift and Quarter Sawn
Cabinetry
Company Name: Mueller Nicholls Inc
Appliances
Brief Detail: Kitchen - Gas Range, 36", GR366
Brand: Wolf
Purchased at: Atherton Appliance and Kitchen
Brief Detail: Kitchen - Refrigerator, K1803SF
Brand: Miele
Purchased at: Atherton Appliance and Kitchen
Brief Detail: Kitchen – Freezer, F1413SF
Brand: Miele
Purchased at: Atherton Appliance and Kitchen
Brief Detail: Kitchen – Oven, S030PESPH
Brand: Wolf
Purchased at: Atherton Appliance and Kitchen
Brief Detail: Kitchen – Wine Refrigerator, KWT1613SF
Brand: Miele
Purchased at: Atherton Appliance and Kitchen
Brief Detail: Kitchen – Dishwasher, Futura Series
Brand: Miele
Purchased at: Atherton Appliance and Kitchen
Brief Detail: Mudroom – Washer, EIFLS60JIW
Brand: Electrolux
Purchased at: Atherton Appliance and Kitchen
Brief Detail: Mudroom – Dryer, EIMED60JIW
Brand: Electrolux
Purchased at: Atherton Appliance and Kitchen
Sinks (Kitchen)
Brief Detail: Urban Edge 003633
Brand: Julien
Sinks (Master Bedroom)
Brief Detail: Kathryn K-2330
Brand: Kohler
Faucets (Kitchen)
Brief Detail: 772-CP Base (#50-ABCP Faucet Neck)
Brand: Chicago Faucet
Faucets (Master Bedroom)
Brief Detail: 225-2611ABCP
Brand: Chicago Faucet