Showroom or office? Creative studio or fashion runway? VIP event space or warehouse? The answer is all of the above and more, all in a 1000 square foot box. Studio Runway is a flexible multi-use space for an established yet rising Canadian fashion designer, located in a curious interstitial zone in Toronto's Eaton Centre; between the retail commotion of the public mall and the vertically driven corporate office tower above.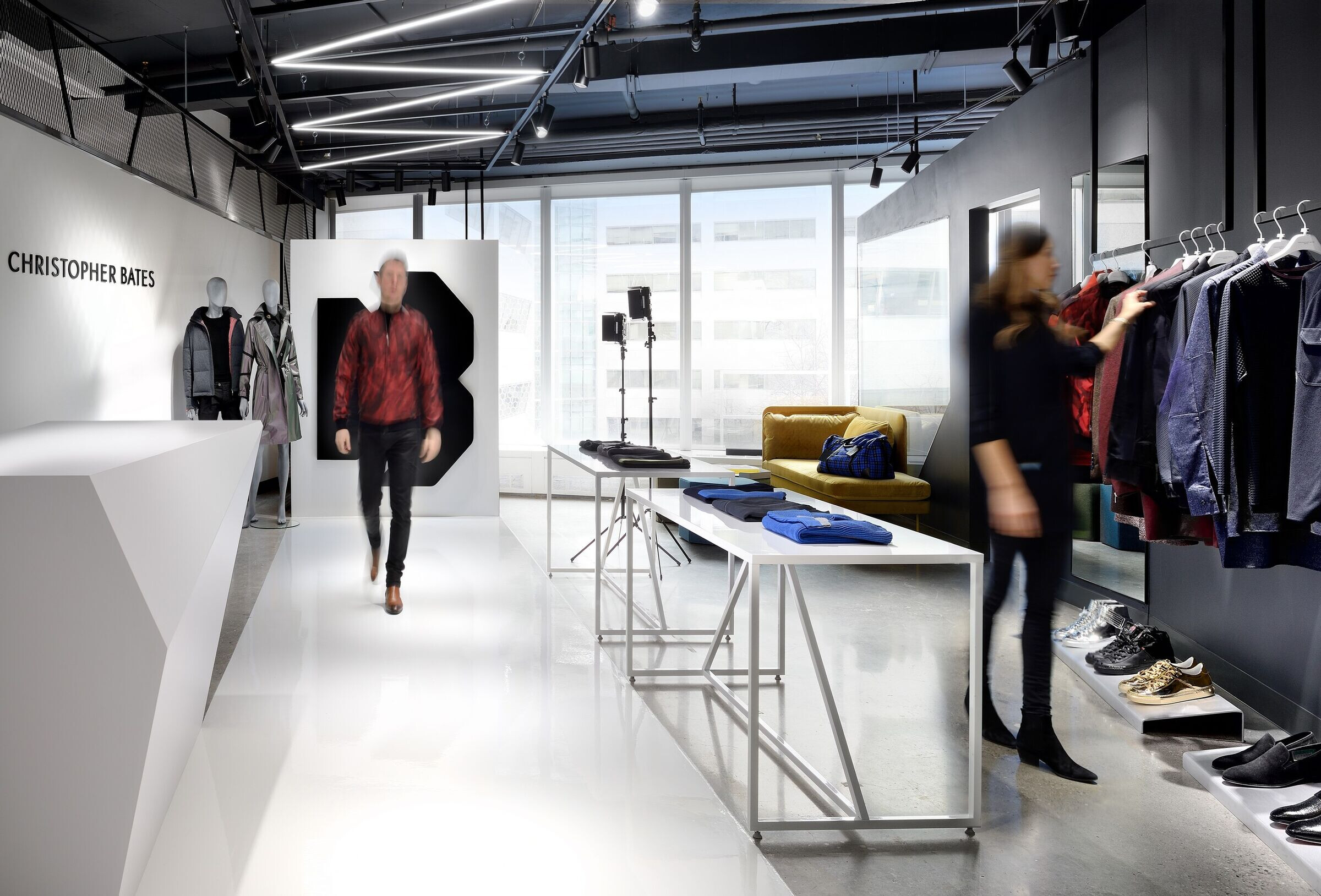 It is fitting that the client and architect met at a conference talk on cross-pollination of design disciplines, ideas and strategies. There blossomed an alliance between talented creatives—a synergy of fashion and architecture; brand and design.
Christopher Bates is a showroom without a traditional storefront and instead capitalizes on the client's reputation, clever marketing, and wow factor when the door from the undistinguished workplace hallway is opened in order to draw clients in. Visitors enter and step onto the glossy white runway, punctuated at the terminus with an oversized 3-dimensional logo for a striking backdrop. Shoppers try on clothes in the "backstage" changing room and take the stage, walk the catwalk, snap a selfie—emboldened by the expert fit of luxurious Italian fabrics and bestowed confidence by the inherent nature of performance on the runway.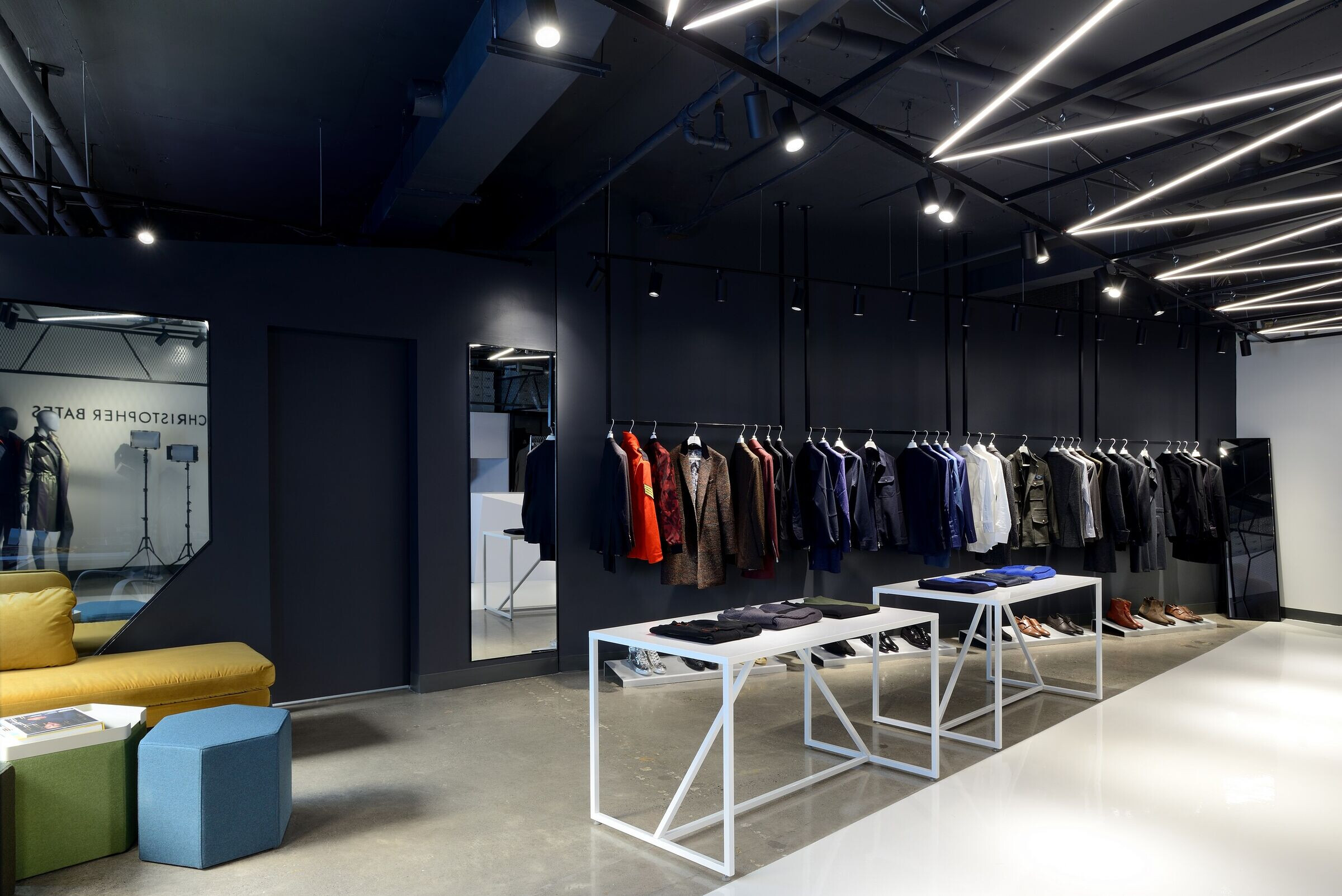 The design for Studio Runway straddles the gauntlet between high fashion and urban industrial minimalism. A stark black and white palette recalls the craving for Chiaroscuro, the play of light and shadow enveloping the spaces and designer apparel. The urban presence is felt with the exposed concrete floor, raw exposed ceilings, and street-style metal mesh partitions. Angles and geometric shapes add dynamism to the space and echo the bold hexagonal form of the brand logo. The zigzag lighting at the ceiling reflects in the white epoxy runway, like the stitching on an Italian tuxedo lapel or tailored shirt sleeve. Other track lighting throughout gives freedom for customized mood scenes—whether for a fashion shoot, private shopping experience, or creative design charette.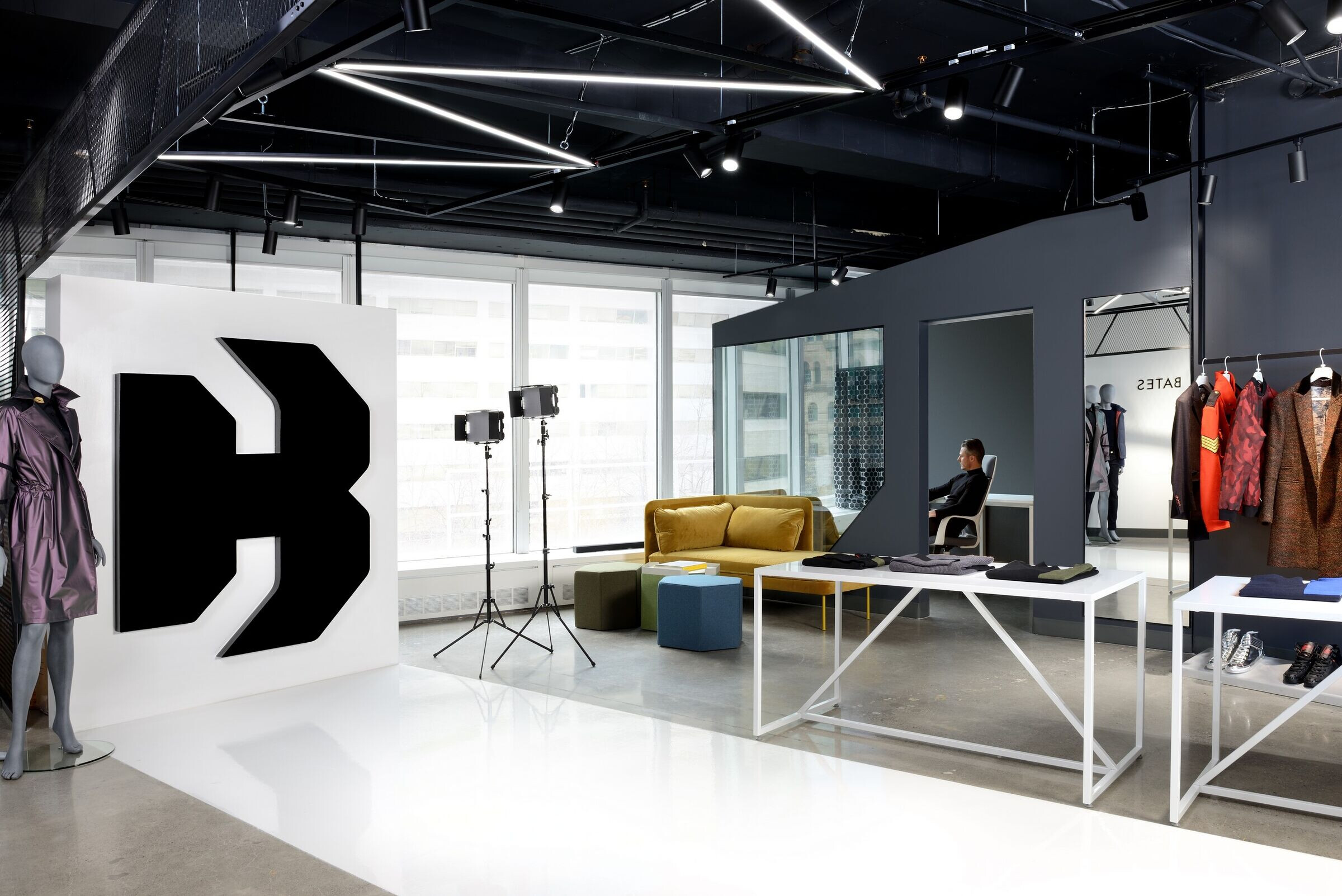 Almost everything is moveable and dismantlable, allowing for the flexibility in use, and immediate readiness to move to a pop up store or the next studio. The design reflects a strategic economy of means, with optimism and anticipation of near future expansion and growth, and a desire to honour timeless design and minimize waste. During the covid pandemic era and with the precarious future of previously coveted high fashion runway shows, this Studio Runway came not a moment too soon.