Children, parents, and staff entering the new childcare center for a confidential client in San Francisco's Mission Bay neighborhood are transported from a concrete urban environment to an imaginative and sensory-rich world.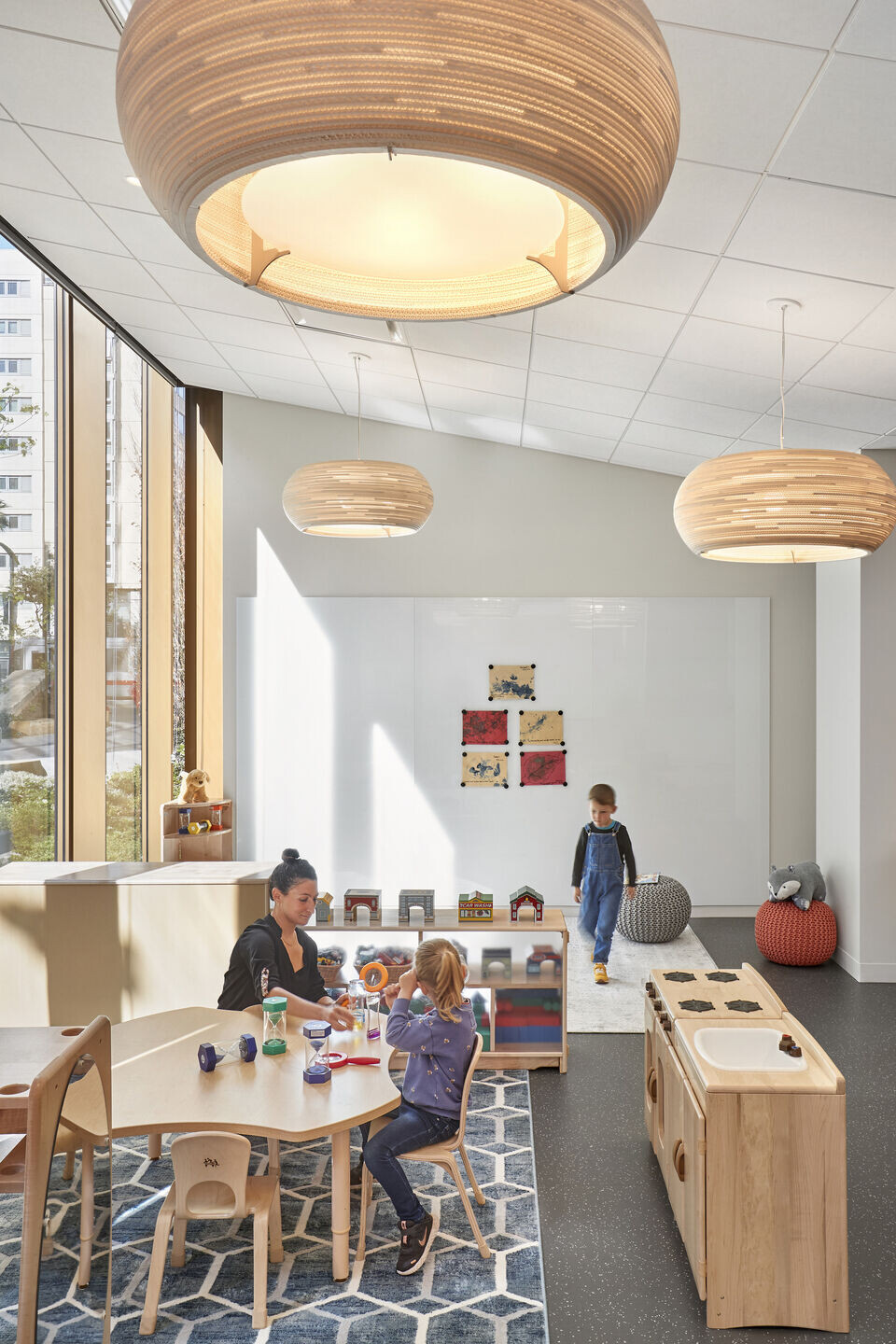 The four-classroom facility serves infants to pre-kindergartners in a space that encourages exploration and discovery inside the city limits. Operated by TEL HI, a leading nonprofit focused on serving San Francisco communities, the childcare center opened in early 2021.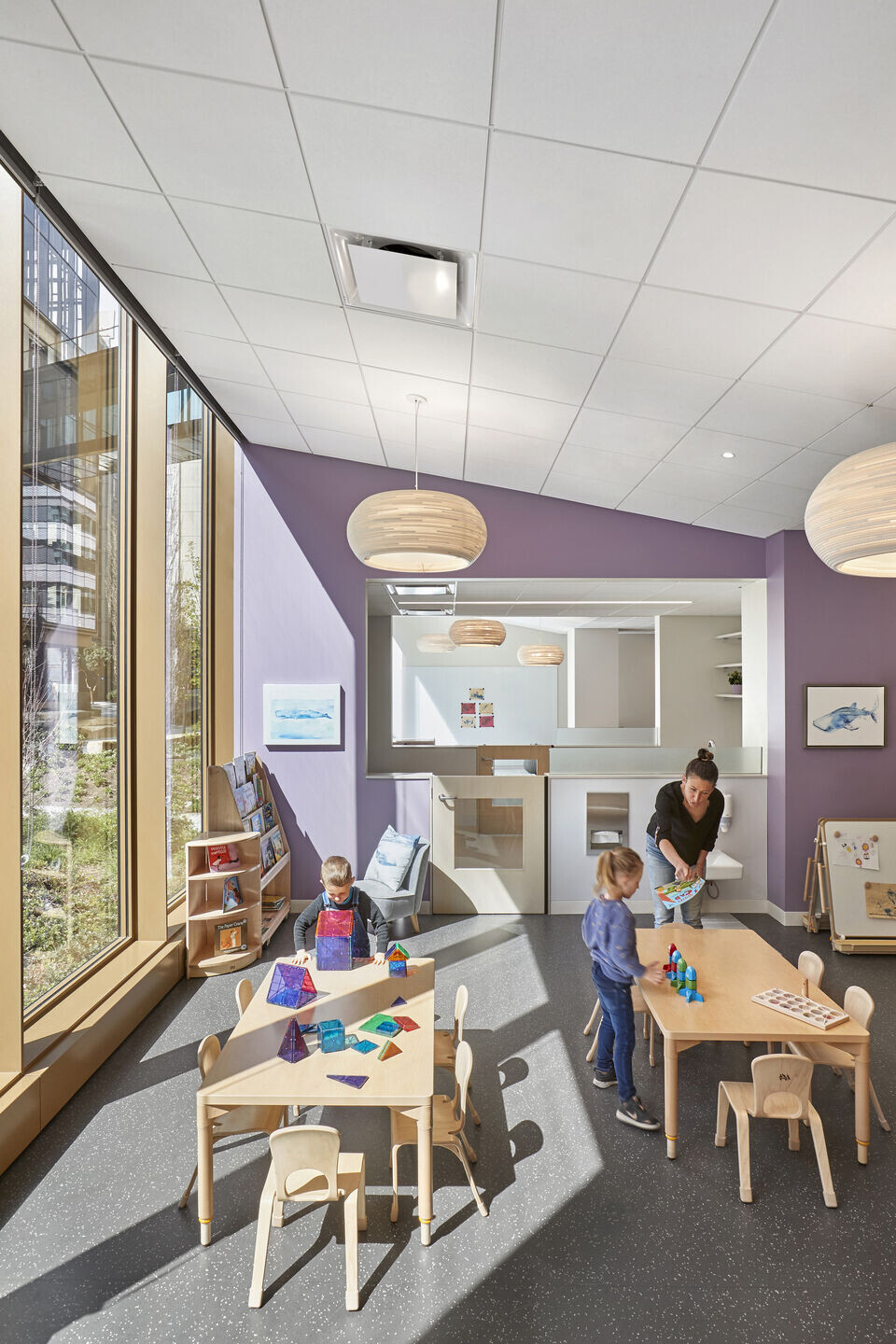 The design team leveraged best practices from childhood development research to inform a simple design framework for the facility. Children are encouraged to learn through play, connect with their environment through the senses, and allow their imaginations to flourish. Layered natural materials create organic moments for sensory play and learning. Hand-crafted millwork inspires delight, and a continuous connection to the surrounding Bay Area outdoors offers opportunities for growth and adventure—highly valued qualities in the city's dense urban setting.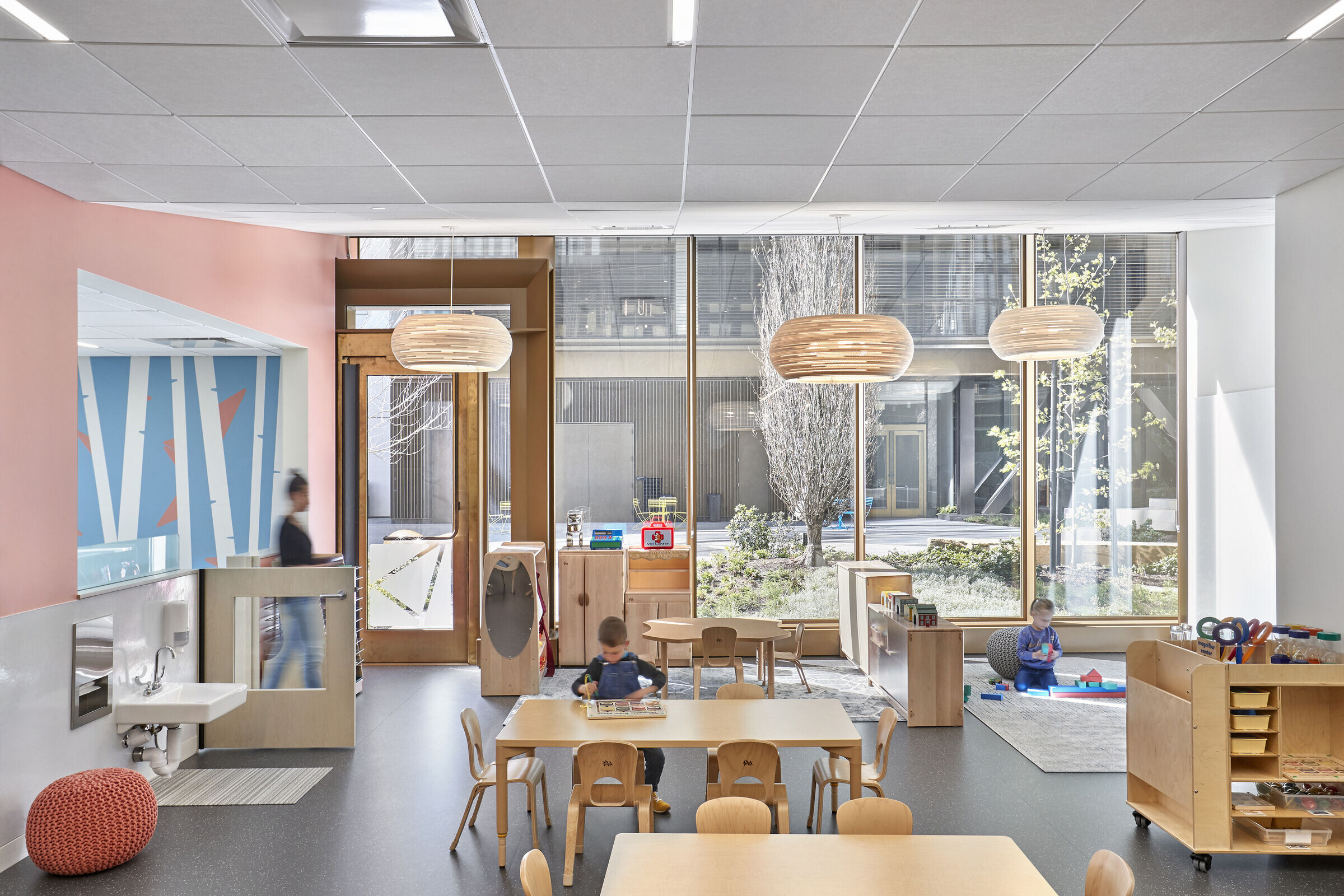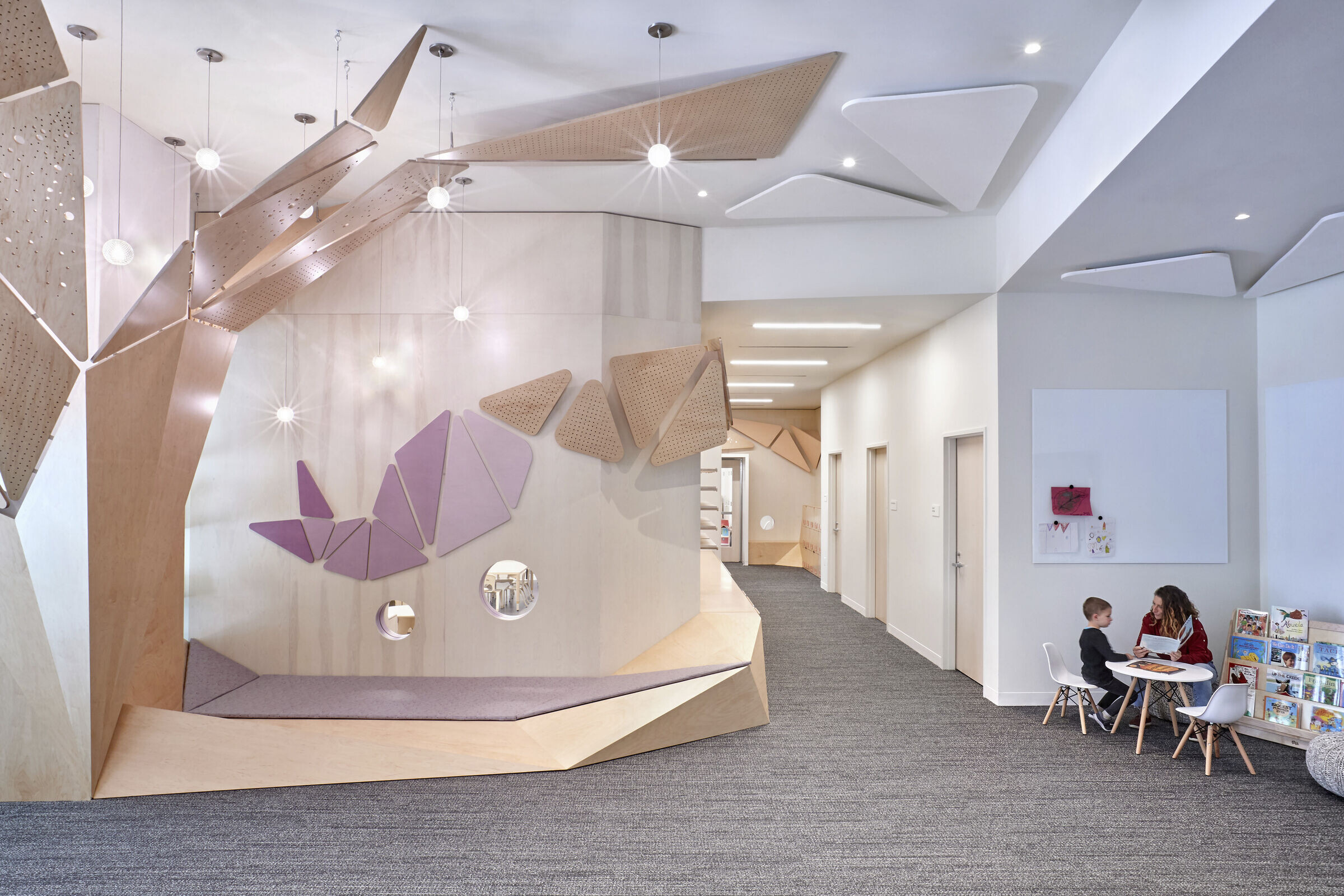 Abstract geometric shapes throughout the facility recall animals native to Northern California. Each of the four classrooms is identified by custom, animal-inspired signage and large door portals that signify transition into a teacher-focused space. Inside, natural materials and daylight-infused layouts keep the perspective on the child experience.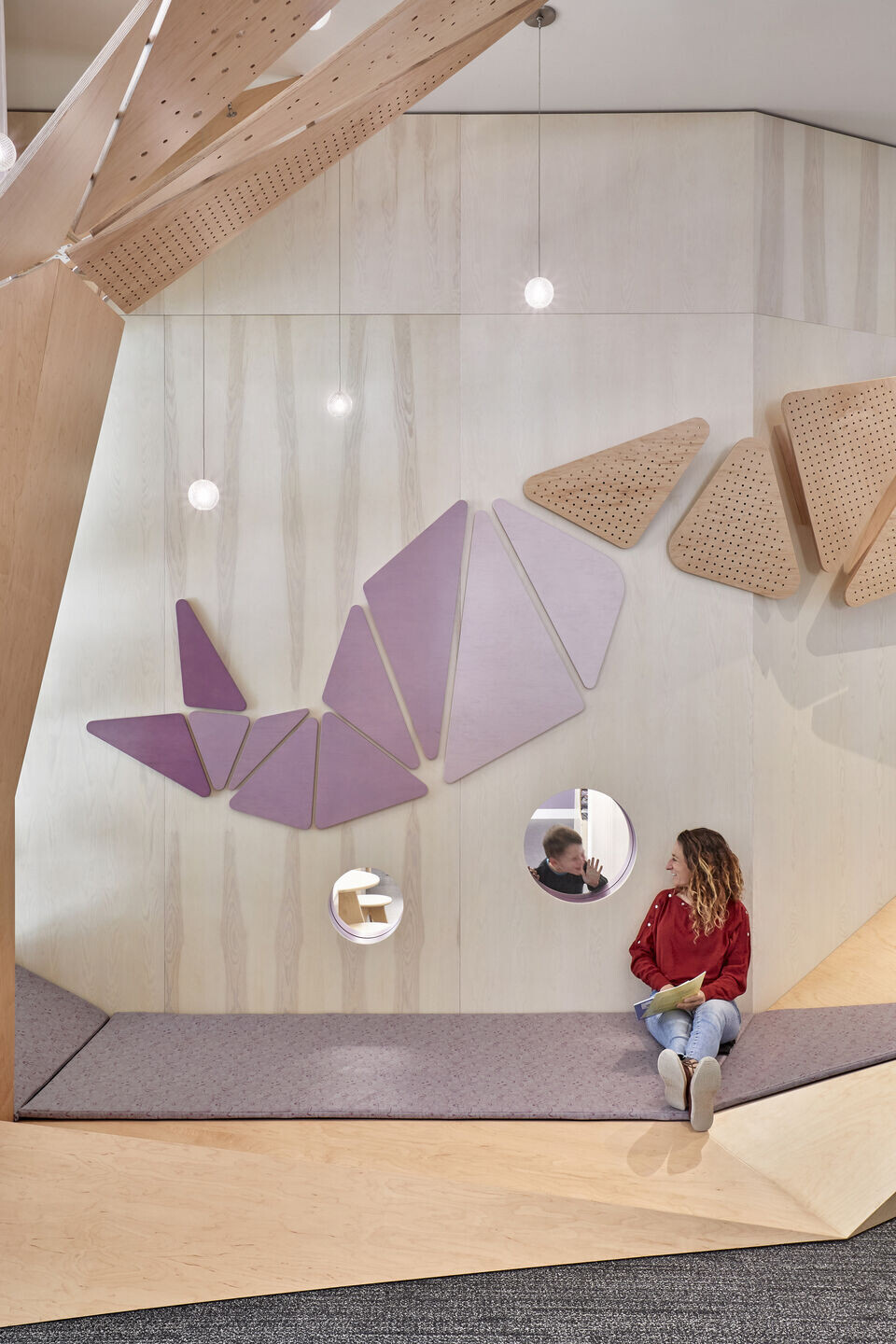 A custom millwork installation in the public entryway addresses multiple needs—providing acoustics, supporting lighting, and supplying additional storage while integrating subtle elements of discovery and play. The upper millwork ribbon grows into a "tree" punctuated by globe pendant lights that create a sense of wonder.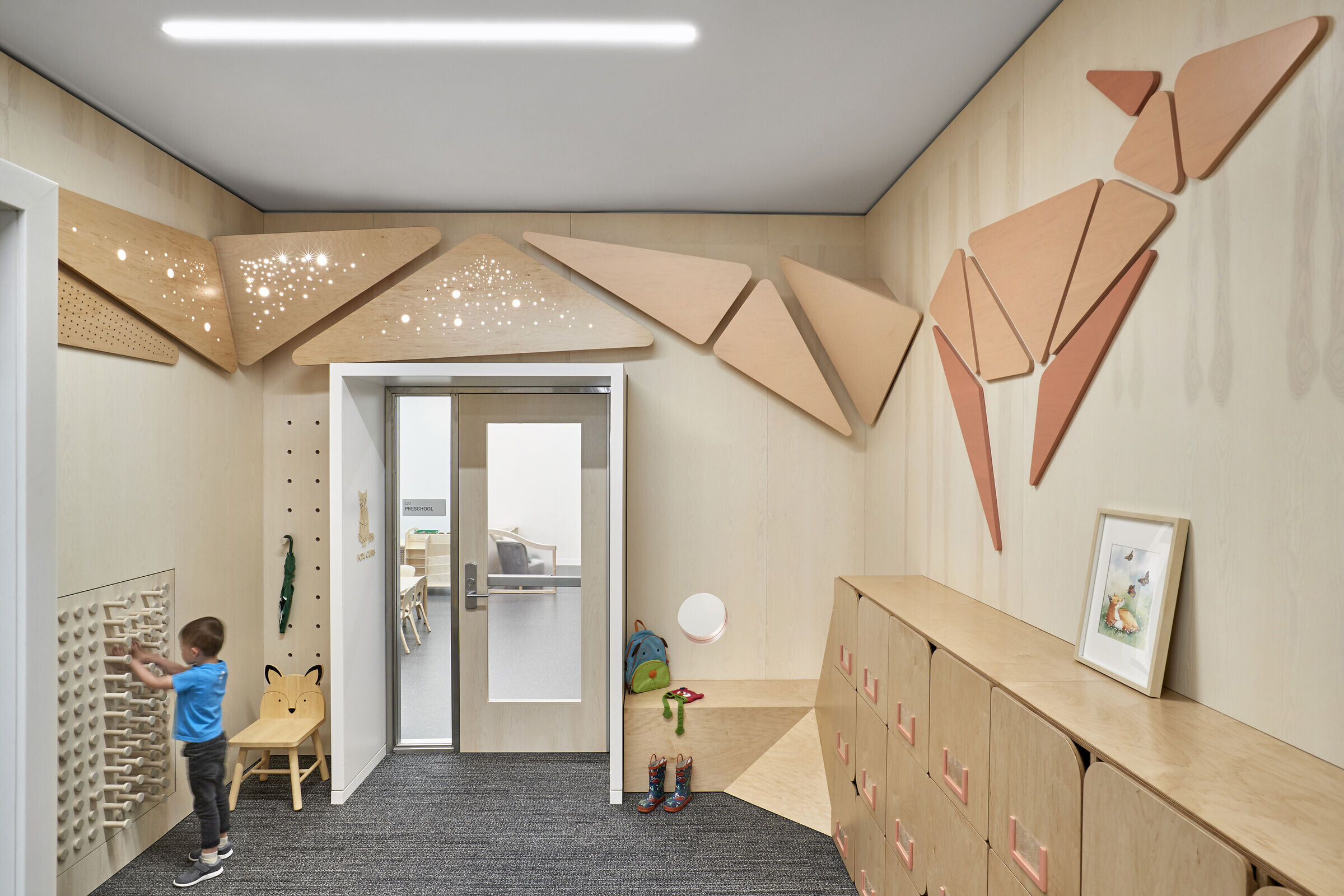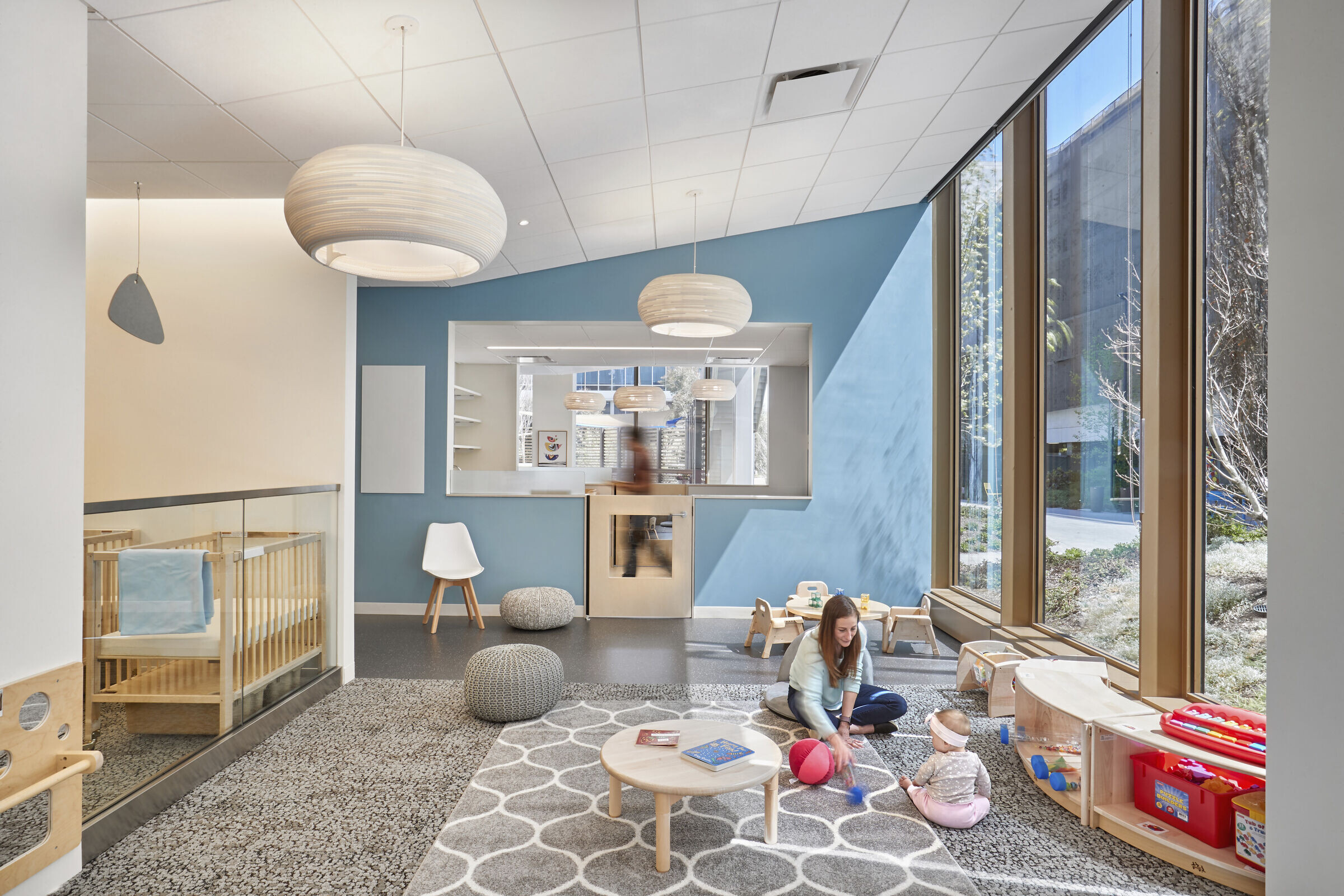 The childcare center's urban setting also required a new approach to connecting kids and teachers to the outdoors. The 4,300 SF outdoor play area provides separate, age-appropriate play areas for infants and toddlers and evokes the setting of San Francisco's Wharf and marine architecture. The custom-designed wooden play structure highlights natural materials within a nautical theme.
Team:
Architect: ZGF Architects
General Contractor: Truebeck
Childcare Operator: TEL HI
Photographer: Garrett Rowland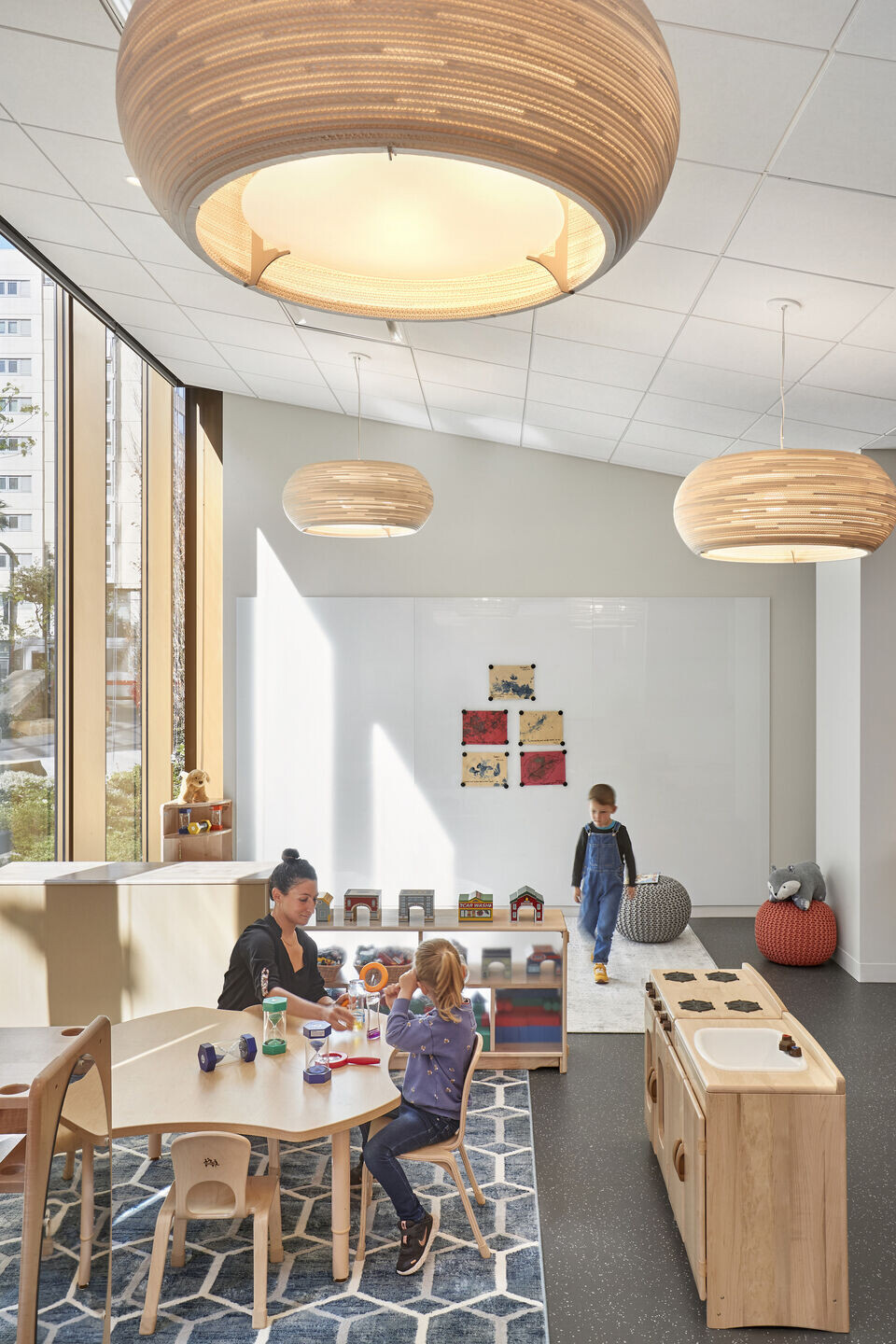 Materials used:

Carpet: Interface/ Human Nature Carpet tile
Rubber Flooring: Noraplan/ Environcare 3mm sheet rubber
Markerboards: McGrory Glass/ Magnetic Glass Markerboards
Custom Wall Protection: Koroseal/ Fusion FRP wall panels
Countertops: Dupont Corian/ Solid Surface
Countertops: LG/ Hi-Macs Solid Surface
Custom Millwork: Mission Bell Manufacturing
Custom Acoustical Ceiling Clouds: AcouFelt/ AP24
Lighting (Decorative): Graypants/ Scraplights Pendants
Lighting (Decorative): Tech Lighting/ Bulle Pendant
Lighting: Finelight/ Recessed Linear
Lighting: Lightolier/ Recessed Downlight
Lighting: Focal Point/ Focus Wall Wash
Lighting: Tech Lighting/ Element Downlight
Mosaic Tile: CasaMood/ Vetro Neutra
Glass Hardware and Door Systems: CR Laurence
Furniture: Community Playthings
Upholstery: Design Tex/ Beguiled By The Wild Upholstery
Plumbing Fixtures: Kohler
Shelving Systems: Rakks