Coming out of the pandemic, we were charged with designing a new kind of multifamily residential experience. The priority was to design and choreograph a variety of interior environments that are simultaneously well-appointed/luxurious and independent/social distanced. Toward this end we designed open environments equipped with conveniences that are technology driven instead of staffed. Lobby and package services are supported by a digital access system for example.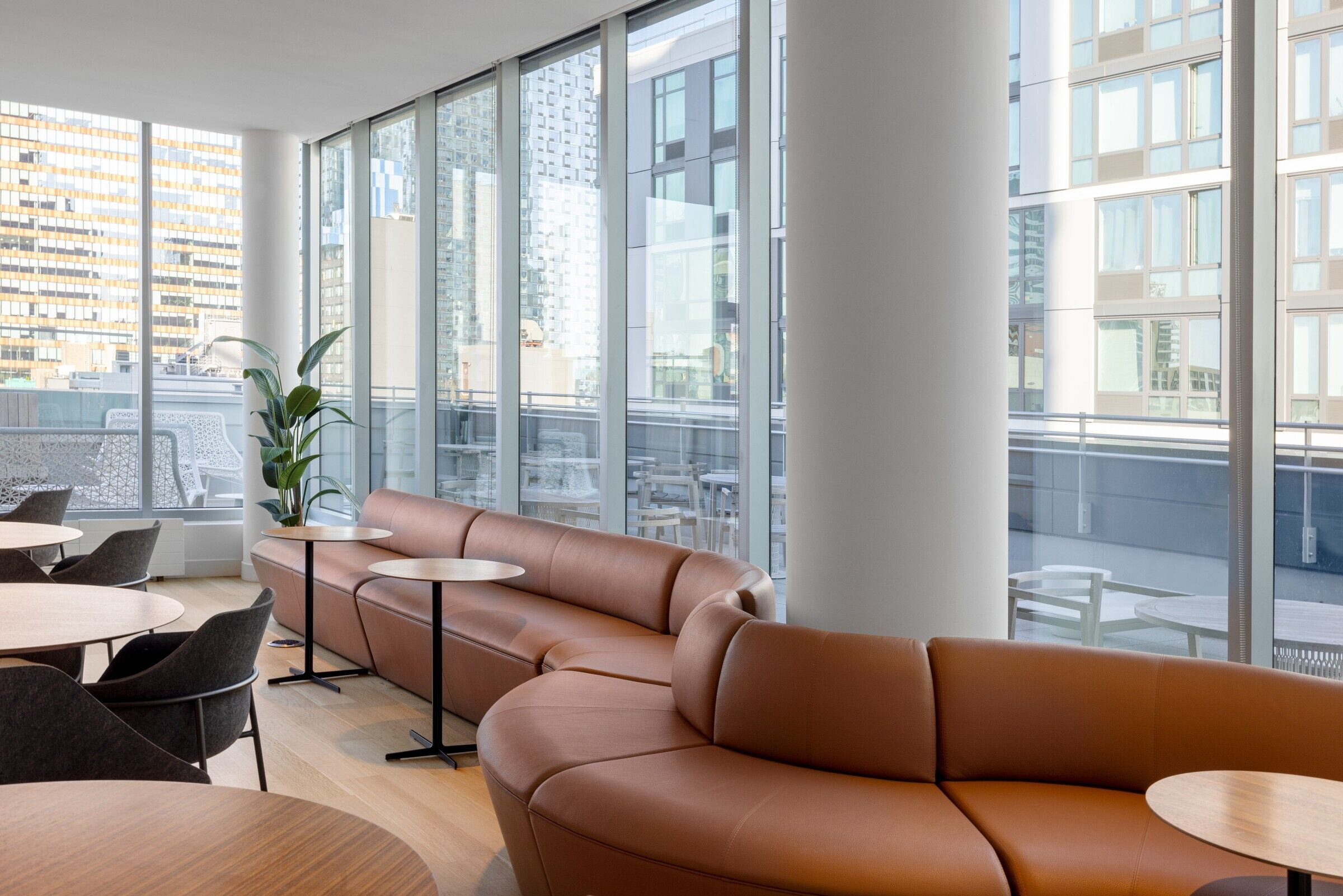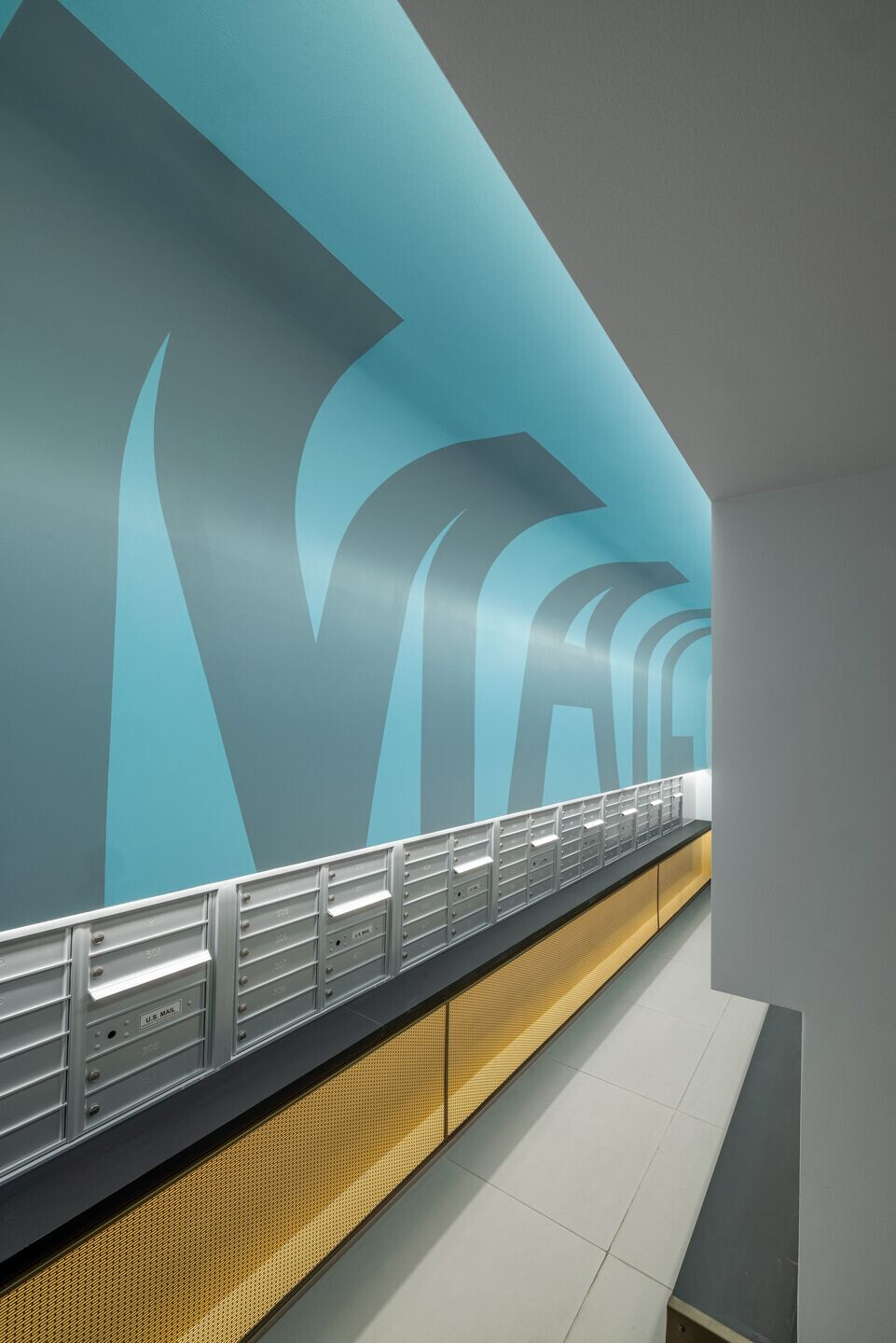 The amenity spaces also offer opportunities to congregate with people that are within the "bubble" and feature amenities such as a game room, gym and work-from-home environments both interior and exterior as well asindividual outdoor dining rooms with dedicated grills. All materials and configurations were crafted with ease of cleaning and durability in mind as well.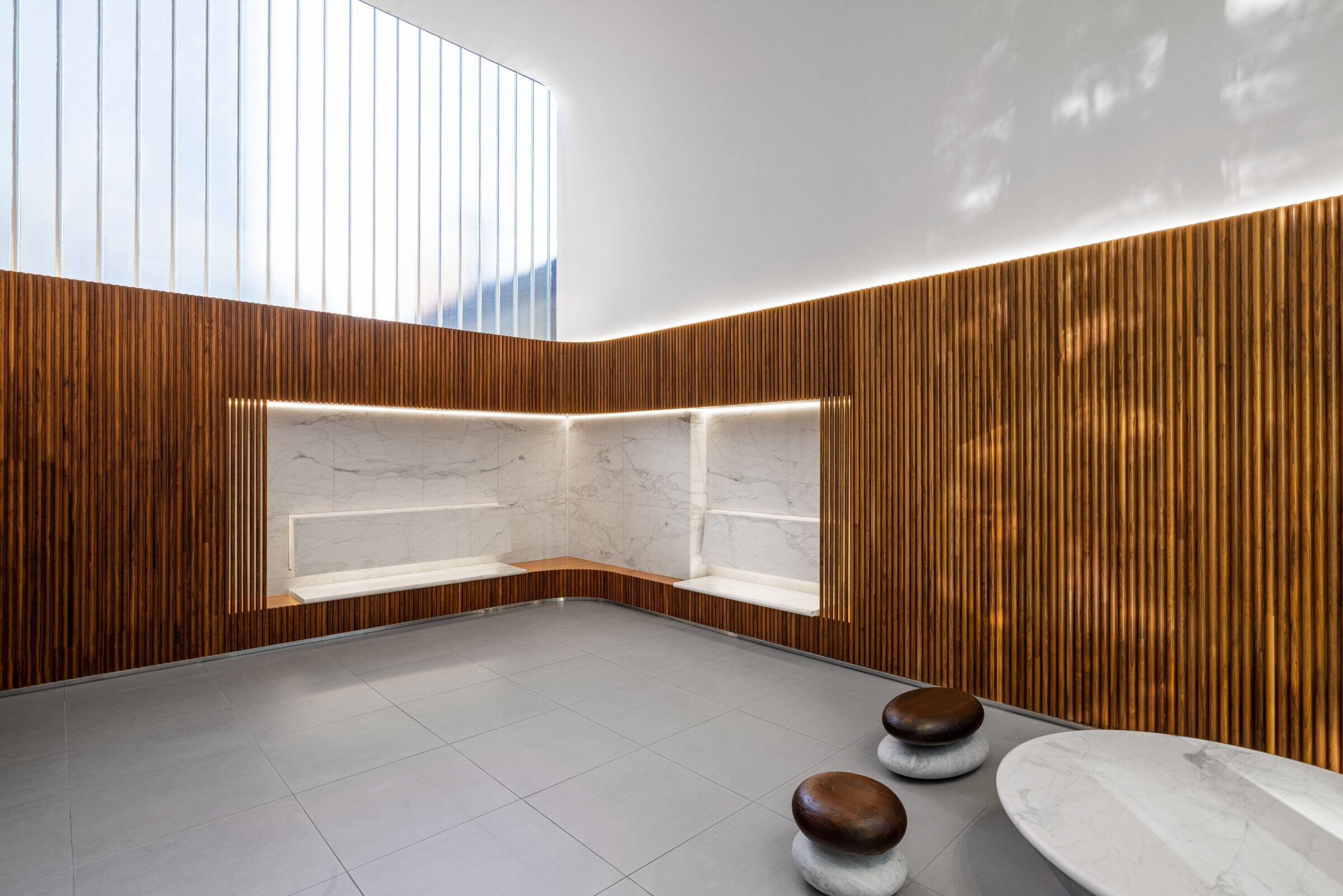 The conceptual emphasis on simplicity starts at the entry. The front vestibule sets the tone with a gallery-like experience defined by an array of bent stainless steel pipes. This durable material provides a durable protective enclosure that also reflects light from the glass entry doors to further articulate the rounded and curved forms.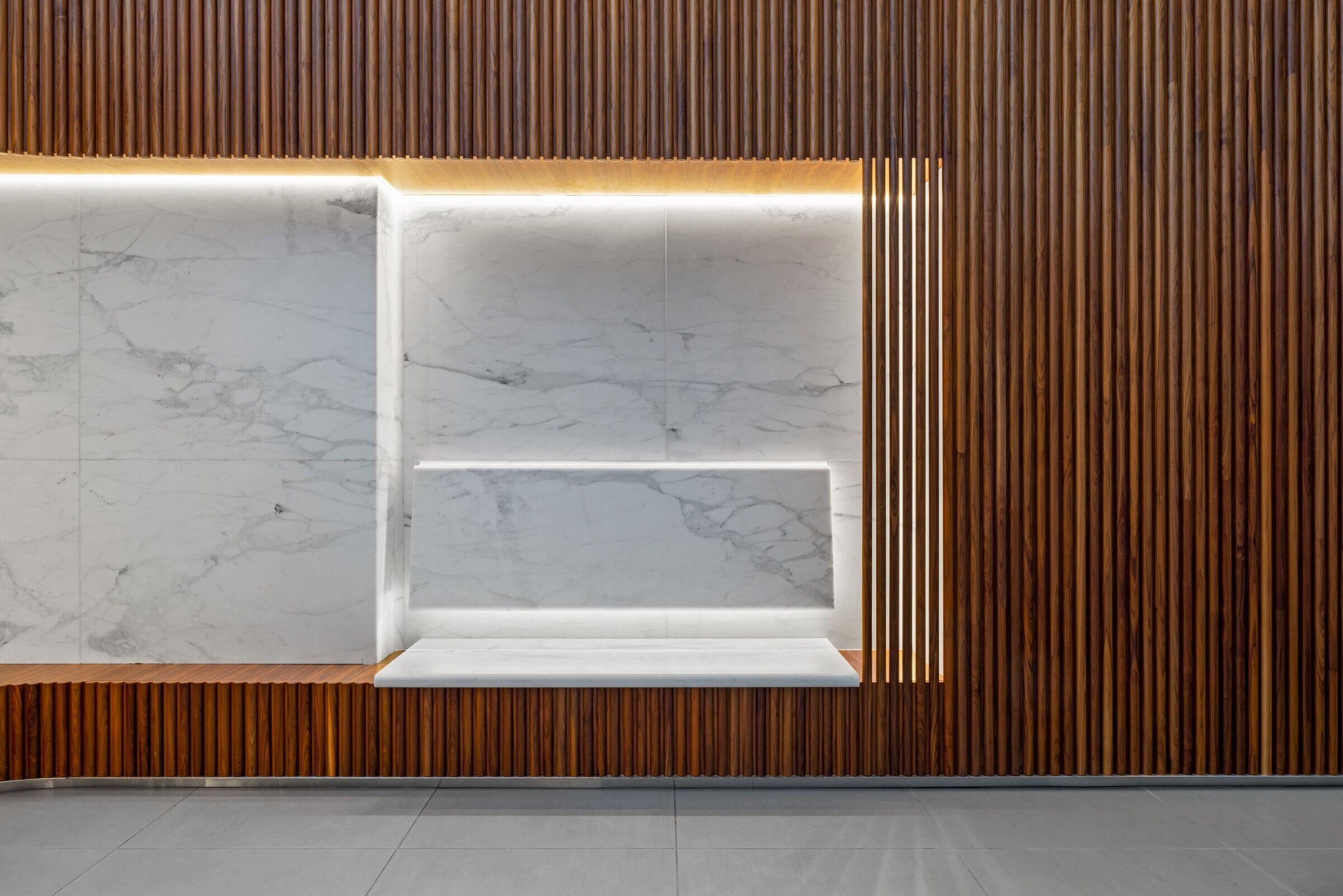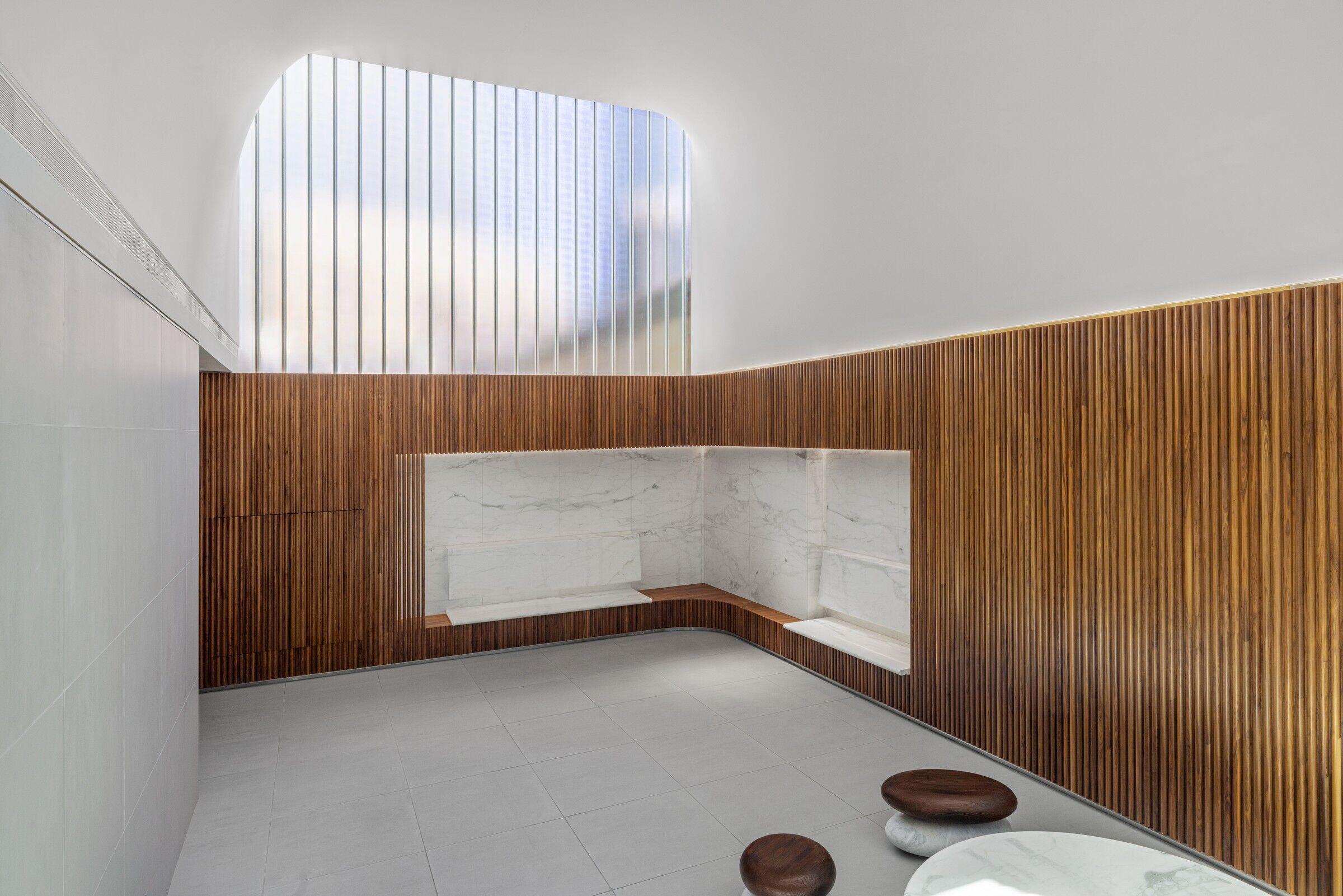 Just past the entry, the lobby is a soaring cathedral-like space. A soft and sculpturally taught ceiling frames a two-story glass façade onto the street and a channel glass clerestory onto the rear yard. This floating, edgeless upper layer soars above a sinuous curved wall of walnut rods, within which are embedded custom Carrara marble benches that anchor the space with timeless materiality that contrasts with the immaterial ceiling above.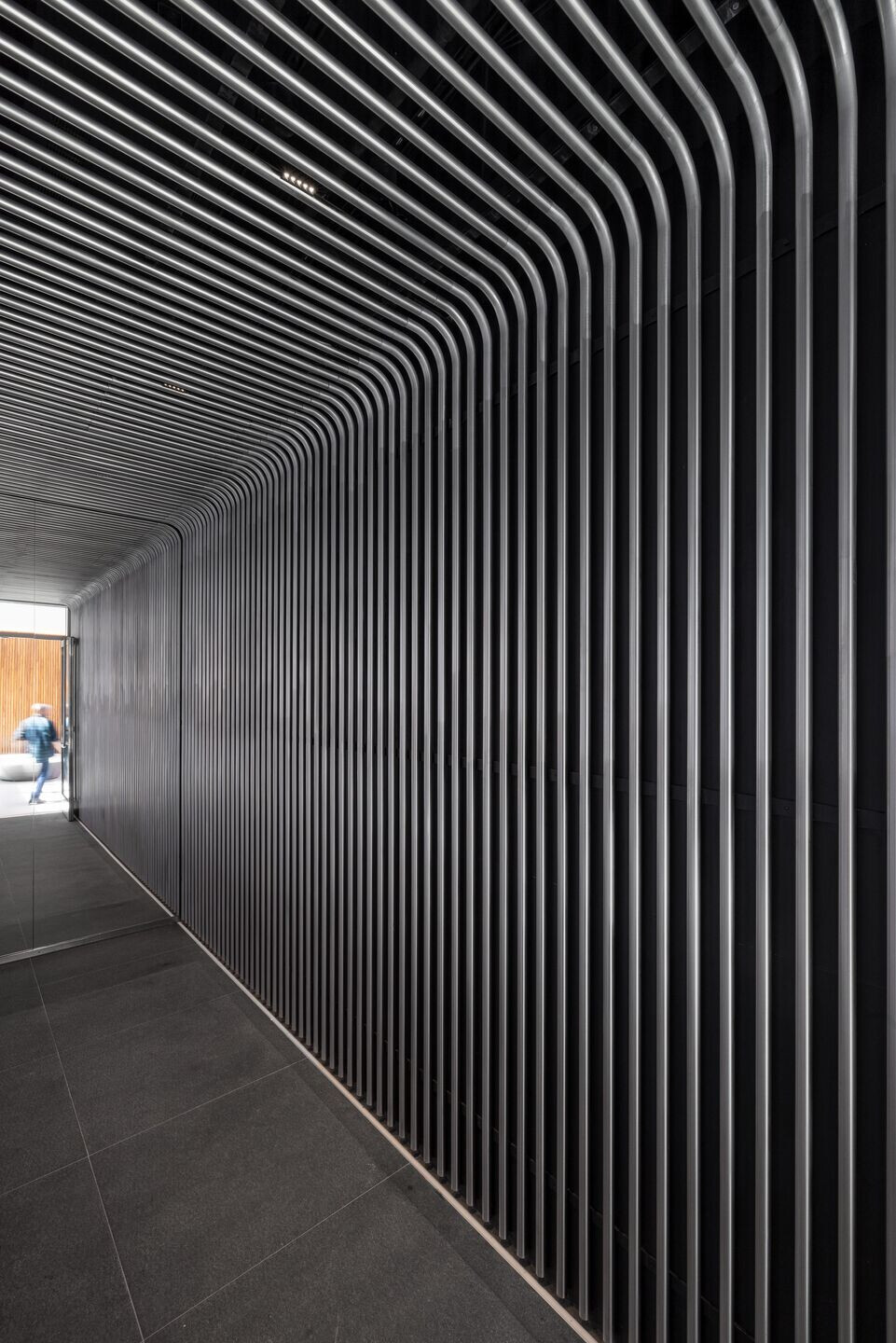 Two roof decks feature spaces to relax in the sun, alone or with friends, and spaces to entertain in outdoor picnic and grill areas. Furnishings and materials were selected to reflect natural motifs in a clean and uncomplicated way: wooden rods, woven lounges, concrete pavers. Urban-inspired with tactile comfortable materials.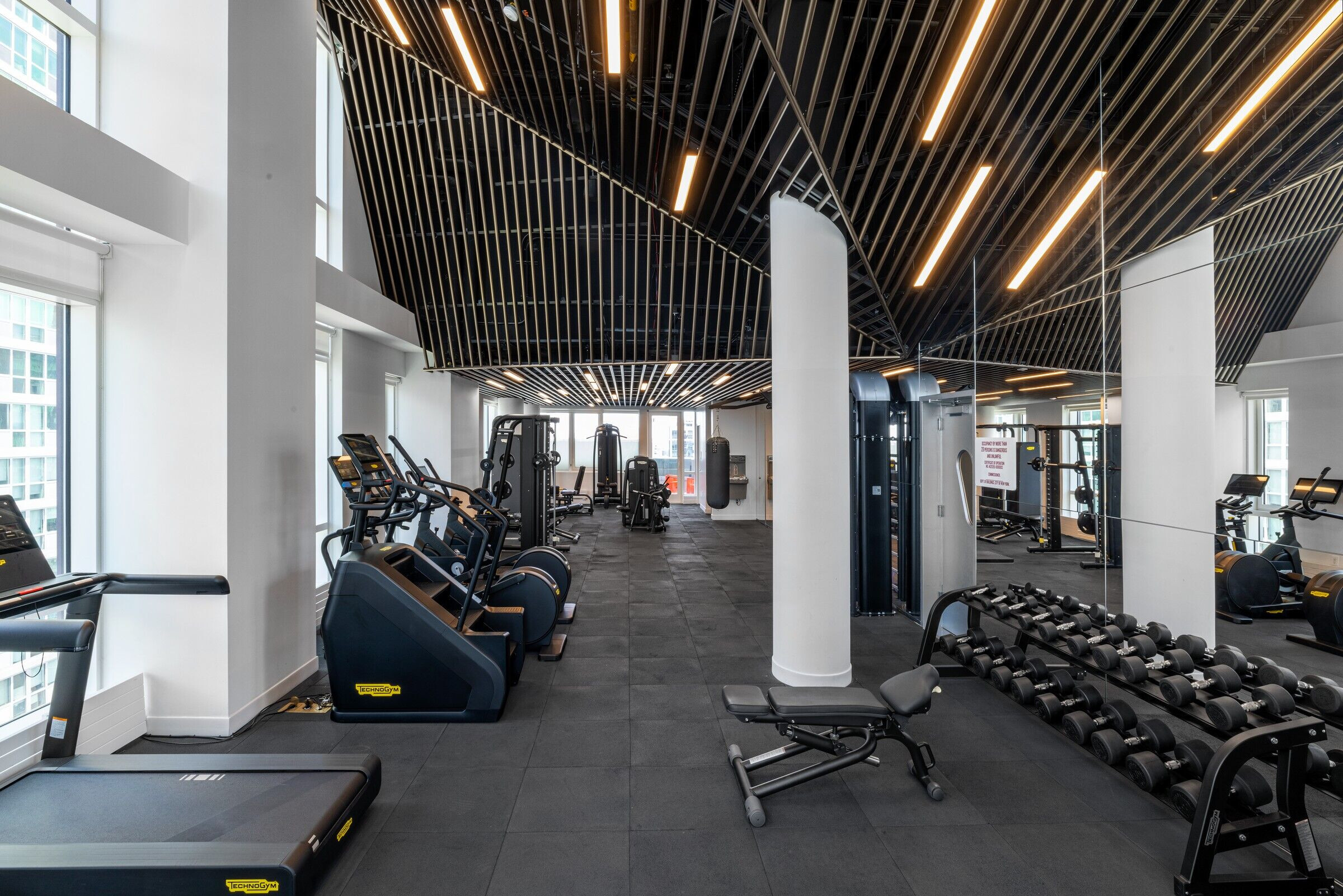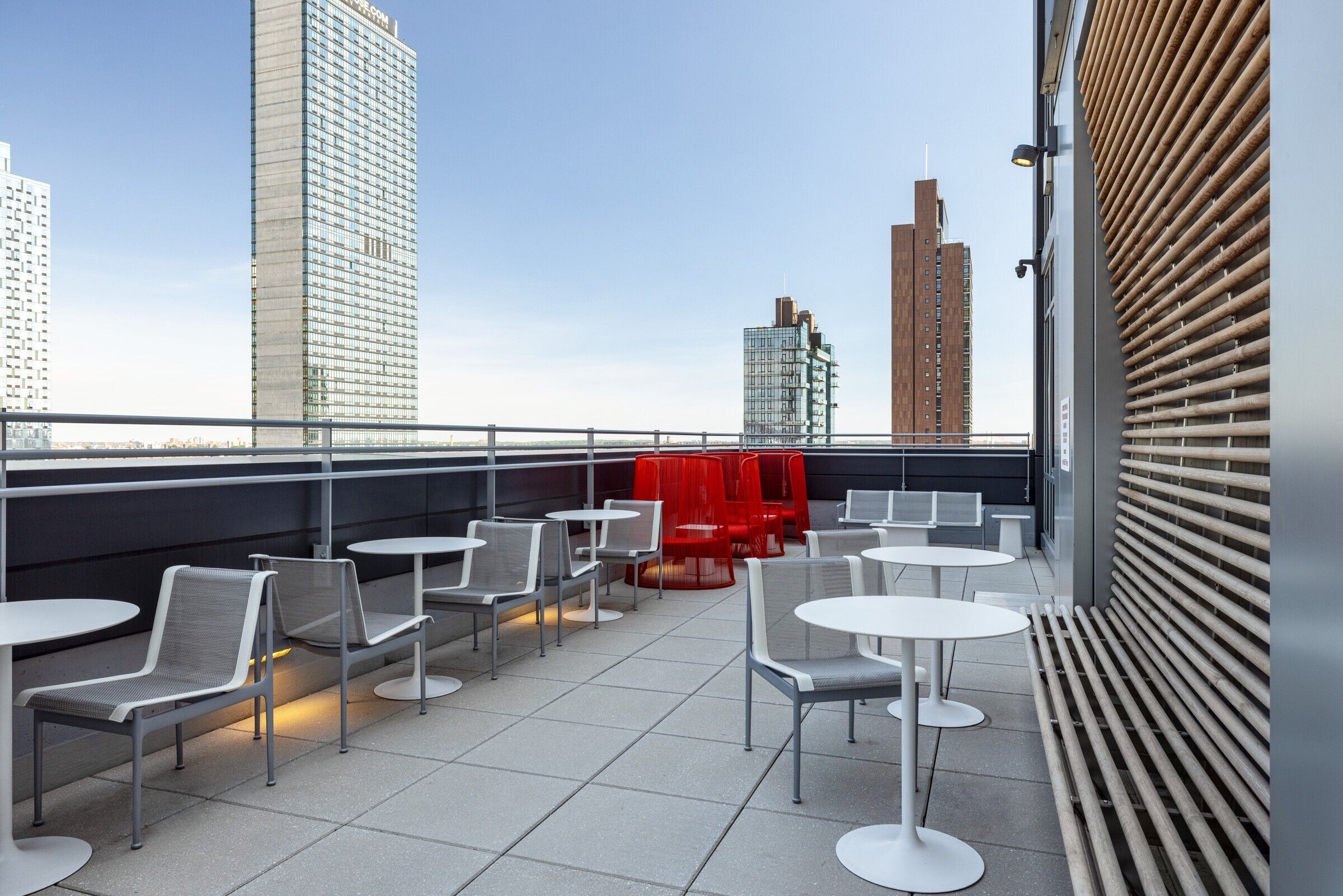 Game rooms and gym continue the motif of the sculptural rods which jut up to maximize the impact of the double height space and the tremendous view for the guest. Rods, lighting and HVAC is woven together in these rooms to create a unified, active latticework that encloses and conditions the rooms while being highly cleanable.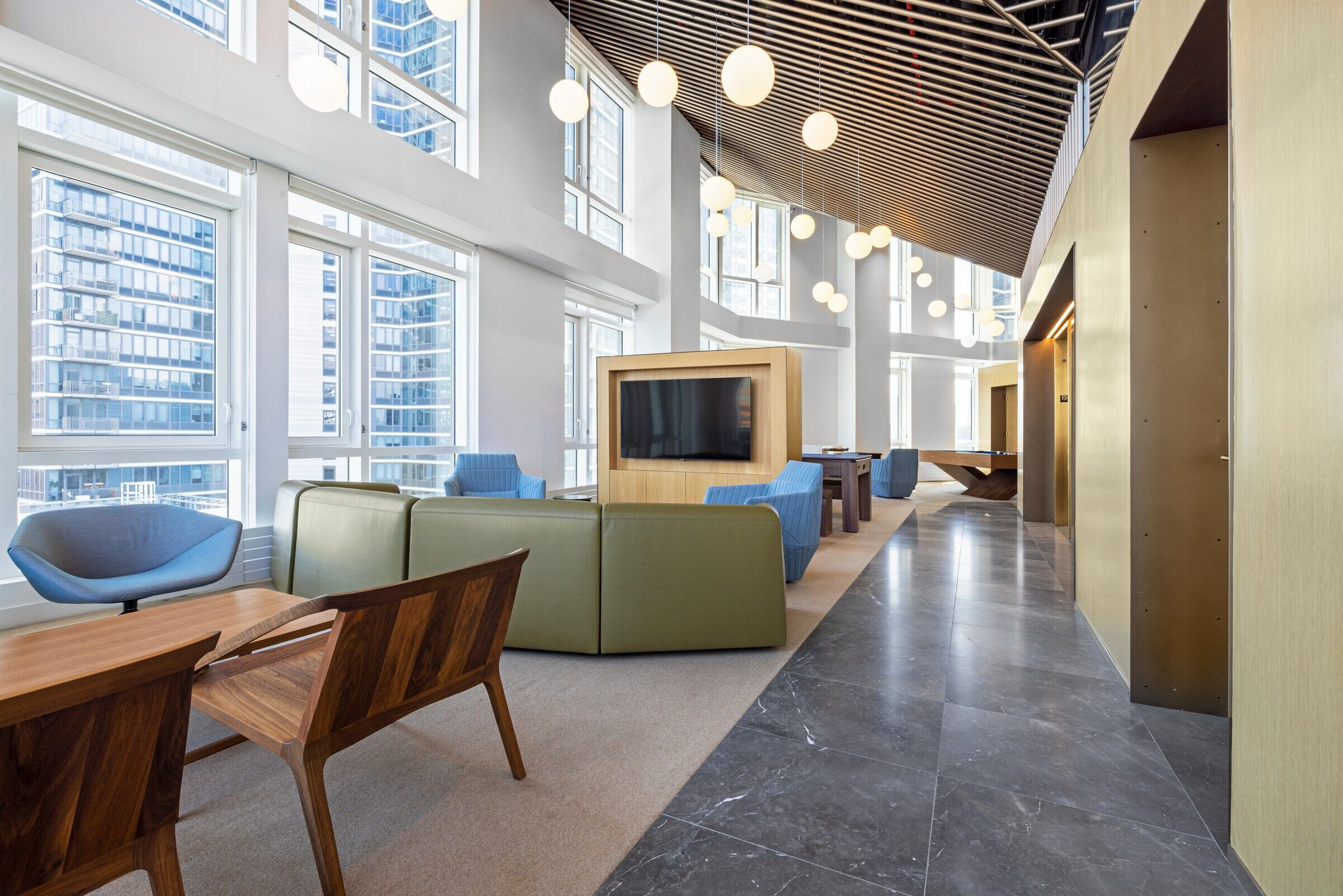 Team:
Architect: Slade Architecture
Architect of Record: SLCE Architects
Photography: Tom Sibley / Slade Architecture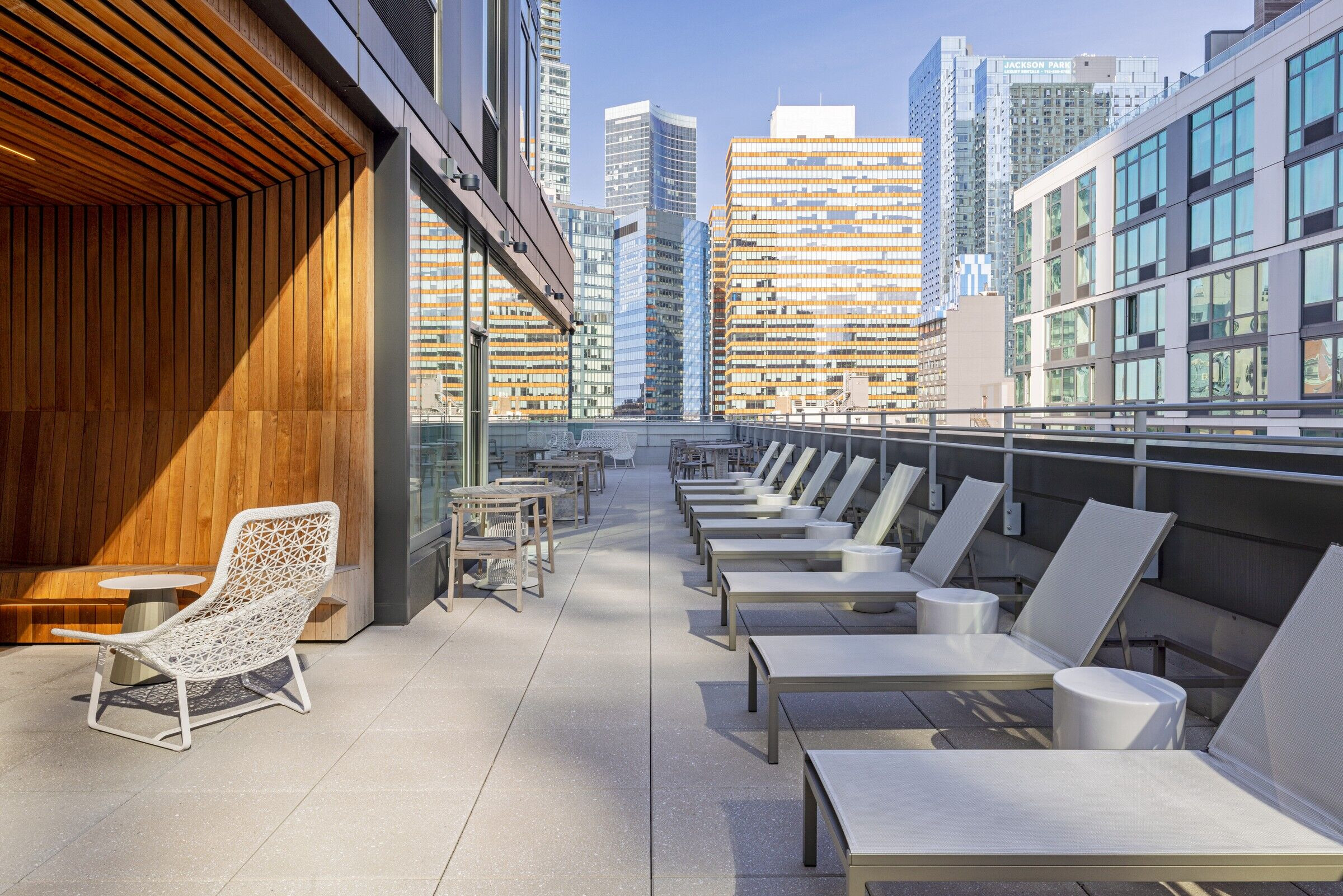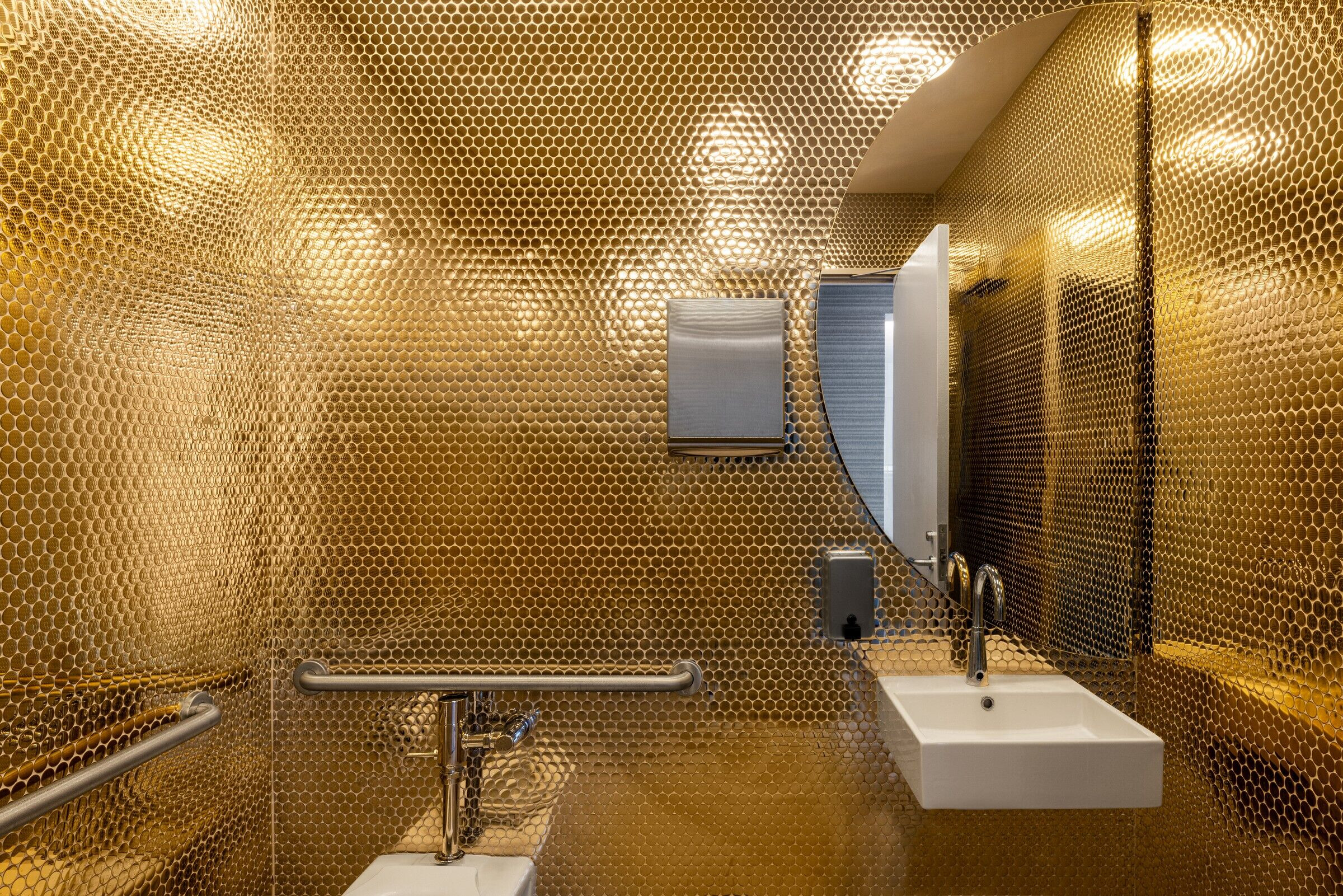 Material Used:
Floor
1. Granite, Marble - ABC Stone
2. Porcelain tile - Mosa Tile
3. Engineered Oak Floor - PID Floors
Wall
1. Benjamin Moore Paint
2. Wolf Gordon
3. Porcelain tile - Mosa Tile
4. Gold Penny Tile – Alloy Design
Lobby Ceiling
1. Stretch Plastic Membrane – Newmat
Lobby Banquette
1. Calacatta Marble - ABC Stone
2. Wood Rods - Walnut
Corridors
1. Vinyl Wallcovering - Nocturne
Amenity space cabinets
1. Engineered Oak Veneer – Tabu