What was the brief?
This incredible contemporary property has been designed by the architect/owner with exceptional attention to detail and an extremely high-level finish throughout. The Garden House is arranged over two levels, ground and lower ground floor and the layout has been designed to give all the principal rooms excellent natural light.
What were the key challenges?
Being the result of a bungalow conversion into a contemporary modernist house, situated in the back secluded garden of a wide house in Trinity road, the finished concept is of an evident simplicity not striding with the back elevations of the surrounding properties.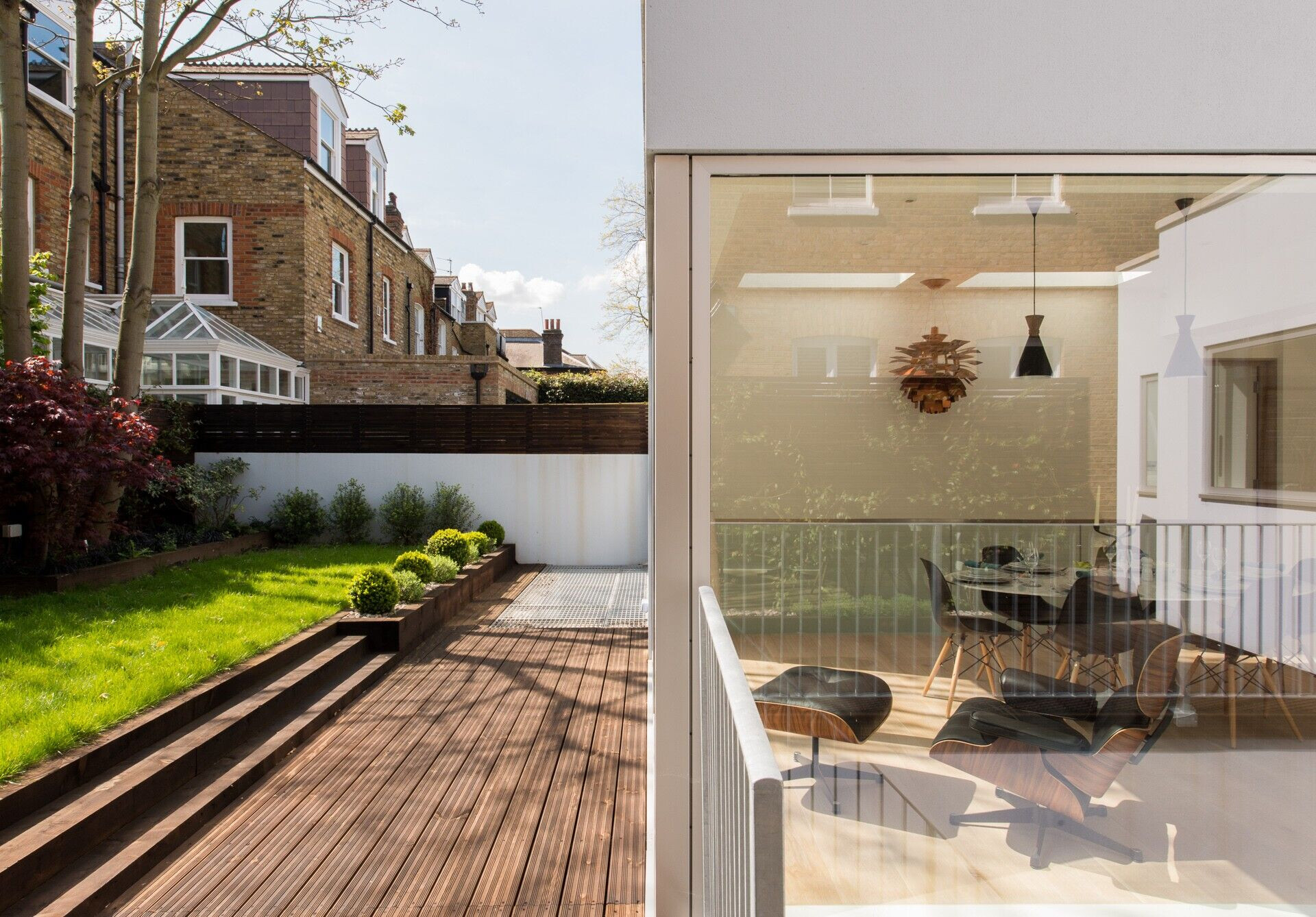 What materials did you choose and why?
All the non-original parts of the bungalow have been demolished prior extension and renova­tion, leaving a small portion of the elevation toward the gardenand the full original pitch roof in curved roof tiles.
All the interior materials have been carefully chosen within a range of neutral colours and, when possible, of natural texture.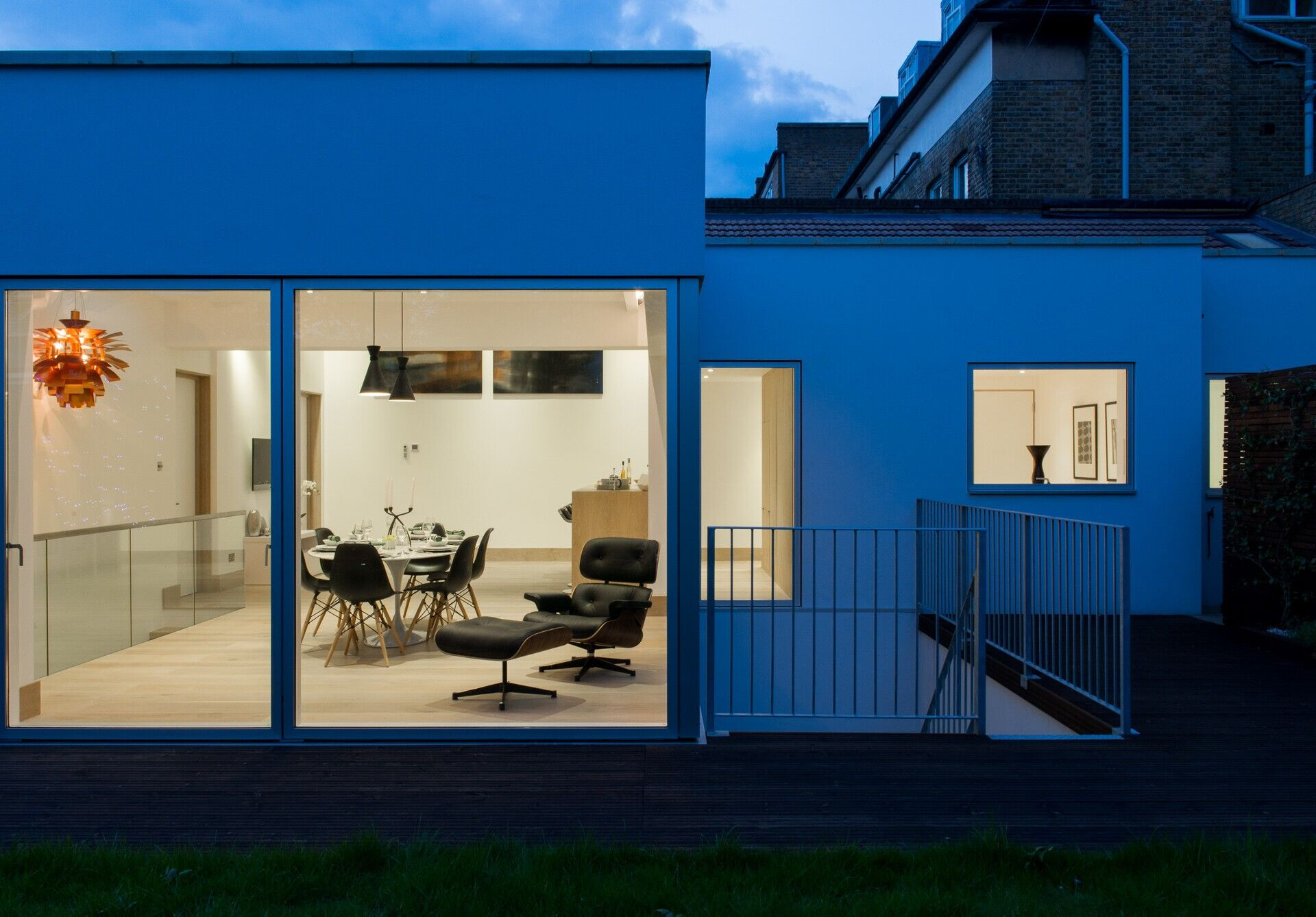 Natural oak wooden planks have been fitted through the house with the exception of shower rooms which have been tiled with porcelain.
The bespoke kitchen has been designed and built onsite with MDF natural oak veneered pan­els, quartz worktops and simple appliances.
The colour code is quite consistent all way through the house and chosen to make light the main protagonist, by letting natural and artificial light flow through the space.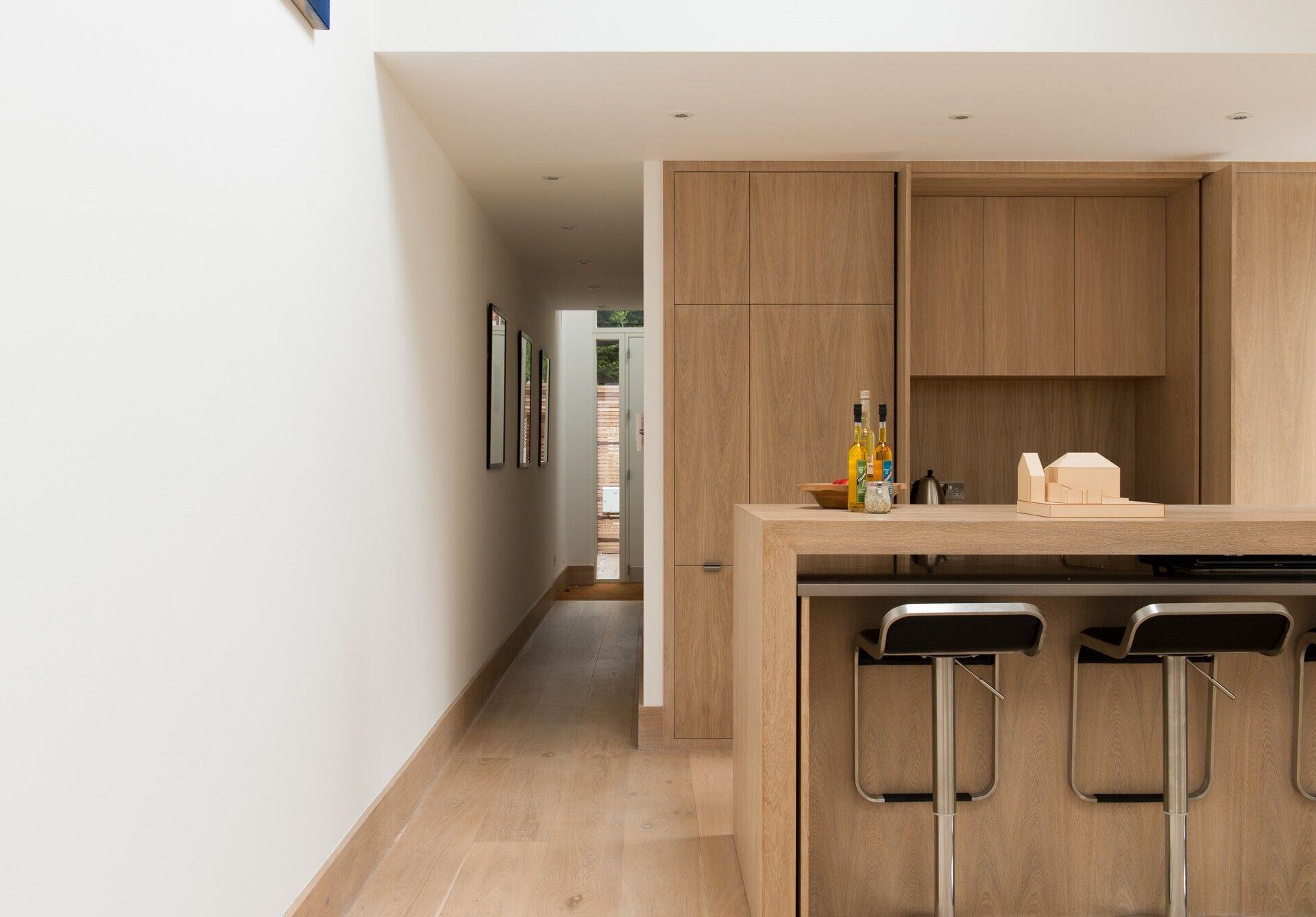 The shower rooms' finishes have been chosen to create different perception of the space:
More intimate and 'Sanus Per Aquam' (SPA) - meaning 'health by or through water' feeling for the basement shower room for two, slightly illuminated by a Velux sun tunnel bringing a sombre light from the roof.
More airy and bright for the smaller master en-suite and family bathroom at ground level, both provided with natural light and ventilation.
Contemporary wood frame and aluminum finish windows have been installed in the garden elevation and a generous black metal door with glass panels replacing the small existing door.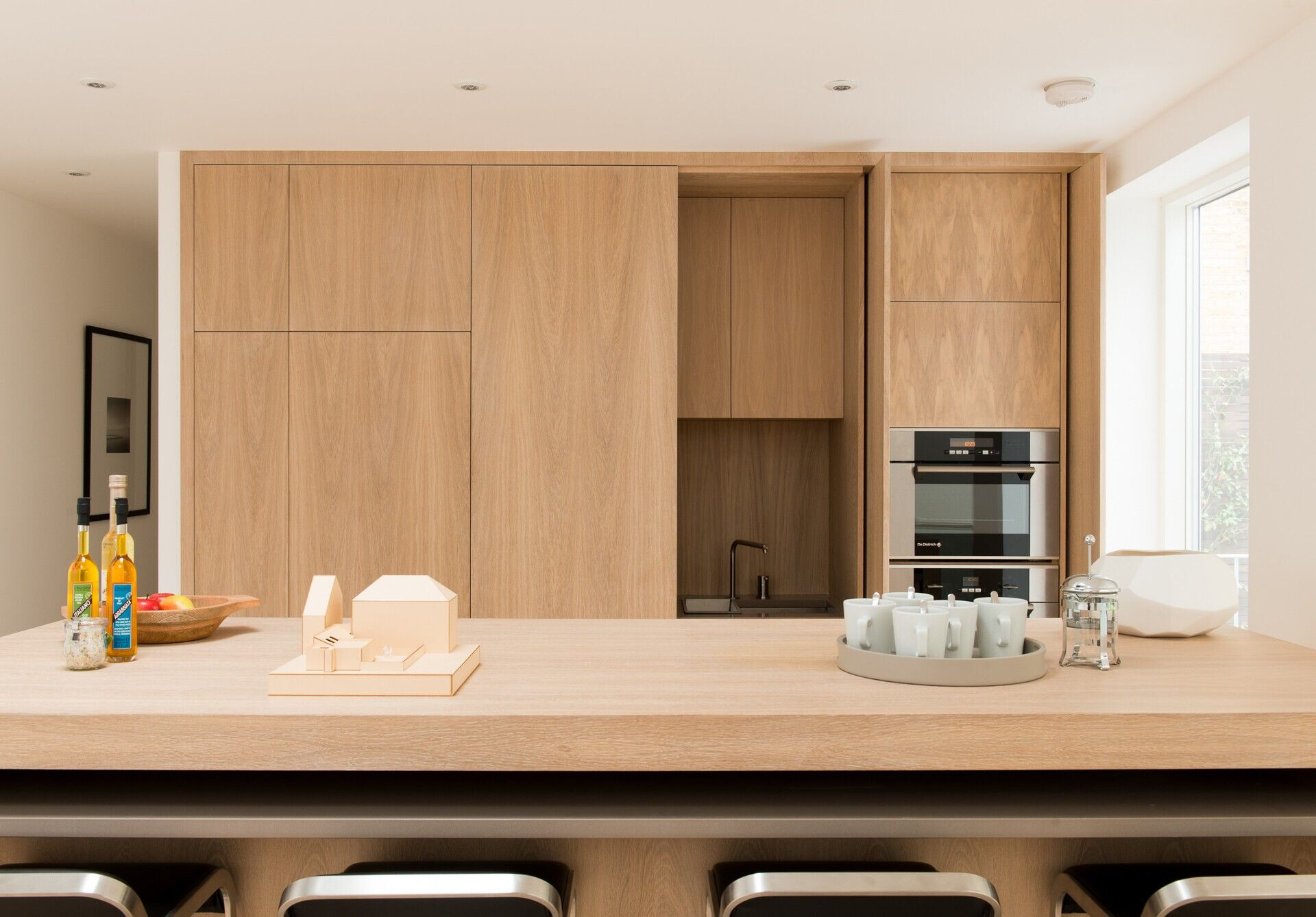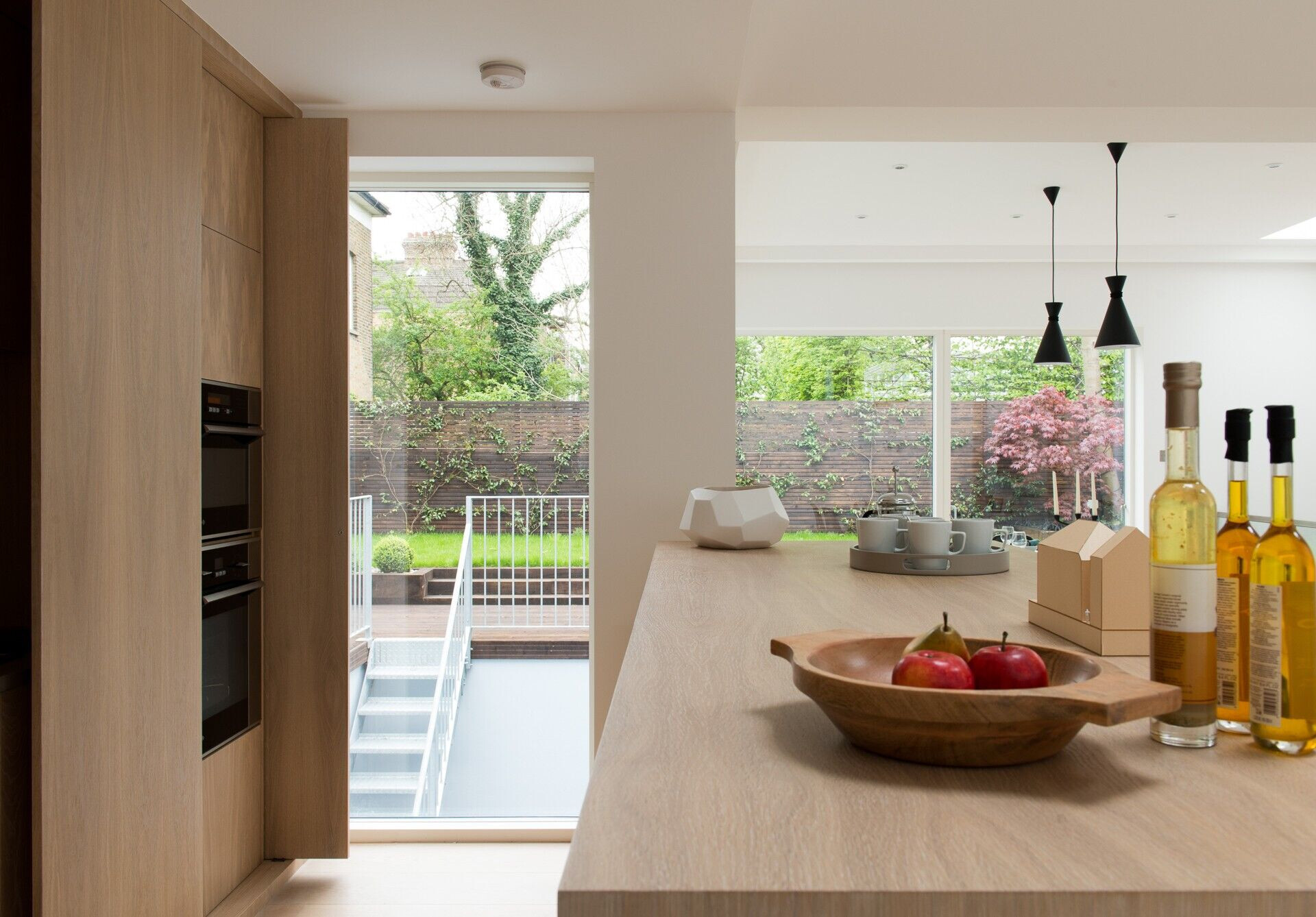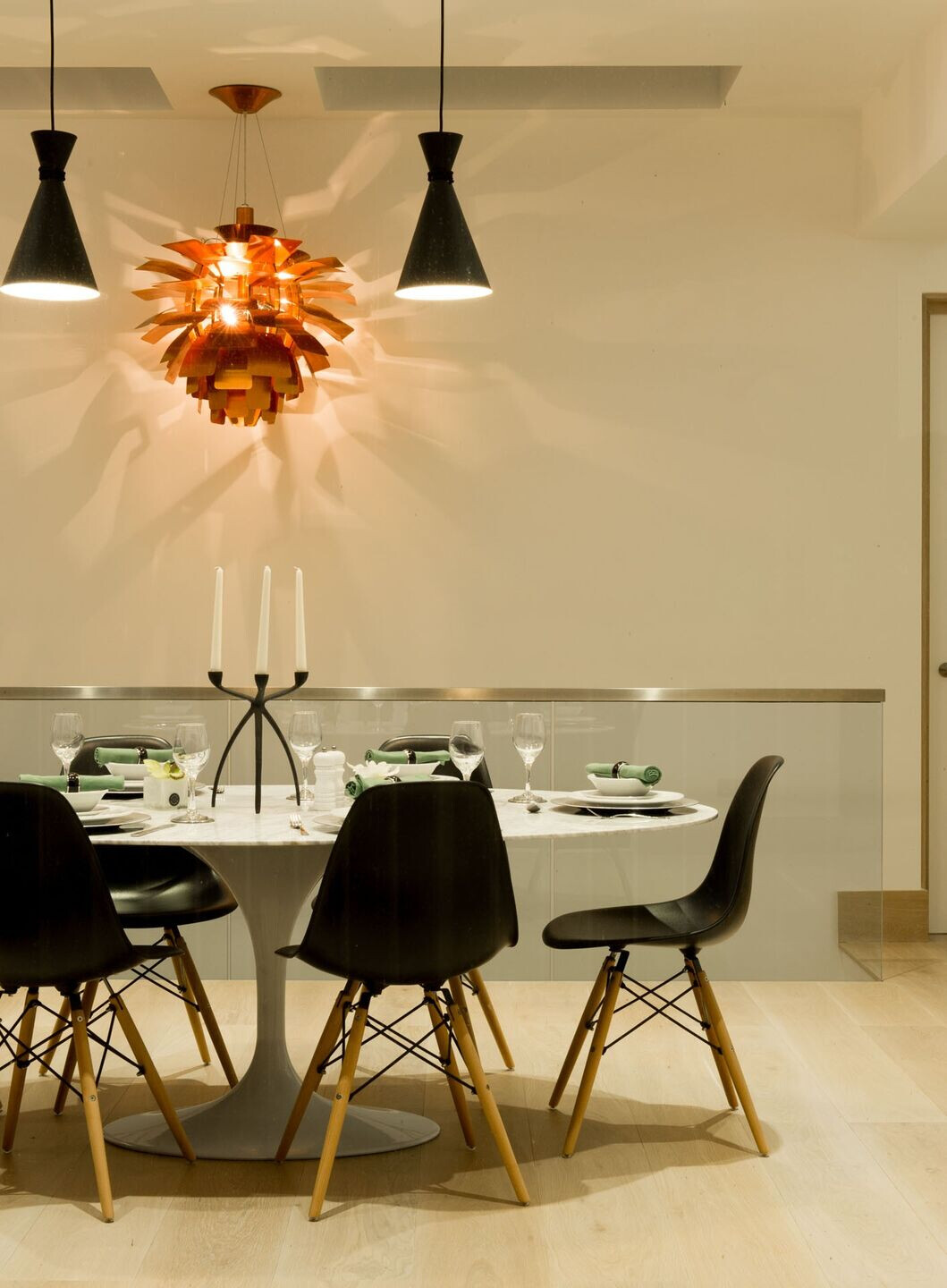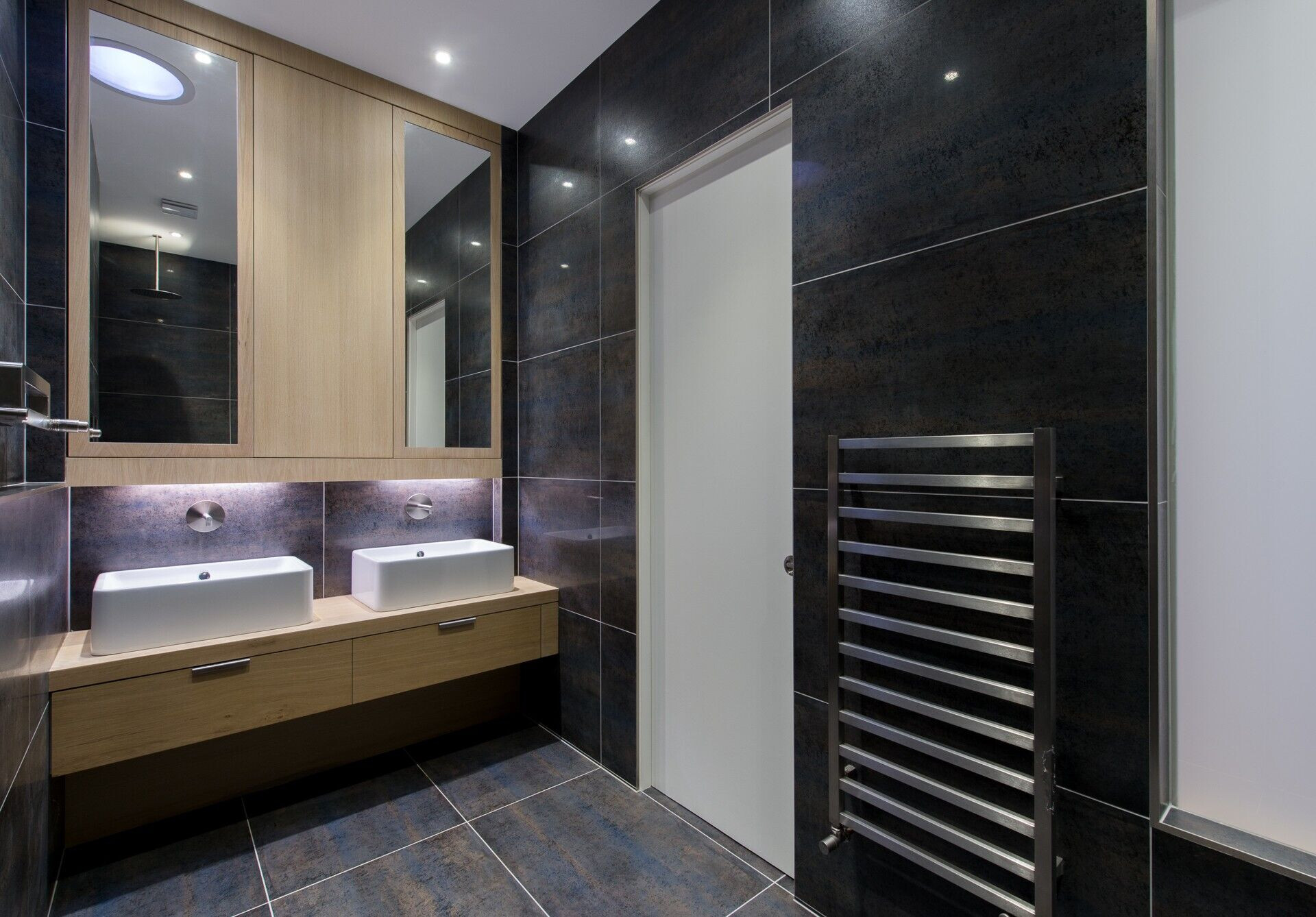 Material Used :
1. Facade cladding: White render, K-renders
2. Flooring: White Oak, Engineered boards, Natural Wood Floor
3. Doors: Internal Doors: Bespoke White solid doors
4. Entrance Door: Anthracite composite and aluminum frame, glass panels doors, Velfac
5. Windows: Alumium frame and internal wood frame, Fixed and Sliding, Top Hung, Velfac 200
6. Roofing: Roof tiles on pitch roof and Fiberglass on Flat roof
7. Interior lighting: White downlights, Astro
Dining Room:
1. Charles & Ray Eames Lounge chair & Stool, 1956
2. Eero Saarinen oval Tulip marble table, 1956
3. Ray & Charles Eames table chairs, 1950
4. Poul Henningsen, Artichoke Pendant lamp Large Copper, 1958
5. Tomoko Azumi & Shin Azumi, LEM 80 Style Bar Stools in Black, 2000
6. Angeli Sowani large twin wall paintings
7. Florence Knoll Sofa 3 seater in Black Half Leather, 1950
8. Charles & Ray Eames EA117 desk chair in Sky Blue Italian Leather, 1958