Previously, the space was a dark and dingy DDA Apartment – an aggregation of tiny segmented rooms, each unsparingly confined within blatant restricting walls – a stark opposite to and far from the clients' romantic pursuit of an original whimsical abode. Before moving in, the clients (a newlywed young couple) wanted to reconfigure this apartment into a space that has a flexible personality to nurture dynamism and tranquillity alike. A home that's chic yet smartly functional; replete with natural light, yet adaptable to varying ambiences. A home that feels as exuberant as it is no frills.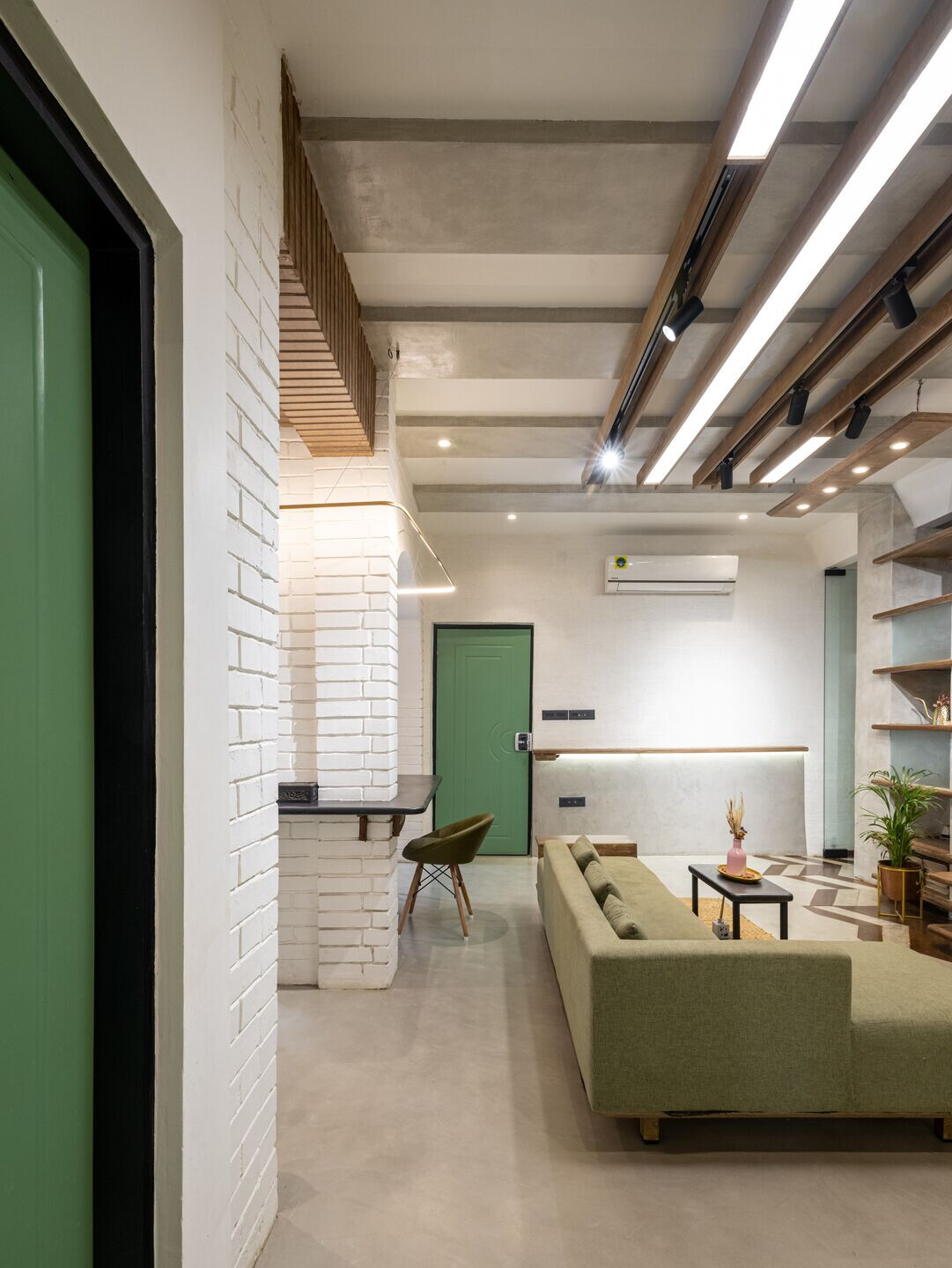 The basic brief dictated the need for a free moving space, with better ventilation and sunlight throughout the home. Being avid hosts, the clients aspired to have a decent space for entertaining like-minded people in their home. The idea was to achieve a clean and minimal aesthetic, with a neutral palette comprising of basic whites, greys and brows with an accent colour. The original cramped 3BHK layout was to be remodelled to have sizeable areas for the Master Bedroom, Guest Bedroom and a Multi-purpose room that could be used as a Study/WFH/Chill Area. Having a shared penchant for sustainable living practices, the clients also fancied a sustainable design approach that strives for minimal wastage and contributes towards energy efficiency. The entire transformation for this apartment was to be achieved in an affordable budget, not exceeding 30 Lacs.
The design challenge was to achieve a holistic spatial experience that is real and pleasurable, despite a small site area, a tight budget and a structurally limiting context within a very old apartment building. This called for a highly opportunistic design approach rooted in problem solving and a thoughtful curation of the base material palette.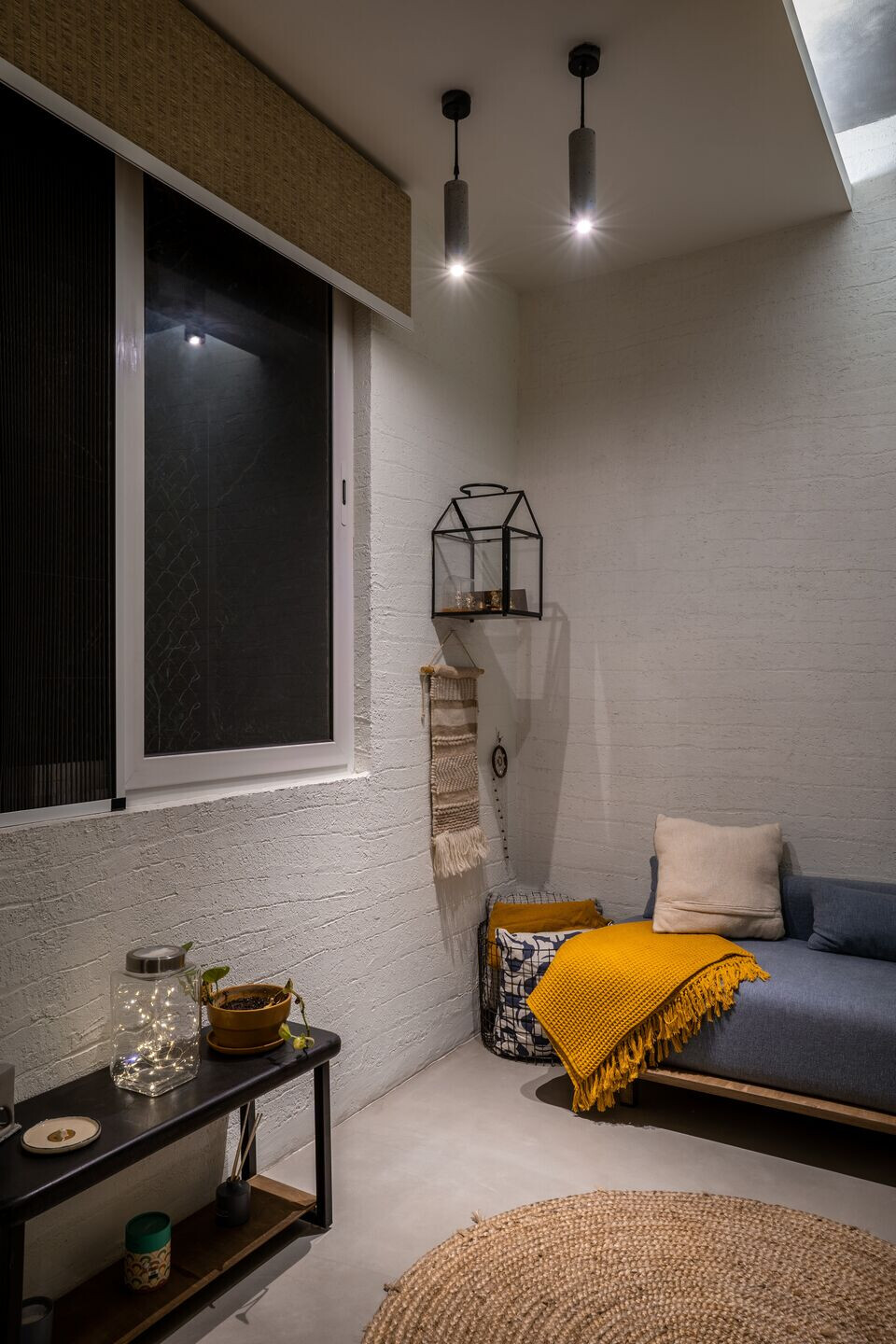 The client brief led to envisioning a home that awakens senses and nurtures the soul with its sun-kissed openness and muted design tone. The intent of the design is thus, to completely transform and reconfigure a constricted 1000 Sqft volume into a free-flowing home with ingeniously demarcated and intuitively fluid spaces bound together in harmony.
Upon entering, one is welcomed in an open and adaptive spatial configuration that breaks through the monotony of restricted zones, to have a composite identity rich in textures, light and geometry. The home derives its essence from an honest expression of the material palette - a concoction of raw materials like wood, concrete, white bricks, black granite, white stucco, metal and fluted glass. An olive-green colour pop in accents and doors adds a zesty flavour to an overall neutral aesthetic.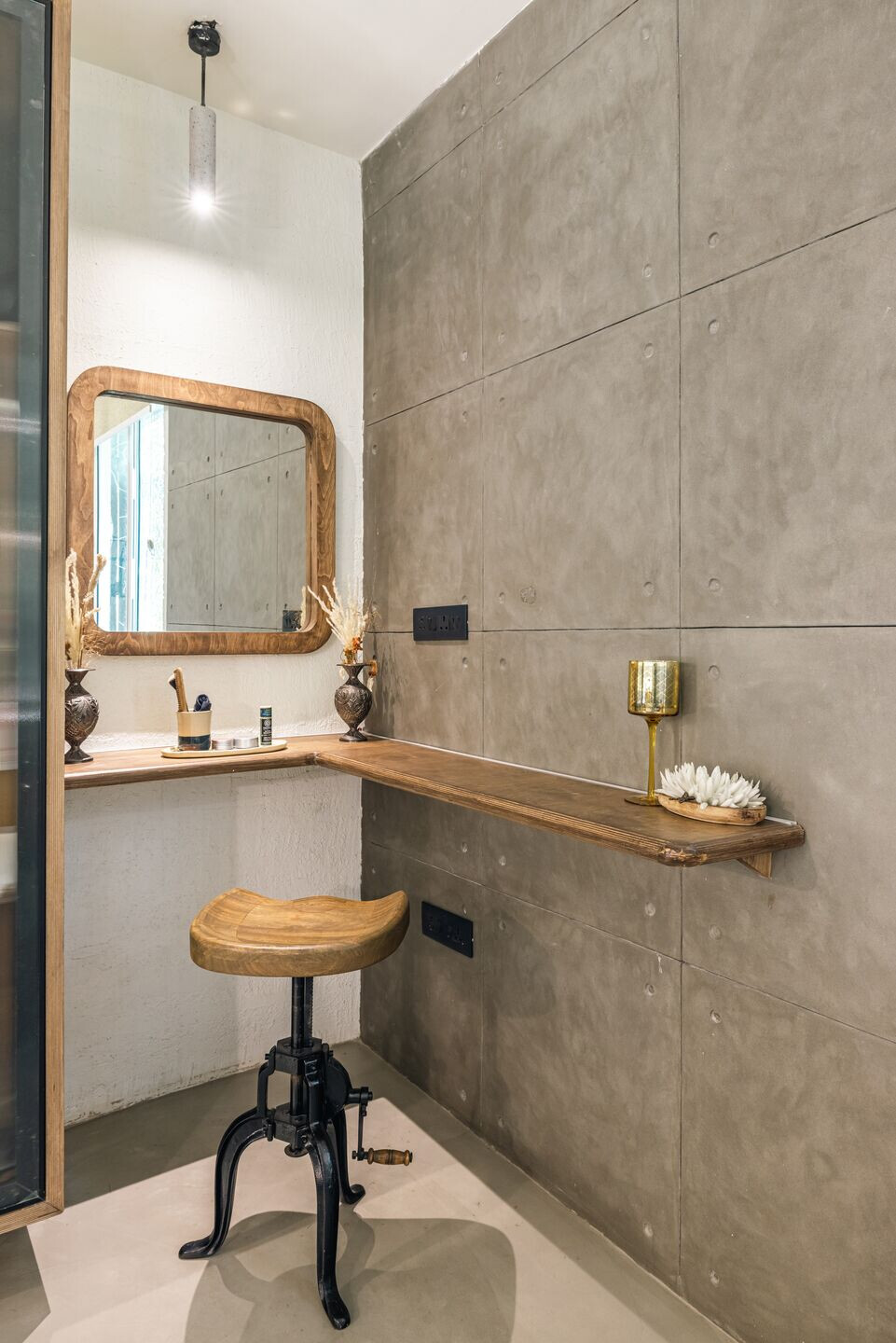 There's a great deal of attention to scale and psychological perception, which when put together with attentive detailing, adds a certain depth to the ambience and creates an immersive visual impact. The different areas within the home have a sequential relationship with one another and are seamlessly cohesive in spirit. Each element in the home- however big or small, has been custom designed in Studio to respect spatial constraints and serve purpose with flexibility. Most material wastage is repurposed into usable accessories or accents.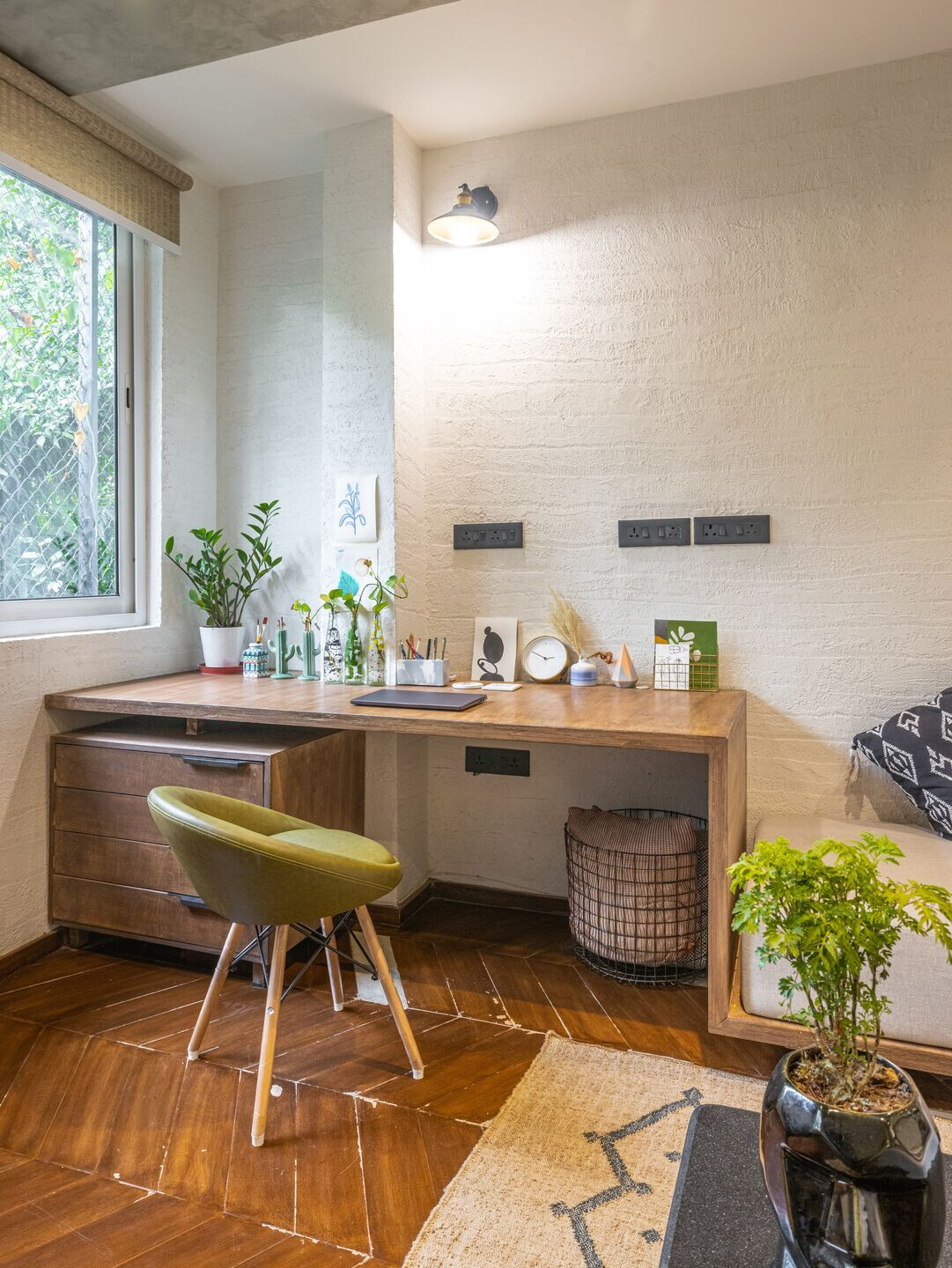 Replete with natural light pouring in from every face, the apartment speaks a carefree unconventional language with subtle boho accents to evoke the users' individuality. While the choice of building materials, smart lights and big windows, up the energy efficiency factor in the home; a semi-peripheral balcony and terrace enable composting. The space contextually assumes and adapts to many different moods, manifesting a character that fosters wholesome solitude and bustling hospitality alike.
The home endoskeleton was reimagined to create an open plan layout via precarious structural modifications (approved by SDMC), removal of internal walls and incorporation of large windows along the periphery. Sitting at the heart of the home, the central circulation area, meet & greet space, and point of reception for any visitors was originally a dark room devoid of natural light. The open plan design enables natural illumination by making use of windows in the East (Study) and West (Kitchen). Similarly, the Kitchen and Dining Area is designed to be part obstructed for kitchen chores, and part flowing into the living room, as its very extension, thereby maximising the effective area that can be fluidly used for social gatherings.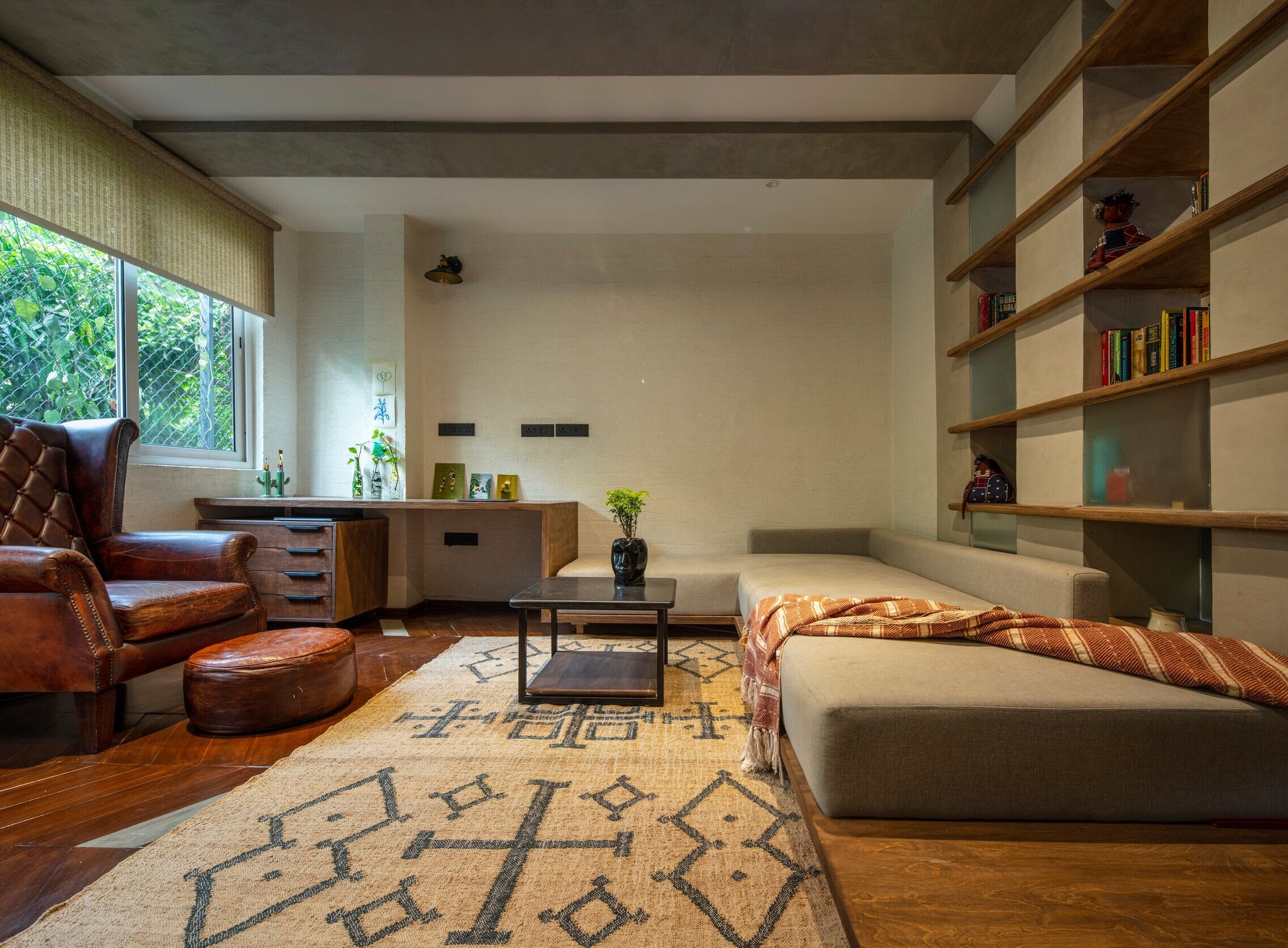 This has been facilitated by structural arches, which subtly yet vividly mark the boundaries between these different spaces. Much of the original basic framework of the home including its walls, floors, ceiling etc has been manipulated to enhance spatial volume, and then used as an expressive means in design to define character.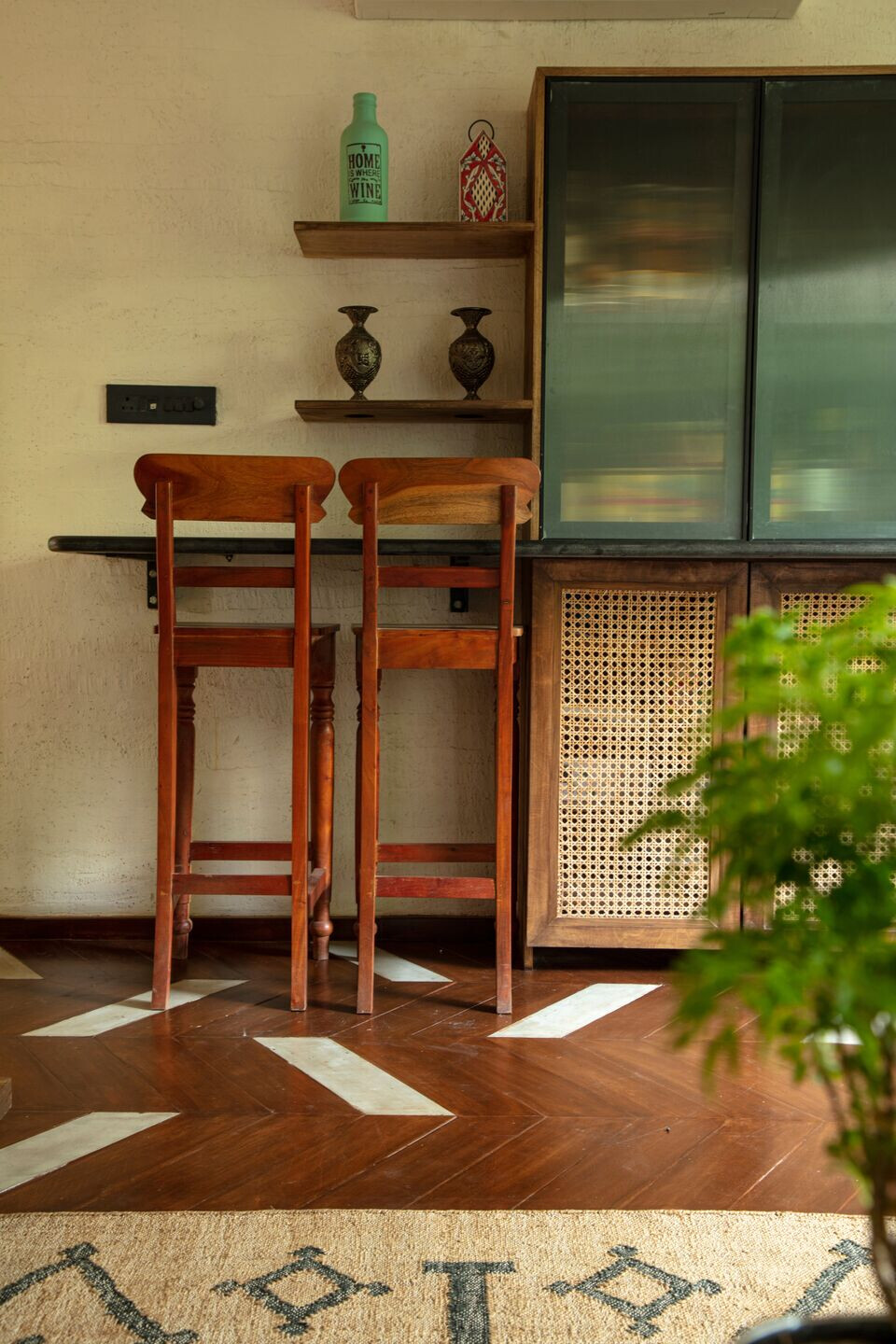 Every piece of furniture has been conceived for maximum utility and a clean aesthetic. For ex: the sofas have integrated storage. The partition wall separating The Living Room from The Study is transitional but multifaceted– apart from offering privacy between the two spaces through fluted glass blocks, it provides shared access to open utility and display blocks for both spaces; while also serving as a secondary natural light inlet for the living room devoid of windows. The Study is majorly characterised by a single monolithic furniture mass i.e. a day bed, that extends upwards to form a work-desk in the corner. The master bedroom has been radically conceived as a "Room inside a room" to maximise the perceived room size by zonal segregation of different functions within the room.
Team:
Architects: Logic Architecture + Research
Principal Architect: Anuj Kapoor
Photographers: Niveditaa Gupta, Vibhor Yadav