This site is in Tomakomai in Hokkaido. The northern country in which the site is in contact is a road with a large number of interactions. Tomakomai, which became an industrial park representing Hokkaido, has many workers, and the population is 4 cities in 170,000 Hokkaido. Tomakomai City is cool in summer, regardless of the Pacific climate and the sea climate. Winter snowfall is smaller than Sapporo City, but the average temperature of January is very low from -8.3 ° C. This architecture is a couple's residence. The work of the client was an irregular life, so they wanted a quiet life. In addition, since it does not require a curtain, it is difficult to recognize the storage capacity, front door, high privacy space, roofed terrace, kitchen as room, and open position from two parking lots. They were the wish of the client.
So I place the living room at the center of the first floor, and so as to surround this space, placing the food store, kitchen and laundry storage room, and the east side is the entrance to the south side Placed. Furthermore, on the west side, a tunnel-like winding chamber (also served as a touch such as a terrace) tilted 45 degrees from the road was placed. And the second floor. I placed the main bedroom at the center. A toilet washroom and cloak was placed on the north side so as to surround the main bed chamber. Cloak was placed on the west side.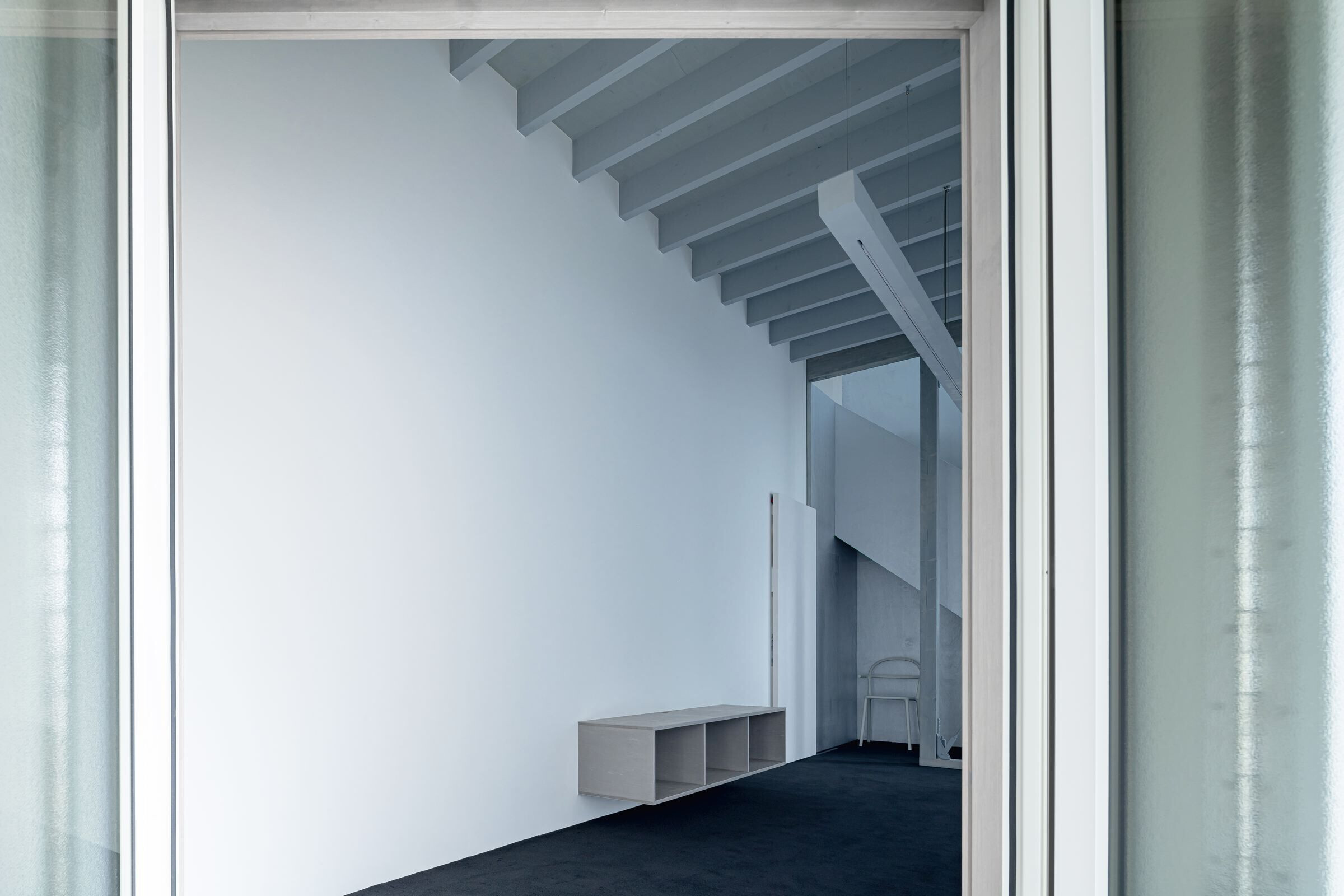 The window is minimal and adjusted at low cost because it is a cold region.
The "low-e-pair glass" is highly insufficient and highly heated by triple skins made by sandwiching with "twin polycarbonate". Furthermore, soft diffuse light is guided to the room while those windows secure client privacy. When the glass door connected to the winding chamber (terrace) is opened, the inside and the outside are connected in the inside while keeping the sense of distance from the city. It is not limited to Japan, and there are various contexts in the world. So, "Open", "Close", "Light" and "Shadow" change variously, resulting in diversity, such as organisms and plants, and become diverse, and they become architecture.
Material Used:
1. Tunnel/entrance/kitchen floor: Concrete
2. Stairs, living room, hall floor: Black carpet, Lilycolor
3. Walk-in closet: Vinyl floor tile, toil
4. Living wall: Twin polycarbonate
5. Wall: wall paper, Rawan board silver painting
6. Doors: LIXIL
7. Windows: YKKAP
8. Roofing: Sheet waterproof