Vescom develops, produces and distributes high-quality interior products for the international contract market: wallcovering, upholstery and curtain fabrics. Vescom stands for high quality. when it comes to technology, styling and service. Distinctive designs and sustainable materials form the basis of our collections. Products produced by Vescom are used on the contract market. Mainly in the hospitality, healthcare, office and education market segments. There is a growing need for beautiful, rich and attractive interior products within these markets where the functionality of the products is of vital importance. Vescom's products fit in perfectly with this realisation. Technically, the wallcovering, upholstery and curtain fabric collections meet the high-quality requirements that are set by the contract market. This concerns, for example, fire retardancy, applicability, lightfastness and wear-resistance. Vescom offers collections within which sustainable choices can be made. However, corporate social responsibility goes further for Vescom than simply realising high-quality and sustainable products. Vescom produces whilst burdening the environment as little as possible. We choose to separate and control the disposal of residual materials whilst fully aware of our actions. This ensures we have a sustainable production process in place. Vescom is ISO 14001 and ISO 9001 certified. In addition to the head office in Deurne (the Netherlands), Vescom has a widely branching network of Vescom sales offices. In Europe but also in the Middle East, Latin America and the United State of America. Vescom works with distributors around the world. We remain informed about international developments in the different markets in this way. We can also continuously improve our service and knowledge level. Vescom (1971) is a part of the Vescom Group. This combination of worldwide operating companies specialises in the development, production and distribution of high-quality interior products. The Vescom group companies are established in Europe and North America.
Vescom B.V. Product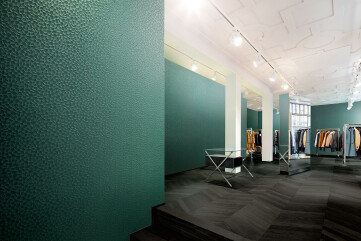 Aikin
Vescom B.V.
Aikin is a distinct organic design with a large 3D effect. Refined as cut facets, Aikin is playful and unique. The design shows variation in colour in...
Other Inner Walls and Ceilings Products
Member Promotion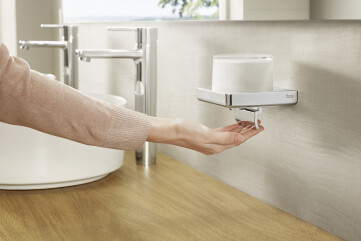 Classics Kho Liang Ie
Mosa
Design classic Mosa has revived a design classic from the Sixties: the 'Classics Kho Liang Ie Collection®'. Gloss white tiles with a relief of circl...
Our Products are Used in Projects by
Projects with Products from Vescom B.V.
Inspiration in Inner Walls and Ceilings
Member Promotion


Furkan Uyan
Christopher Payne

María Mira

María Mira

María Mira

Federico Villa Studio
Federico Villa Studio
HQ
Vescom B.V. Deurne
Sint Jozefstraat 20, Deurne, Netherlands
Vescom B.V.
85, Rue de Paris, 95221 HERBLAY CEDEX, France
Vescom B.V.
Camps i Fabrés, 3, 1.15, BARCELONA, Spain
Inner Walls and Ceilings Brands
Is this your brand and would you like to remove content from other manufacturers on your brand page?
Contact Archello