At the foot of Mount Tai, the small village of Dongximen has been quietly declining as villagers have left over the last years. In an attempt to activate the village as a high-end resort, the LuShangGroup has introduced a new resort hotel. Called the Cloud of Hometown Resort, the resort design by gad line + studio captures the textures and spatial patterns of the original village in a contemporary way. While respecting the original site, as little design imposition as possible is made to naturally reveal the site.
Beginning in the southwest corner of the site, there were four run-down utility rooms. Enhancing the relationship between them and the connection of life to the natural mountain environment, the rooms were renovated and a sunlight atrium with a glass roof added. Also serving as an outdoor activity space the atrium preserves the texture of the original built fabric while adding a modern material contrast against the existing handmade rubble.
At the centre of the site, an original pothole has been renovated into a sunken courtyard with a soft inserted for visitors to enjoy from within the glass.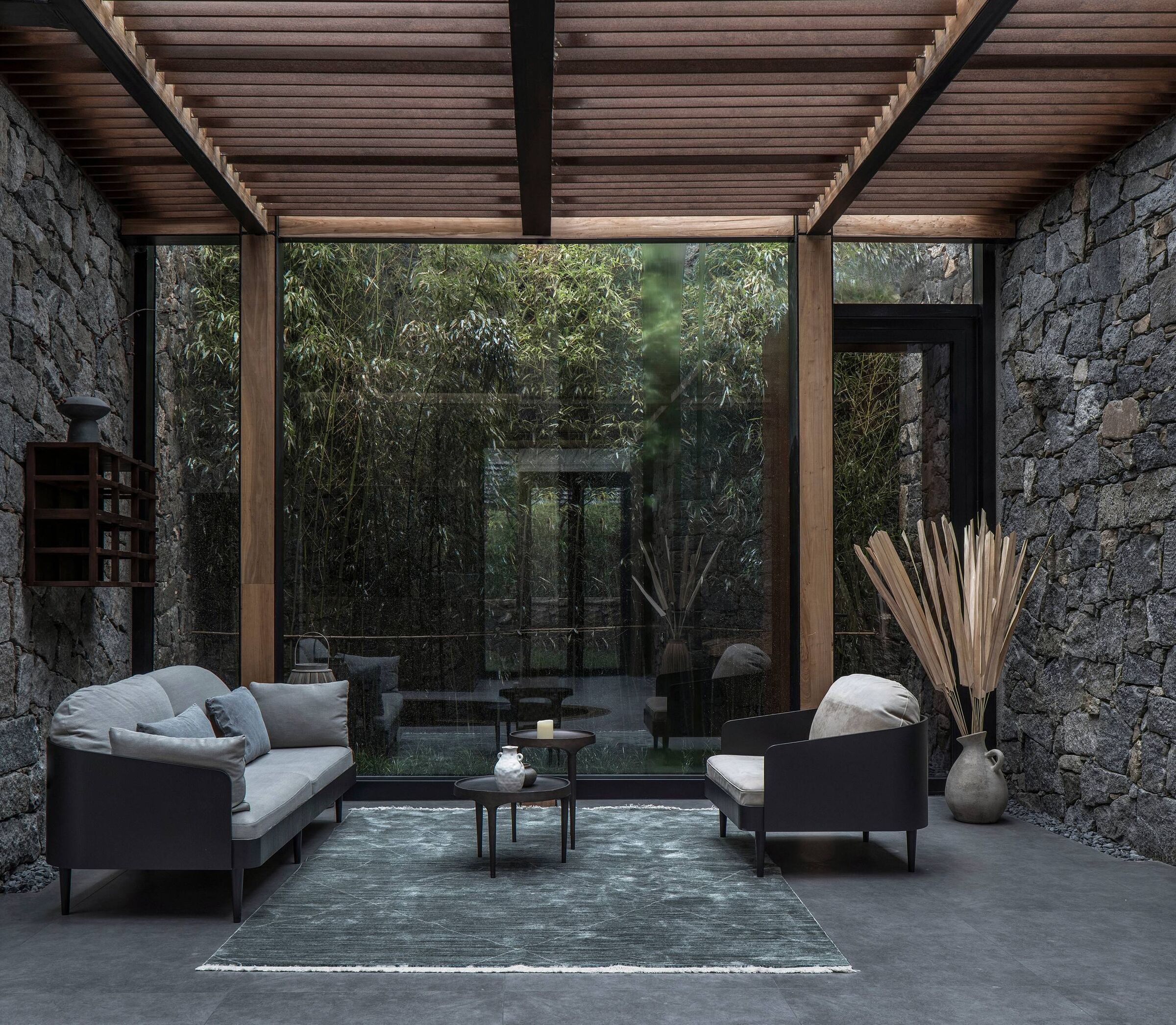 The residential courtyards of the village are mostly located on steep hillsides and are mainly L-shaped. All guests rooms are oriented around existing courtyards, retaining the village's spatial relationships, while strengthening the connection to landscape and centricity of the inner courtyard.
The rubble façade and steel structure system make it possible for panoramic views, rendering the line between inside and outside ambiguous. Solid walls on both sides emphasize the fully opening nature of views to the mountain, with beds set in this direction so that visitors awake in nature.
Inside the units, minibar, wardrobe, TV cabinet and hallway cabinets are effectively combined to separate the hallway, living space and bedroom space. Each area is both independent and interrelated. Metal mesh set at the back of the bed separates the space but does not block views.
Inspired by the way the rubble merges with the landscape, walnut wood is interspersed as a natural yet contrasting material that brings in a feeling of warmth and comfort against the stone and concrete, which are quiet and cool.
Inside the units, the dark grey cabinets, black countertops and grey concrete walls form a simple yet elegant palette while sofas, armchairs, dining table and other objects echo the exterior use of walnut wood.