Located in the Jardim Paulista neighborhood in São Paulo. The original apartment from the 70's was placed in the hands of Tria Arquitetura, for a major renovation.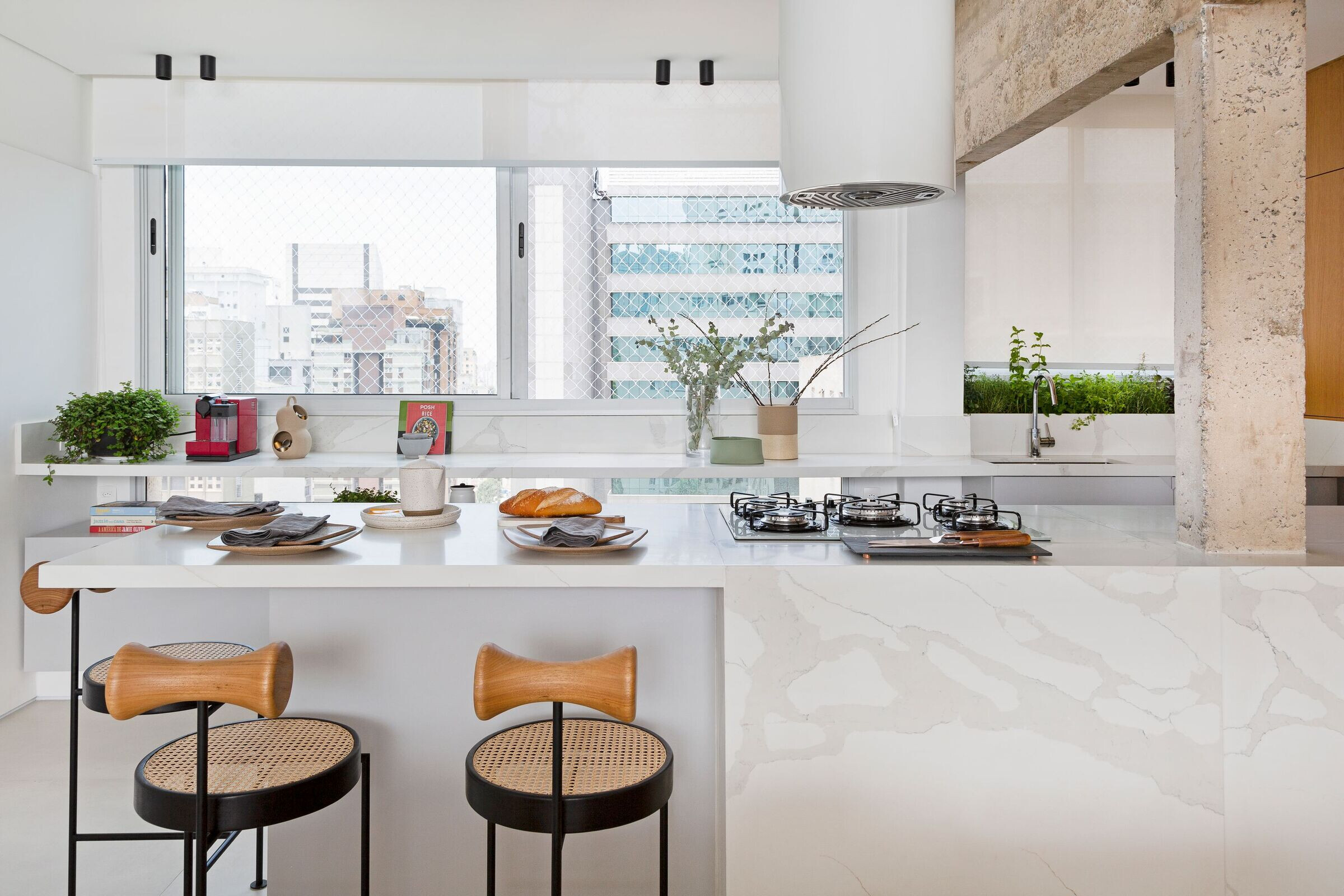 The basis of the briefing was a family composed of a couple and an only daughter, who also needed a guest room to receive the family, from the south of the country. In addition, the apartment presented a great contradiction, since despite having large windows, the finishes as a whole were very dark with well segregated rooms and part of services too large compared to the size of the rest of the property.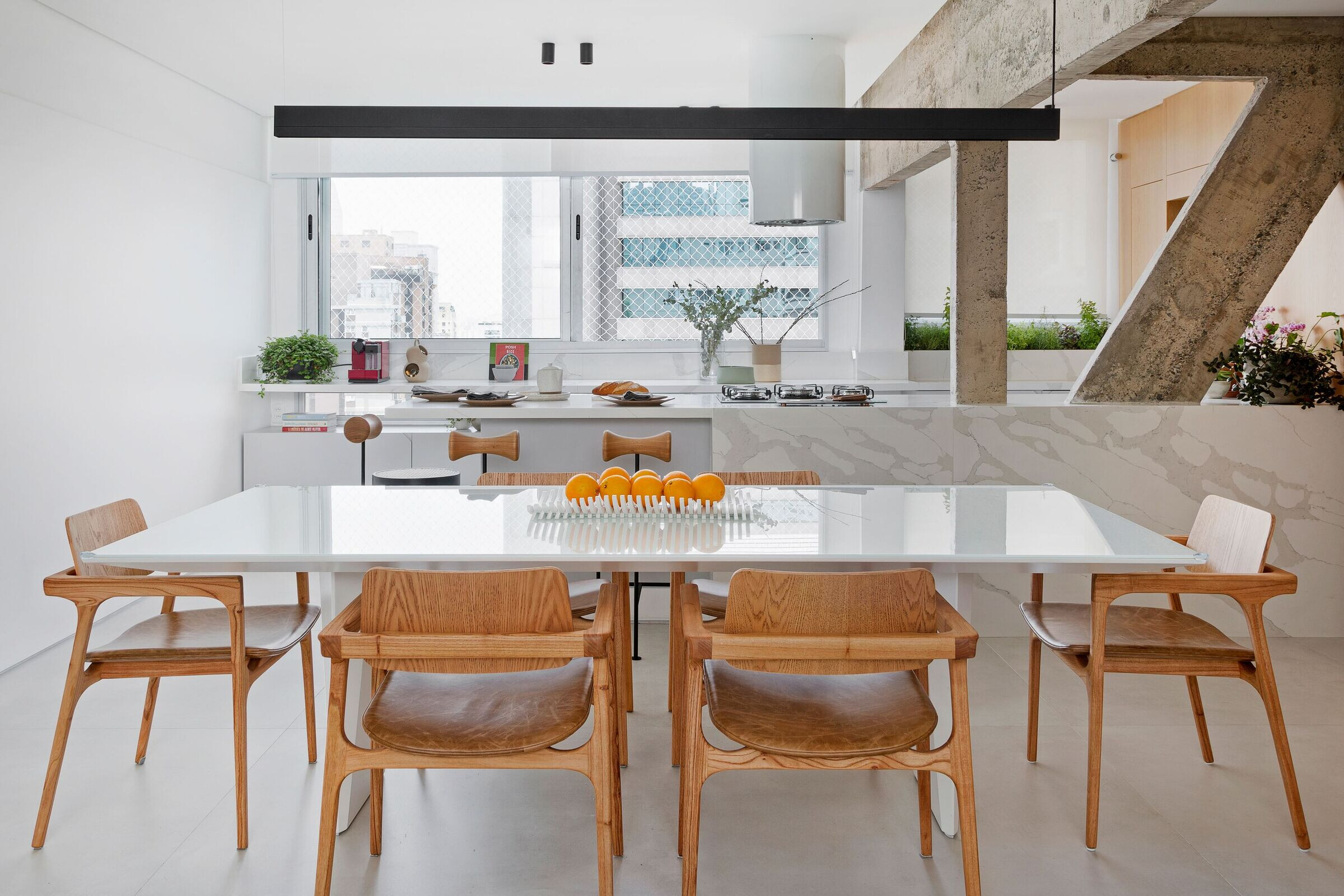 The social and support area of ​​the apartment was completely changed, taking advantage of the customers' desire to integrate the kitchen with the living room, the idea was to change the location of the kitchen as a whole, taking it to the end of the apartment, removing the deposit area, moving the service area, and transforming the service bathroom into a toilet.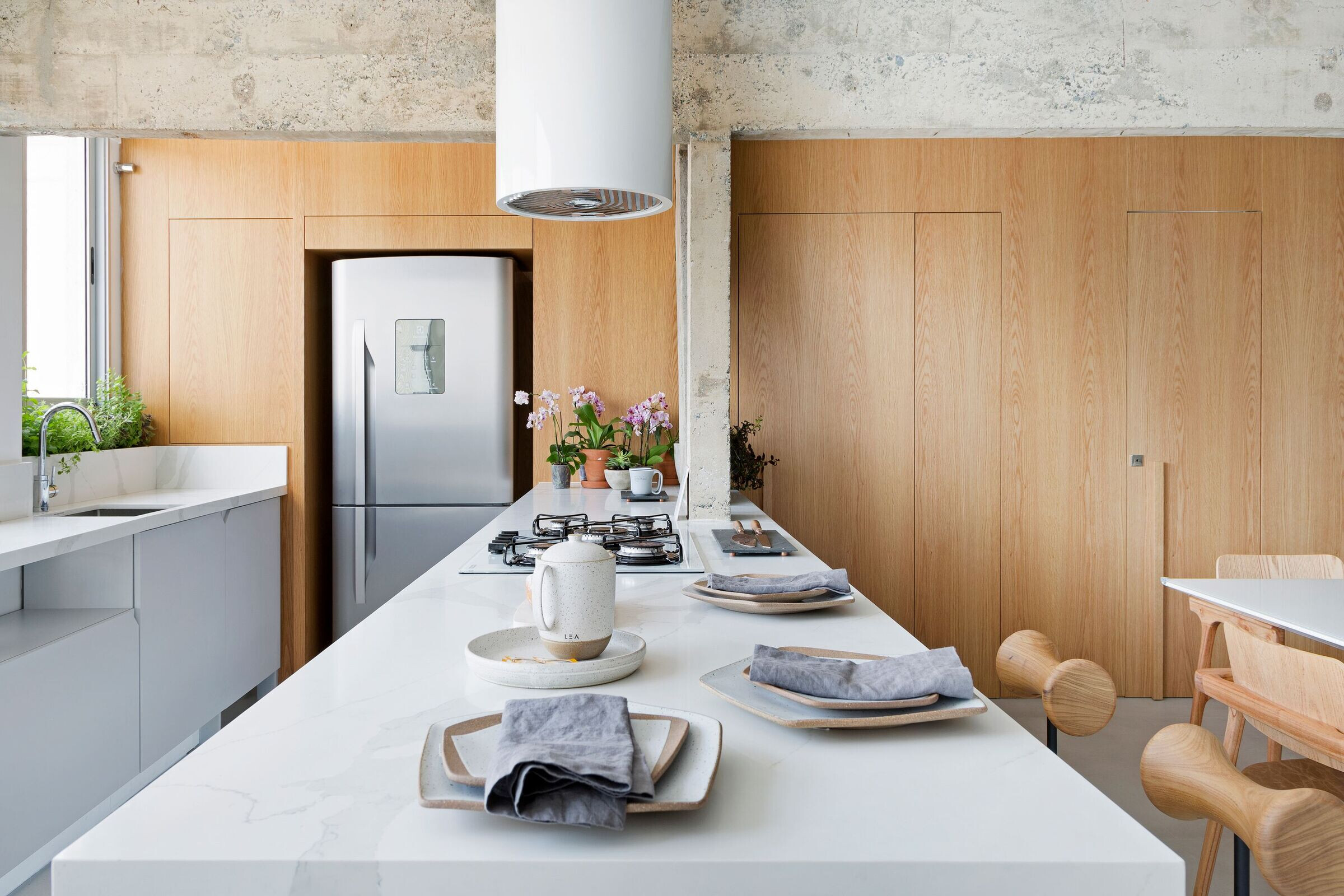 The intimate area, on the other hand, had a very extensive circulation for access to the bedrooms, which made it possible to add this area to the master bedroom, gaining a closet area for the couple.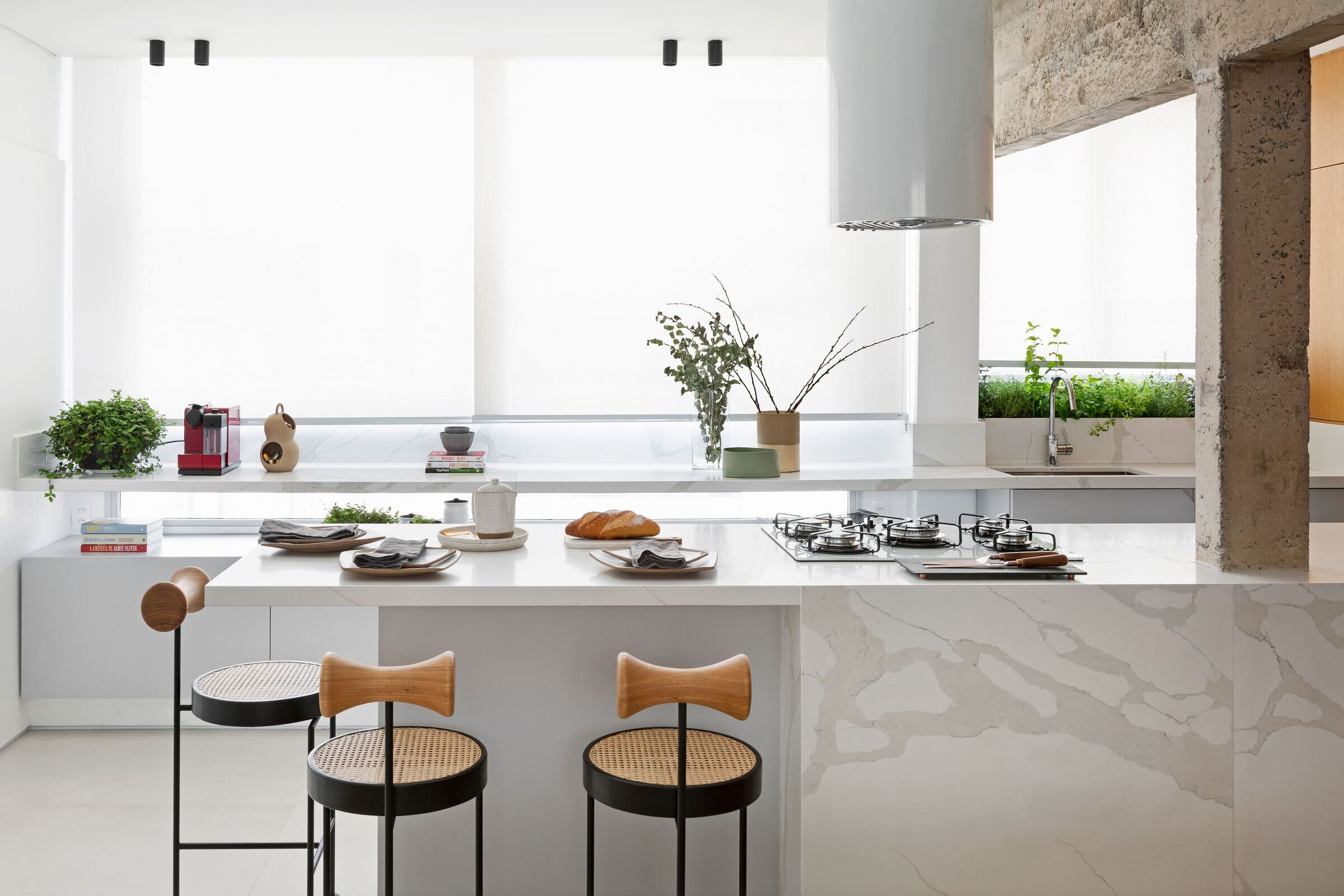 As this apartment is old, not all the pillars were represented in the plans, so we ended up discovering a V-bracing pillar during the work, which was not present in the other units of the building. This discovery ended up causing some changes to the project, including the layout, where we chose to leave the pillar visible, contrasting the old with the new. The large beam that runs across the apartment demarcated the location of the metal shelf, either hollow or closed, welcoming those who enter the apartment while reserving the room from the entrance door.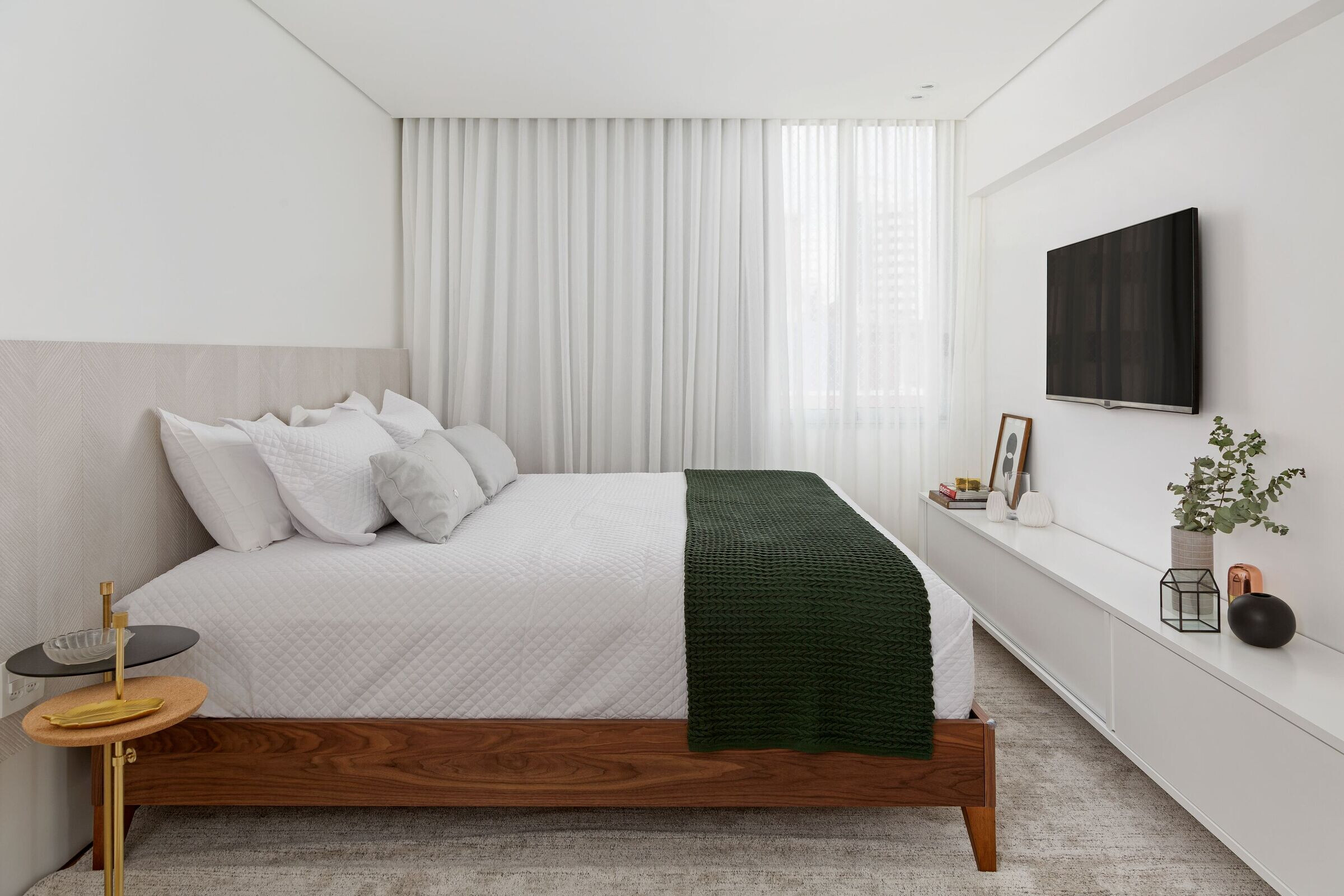 Creating amplitude and bringing more light to the apartment with only a single face of the social area with window openings together with the relatively low ceiling were the great challenges of this project. The rusticity of the exposed concrete and the choice of the light gray porcelain floor counterbalance the American oak woodworking panel that hides part of the woodwork in the kitchen and the doors to the toilet and service area.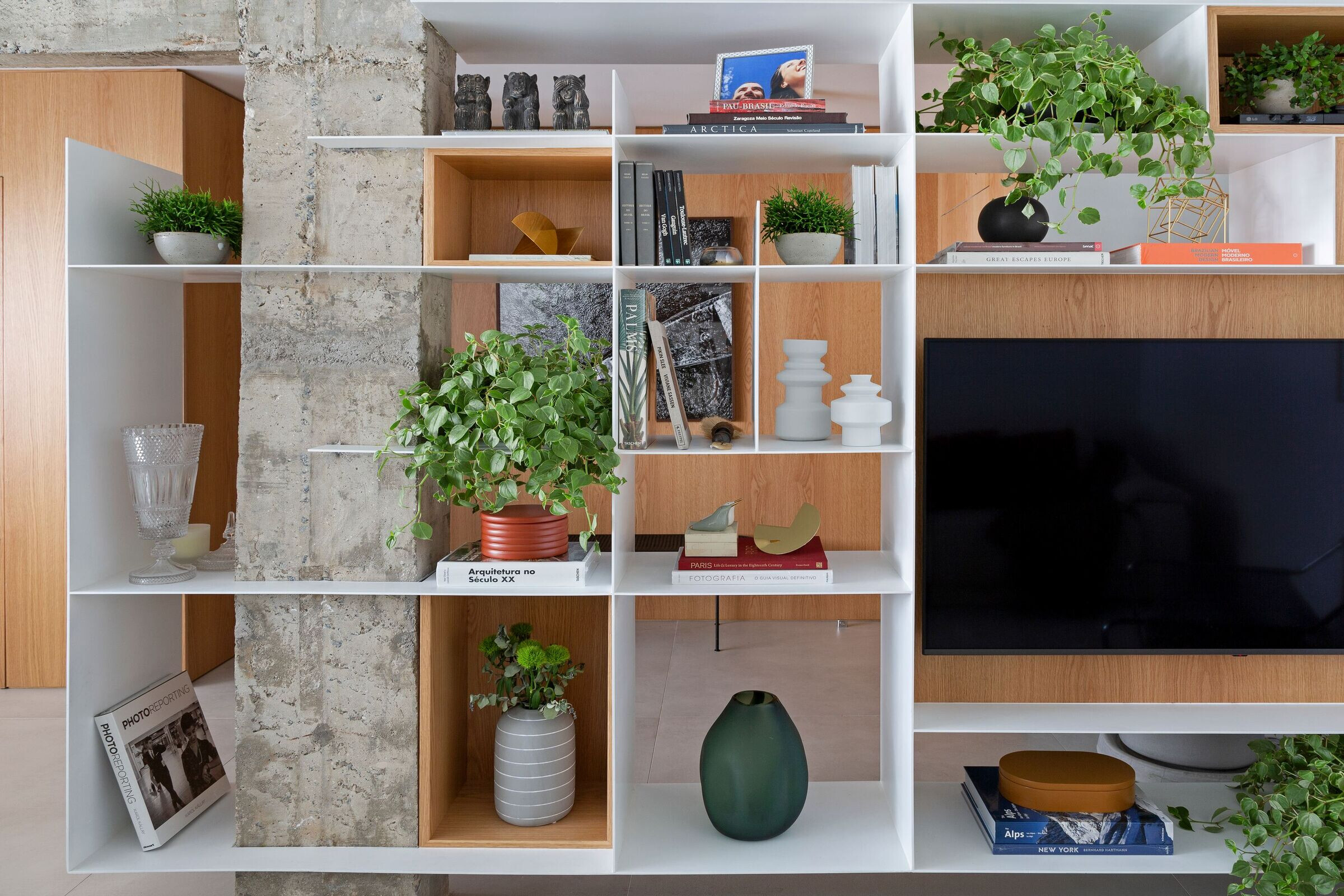 In the toilet, a former service bathroom, a floor faucet and a suspended basin were used, designed in the same quartz present in the kitchen. On the only white wall in the living room, a drywall panel was created loose from the ceiling that houses an indirect lighting bringing even more comfort to it.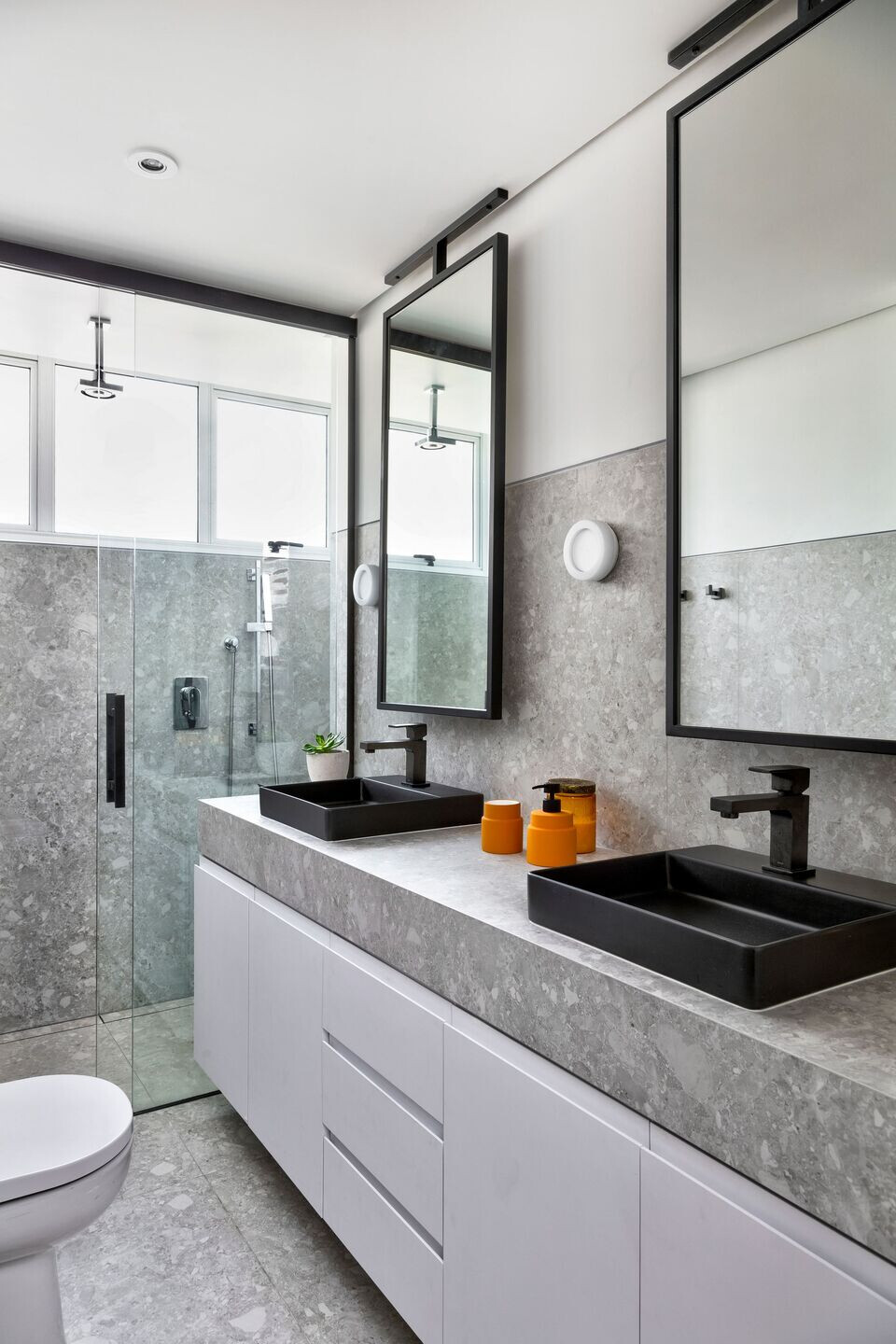 The headboard of the couple's suite was made of textured porcelain, playing a game with the "zig-zag" present in the piece. In the bathrooms, the same coatings were used on the floor, walls and countertops, up to the height of the windowsill and the rest of the white paint. The result is a bright, comfortable and very functional apartment for the family.
Team:
Marina Cardoso de Almeida
Sarah Bonanno
Bárbara Castro
Talita Colin
Virgínia Caldas
Material Used:
1. Flooring: Porcelain tile SuperQuadra, Portobelloshop
Wood flooring Tauari Extra, Pau Pau
2. Doors: American Oak Panel, Inovart
3. Windows: Zeloart
4. Interior furniture: Chair Paulistano, Futton Company
Dining room chairs Copa, Fernando Jaeger Atelier
Dining room table Nick, Lider Interiores
Banches Toras, , Fernando Jaeger Atelier
Stool Iaia – Gustavo Bittencourt Atelier