Essence of this project can be described as a mixture of strict conciseness, spaciousness and air.
This apartment is designed for renting. Being not imbued with anyone's spirit, without any clear associations and obsessive attributes it will perfectly fit to give rest to body and soul and to produce bright thoughts.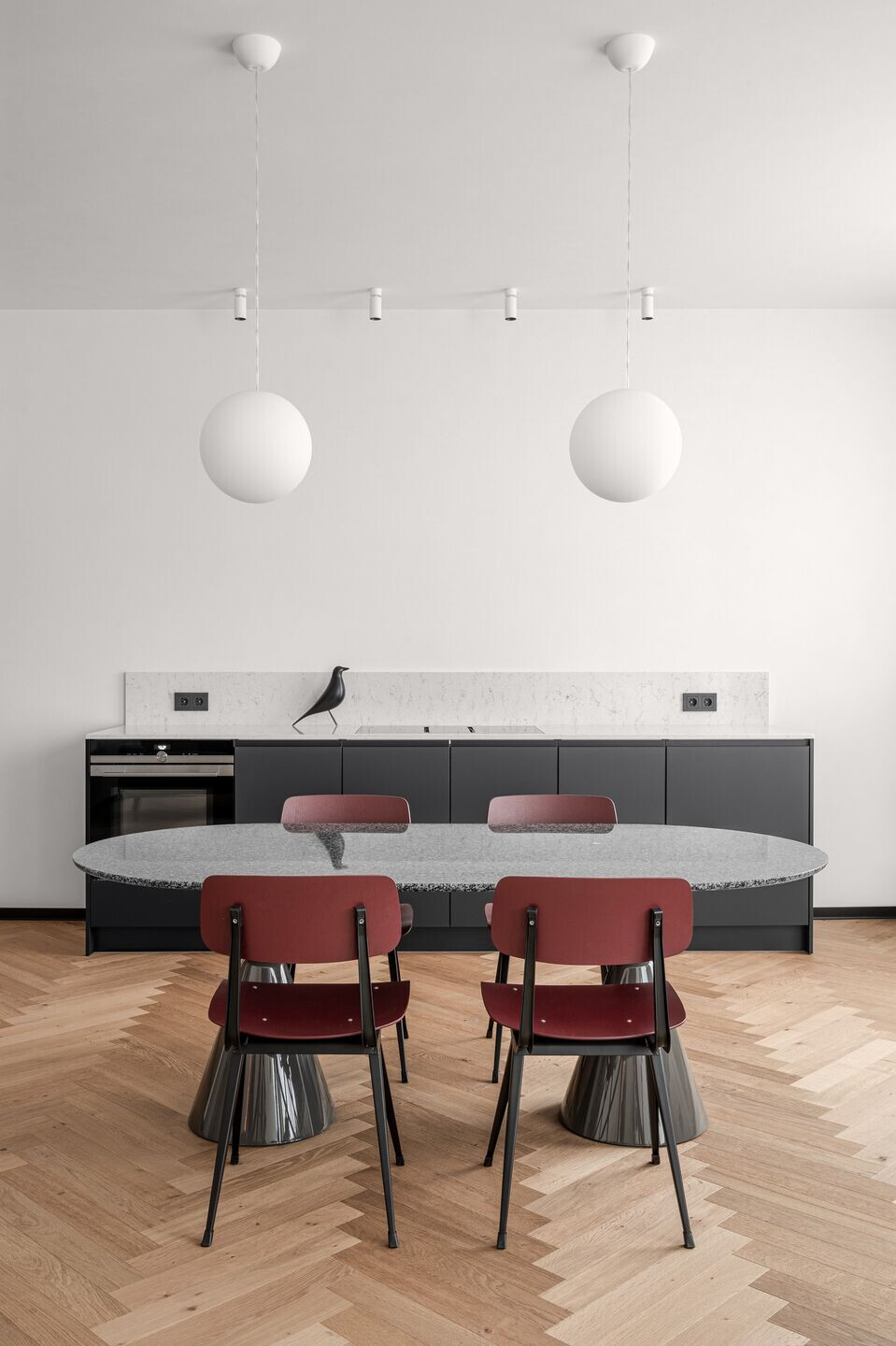 A spacious kitchen-living room, bedroom, wardrobe, main bathroom, guest toilet and an entrance hall are settled down at 74 meters.
The apartment is aimed for one or two persons comfortable living, and at the same time it suits for holding a party in a circle of friends. For this purpose the living room zone faces not the TVset but dining table and kitchen. The last one itself is designed to be atypical kitchen outlook, where even the sink is hidden in the cupboard with the system of pocket-doors.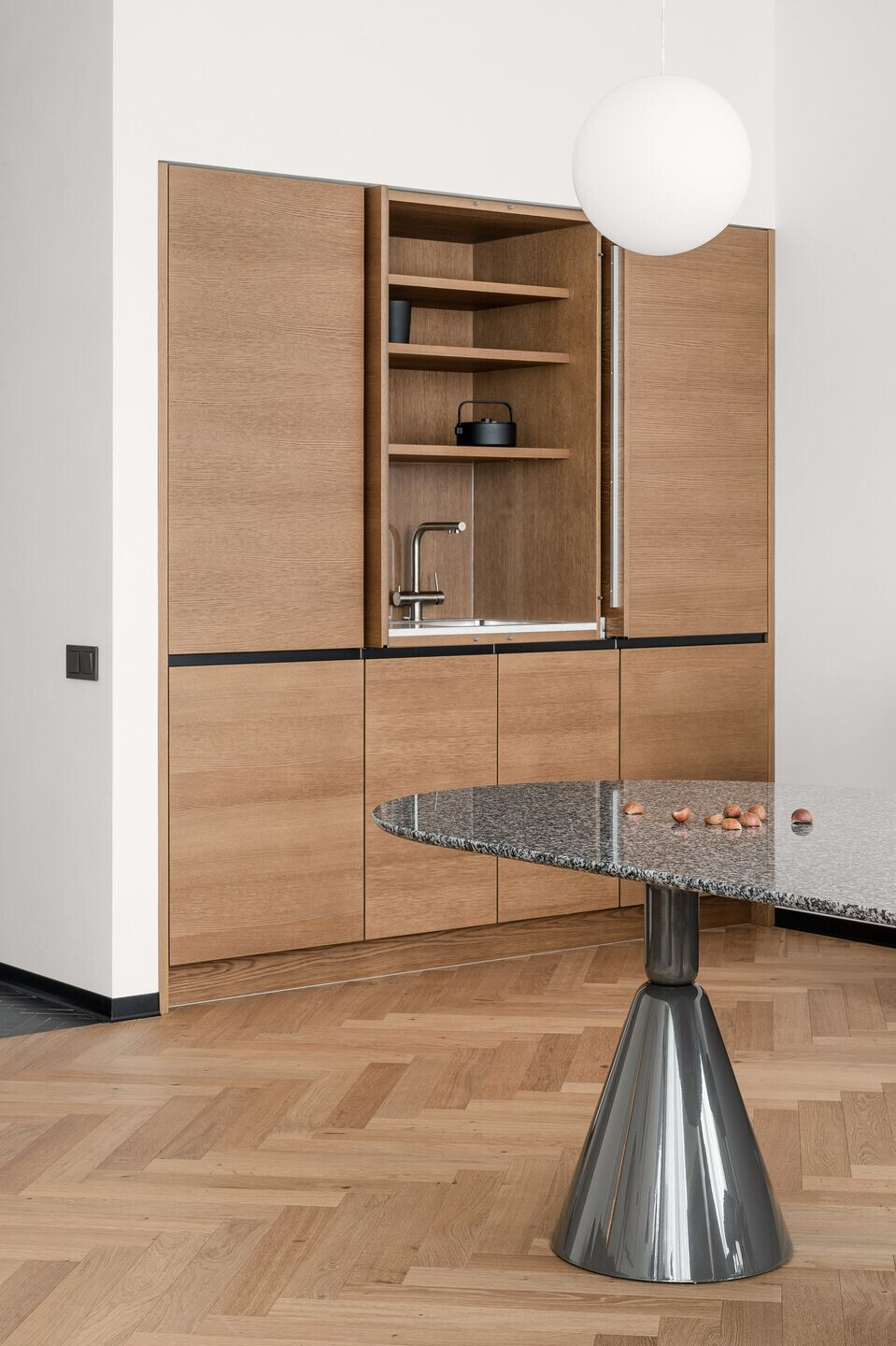 One move and the sink vanishes. No kitchen cabinets are hanging on the walls. The extractor hood is built into the hob and does a great job even with cooking steaks. A real decoration of this house is a huge dining table with a granite countertop that embodies the center of the composition.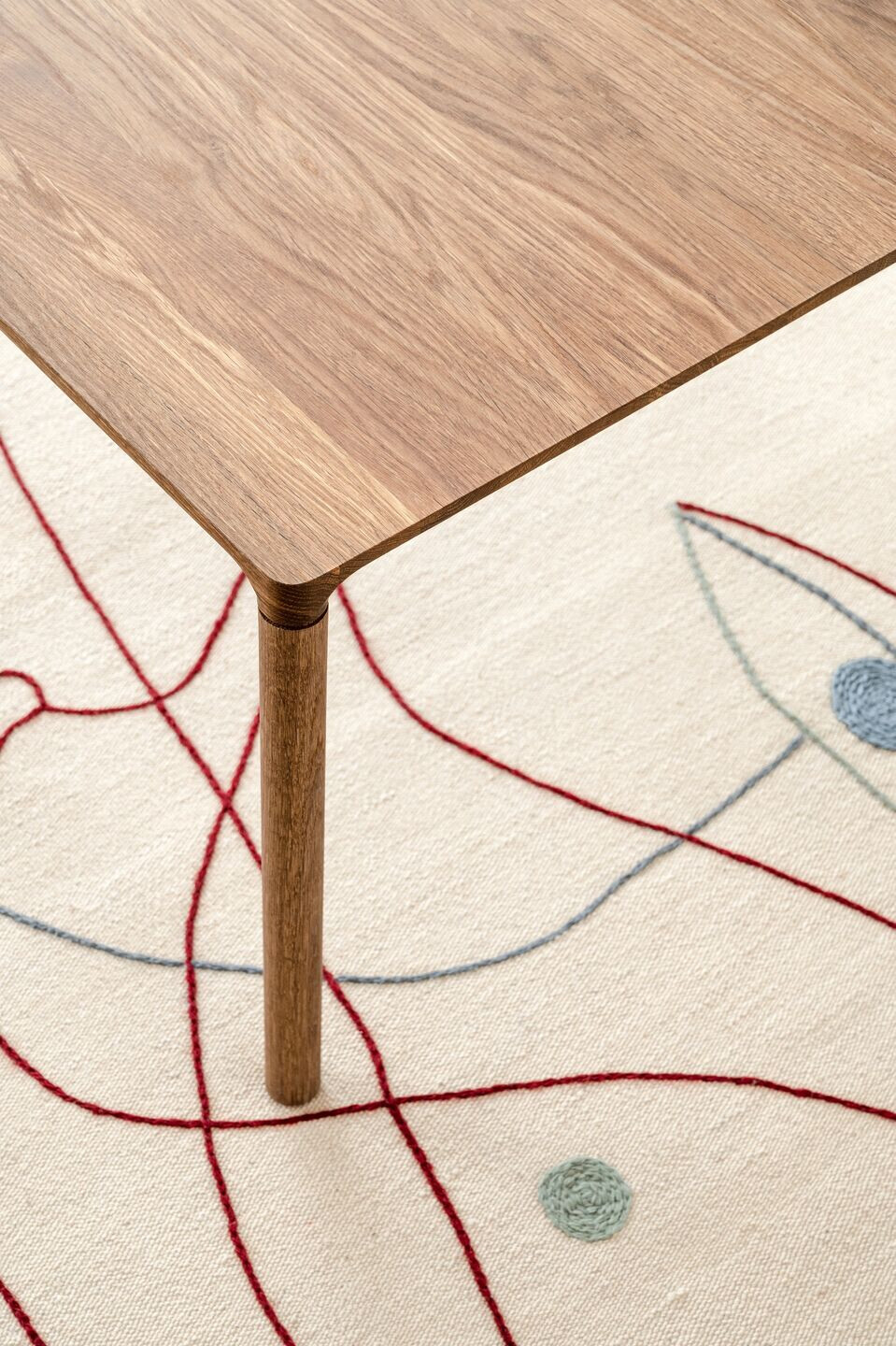 A minimum amount of materials are used in decoration to make the space look even more holistic and voluminous. Charcoal-black herringbone tiles flow from the entrance hall into the guest bathroom. Herringbone oak parquet runs through all rooms without transitions. White walls and ceiling (except for bedrooms and bathrooms) are covered by plaster with marble chips. This solid covering is easily restoring and long-serving.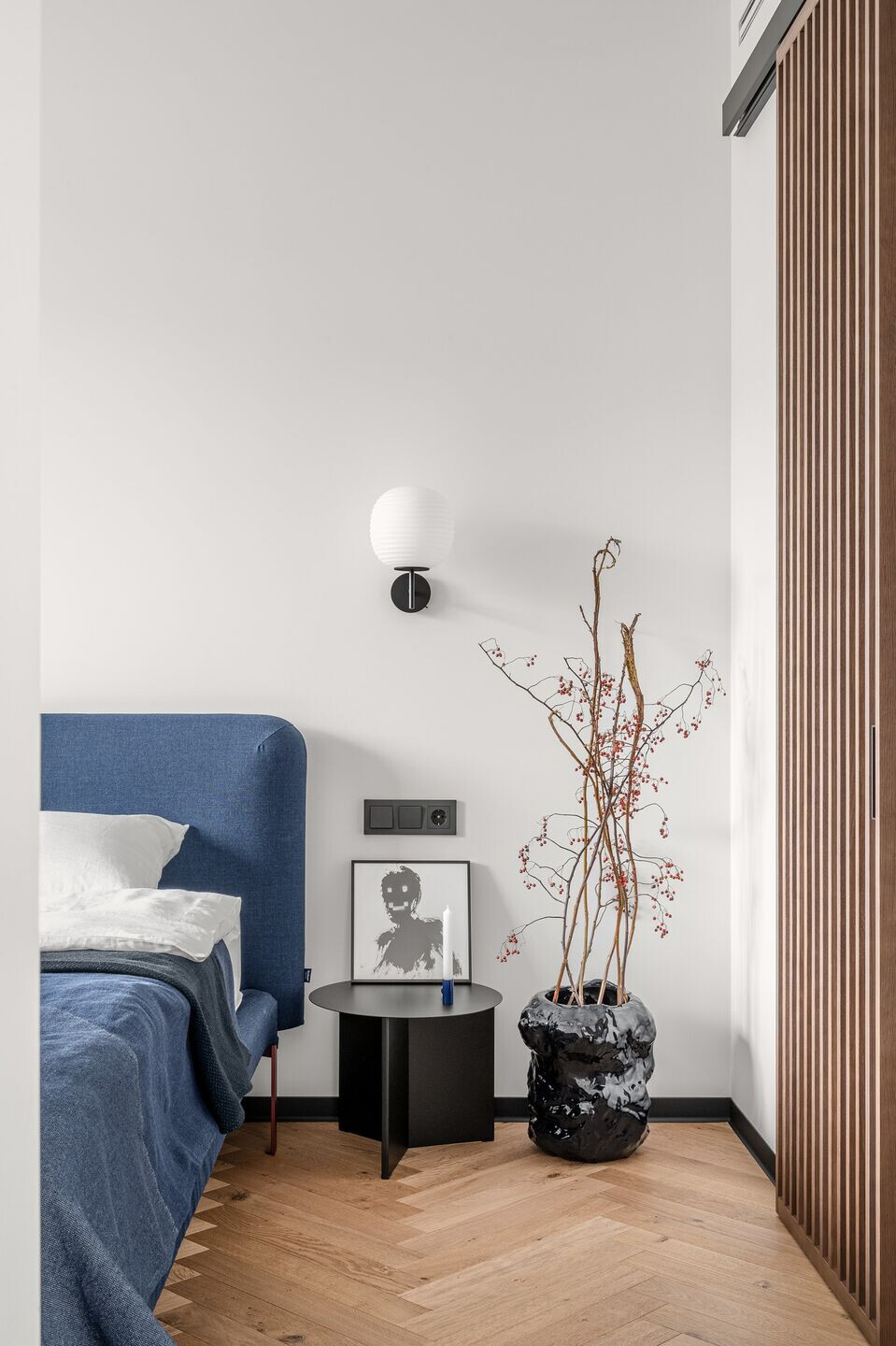 High-quality materials is a smart investment in rental housing. This is the approach to find not tenants, but like-minded people. People appreciating the same quality things are often similar in spirit.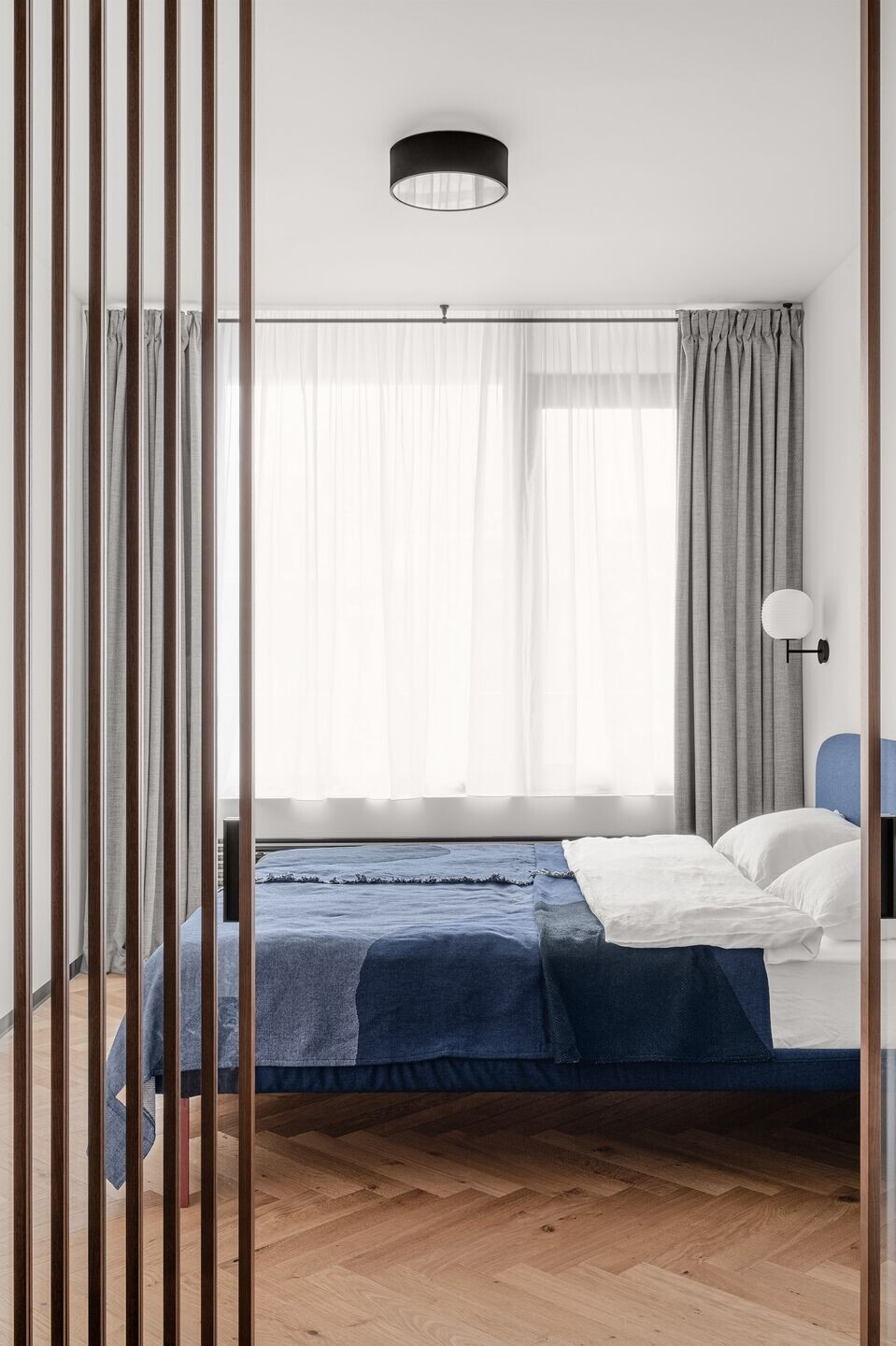 Within this project, I adhere to open up new facets of life to people. Its aim is to provide an example of a timeless interior and show that home can be cozy and stylish at the same time. The living room shouldn't be centered by the flatpanel TVset. The apartment can be welcoming for colleagues or guests (especially important throughout 2020 and, it seems, that following the same in 2021 too).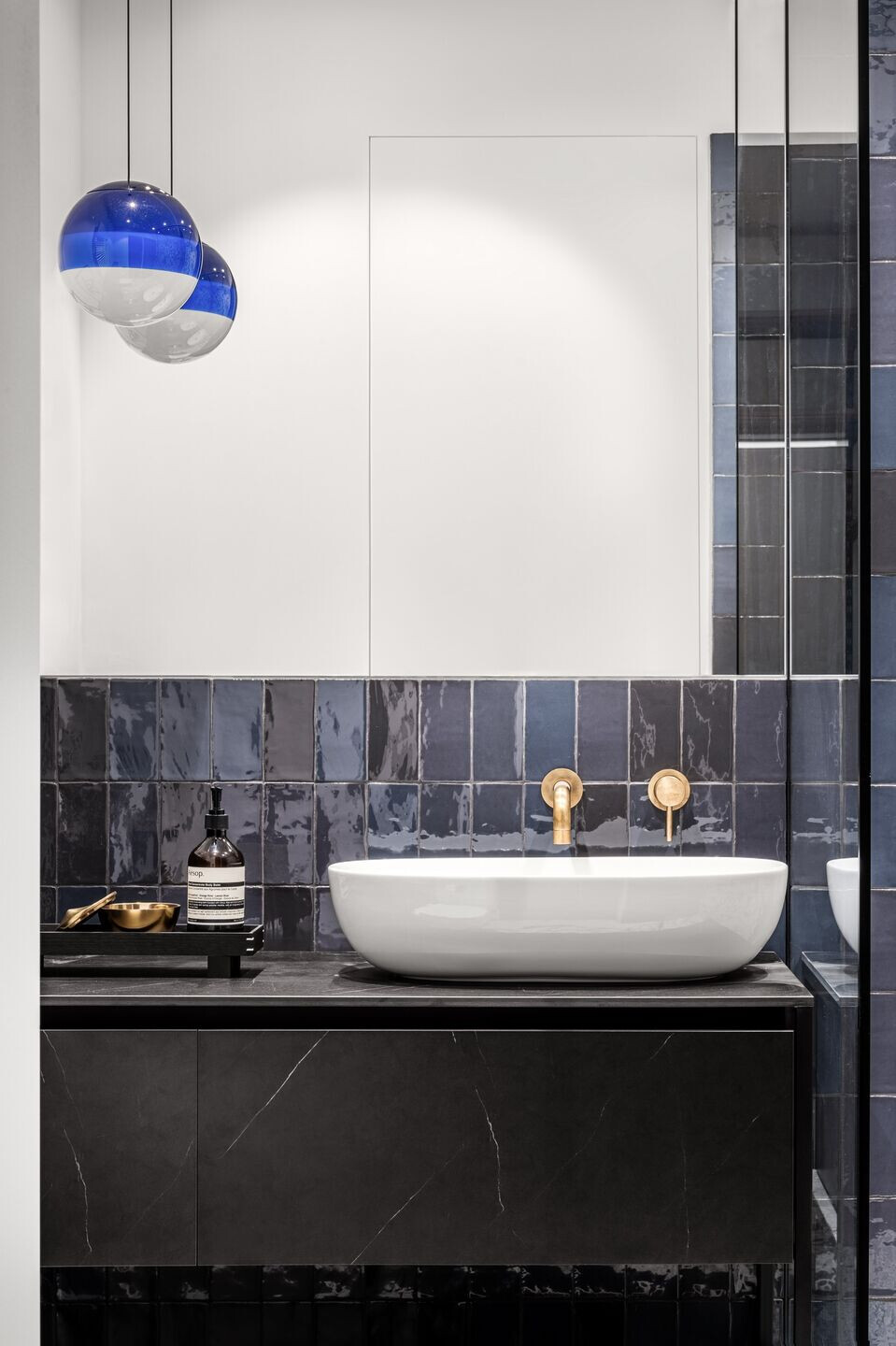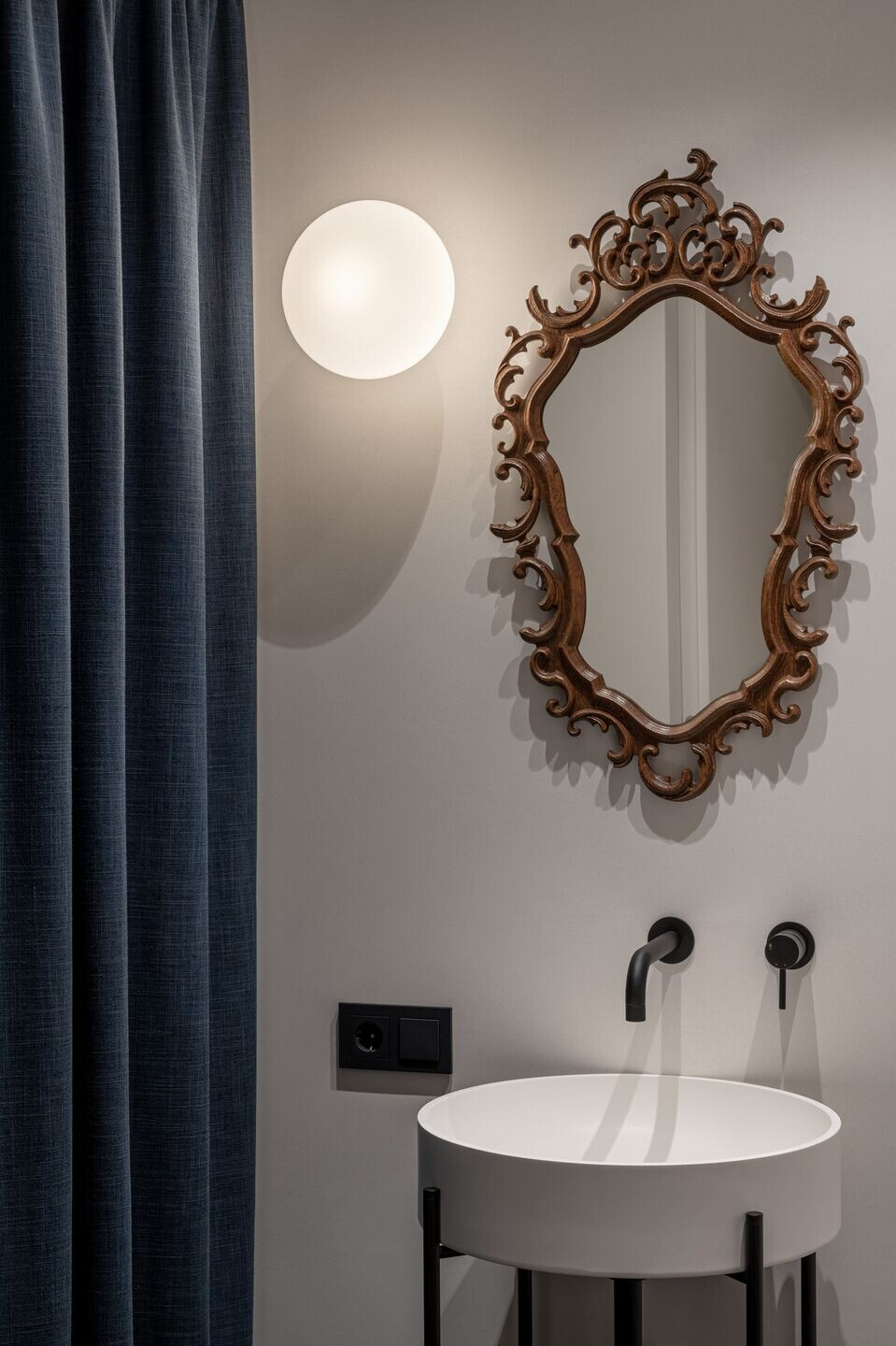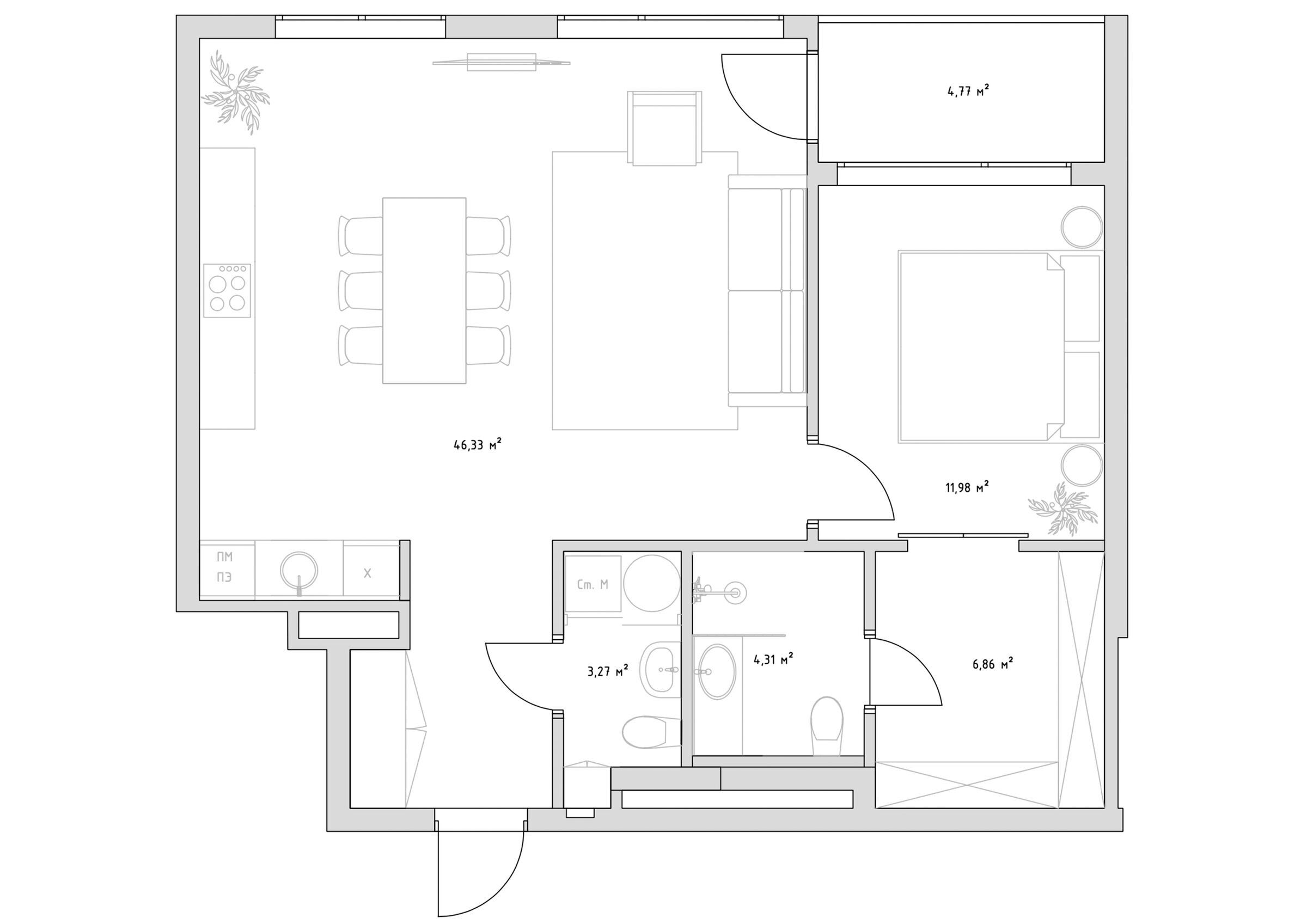 Material Used :
1. Radiators Antrax, interior doors ADL, parquet Listone Giordano
Kitchen-living room:
1. Kitchen set Leicht (embedded part) vs Nobilia (freestanding black cabinets), dining table Sancal Pion, chairs Hay, pendants Design House Stockholm Luna Lamp, sofa BoConcept Carlton, armchair Hay, carpet nanimarquina, coffee table Fredericia, ceiling lamp DCW editions Mantis, TV Samsung Serif
2. Painting by Ukrainian artist Igor Selemenev
Bedroom:
1. Bed Bolzan Letti, side tables Hay, wall lamps Newworks, clock Vitra, vase and textiles Ferm, painting by Ukrainian artist Nikita Vlasov, sliding doors in the wardrobe ADL
Main bathroom:
1. Wall and floor tile 41zero42, brass plumbing Zanetti Chini, the cabinet is custom made from metal and HPL FunderMax according to the designer sketches, pendant Marset, accessories Ferm living, painting by Ukrainian artist Nikita Vlasov
Guest toilet:
1. Washbasin on a stand ex.t, wall lamp Newworks, vintage mirror
Entry:
1. Floor tile 41zero42