Casa Acqua was conceptualized in the same guidelines as the original Roman house!
The original Roman house, discovered beneath the petrified lavas of Vesuvius volcano, had an "O"-shaped floor plan and had an inner courtyard with balconies surrounding the rooms, which allowed the visual integration of all spaces/people and a central fountain symbolizing prosperity!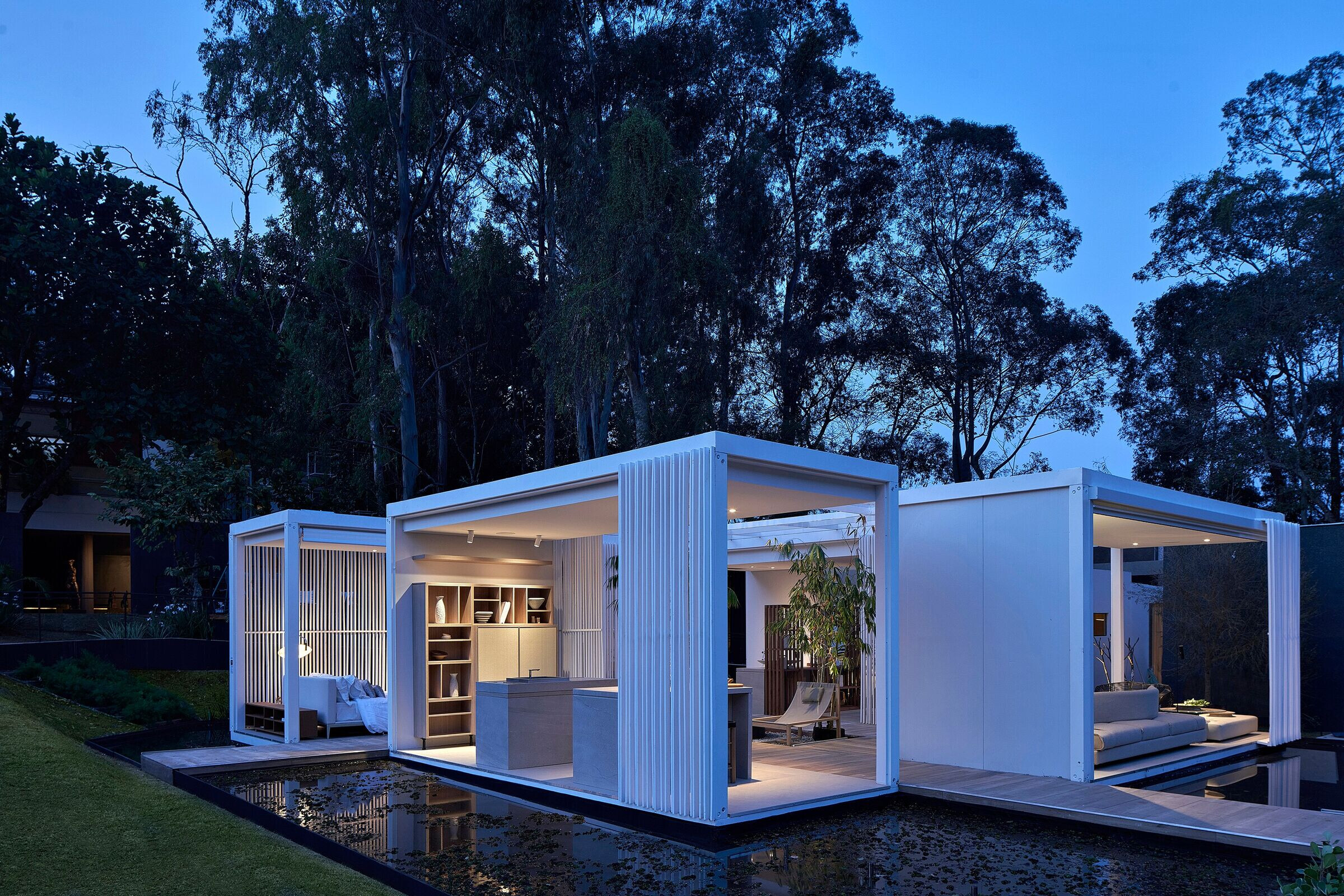 This typology was suitable to our current times and, mainly, rethought for this real moment of pandemic, to Casa Acqua! The project has four modules, individualized by sectors (intimate, social, leisure and service), with an inner courtyard. This individualized deployment brings privacy when needed. These modules are surrounded by water mirrors, elements of aesthetic interest and that bring surprising situations of mirroring the architecture and surroundings! These also symbolize the central fountain of the original Roman house, which brings prosperity, as the Romans thought! A pergola covering the circulation between the inner courtyard and the modules, allows you to walk between them, in a covered way, making here a reference to the balcony that circled the inner courtyard of the original Roman house!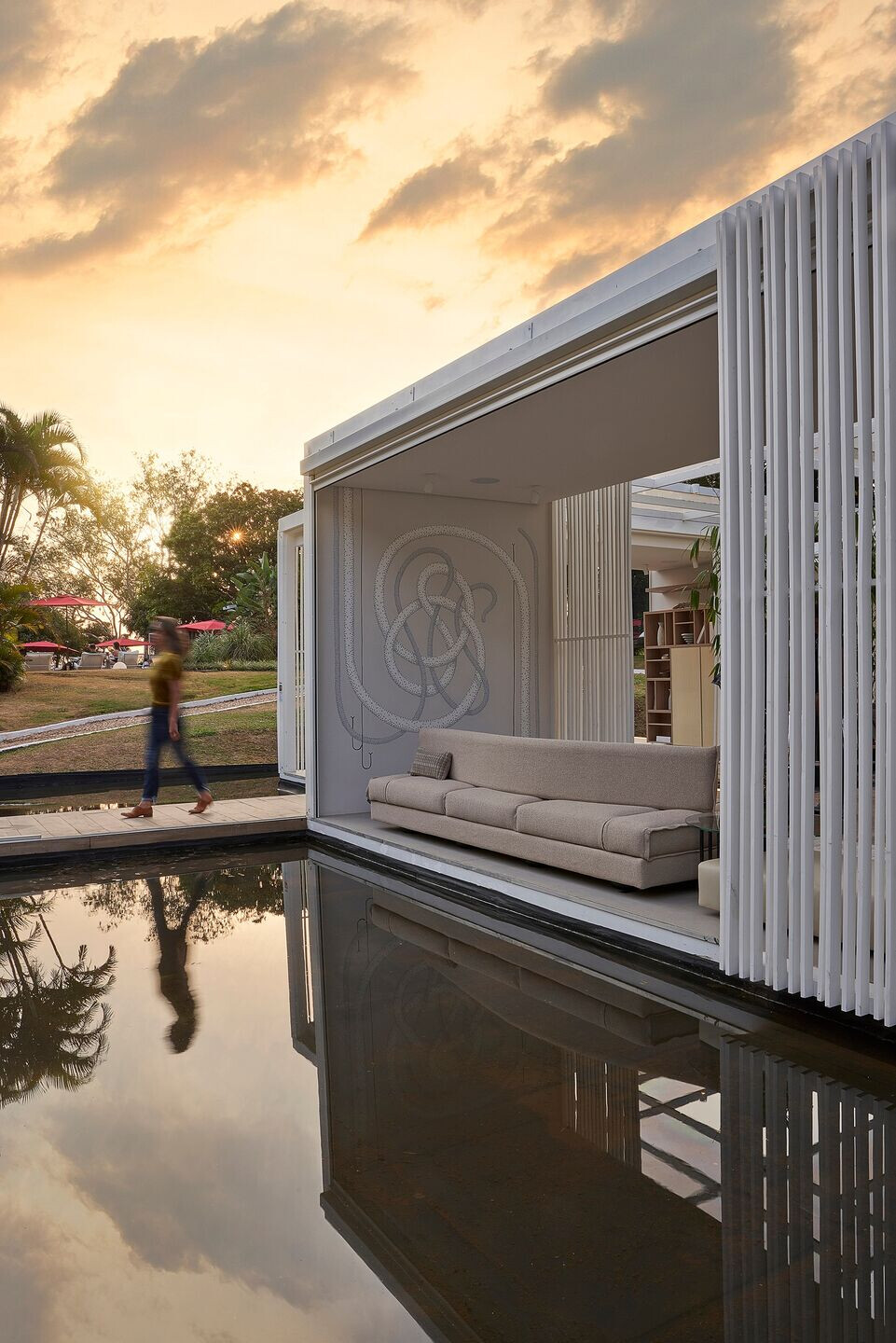 The island modules, deployed in the water mirror, will suggest and allow outdoor activities, also bringing thermal comfort and tranquility.
Both civil architecture and interior architecture will explore natural materials that bring warmth, simplicity and functionality. This, of course, without losing its elegance!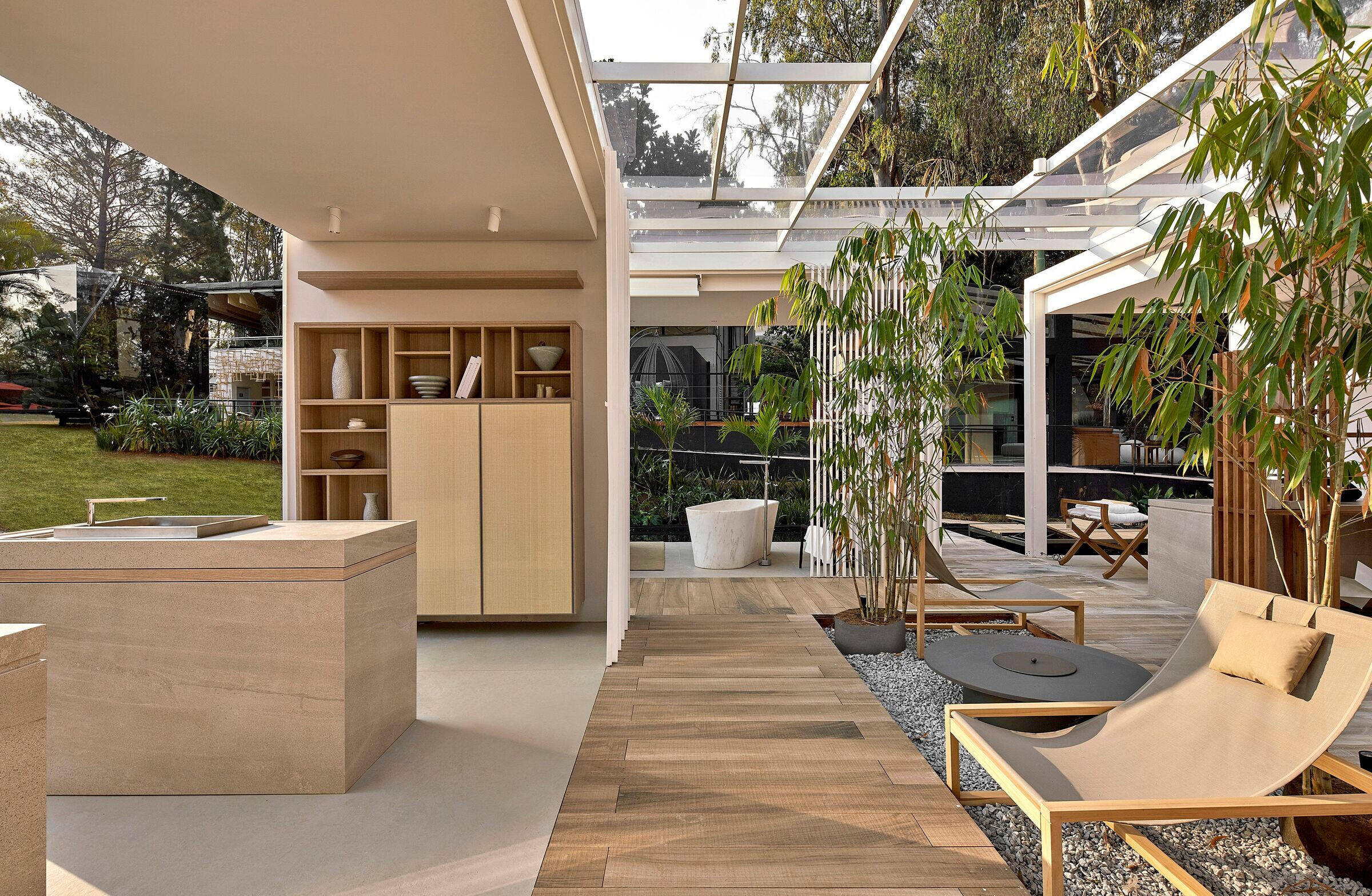 The Casa Acqua modules are fully open, without closing with glass frames, to ensure the use of ventilation and natural lighting in its fullness!
This, too, provides full integration with the outdoor area. To have privacy and protection from the sun; from rain and wind, vertical windshield and awnings were used that seal 95%!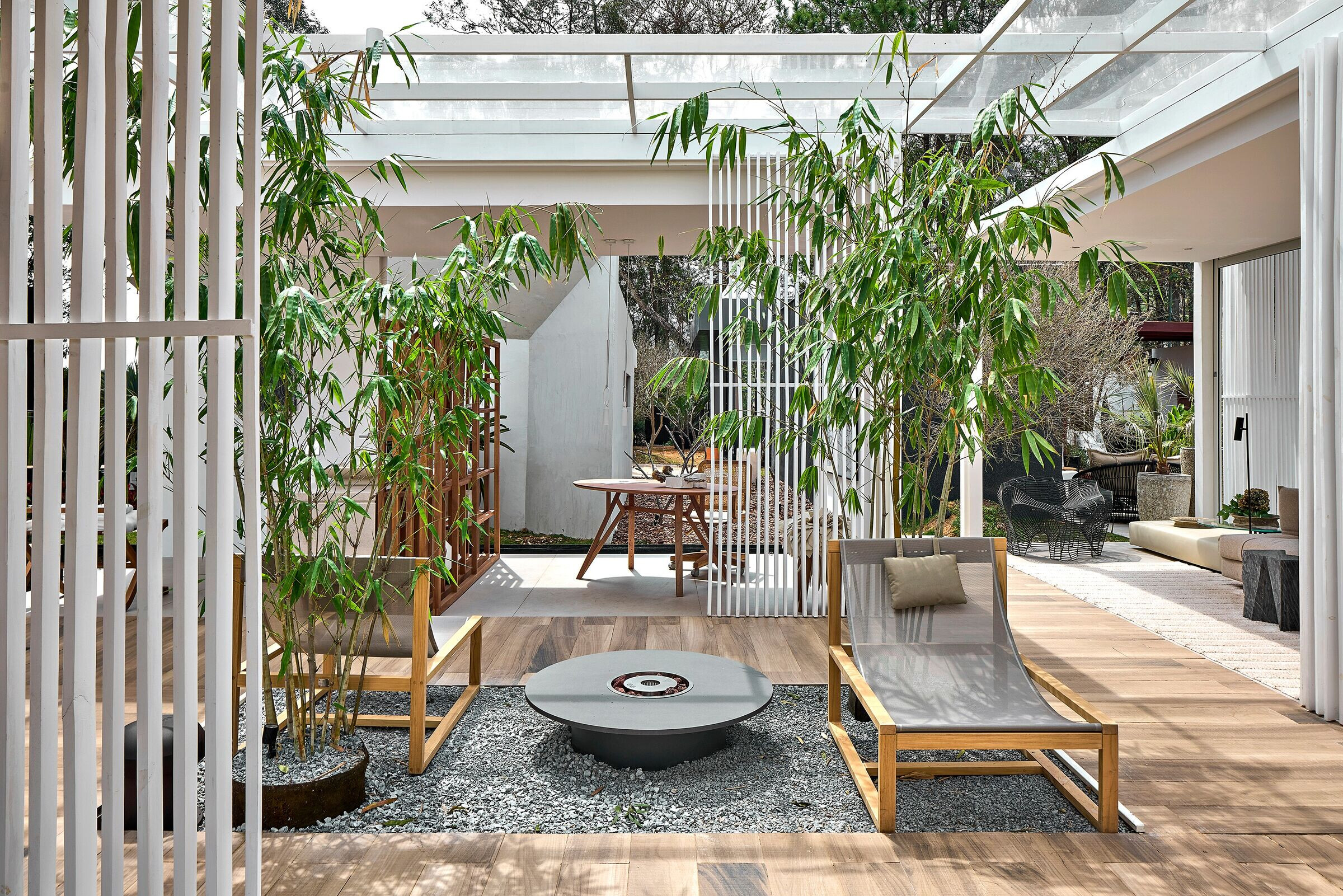 This makes the precepts of sustainability and a healthy home, for days of pandemic, the important and different guidelines of Casa Acqua!
The use of prefabricated modules allowed the use of synthetic coatings and sub-multiples of their measurements. This did not generate waste, which reduced the impact of construction on nature and shortened construction time and cost!
Casa Acqua was ready in 25 days with a total cost better than conventional masonry!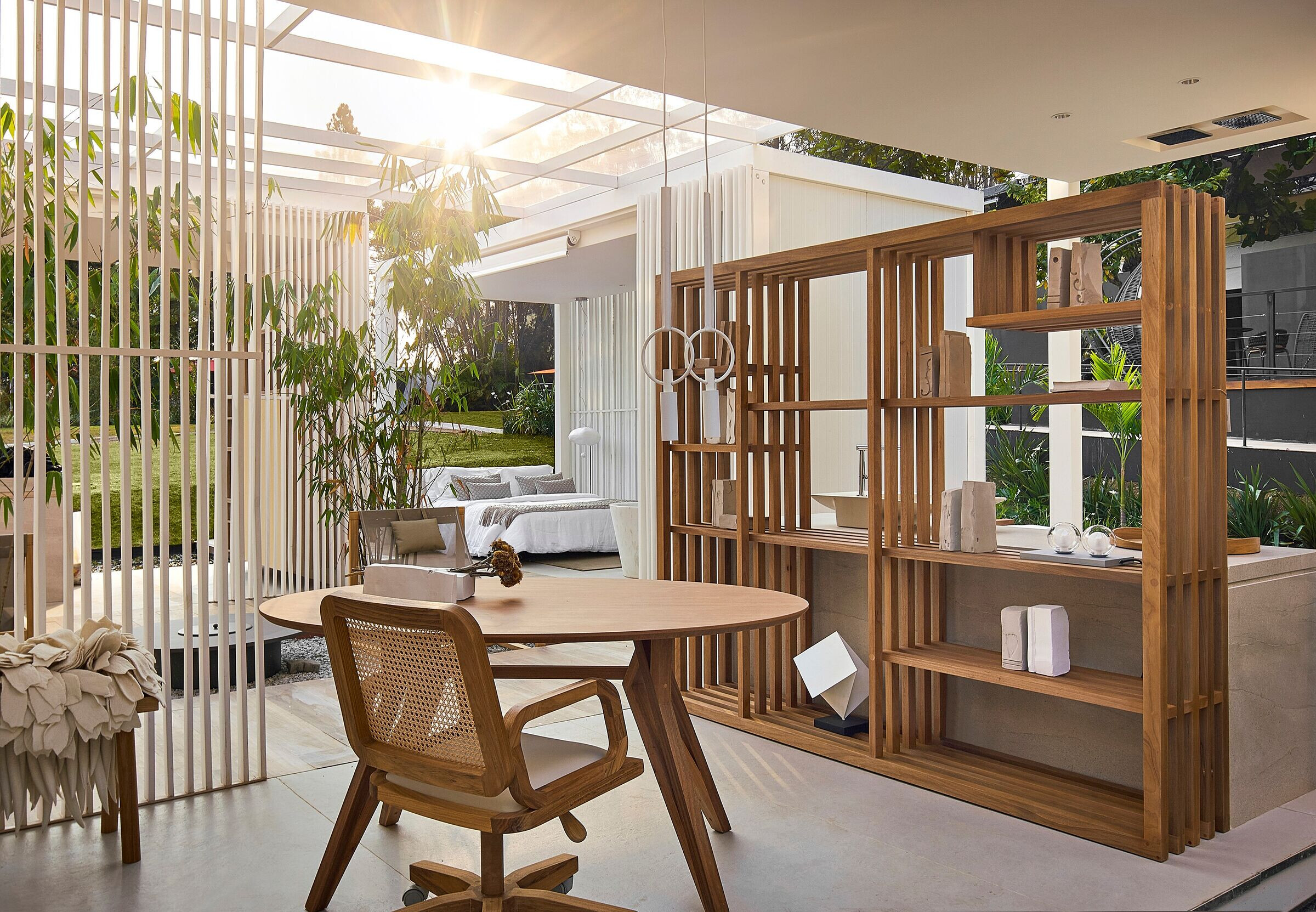 Some details are worth mentioning:
Inside the master room, a marble soaking tub keeps the water heated for 05 hours without the need for electric heating, as was used in Roman baths.
At the living , the tables, in Matrix stone, were exclusively designed by the architect and allude to the petrified lavas of the Vesuvio Volcano.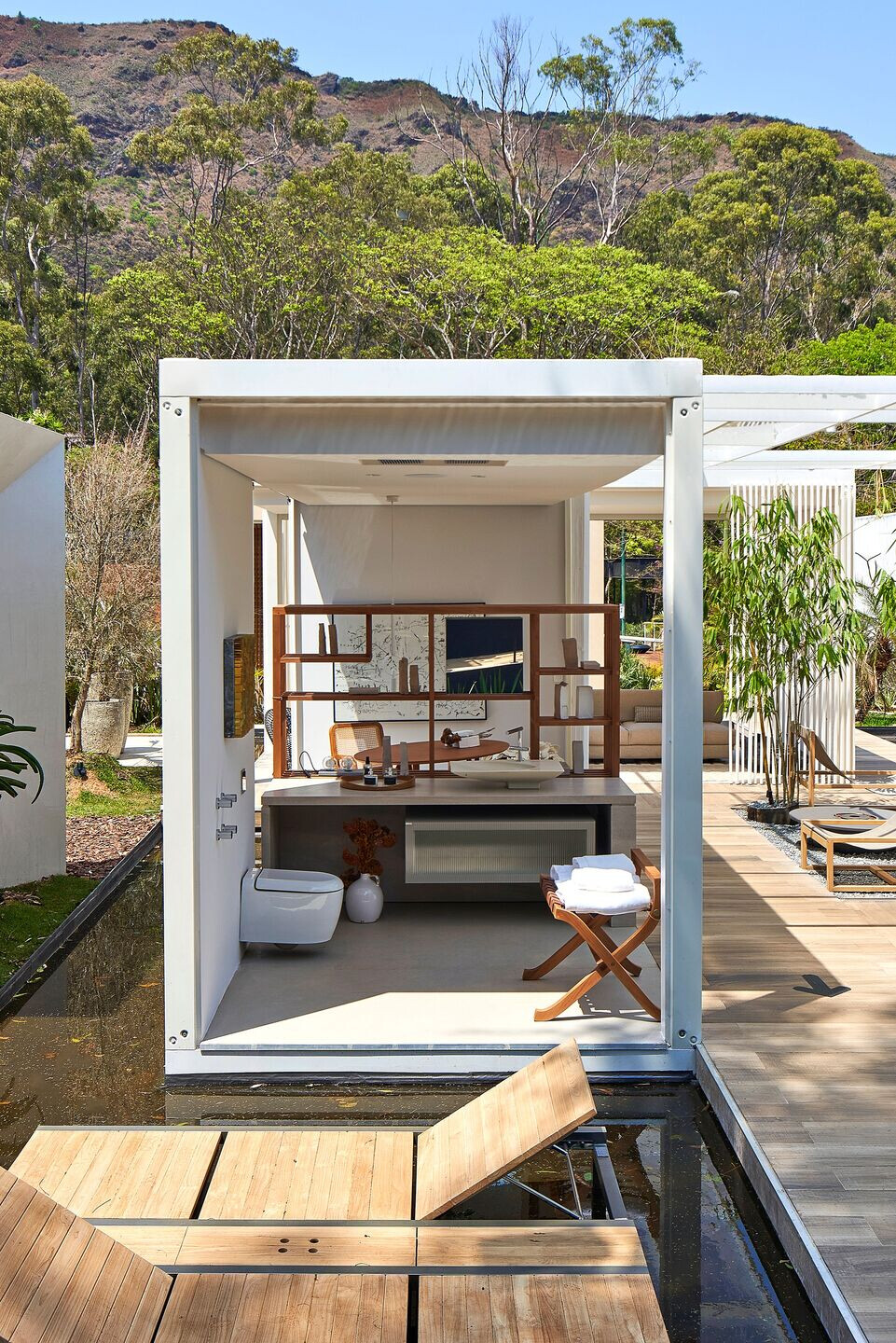 As the fabric of the artistic canvas did not exist, at the time of the original Roman houses, the great Italian artists, at that time, were muralist artists who painted on the walls! Recovering
this concept, the mural artist, Thiago Alvim, was invited to paint a work in the living room of Casa Acqua!
Finally, the bath is presented at Casa Acqua, all open in allusion to the external baths of the original Roman house, which had the bathrooms outside the house!