From the first moments of arrival and entering the home, a ritual of leaving behind a bustling urban life begins to unfold. The Copake Lake House engages its lakefront property through a series of framed volumetric compositions and material details that capture views to the water, and create a flow between indoor and outdoor spaces. Bold forms belie a gentleness toward the home's environment, and are in fact direct results of an attitude of ecological respect.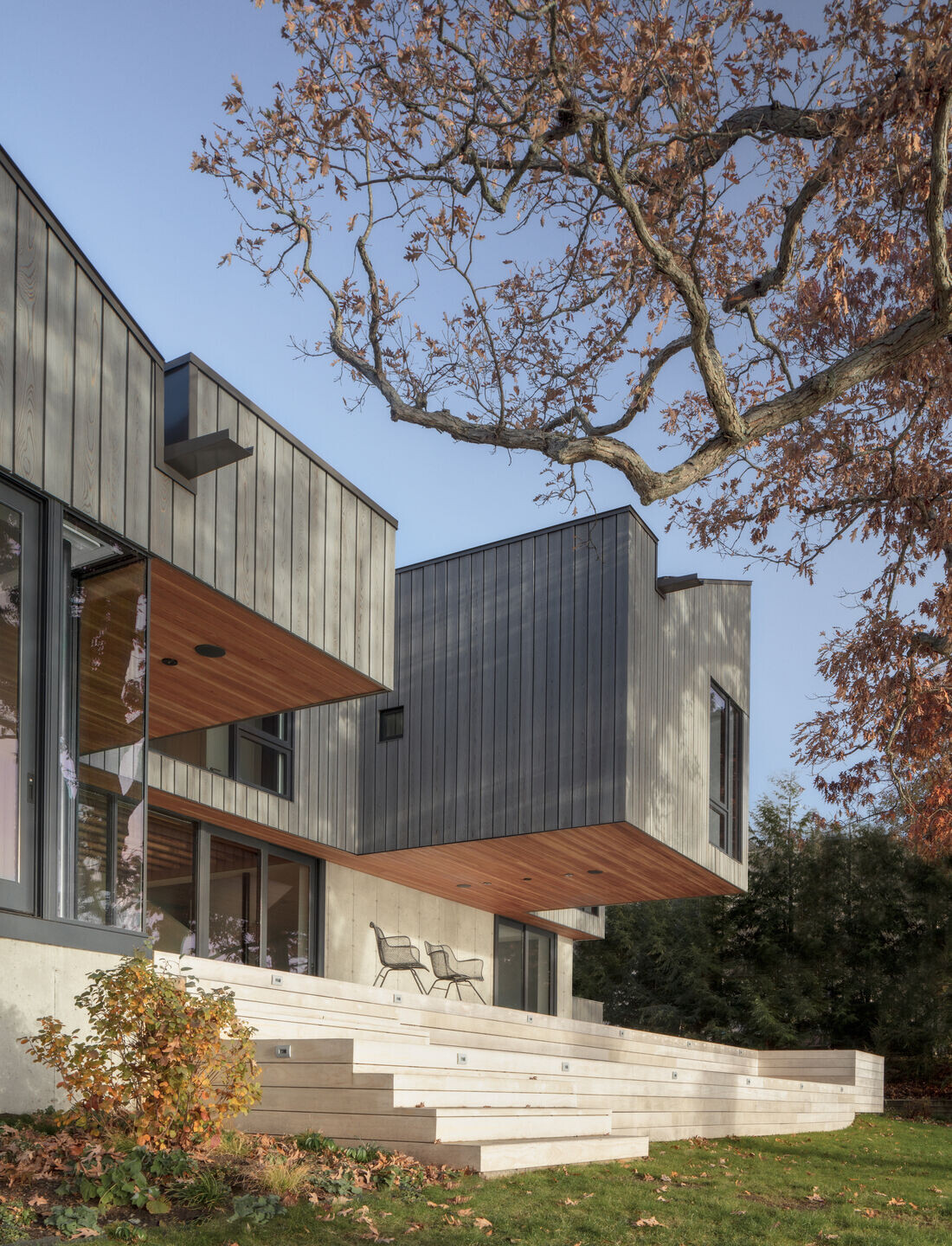 Cantilevered program elements strengthen the indoor-outdoor relationship, and work in tandem with existing old-growth oak trees to provide ample shading.

Carefully considered spatial moves allow the owners and their visitors to appreciate the expansive waterfront views without sacrificing the comfort, functionality, and interest of the home's interior. For instance, by stepping the living room down one feels nestled within the water, and the lake views from the adjacent dining area are unobstructed.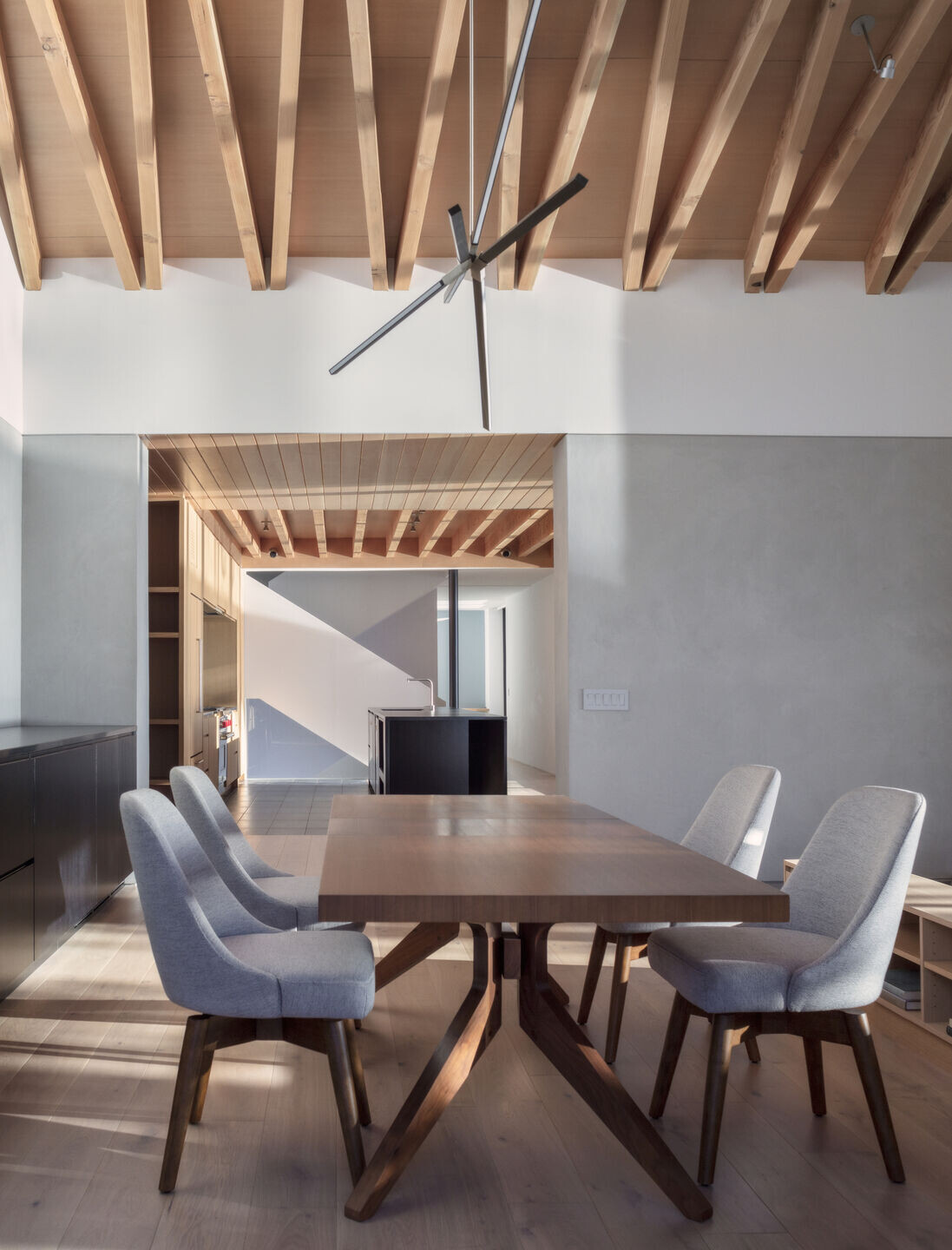 Overhead, a unique pattern of crisscrossed structural wood beams support a vaulted ceiling that resembles overlapping tree branches- a nod to the branching canopy of the adjacent old-growth oak trees. Expressing the structure in this way creates a visual conversation between the architecture and the surrounding environment. A window on the high side of the living room's vault lets sunlight rake the crisscrossing members from mid-afternoon to early evening, and bounces warm light into the spaces below, accentuating the material texture and scale that the exposed structural system provides.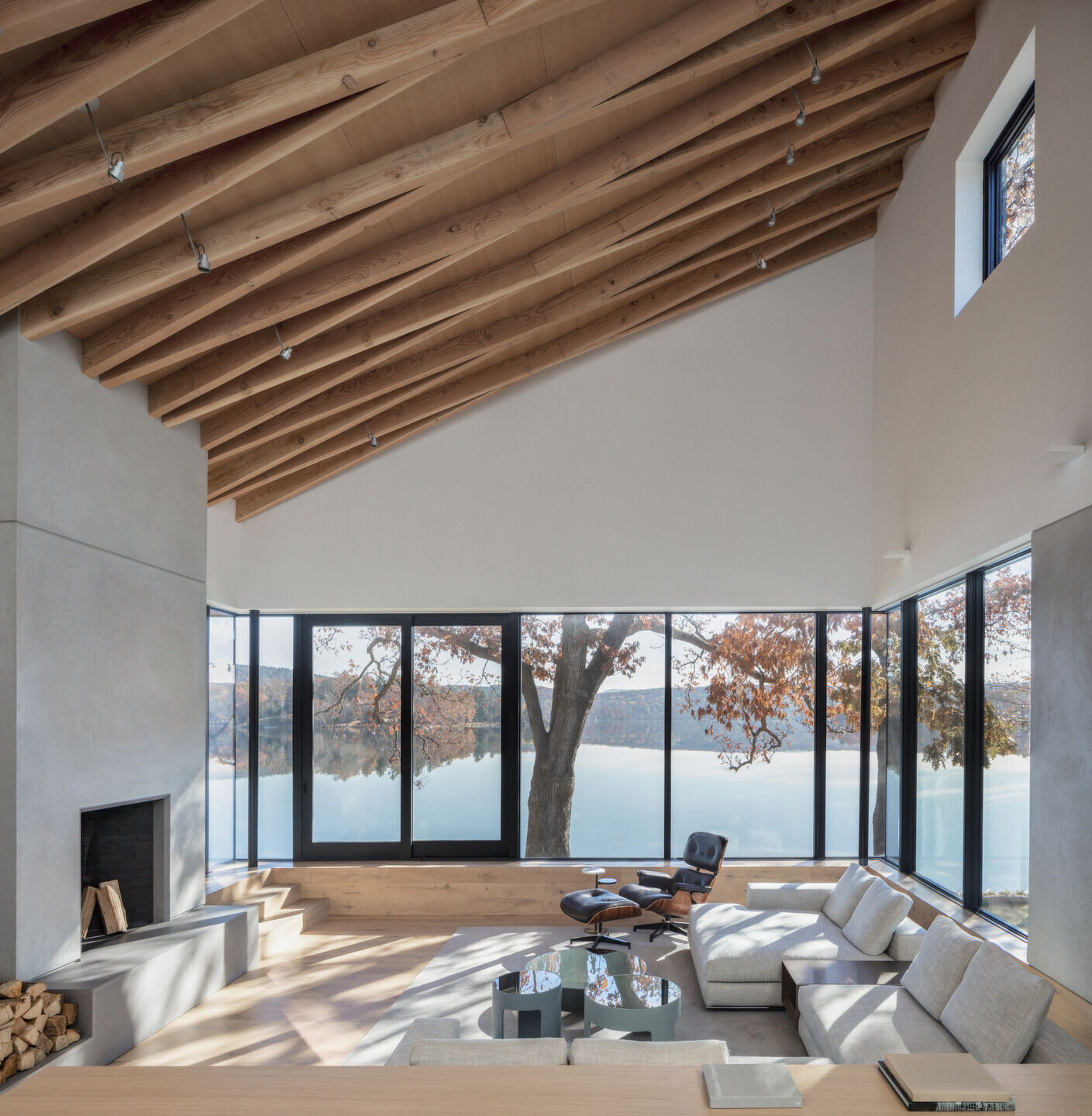 The home's material palette is characterized by resilience and references the surrounding site and history of the area. The facades are wrapped in a gray, vertical wood siding, resembling the protective bark of the nearby oak trees. This wood surface was lightly charred in the "shou sugi ban" method to make the wood bug and rot resistant; it is also maintenance free since the charring process locks in the color of the patina.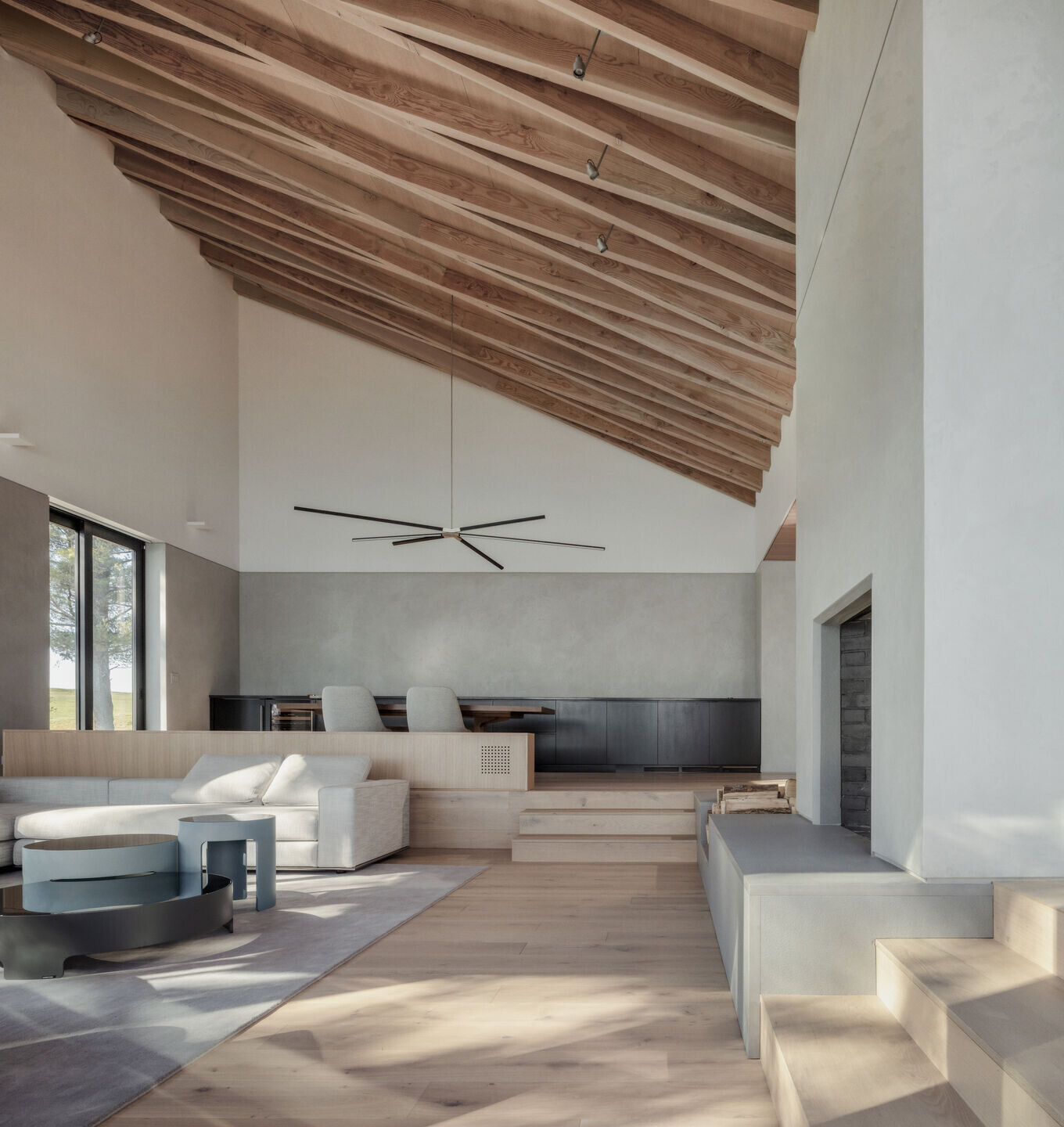 The protected underside of the overhangs and cantilevers are clad in a rich, warm Douglas Fir wood that more closely resembles the interior's exposed beams and visually connects the indoor and outdoor spaces. The cool-toned concrete facade on the outside of the first floor and the smooth plaster finishes inside quietly define spaces and the plinth of the building while providing durability from flooding.

As the site is prone to flooding and erosion, stormwater management was a priority of the project.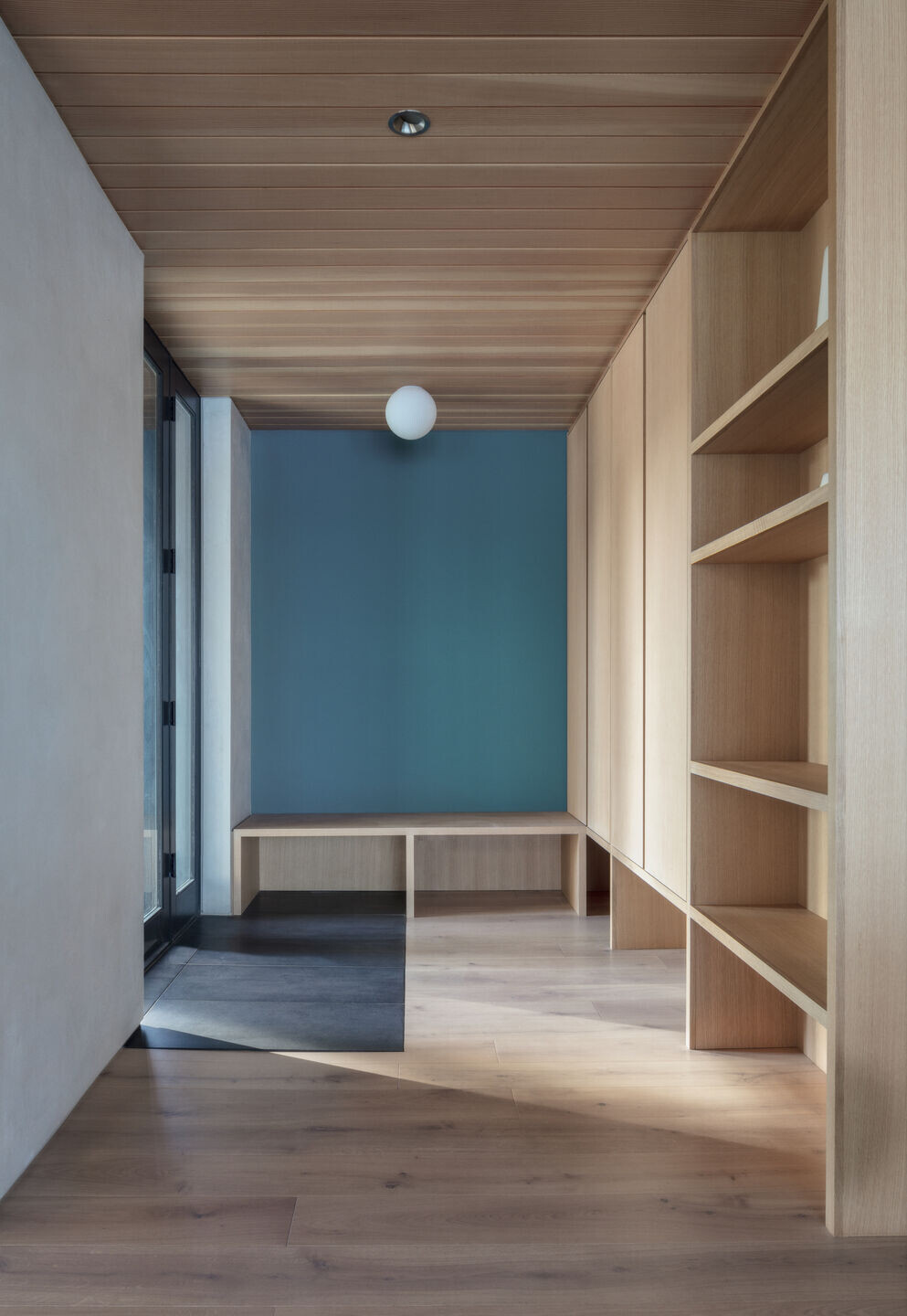 The driveway and carport utilize permeable gravel to maximize the site's drainable surface area, while the roof forms channel water into rain gardens that purify stormwater before it enters the restored lakefront wetlands. Not only do the rain gardens and wetlands slow the speed of stormwater runoff, they also expand habitats for pollinators and aid in the preservation of native plant species.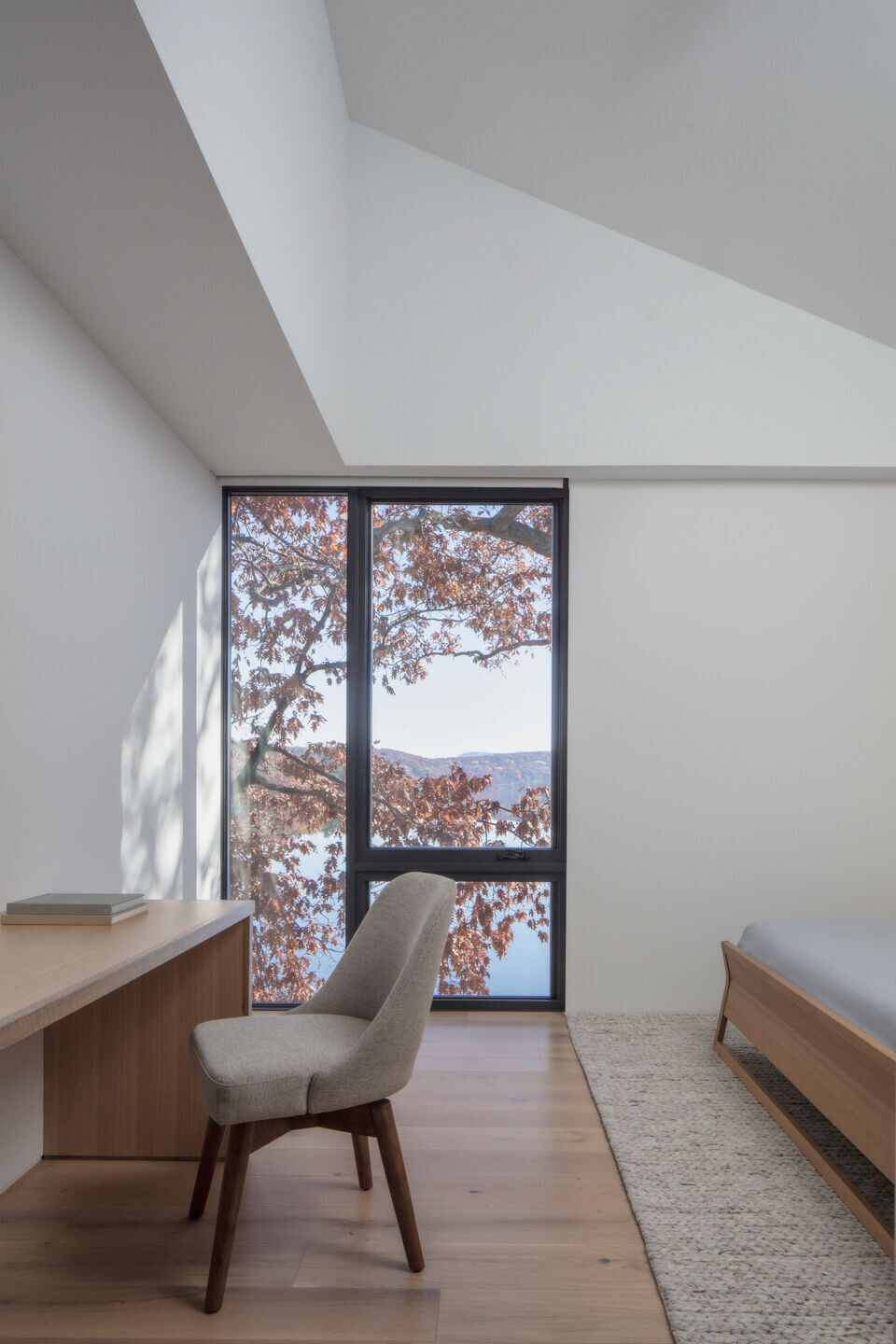 Team:
Architects: Desai Chia Architecture
Structural: David Kufferman, P.E.
Civil: Crawford Associates
Contractor: Bill Stratton Building Company
Lighting: Christine Sciulli Light + Design
Landscape: Jamie Purinton
Photographer: Paul Warchol
Materials Used:
Facade cladding: Wood siding, reSAWN Timber Co.
Metal roof, Pac Clad
Flooring: Wood flooring, "Smallwood" engineered European oak, LV Wood
Tile flooring, Moving Collection, Nemo Tile
Wood decking, "Accoya" unfinished, Delta Millworks
Doors: Custom doors, Bill Stratton Building Company
Plumbing Fixtures: Toilets & bathroom faucets/ shower controls, Kohler; Kitchen faucet, CEA; Kitchen sink, Julien; Primary bathroom toilet, Duravit; Laundry faucet, Grohe
Appliances: Wolf, Subzero, Bosch, LG, Miele
Hardware: Handles, Sugatsune; door latchsets, Omnia; floor stops, Baldwin; door hinges, Colonial Bronze; sliding door hardware, Hawa; magnetic catches, Ives
HVAC: HVAC system, Mitsubishi, Fantech; Grilles- Anemostat; Big Ass Fan
Paint: Benjamin Moore
Windows: Sierra Pacific Windows
Interior lighting: Outdoor lighting- BK Lighting
Indoor lighting- Edison Price, Tech Lighting, Lightolier
Decorative pendants- Artemide Dioscuri, Sonneman, Stickbulb, Apparatus
Wall Sconce- Kreon
Under-shelf regressed LED channel, Pure Edge Lighting
Interior furniture: Herman Miller Eames Lounge Chair and Ottoman, DWR
Cross Extension Table, DWR
Living Room Sofa, Molteni