On a site of approximately 470m2, the plan was to build a house for a family of three and a dog, plus an inner garage that could hold three cars. The surrounding area is lined with high-rise condominiums, so the theme of the project was how to secure privacy while keeping the house open to the outside world.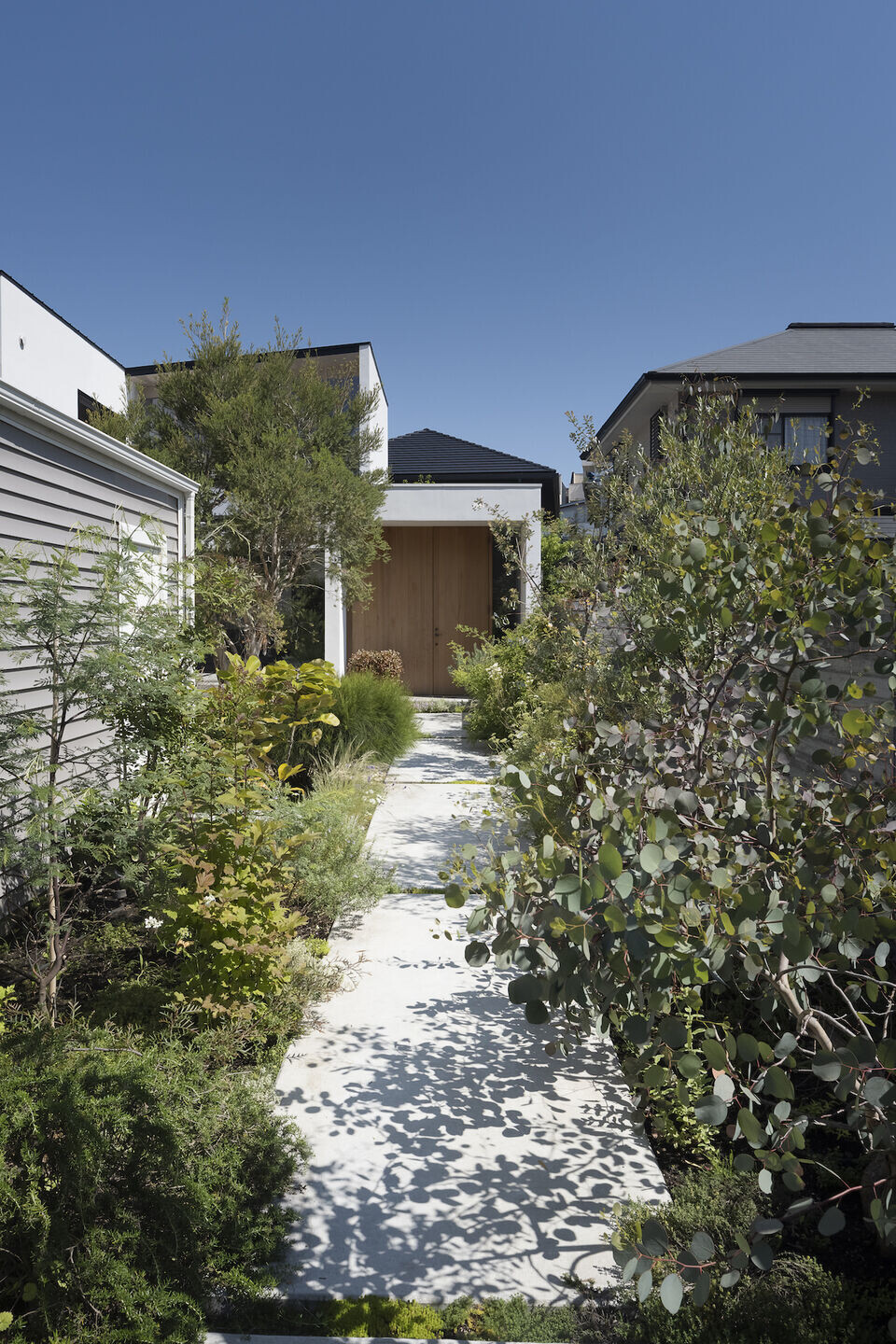 The house is arranged in a U-shape at the rear of the site, and the garage is placed on the street side, creating a courtyard. There is a sufficient distance from the street to the house, where many trees, plants, and flowers were planted to create an approach where the residents can enjoy the plants all year round. In the courtyard, a melaleuca snowy summer (tea tree) was planted as a symbolic tree to enjoy its flowers and fragrance, and also to block the view from the neighboring high-rise apartments. The courtyard terrace leading from the living room has a glass roof so that outdoor life can be enjoyed regardless of the season or weather. Plants and outdoor space are not merely an accessory to the house, but are as important as or even more important than the architecture.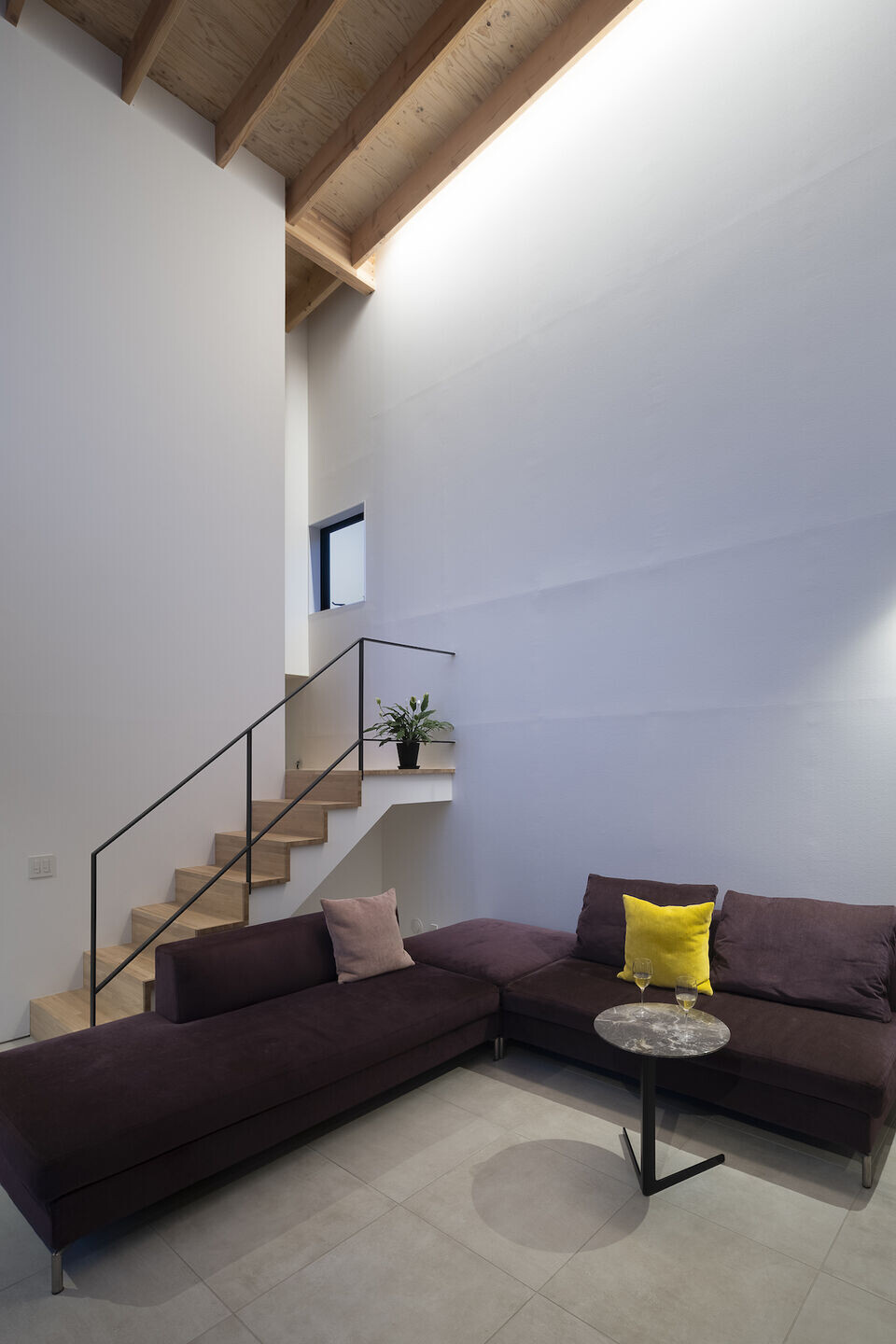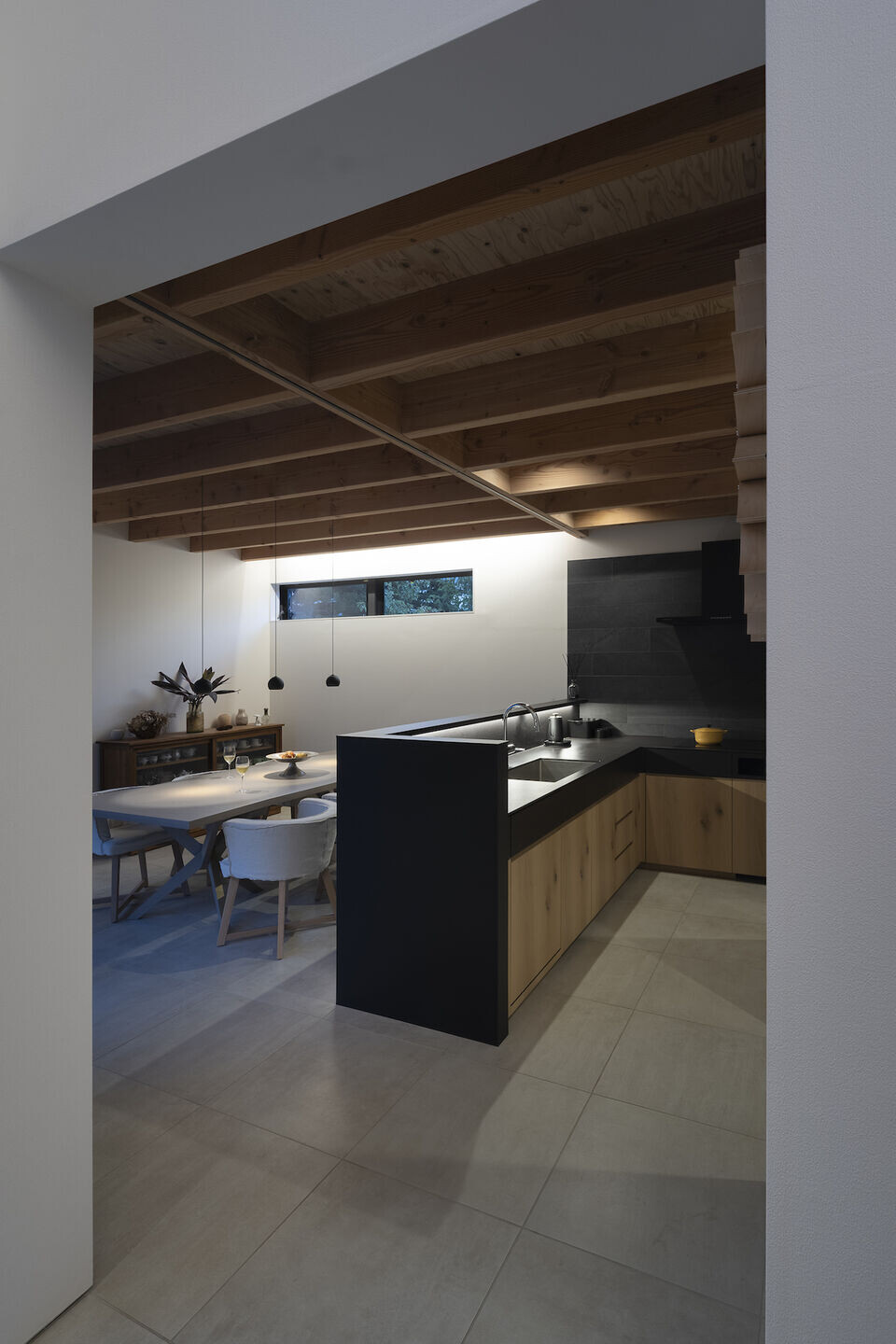 The first floor consists of the living room, kitchen, and each family member's workspace, while the second floor consists of private rooms for each family member.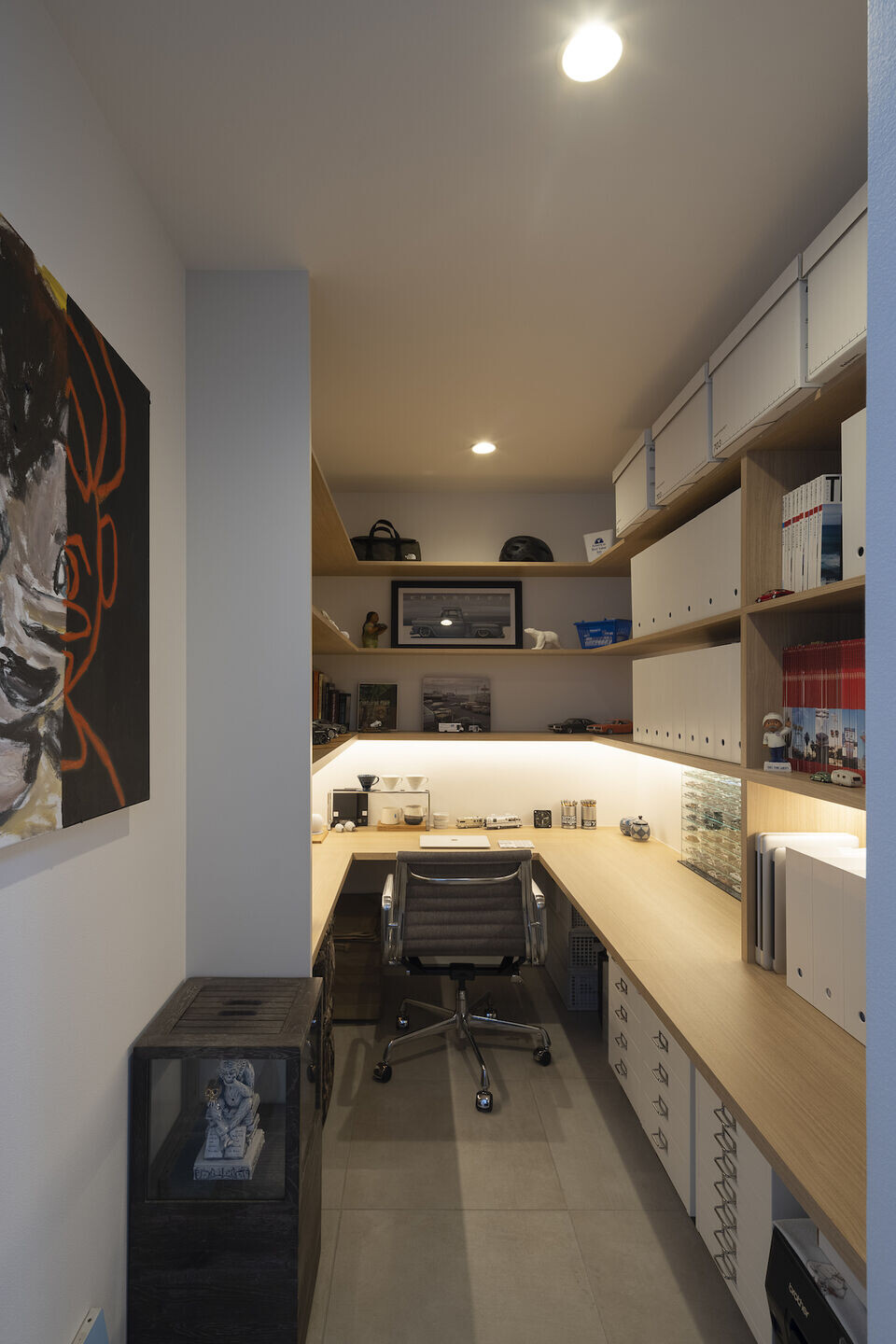 The hallway leading from the entrance to the living room, the open living room with a vaulted ceiling, and the dining room and kitchen with a relaxed atmosphere are arranged in a U-shape, so that the courtyard can be seen from anywhere in the house. The living room has a high ceiling height of 6500, and high-side windows allow warm sunlight to reach the back of the room in winter, and the sky can be seen from the sofa without any concern for the surrounding view.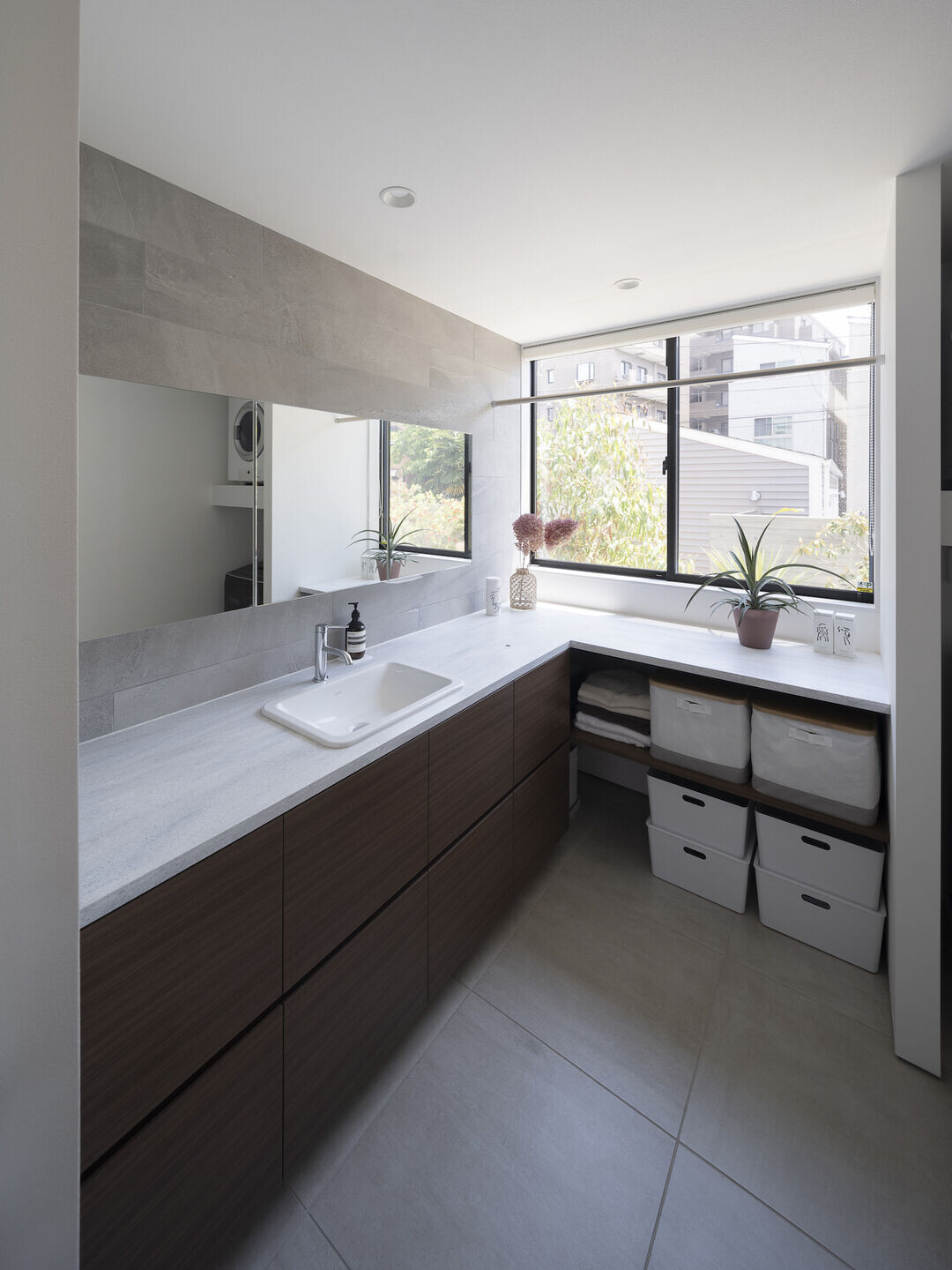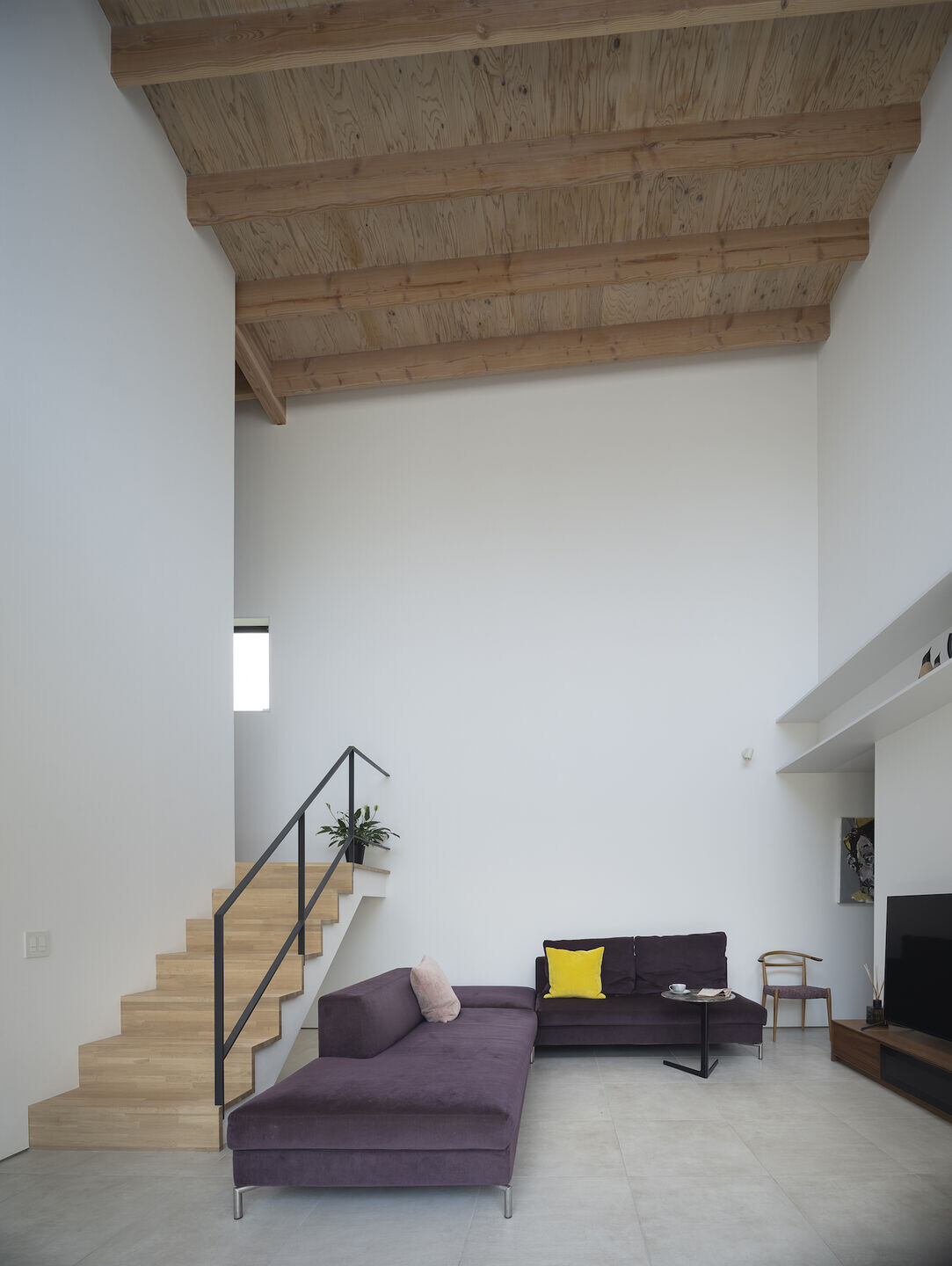 The floor is made of 600 square tiles, and the ceiling is made of structural wood, creating a sophisticated yet rustic design. By keeping the design simple, the house does not end when it is completed, but rather leaves a blank space where plants, daily life, and hobbies can gradually grow and develop, adding color.
The lush green approach, the courtyard space that has a different atmosphere from the surrounding environment, and the space that retains a rustic feel make this a home where one can live comfortably and spontaneously. We are looking forward to the future growth of the house.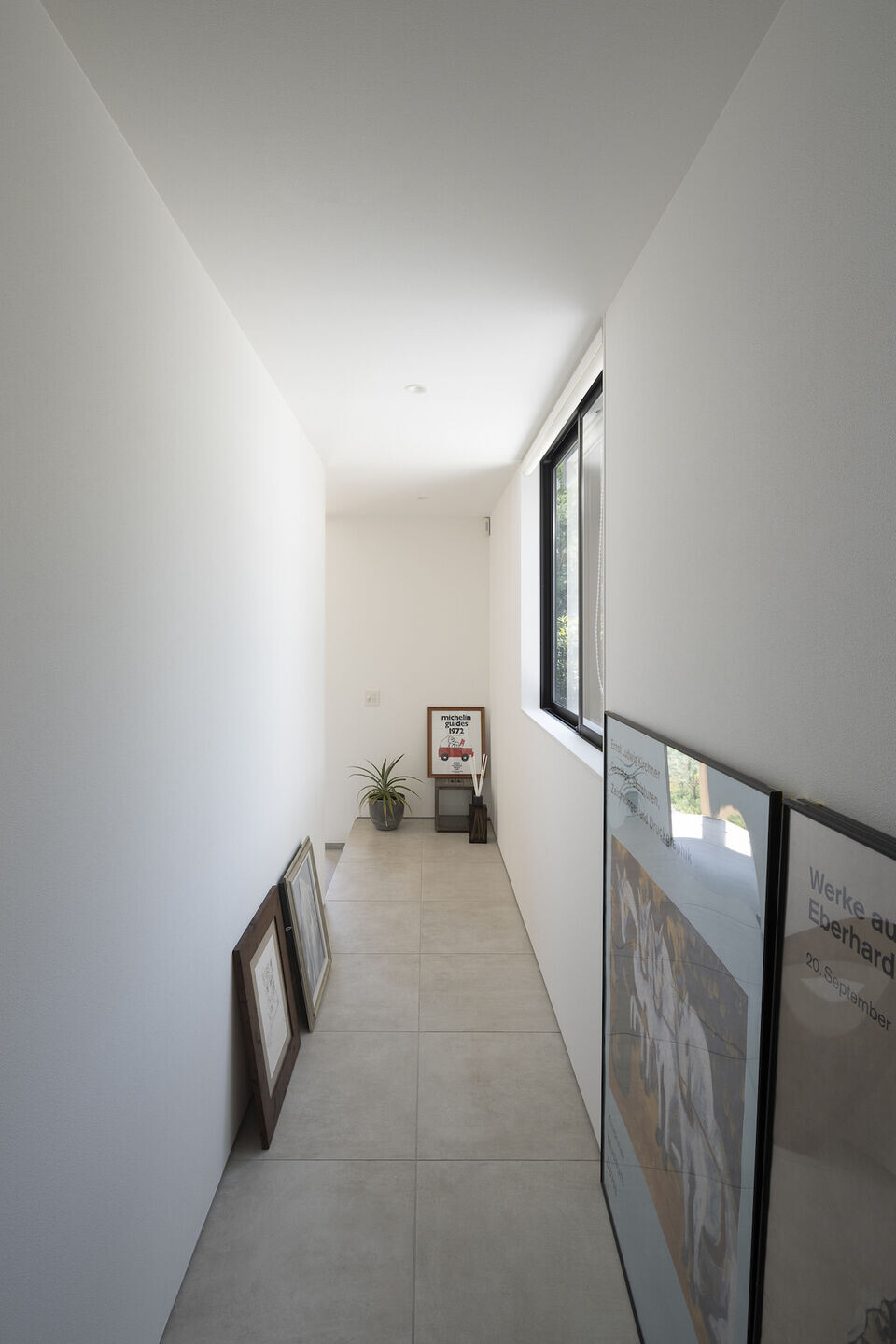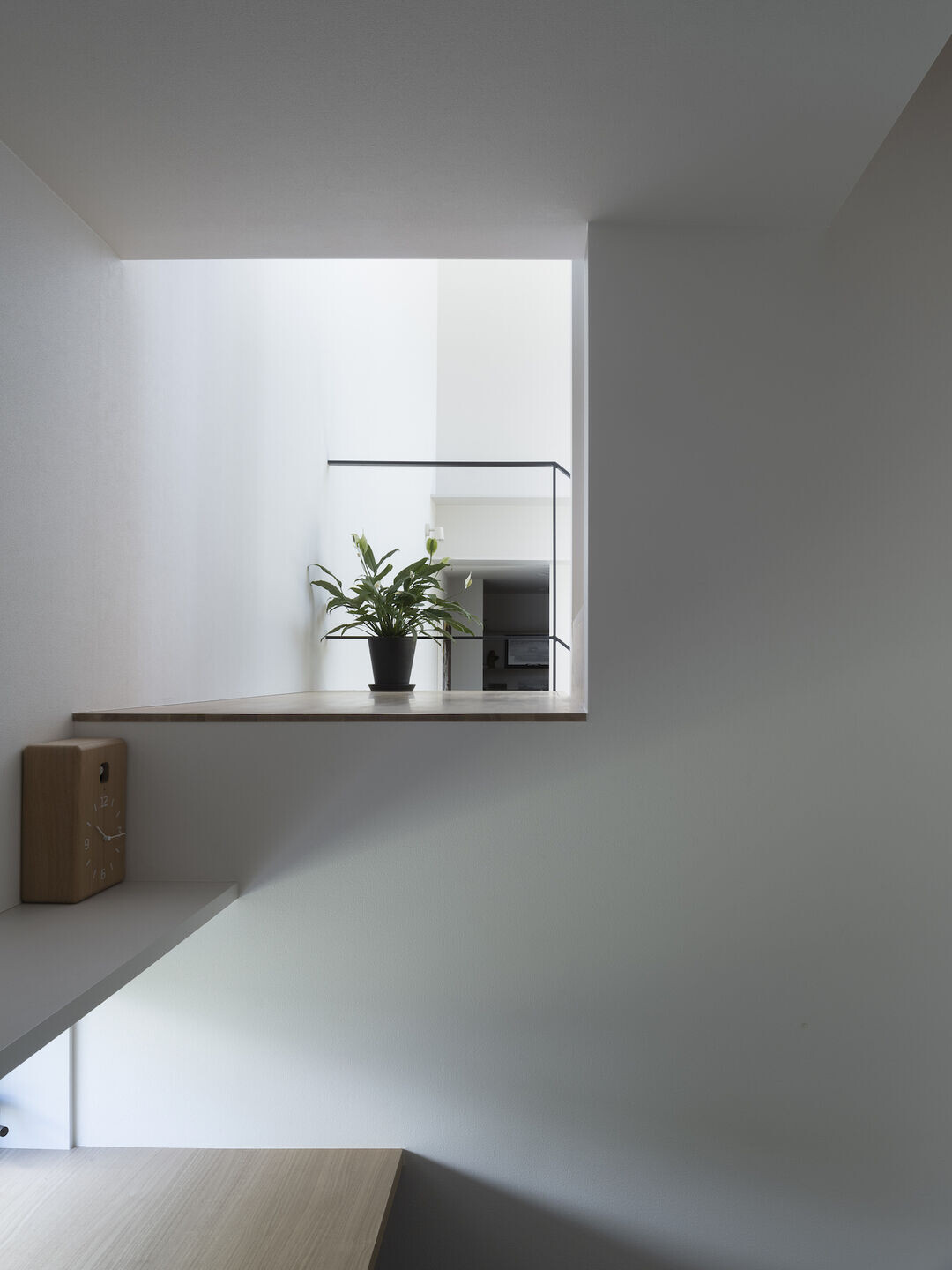 Team:
Architects: Naoi architecture & design office
Photographer: Hiroshi Ueda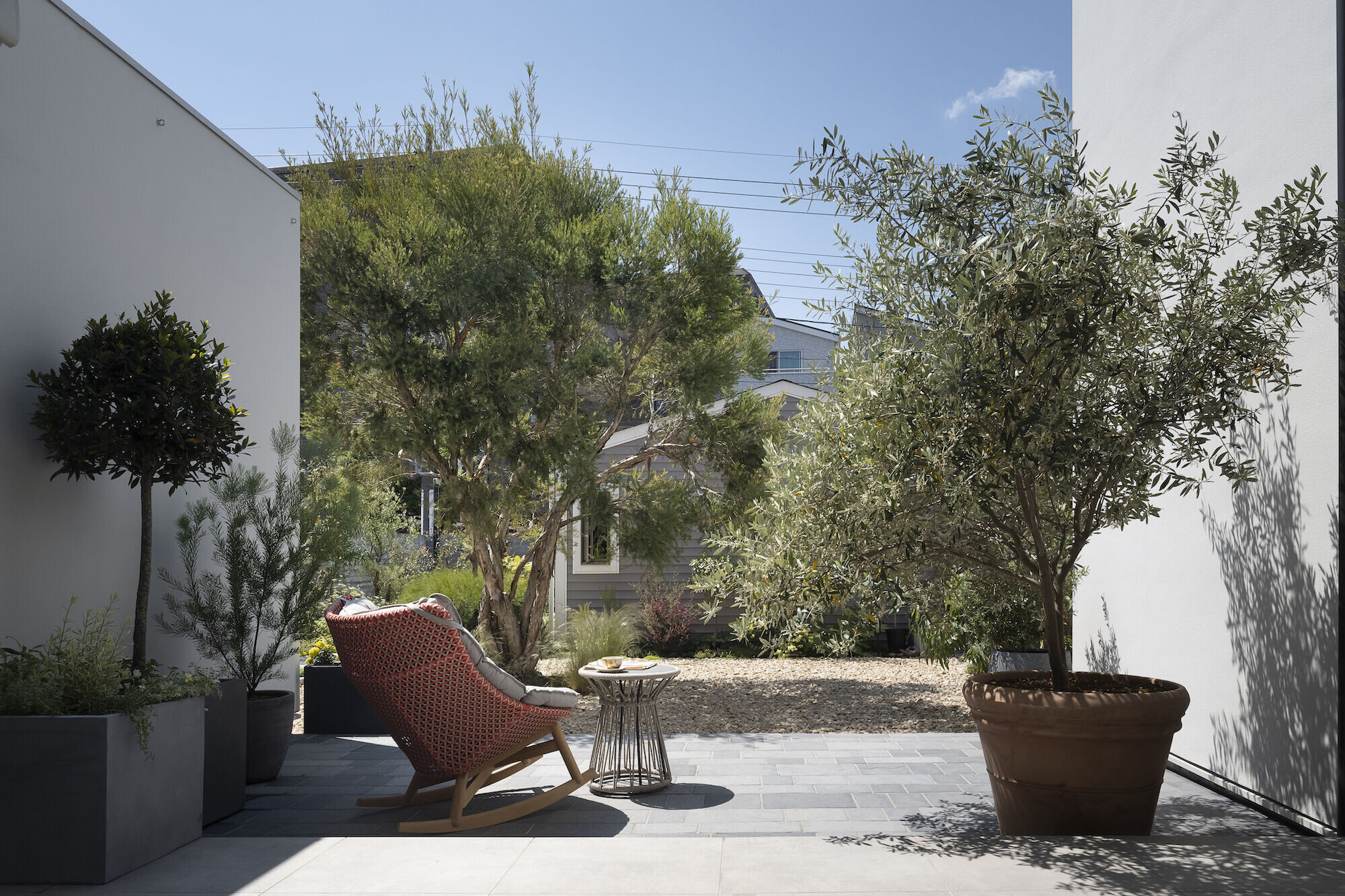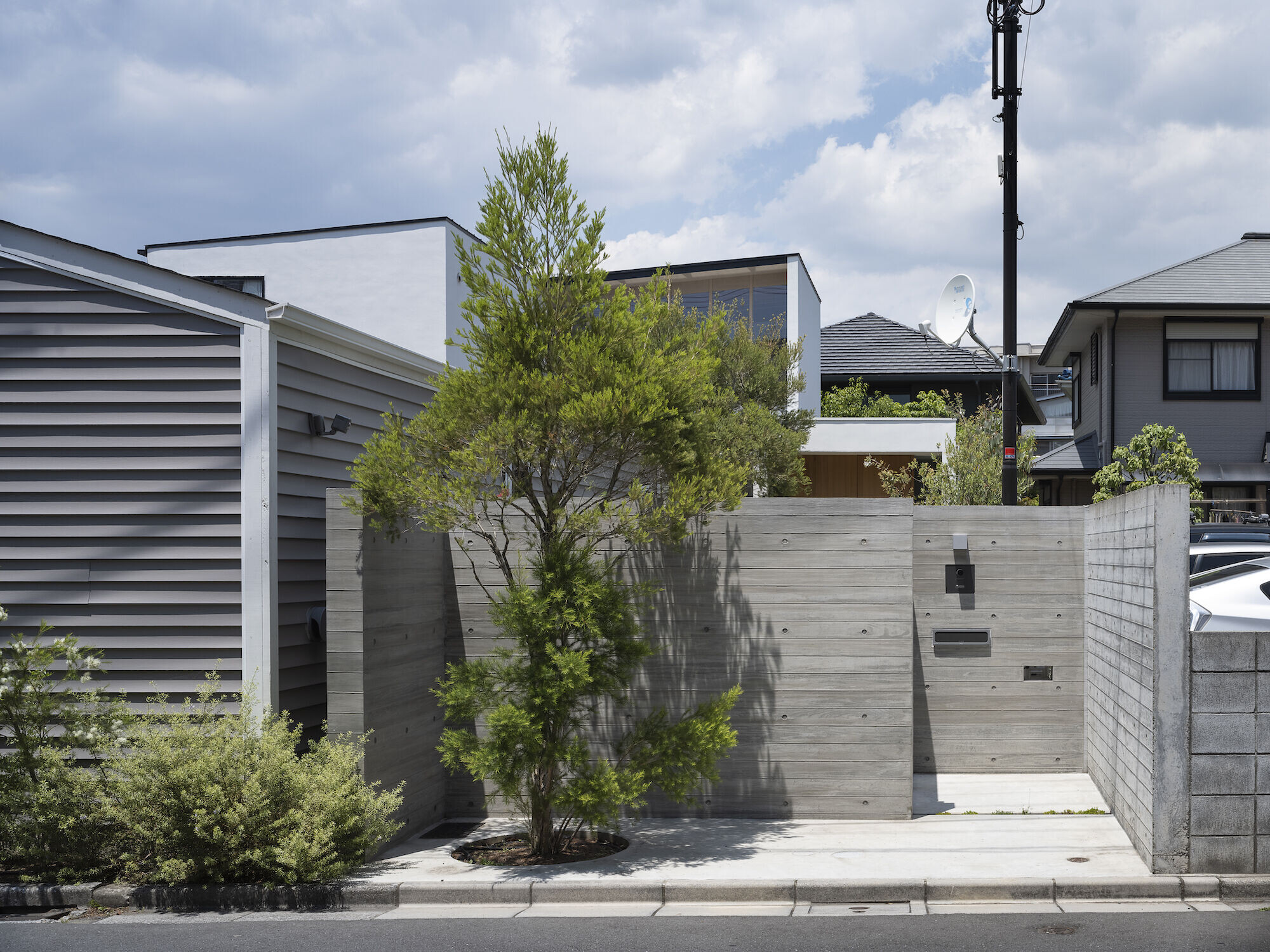 Materials Used:
Facade cladding: Mortar
Flooring: tile, magnetic, Sanwa
Doors: Wood, red cedar ,original
Windows: Wood, red cedar ,original & aluminum,LIxil
Roofing: sheet waterproofing
Interior lighting: Daiko, FLOS
Interior furniture: Roche Bobois, GERVASONI, eilersen