For the first time in Davidson's 30 year history, they sought to create a Brisbane workplace that embodied their brand, culture and beliefs and championed employee experience; all executed remotely during the height of COVID-19 lockdown.
We began with a comprehensive discovery process, enabling us to engage at a deeper level to understand the values and the essence of what it meant to be part of Davidson. Through our deep dive we uncovered core values and passion for people and helped them communicate this through the natural flow of the workplace.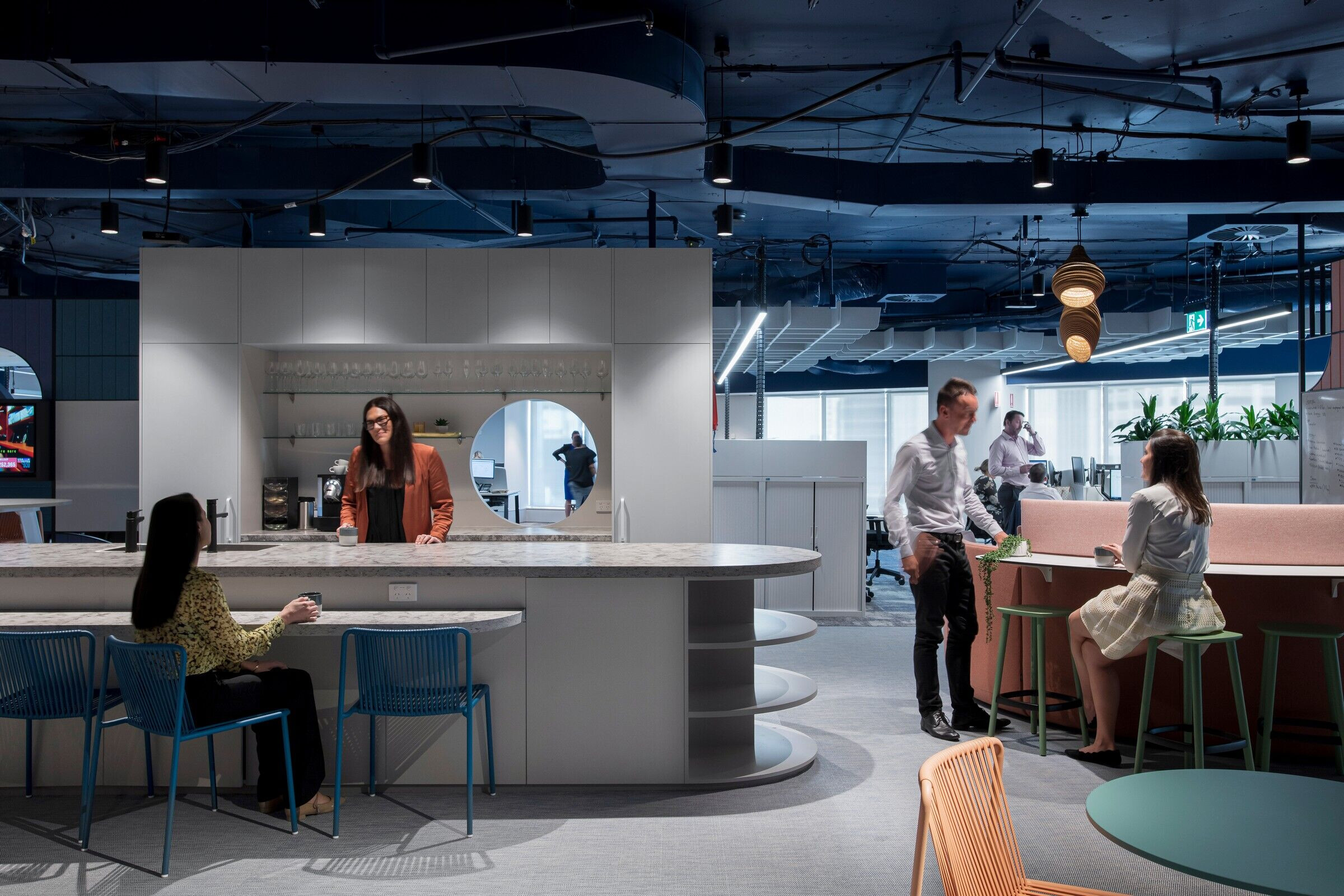 The circular lounge in the café is a direct nod to the Yarning Circles of the Yalari Mob, reflective of the indigenous gathering point through the use of space and earthy colour tones, grounded by the circular rug and emphasised by the suspended light fittings. Material selections were made consciously to engage with ethical and sustainable manufacturers, ranging from Onterra carpet tiles, to Woven Image Acoustic Ceiling panels.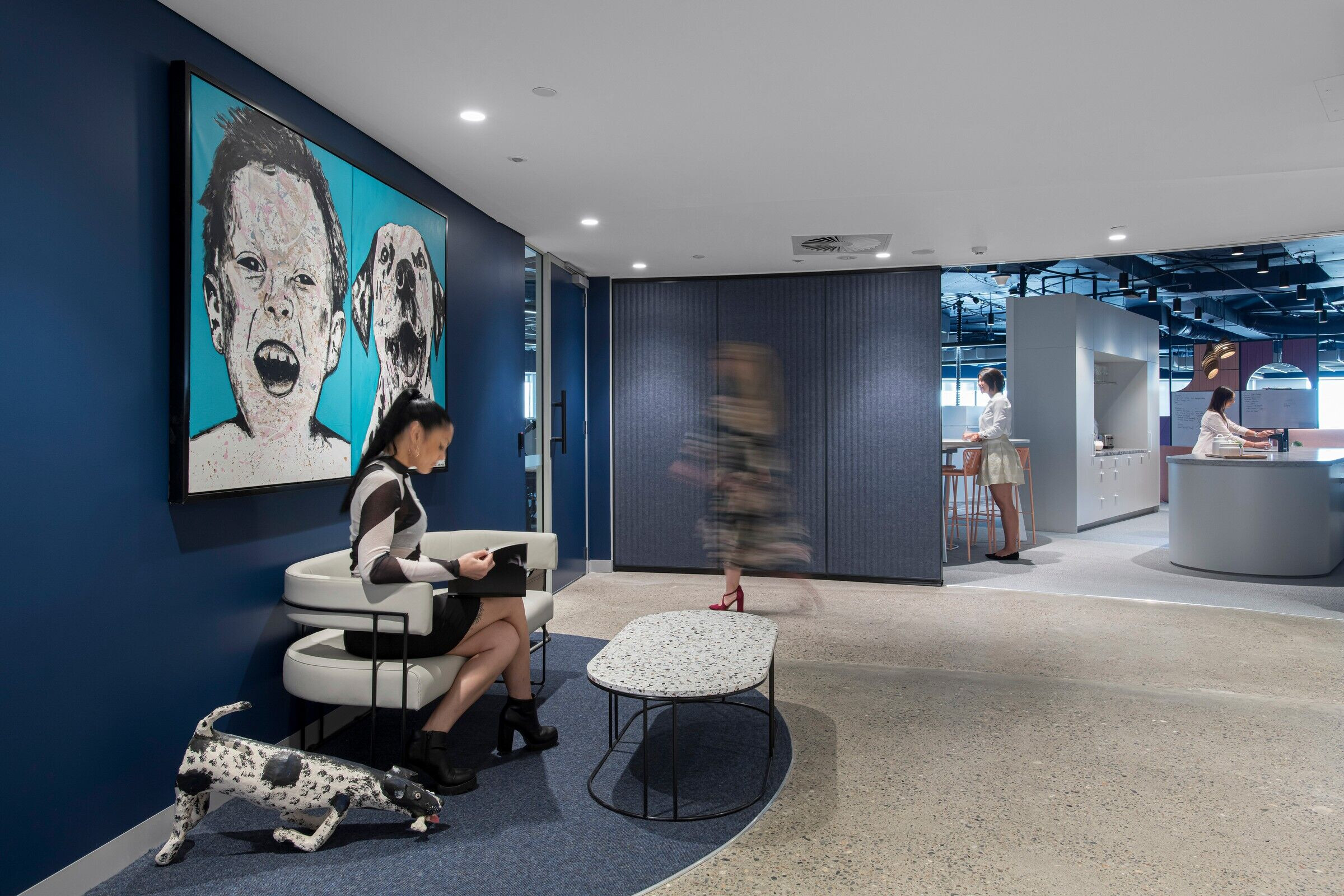 Embracing the curved nature of the floor plate and offset core, the workspace enables an uninterrupted view, connecting the entire business without barriers. This connectivity enables natural osmosis to occur, engaging the skill and knowledge of the team, learning from one another.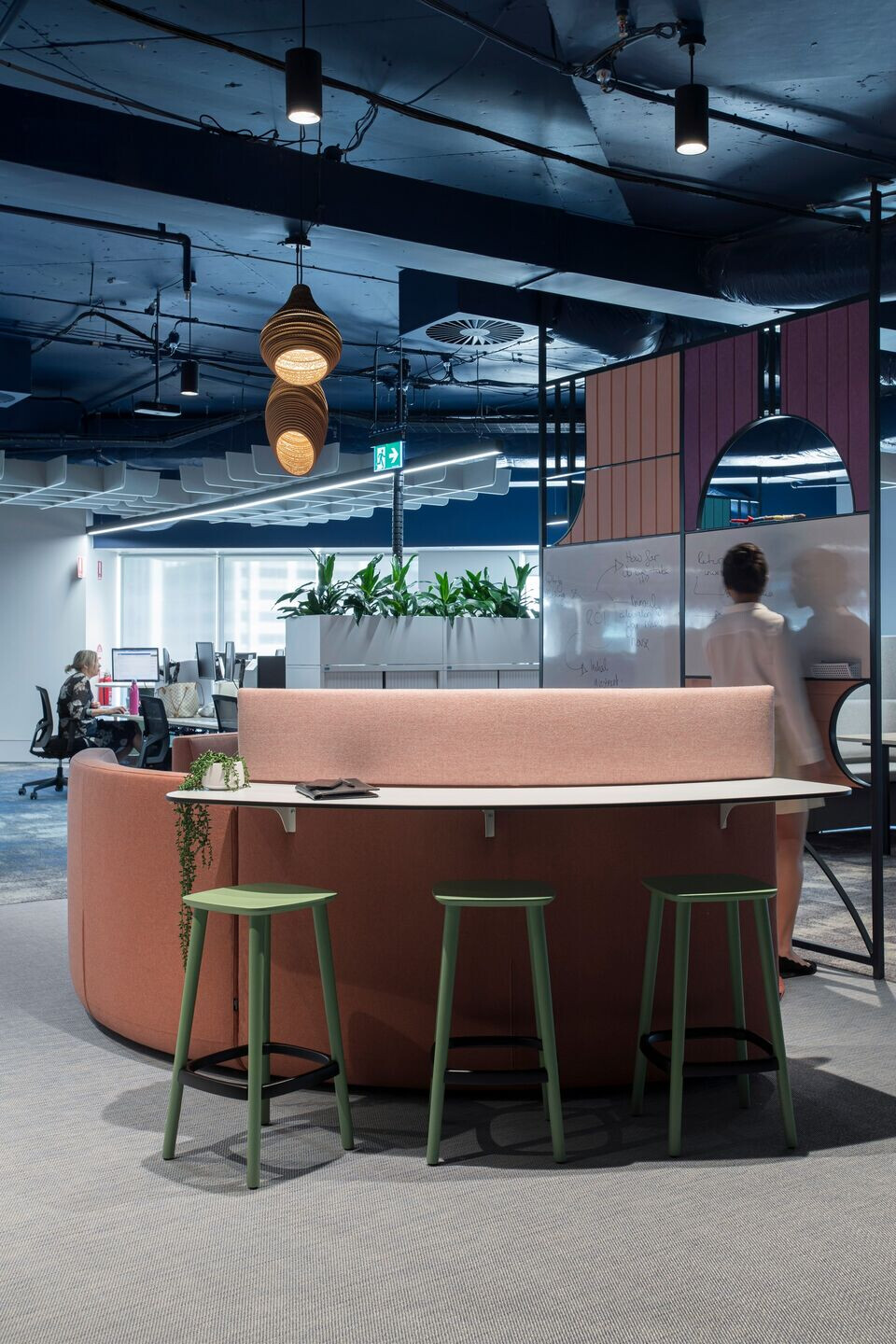 Supported by a variety of team collaboration space styles, quiet booths, lounging areas and phone booths, employees are encouraged to optimise their work performance by engaging with the right space for the task, offering enhanced flexibility.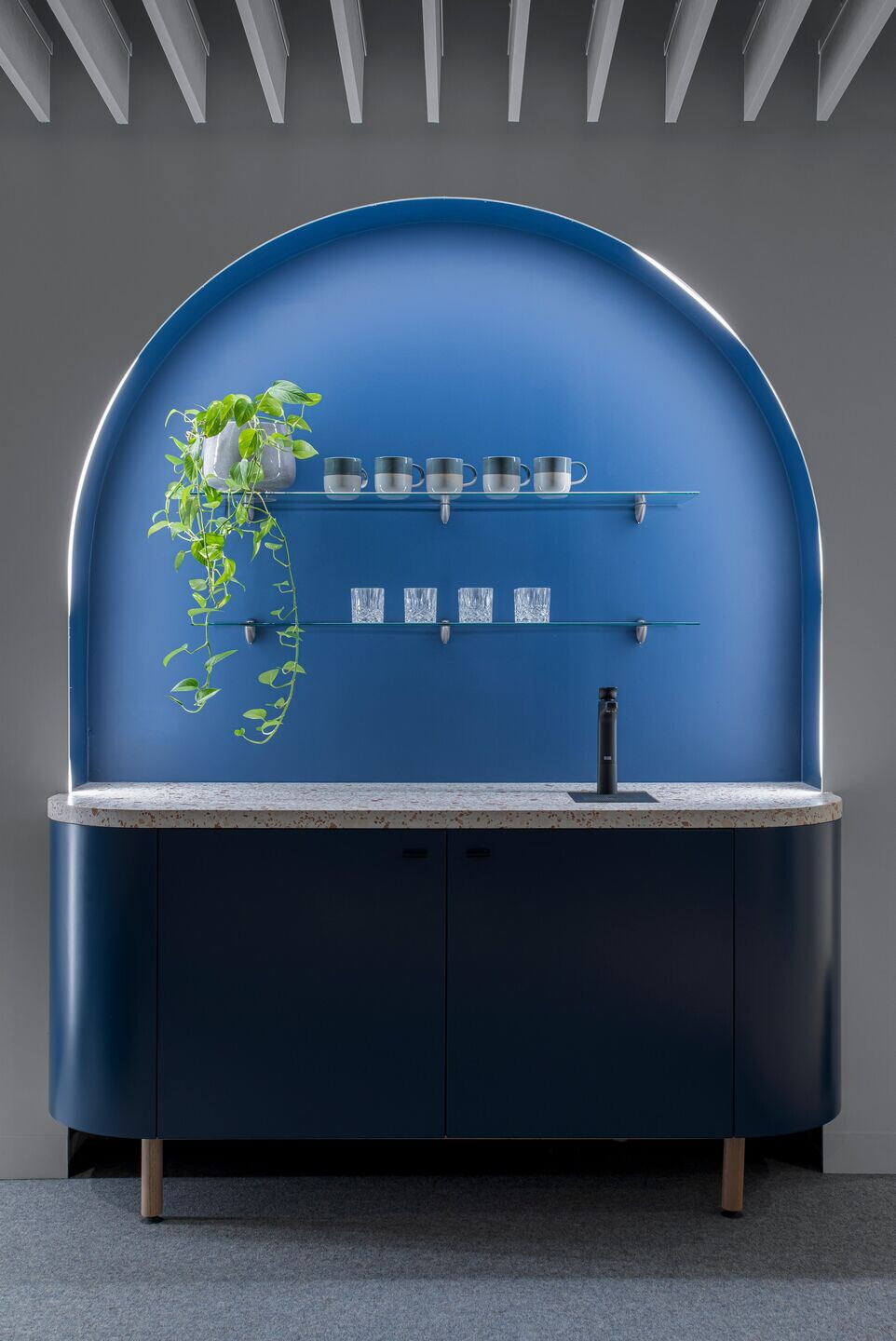 The heart of the business is a cafe space; open and connected to the work environment making it a gathering place that encourages community. Subtly, this space is inspired by the artefacts of Nepal. The window to the hall is screened with mobile blades akin to prayer wheels and the material pallet is icy; reflective of intense blue sky and colder climes. The bright colours and wall artwork are inspired by the splashes of colour from traditional prayer flags giving the space a feeling of openness and belonging.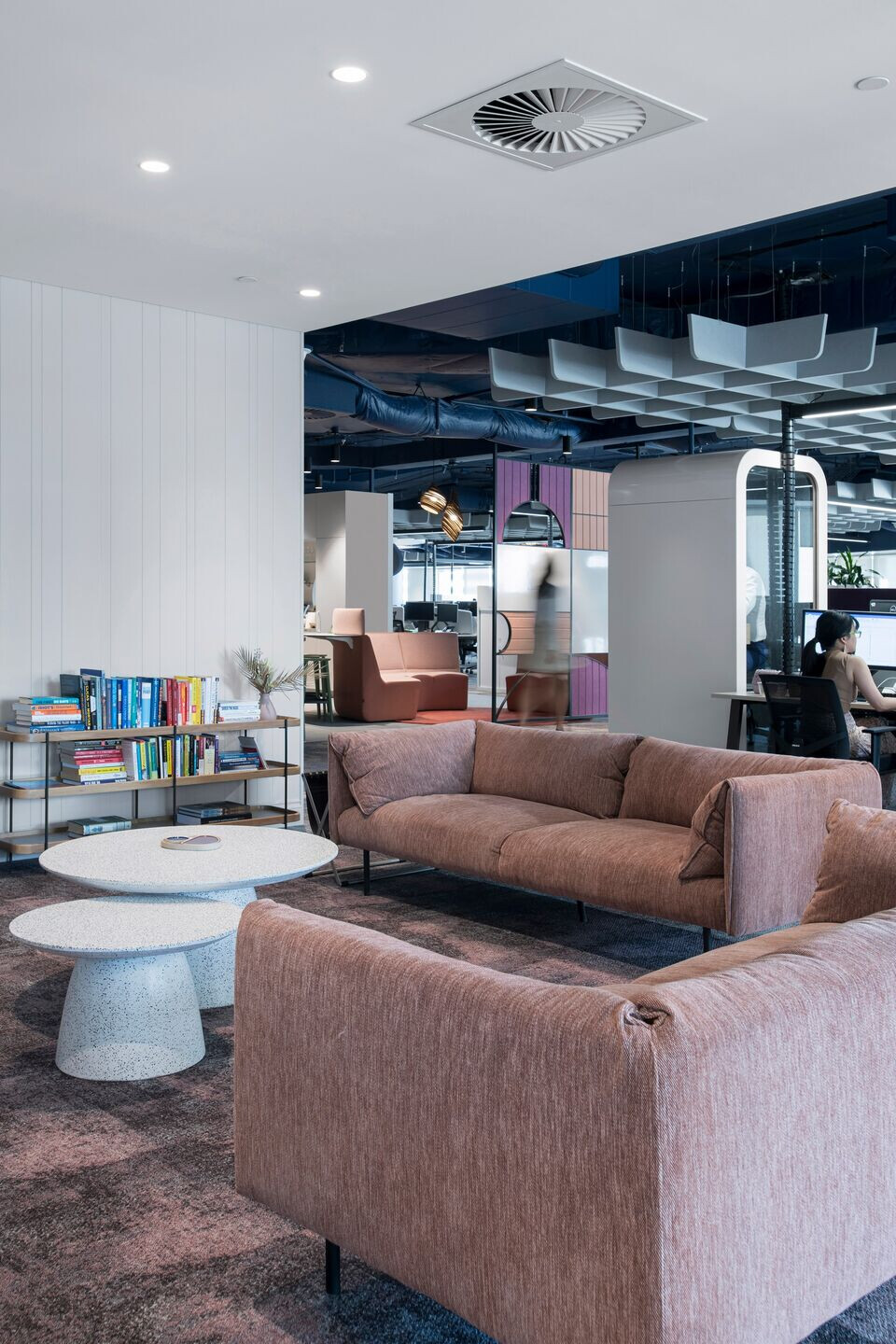 The materiality embraces the essence of Davidson; honest, authentic and trusted, executed through the sealed concrete, exposed services and signature "D" shape, partnered with their signature navy blue and splash of orange.
The client's brief was minimal; they wanted to accommodate their 60+ employees in a workplace that enabled them to work effectively and represented them professionally to their clients.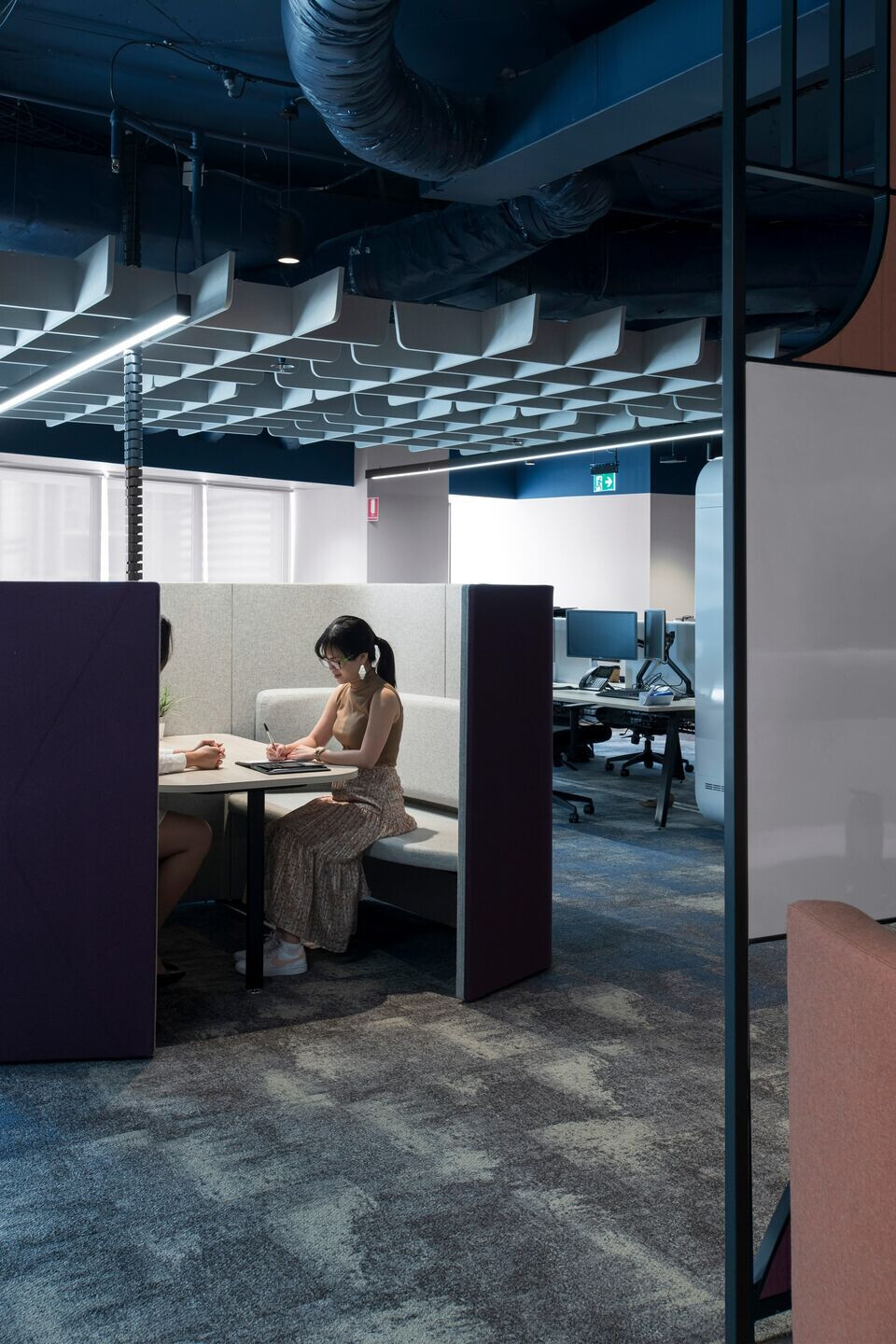 Material Used :
Furniture
Catifa Up Chair; Stylecraft, Catifa 53 Cross 53 Stitch Chair; Stylecraft, Sedis 2 Seater Lounge Chair; Stylecraft, Sedis Coffee Table; Stylecraft, Avion Occasional Table; Stylecraft, Bloom Circle Lounge; Stylecraft, Blade 4 Star Base Table; Stylecraft, I am Flip & Fold Table; Stylecraft, Disc Table; Stylecraft, Blade High Table; Stylecraft, Blade Table; Stylecraft, Ayre Task Chair, Specfurn Babila Stool, James Richardson Tribecca Chair, James Richardson Tribecca Stool, James Richardson Pedrali Fluxo Table, James Richardson Haven Quad Pod, Zenith Archie Stool, Zenith Epic Workstations, Zenith Tambour Storage, Zenith Framery O with Wide Table, Office Scape Crescent Swivel Chair, West El, Team Air Drafter Chair, UCI Woodrow Hourglass Stump, Fenton & Fenton Willow Range, Loob Planter, The Balcony Garde Piccolo Stool, Freedom Felix Angled Arm, Globe West Felix Fold 3 seater sofa, Globe West Paloma Coffee Tables, Globe West Sketch Humla Shelf.
Lighting
Titanium G2 Light, Unios Titanium Pendant, Unios Nusa DUA, Yellow Goat Designs Flex Troffer LED, Eagle Lighting RapidLED, Eagle Lighting Akira Round 600, Unios FX Spotlight & Track, Unios Aeon Flex Top, Unios Aeon Flex Side,Unios Silhouette, Ross Gardam Lifelight, Clevertronics Ultrablade Pro, Clevertronics Slim LED, Digilin XTA 2.0 Slot, Xero XTA 2.0 Beam, Xero.
Finishes
Tretford Carpet, Gibbon Group Comfortable Concrete Carpet, Milliken-Ontera Urban Poetry Carpet, Milliken-Ontera Pebble Carpet, Cavilier Bremworth Marine Carpet, Interface Flow Collection Flooring, Bolon IQ Surface Flooring, Tarkett Taralay Flooring, Gerflor Buffalo Granite Floor, Stone & Tile Studio Plan Stippled Rug, Designer Ruge Wash & Wear Paint, Taubmans Echopanel, Woven Image Zen Echopanel, Woven Image Coloured Float Glass, GJames Powdercoat, Dulux Powdercoat, Interpon Element Acoustic Grid, Woven Image Caramalita Stone, Fibanacci Stone Zone Upholstery, Instyle Laminate, Formica Foss Upholstery, Kvadrat Luna Concrete, Essa Stone Laminate, Polytec Laminate,Laminex Timber Veneer, Eveneer.
Fittings & Fixtures
Cabinet Pulls, Made Measure Concealed Bin, Hafele Tapware Reece Sanitary Ware Caroma Astra Walker BAH1 Door Pull, Barben PWD Accessories Bradley.