DE REGENT, design for a district health centre
AN OPEN HOUSE FOR ANTWERP NORTH
The initial concept for the design of de Regent is ambitious in both social and spatial terms. Given the Regent's geographical link with the neighbourhood, it goes without saying that the new building should be designed as the centre's visiting card. The experience from the inside, on the other hand, must offer the intimacy required for a care function. The design departs from the perspective of the user (both patients and staff members). We are striving to build an open house for Antwerp-North, where everyone feels welcome, and with enough privacy for it's users.
IN HARMONY WITH THE NEIGHBOURHOOD
The building is located in a residential area. The new project includes three adjoining plots in the heart of Antwerp North. We are preserving the history of the existing plots in the new design. By working with split levels, the windows in the façade are alternated. In this way, the idea of separate plots is strongly visible in the street.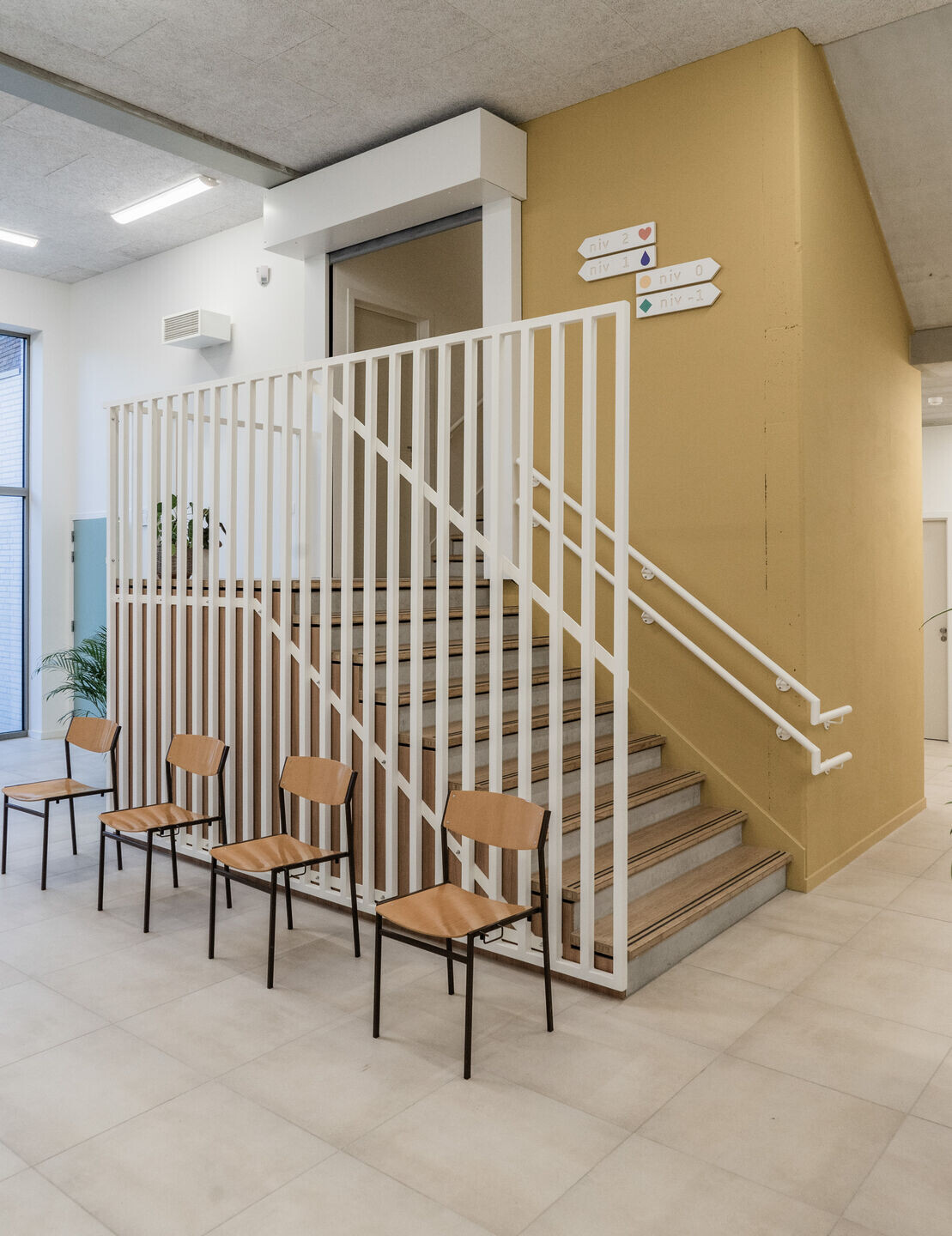 IN DIALOGUE WITH THE STREET
The entrance area and the internal (multifunctional) meeting room are given a prominent place in the building and it's neighbourhood. These important spaces are spatially highlighted by making them 1,5 floors high. This gives a strong accent to the entrance area on the ground floor. The reception area provides a view from the street to the garden. The extra-high meeting room on the top floor accentuates the corner of the building.
A BUILDING THAT RADIATES HEALING
We are building a healthy building, a building that radiates healing. This concept is translated into a solid and clear structure with lots of light. A stroll through the building gives a welcoming feeling, with orienting views to the outside.
A FLEXIBLE STRUCTURE
The entire programme is built around the circulation system. The staircase is the core of the building; all the cabinets, office spaces and sanitary facilities are linked to it. Without architectural adjustments, the programme is interchangeable, both spatially and in terms of techniques.
A SUSTAINABLE WHOLE
The basic concept of the design is making a solid, sustainable and robust building. Sustainability begins with investing in a good building envelope. Together with this, a great deal of attention is paid to the orientation of the spaces. The hottest sun of the day is kept out as much as possible by means of large closed façade surfaces. The absorbed west and east sun is brought deep into the building.
ENERGY
We make maximum use of free energy such as daylight and natural ventilation. We limit a large part of the need for active energy by investing in passive technologies that provides energy without the need to purchase it. The remaining energy needs are filled in as much as possible by renewable energy sources and the use of efficient installations.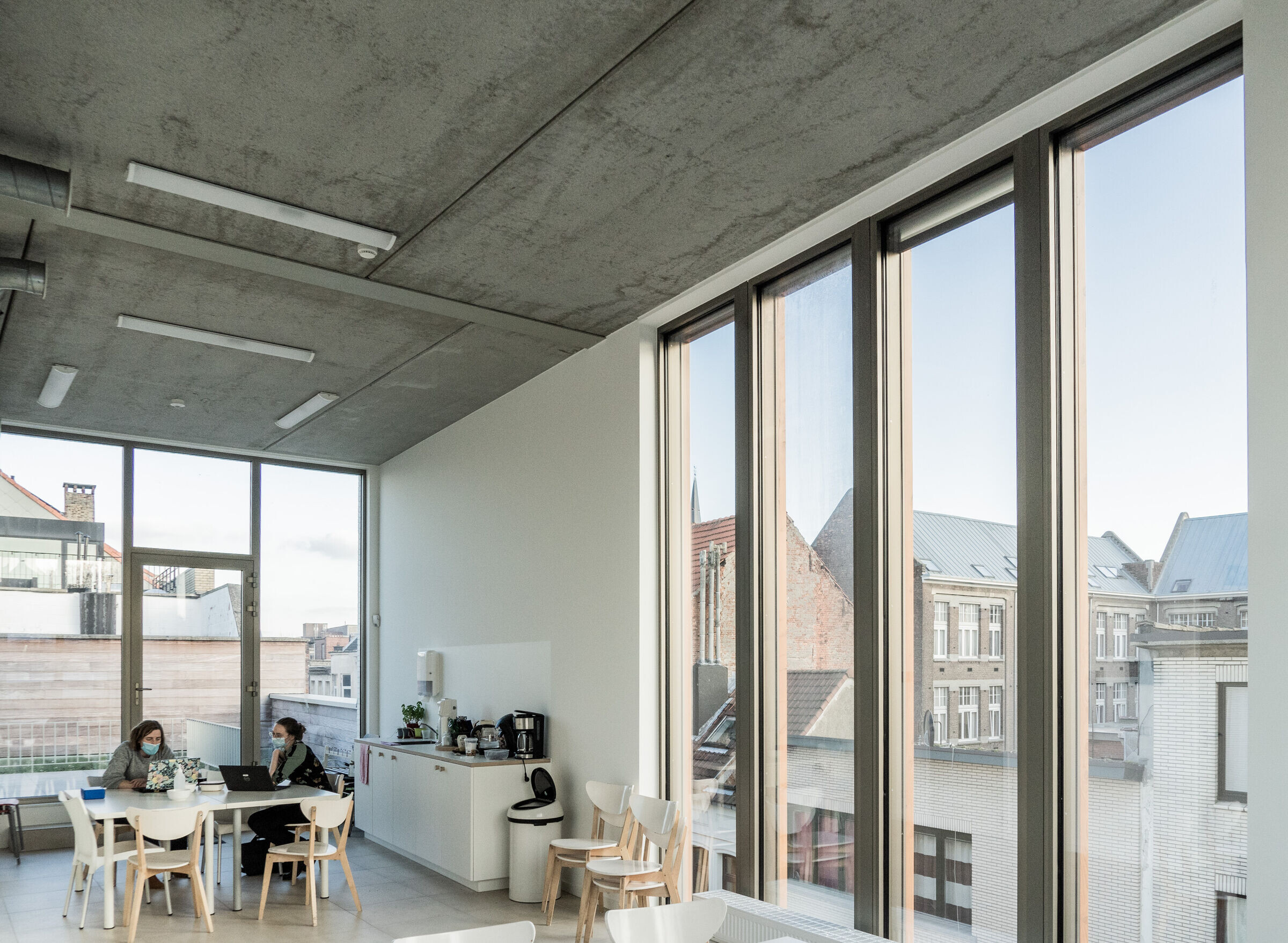 Team:
Architects & Designers: Stramien cv
Engineer Techniques: EFIKA
Engineer Construction: Peritas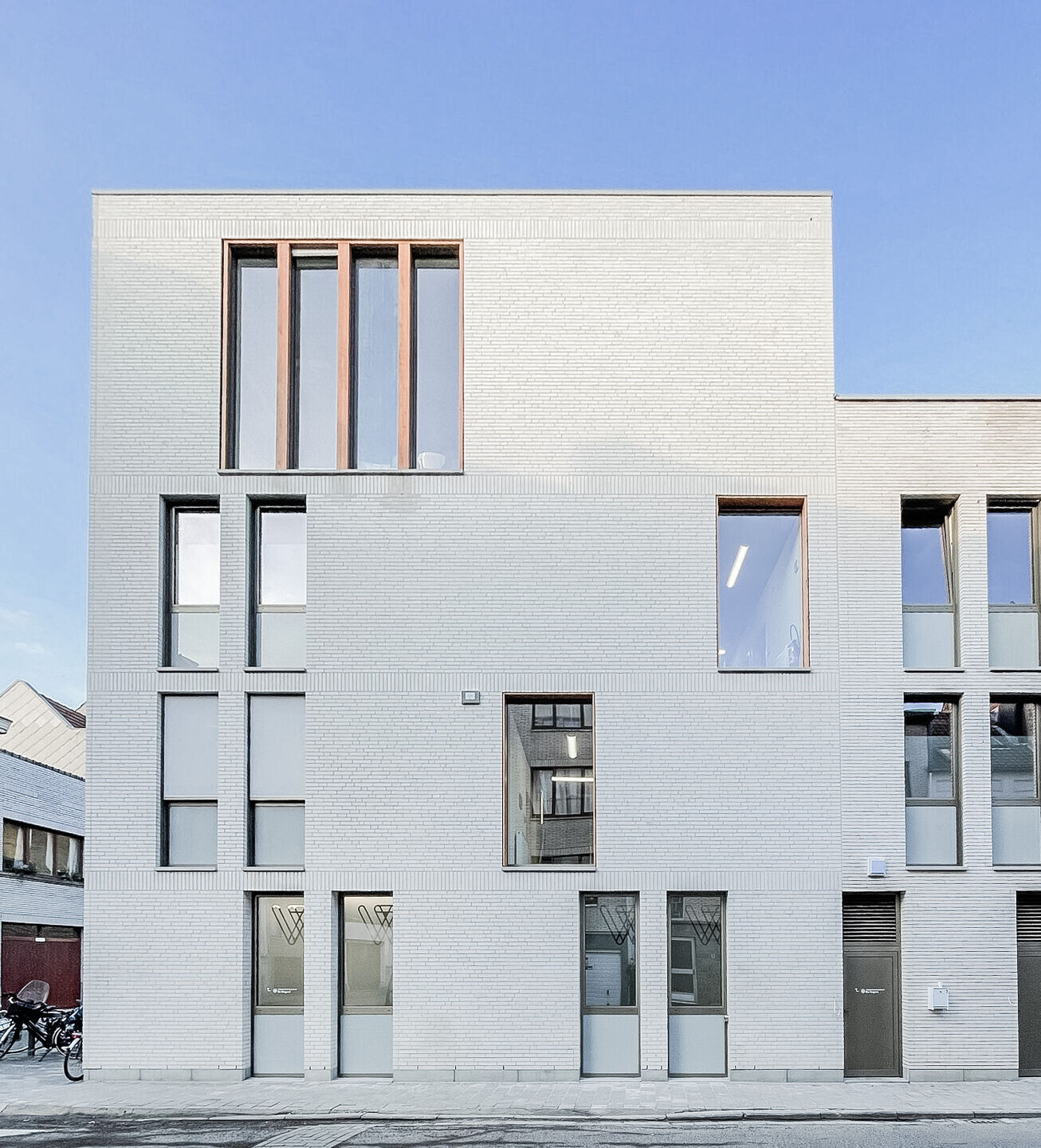 Materials Used:
Facade cladding: Brick, Elignia Arctica white, Wienerberger
Flooring: Tiles, Walk, Stagres
Doors: DeCoene
Windows: Aluminium, Masterline 8 + CW50, Reynaers
Roofing: Bitumen, BauderFLEX WF