Emerging from the ME by Melia Hotel, as part of The Opus Building created by the late and honorable architect Zaha Hadid, resides a garden paradise named Deseo.
Upon our initial site visit, we were faced with a concrete slab of a space which was void of any identity – a pool accompanied by a finite number of undressed seating arrangements, a couple of cabanas, and a few stranded planters. Put simply, this wasn't something that was worthy of being associated with an institute as iconic as The Opus nor did it achieve its function as an operational pool lounge.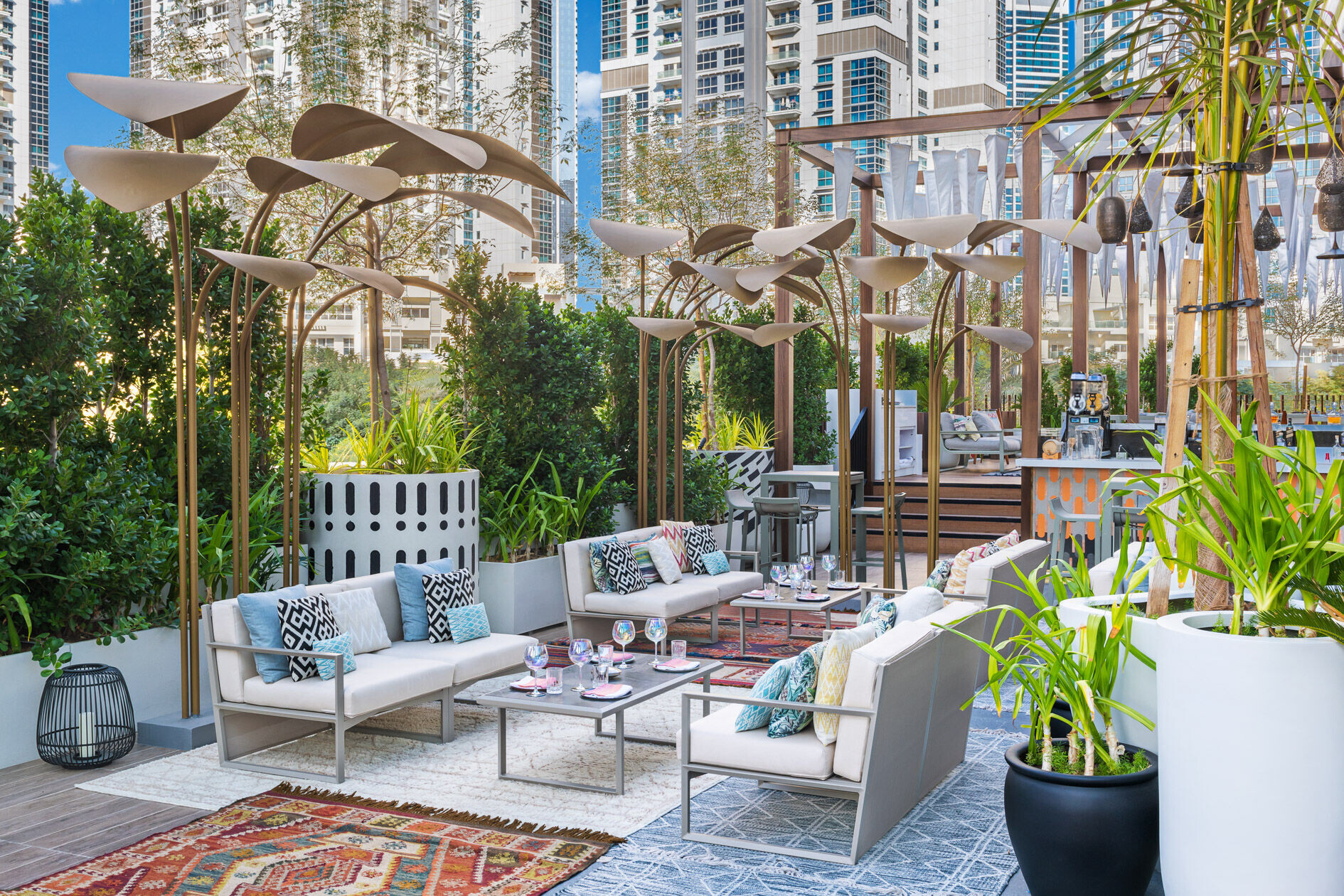 The Client desired a Tulum vibe, approachable but with a distinct energy, which could translate from day to night. We were therefore challenged to create a versatile space, taking our inspirations from the Mexican beach-town but evolving them in a way to become very appealing for Dubai. Fabrics, texture and colour were therefore paramount. This wasn't just a matter of creating a pool deck, moreover a desirable destination for lounging and parting.
We set out by extending an existing small seating podium to encompass an entire decking platform and converted a rectangular planter into a fully-fledged double-sided bar, allowing equal sight-lines from each side of the venue. This innovative methodology enabled us to replace previously dysfunctional elements with operational aesthetic delights.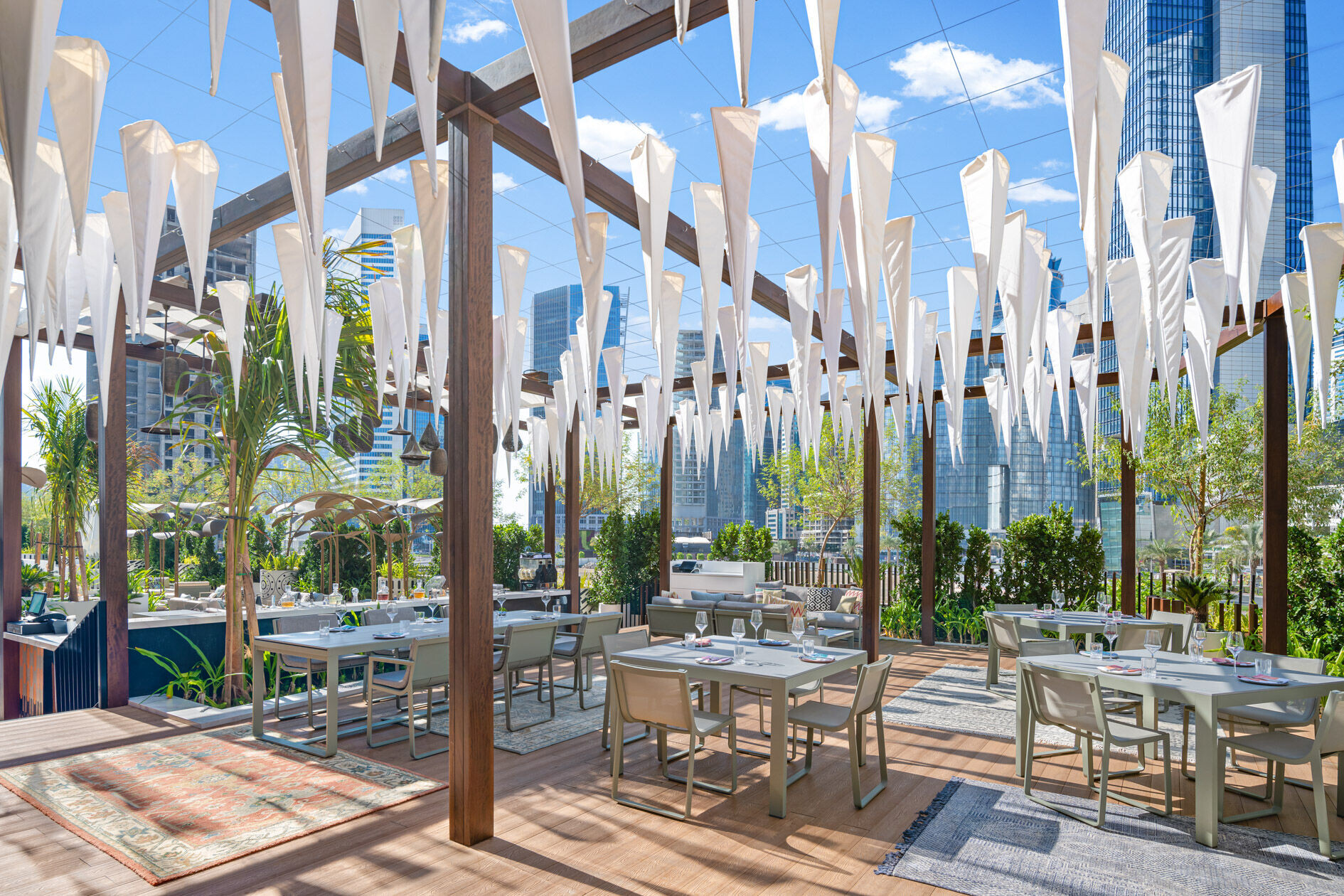 A removable deck has also been incorporated along a section of the pool to introduce a VIP area. The DJ platform floats above the water feature, allowing for a double-sided view from both pool and lounge, elevating one harmonious pumping venue.
We utilized GandiaBlasco furniture from site however evolved and re-purposed the pieces. Additional items have been sourced from Interior 360. Lighting was thoughtfully considered to balance the myriad of colors and tones within. Aztec and floral patterns adorn the assembly of rugs, cushions and fabrics that take center stage within.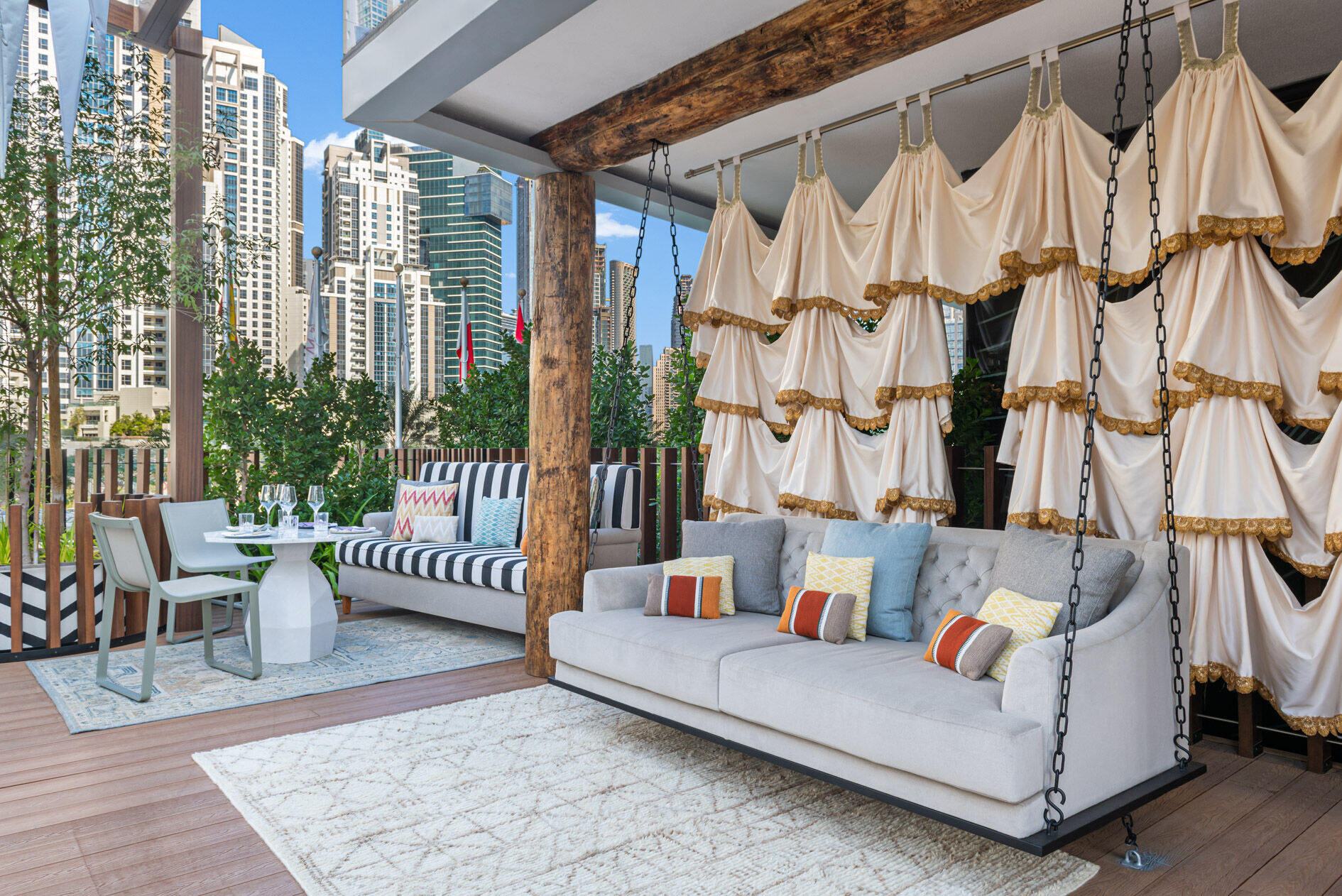 Effortlessly captivating passers-by, the bar parades exquisite artisanal tiling and shading. The swing invites guests to sit back, relax and be submissive to the breathtaking oasis that surrounds them. Suspended fabric features adorn the pergola structure which encompasses the raised seating platform, creating a play of shade on the deck during the day whilst still allowing guests to look up to the open sky.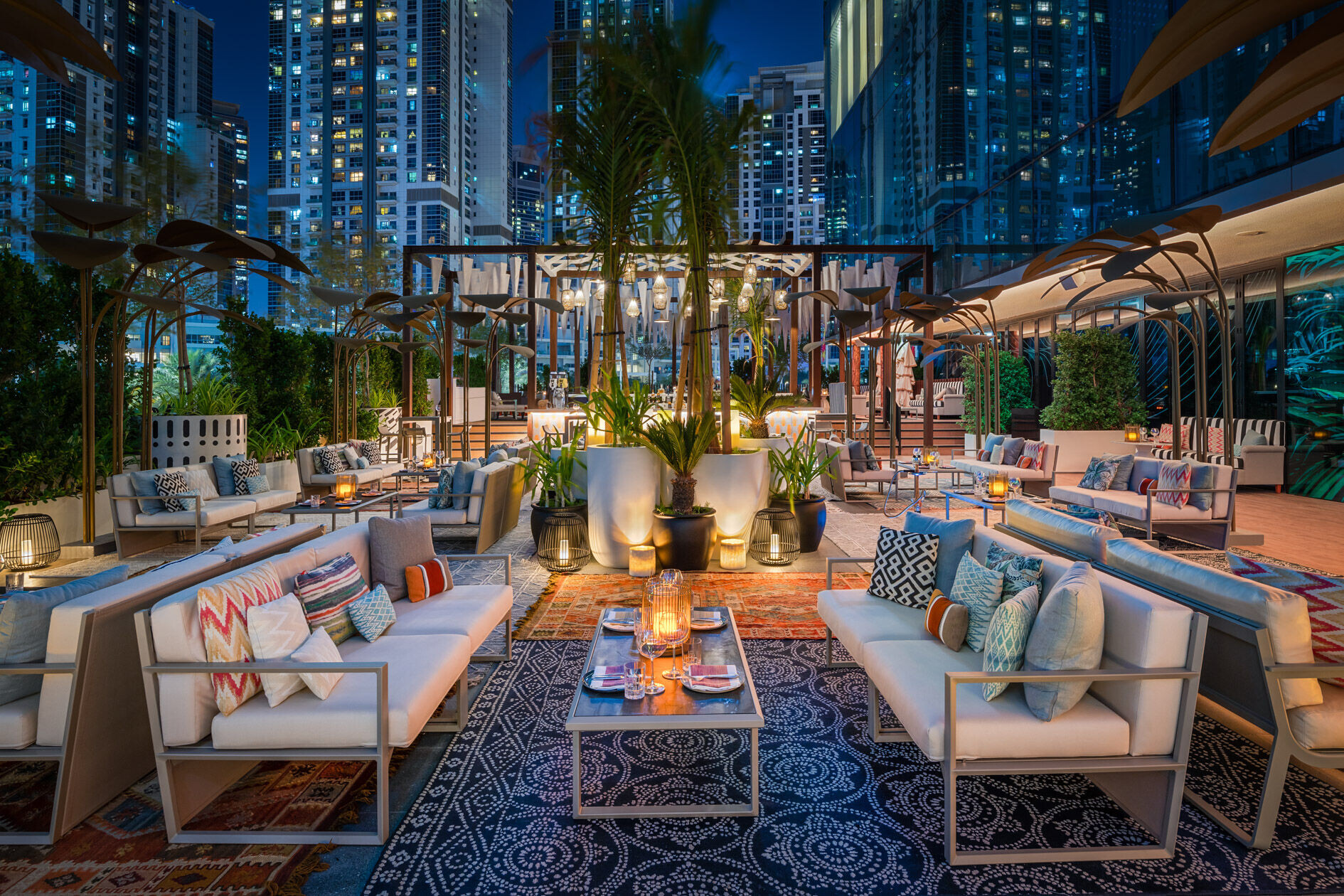 A key feature is our intervention with greenery, reflective of Tulum but manipulated to provide a dynamic, unique setting for the city. Large pots that were acquired from site have been stamped with striking art details and further enhanced with additional heavy vegetation. Extending these ideologies to include the façade, a thicker skin of foliage contributes to the lush green blanket that wraps around the entire environment; creating an oasis within an urban city.
Now a glamorous deck and one of the most vibrant hotel pool offerings in the city, which unfolds into a lively evening setting as the sun sets. A perfect embodiment of Tulum meets Dubai, where people feel at their most relaxed whilst enjoying their electrifying surroundings.