GUNYAMA PARK AQUATIC & RECREATION CENTRE OPENS, FEATURING THE LARGEST SYDNEY POOL SINCE THE 2000 OLYMPICS
An impressive aquatic centre comprising four pools and extensive fitness and wellness facilities is the centrepiece of a major new recreational project in the Epsom Park precinct of Sydney's Green Square. The Gunyama Park Aquatic & Recreation Centre is the newest addition to the City of Sydney's recreational assets and opened to the public on Monday morning, 01 February 2021 in the presence of Sydney's Lord Mayor, Clover Moore.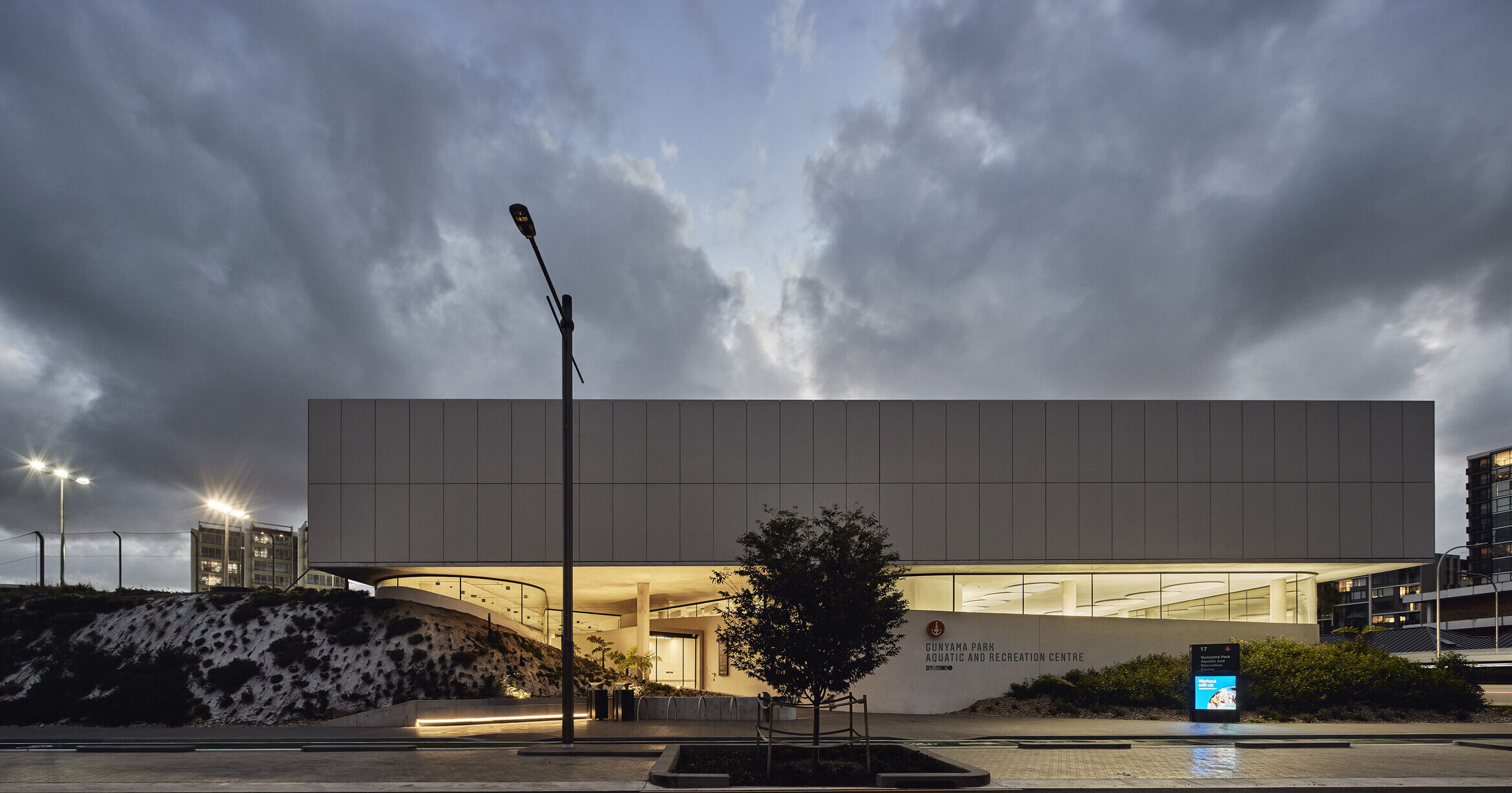 Following a successful stage one competition entry in 2013, Andrew Burges Architects invited international practice Grimshaw and landscape architects Taylor Cullity Lethlean to form the team for the second stage of the competition and they were declared the winning entry in 2014. Over 150 international entries were initially received and were judged in a blind competition in which the jurors did not know the identity of the competing firms. Chairman of the jury Carey Lyon said "we judged them on their merit, all the way through."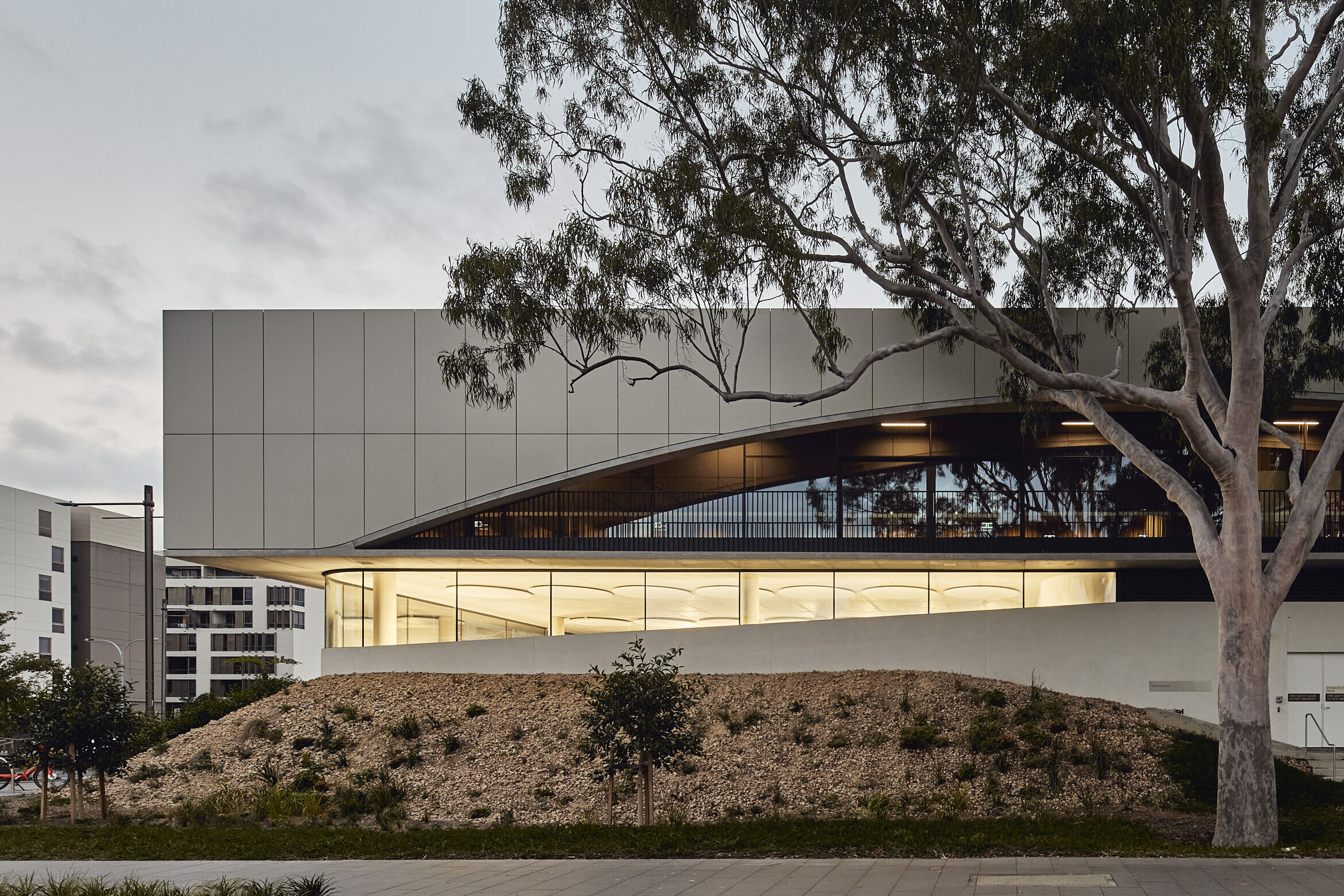 Originating in the need to provide open space and recreation facilities to the growing population in the intensively developed Green Square, the project will today serve a precinct which numbers close to 40,000 residents. As Green Square reaches its full development potential, over 60,000 residents are envisioned, making it one of Australia's most densely developed new areas. The community has been extensively engaged with the development of the centre, contributing to its functionality and amenity.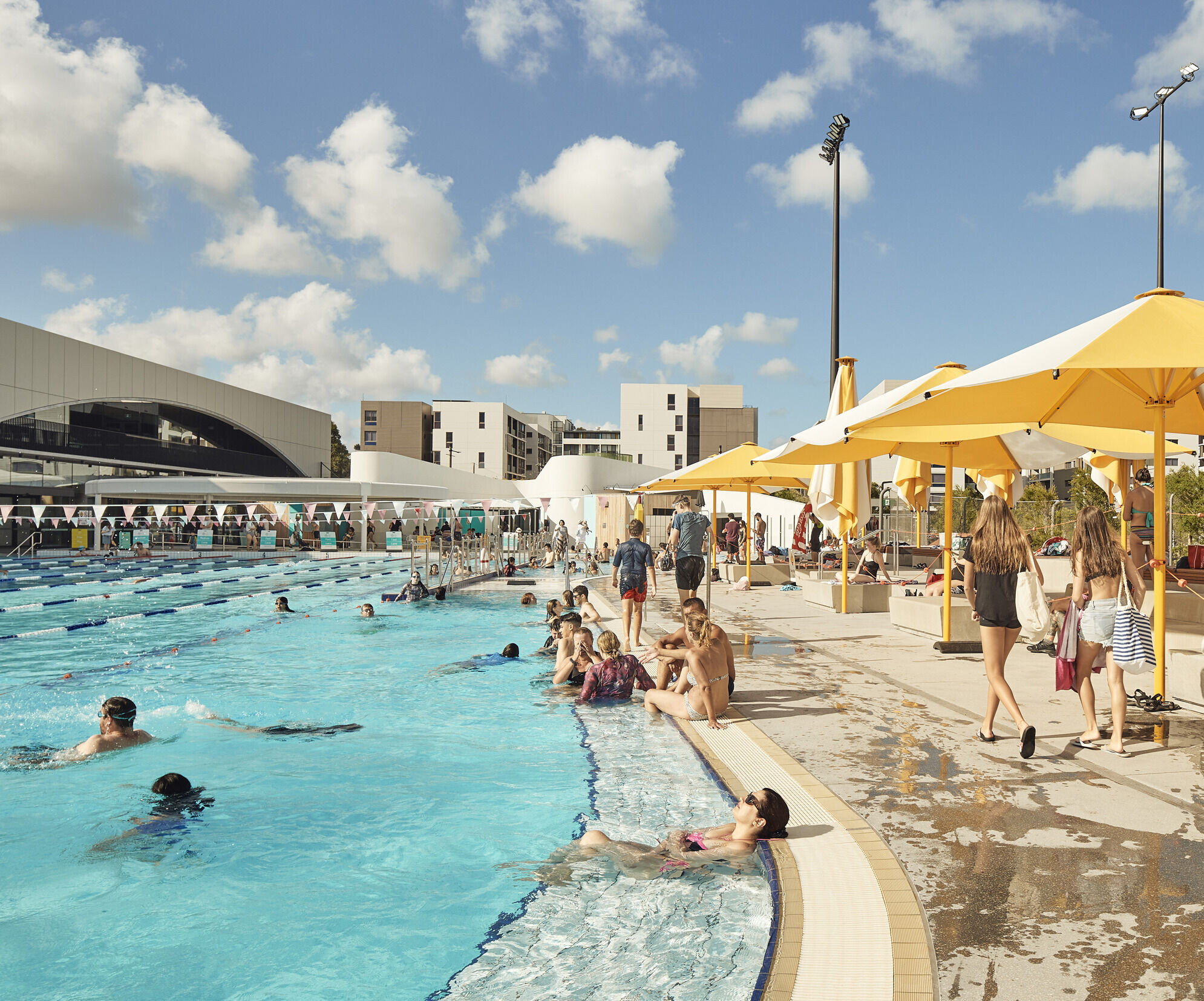 The design is a response to and evocation of First Nations activities on the site, the former Waterloo swamp which was an important confluence of salt and fresh water for the people of the Eora nation. The public art references the fresh water gathering vessels called Bengala. The design of a beachlike shoulder for the main pool is reminiscent of Sydney's famous ocean rockpools. There is also reference to the industrial character of the adjacent Zetland and Alexandria suburbs where factory buildings featured repetitive bays, sawtooth roofs and large scale structures, echoed in the large and sweeping spans present on the upper level.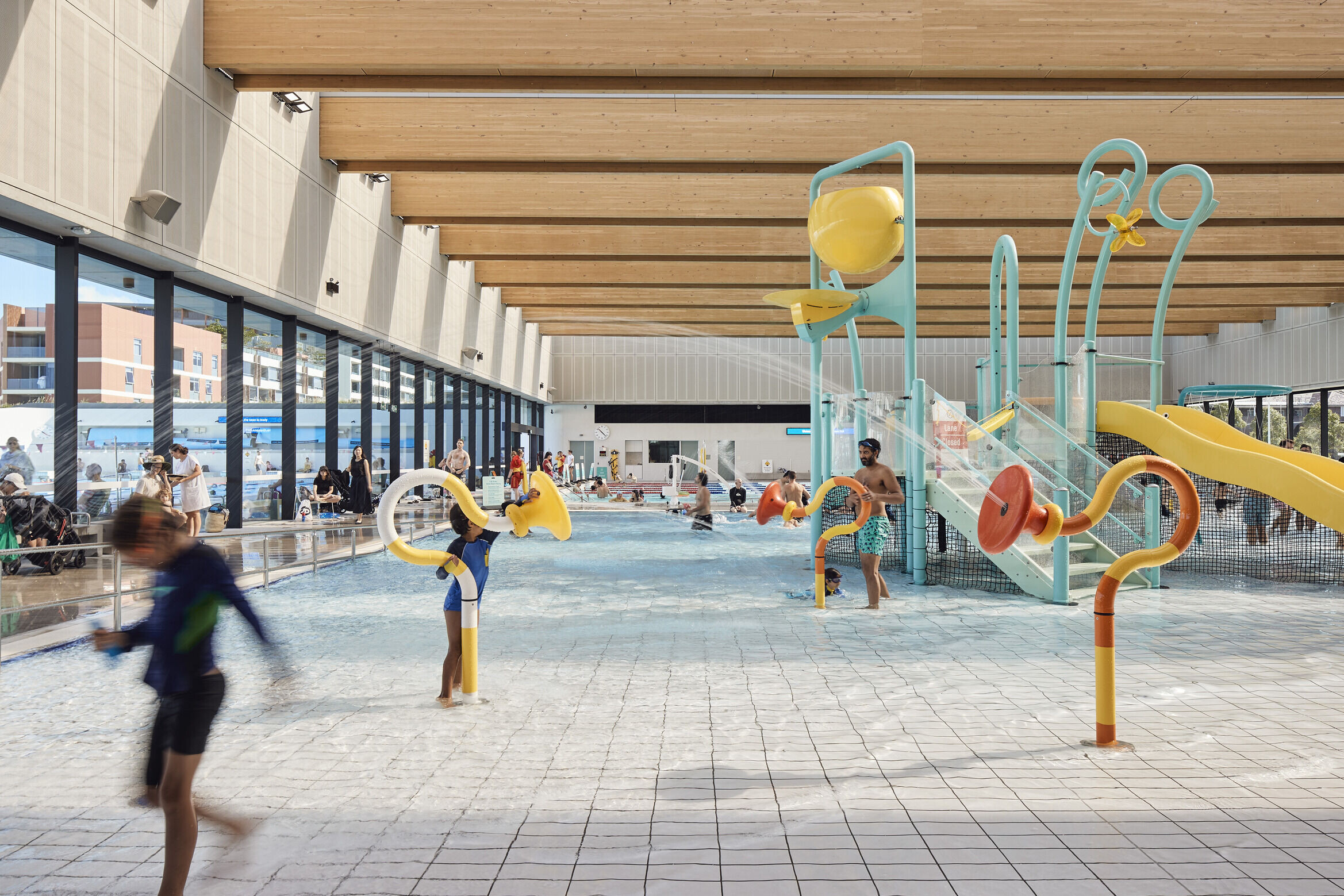 The entire project was conceived of as an integrated proposition of a park, aquatic centre and recreation centre with a coherent and coordinated design language used throughout the entire site. The embedding of the facilities in the landscape is a key element of this design language which also translates into the green roofs and the extensive use of berms around the structures.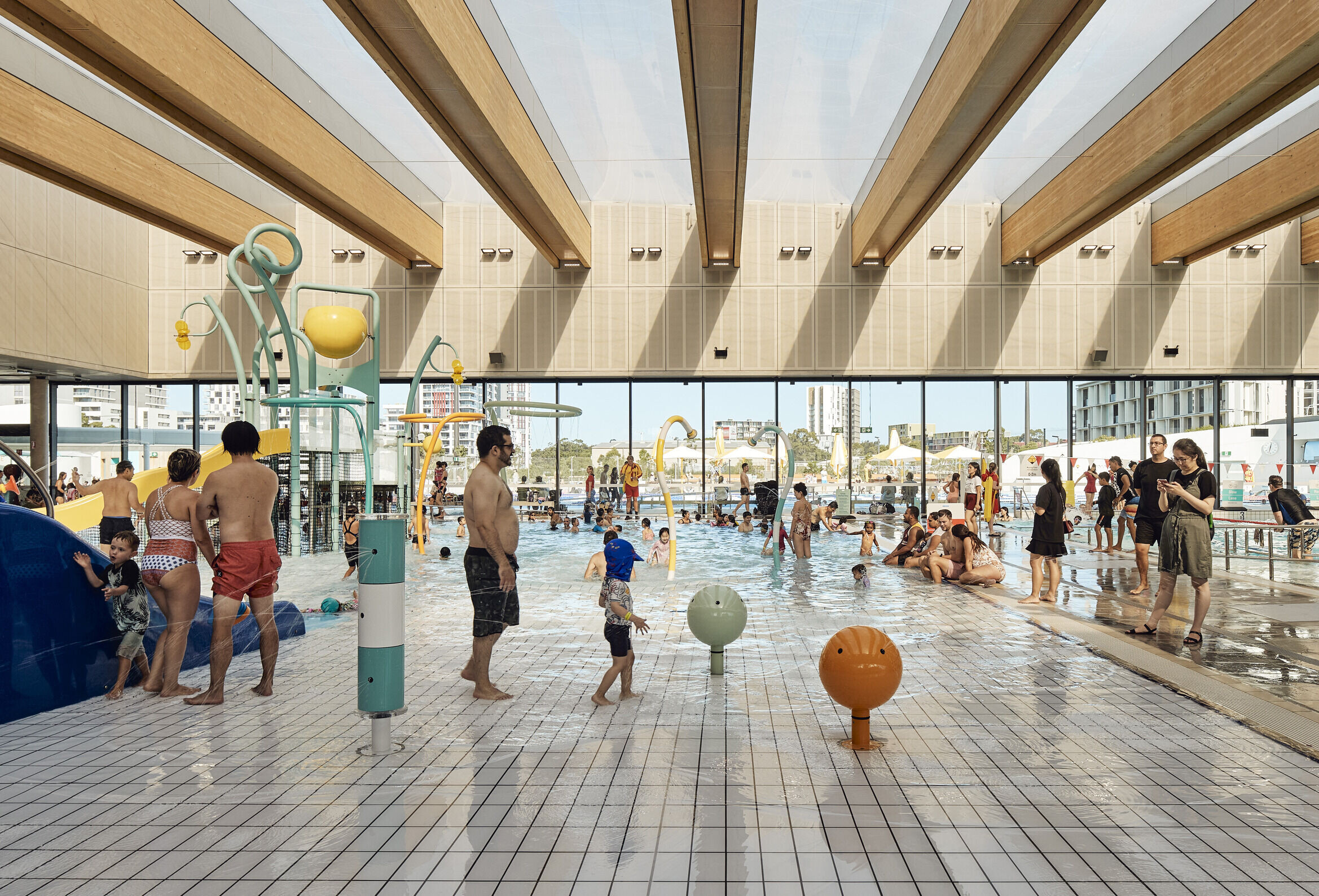 "We felt there's a kind of fundamental pleasure in swimming in beach pools and that wasn't evident in aquatic centres," said Andrew Burges. "The site itself was literally unconstructed and because there was no existing condition, it was a really important to remake the landscape and the place of where the pool would be. Looking at the beach pools with the goal of rethinking the typology in terms of what kinds of recreational spaces it makes was pretty fundamental to our concept.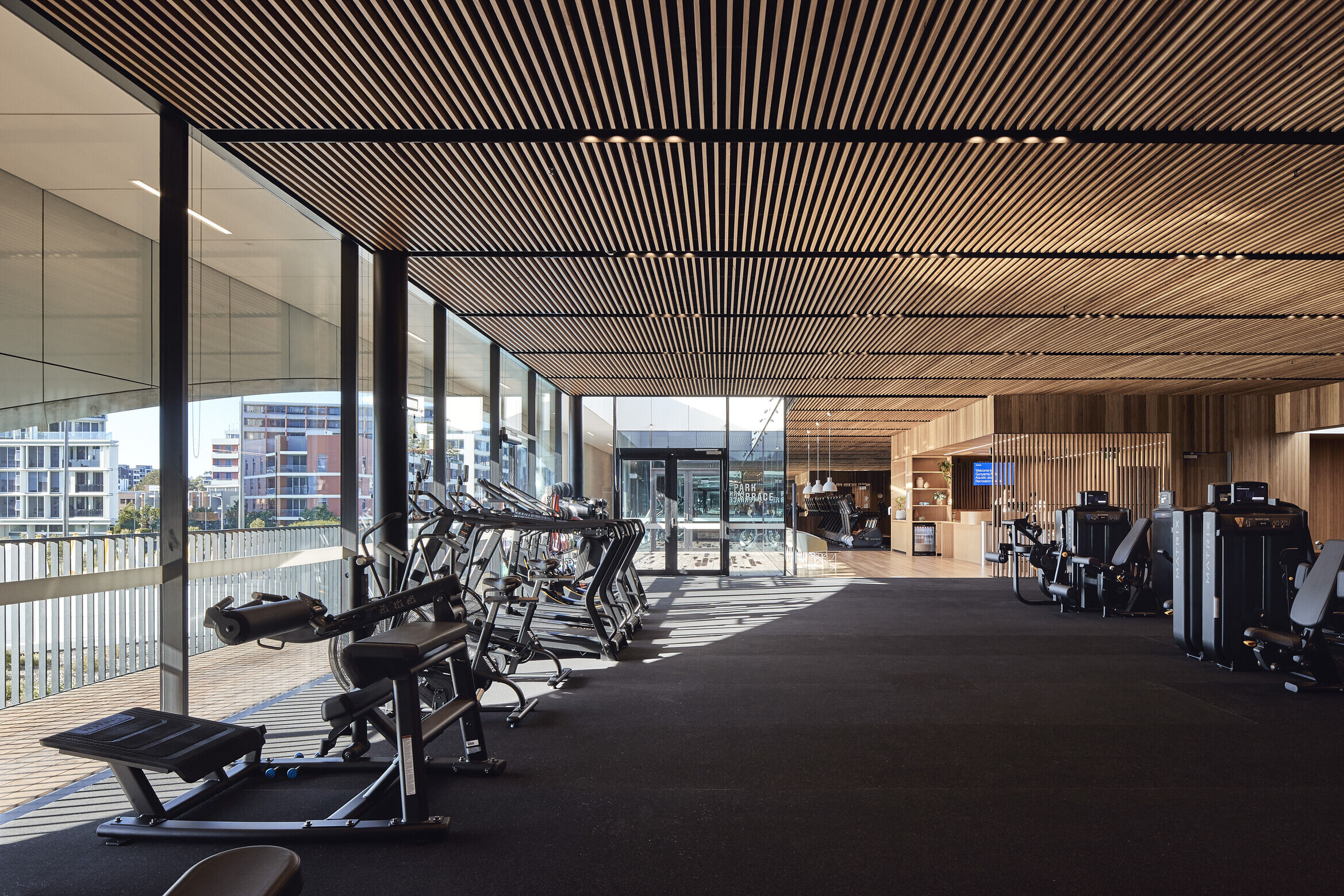 An outdoor 50m pool features a beach edge on its northern side, and is surrounded by umbrellas, cabanas, bleachers and rocks with boardwalks leading to a 25m indoor pool which features one of the largest moving pool floors ever built in Australia. Adjacent to this is a hydrotherapy pool kept at higher temperatures and cloistered from the more public areas of the facility. The water in the indoor pools is used as an integral element of climate control and minimises energy use. Those roofs which are not green roofs house a massive photovoltaic array providing power – the project is the first recreation centre in Australia to achieve a 5-star Green Star Design and As Built rating. The environmentally sustainable design principles have been applied to every aspect of the building achieving unprecedented levels of minimal energy consumption through the incorporation of natural ventilation, passive solar and co-generation facilities.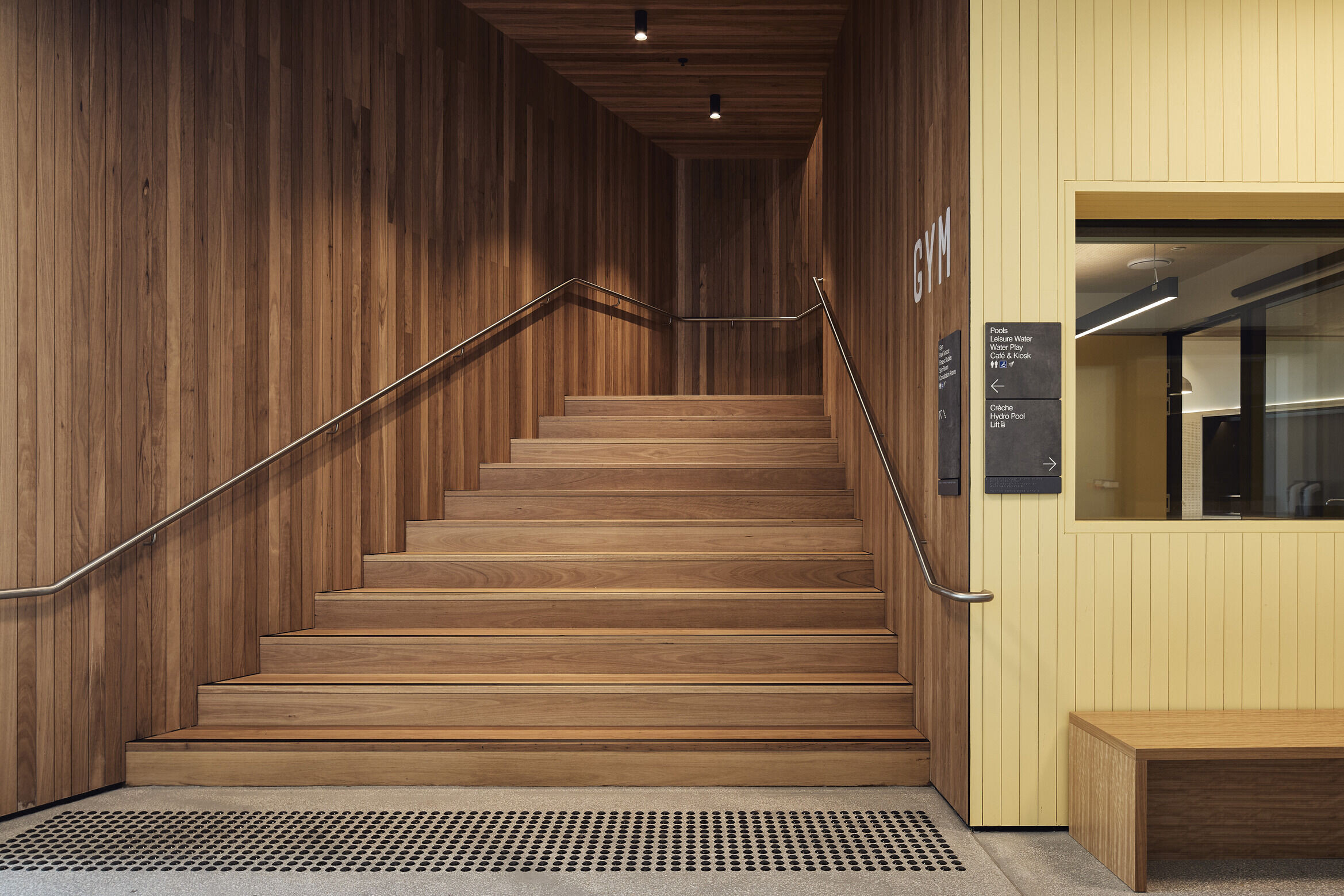 "There's a spine of public facilities within a continuous park which starts at the town centre and moves across the axis," said Andrew Cortese, managing partner of Grimshaw's Sydney studio. "The pool has a really public and civic role in the way that it builds cohesion and community life."
Lord Mayor Clover Moore said "Our architects were inspired by Sydney's much-loved ocean pools, setting the large lap pools within recreational spaces reminiscent of wading at the beach. This is the City's sixth and largest aquatic centre, right in the middle of Sydney's fastest growing precincts".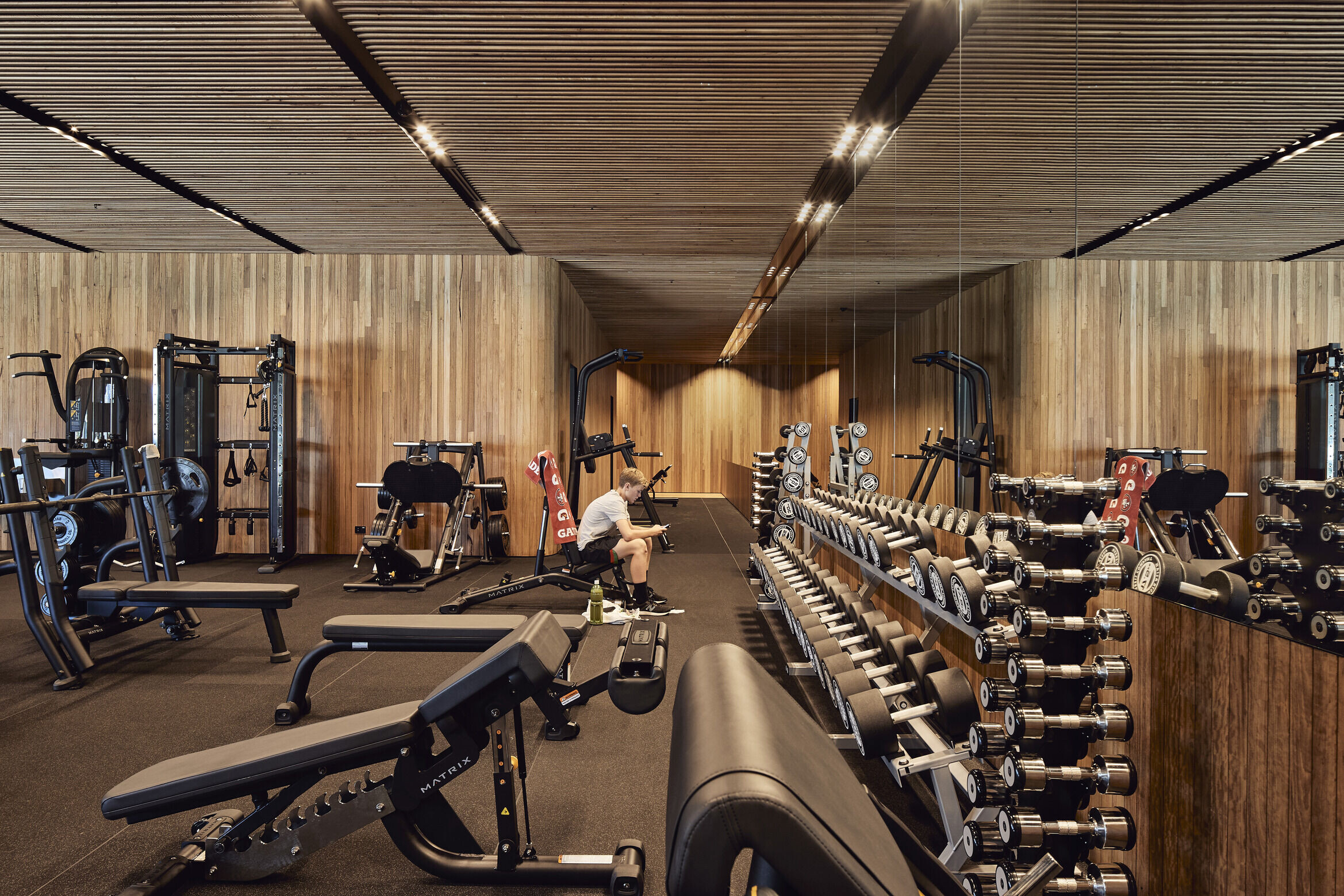 In just over two years time, the same architectural team of ABA and Grimshaw will deliver the dynamic new Parramatta Aquatic and Leisure centre situated at May's Hill in historic Parramatta Park. That project is currently completing construction tendering and is scheduled to be completed in 2023.
Material Used :
Facade cladding:
FC Cladding (level One) - Equitone
Render – Sto
Flooring:
Concrete Floors - Able Concrete
Vinyl floors (BOH & Creche) - Forbo
Interior Tiles – Classic Ceramics
Pool tiles – Ceramic solutions
Rubber floors (Gym)- Regupol
Black butt timber flooring (Gym)
Doors:
Aluminium Sliding Doors and hardware - Dormakaba
Windows:
Aluminium & Steel - Brighton Australia
Roofing:
ETFE – Fabritecture
Interior furniture:
Australian Made: Jardan & Didier
Others: Hay Furniture & Kezu
Custom joinery – H Dallas
Blackbutt Timber wall& ceiling Cladding (throughout) – Sculptform
Doors:
Glazed Aluminium, Automatic sliding, telescopic, and pivot doors, Dormakaba
Product List:
Automatic Operators:
TS301Automatic Sliding Door Operator – Telescopic
AL401 Automatic Sliding Door Operator
EL301Automatic Sliding Door Operator
HD200 Automatic Sliding Door Operator
Door Hardware by Madinoz
L70 SSS 70 Lever on Round Rose - Pair
OC SSS Oval Cylinder Escutcheon
ER01 SSS Emergency Indicating Release SSS
6500/30 SSS Noosa Lever on Ext N/S Oval Plate - Cylinder Hole
B8005/450/25X10/SSS
8005 BTB 475x25x10mm CTC 450 SSS
Closers by Dormakaba
TS73V SIL EN1-4 Rack & Pinion Door Closer
TS83 SIL EN3-6 Rack & Pinion Door Closer
TS92B24GN SIL EN1-4 Cam Action Slide Rail Door Closer
TS92G24GNAB SIL EN1-4 Cam Action Slide Rail Door Closer & Angle Bracket
TS93B15GN SIL EN1-5 Cam Action Slide Rail Door Closer
Windows: Glazed Aluminium, Unsure of the final product specification for window channels used as this was contracted to Brighton Australia.
Interior Lighting:
Downlights by Vision Lighting:
Shimmer
Opal
Jewel SM
Uplights by Vision Lighting:
Hewitt
Spotlights by Vision Lighting:
Glide
Wall Lights by Vision Lighting:
Tascott
Linear Extrusions by Vision Lighting:
Alinya
Pendant Lights:
Muuto - Unfold
Coco Flip – Coco Pendant
Archier - Highline