With Gusto 501, acclaimed restaurateur Janet Zuccarini commissioned PARTISANS to create an unprecedented infill building for a bar and restaurant experience like no other. We were inspired by the property's slim urban form, our client's deep Italian roots, and our ambition to create a cultural destination. Surrounded by an overpass and former factories, The Gusto 501 Terracotta Hypergarage is a nod to our client's story as well as its unique context. Featuring one of the largest operable glass façades in the world, and framed by weathering steel, the building has become a beacon in this nascent part of east-end Toronto.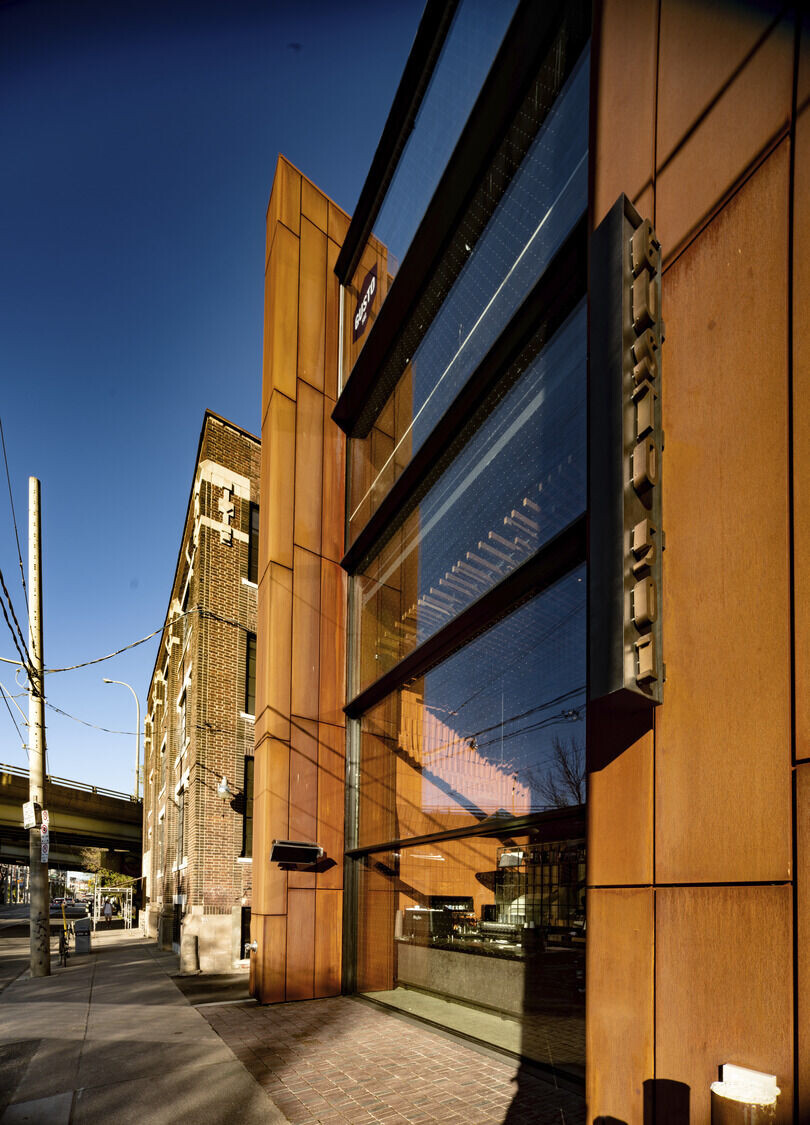 The structure is conceived as two massive, sculpted, Terracotta and steel walls, held together by floating wooden volumes and a guillotine glass facade of monumental size. For the interior, we looked to terracotta—one of the humblest Italian building materials, and one that our client worked with in her youth when she helped her uncle lay bricks for residential projects in Italy. We asked ourselves: how could these humble blocks be deployed to sculptural and animated effect? What did this primal building material want to be? Using parametric software models, we cut conventional terracotta bricks to craft movement through the undulating walls within a multitiered dining theatre that pulses like a radiant hive. Natural light from the glass roof 50ft above creates a lively play of shadows on the textured walls, and, at night, LED lights embedded within the blocks illuminate their opened voids.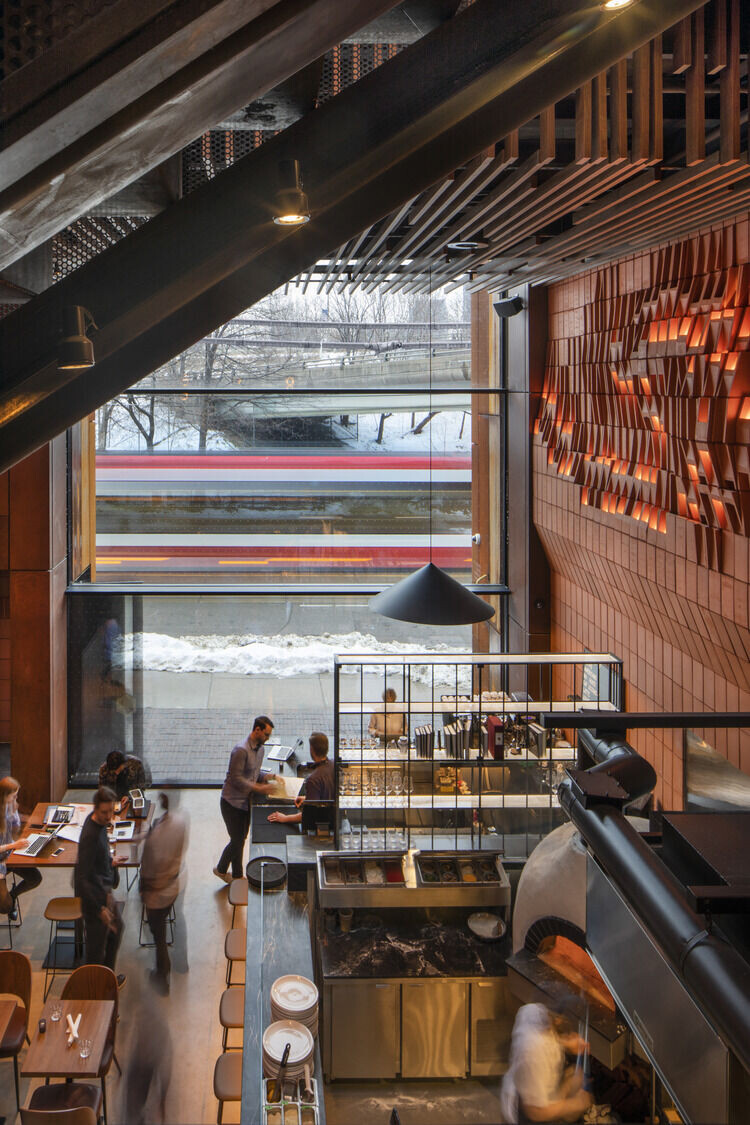 The 280-seat restaurant consists of a series of mezzanines and cut-outs that offer a continuous, vertically unfolding array of experiences. On the ground level there is a sidewalk terrace and main dining room with its open pizza oven, woodfired grill, and take-out window. The mezzanine features a wine bar—partially veiled by dark metal mesh screens—overlooking the dining room below. On the second level is a light-flooded cocktail bar with a bridge to the "Attico"—a private chef's tasting room with a dedicated kitchen. Above it all is a roof terrace where guests can enjoy beverages and light snacks as well as west-facing views of Toronto's iconic CN Tower and the city's skyline.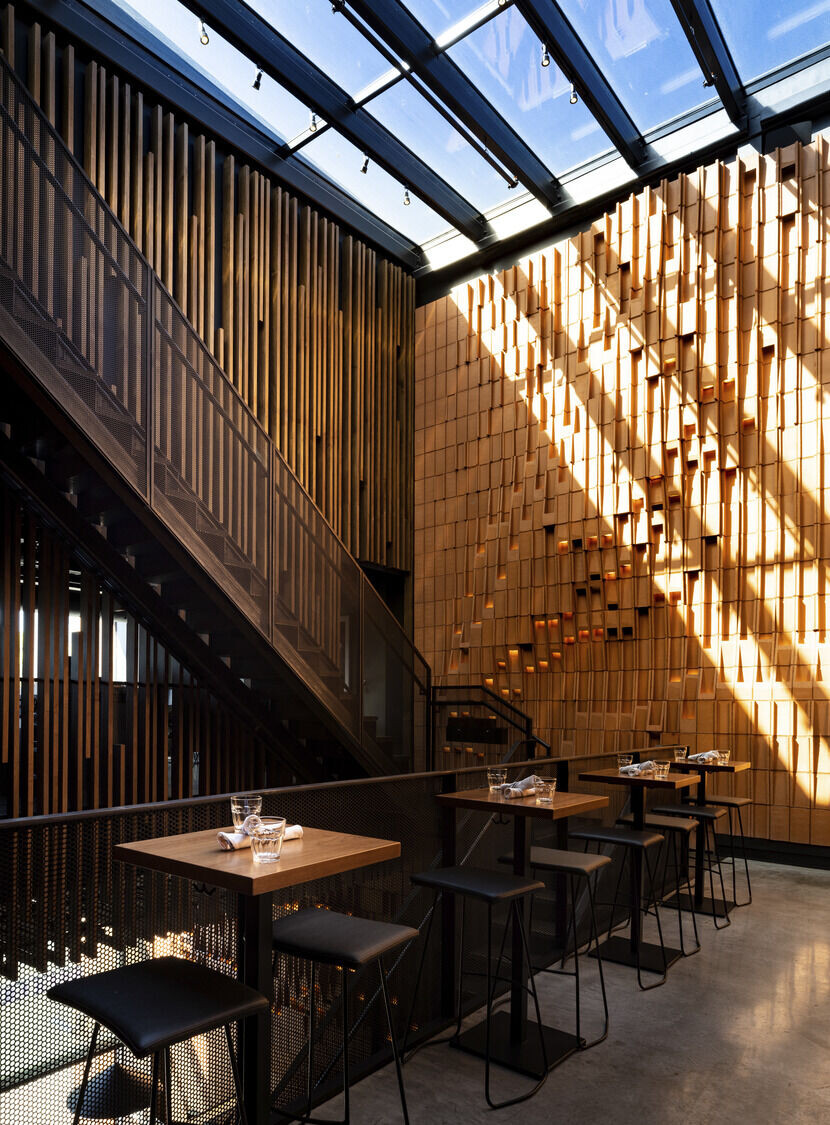 With its expansive volumes, multiple sightlines, sentient terracotta topography, and heterogeneous spaces that animate different culinary programs, Gusto 501 combines art, architecture, food, and culture to elicit awe and discovery, delivering on Zuccarini's vision of offering Torontonians and their guests a restaurant experience that explodes the status quo.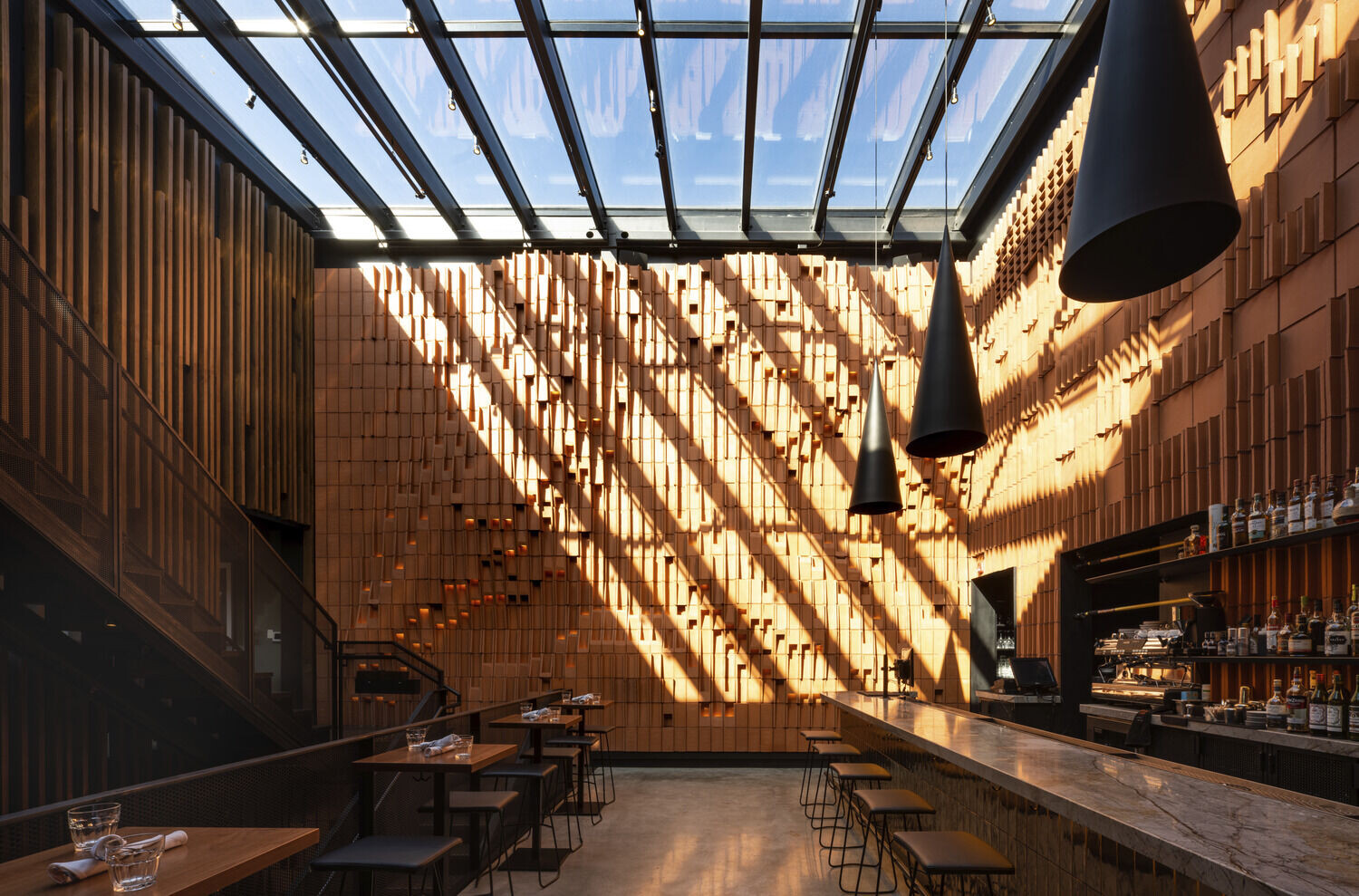 Gusto 501's unique undulating, corbeled atrium walls with integrated lighting reimagine possibilities for deploying the everyday low-cost terracotta block. We developed a system of permutations by working closely with the terracotta block supplier who agreed to make three angled cuts at six varying depths during the extrusion process. By slightly modifying the fabrication of an affordable off-the-shelf block, we produced a customizable set of repeatable units.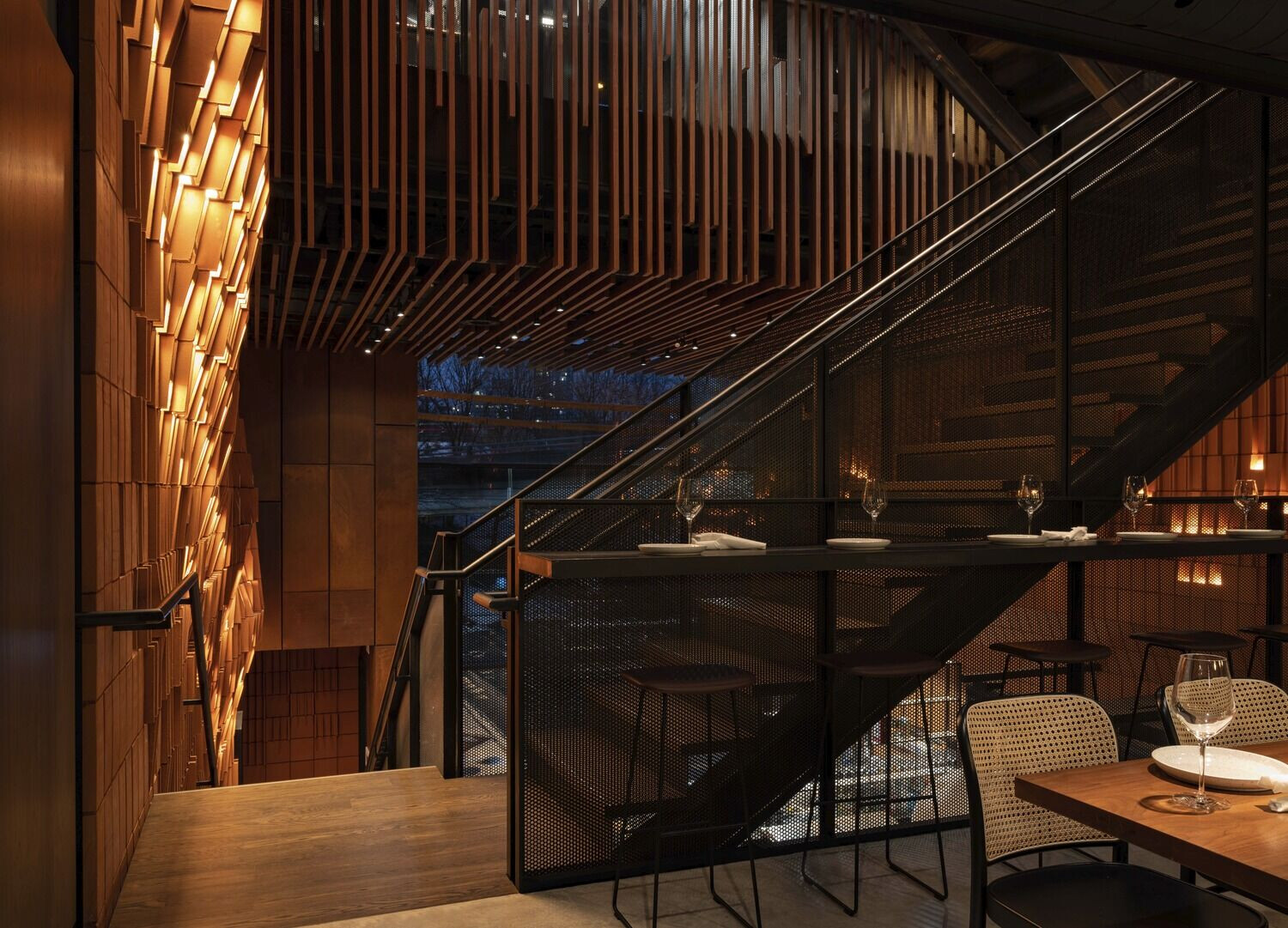 We devised a meticulous assembly plan for the placement of the block types and lights, achieving the desired undulating effect while streamlining a complex construction process. We divided the walls into a series of lighting zones, drawing a distinct plan for each and outlining all electrical conduit required. In preparation, we worked closely with the mason to prototype mock-ups to troubleshoot the details and coordinate the integration of the lights and electrical conduits prior to construction.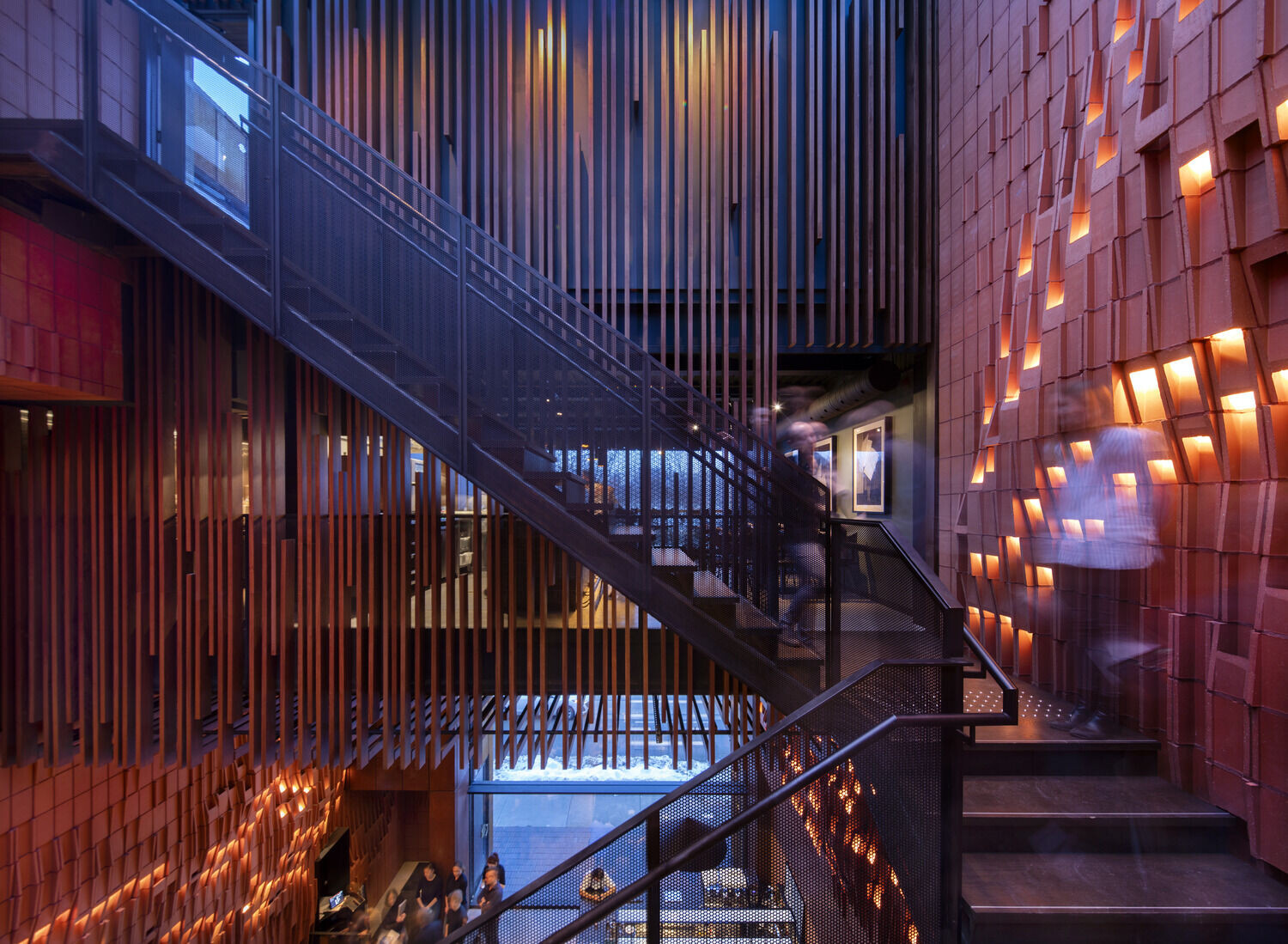 Material Used :
Facade cladding: Exterior Cladding
Masonry: Sandkuhl
Corten Metal Panels: Vixman Construction Ltd.
Insulated Metal Panel: Kingspan, installed by Vixman Construction Ltd.
Wood: Canara Woodworking, Inc.
Moisture Barrier: Blueskin / Tremco Paraseal (below grade)
Exterior Sheathing: DensGlass
Exterior Brick Pavers: Unilock
Doors:
Bronze Entrance Door: MCM 2001 Inc.
Overhead Vertical Sliding Glass Doors: Panoramah! / AMG
Fire Shutter: Cookson Door
Roofing:
Built-up Roofing: Henry / Bakor
Interior lighting:
Interior ambient lighting: LED, Wasberg, Viabizzuno, Diffusion, CSL
Downlights: WAC Lighting, Contech Lighting,
Tasklighting: Lithonia Lighting
Exterior: Access Lighting
Bulbs: Soraa
Dimming system or other lighting controls: Crestron
Emergency: Beghelli
Interior furniture:
Furnishings
Fixed seating: RFP Design Group, Canara Woodworking, Inc.
Chairs: Suite 22 Contract
Tables: Suite 22 Contract
Upholstery: S. Harris Fabricut, Maharam
Millwork Bars, Counter tops, Shelving & Cabinetry: Perfect Distortion
Ground Floor Bar "Belvedere Select" – Granite (Supplied by Marble Trend)
Cocktail Bar: "Grey Monet" – Marble (Supplied by Marble Trend)
Attico Bar: "Patagonia" – Quartzite (Supplied by Marble Trend)
Roof Patio Bar: "Rocky Road" - (Supplied by Marble Trend)
Bathroom Mirror: Rejuvenation
Structural System
Structural Steel: Linesteel
Terracotta Masonry Tieback: Blok-Lok
Structural Studwork: Interior Image Contracting
Stairs and Guardrails: Imran Steel
Glazing
Glass: Panoramah! / AMG
Skylights: Panoramah! / AMG
Other (Operable Glass Facade): Panoramah! / AMG
Interior Finishes
Cabinetwork and Custom Woodwork: Perfect Distortion
Paints and Stains: Sherwin-Williams
Wall Coverings: Una/Malan
Wood Paneling: Canara Woodworking, Inc.
Wood slats: Canara Woodworking, Inc.
Wood Stair Treads: Canara Woodworking, Inc.
Metal Trims: Imran Steel Inc.
Special surfacing: Sika
Exposed Concrete Floors: BNE Contractors Inc.
Wall tile: Cle Tile, DDS, Olympia Tile
Terracotta Masonry Blocks: manufactured by Sandkuhl. Masonry/installation by Hunt Heritage Ltd.
Resilient flooring: Altro
Rubber stair tread & cove bases: Johnsonite
Metal panels: Vixman Construction Ltd.
Conveyance
Dumbwaiter: Bramlea Elevator Inc.
Plumbing
Toilets: American Standard
Lavatory: American Standard
Faucets: American Standard, Delta Faucets
Energy
Other unique products that contribute to sustainability: Terracotta Masonry Block - See above
Radiant Floor: Uponor
Specialty Equipment
Display Wine Fridge: Village Wine Cellars
Kitchen Equipment: Nella
Kitchen Exhaust Hoods: Spring Air Systems Inc.
Pizza Oven: Mugnaini