Situated at the heart of the Yangtze River Delta and the southern end of Beijing-Hangzhou Grand Canal, Linping District in northwest Hangzhou is defined by landscape, canal and silk culture, in which these multifarious elements interface and assimilate. Aedas in consortium with POWERCHINA HUADONG Engineering Corporation Limited (HDEC) stood out in the international competition and landed as Design Architect for the Hangzhou Linping Civic Plaza project.
Inspired by silk weaving, a traditional local craft embedded in Linping culture, and the centuries-old Beijing-Hangzhou Grand Canal, a UNESCO World Heritage and Hangzhou's emblematic river, the design sculpts a simple, fluid architectural form based on the image of silk mirrored on river. The design deliberates on a single, coherent architectural language, in which a smooth, fluid facade integrates all functions: the curves of the flowing river and the texture of silk form the spectacular main roof of the building; under which pavilions serving various purpose stand.
The crux of the development lies in its civic, public focus, exemplified by the pavilions positioned linearly alongside the west bank of an artificial lake and linked by a central walkway.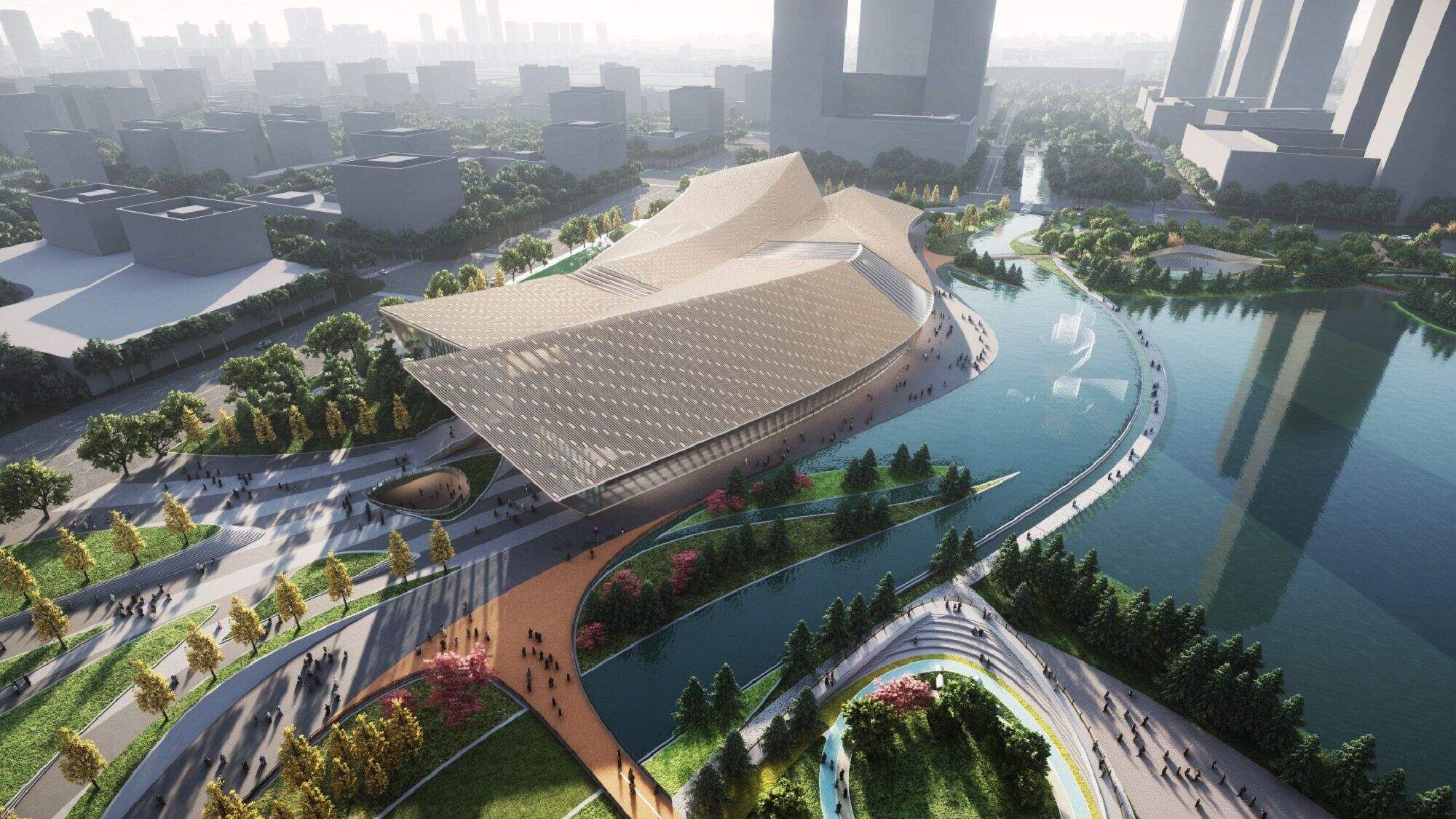 The north, south and west sides of the civic plaza form three main entrance squares, with wide steps to introduce visitors into the building. Composed of transparent glass and wooden texture, a large roof is created to unify the venues and form a two-story corridor walking system, altogether engendering an expansive, multilevel spatial environment. In tandem with green landscape and art installations, the unique cover allows the light and color of the natural surrounding filter into the building interior, inducing a transparent visual effect.
True to design theme, the interior is etched with sinuous wood lines to extend the vocabulary of flowing water, emulating the canal's movement and guiding the visitors to explore through the venues.
In designing the landscape, the plot is sectioned into zones featuring wetlands, open gardens and lawns, playgrounds and flexible cultural and event space, to serve demographics ranging from the residents, office workers, and the community at large.
"By achieving a delicate balance between preserving and reconfiguring the spirit of the area, this civic square is poised to become the new urban landmark, a totemic development that serves and grows with the city." —Global Design Principal, Leo Liu