Housed in the old offices of the Church of Scientology at John and Queen Streets in Toronto, the new headquarters of cannabis education and market research start-up Lift & Co is a dynamic tribute to their brand and social culture. Inspired by the company's new brand identity, a relaxed and fresh take on Southern California Beach culture, Lebel & Bouliane crafted a dynamic and colourful office space that meets the diverse, and emerging needs of this fastgrowing industry leader.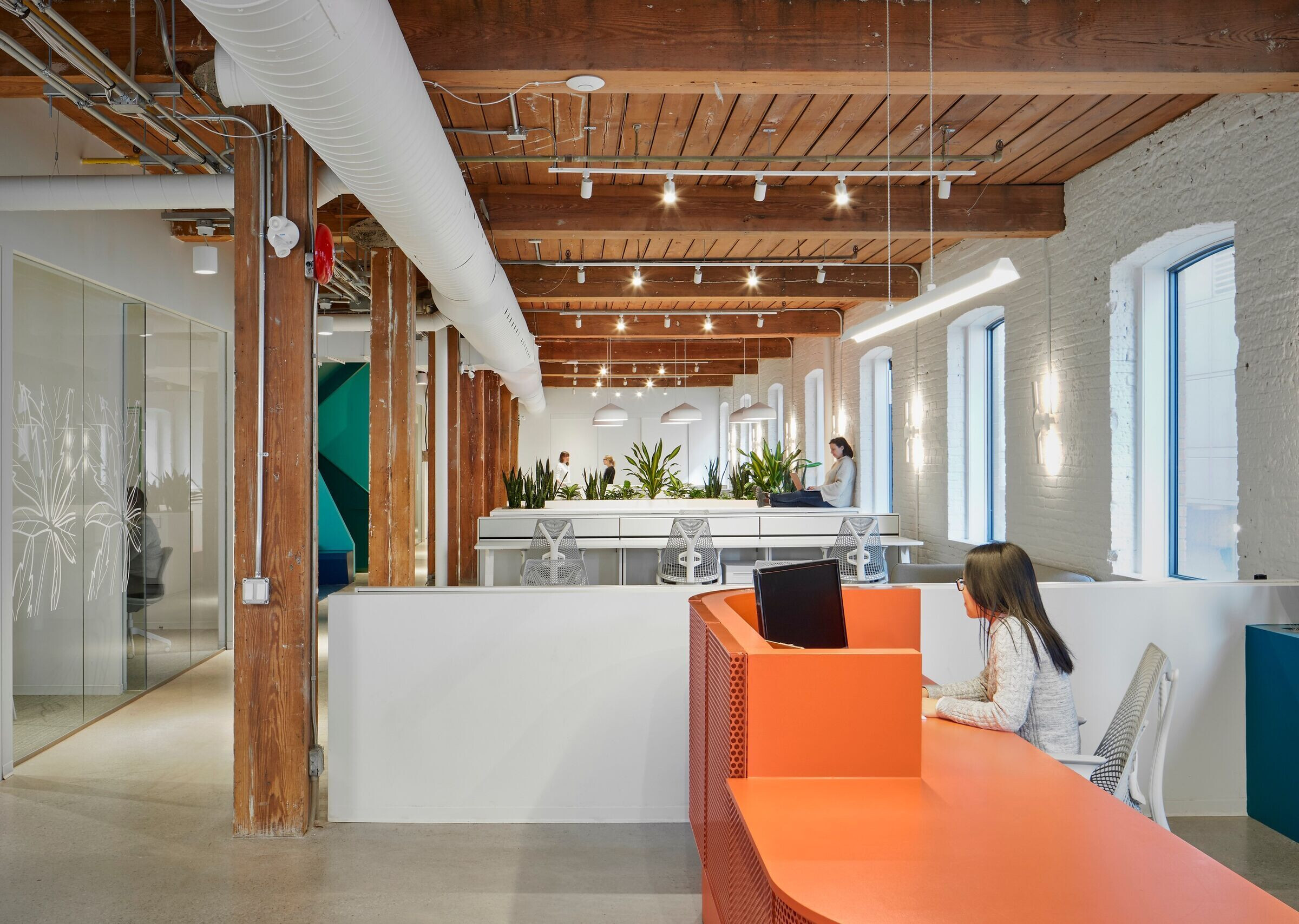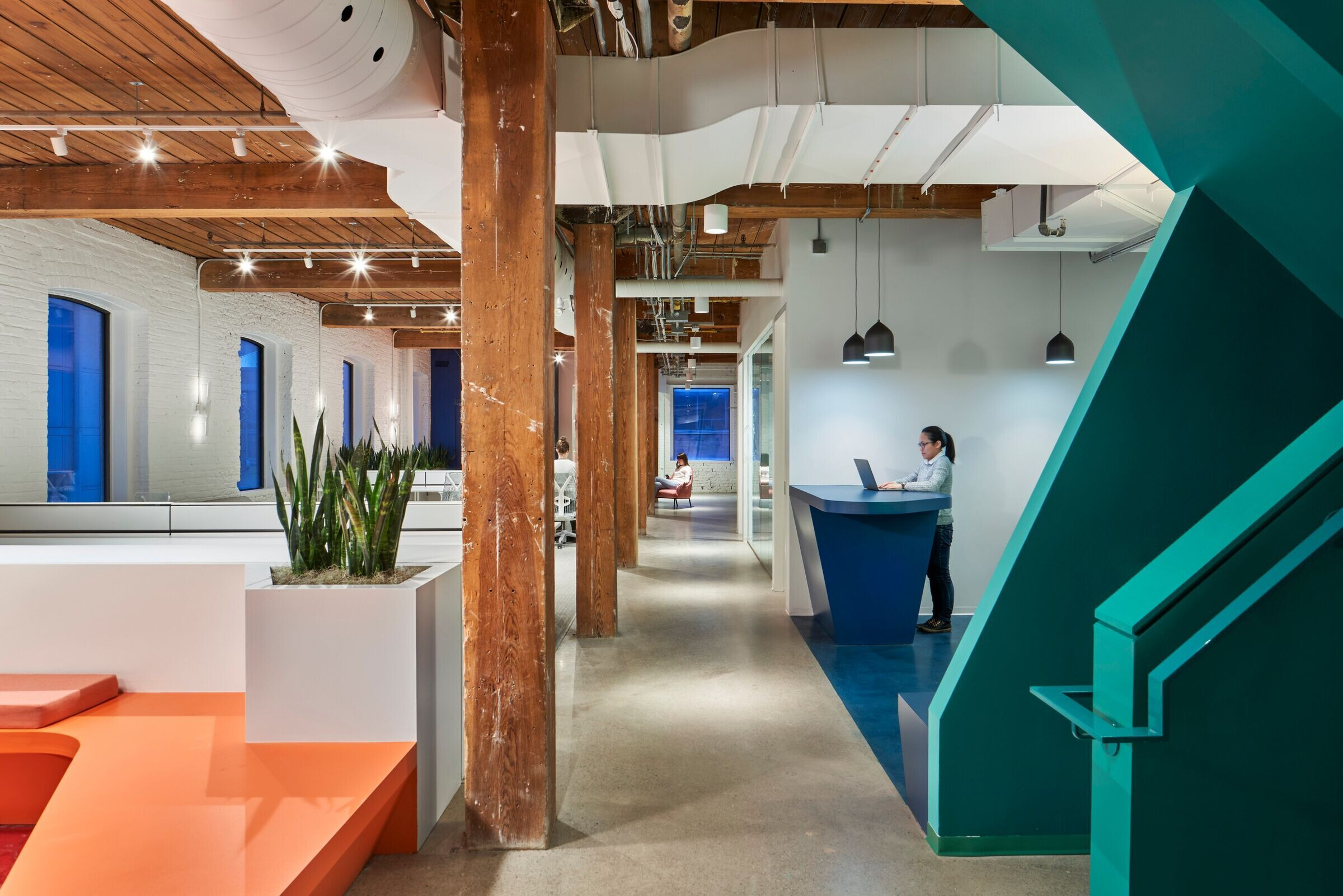 Designed with a restrained budget, Lift & Co delivers a lot of design. A three-storey, stark white office space contrasts with the historical wood and brick structure of the existing building. The clean and quiet workspaces are punctuated with colourful social and collaboration spaces, and flanked with closed-door offices and private meeting rooms. Looping banquettes are a visually-grabbing motif throughout the space, making reference to the company's new logo: the laughing ampersand. The same banquettes organize the otherwise regular volume, offering bleachers and seats for all-company meetings.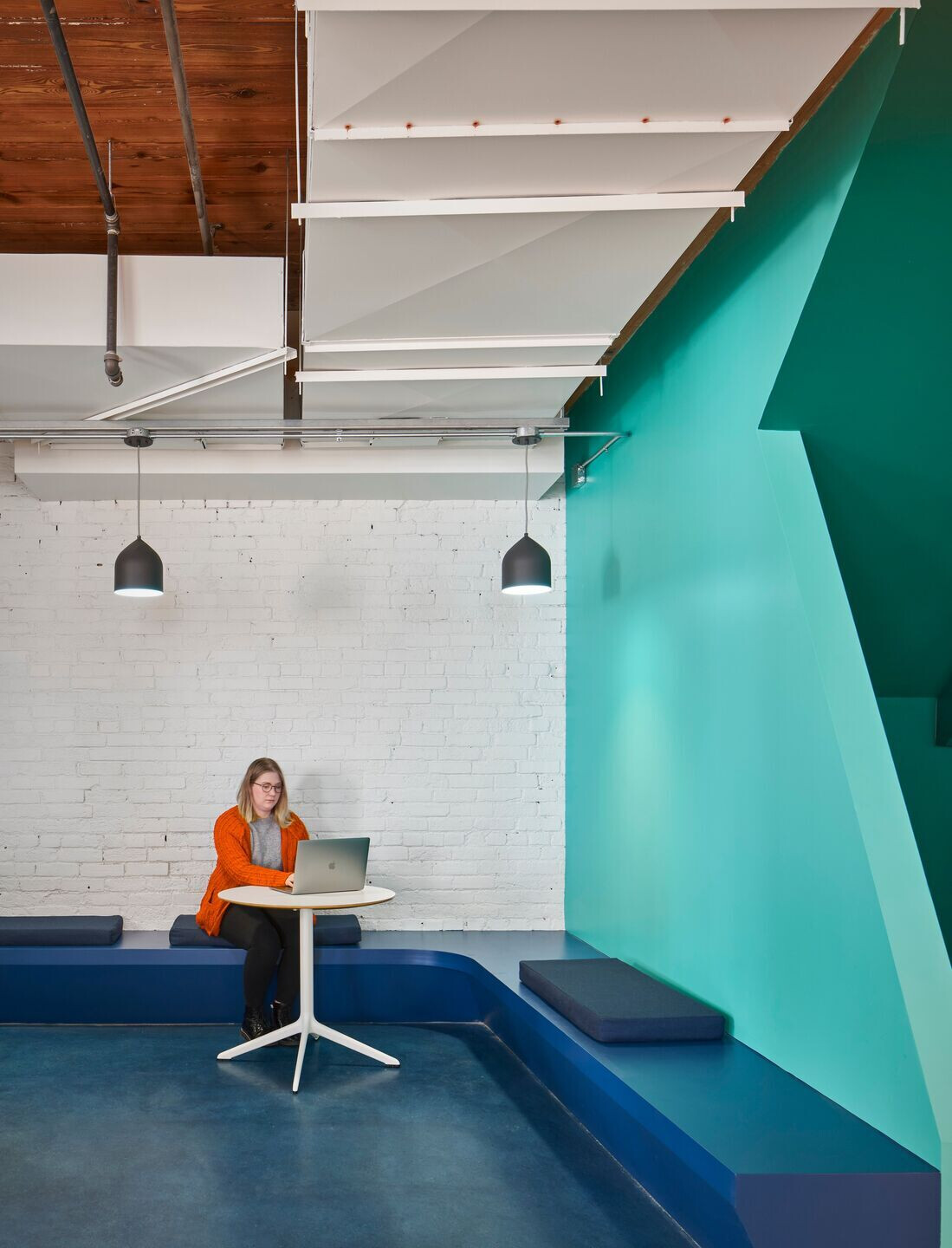 On the third floor, a large central social space with two areas of bleacher seating acts as an informal presentation and event space, facilitated by a bar and kitchen. Throughout the other two floors, quieter branded moments act as backdrops for filming and photographing social content. The resulting space is bright and dynamic, with ample room for Lift & Co's growth and development.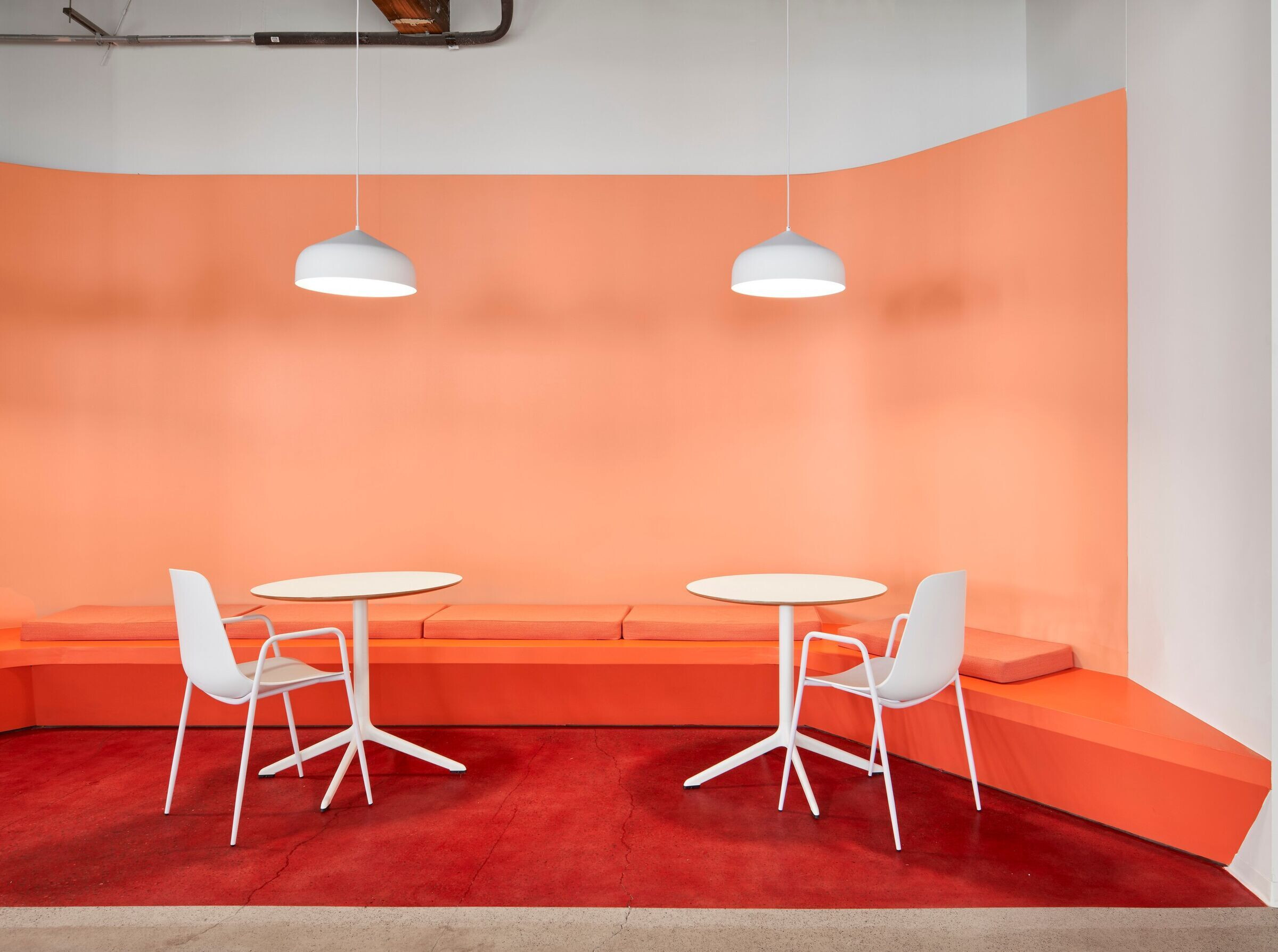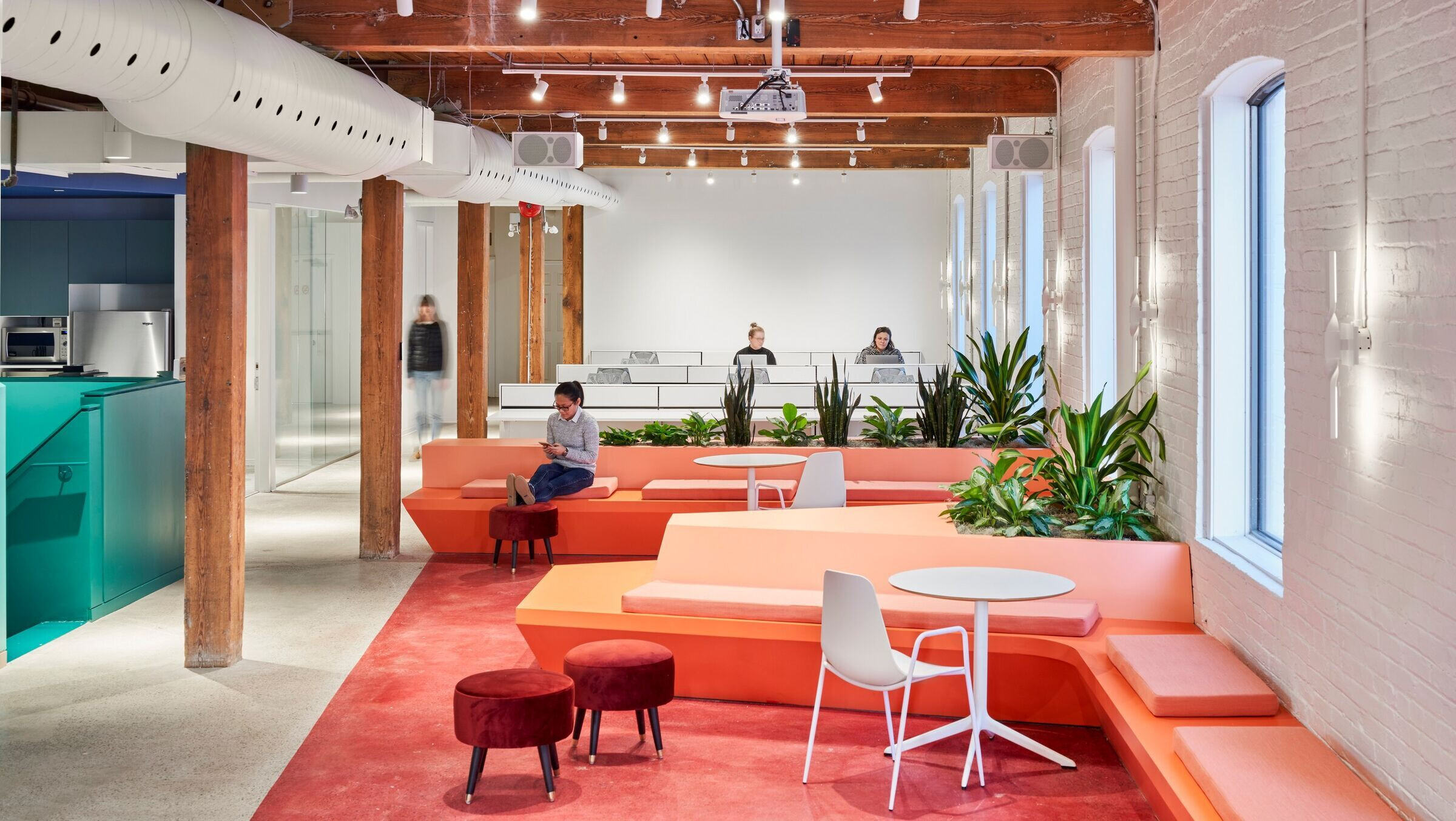 The three colours used in the space — Coral, Emerald and Navy — act as informal way-finding tools, cueing staff and visitors to the moods of each space, from social to quiet and contemplative. Working with the client's desire for natural plant materials, we partnered with a nursery to select robust and well-scaled planting and provide ongoing care.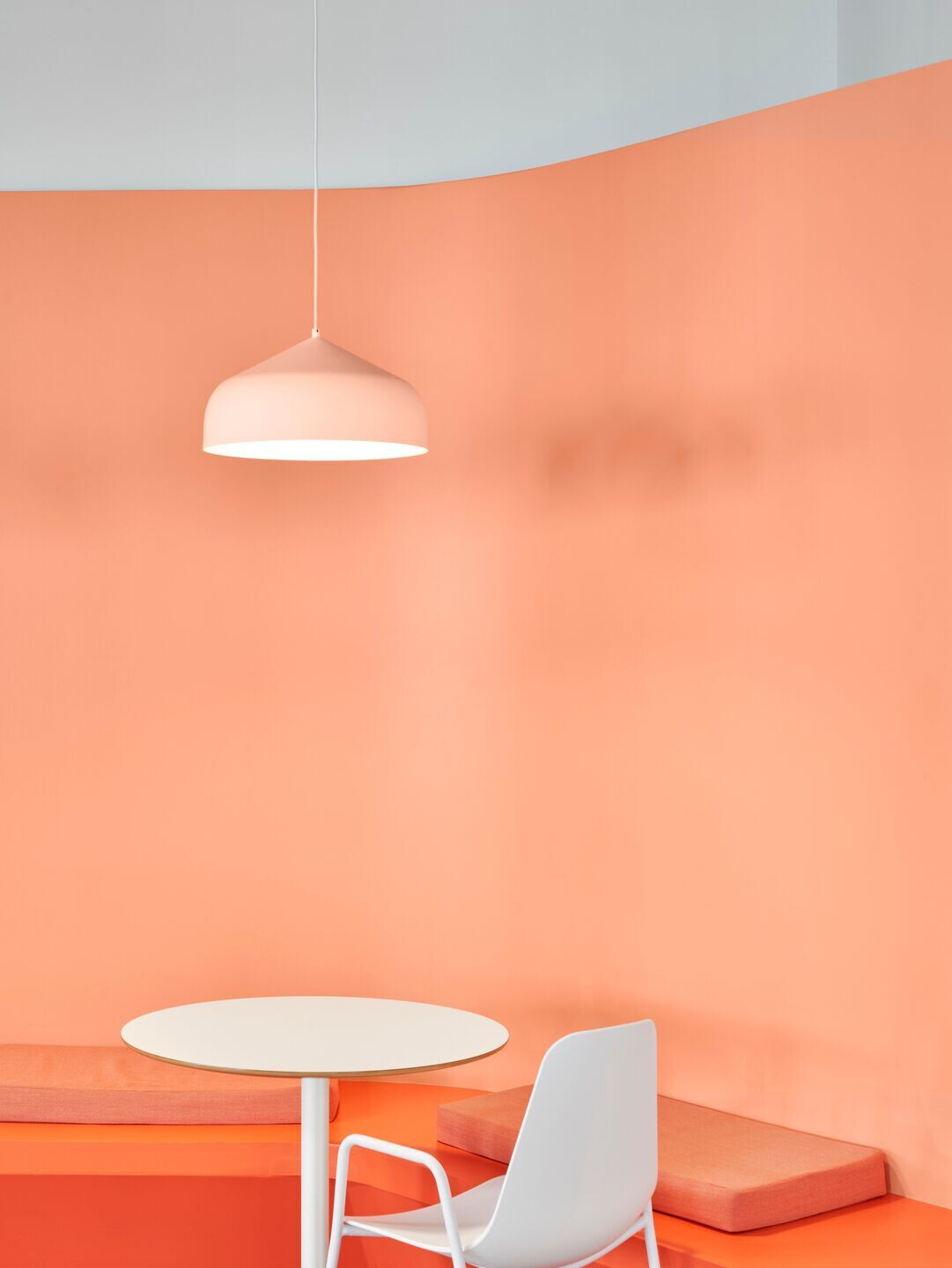 Material Used :
Furniture
1. Bludot: Swole - Medium
2. Article: Embrace - SKU480
3. Allermuir: Axyl
4. Structube: Livia
5. Herman Miller: Sayal Chair
6. Article: Svelti - SKU11624
Lights
1. Kuzco: LP10456
2. Delta: Boxy XL R
3. A-Line: ATFF7610-3060-90WH
4. Kuzco: PD9117-WH/SV
5. Kuzco: PD9108-GH/BU
6. Kuzco: WS53224
Floor
1. Surecrete: Pigmented Polyurethane
2. Burmatex - The Sullivan Source