After almost a decadeof planning and two years of closure, Manchester Jewish Museum is delighted to be finally reopening its doors this Friday, 2 July 2021. The new museum – situated in one of the city's most multicultural areas of Cheetham Hill - explores universal experiences of journeys, communities and identities from the perspective of Manchester's Jewish history. Its Grade II* listed synagogue building has been fully renovated and restored to serve both as a living artefact of an authentic Spanish and Portuguese synagogue and as a stunning cultural space in which the museum will programme live events throughout the year.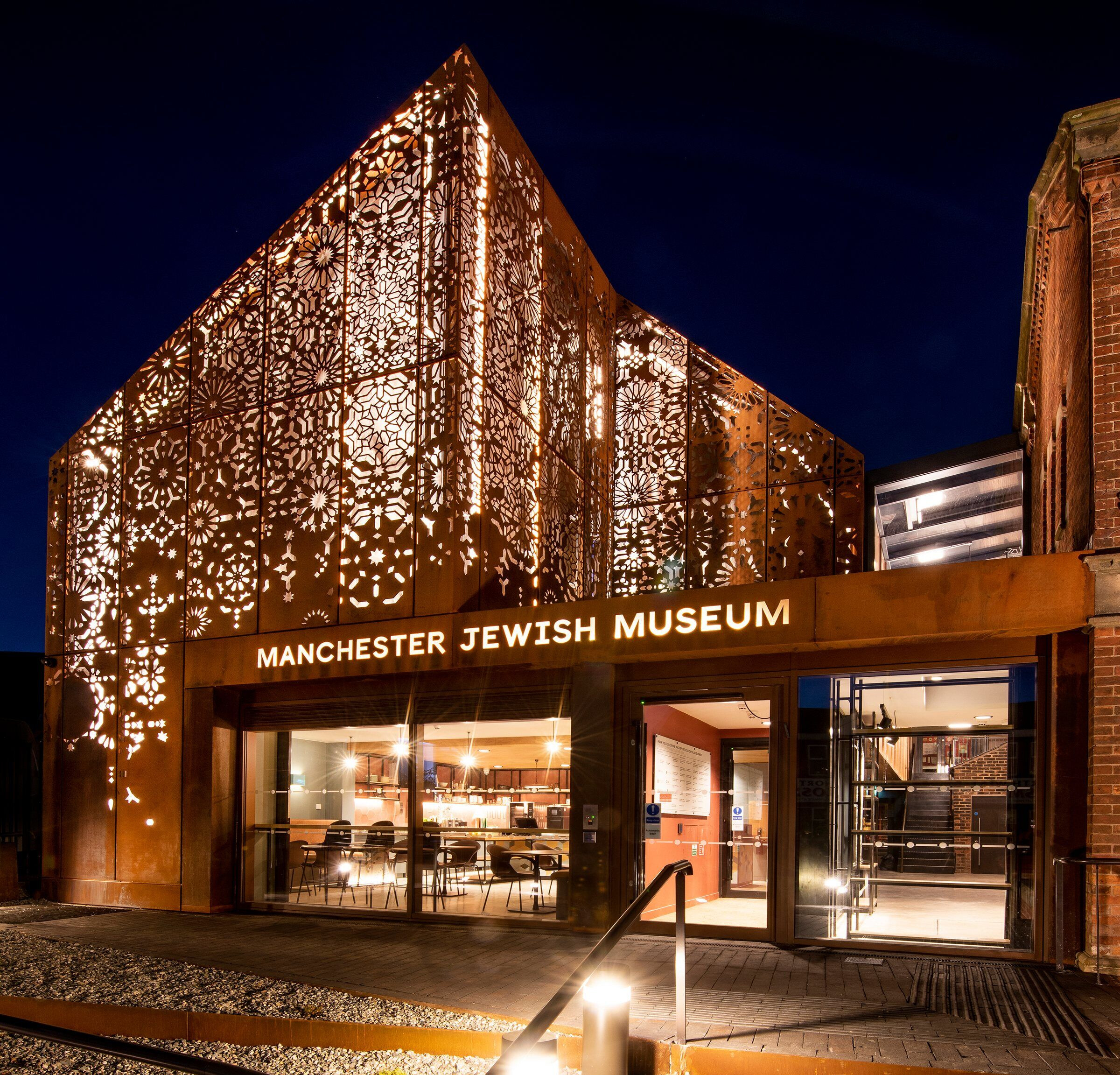 This major £6 million capital redevelopment, supported by The National Lottery Heritage Fund, has been led by Katy Marks and her team at leading architect firm Citizens Design Bureau (CDB) and a myriad of contractors, specialists and fitters who have worked tirelessly over the past two years and under difficult conditions, due to the ongoing pandemic, to create a hugely significant new museum and cultural offer in Manchester. A major new extension has been built by construction contractors H.H. Smith & Sons to sit alongside the synagogue, doubling the size of the museum, to include a brand-new gallery, vegetarian kosher-style café, shop and collection store. A generous atrium also links new visitor facilities to the old building where there is now lift access to the first floor and the new exhibition gallery.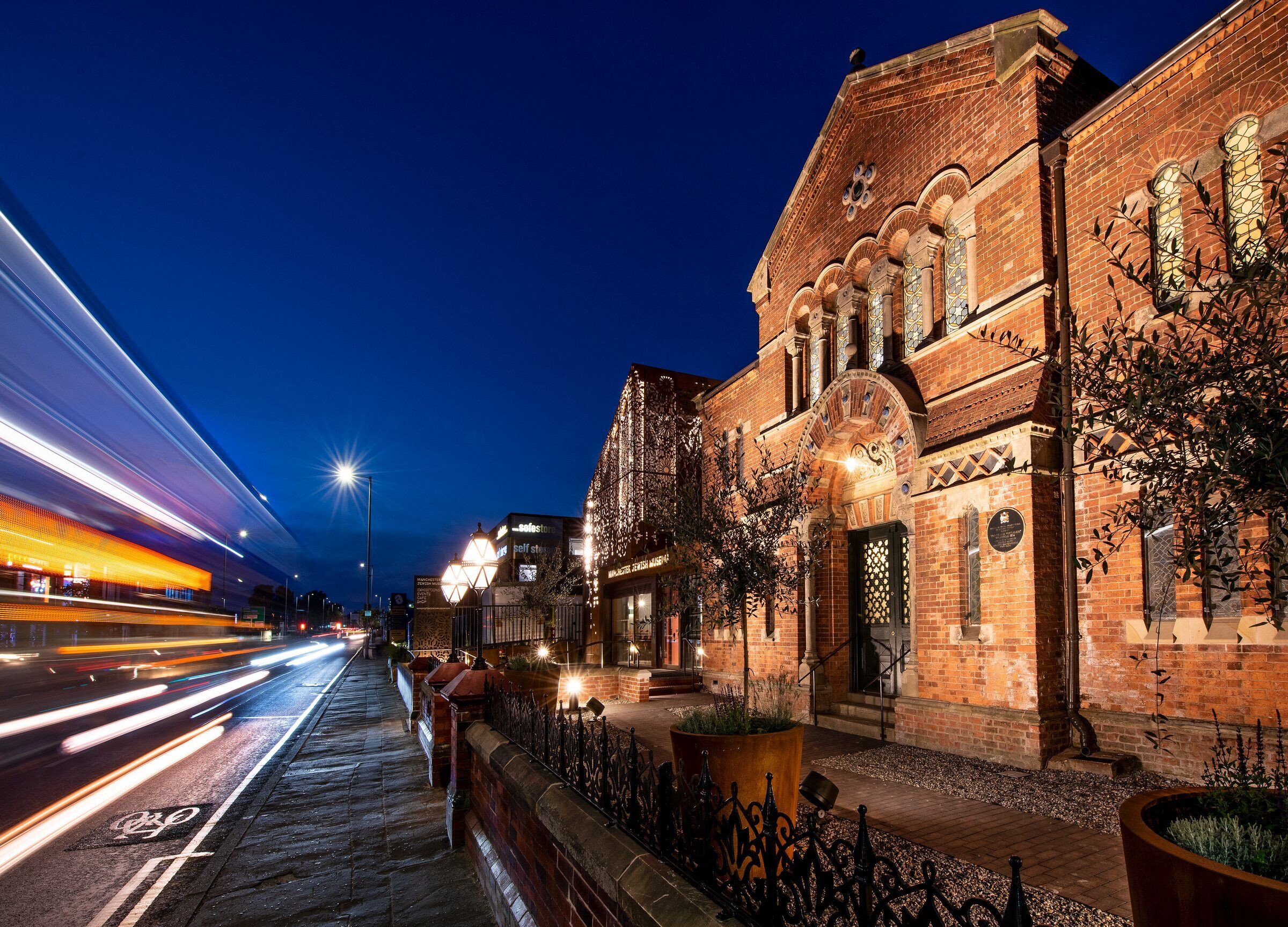 Situated on an out-of-town trunk road, surrounded by industrial buildings, this area was once the hub of the textile trading industry that so many early Jewish immigrants were engaged in - an unlikely location for a museum. The challenge therefore for Katy Marks and her team at CDB was to create a building that would be more than a museum – one that would instead welcome and become embedded within the local area, reaching beyond the Jewish community.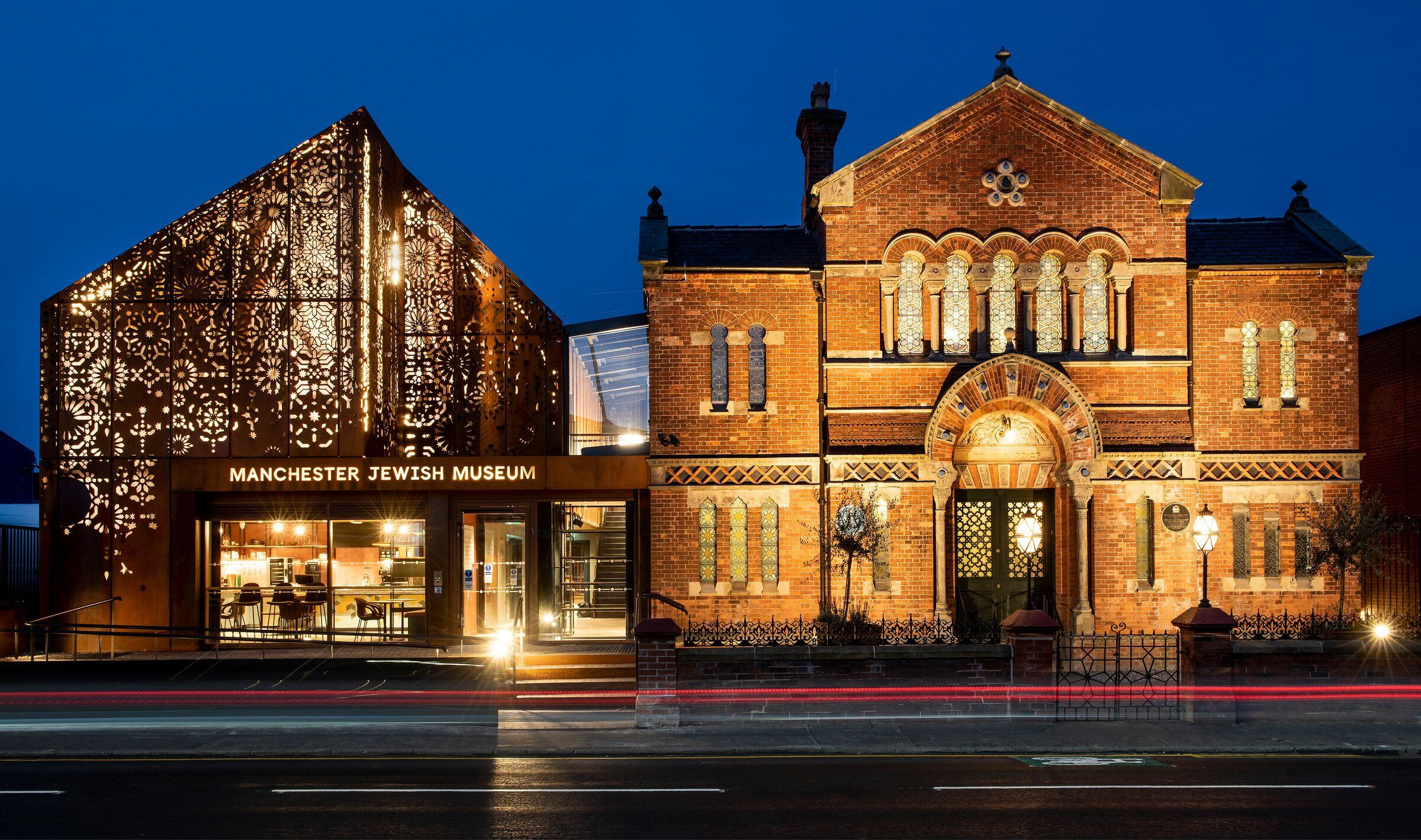 With food playing such a unifying force between cultures it became the starting point for the architect and her team, launching a collaborative design process which included baking workshops, "syna-gigs" and events to reach out to and engage the local community and discover what it was that they wanted from their local museum. This redefined the museum brief to include flexible spaces to host events, community meals and functions, making links with local faith groups, schools and more. The engagement 'scratch' process, funded by Arts Council England as a project in itself with Battersea Arts Centre, significantly shifted the brief to create a holistic museum experience so that every part of the building is densely woven with meaning and learning opportunities. Their unique design approach has been a labour of love, including an immersive design process that has genuinely brought communities together. Those threads weave through every aspect of the new building – all on an extremely tight budget (construction cost £3.6m) further constrained by the unprecedented impact of the recent global pandemic.
Internally, the new gallery has been designed to take visitors on a journey through Manchester's Jewish history and the journeys that brought Jewish people to the city, right through to the city's present day communities. Designed in collaboration with All Things Studio and fitted by museum installation specialists, The Hub, the gallery provides the museum for the first time with a dedicated space to showcasean extensive part of its collection of over 31,000 items. New design features of the gallery include a floor map of Cheetham Hill, moveable digital labels and a collection of oral histories placed throughout the gallery, telling the stories of Jewish Mancunians. The interpretation panels, designed by Kellenberger-White, are made from recycled materials as part of the museum's commitment to sustainability. The new museum is now also fully accessible with lift access and hearing induction loops throughout the new extension and adjacent building.
The former synagogue - built in 1874 and the oldest surviving synagogue in Manchester - has now been extensively repaired. Its original 19th Century decorative scheme has been reinstated following historic paint experts Britain & Co's forensic paint analysis ofover a century of accumulated layers of brown gloss and magnolia paint. Previously, the synagogue was thermally leaky and expensive to run. Now however, in spite of adding a new extension, and working very closely with structural and services engineering experts at Buro Happold, the project has been designed so that the overall energy use of the building and resultant carbon intensity will reduce by around 20% compared to the original building.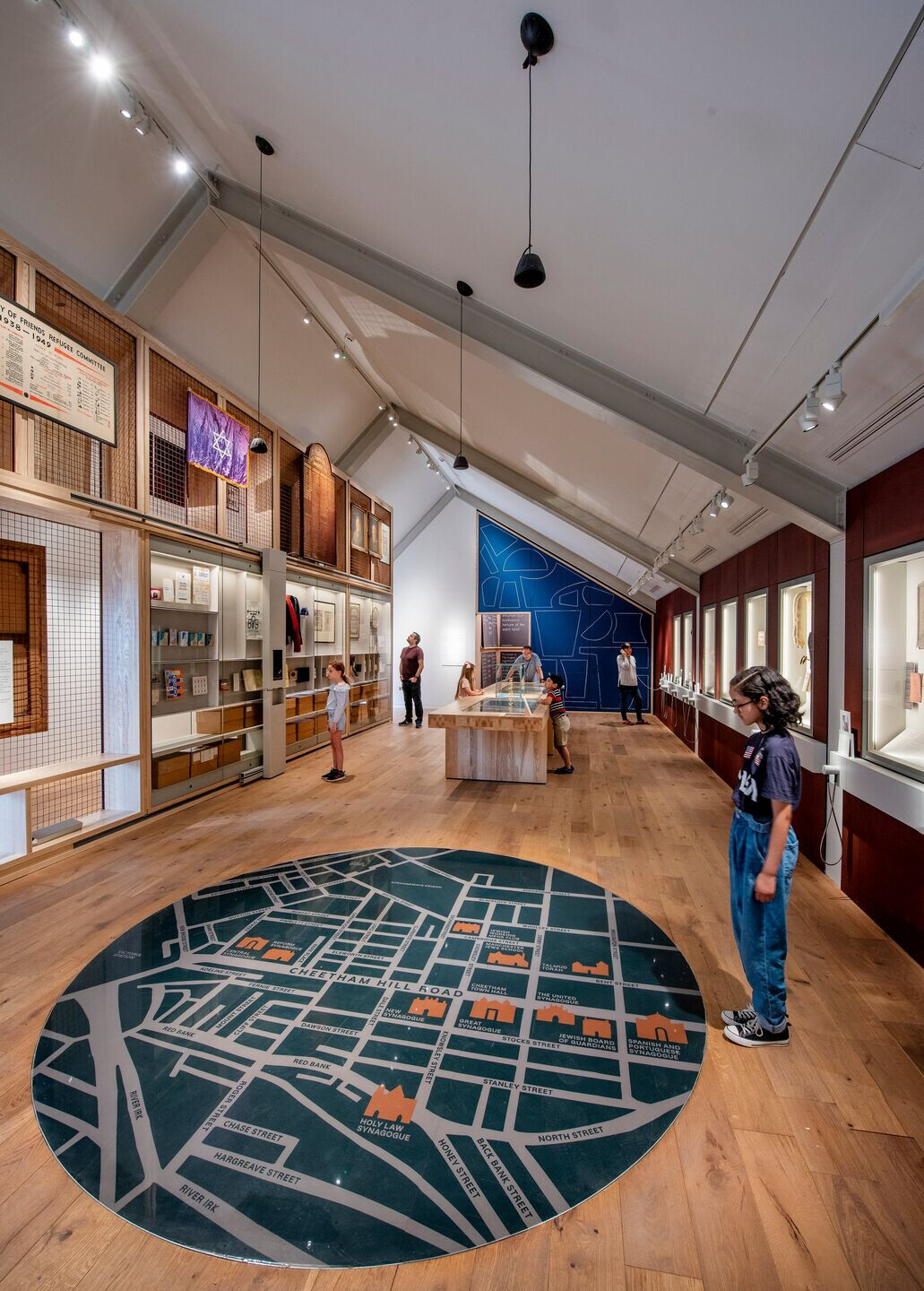 A high performance insulation quilt has been introduced into the old roof and a thermally massive double floor slab incorporating a fresh air plenum within the new extension pre-heats air to naturally ventilate the Listed Building. The old Victorian sunburners in the ceiling have been repurposed as natural ventilation extracts. The main atrium and community spaces have automatically controlled natural ventilation. Most significant in embodied energy terms is the retention and re-use of the synagogue. As a Listed Building, demolition was never an option, but its most likely future was a slow decline to dereliction and misuse. The embodied carbon impact of the project is some 250 tonnes of carbon dioxide equivalent less than if the museum had been rebuilt in its entirety.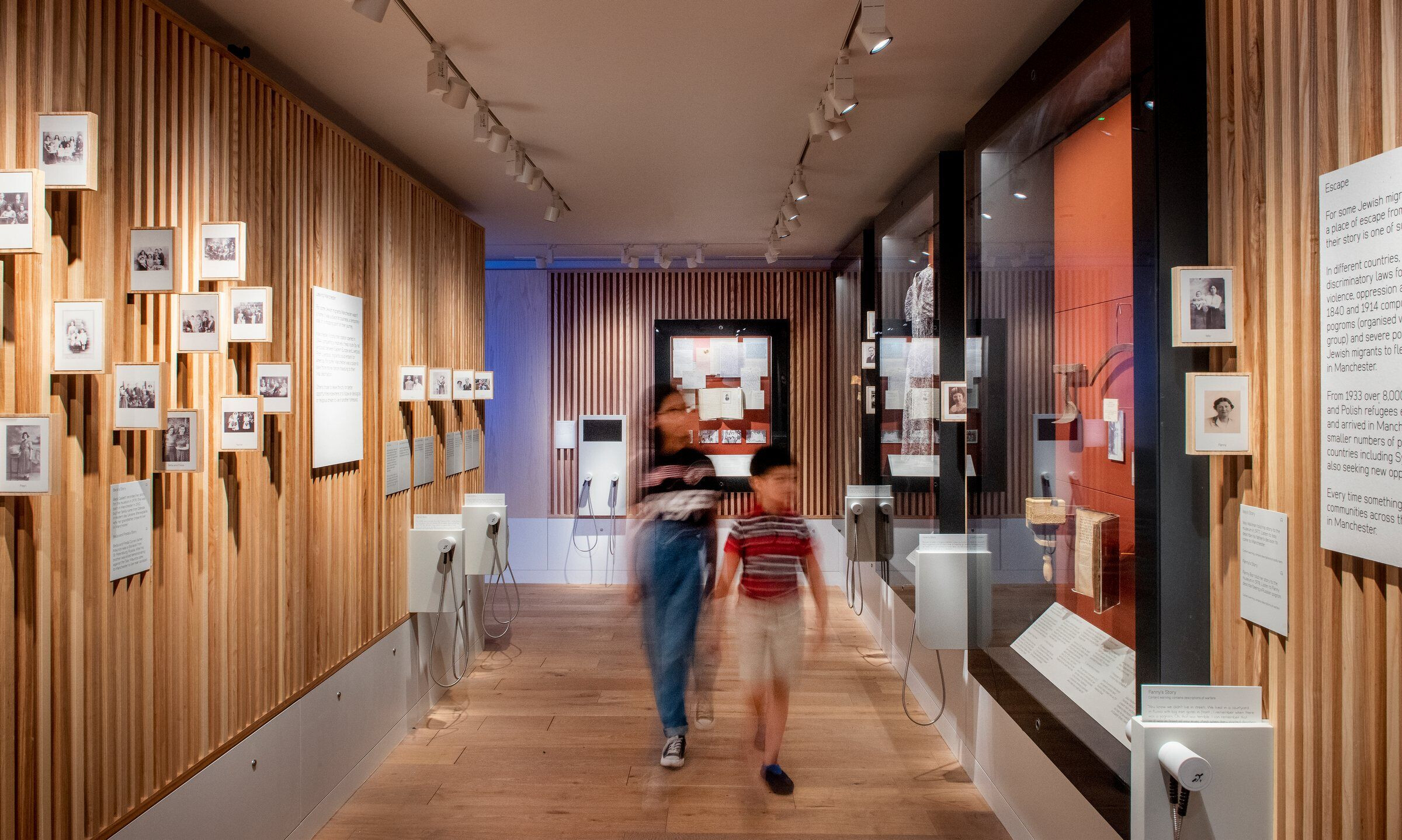 Externally, the synagogue's explicitly religious appearance suggested a faith-focussed museum that failed to integrate the local and diverse multicultural community nor reflect the variety of the extensive and varied collection. The extension therefore creates a new entrance to welcome a greater diversity and number of visitors. The design avoids dominating the Listed Building and instead serves to amplify its presence in a cluttered streetscape. The new extension balances this context with industrial corten steel, tempered with delicate detailing. The perforated, back lit facade glows with dappled intensity during morning and afternoon rush hours.
As Katy Marks from Citizens Design Bureau comments: "We wanted to create a building that would spark conversations, unexpected connections and surprising insights. For example, the facade patterns are an exploration of eight point geometry, drawn from extensive research of the Owen Jones archives at the V&A and inspired by the history of the community that built the synagogue in 1874: Sephardi Jews from Spain, Portugal and North Africa. Their geographic origins inspired the architect Edward Salomons, who incorporated Moorish (Islamic) geometric architectural motifs from that region into the synagogue building. This project was therefore an important opportunity for us on behalf of the museum to embark on conversations across religious and cultural difference. Now more than ever, it serves as an architectural expression of the idea that we have more in common than that which divides us and we're excited to finally share the building with everyone."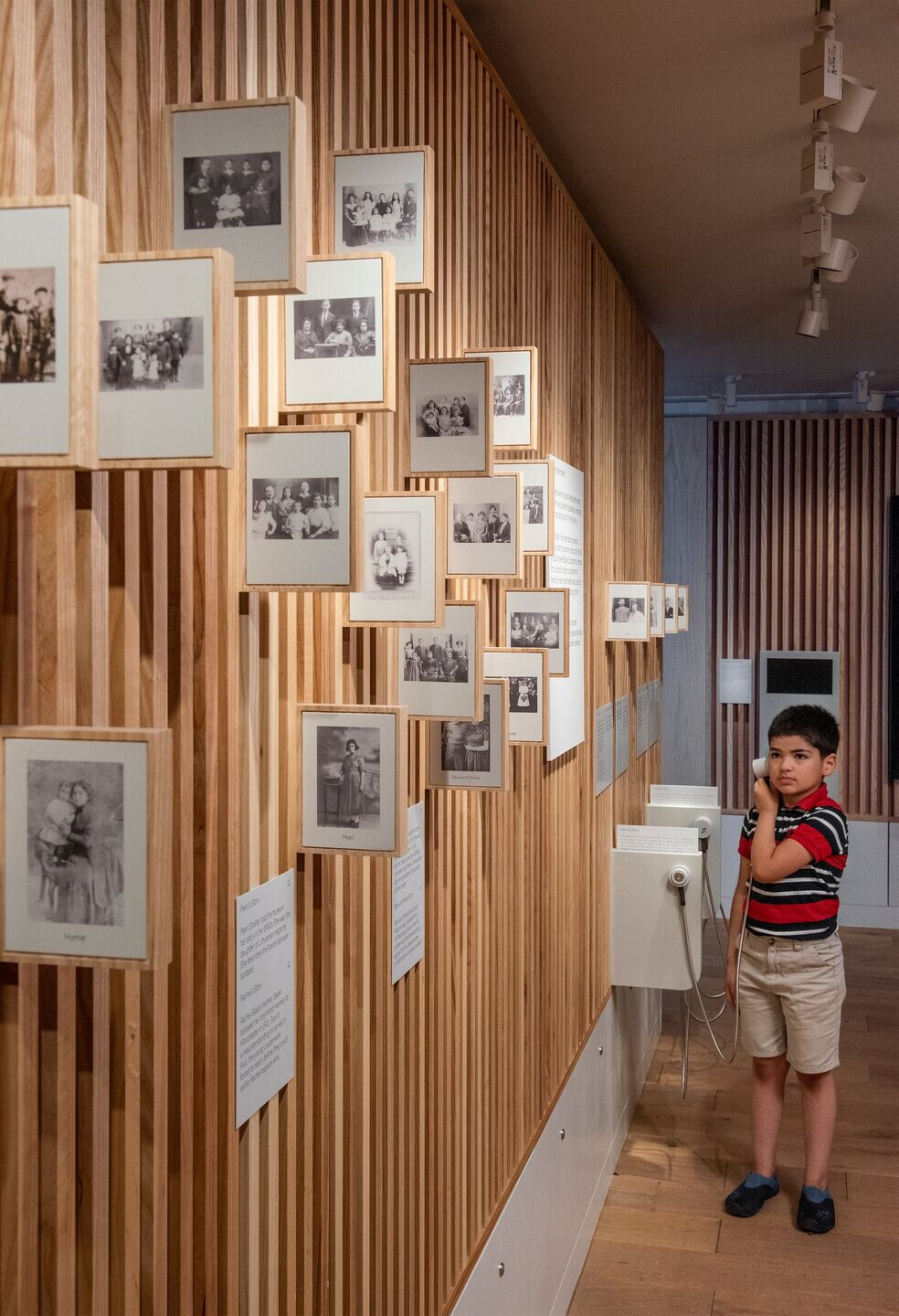 David Renwick, Director, England, North at the National Lottery Heritage Fund, comments: "It is fantastic news that thanks to the National Lottery players, Manchester Jewish Museum is now opening with their amazing building and collections extended, enhanced and preserved for years to come; this ensures that locals and visitors can learn more about their diverse community's rich heritage. We know that heritage in the North can play a huge role in bringing people together and creating a sense of pride in people's hometowns and cities, and in turn boosting the local economy, and Manchester Jewish Museum is a fantastic example of that."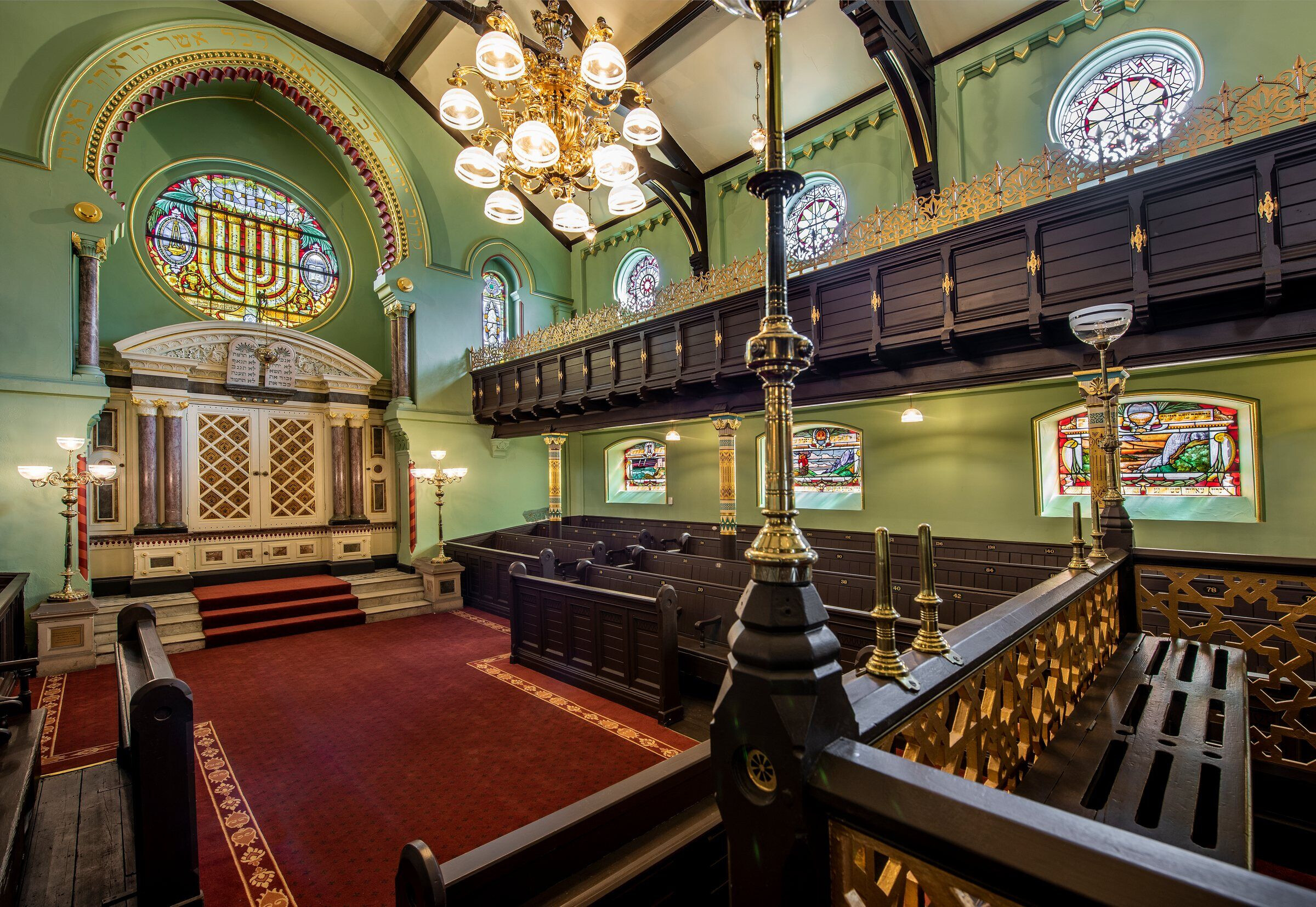 Andrew Wylie, Partner at Buro Happold, structural and services engineering added, "It has been a real privilege to work with the Manchester Jewish Museum to help them transform their museum. Through a fabric first renovation approach and by installing efficient heating and ventilation systems, the carbon footprint of the museum will be greatly improved. The new education, dining and catering spaces as well as the sensitively restored synagogue will help the museum broaden their engagement and deliver their mission. Bringing people together to learn, socialise and to be entertained is so crucial at this time and I am confident that the transformed building brings delight and pleasure to all who visit."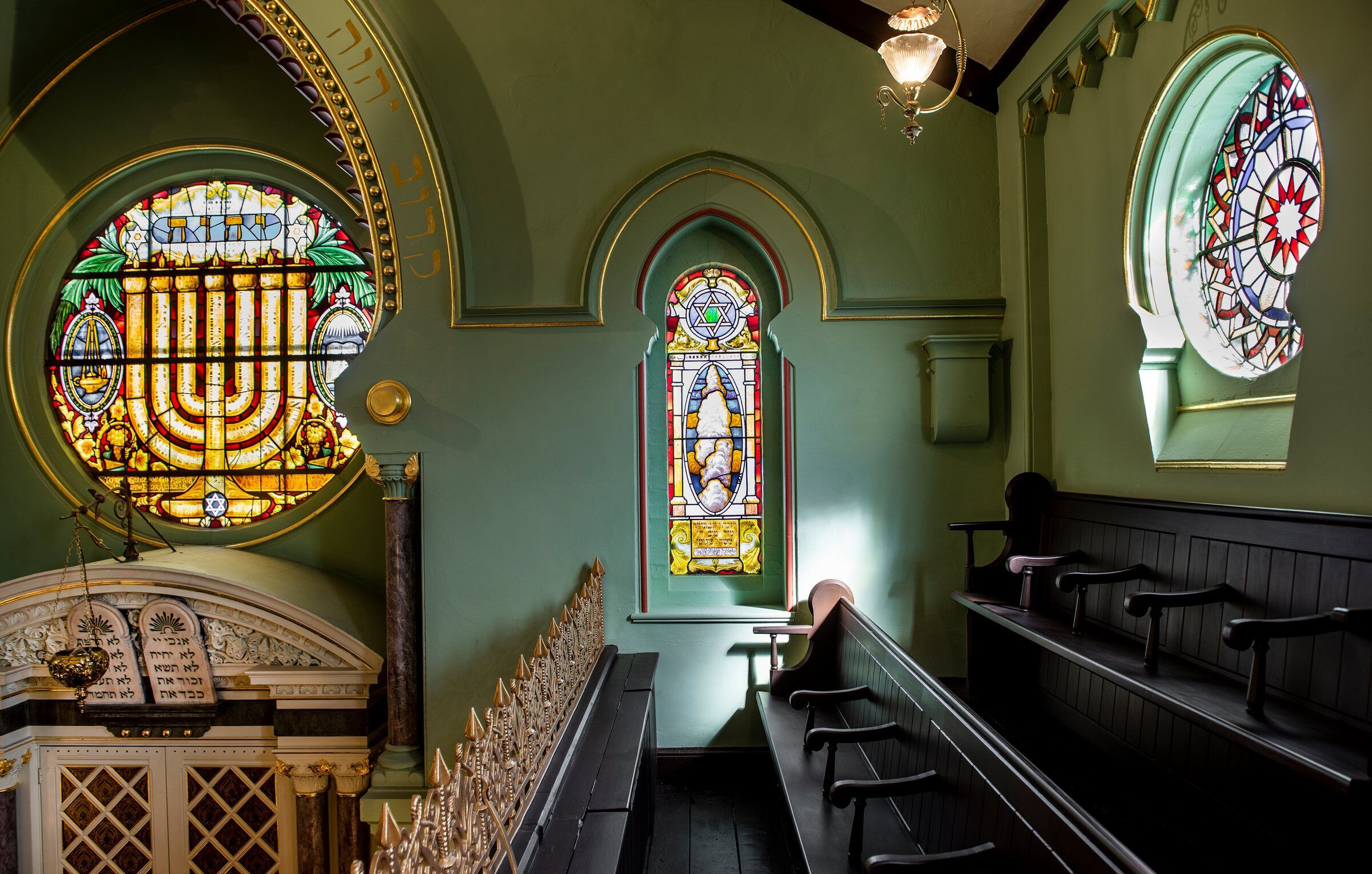 Manchester Jewish Museum CEO Max Dunbar concludes: "This has been such a long labour of love for us for so many years – we cannot believe the opening day is finally here and we can showcase our stunning new building far and wide. We are so unbelievably proud of the extensive work Citizens Design Bureau has done to design and produce such a contemporary, thoughtful, welcoming new building which fuses the old with the new and which complements and integrates so well into our local area. We are so grateful for all our contractors, builders, funders, staff, volunteers and the local community who have worked both together and individually and in often challenging circumstances to create a brand new Manchester Jewish Musuem that is for everyone."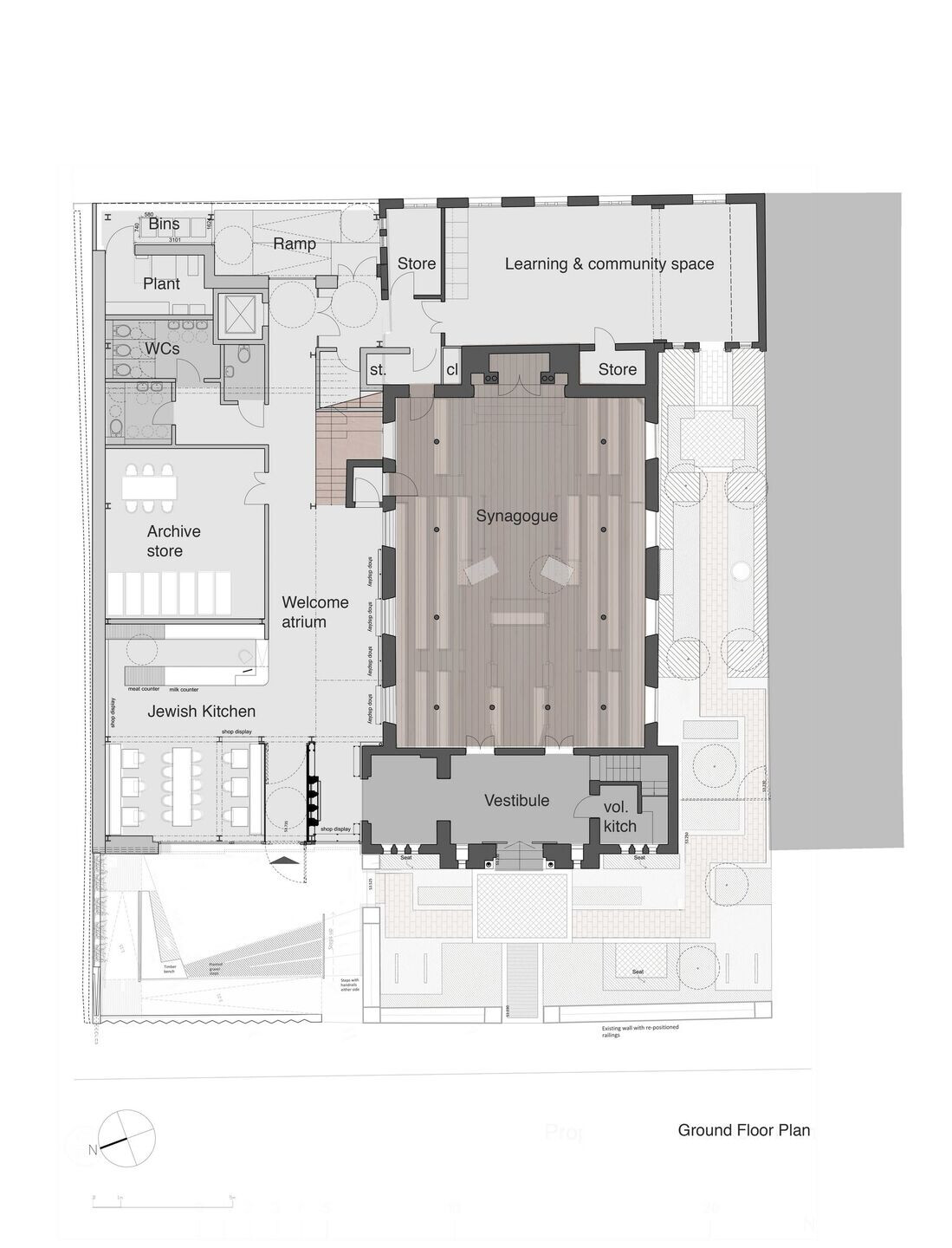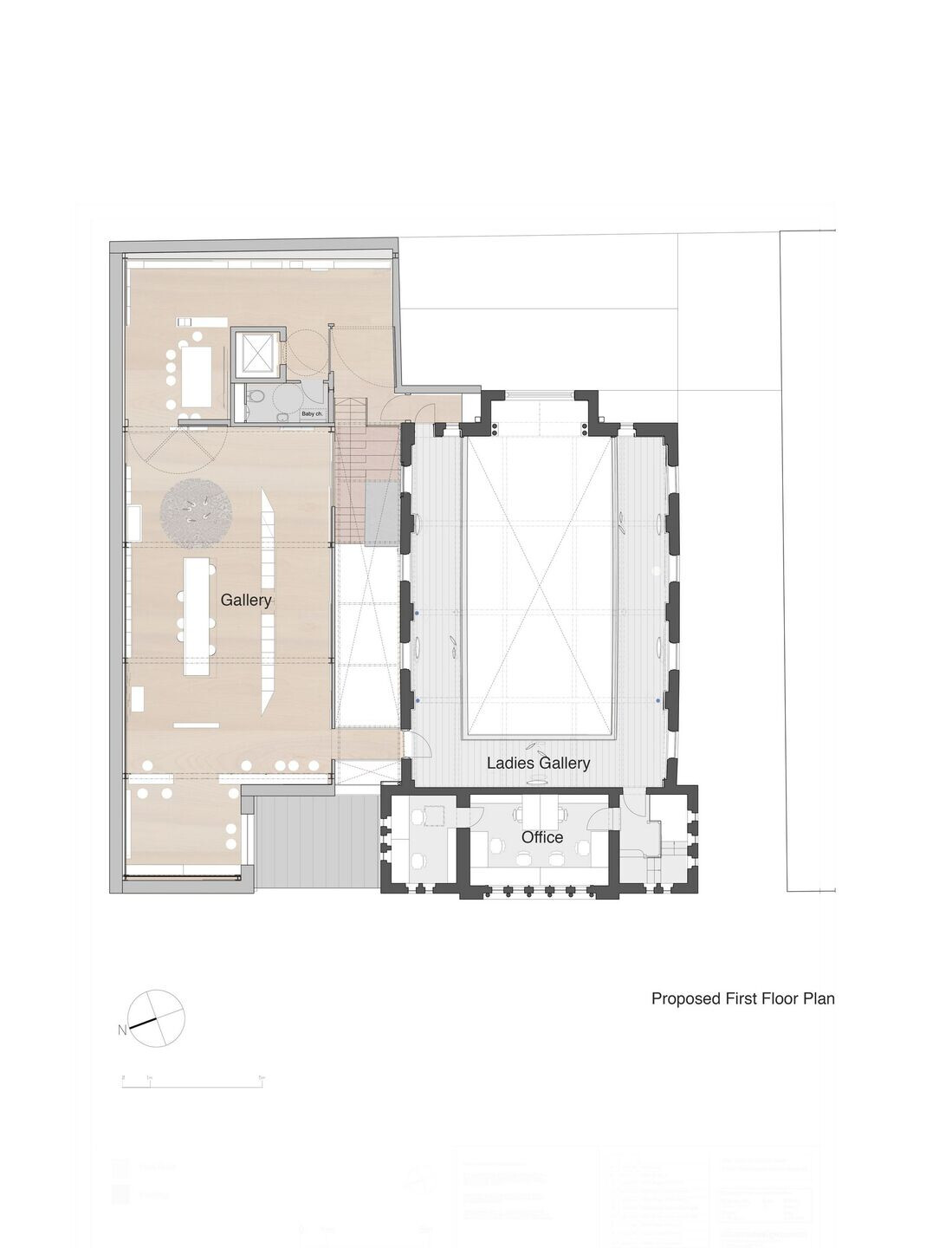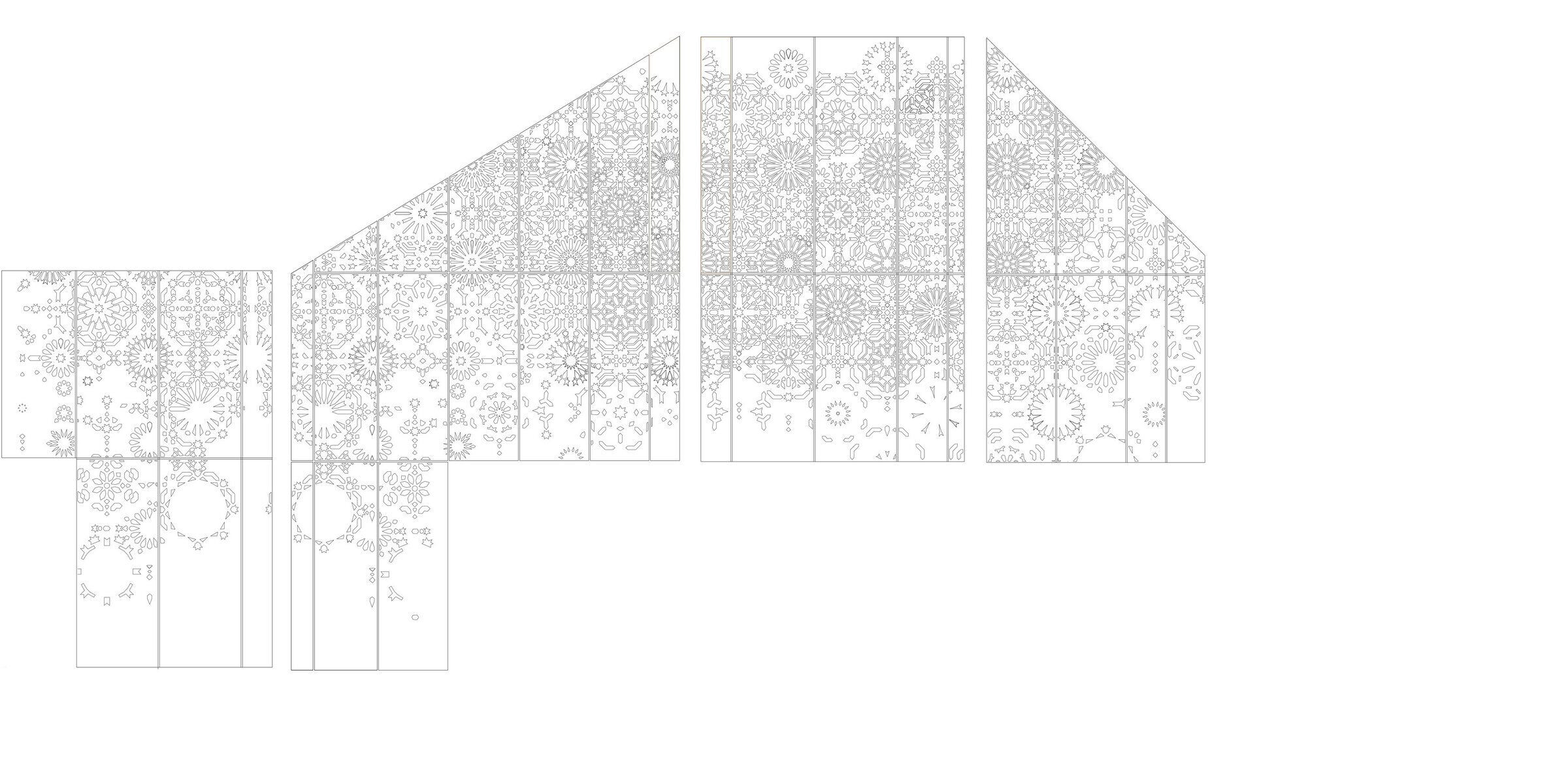 Material Used :
1. Facade cladding: Corten, Cubic Facades
2. Flooring: Polished Concrete
3. Doors: Shadbolt
4. Windows: Alumino
5. Roofing: Corten, Cubic Facades or Sika
6. Interior lighting: Lighting Distribution
7. Interior furniture: Senetor