Manly Wharf Bar (MWB) is the reimagining of the eponymous venue which has held the Eastern corner of the jetty for the past 15 years. Developing upon the old sports bar and bistro, the project has reimagined the project brand and feel, replanned the bar and kitchen experiences and relaunched anew.
Inspired by its sister venue The Burleigh Pavilion on the Gold Coast in Queensland, MWB has decluttered the old iconic Manly tenancy in an effort to de-theme the wharf at large and its many tenancies which have ever more become a themed pastiche. It is a renovation and brand re-positioning of the old Manly Wharf Bar and Bistro within its same tenancy envelope, however includes new doors and windows and exterior finishes and signage.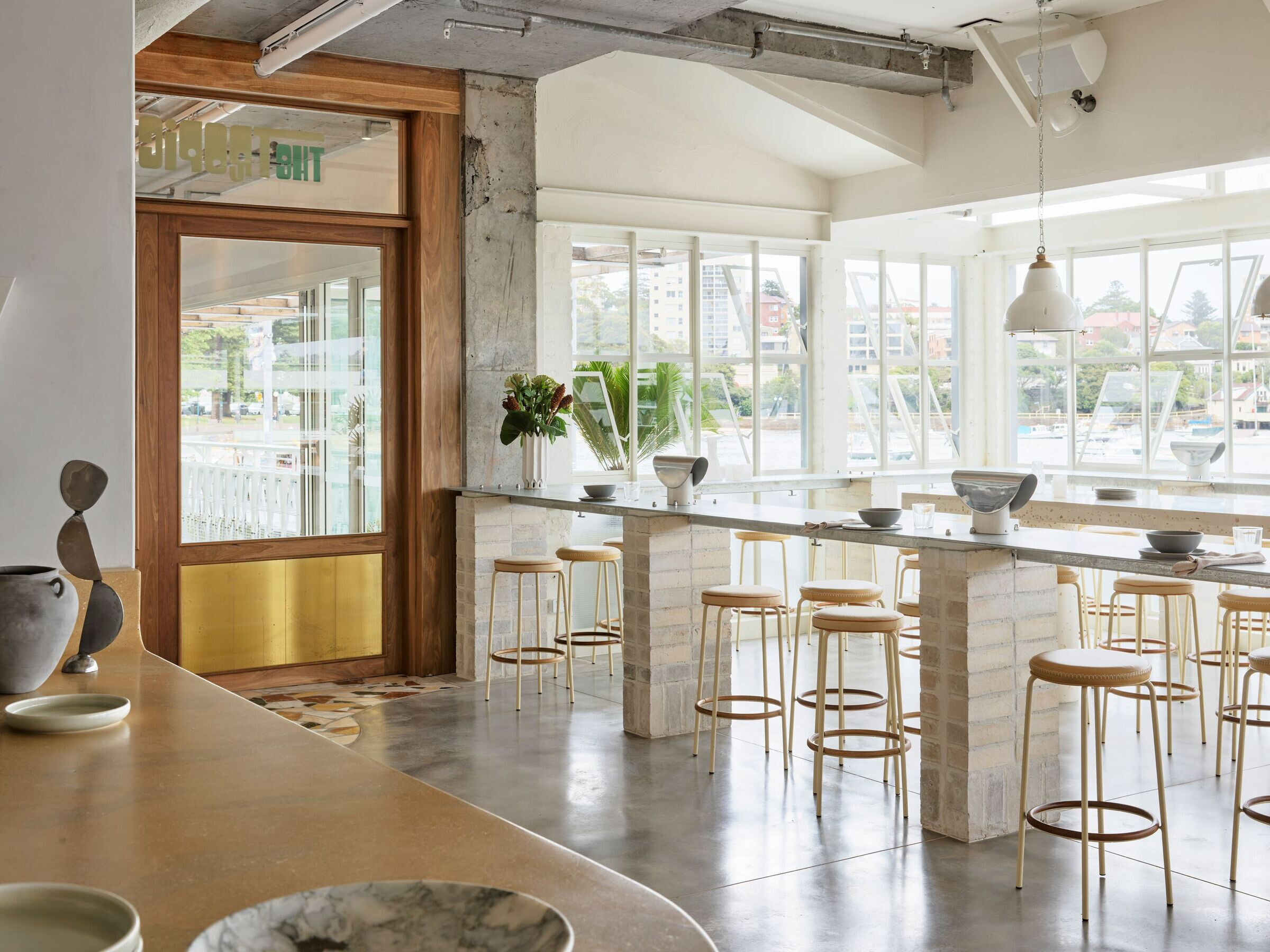 The project spans from the Eastern Sports bar to the Southern Tropic Restaurant with private dining room and orientates around the central bars and open kitchen with pizza oven.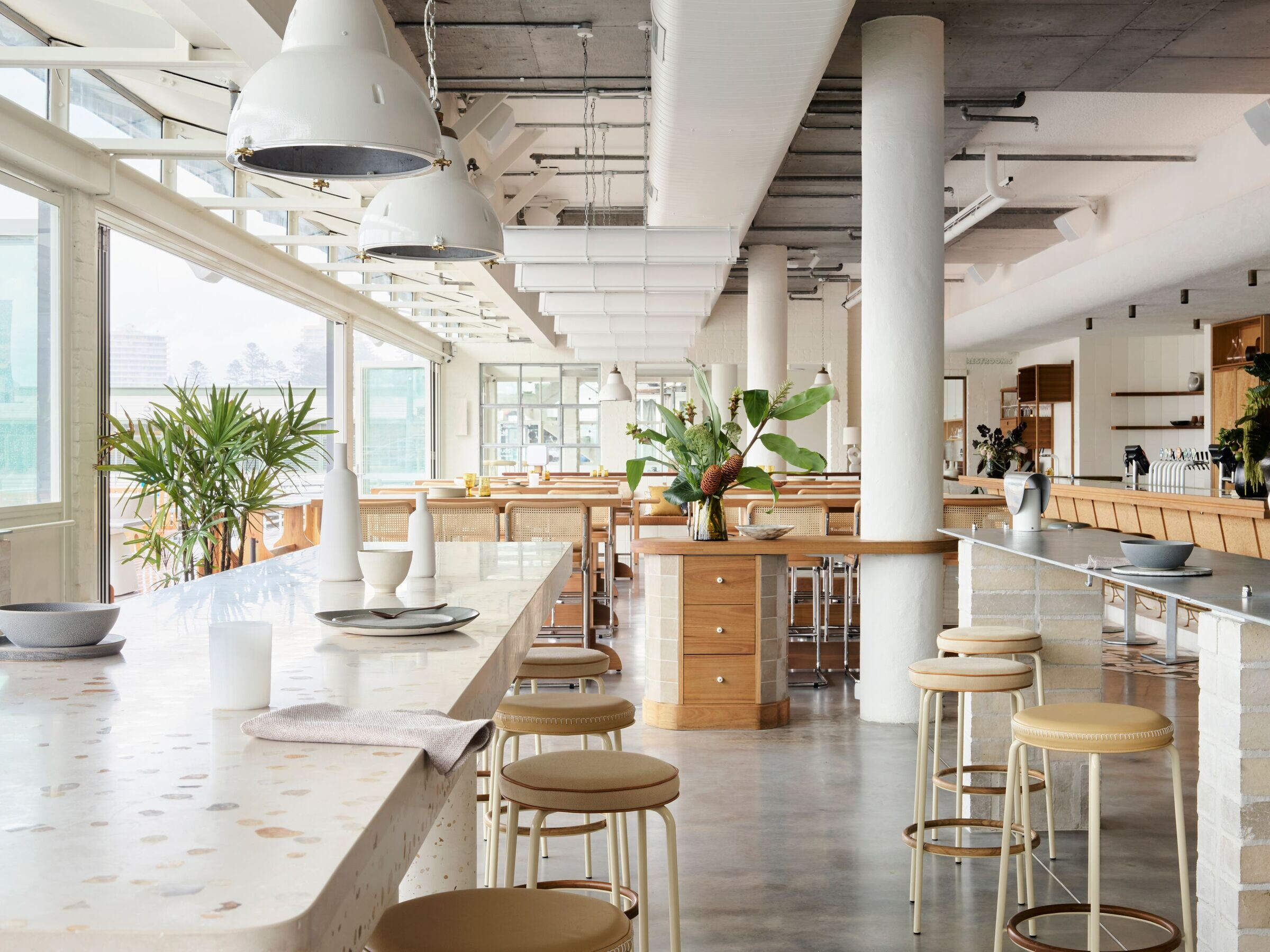 MWB is then a worn back, worn away, and reclaimed coastal rumpus room, the venue feels part urban loft story, part sexy surfer. A mid century warehouse above water, an integration of the Manly CBD with the slightest touch of residential DNA. Danish furniture classics with bent chrome, rattan and timber play off against custom timber tabletops resting atop pink rammed earth table bases. The private dining room loft feels part apartment, part private dining room and features a peach coloured Laminex kitchenette.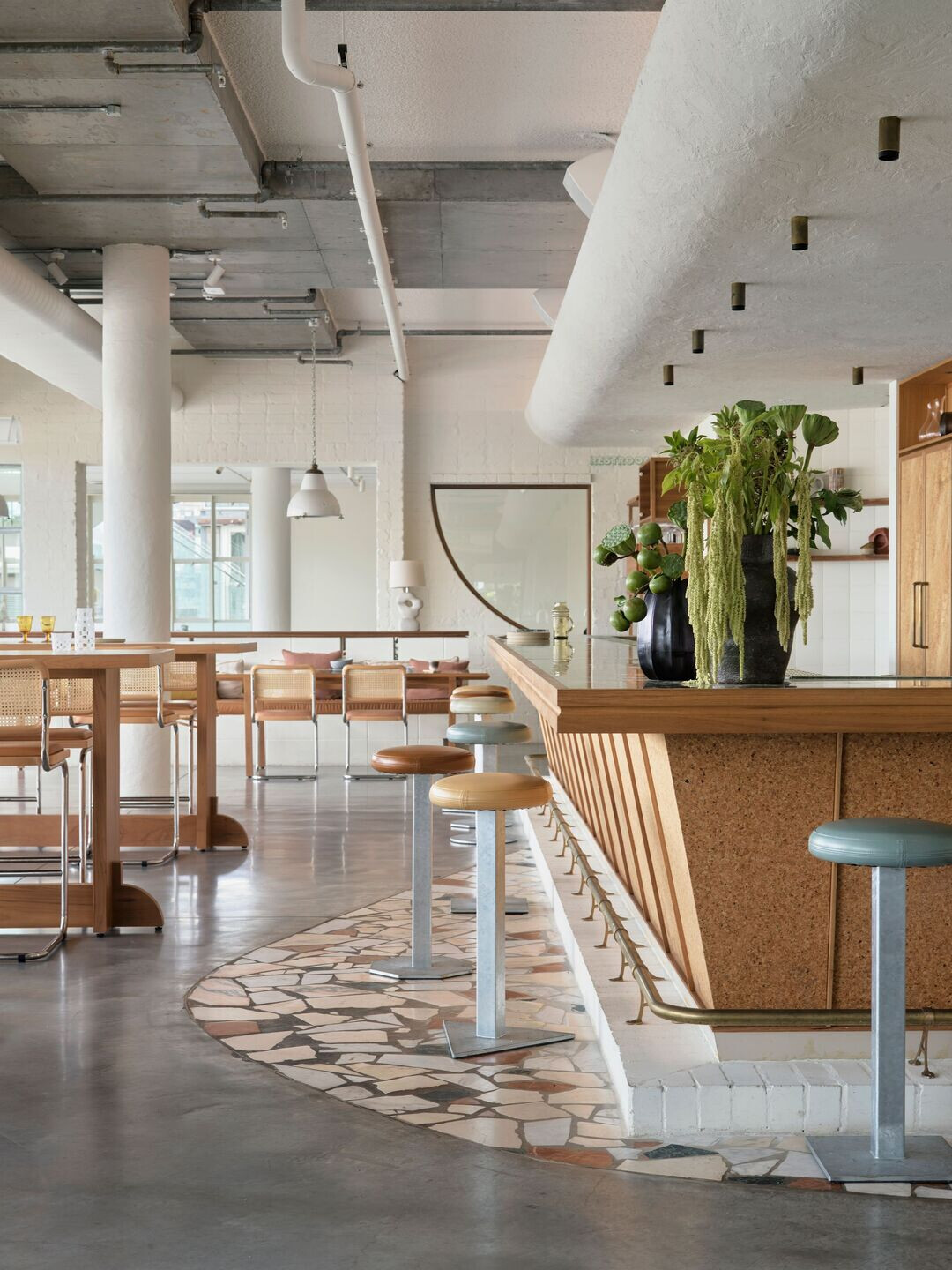 The restaurant and bar feature exposed and painted brickwork, glass blocks and textured render, open breeze block with a central glowing cork and brass bar. The venue has a freshness, an easy sandy-feet sense, with enough detail and material specialness to ensure the experience avoids ambivalence. It touches upon the mid century (a theme of interest for owner Ben May) whilst avoiding decorative in lieu of a more architectural slant.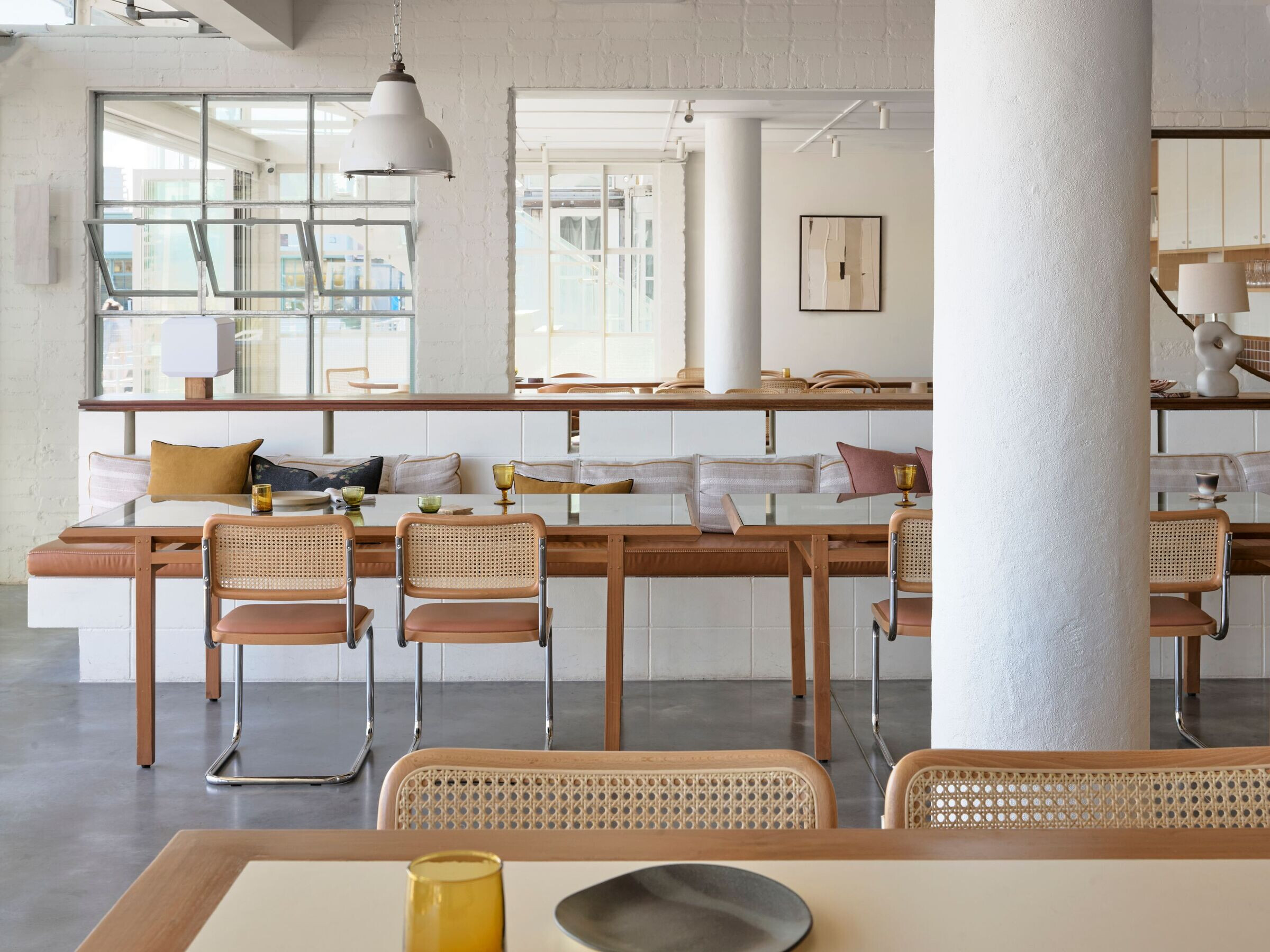 Broken moments of terrazzo, galvanised steel tables and communal benches made from masonry waste, the venue is curious and unexpected, and finds its timelessness in the grain of the many imperfections from its handmade materiality.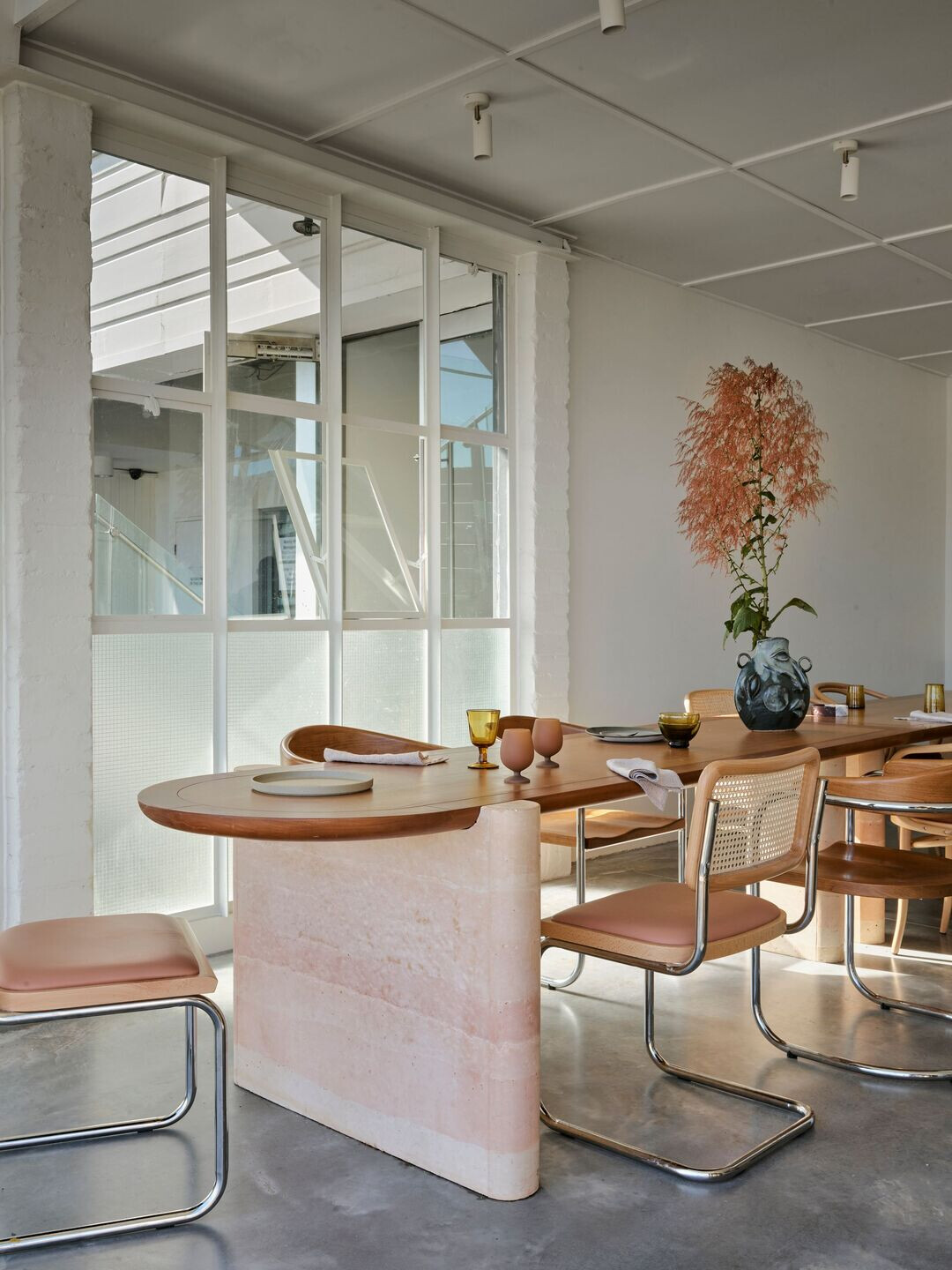 Like all our projects, less is more. The purposeful decluttering of the tenancy fit out is both an aim to return more experience for less work, but as much to reduce or remove the churn of fit out work and position the business for its next 20 years with only the necessary new furniture and paint required to get it there.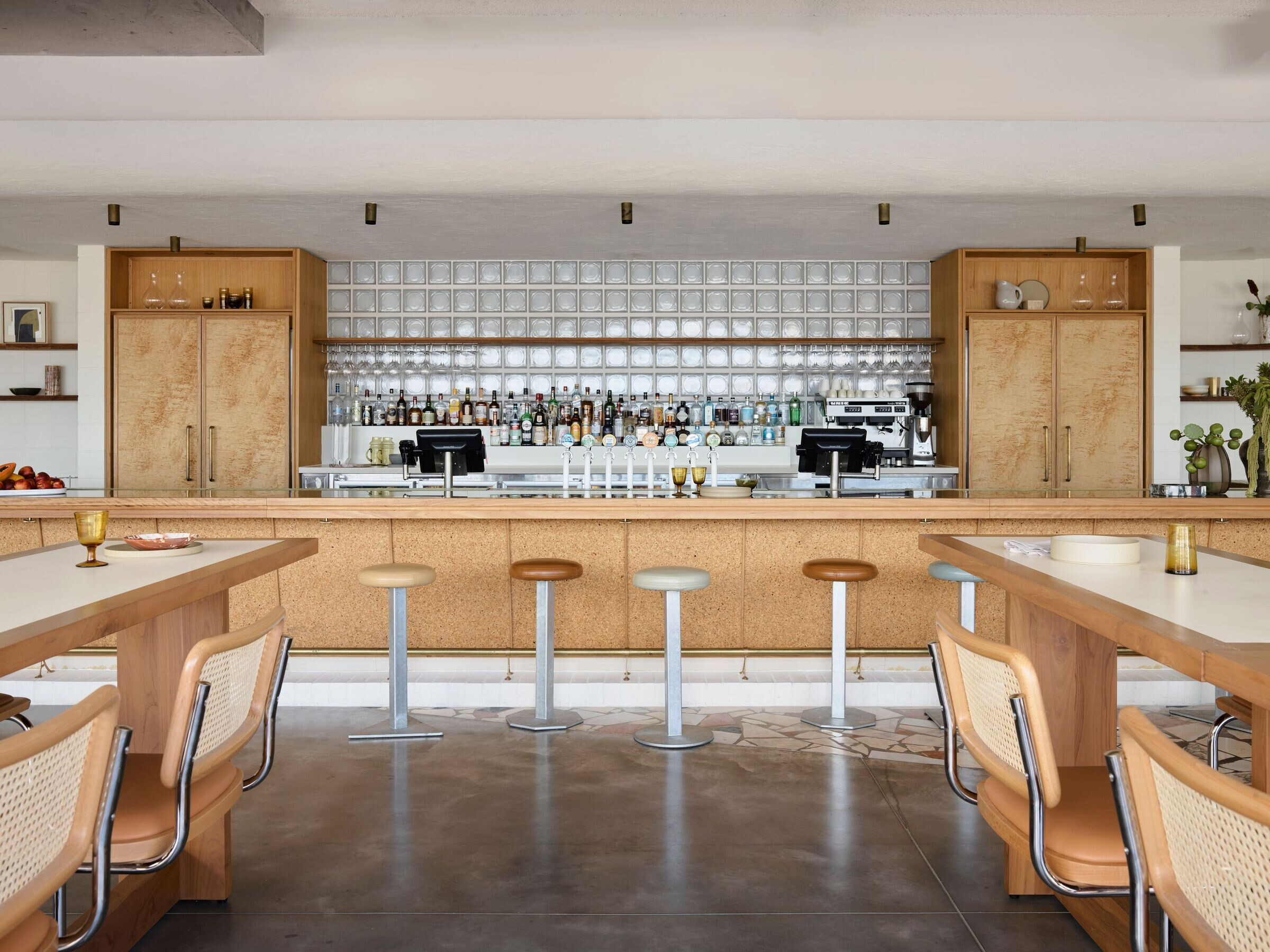 Reduction is the corner stone theme of our sustainable pillar, but the venue goes on to re-use various harvested masonry elements for its wall material, and reconstitutes masonry waste into bricks, table lakes and bench surfaces.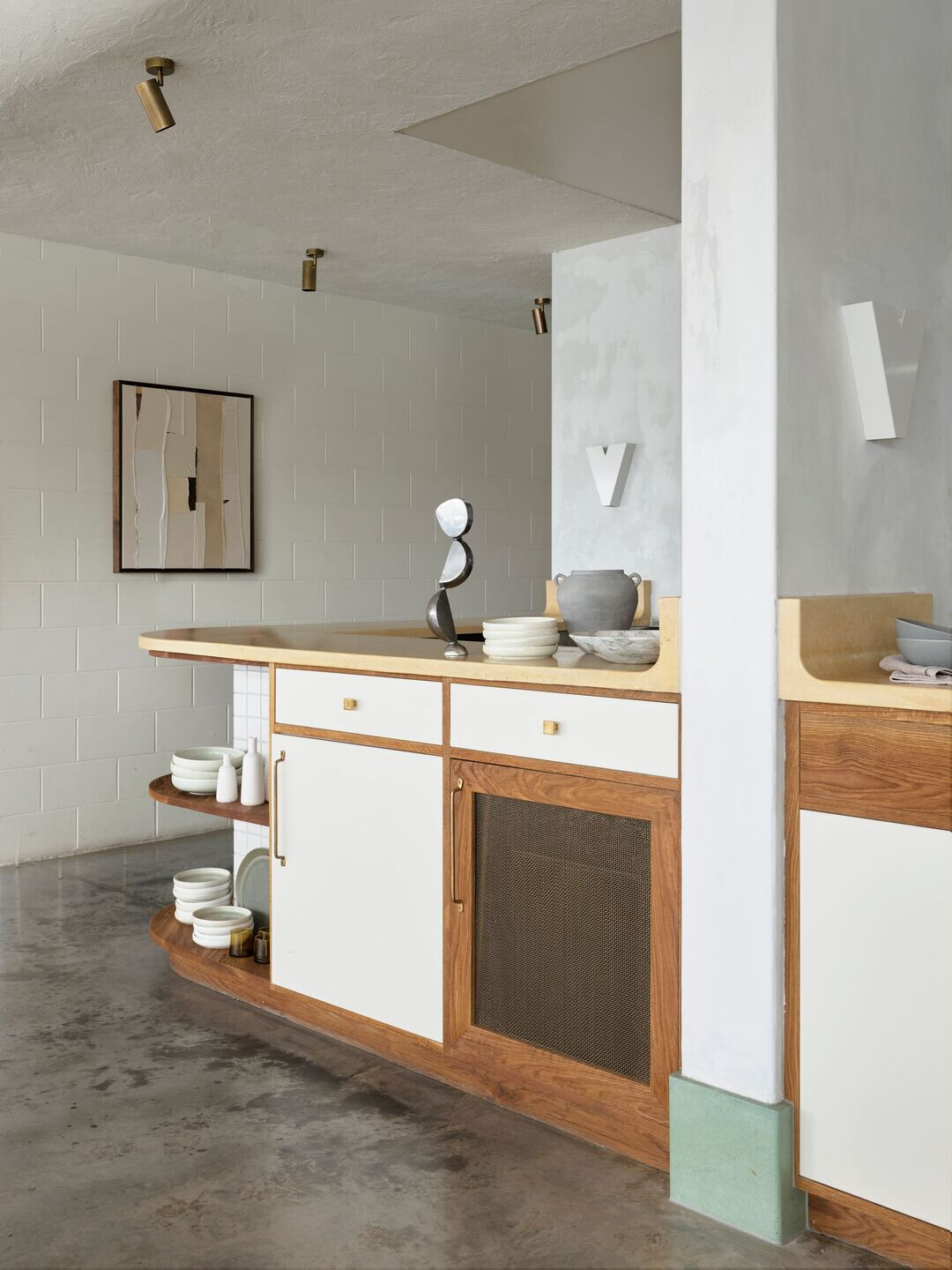 Team:
Architects: Alexander & CO.
Photographers: Anson Smart Australia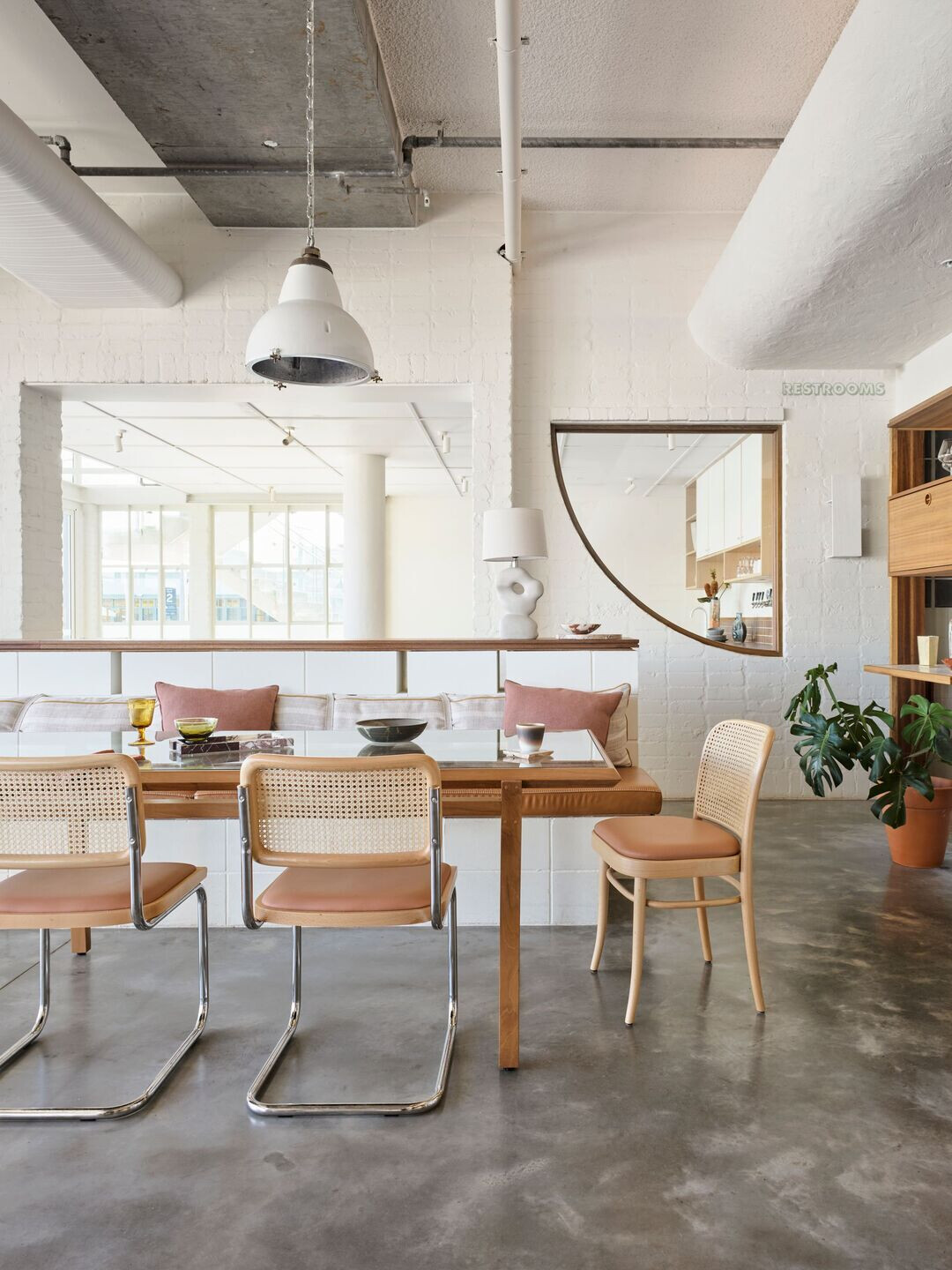 Materials Used:
Barstools - Customised Milton Stools (upholstered leather seat in 296 light and powder coated legs in light ivory) by Reddie.
Coloured glassware from Saarde Home
Ceramic bowl and plates from Specified Store
Spot lights - Aged Brass custom spotlights on ceiling made by The Lighting Guild
Ceramic bowl and plates Specified Store
Coloured glassware Saarde Home
Grey bowls Montmartre Store
Sculpture and white vessel both from Curatorial and Co
Grey vessel from Tigmi Trading
Large brown vessel from The Dea Store
Terrazzo Flooring - Stone Factory - John (Offcut Marble slabs)● Marble bowl by Greg Natale
Sculpture from Curatorial and Co
White ceramic vessels by Walter Auer
Linens from Polite Society
Coloured glassware Saarde Home
Green plates The Dea Store
Table lamp - custom made polished aluminum lamp by The Lighting Guild
Marble bowl by Greg Natale
Grey vessel and white glassware from Tigmi Trading