The Nelson Airport Terminal is a new large span timber building overlooking the runway, with a stunning backdrop of Tasman Bay and the Western RangesinNelson, New Zealand.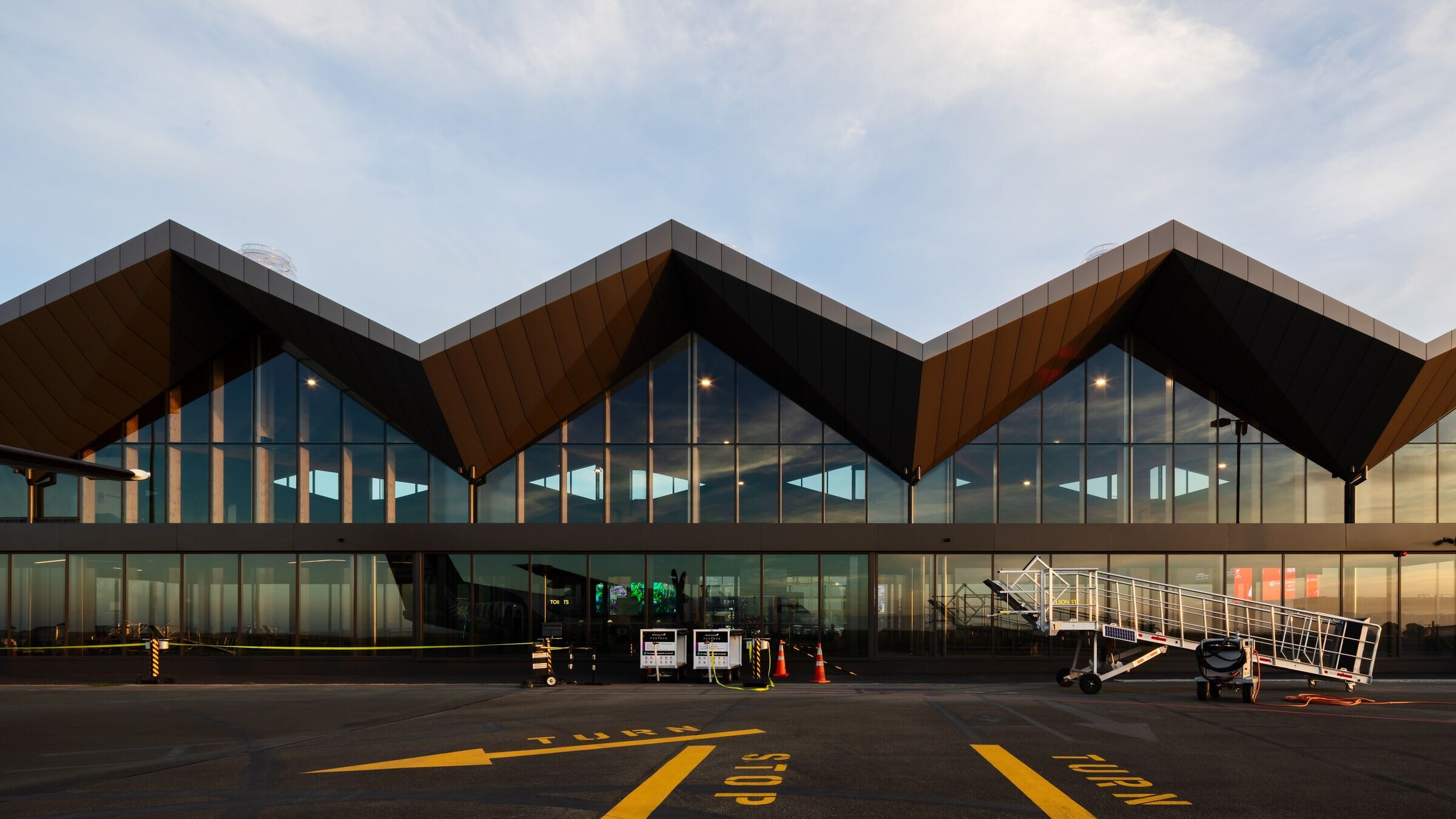 The requirement for a new terminal building arose out of the reality that the existing 1975 building no longer met building code requirements or functioned efficiently with the ever-increasing passenger numbers' travelling through Nelson.
The brief was for an airport that operated efficiently, both as a transportation hub and asafe and viable business, but also, aspirationally, one that reflected uniqueness to Nelson, connection to landscape within the building, and extensive use of local materials.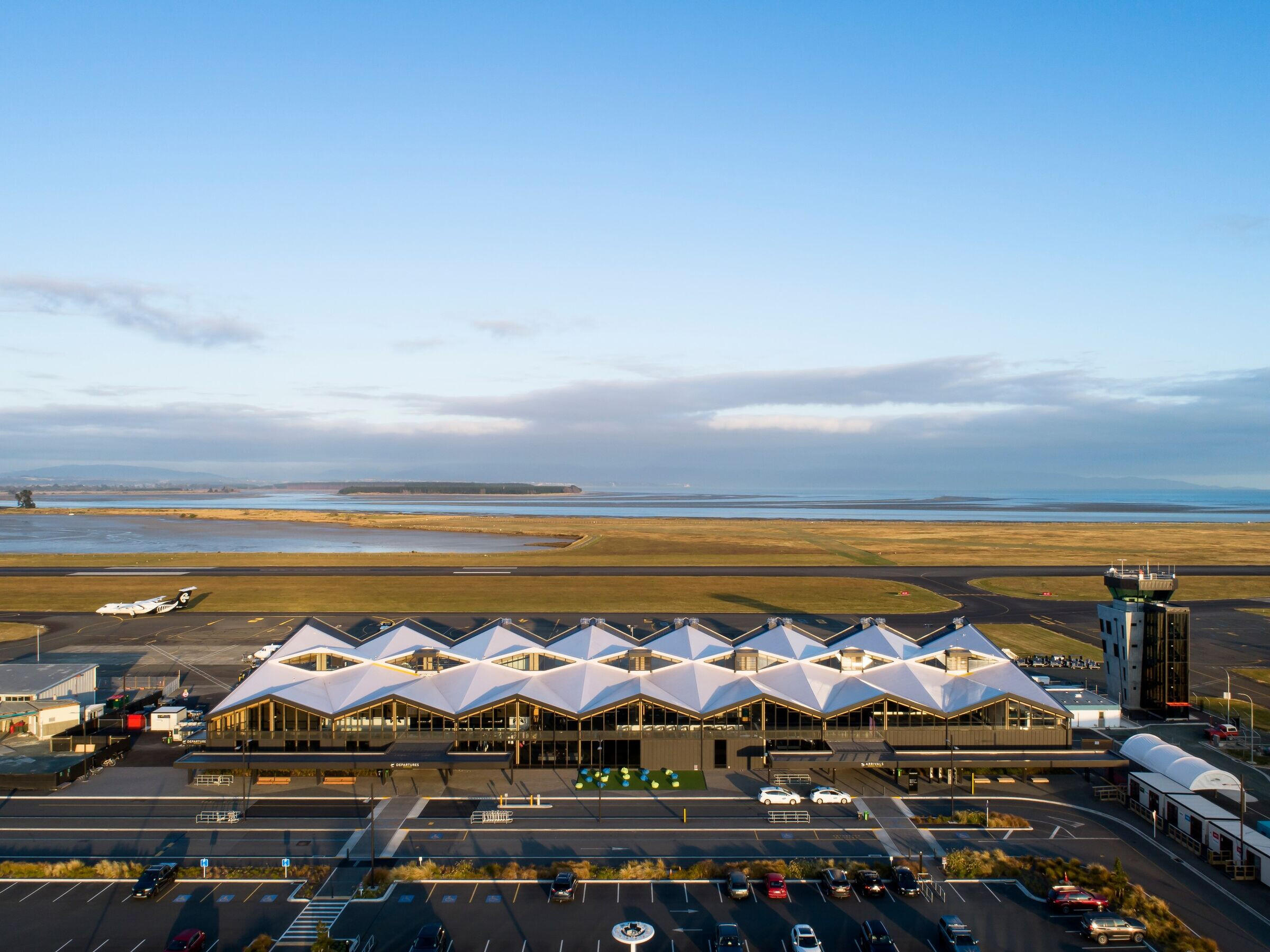 Two main strategies have been chosen to deliver on the expectation for an environmentally sustainable design; natural ventilation and the use of a mass timber structure coupled with a resilient seismic structural solution. Utilisation of these initiatives enables Nelson Airport to differentiate itself and to set a precedent for the sustainable operation of an airport terminal building.
The building takes a simple but sophisticated approach to achieve natural ventilation for the main terminal space. The buildings plan, height, and roof form are designed to maximise air movement and to utilise the air's buoyancy when heated to rise up to high level openings. Low-level windows bring air into the building and the carefully articulated roof is split through the centre of the building, creating clerestorywindows that maximise daylight and allow release of hot air through glazed louvres.
Along the north façade,chevron-shaped external canopies have multiple benefits; they act as large chambersdischargingwarm air drawn in from the solar chimneys below,whilst also providing solar shading to the interior and reducing the extent of glazing to the north façade.
In contrast to the simplicity of the plan and facade, the roof is highly complex and visually striking; folding across the length of the building in a constant, rhythmical pattern which references the surrounding mountain ranges.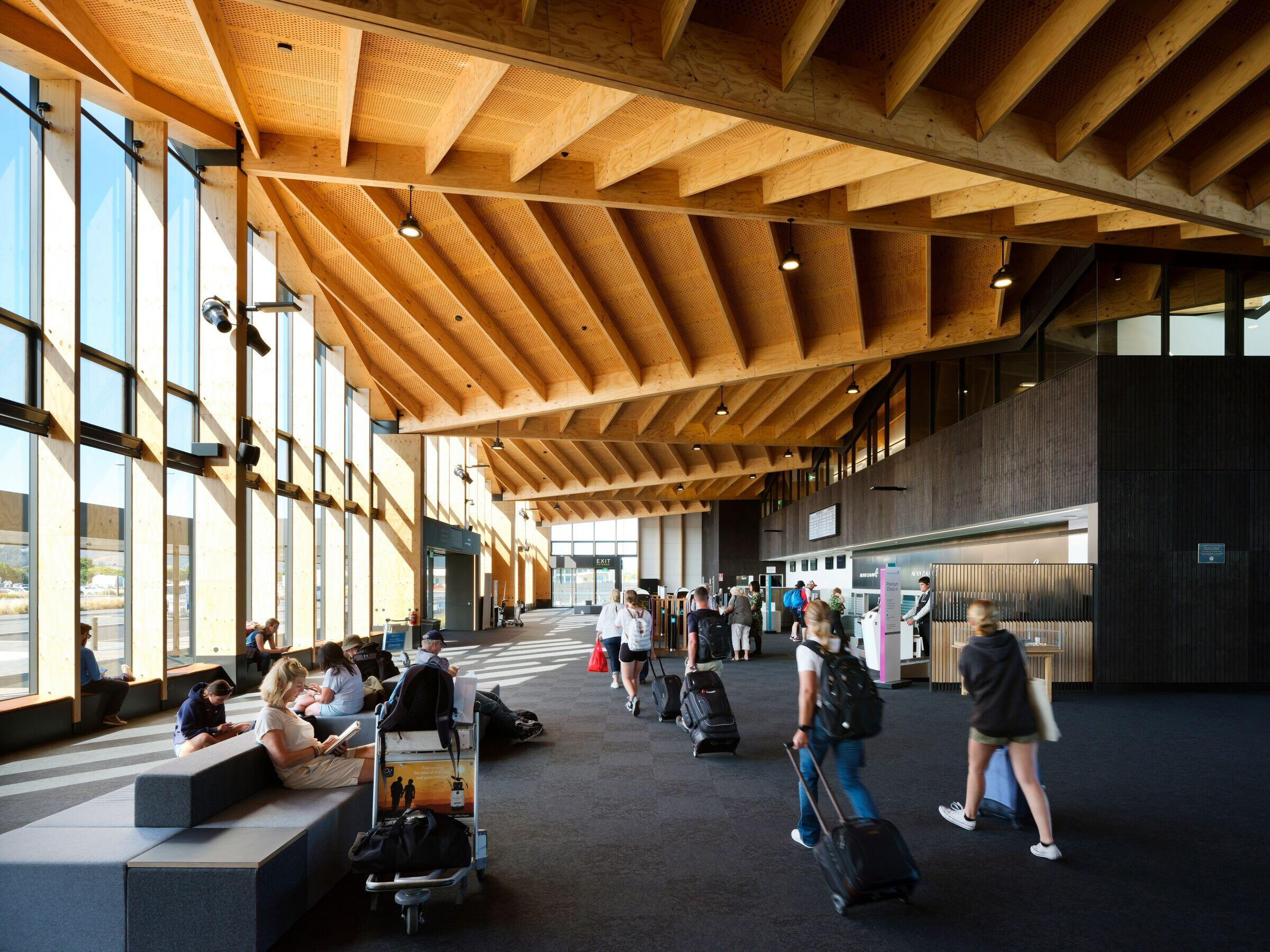 Internally the timber structure forming the roof is most captivating with a natural warmth, texture and scale that is an invitation to linger. The use of timber as structure and form-giver is integral to the aims of the design - a true and tactile response to the brief, that reinforces the materiality and its connection and relevance to the surrounding forestry, from which it has been sourced.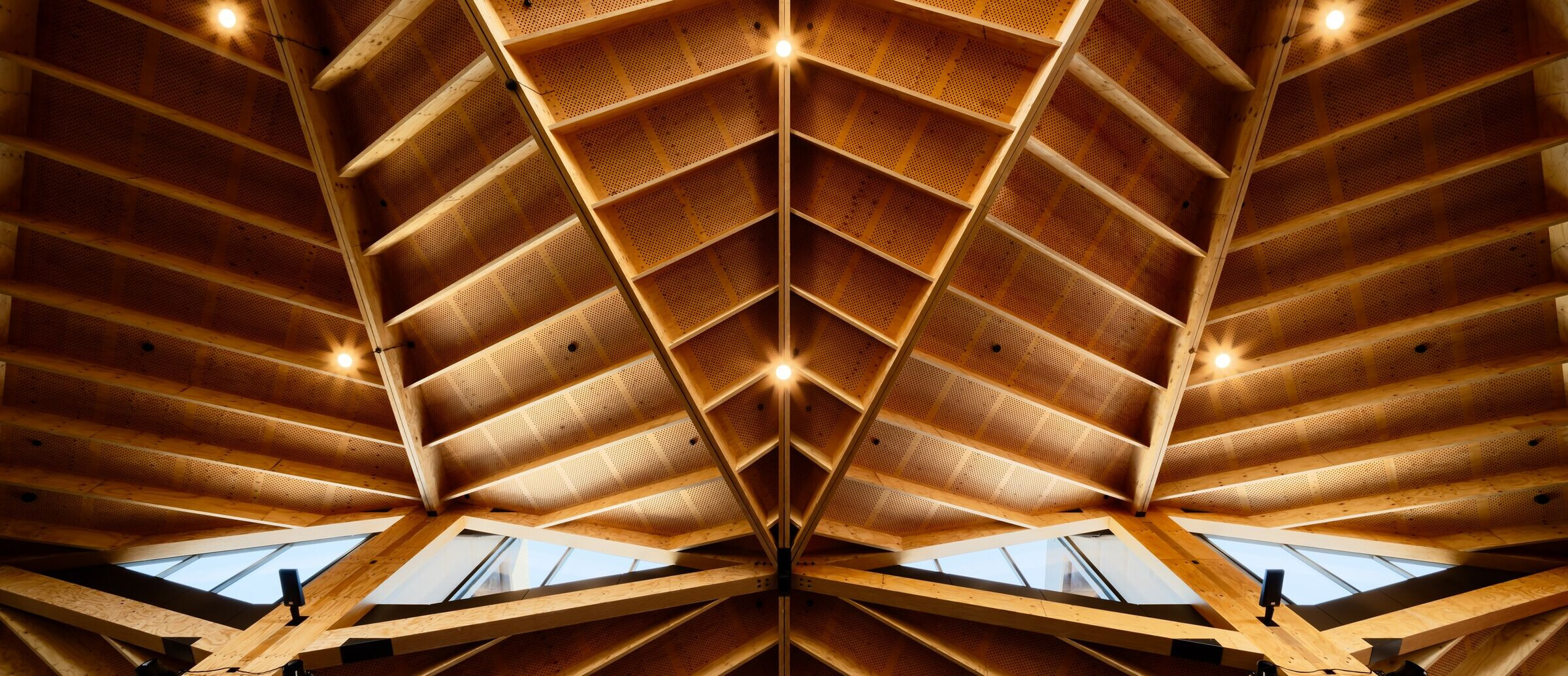 The repetitive building module achieves a large open footprint, allowing for flexible internal planning with minimal columns, where internal 'pods' float beneath the roof and house operational requirements, retail, and food and beverage offerings. The material palette is simple - stripped back to both highlight the structure and to create a calming backdrop for the mix of spaces within.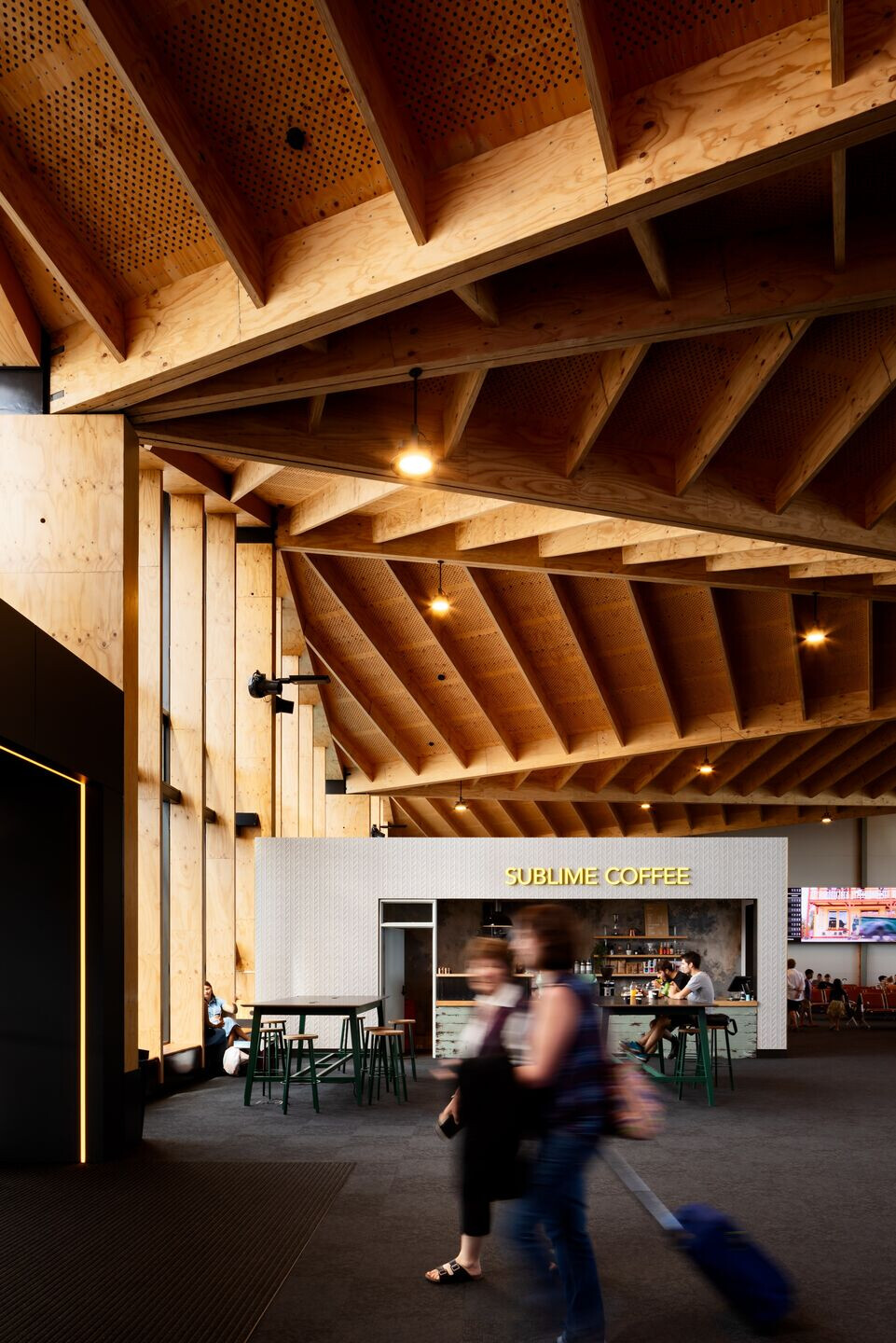 As one of the main entry points into the Nelson region, the building expresses in its form and materiality the essence of place. In this manner the terminal building is unique and differentiated from homogeneous airports around the world through its regionalism.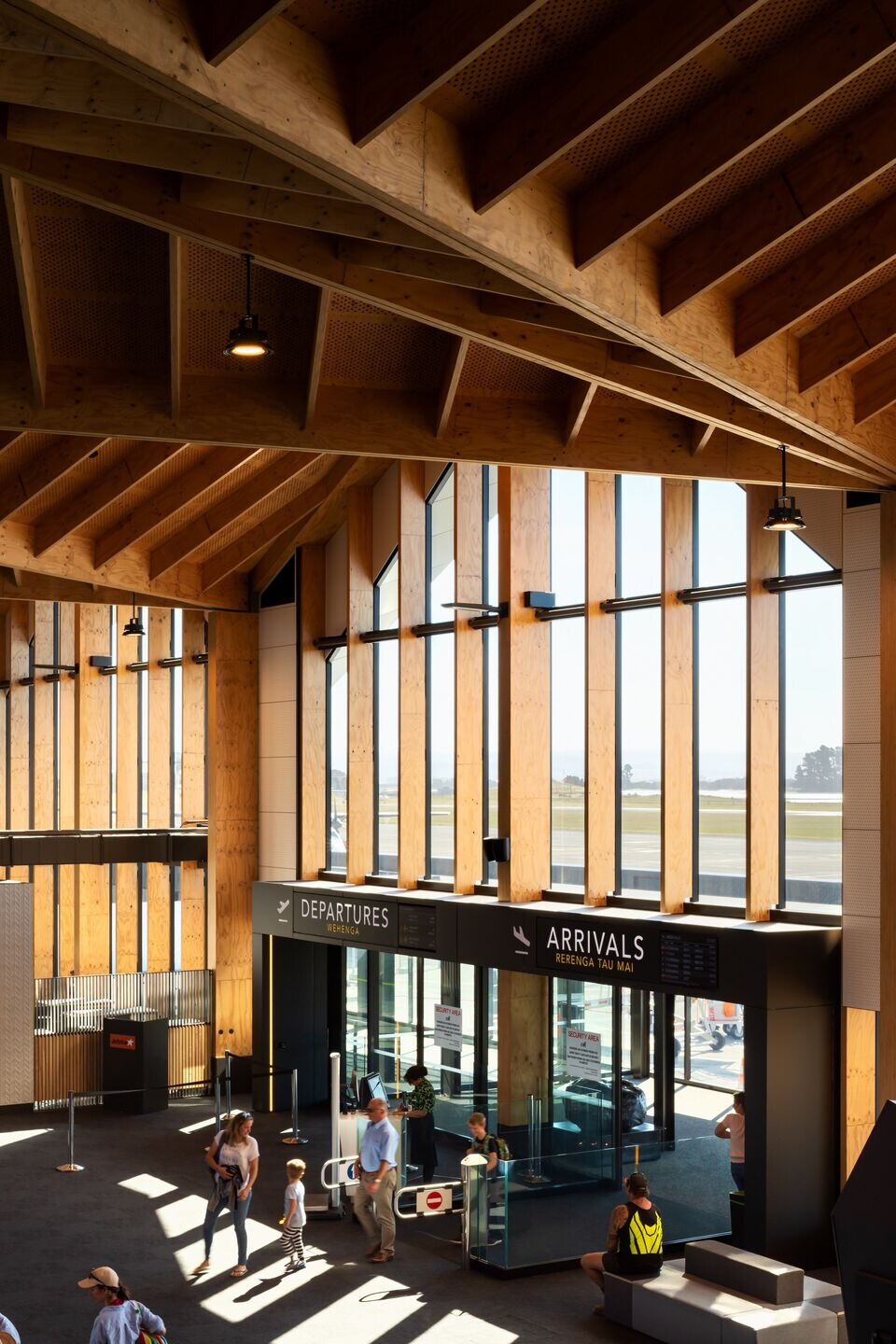 Material Used :
1. Nelson Pine Industries ltd (NPIL) - Laminiated Veneer Lumber (LVL): manufactured for roof beams, rafters, columns, mullions, and plywood ceiling diaphragm.
2. Cooper Webley - CNC fabrication of LVL plywood
3. Autex Industries - Autex AAB 40-100
4. Architectural Roof and Façade Innovations Ltd (ARFI) - QBT450, Folded aluminium cladding, (custom sized to 500mm wide trays), Finish: Prefa, Black Grey.
5. Thermosash - Curtain Walling
6. Dormakaba - Automatic Sliding Doors
7. Roof Logic - Roof Logic Warm Roof System
8. Hush Panel - Torchguard 12mm Band Sawn Plywood Wall Lining, Custom Groove pattern, stained finish.
9. Hush Panel - Torchguard perforated MDF Wall Lining, 8mm diamond perforations, spray laquer finish.
10. Autex PSL Alement - PSL Alement 92 Internal Glazed Partition System
11. Pacific Doors - Fire Doors, Commercial Doors, Acoustic Doors
12. Porcelanosa Wall Tiles - Dover Spiga Acero 316x900mm Wall Tiles
13. Godfrey Hirst - Infusion Carpet Tile, Monument Grey
14. AGC Lighting - HiCloud LED High Bay Light
15. AGC Lighting - HiSpot LED Flood Light
16. Horizon International Paving - Bluestone Pavers; miz of Honed, Bush Hammered, and Split Faced finish.
17. Streetscape NZ - Senator Rubbish Bins
18. Santa and Cole - Santa and Cole Moon Seat, Saligna Timber.
19. Signwise - Terminal and Landscape Signage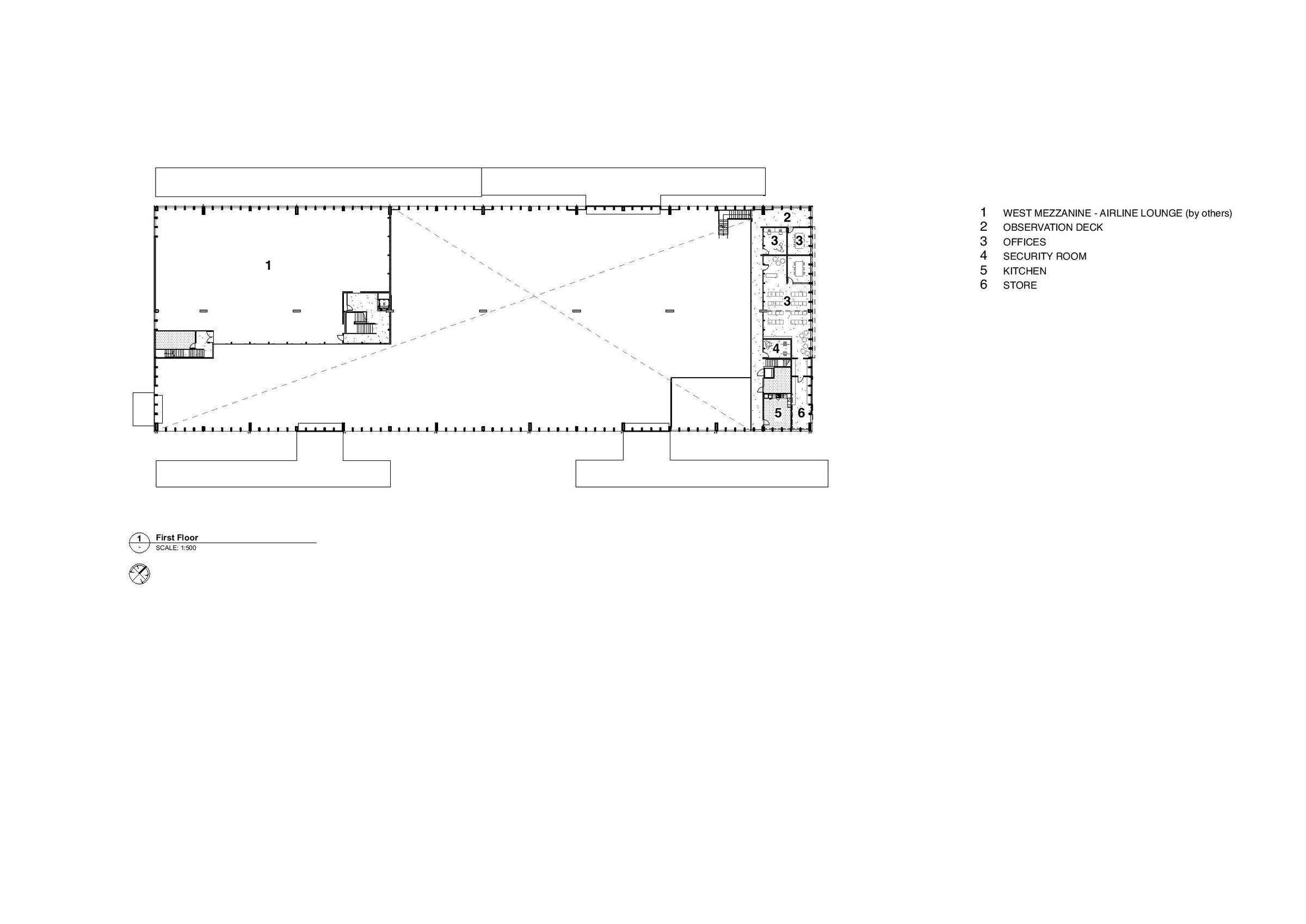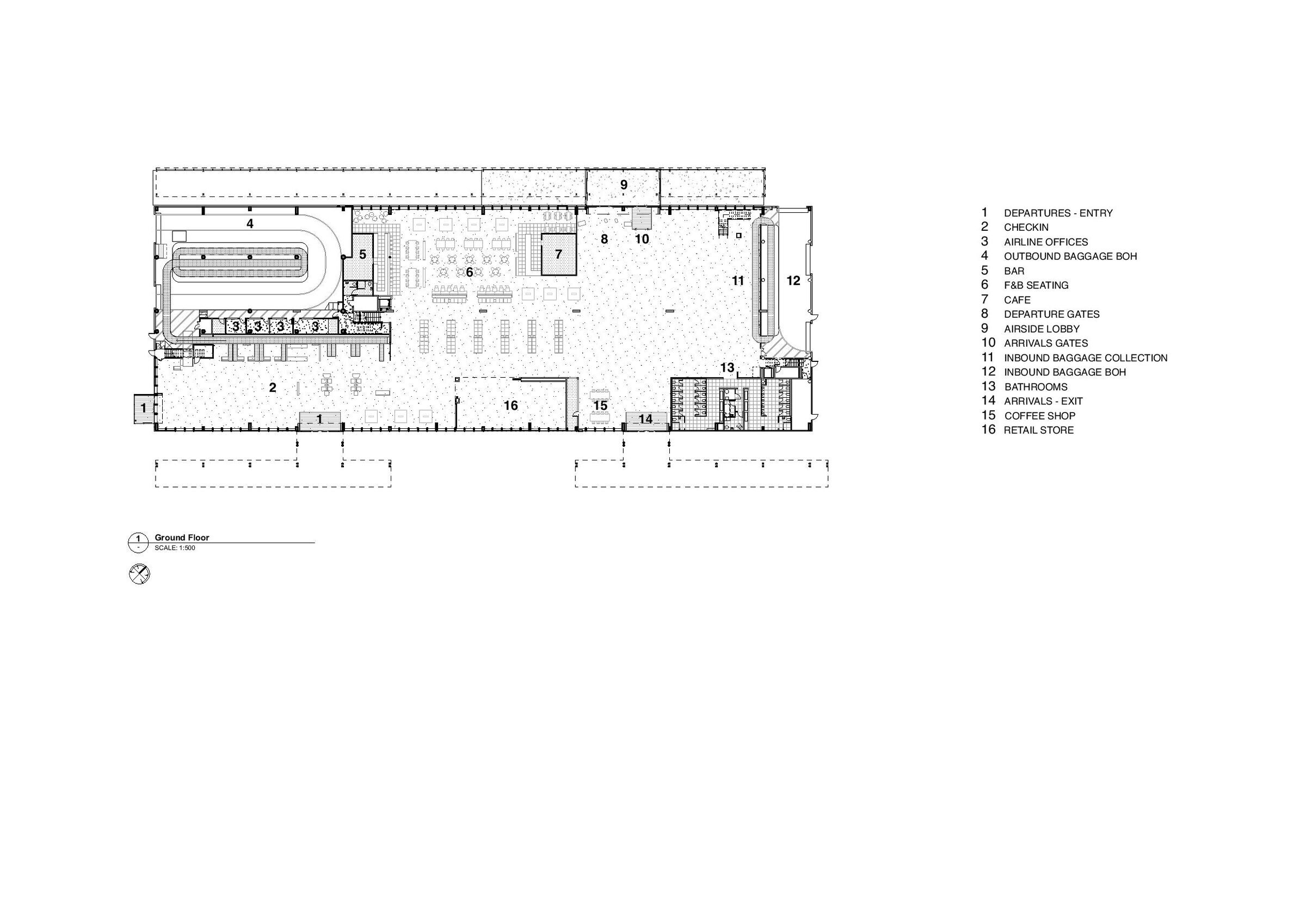 Software Used :
1. Graphisoft Archicad
2. Graphisoft BIMx
3. Rhinoceros 3D
4. Adobe Photoshop
5. Virtual Reality - Fuzor for Archicad