Allied8's client avoids using the term "food bank," and would love it if everyone else did, too. Instead, they simply call this project a market–a place where anyone can take home nutritious food at no cost. The client took a hard look at their guiding metrics (visits, pounds of food) and asked if these metrics tell the story they wanted to tell–they decided to deemphasize numbers and focus on the experience shoppers have with the new store, transforming from a food distribution agency into a food justice agency.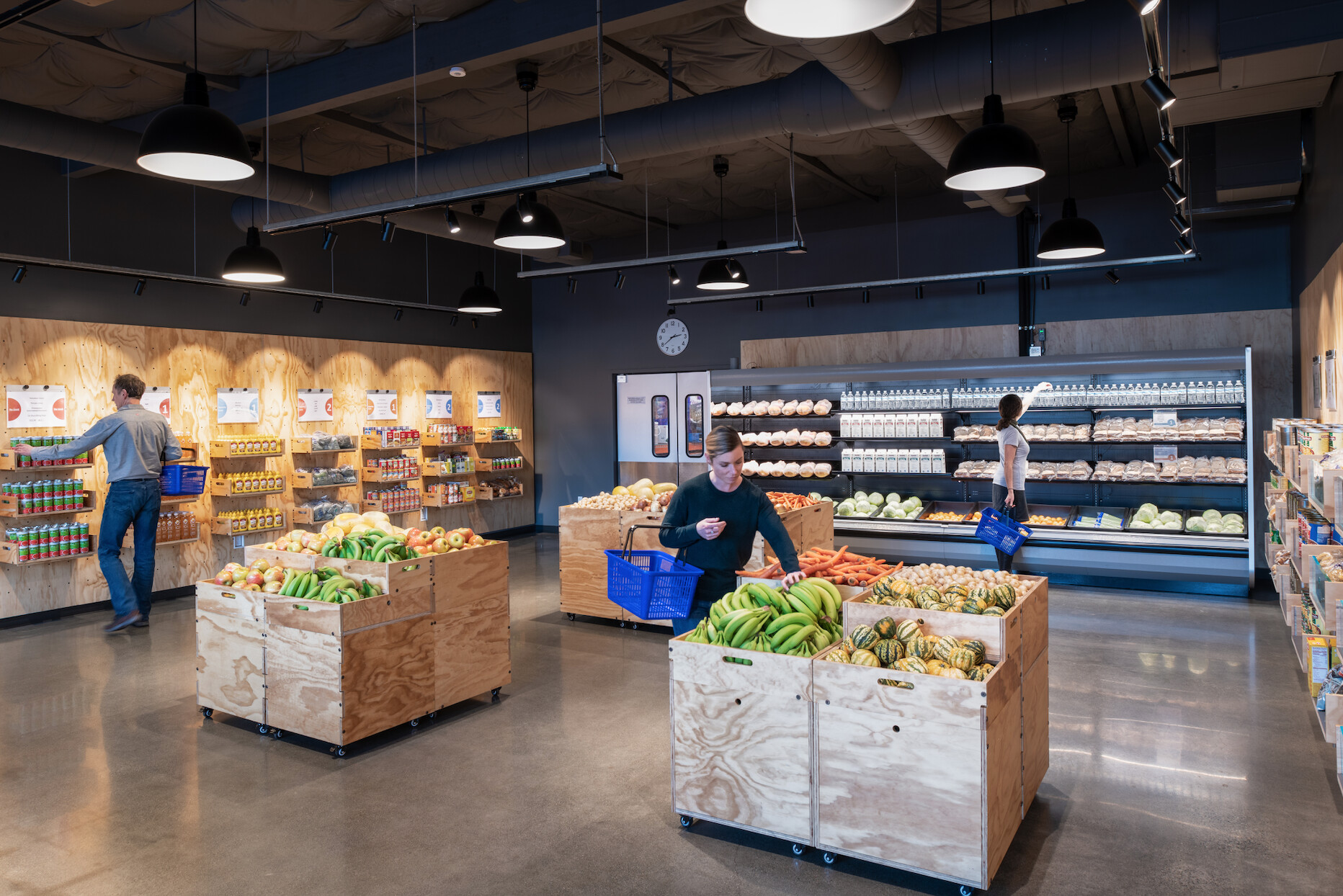 Allied8 stretched a lean budget, applying unpretentious materials in modular ways throughout the market and administration spaces, creating a warm, dignified environment. Rebuilding the facade with glass framed by stained cedar adds a friendly face to the industrial building, and a new canopy offers weather protection.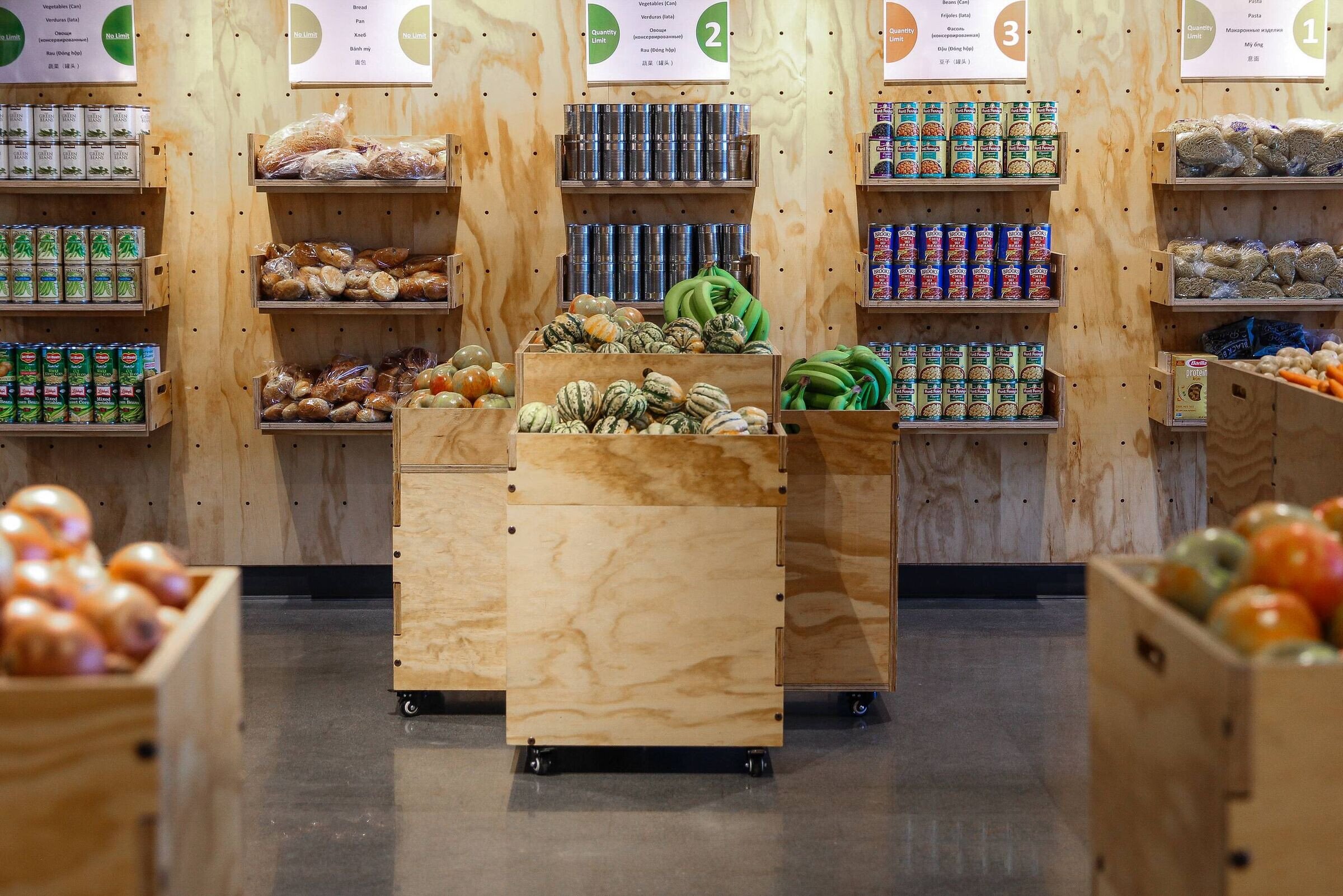 Thoughtful lighting is applied throughout, and well-detailed, spot-lit displays create a high-quality shopping experience. The central check-out area promotes interaction, as does the front courtyard with its upgraded paving. Bright birch plywood is used in custom casework and furniture throughout the project, adding natural texture, warmth, and some playfulness to the industrial building.
For 35 years, the client operated out of a church gymnasium on a steep hill, blocks from public transportation–in contrast, the new space is close to transit and marked by welcoming signage, warm materials, and wide windows. The parking in front is now a car-free community courtyard, offering space for gathering and pop-up services.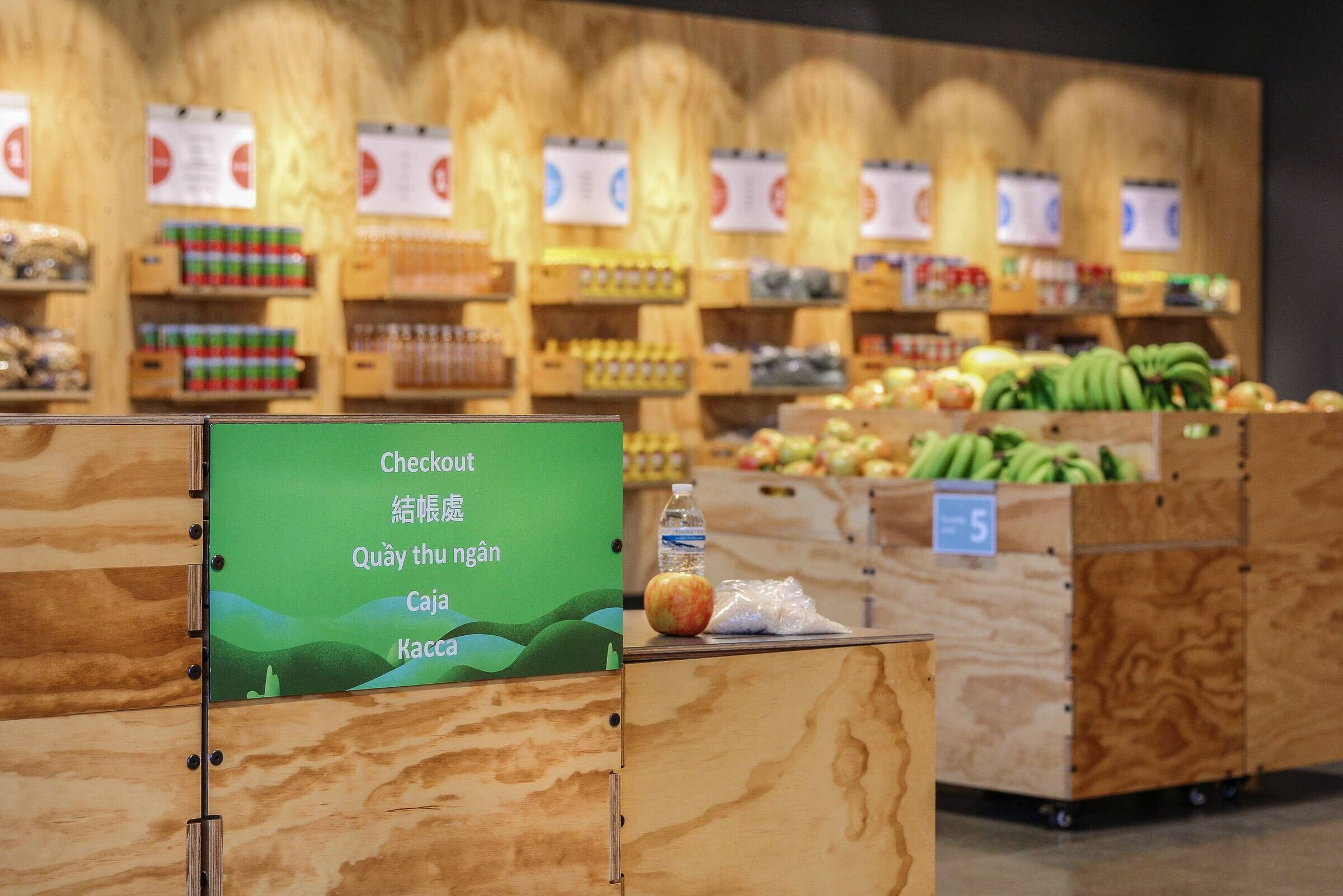 Beyond efficient distribution, the project offers the experience of a neighborhood market. Custom plywood displays allow the layout to be easily reconfigured to scale up and down to avoid empty shelves. The modular displays allow for efficient restocking by simply swapping a module out, while also lending capacity to serve other functions such as food prep on days the market is closed.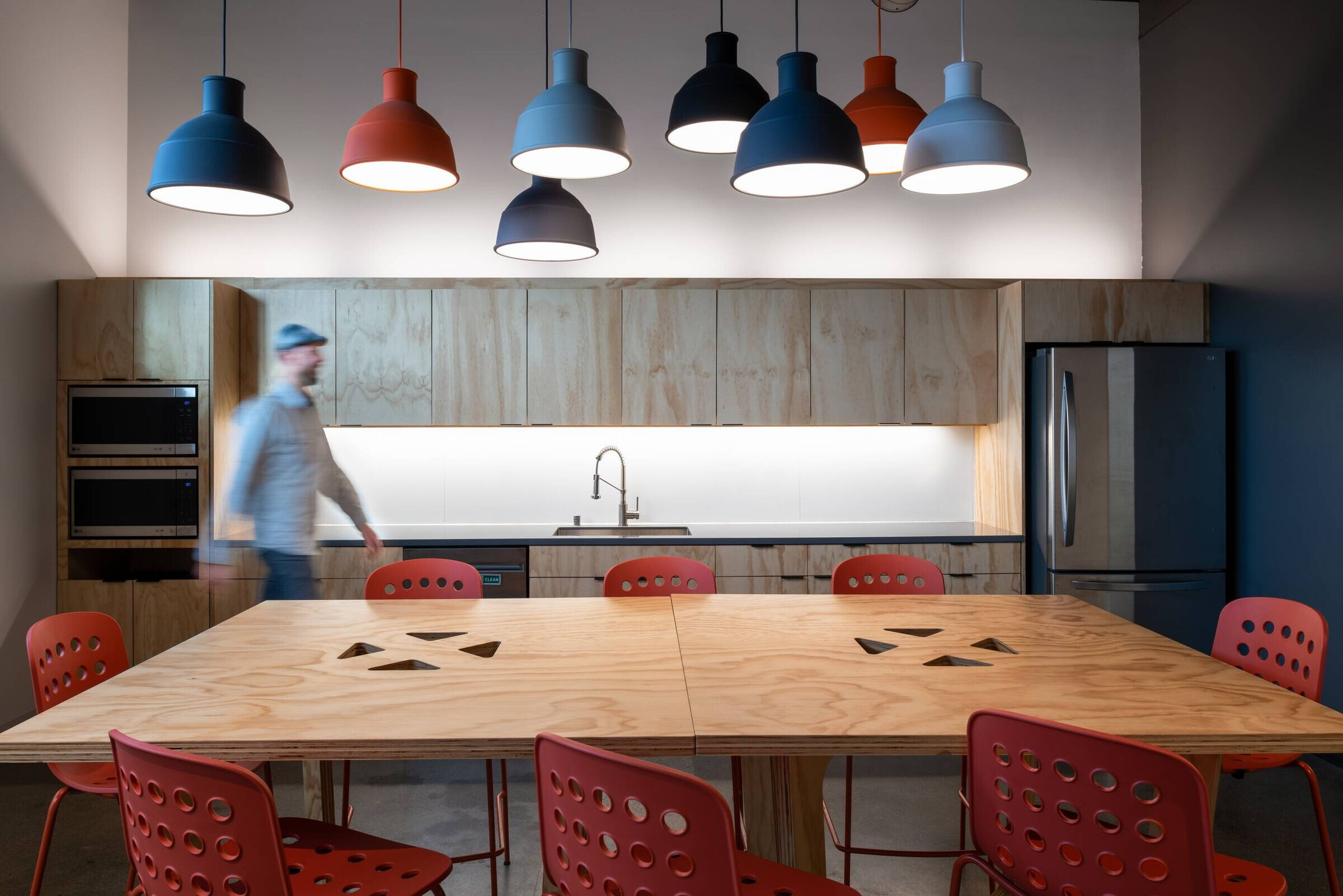 Often people experiencing food insecurity are thought of as just needing food, but a mix of challenges can be present. In response, this market provides room for community members to meet with specialists providing free assistance on health and housing, with plans to add legal advocates.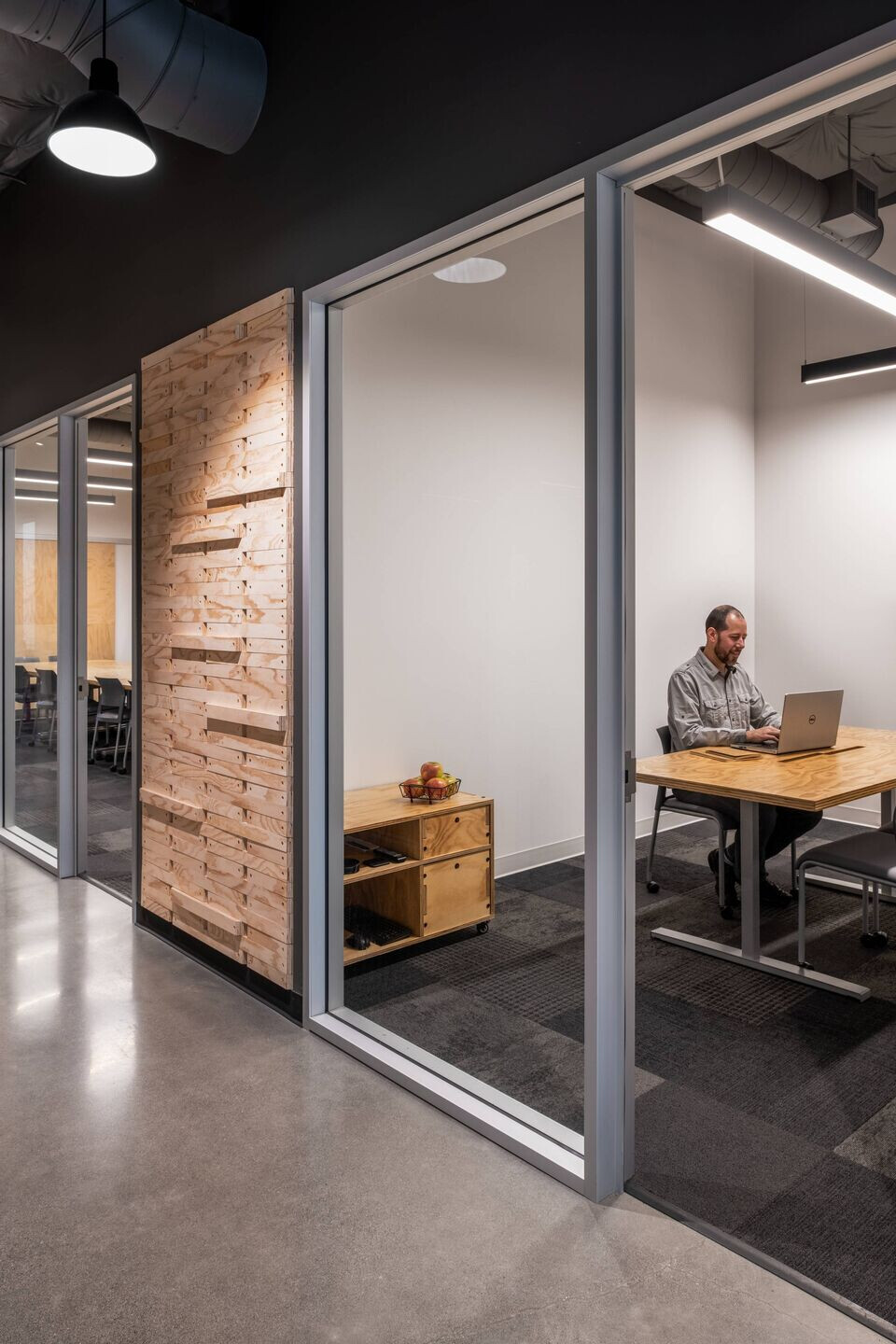 The facility offers several community rooms in addition to a 1-to-1 consultation room. Emphasizing flexibility, the large conference table is made up of smaller easily reconfigurable table modules, and the large corner sliding doors open to expand the space.In the staff area, the team applied thoughtful lighting, bright color, maximized access to daylight, and custom modular casework and furniture–creating a welcoming, inclusive atmosphere.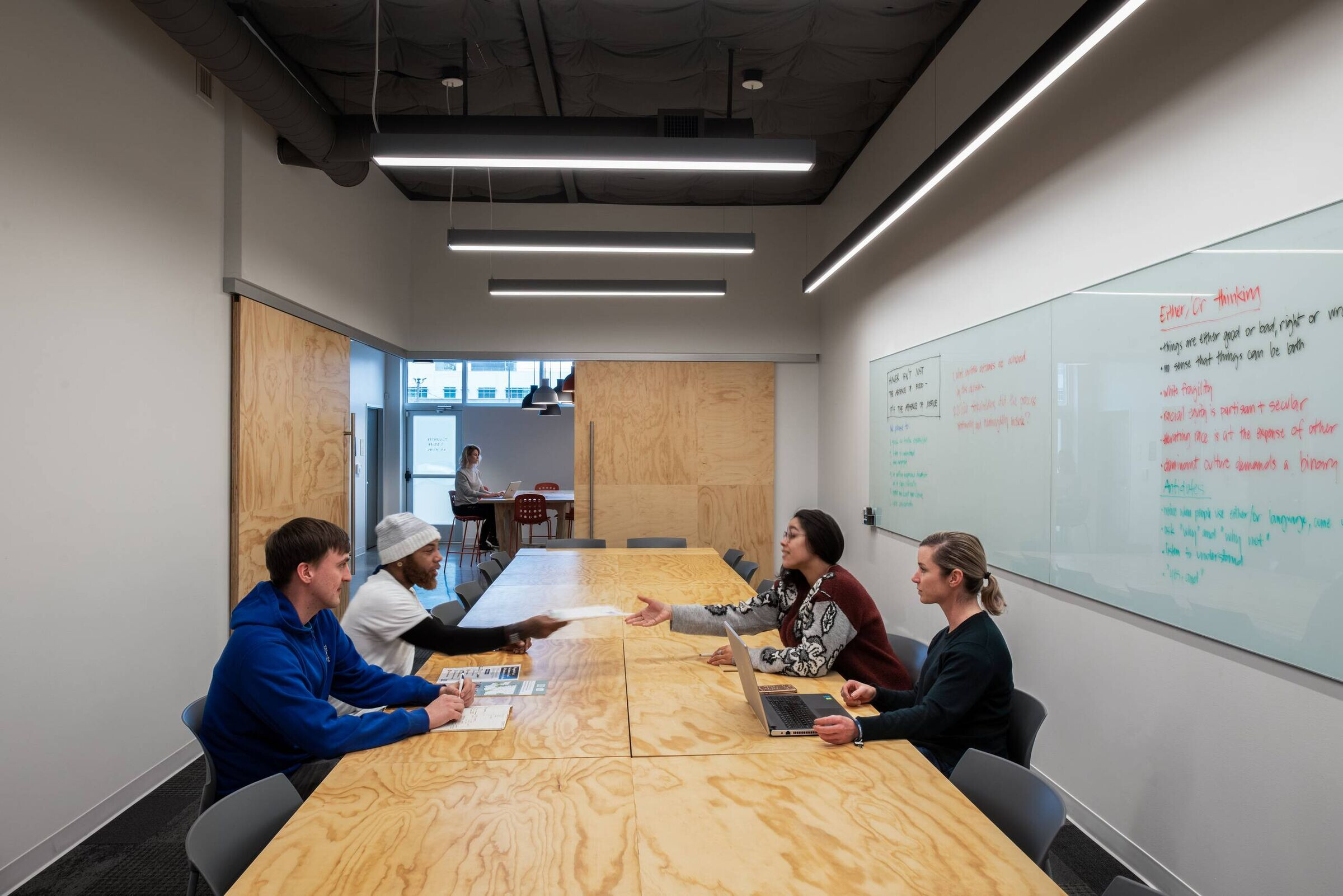 The location is close to transit, and close to where people who are unhoused have set up shelter. The facility functions as a community resource, providing access to more than nutritious staples: The market looks and feels like any other, where everyone is welcomed and treated with dignity. The market also offers community resources including meeting spaces and private one-on-one counseling on housing, health, and more.
The adaptive reuse and revitalization of an existing warehouse building saved cost and reduced the environmental impact of the project. With long-term occupancy in mind, strategic building shell upgrades were made, using high quality materials to minimize maintenance and maximize longevity. Particular thought was given to acoustic performance of building assemblies to mitigate sound from nearby train tracks.