Located within Wadawurrung Country, Portarlington house on the Bellarine Peninsula plays with humble gable forms to create a compact yet spacious house for evolving family needs.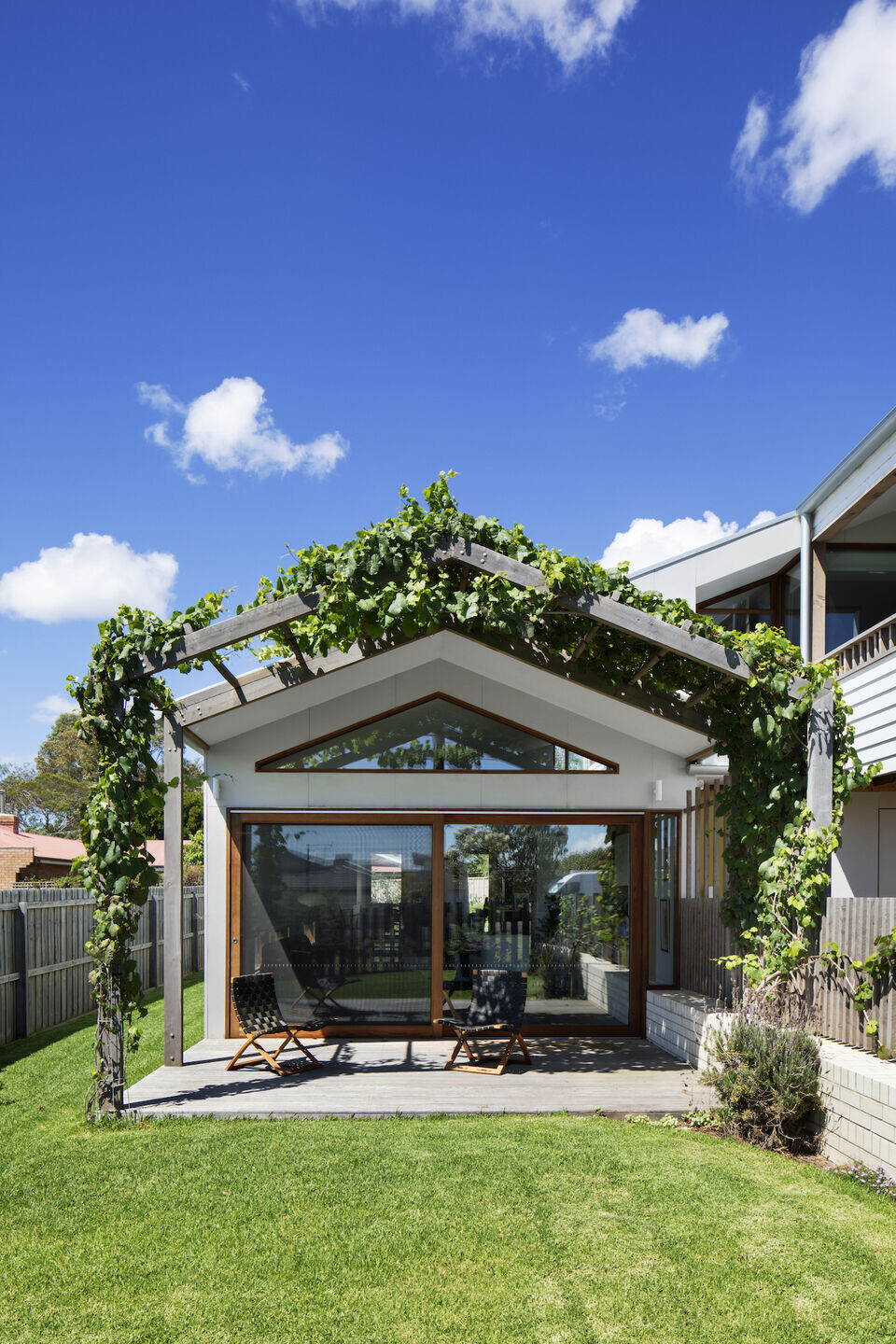 The north facing streetscape establishes the contextual response, a sub-divided allotment, framed by an elevated Victorian dwelling to the west and low mid-century dwelling to the east. In response, a play of gable roof forms creates a two-storey element to the west and single storey to the east. An asymmetrical roof merges the two, internally forming a continuous ceiling, reminiscent of Merchant Builders houses of the 1960's, enabling spatial generosity and visual connection between the two wings. The entry corridor reinforces the idea of interstitial space between two zones, with openings at each end to maximise natural ventilation in the warmer months.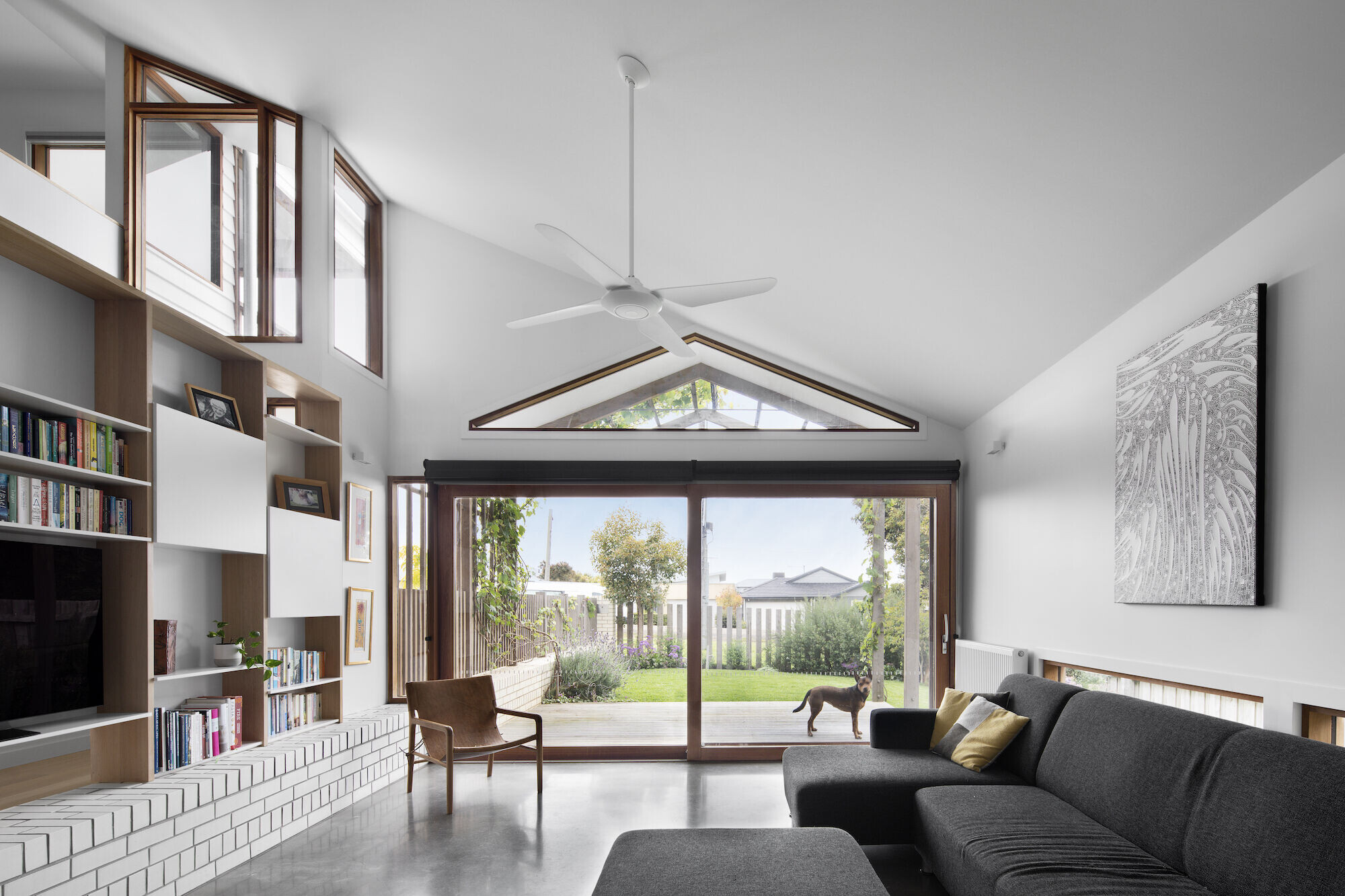 The main bedroom suite is located at ground level, away from the street overlooking the private rear garden. The children/guest accommodation and second living space is located over the garage and utility areas, diminishing the scale and impact on streetscape, while maximising generous volumes to the habitable areas. Behind the garage, the inclusion of a spacious laundry/utility room provides for activities associated with horses and saddle storage, essential for the family who had moved from a rural property.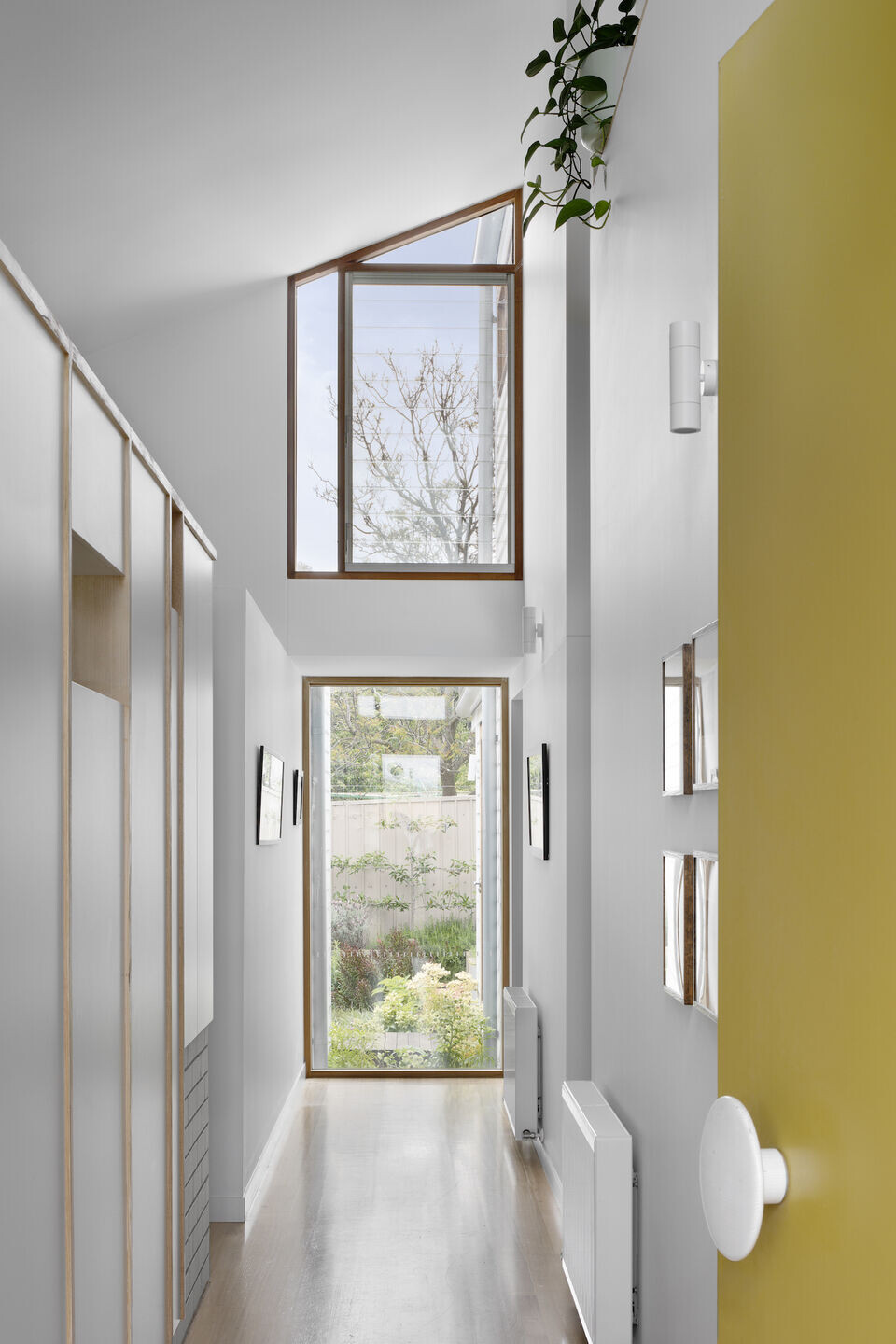 Arrival is marked at the street, by a brick letter box, lowering to down to form the spine that guides one into the literal hearth of the house - the fireplace which is centred between the living and dining spaces within. The light brick colour imbues a sense of the local limestone geology and references the Portarlington history where this local limestone contributed to the manufacture of 'fire bricks.' A wall of joinery frames the entry, its occasional apertures providing visual connection and layering to the open and closed storage of the living space. Finishes are simple and fresh throughout, with white to maximise light and timber trims and windows providing warmth throughout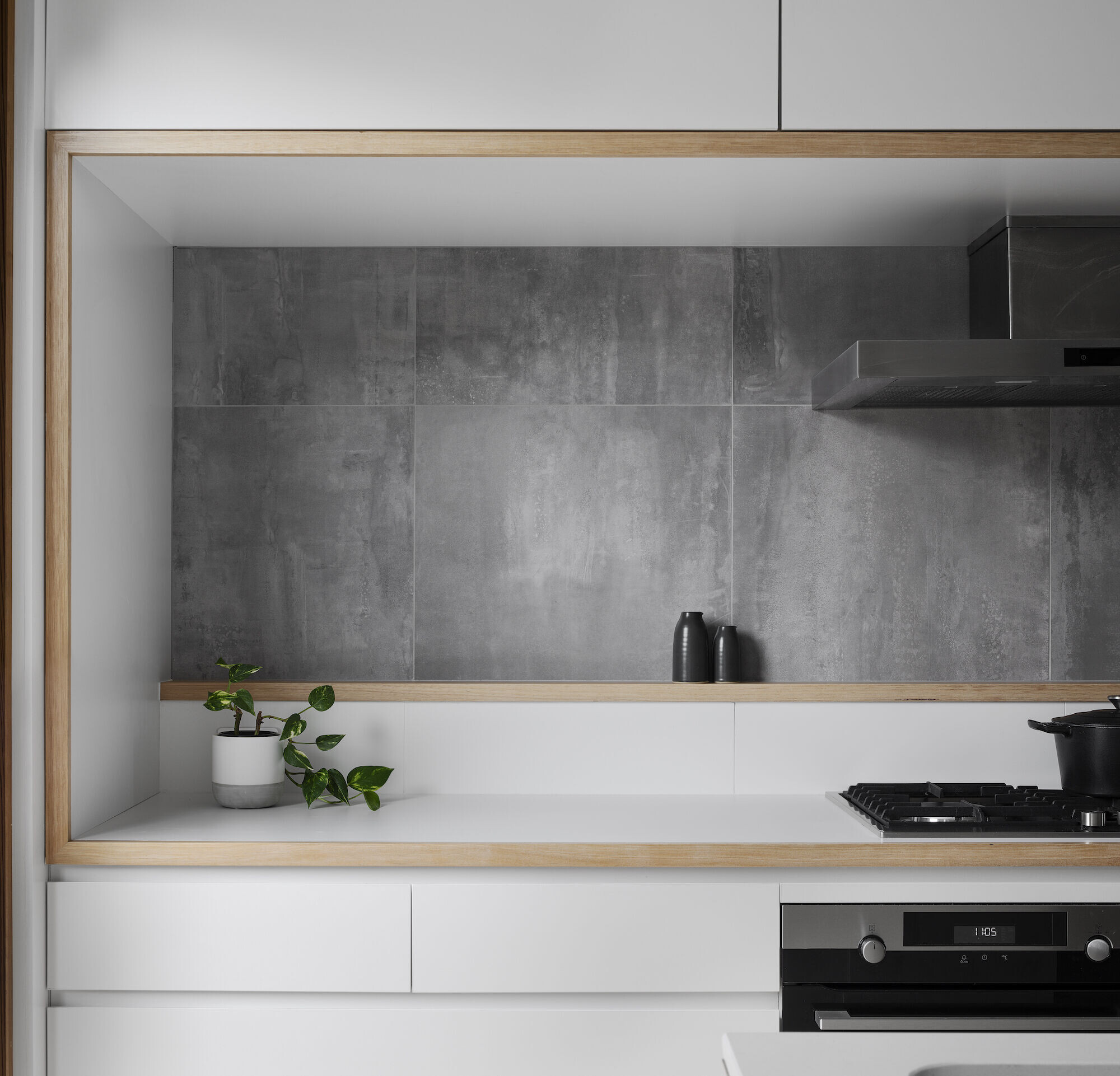 Connection to street and community from both living areas is balanced with privacy for retreat. The western balcony to the upper level is partially screened but provides distant views to Port Philip Bay . In contrast, the eastern lower level opens to the northern landscape where its connection to street is blurred by a timber pergola and low-level transparent fence. The open plan living, dining and kitchen visually connects front to rear gardens. Each activity within is zoned though changes in floor and ceiling levels: a sunken concrete slab living area ; a low ceiling to the country style kitchen with central island that leads visitors to the secluded kitchen courtyard. A connected house for living with multiple opportunities for private respite within.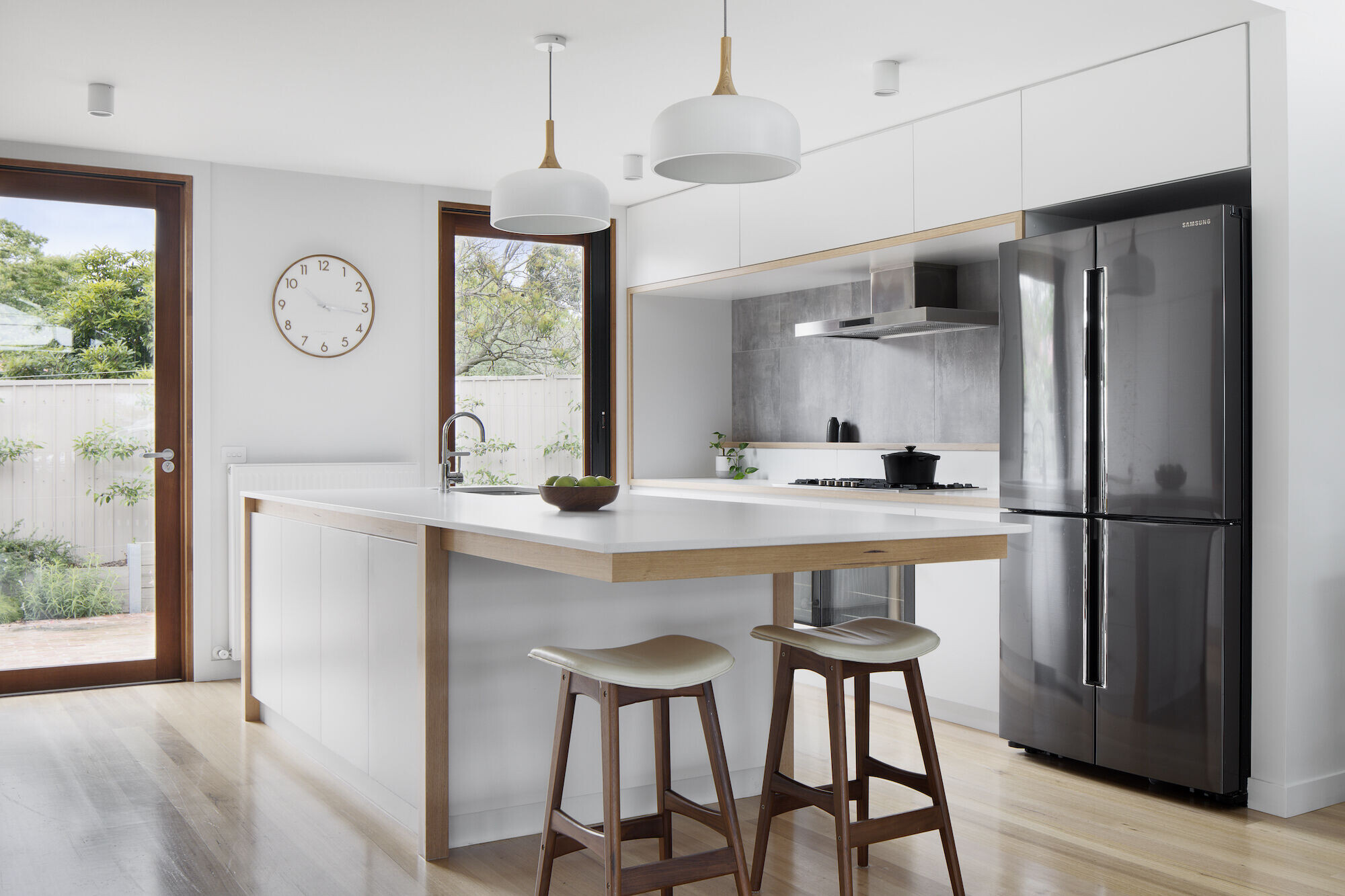 Connection to the landscape, views and garden whilst maintaining privacy in the north facing property as well as providing a space with flexibility for evolving family generations with multiple different uses through time, including capacity to age in place for principal residents.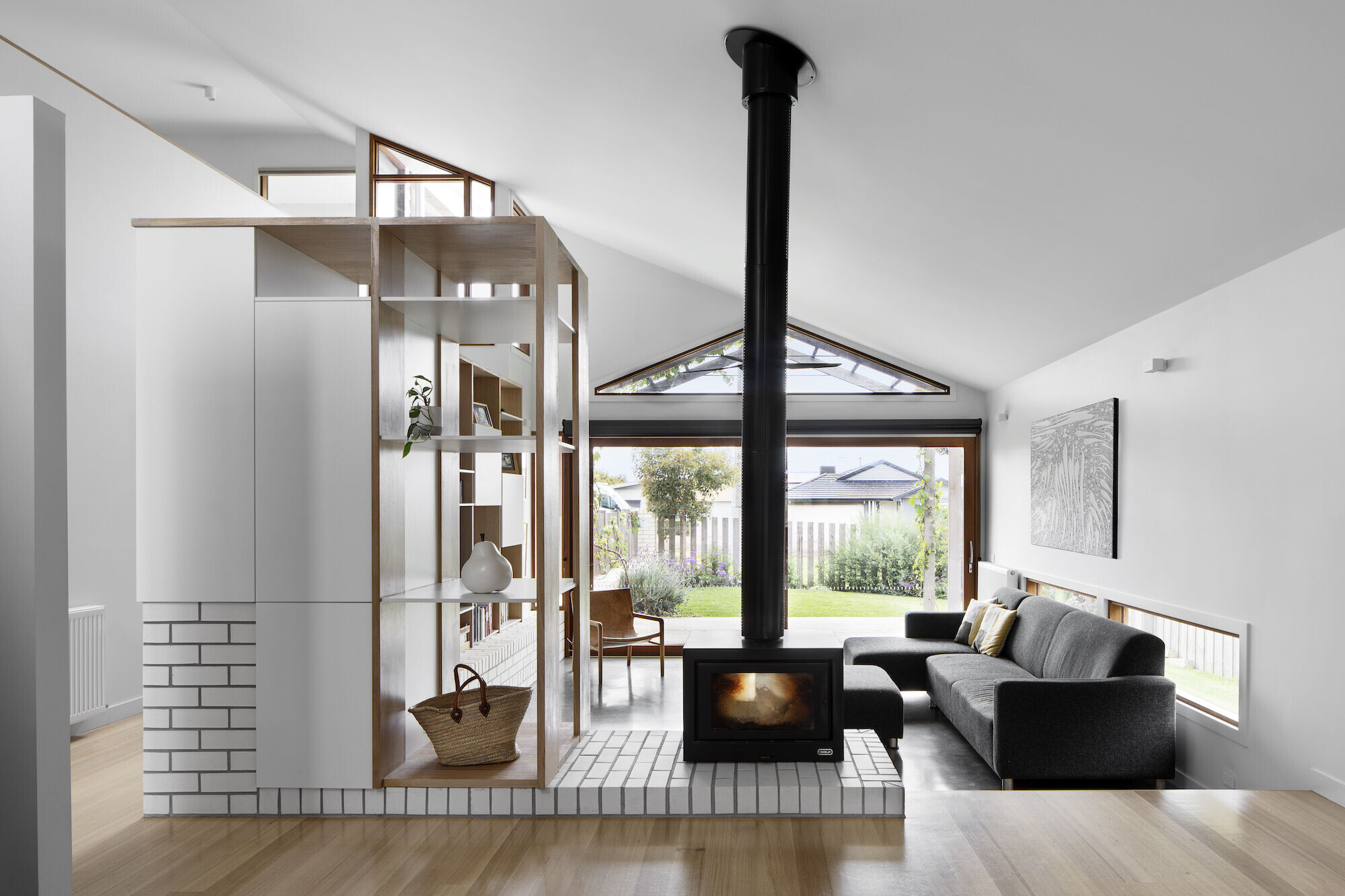 Use of two levels to create zones for adult children or guests, but visually connected with use of pitched ceiling that links both living areas. Low scale building over garage and wet areas which also enabled smaller footprint and connection to garden areas. The second living and workspace overlooks street from above, with partly solid balustrade to allow views while maintaining privacy.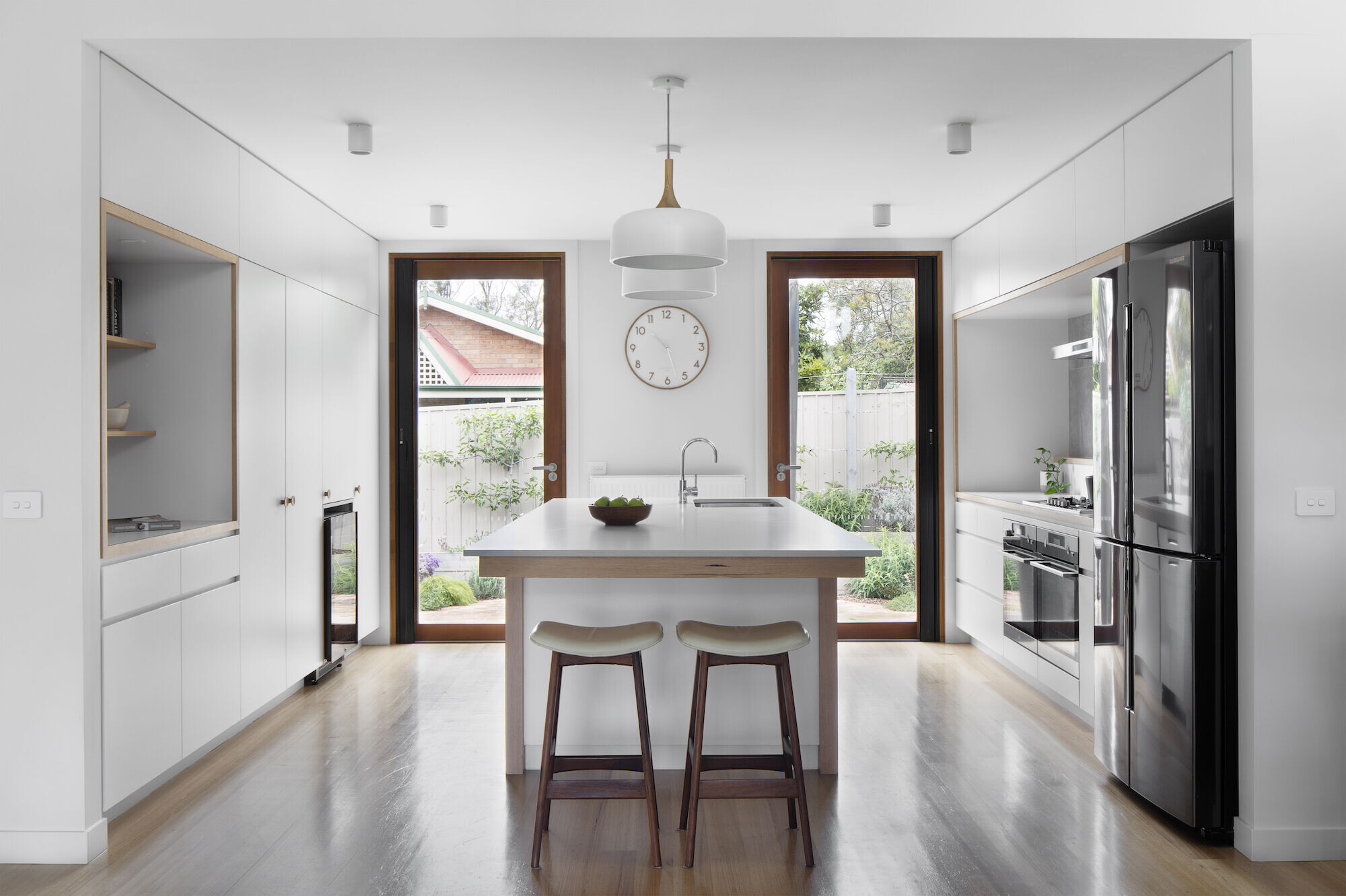 What are the sustainability features?
High star rating, maximising passive surveillance, thermal mass to the concrete floor and high insulation to roofs and walls.
Rainwater is collected to feed toilets
Solar hot water service
14 kW Solar panel system
Roof form integrates solar panels to east and west maintaining power generation throughout the day, and stored into battery located within garage
Low embodied energy in use of timber frame and lightweight construction
Reflective light coloured roof
Pergola shading for protection from summer sun and allowing warm winter light.
Defensive approach to cold southerly winds, while maximising benefit of summer breezes
Concrete slab to lower north living as thermal mass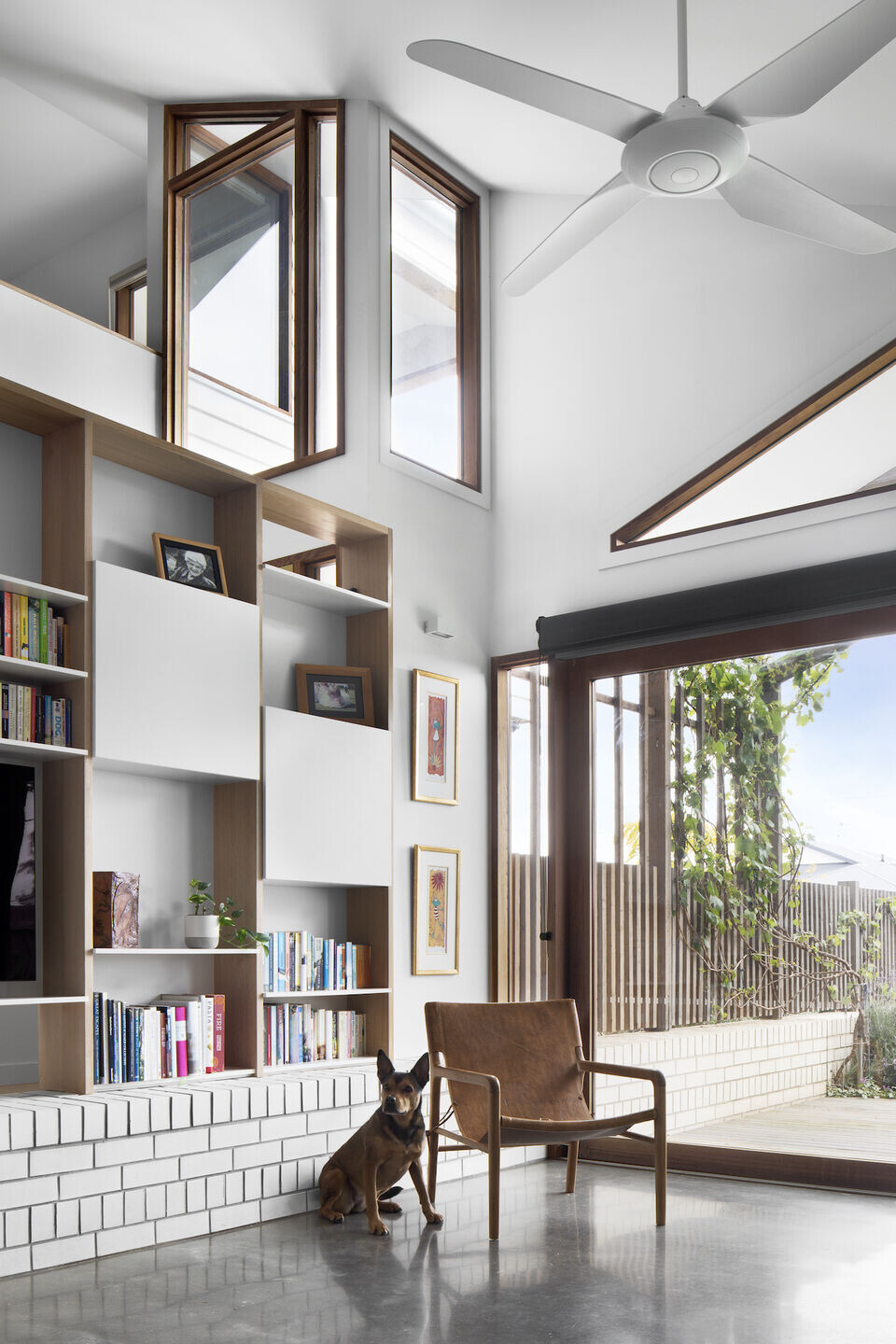 A family with older children required a space which would respond to present and emerging contexts. Currently a family home which would evolve into the couple's permanent residence with future intergenerational requirements. With two active dogs, a secure yard was essential whilst still allowing a connection to the street. Connection to the landscape and garden areas was important along with utilising the elevated views. Originally from a large rural property the family wanted to retain aspects such as utility/muck rooms associated with horses and dogs.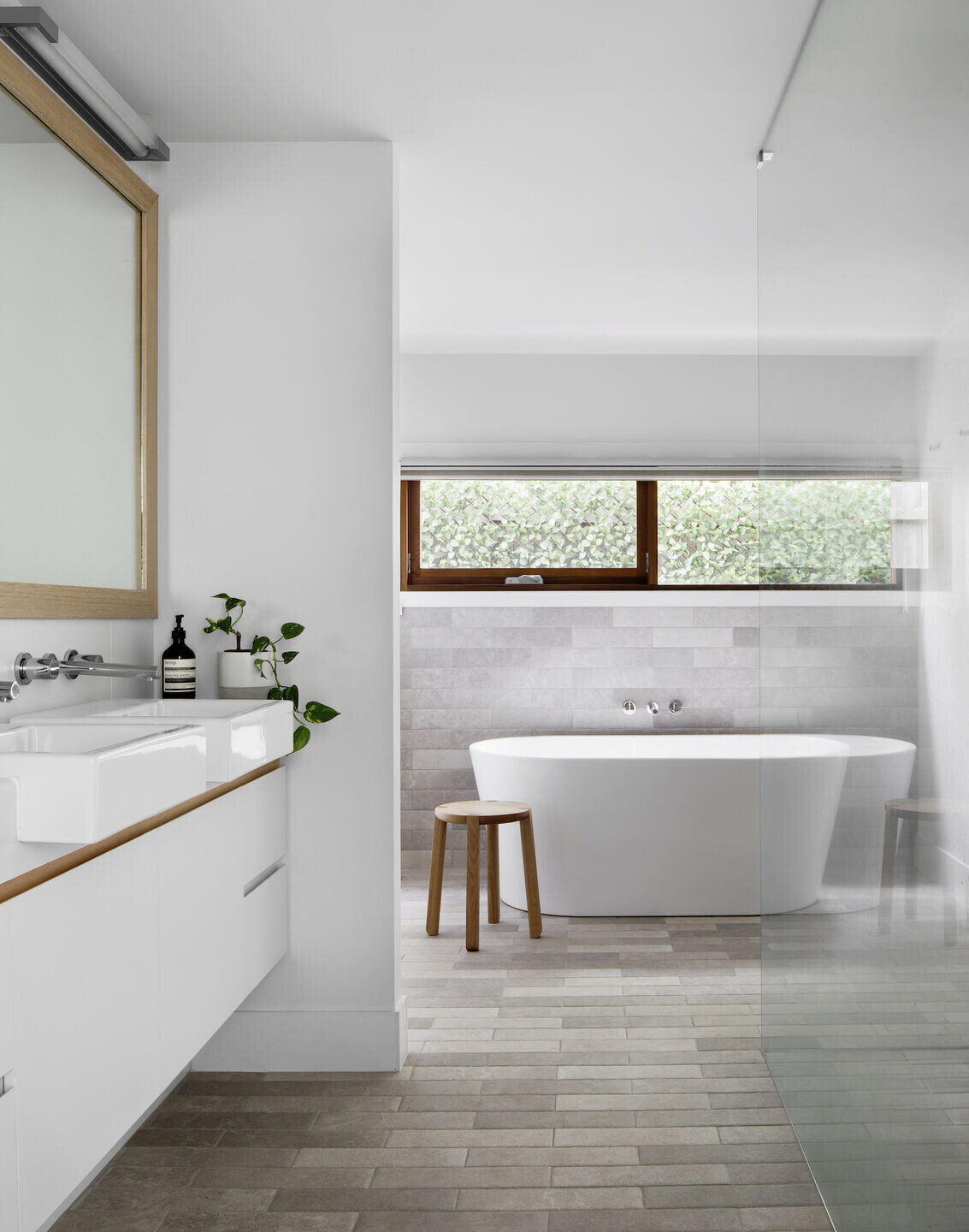 Who are the clients and what's interesting about them?
Clients are a couple with young adult children moving from rural location to regional village along the coast within proximity to Geelong.
How is the project unique?
Affordable generous size home, with design quality, spaciousness that belies its smaller footprint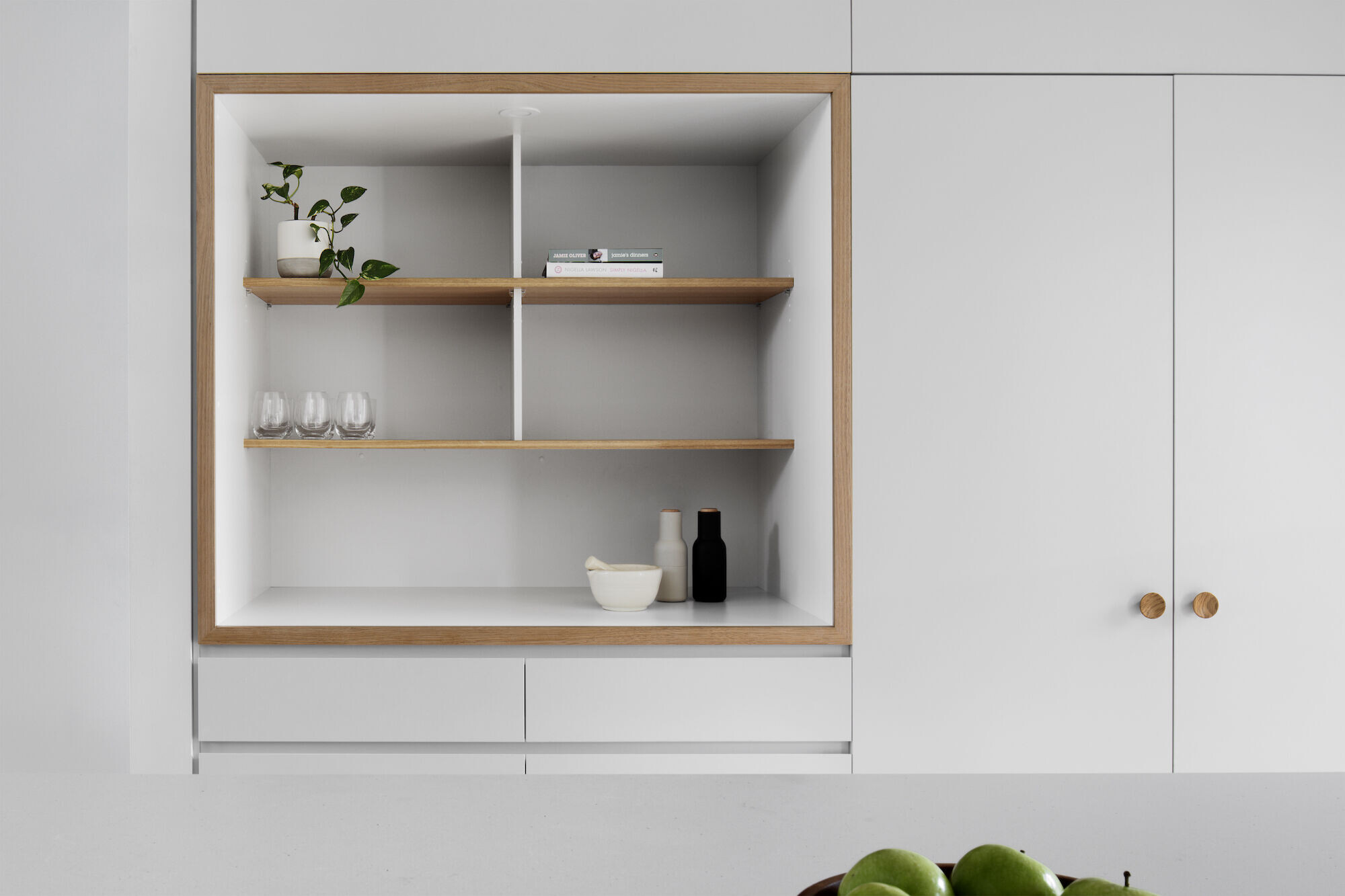 Team:
Architects: Stonehouse + Irons Architecture
Photographer: Tatjana Plitt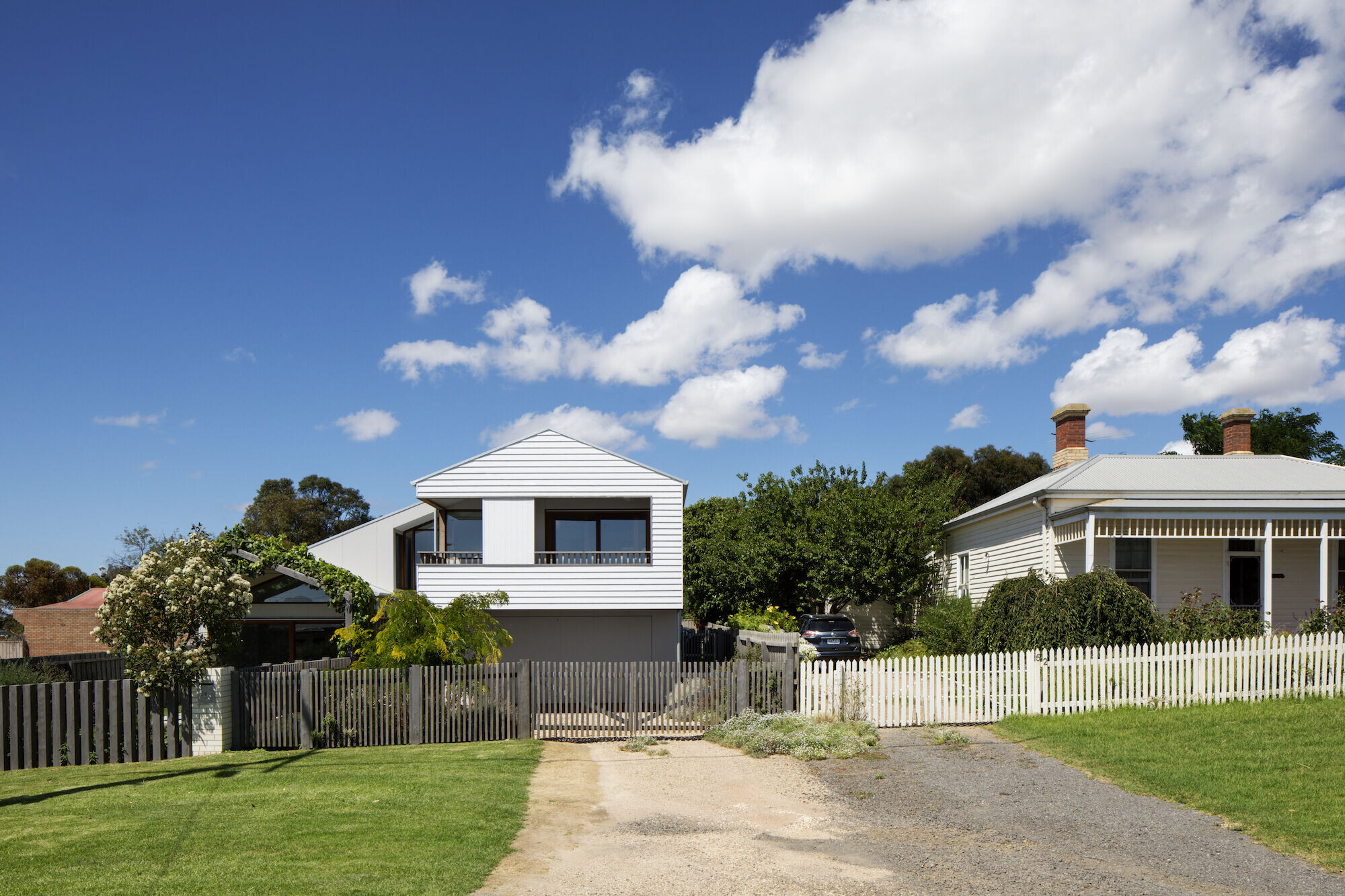 Materials Used:
Pickering Cedar Windows and Doors
Hardies Cement sheet weatherboards and sheet
Lysaght Zincalume roof sheet
Austral Bricks La Palamo Range . colour Miro
Cypress pine fence
Vic ash timber and concrete floors
Laminex and timber joinery
Caesarstone benchtops
Classic ceramics "NOW' Range of wall and floor tiles
Caroma fixtures and fittings
Kemlan Coupe Double sided wood heater