Studio Gang's first completed building in Europe, Q Residences addresses Amsterdam's urgent need for housing, creating a mixed-use community at a key intersection in Amsterdam-Zuid. Located in the heart of Buitenveldert—one of the last garden cities in the capital—the project draws on the neighborhood's relaxed, verdant atmosphere to establish a dense yet comfortable living environment.
Introducing two new distinct building volumes—Qube, a mid-rise, and Quartz, a high-rise—that add 248 residences to the growing city, the project's design brings a more organic, sculptural feel to the rational rectilinearity of the surrounding 1950s developments.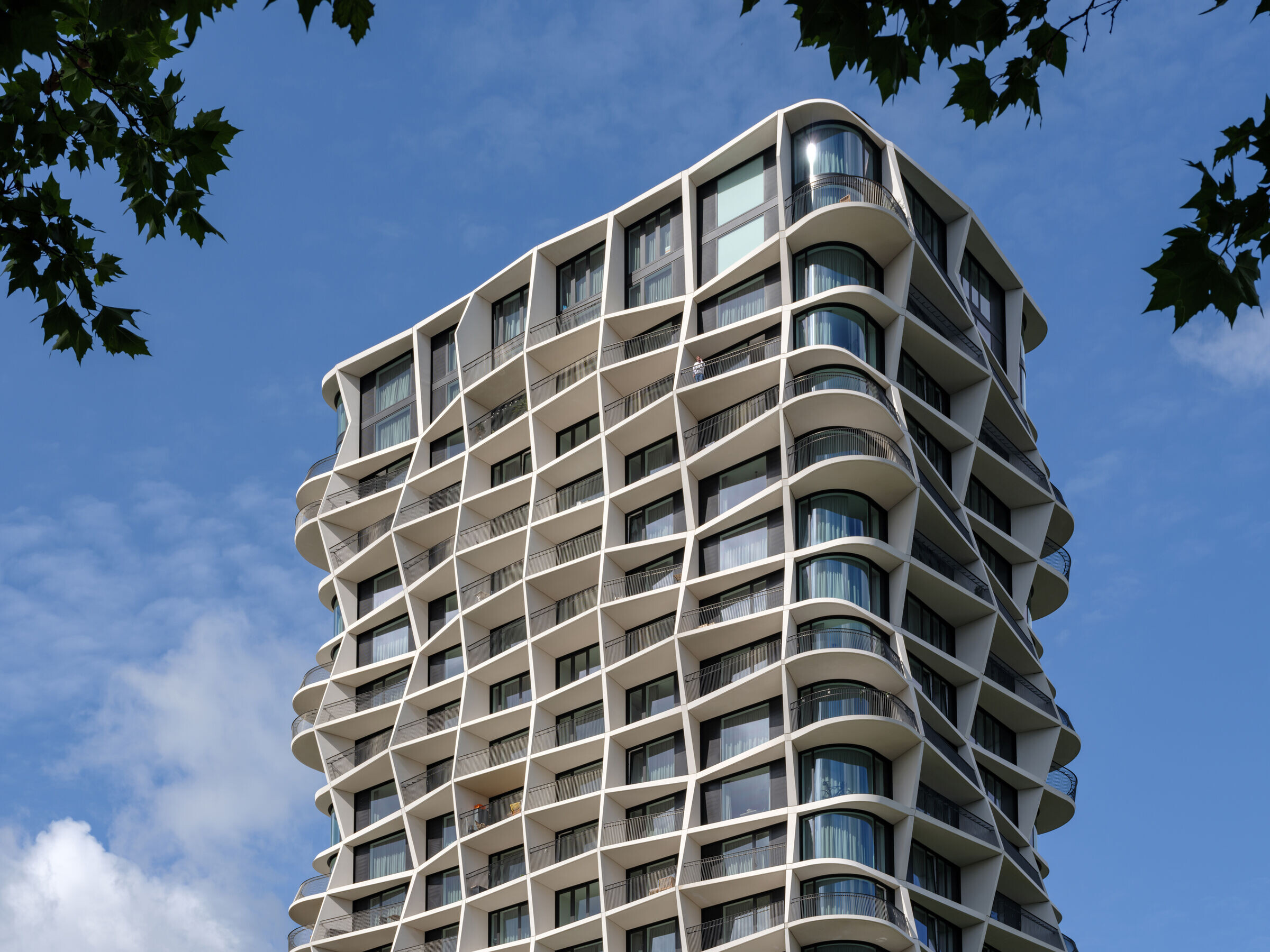 Angled balconies of staggered depths create an origami-like pattern that envelops the taller building, lending an undulating rhythm to the façade, while also establishing visual connections between neighbors and shading the apartments below. The angled geometry and generous balconies are mirrored in the architecture of the mid-rise, allowing every inhabitant access to the outdoors, fresh air, and abundant natural light and views.
"We designed Q Residences to strengthen residents' connection to each other and to the ample green spaces that define Buitenveldert," said Jeanne Gang. "At ground level, Qube and Quartz form a new generous public plaza that brings people together around art and landscape. And on Quartz, the balconies migrate in and out of the façade to extend sightlines diagonally in all directions and allow residents be part of the building and in synch with the city and each other at the same time."
At the urban scale, the architecture and landscape work together to create a pedestrian-friendly environment with new pathways through the block that reinforce important axes and connect the buildings' retail spaces and public amenities, including a green plaza designed by Piet Oudolf with Deltavormgroep. Combined with the architecture's passive environmental design, Q Residences' energy-efficient envelopes, high-performance heating and cooling system, and rooftop PV panels help Amsterdam advance its ambitious sustainability agenda, while evolving its garden-city legacy.