At the foot of the Cimiez Hill, the plain of the Paillon River, nestled in a narrow valley, is charged with social and industrial history, while the rather chic, calm and wooded residential neighborhood welcomed members of the English Aristocracy in the early 19th century. It is on this plain, where the torrential character of the river marks the landscape, that the public facilities are located. The Avenue de l'Arbre Inférieur, which runs alongside the Collège Simone Veil, marks limit between these two "worlds" by means of a topographical step.
The project for the extension of the Collège Simone Veil and the creation of its gymnasium rely on a sensitive approach to the land. A maximum amount of space is preserved for the courtyard, thereby avoiding the creation of several buildings, simplifying movement in and around the school and reducing infrastructure technical works, to offer a coherent and comfortable institution.
By relying on the existing building and extending it to the north and south, rather than creating a new independent building, the conserved original becomes the "historic" core of the project. Its outline and prefabricated structure are "salvaged".
The shimmering and colored glass skin creates a particular relationship from inside of the classroom towards the exterior. The glazed façade is a technical and climate-related answer that improves the building's comfort in terms of temperature while reducing its energy consumption. Thus, this new skin simultaneously becomes the school's new identity. There is not on one side the old and the other the new, but rather a coherent whole.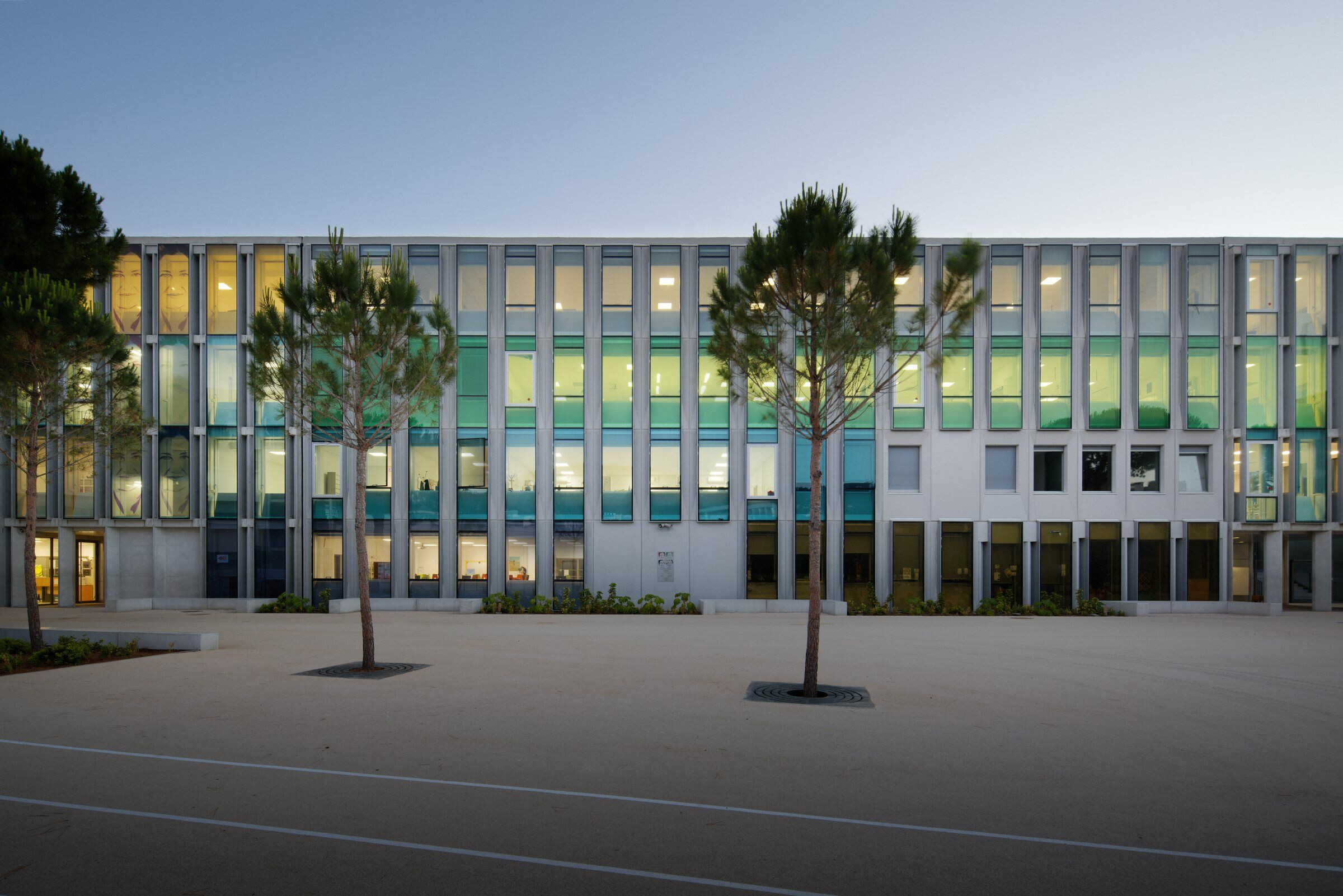 The Gymnasium is the last part of the school's transformation. Asserting its own identity while remaining connected to the middle school by means of curtain walls in the same hue as the glazing, it participates in the thermal performance of the whole.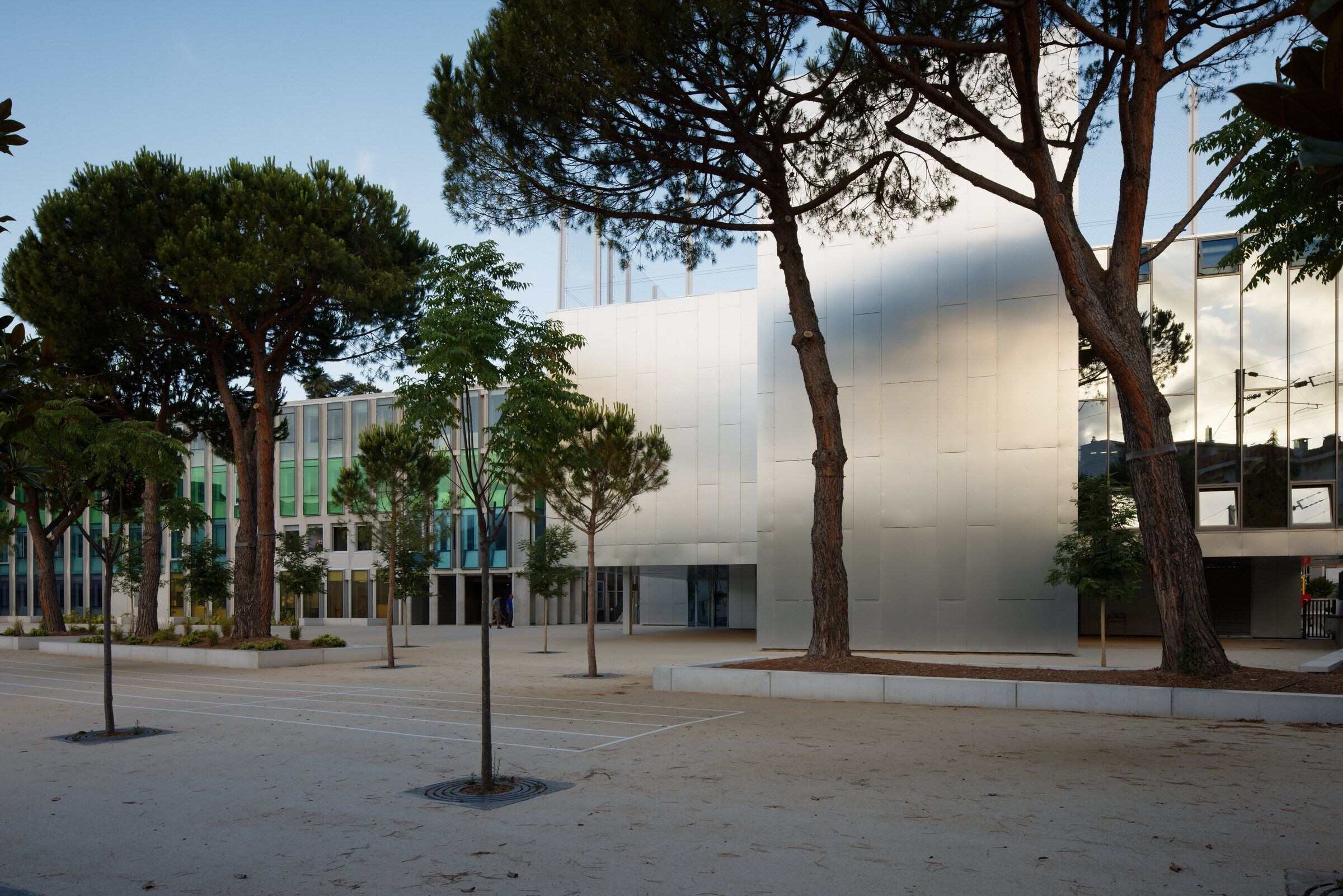 The project takes advantage of the topography of the site by proposing a gymnasium on 3 levels: ground floor with raised sports hall sheltering the middle school's playground, the changing rooms and the different premises of the program. On the 1st floor, the sports hall offers a panoramic view toward the courtyard outside, the street and the railway of the SNCF. The roof offers an airy playground visually connected with the urban environment and the spectacular landscape of the Paillon River plain.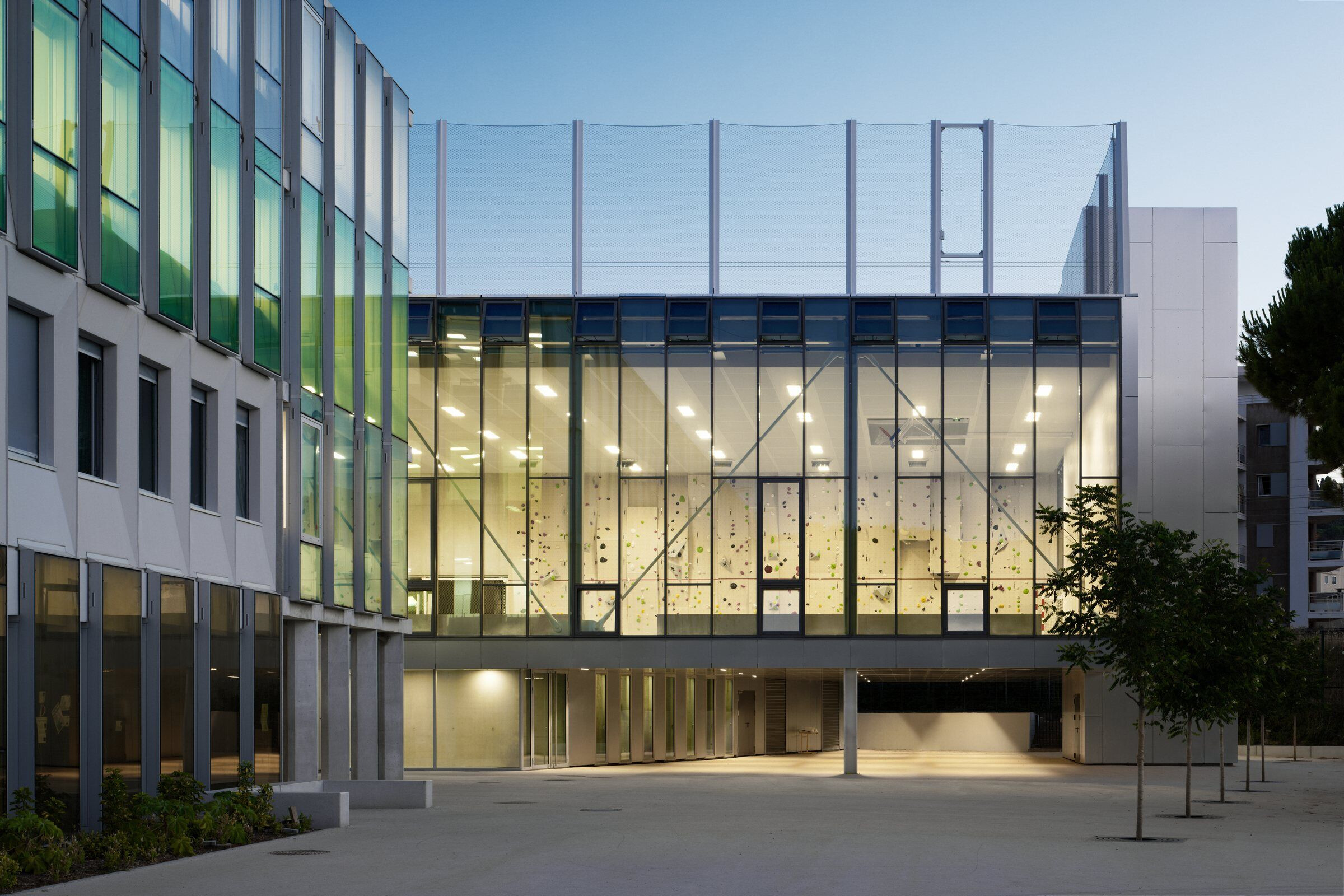 The distributions and the storage rooms form 3 vertical blocks to which a light structure is attached, enveloping the sports hall where opaque vertical or glazed walls are organized to offer light without being against the light and a rapport with the context. On the roof, a stainless-steel mesh runs along the edge of the playground ensuring visual projection into the landscape and the security of students and staff.