The most venerated, and the wealthiest temple trust in India, Tirumala – Tirupati, is considered to be the sacred abode of Lord Vishnu, one of the three supreme deities in the Hindu Trinity. The practice of religion here is devout and ritualistic with great faith being invested in the idol and the customs of the temple. The temple is visited by 20 million devout pilgrims annually requiring organised crowd management. The area is considered auspicious for wedding rituals and celebrations and caters to discerning business travelers who like to combine leisure conferences with a divine temple visit.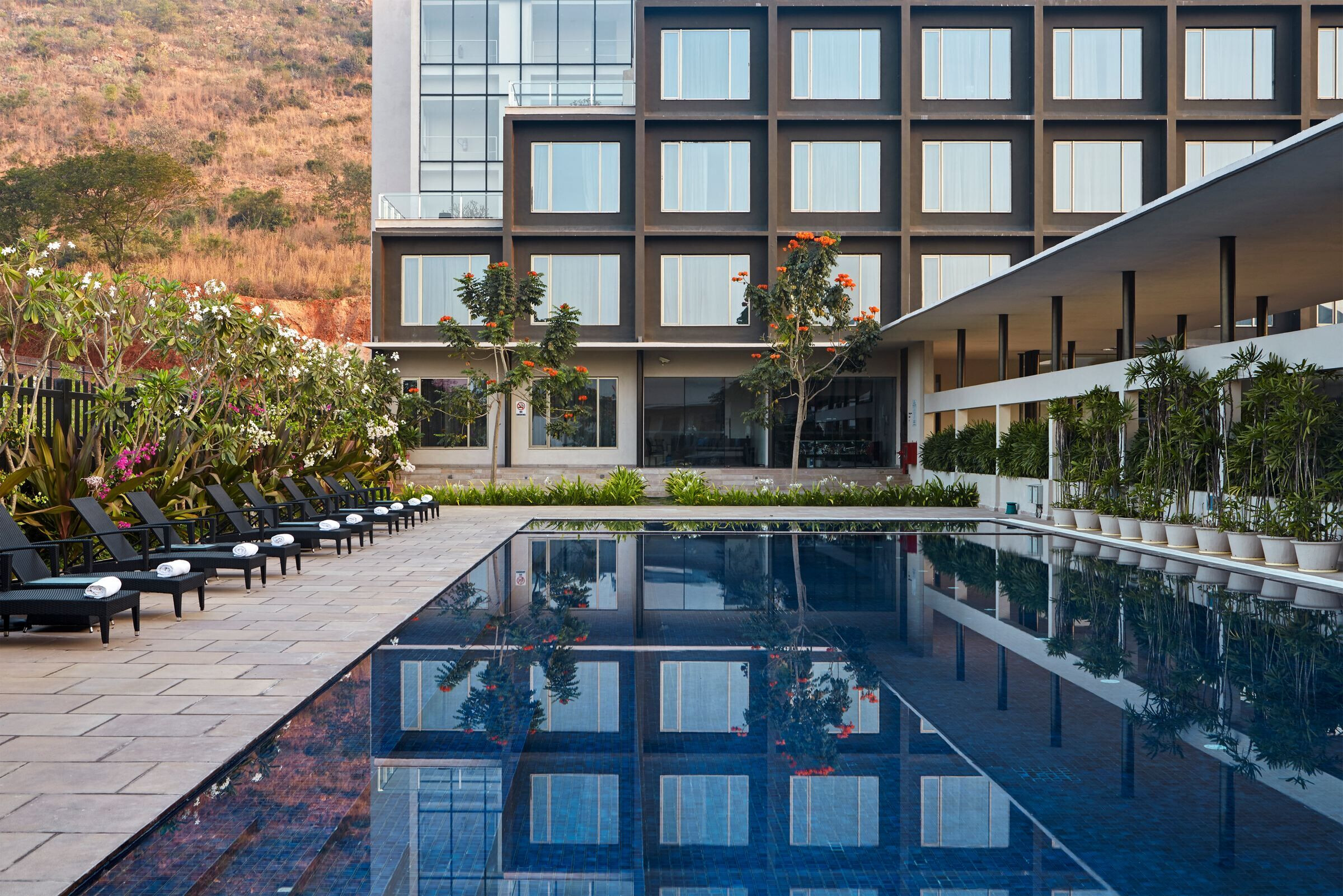 What was the brief?
The brief required us to build a 121 key boutique Hotel on a 13150 Sq.m plot of land, at the foothills of the Saptagiri Mountain range. The functions included Guests rooms & Suites, Banqueting facilities a Business center, Health center with a Spa, Gym, a Games room & Swimming pool and 2 Specialty restaurants.
The all pervading position of the worship of Lord Balaji (or Lord Vishnu) in this temple town pointed us towards an environment that embodies the classical elements of temple architecture - the orthogonal, introverted Hindu temple plan. The need to express both divinity and serenity after the overwhelming experience of gaining a glimpse of the Lord also guided this design. These ideas have been refined & distilled into a contemporary building with a central open courtyard and a water body, within which "floats" the all day dining space – 'The Lotus Café', envisioned as a lotus in the pond. This central water body forms the core of the hotel, both spatially & experientially. Simplicity and divinity are the core values this building stands for whereas the interiors draw on craft, mythology and symbolism to weave a story that one encounters throughout the project.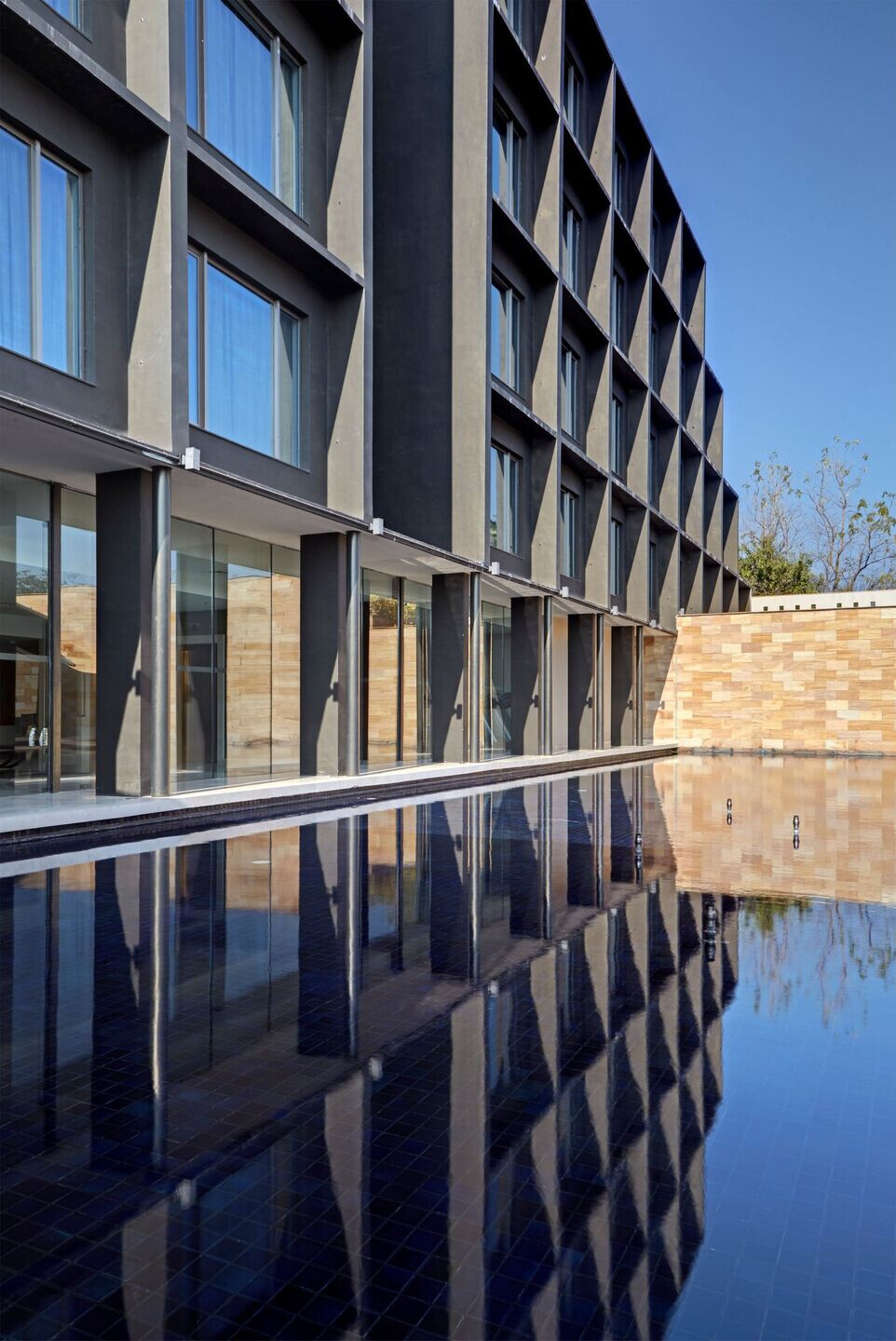 Mythology recounts that the Lord Vishnu appeared on the earth in ten incarnations called the Dasavatara - each avatar appropriate to his position as a saviour within that era. It is said that whenever there is a decline of religion, Vishnu is said to incarnate himself to protect the good, to destroy the wicked and re-establish the balance of life on earth. These avatars also represent the evolution of humankind and each embody character, stories, colour and emotion. The interiors of all the public spaces have been designed to represent an avatar, replete with character, colour and symbolism.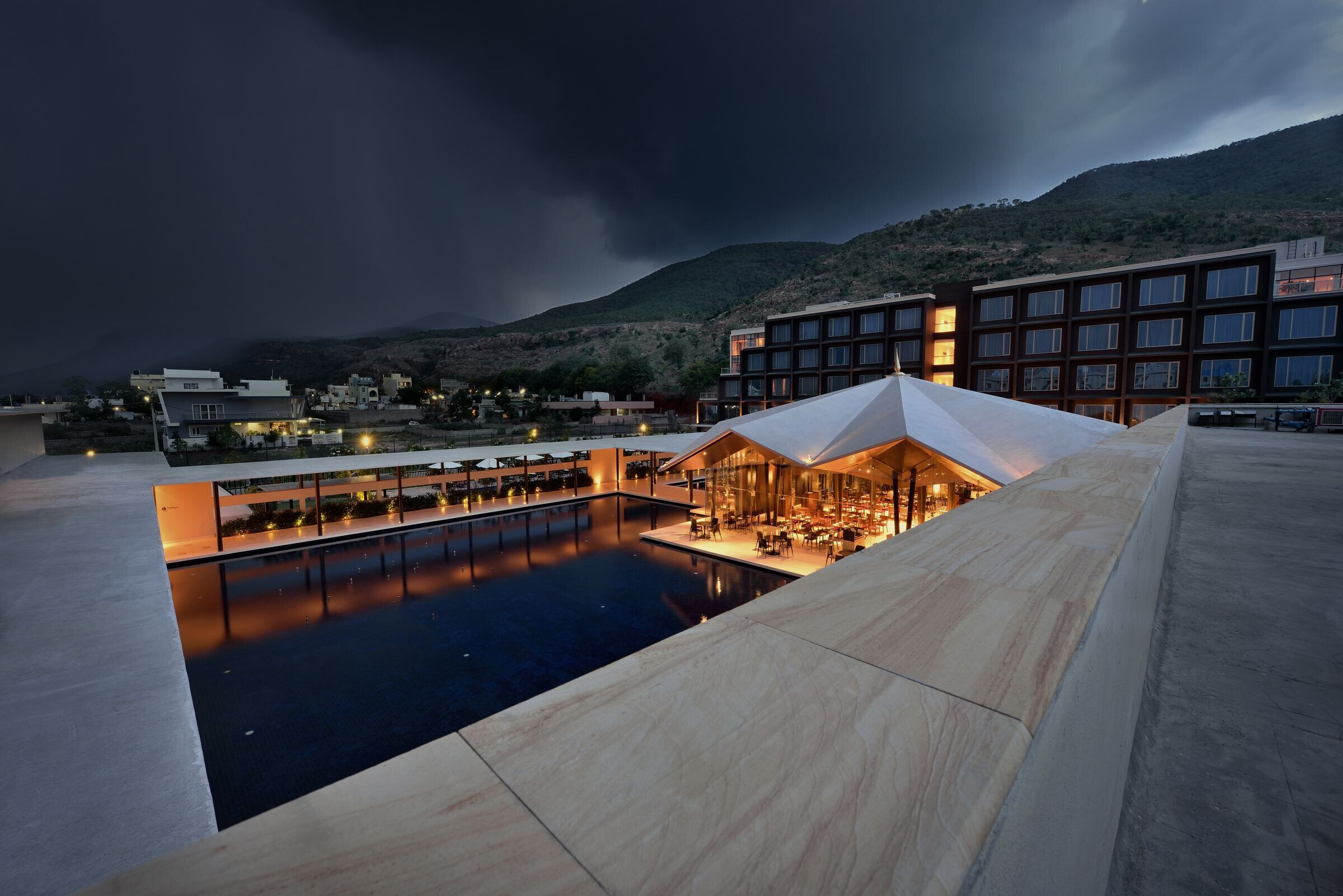 What were the key challenges?
Finding the right collaborators to fulfill our design vision- This project was envisaged with most of its design elements being highly customised from the structural lightness to wallpapers, carpets, all loose & fixed furniture, decorative lighting, customised fabrics, customised paints, Artworks...etc and therefore necessary to find the right teams who had the passion to explore-experiment and make our vision feasible within a limited budget.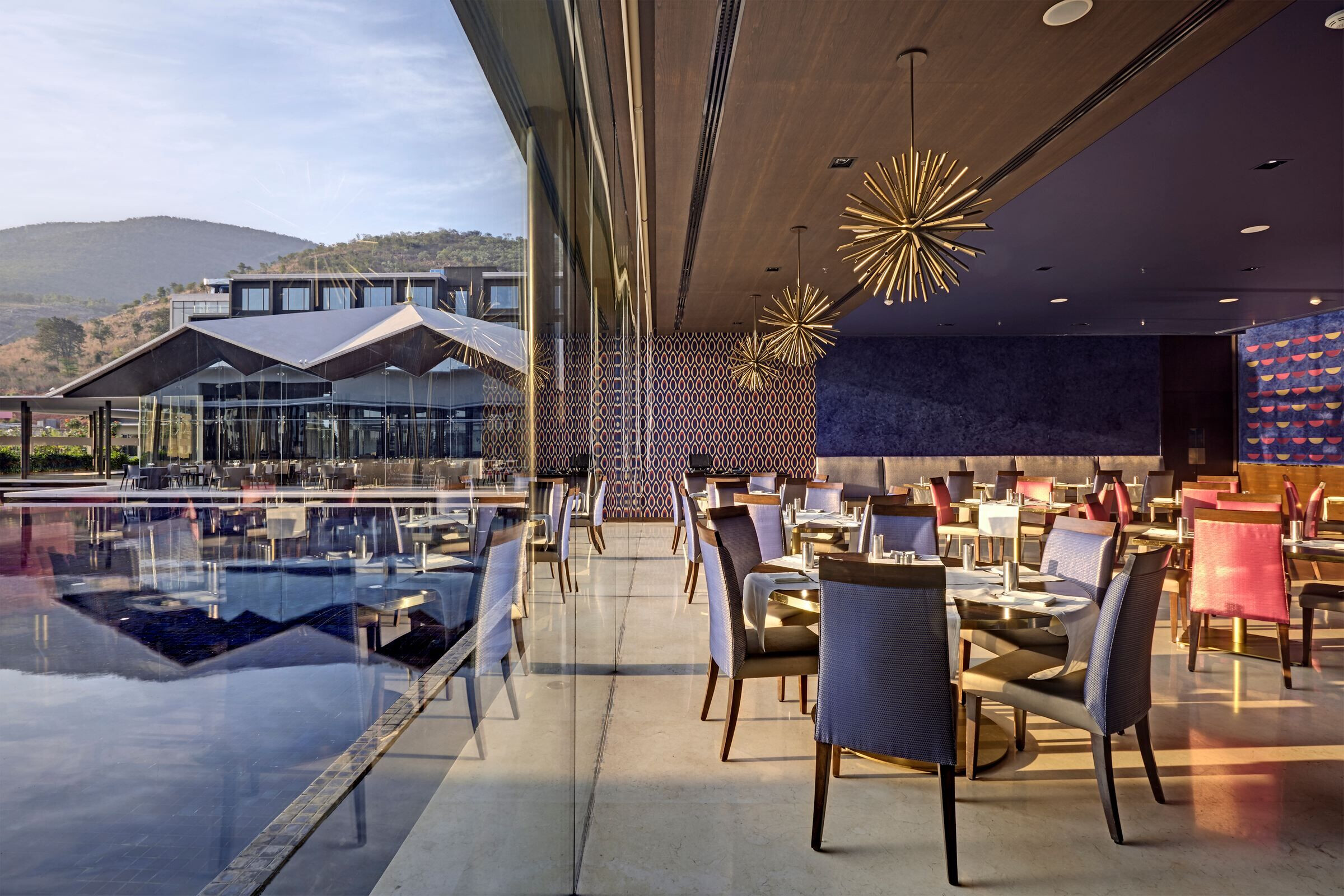 The search for these "right" collaborators was an arduous process that entailed immense research, testing capabilities through sampling/mock ups and many many interactions & interviews. It also involved adoption of systems & methods to assess a contractor's capability to read our drawings and details in order to produce a piece of furniture and that gave us enough understanding of their willingness to go that extra mile, their eye for detail and sheer passion required to onboard the right collaborator/s.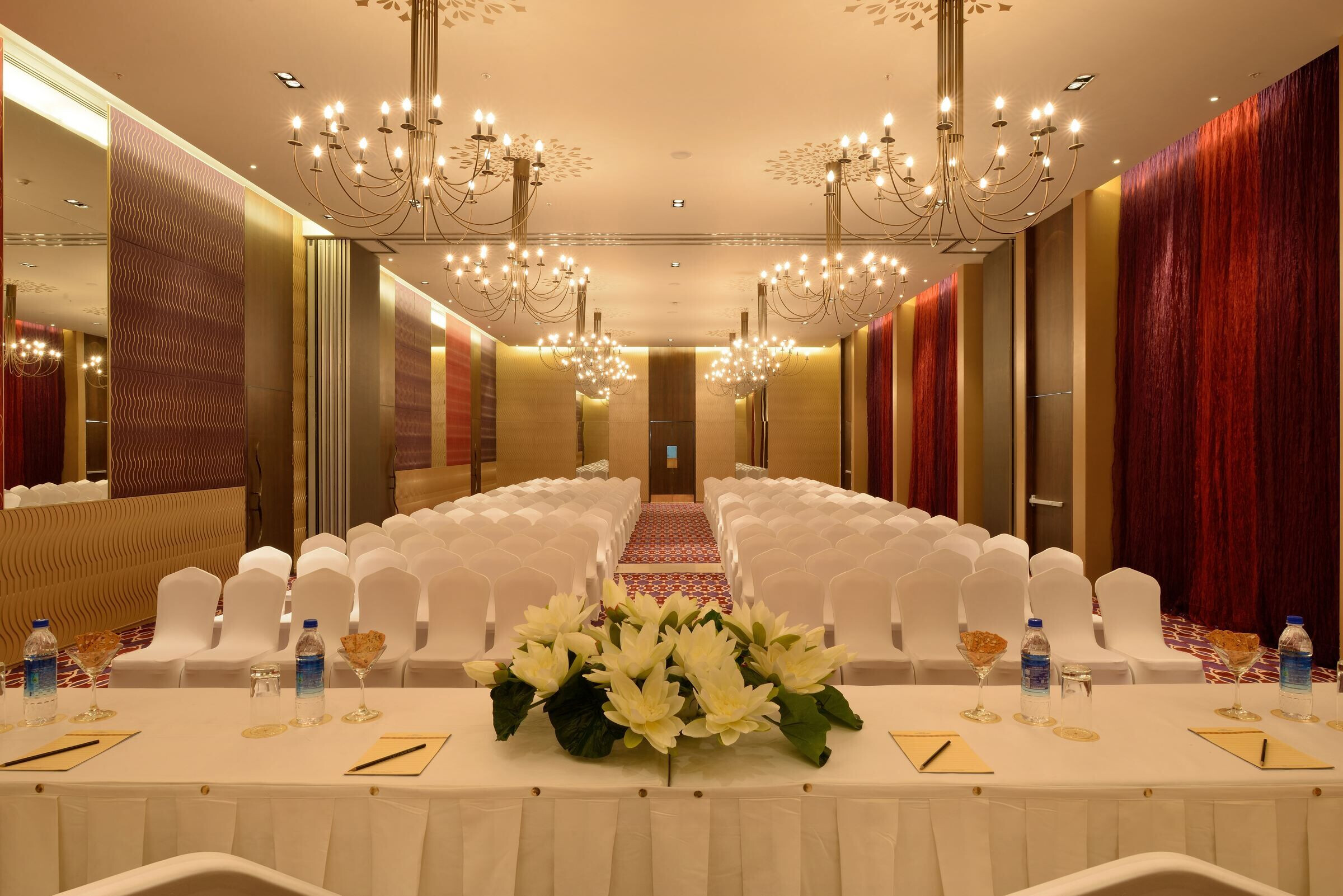 Casting of 50mm thk folded slab of Lotus Cafe in screed concrete - Given the heat of Tirupati that could reach a peak of 45-48 deg during the month of October, casting of this 16m x 16m -8 fold multi faceted roof had to be done in one go without any cold joint formations and this required the night environment ( this slab was casted between 1am & 6am ) to enable maintain a cooler temperature and assist with casting of this roof and continuity of casted panels.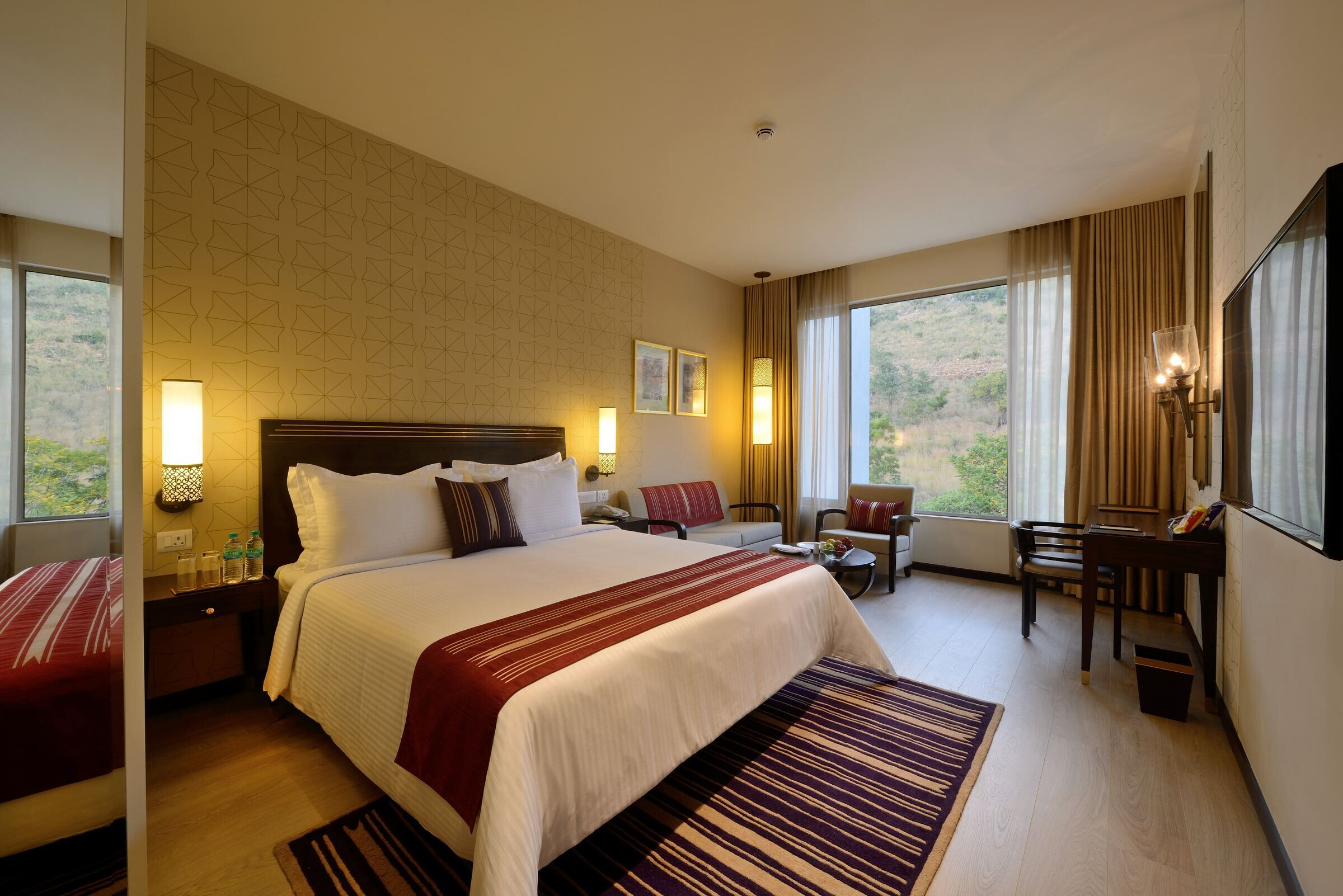 Achieving structural design lightness and executing the same with great finesse - This required a lot of collaborative work between us as Architects, the structural consultants, construction managers and civil contracting team. Similarly integrating MEP+FFE services & lighting with utmost subtlety, seamlessness & discreetness was key to the project .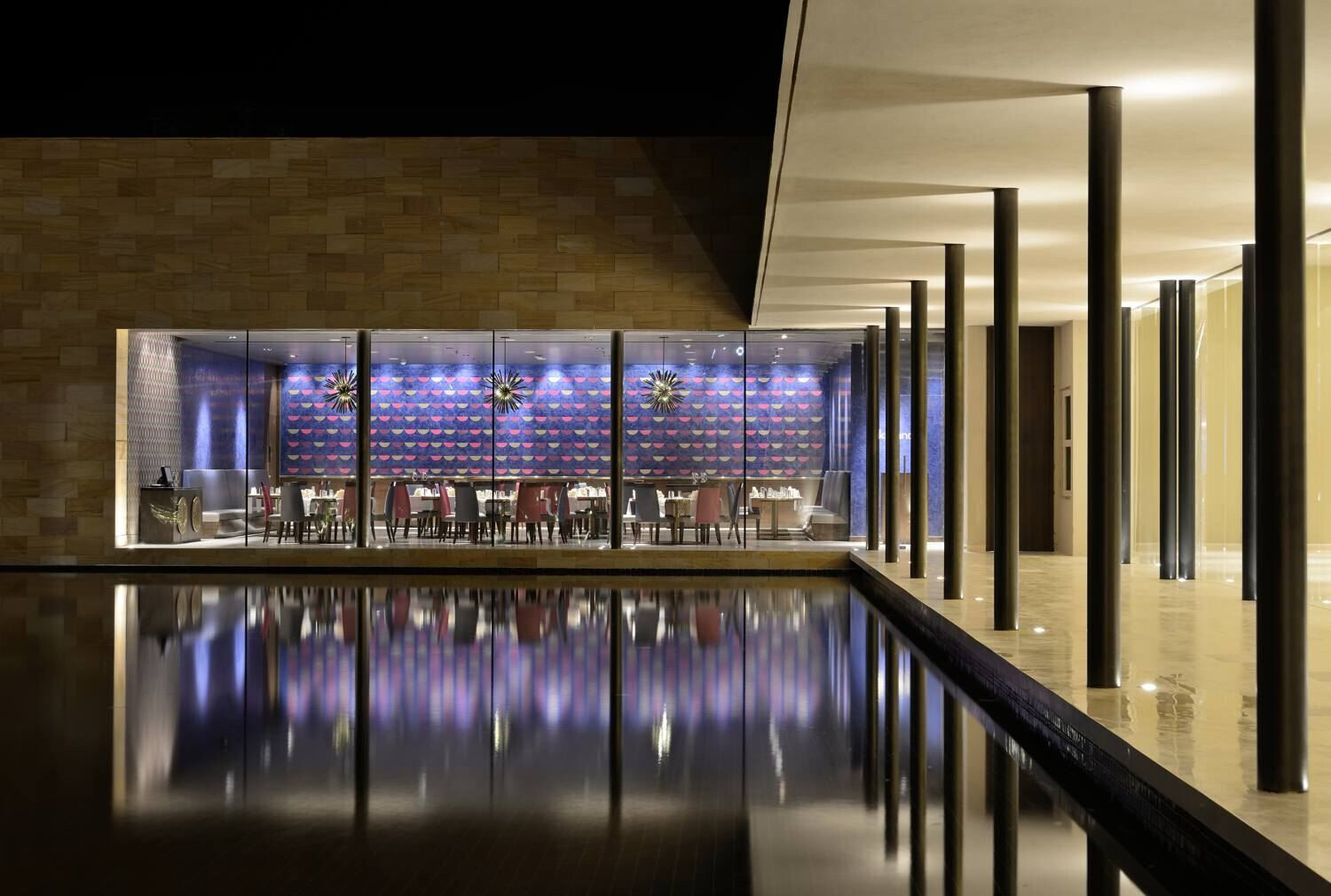 What materials did you choose and why?
Craft & Culture are an inherent part of the Indian ethos & are embedded as tradition within rural communities. Every region has its distinct crafts that reflect its history. Andhra Pradesh the state in which Tirupati resides, is known for its varied textiles & metal crafts. Symbols associated with these ten avatars have been contemporized using the "dokra" craft and integrated into the project as door handles. Wall artworks that use the bidri form of silver in gunmetal, and the kalamkari painters of nearby Srikalahasti have been incorporated in various locations whereas,the traditional weaves of the area have been designed into the furnishings.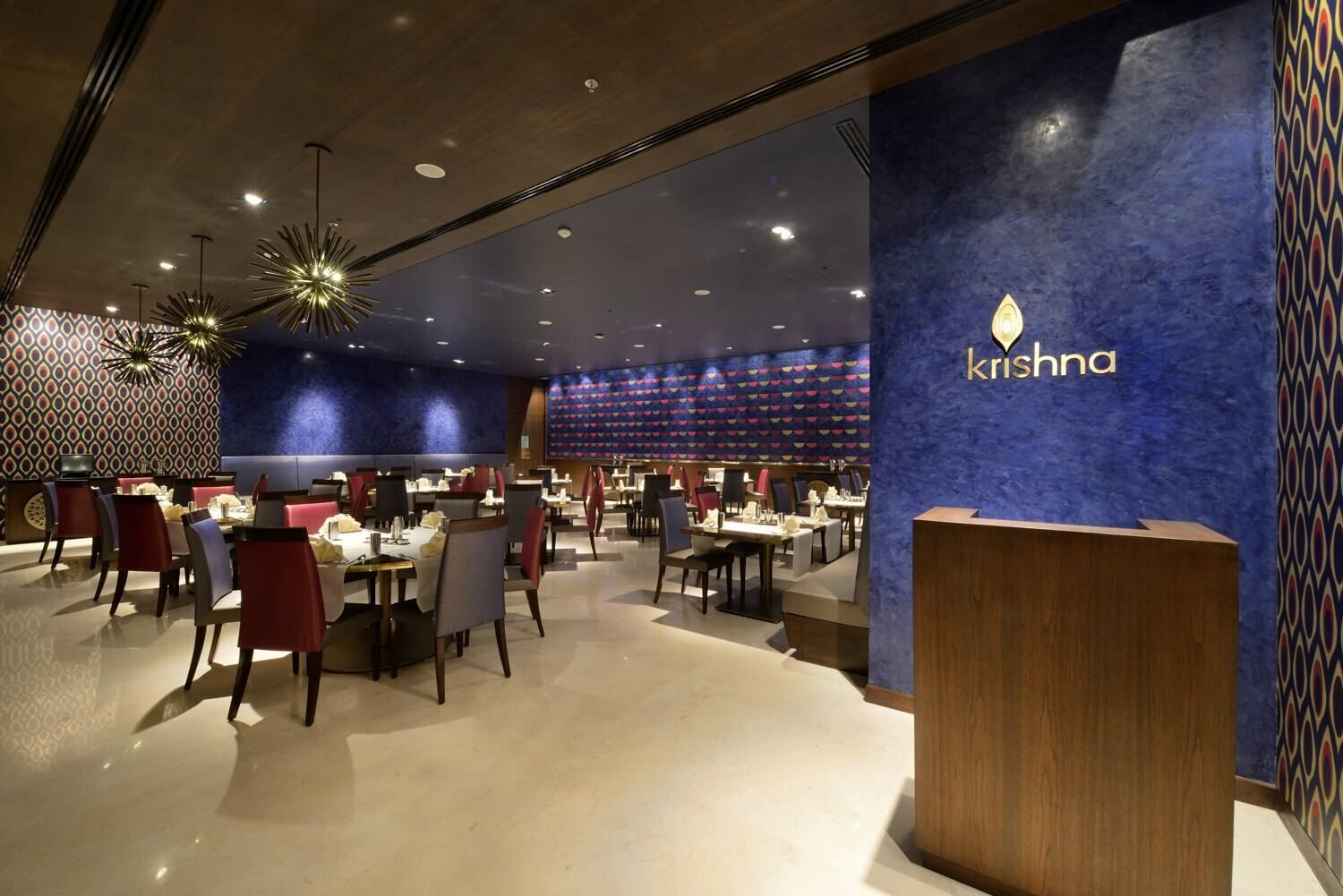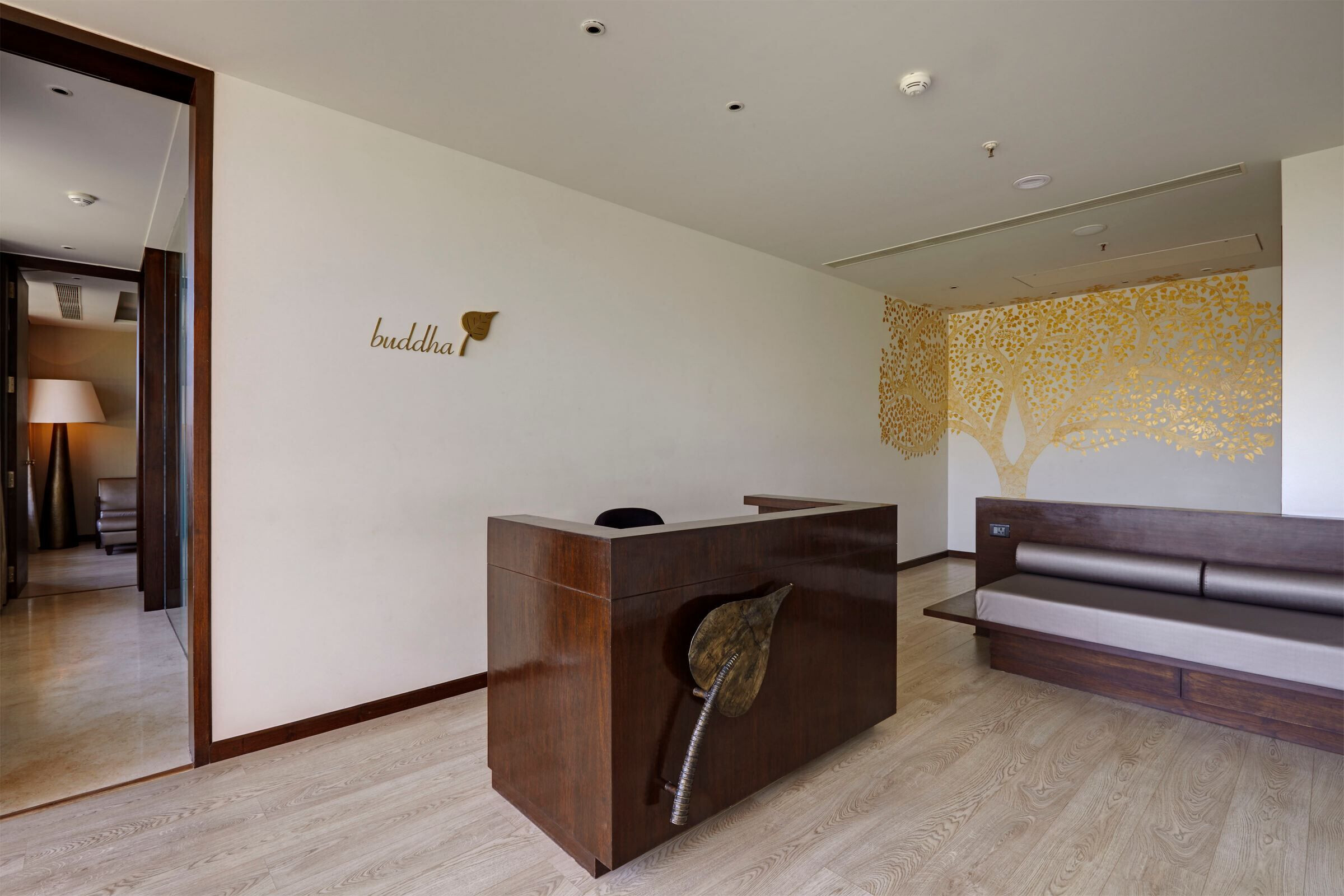 Material Used :
1. Facade Cladding: Natural Teak Sandstone ( Stone tiles & Stone on edge fiber backed) - Italiano Stones and Tiles
2. Floors: Natural Turkish Beige Marble & Locally made tiles from local suppliers, Brintons Hand tufted Carpets, Phoenix Hand Tufted Carpets, Laminate floor from Tarkett supplied by Square Foot, Armstrong Vinyl Floor for spaces like Gymnasium & Indoor Games
3. Doors: Marine treated & fire rated Solid core flush doors from Anchor plywood /The Indian Plywood Mfg. Co.Ltd, finished in Teak veneer from Greenlam & all Hardware from Hafele as tailor made custom doors
4. Windows: Reynaers Window Systems from Reynaers Aluminium Pvt. Ltd, Fixed glazing using Saint Gobain DGU (Doubly glazed units ) on spider glass fittings and glass fins by Urban Arch Pvt.Ltd
5. Roofing: Locally done Ferrocrete folded plate faceted roof structure over Lotus Cafe with locally crafted brass finial at its apex.
6. External & Internal Paints: Asian Paints, Oikos India Pvt. Ltd, Valpaint textured stucco finished wall
7. Wallpapers: Customised prints on Lentex Wallpapers by Shreeji Innova Wallcoverings, Dinoc films from 3M India, Customised printed motifs on wallpapers by Jasra Graphics Pvt.Ltd
8. Curtains tracks: Forest Group
9. Exterior Lighting: Legero & Luxma Lighting
10. Interior Lighting: Vizion Lights Pvt. Ltd
11. Decorative Lights: Custom designed lights by Art Deco Lighting & Saw International
12. Interior Furniture: Custom made Furniture by K.P Interiors & Interex Arch Designs Pvt.Ltd
13. Outdoor Furniture: Ventura Lifestyles Pvt. Ltd & Albans for Pool Deck loungers & Recliners
14. Furnishings: Custom made fabric designs by Synergy Lifestyles Pvt.Ltd & Maspar Industries Pvt.Ltd
15. Sanitary Fixtures, Fittings & Accessories: Jaquar India, Kohler India, Hindware, Geberit, Euronics
16. Handles, Artworks: Customised Dokra Artworks & Crafted artisanal Dokra handles, Kalamkari Tree of Life in collaboration with Baaya Design, Engraved Stone panels depicting Vishnu's Dashavatar by FOLDS, Bidri Artworks by Design Laboratory Pvt. Ltd & Studio Aureole.