In Mechelen, Belgium, Korteknie Stuhlmacher Architecten in collaboration with Callebaut Architecten and Bureau Bouwtechniek have repurposed the ruins of a former monastery, the Predikherenklooster (or Dominican Monastery) into a new public library space. Construction began on the Baroque monastery in 1650, with it being deconsecrated at the end of the 18th century. Following this, the building was used for military purposes until 1975, from which point it has remained abandoned.
The existing building had a clear structure comprising an outer ring of broad multifunctional rooms, an inner courtyard, an attic, and the church. Retaining this architectural arrangement was a key principle for the architects. The design subsequently divides the new library into three zones: the 'nabij/near' zone for multipurpose use, the 'diep/deep' zone for people seeking a quiet reading and a study environment and finally, the 'midden/centre' zone for the general use of adults and children.
The architects explain the building's imperfections, resulting from years of modification and more recently neglect, to be the great strength of their design, which strives to preserve traces of the building's long and tumultuous history.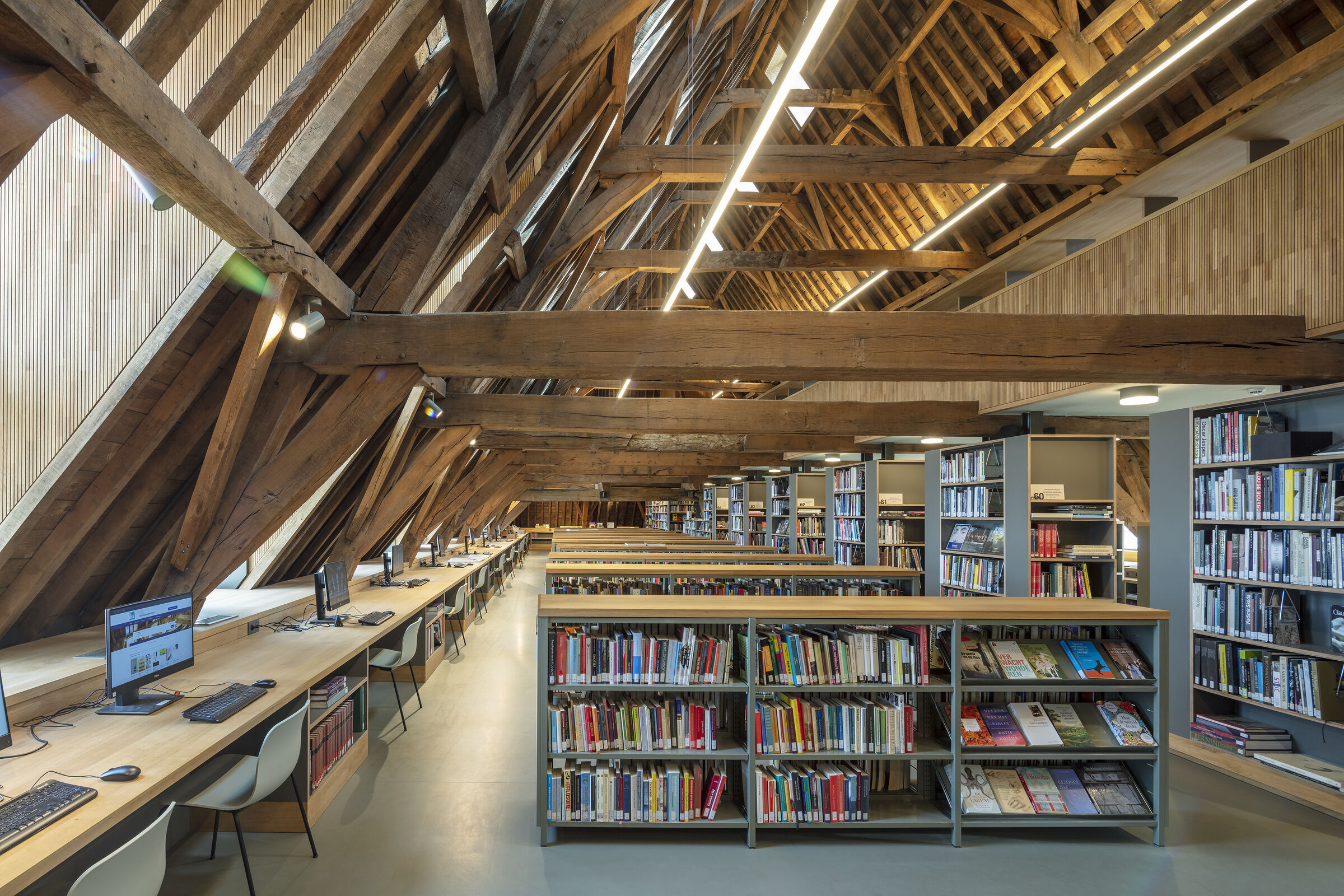 Within the new library area, the impressive timber structure of the attic and the first floor, with all original beams and planks, remains visible. To ensure the safety of the space, the existing structure was reinforced from above with an additional steel structure that is largely invisible after completion of the works, concealed in the floor as well as the new roof. This supports the renewed slate roof, relieving load stress in the original timber structure. The space between existing boards and the new slate roof is filled with insulation material. The attic space thus provides the comfort of a contemporary, well-conditioned room while retaining its original character.
In recent years the nature of public libraries has evolved rapidly, with the role of print media, books, and other sources of information certain to evolve in the future. As such, the architects believe the spatial and functional qualities of these spaces do not necessarily depend on the physical presence of books. An exception however was made for the former monastic library on the first floor, which as the new heart of the library, is once again lined with books after their absence for over two centuries.