Snøhetta's first project in Tokyo is a unique collaboration that has culminated in Burnside, a flexible, creative destination for Harajuku's artistic milieu. From hosting avant-garde chefs to serving a casual coffee house, the space is a sleek intersection of Tokyo and the Bronx.
Set atop a Family Mart in Harajuku, the heart of Tokyo's street culture and art scene, the eatery-by-day and bar-by-night concept was developed by Snøhetta with input from the Bronx-based food, design and art collective Ghetto Gastro. Using food to empower communities, Ghetto Gastro celebrates the Bronx as an inspiration and catalyst of global culture. The collaborative also involved local practice kooo architects.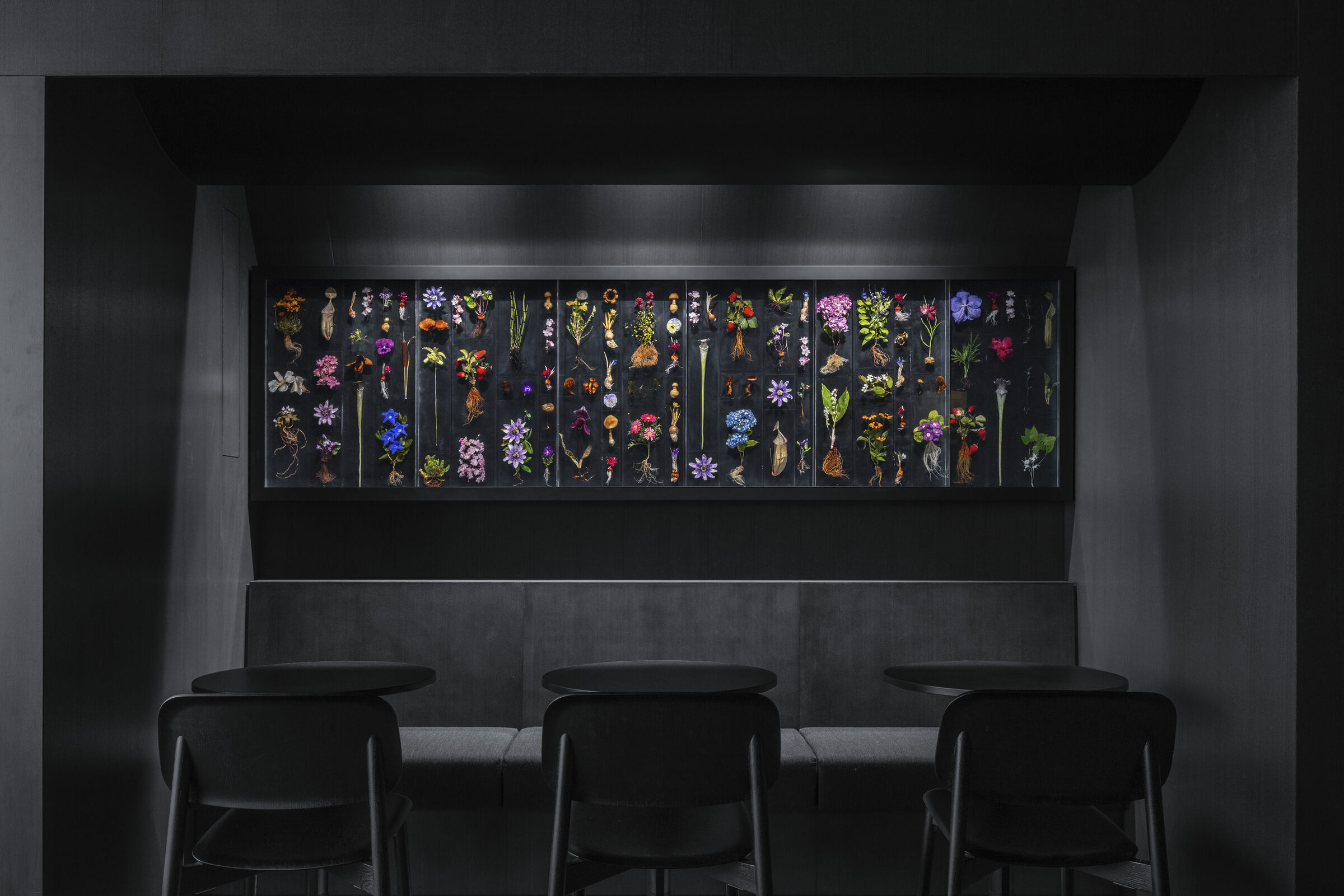 Takeaway dining - be it Bodegas in New York or conbini in Japan - is a highly popular feature of both New York and Tokyo city living. Burnside Tokyo draws largely from the nature of these establishments.
Walking up to the second floor, the space unfolds into a focused view of the dining room and open kitchen. A wall of fabric-lined windows filter daylight into the space. In the day, this creates a feeling of an active and humming café. By night the windows bring in light from the street below to create an atmospheric lounge.
Transitioning from day to night and from café to lounge is a central theme for the interior design. Two intersecting arches create a well-defined café/dining and kitchen areas while also allowing open views across the spaces.
The dark material palette features amber-coloured accents that reflect changing light conditions throughout the day and highlight ornate elements such as floral sculptures by Makoto Azuma.
With a 31-person maximum capacity, the dining room is designed to maximize floor space. Custom-designed family-style tables can be joined together and then folded away to accommodate a variety of layouts, including a night dance floor.
A proscenium arch is located at the pass table, where back-of-house meets front-of house. This central pass table is located in the centre of the kitchen and the heart of the project. Beyond this threshold, the open kitchen revolves around the activity of chefs and the experience of heat and fire.
Designed with input from Ghetto Gastro, the kitchen is intended to be easily adaptable for future chefs in the rotating roster and to ensure flexibility for a wide variety of pop-up uses and events.