A is a Japonesque Chef Restaurant located on the second floor of Azrieli-Sarona Tower in Tel Aviv. Chef Yuval Ben-Neriah's wish to fuse Japanese and Western cultures into a sophisticated menudrove us to draw upon classic architectural idioms of form and matter in these two cultures, and re-sculpt them to create a calm yet charismatic space and experience.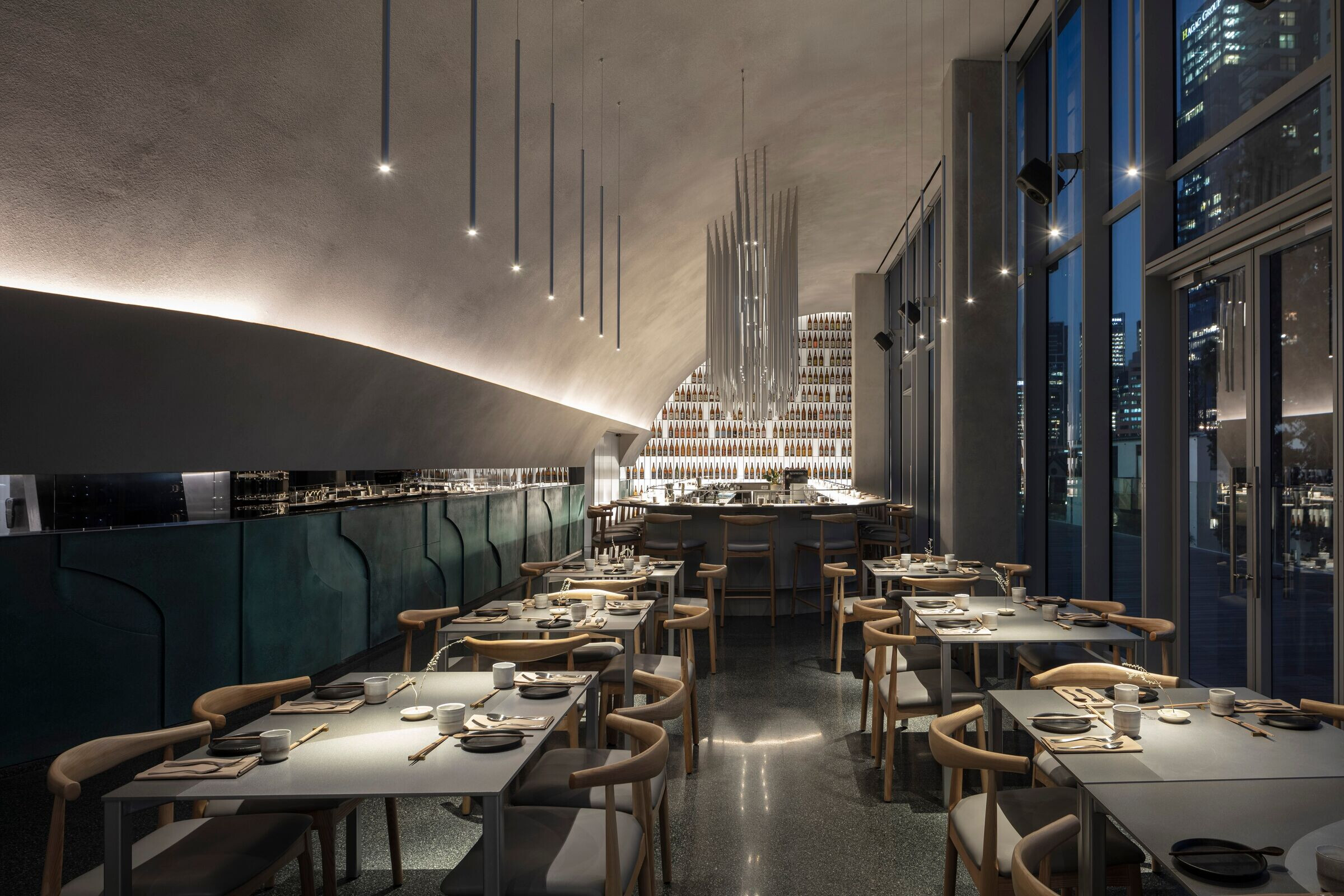 The entrance is constructed with the idea in mind of Japanese ceremonies and the experience of discovery. As the main entrance to the restaurant is through the tower's mall, we wished to create an opportunity that allows the guests to leave the hectic crowds behind and focus upon the new experience that lies beyond the door. A curving wall greets A's guests and gently directs them to the door located at the end of an elongated vestibule.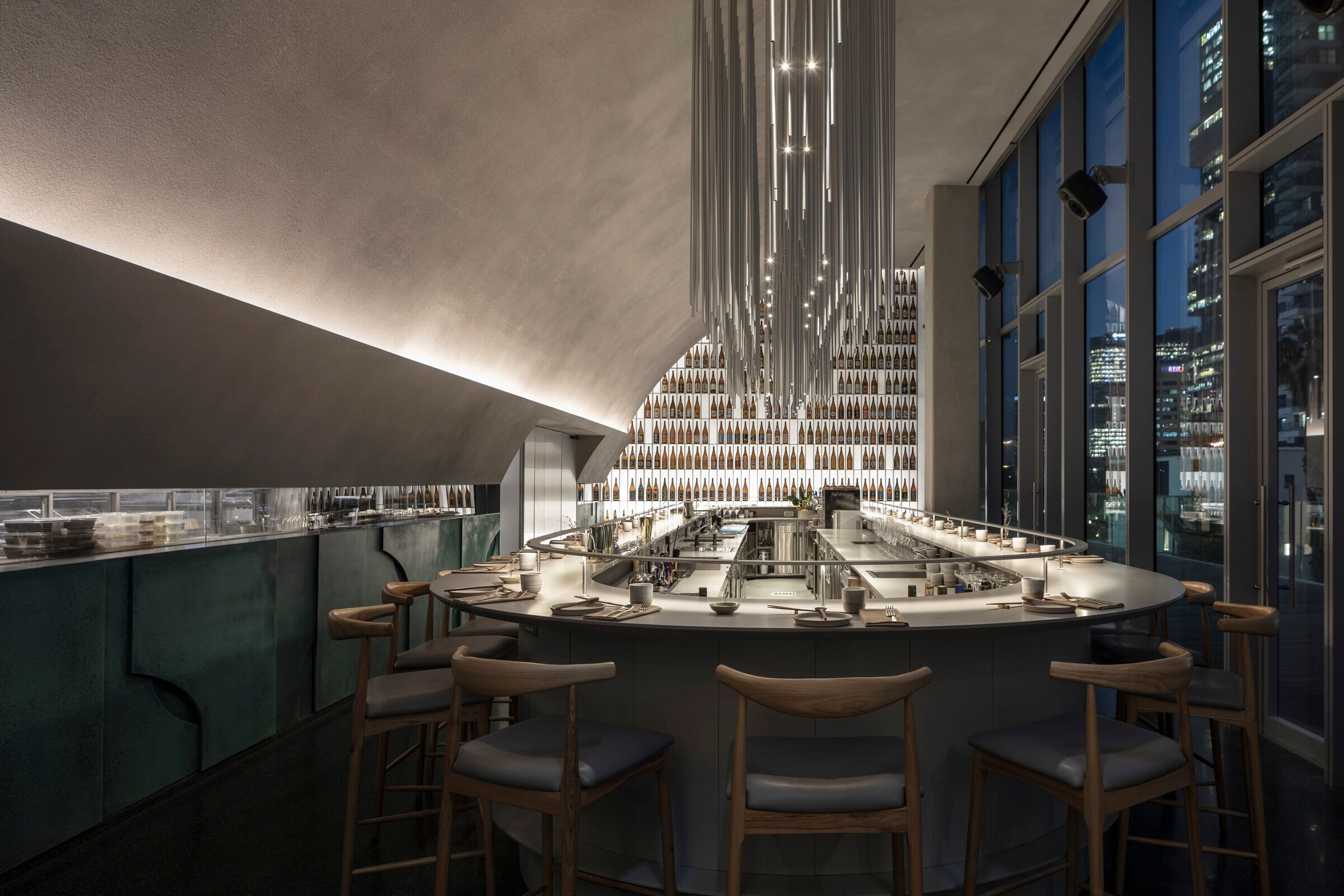 The curving wall is joined by a straight perpendicular wall and together the two lead the guests inwards to be met by the host. At this point the curving wall detaches from the ground and turns to encircle the private seating space, while the visitor is directed to the main dining space, where the view opens and the totality of the architectural gesture is revealed in its fullest.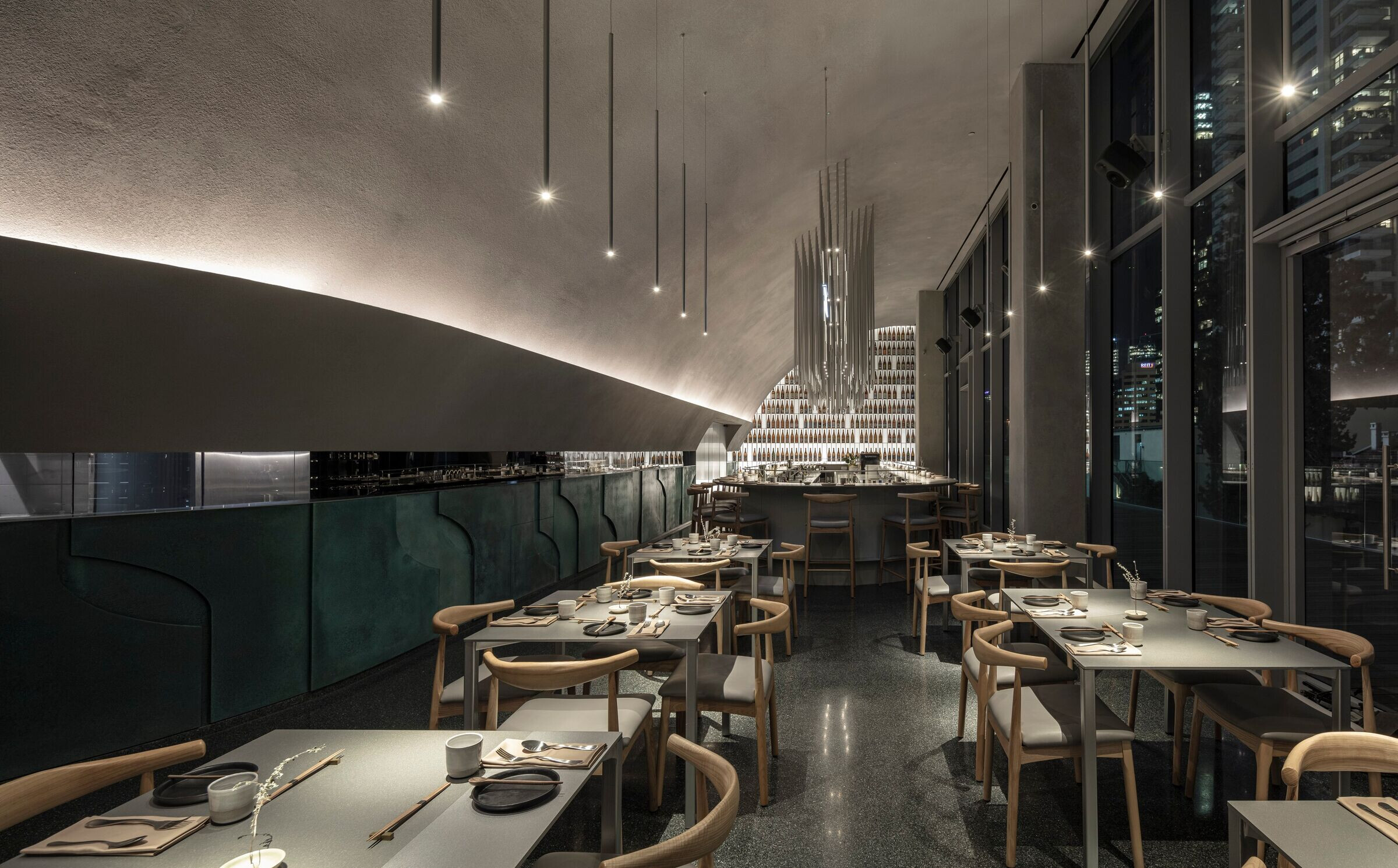 The straight wall becomes the main architectural feature and assumes the role of defining and sculpting the main dining hall. It is the base of the halved-arch that governs the entire space with one single brush stroke. Being long, narrow and tall, the wall evokes the associations of classic colonnades and churches.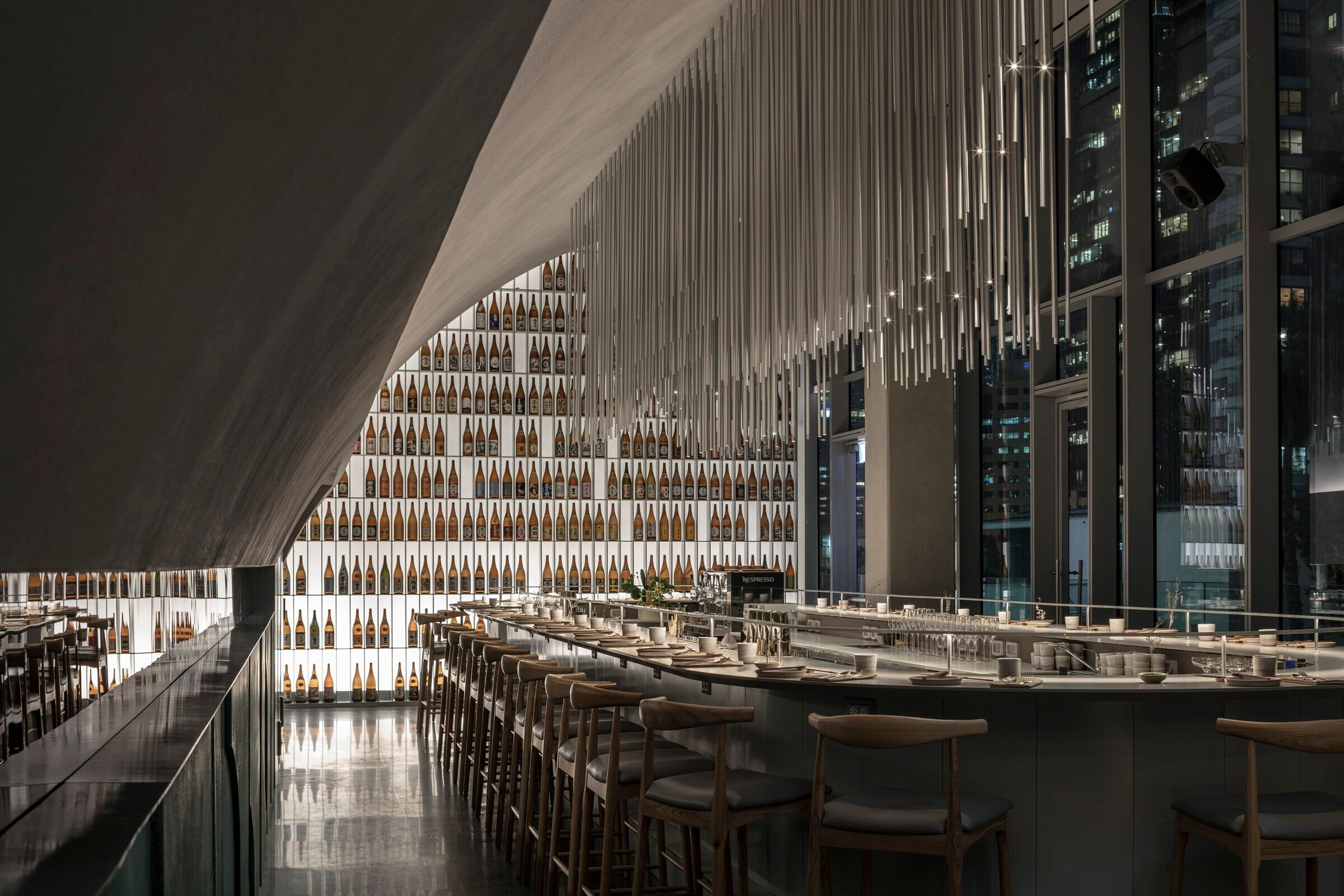 This main partition that defines the dining hall is horizontally divided in three: Its base is embellished by a cladding of turquoise copper patina in a graphic compositionof half-arches. The patina recalls classic domed edifices and sculptures adorning western cities and elegantly expressing the passage of time.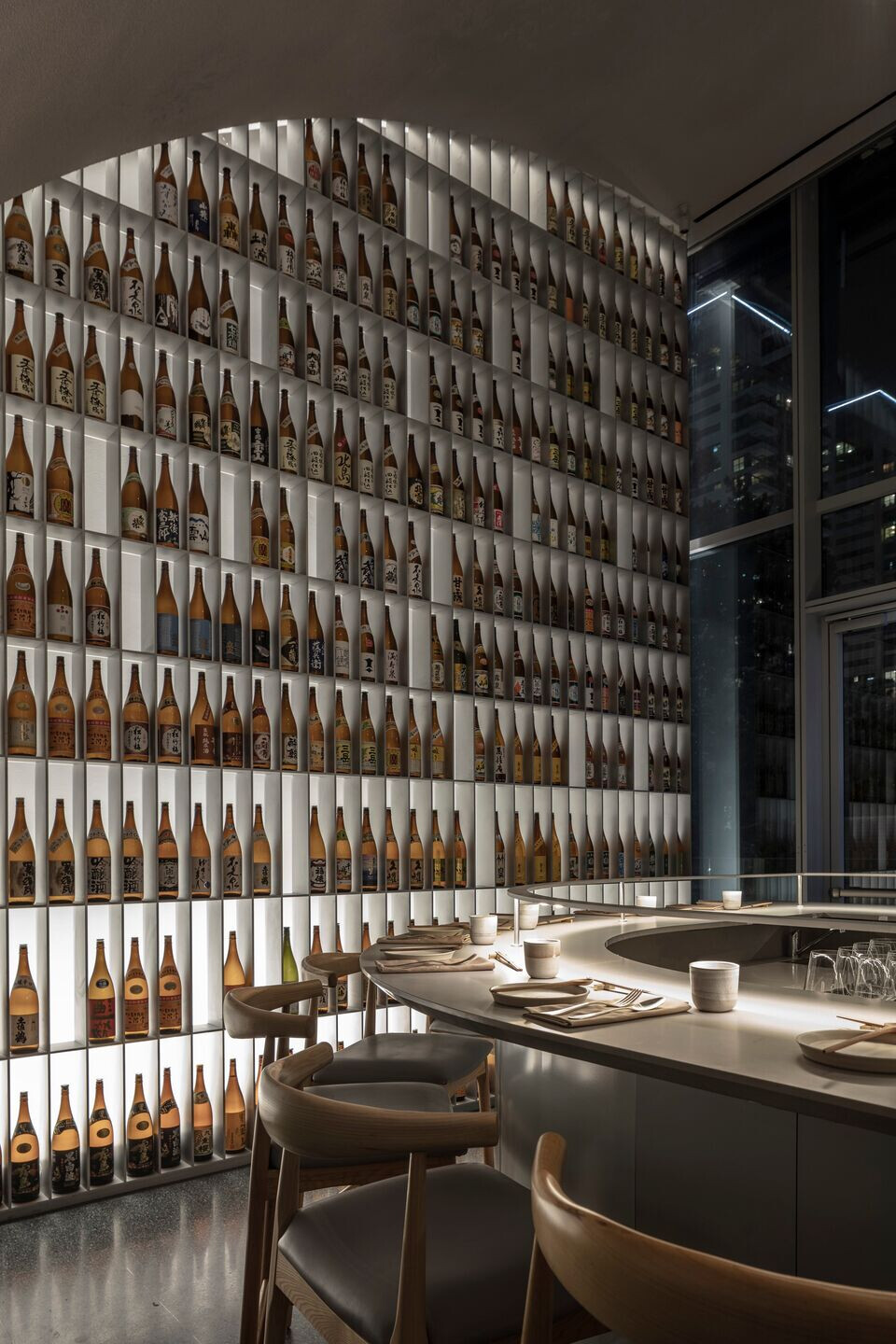 The end of the architectural view culminates in the sake display library, constructed of brushed aluminum.It defines the end of the space and forms the backdrop of the restaurant's central bar. The seating experiences are also conceived as broad gestures and comprise mainly of an elongated bar located in the center of the space. The dining tables are designed in the same language as the patina cladding and made of aluminum plates in two finishes.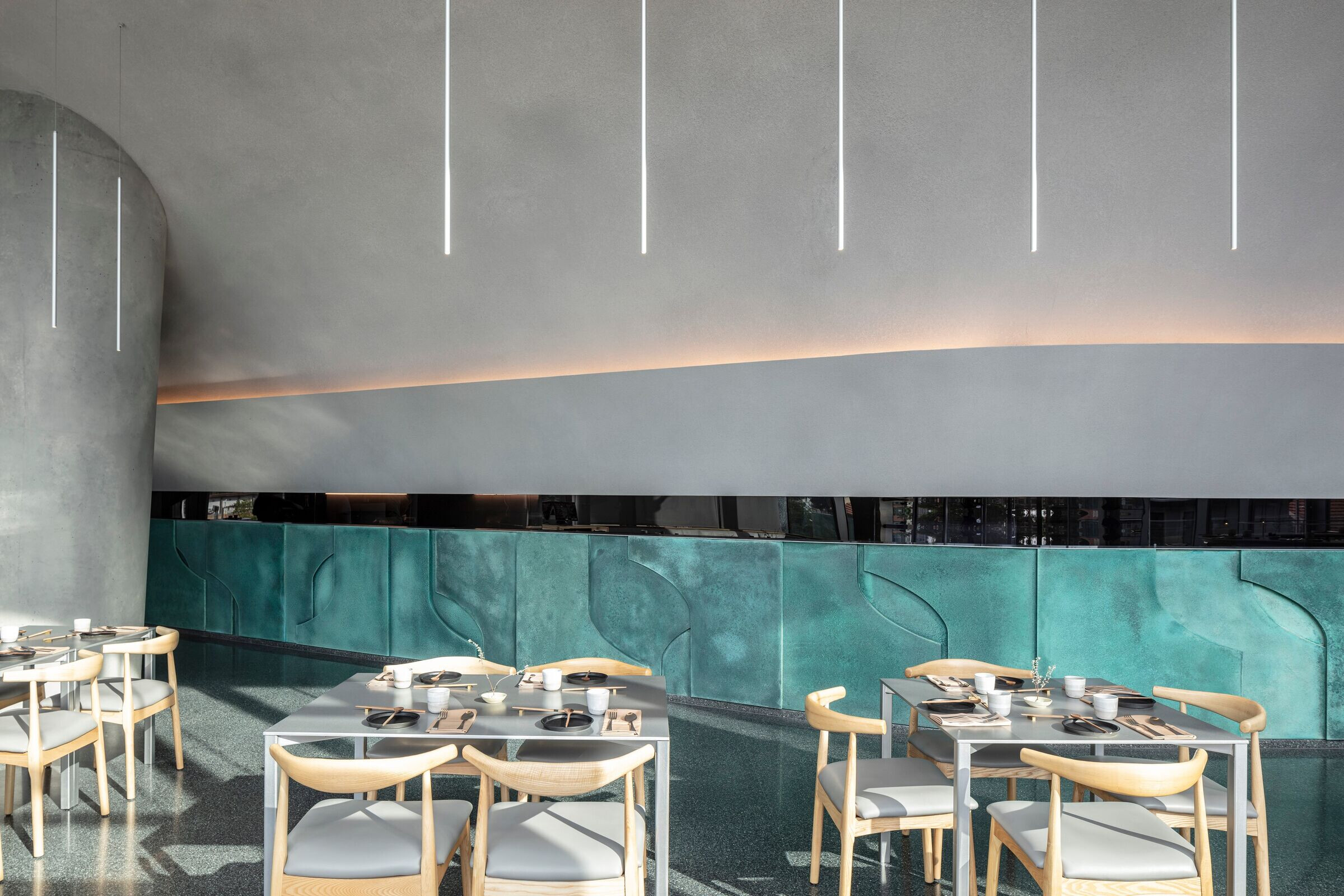 The lighting of the space is mainly indirect and washes the arch from below, while above the bar and the private space the lighting becomes visible in the form of a modernized version of a chandelier, made of aluminum thin pipes that incorporate little led lights, governing the dining in these areas.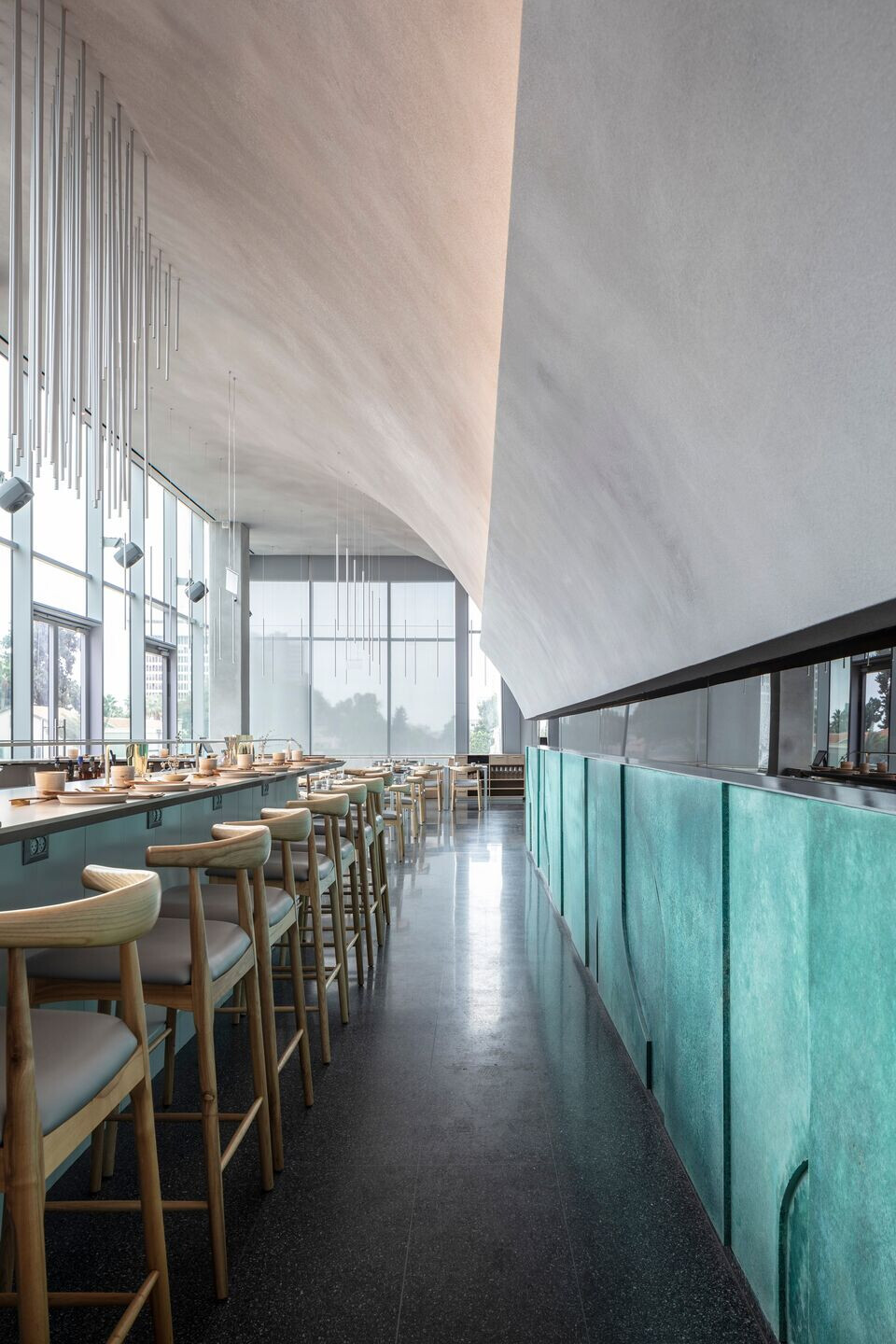 The space is essentially monochromatic in shades of light warm grey and draws its inspiration from modern Japanese architecture that is sculpted in concrete. The copper patina and wood of the dining chairs endow the space with accents of color, and the terrazzo grey floor introduces a sprinkle of green and recalls European materiality while also referencing local Israeli heritage.